What would being able to make $1,000 a month online mean to you?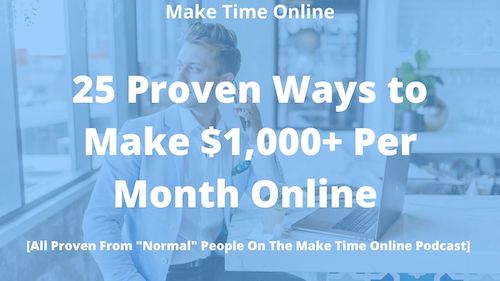 Maybe it would help you:
Cover the rent
Leave your job and spend more time with your family
Pay off your debt quicker
Save more and invest for the future
Be able to travel more
Being able to make $1,000+ a month online can have a huge impact on your life. But most people believe it's just a pipe dream that only people with "special skills" can achieve. In fact, it's much more achievable than you may think. This article will show you 25 proven ways that real people use to make $1,000+ a month online. They are just normal people like you and me, and they have all been on the Make Time Online podcast at some stage to share how they do it. Feel free to play the podcast below to hear more about their stories and then skim your way through the article or read every word to see if you get any inspiration! Just so you know, most of them had no idea how to do this about 5 years ago (some even much more recent!)
Can I Make $1,000 A Month Online From Home?
You probably saw the title to this article and immediately imagined… In reality, this simply won't happen any time soon. All of these methods of making money online took these people time and effort to learn. However, none of these people are born geniuses or lucky because they were "rich and famous". As it turns out, almost anyone can make money online. We're just not taught about this in school. If you can read and write it's actually possible to make any amount of money online if you learn from the right source and put enough time into it. As you continue to read this article on ways to make $1,000 a month online, you will see exactly how.
Make Money Online Benefits
You probably know there are loads of benefits to making money online. Here are some of them:
Your earnings are unlimited (you can scale your earnings online much easier than in a physical business)
It gives you the potential to quit your job (and make time form working online!)
Provides flexibility (work any time you like)
Allows you to work anywhere in the world
Reduces expenses (it can become a hobby to replace other expensive hobbies such as shopping)
You can start earning money online part-time (no need to quit the day job to start)
The benefits are endless especially if you make money online in a way that can scale and is passive income. Now, I can almost hear your mind asking…
Is Making Money Online Easy?
Yes and no. Yes in the sense that you can literally sign up to online paid survey sites right now. By clicking that link you can get paid bonuses just for signing up and then earn more money by filling out some surveys. They are all completely free to join too (if a survey site is not free to join it's likely a scam!) However, if you are looking to make passive income online it will take longer than some people will tell you. Are the skills hard or difficult to do? No. Does it take time to learn the skills you need and set things up to make it passive income? Yes.
What Is Passive Income Online?
The definition of passive income can change depending on who you ask. The definition of passive income online here is: Put the work in once and get paid over and over again for it. It also requires a little effort to maintain it. The best example I can give for it is…

If someone tells you it's possible to make passive income by clicking a button and watching the money roll in… it's a scam.

If they say you can just do the work once and you'll make money from it forever… they are lying.

It is possible to make passive income online, but it's important to be aware of what this means in reality.

Therefore, this post explaining ways to make $1,000+ a month online is different to many others that you will find…
Make $1,000 A Month Online Ratings
There are so many ways to make money online but they are not all equal.
The rest of this article will show you numerous ways that everyday people are making $1,000+ month.
But it will also provide a ranking for 5 different areas so that you can quickly see what approach suits you.
Each rating is a score of 1-5 with 1 being the lowest or easiest and 5 being the hardest or highest.
Difficulty
The difficulty rating just means how difficult it would be for you to start making some good money from the make money idea.
It takes into account
the time you would need to put in
and
the skill level required.
A score of 1 means you could start making money very quickly and easily.
A score of 5 means it would likely take you some time to make money from the idea as you would need to learn some more skills on the way.
Skill Level Required
This is the rating that may put you off.
However, none of the skills needed in this article is rocket science.
Every real example you will see from someone making money in that way has learnt the skill either by themself (aka Google or YouTube) or finding a mentor or low-cost course.
They have simply invested in themselves.
A score of 5 means you need to have some very specific skills to make money from the idea. But often this means there is more opportunity as fewer people will attempt this.
Initial Investment
This is pretty obvious.
A score of 1 means you need no money to start. A score of 5 means you will definitely need money to try this idea.
*A score of 2 means you need very little money but some people may argue you don't need any money to start!
Income Potential
Again another straight forward one.
A score of 1 means you are unlikely to make much money from this. A score of 5 means the income potential is unlimited (seriously… I mean unlimited).
Passive Income
We've already discussed the definition of passive income.
So if the score is 1 it means you will have to continue to trade your time for money to make money from the opportunity.
A score of 5 means it's possible for you to put in very minimal effort and time to keep making money.
*Some ideas are possible to "systemise" or hire other people (aka freelancers) to make it more hands-off
.
How Make Time Online Podcast Guests Make Money Online
As stated earlier in this article, every single one of these ideas has been implemented and spoken about on the Make Time Online podcast.
No one is an astronaut or super genius.
They are all completely normal people who have figured out to do this by themselves.
The make $1,000+ a month online opportunities are split into different sections to allow you to check out the ones you are interested in.
Enjoy!
Online Business Ideas
These are
online business ideas
that you can start from home.
Some of them may seem similar but there is actually quite a big difference between some of these ideas.
Just knowing what business you are actually trying to build can be the difference between success and failure.
1. Start a Blog
Yes, a money-making blog is a business!
The term "blog" still seems to have this negative connotation to it (like the word "vegan"!)
People typically imagine some young lady who writes about what she had for dinner yesterday and how she's feeling.
via GIPHY
Whereas, in fact, a blog is basically any website that you have ever looked at.
A blog is simply a website that someone (or some people) writes articles (or posts) on.
It's become one of the most common ways for people to make money online as there is no real limit to what you can earn from a blog…
And anyone can start one!
Hearing about these blogs was what opened my eyes to money-making opportunities online.
Positives:
You can start a topic on something that interests you aka passion project i.e. write about being a Mom or a yogi or travel etc.

Very little technical skills or investment required to get started

Monetise the blog in numerous ways to create multiple streams of income i.e. affiliate marketing, display ads, selling products
Negatives:
Takes several months (at least) before you make any significant money

Easy to get distracted or not have a focus (shiny objects)
Ratings:
Difficulty:

4 out of 5

Skill Level Required:

2 out of 5

Initial Investment:

2 out of 5

Income Potential:

5 out of 5

Passive Income:

4 out of 5
Listen in to my chat with
Alex Nerney from Create and Go
. Lauren and Alex built their health & fitness blog to over $100,000 revenue in their first year and now teach others how to do it (& Avocadu still makes over $20k every month!… oh, and they make over $1 million every year)
If you want to know more about blogging, check out this article which explains EXACTLY how to
make $1,000+ a month online from a blog quickly
.
2. Affiliate Marketing
This is actually how I started making money online.
The concept is pretty simple.
You connect people to a product that they are already looking for.
If someone clicks your link and buys the product, you will get paid a commission.
And commissions range from anything between 4%-90% (I actually promote a course that is super cheap & great and it pays me 80% commission!)
There are heaps of ways to use affiliate marketing, but the best way to scale a passive income is also by using a website (aka blog).
Positives:
No need to spend time creating your own products.

Possible to make money from affiliate links quickly using social media platforms (i.e. you could join

Amazon Associates

right now and recommend your favourite book on Facebook… if someone buys through your link, you've just made money online!)

Possible to scale the business for unlimited income (we're getting to this…)
Negatives:
There are certain skills you will need to learn to make a good income from it (i.e. SEO, copywriting etc.)

It will take time to build passive income
Ratings:
Difficulty:

3 out of 5

Skill Level Required:

3 out of 5

Initial Investment:

2 out of 5

Income Potential:

5 out of 5

Passive Income:

5 out of 5
Check out my chat with
Ben & Jeff from Dollarsrpout
who were making $240k/ month when I spoke to them in May 2019 (they only made their first dollar online 3 years before this!)… yes they learnt this all themselves!
Plus, find out why I quit my full-time job after 1 year with my
#1 recommendation
,
3. Niche Blogging- SEO Focus
This is a very interesting make money online idea and one that you are taught about in my #1 recommendation.
SEO stands for search engine optimisation.
It basically means trying to
get your website ranked on Google's first page for certain keywords.
A keyword is a word or phrase that someone types into Google.
And some keywords get searched for a lot more than others, for example:

"Gardening tools" gets more searches than "gardening in winter"
.
The idea behind it is to choose a very specific niche to write about i.e. gardening tools.
You then would write specific articles (like this one you're reading about how to make $1,000 a month online).
For example, you may use a keyword such as:
"Best Gardening Tools For Weeding"
or
"How to Use a Garden Hoe"
By ranking on the first page of Google you will consistently get "traffic" to your website every month. You do not need to pay any money or advertise your website to get this traffic… people visit your website every month… for free!
You can monetise this site with affiliate links or by placing display ads on the website. There are endless niches you can choose from including sewing, coffee or even the
best gaming gear
.
Positives:
Once you rank for keywords on Google it can become very passive

It can be very low cost to get started (around $85/ year for website hosting & a domain name is all you really need)
Negatives:
It takes quite a few months for a new website to start to be recognised by Google

It can feel like you're not getting anywhere and many people give up before they see success
Ratings:
Difficulty:

4 out of 5

Skill Level Required:

3 out of 5

Initial Investment:

2 out of 5

Income Potential:

5 out of 5

Passive Income:

5 out of 5
Check out my chat with
Ian Pribyl from the Free Internet Marketing Project
.
It is genuinely all the information you need to start this business for free
(apart from the hosting and domain name ~$85 a year)
4. Viral Blogging- Using Pinterest & Ads
Many people will use Pinterest as a way to promote (aka market) their blog.
However, there are actually some people that set up their blog specifically for Pinterest.
Are you wondering what the hecky mo I mean?
via GIPHY
Well,
Pinterest is still mainly used by women with a median age of 40.
So if you are pinning about quad bikes do you think you'll get heaps of traffic from there? Of course not! You may be able to get some traffic, but nowhere near as much as other niches.
The niches that typically do VERY well on Pinterest:
Home decor

Recipes

DIY crafts

Women's fashion
So if you create a blog focussing on any or all of these topics, you are going to be reaching a much larger audience.
It doesn't end there either.
There are 2 types of articles that people LOVE to read and save on Pinterest:
How to (or ultimate guides)

List posts (this is a list post… 25 ways to make $1,000+ a month online)
So some people deliberately set up their blog to focus on creating articles on one of the 4 big topics above and only write "how-to" or list post articles.
This means they end up getting a lot of traffic… quickly!
Once this happens…
All the blogs need to do is place some
high-quality ads
on there and wallah… they make $1,000+ a month online very quickly (a few months).
Here's the kicker about Pinterest compared to Google (or SEO)…
Pinterest doesn't care how old your website is or how many people link to it. All they care about is if people save and click on your pins.
The other great thing is that Pinterest has its own "SEO traffic" too because…
Pinterest is technically two types of platforms:
A social media platform

A search engine
At the top of Pinterest, there is a search bar that people type "keywords" to find something they are looking for.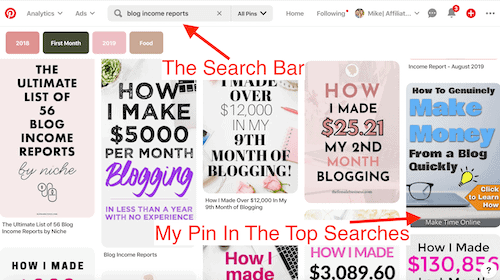 Note that pins that rank in the top 60 get eyes on them every single month! Google is really only the top 10 or so.
Positives:
Can be very quick to get traffic to your website

Once you get over 25,000 monthly sessions to your website you can use Mediavine ad network, which pays much better than other display ads such as Google Adsense.

You can also hire writers to continue writing under your name (ghostwriter) to make this method more passive
Negatives:
Writing long "list posts" can be time-consuming

Pinterest can be fickle and your traffic can come and go for no apparent reason

There is a learning curve to using Pinterest (creating "pins" to boards & scheduling them)
Ratings:
Difficulty:

3 out of 5

Skill Level Required:

4 out of 5

Initial Investment:

2 out of 5

Income Potential:

5 out of 5

Passive Income:

4 out of 5
Check out my chat with
Paul Scrivens from Dare to Conquer
. He has created dozens of these types of websites and explains exactly how.
5. Contributor Blogs
I'd actually never heard of this one before I spoke to this guest on the podcast.
The idea behind this one is that you use a website that already gets some traffic each month. It could from Google or other social media channels, that doesn't matter too much.
You can start this in a couple of ways:
Buy an existing domain with traffic

Start a new blog yourself and build the traffic up
Once you have a website generating 10,000+ page-views a month other people are more willing to "guest post" or "contribute" on your website as it helps them gain exposure.
This way you can keep producing content and generating traffic to your website without writing anything yourself.
The issue here is that you will need a network of "bloggers" looking to get exposure to their own blogs willing to write for you. If you are brand new to blogging this may not be the best idea.
But then again you can network with other bloggers quickly in Facebook groups and slowly add the contributors over time.
Positives:
Very little work to maintain once you have contributors for your blog

There's no limit to how much you can scale this
Negatives:
It will require networking and connecting with appropriate bloggers

The bloggers are likely to be quite new so the content may not be the best. You will need to sort the wheat from the chaff!
Ratings:
Difficulty:

3 out of 5

Skill Level Required:

4 out of 5

Initial Investment:

3 out of 5

Income Potential:

5 out of 5

Passive Income:

5 out of 5
Check out my chat with
Elna Cain from Twins Mommy
. She now manages 9 websites and had no idea what a blog was in 2013!
6. Creating and Selling Courses
This is the way that bloggers tend to go from making a few thousand dollars a month to making 5 or even 6 figures a month.
Yeah seriously,
there are plenty of "normal people" making 6 figures a month from their online business.
Just think about this…
Imagine you make 50% affiliate commission from a $25 e-book about how to use Pinterest. So you make $12.50 each time someone buys the course through your affiliate link.
Let's say you were making a consistent 100 sales a month due to getting traffic to a certain article about
how to use Pinterest for bloggers
.
Now, if you create your own (better) online Pinterest course, you could charge $65 and keep all the profits.
Your income jumps to $6,500 a month instead of $1,250!
Now imagine that you create a course or product that you can sell for $500+… or create multiple courses…
However, it doesn't mean you have to create a huge or really expensive course to start making money in this way.
Example of smaller courses
You may know how to knit a jumper and there may be other people who would love to learn that.
If you could create a short e-book or an online course on a platform like
teachable
then you could make money from selling that course.
Chris McGuire does exactly this with his website
Real Estate Exam Ninja
.
It certainly helps if you have a blog (aka website) to help promote the course but some people use social media platforms to promote it for free.
A great tip is to build an audience either with an email list, on social media or on your blog. Once you have an audience you can ask them what their struggles are and create a course that suits them. This way you won't spend ages creating a course that nobody wants!
Positives:
You are more in control of how much money you make

It's possible to create multiple courses or improve your course as you go

You can automate the sales by offering other people a chance to become an affiliate and using sales/ email funnels
Negatives:
You have to do the work to make sure people buy it

It takes time to create the courses
Ratings:
Difficulty:

5 out of 5

Skill Level Required:

5 out of 5

Initial Investment:

2 out of 5

Income Potential:

5 out of 5

Passive Income:

5 out of 5
Check out my chat with
Pete McPherson from Do You Even Blog
to hear how he's made over $10,000 in one month from selling his own blogging courses (he made that with his website in under 2 years).
7. Affiliate Marketing Business Using Paid Ads
Some people are really just not interested in writing or creating a blog.
I get it!
I used to be one of them.
It seemed like too much effort for too little reward…
That was until I truly understood the value of a blog to help get free traffic from Google or social media channels.
However, the good news is that it's possible to create income from affiliate marketing without owning a blog.
There are free methods that you can do this using social media channels. But that requires a lot of elbow grease from you. You will typically need to manually message people and the conversion rates are pretty poor with this method because of the lack of trust!
So this leads onto the paid ads method.
You can pay for ads on Google, Facebook, Pinterest, YouTube, Instagram and almost any platform that exists now.
How paid ads work:
The platform loves it because you pay them money

You love it because you get

targetted

traffic

The audience loves it because they find products that they are looking for.
If you can make more money from affiliate commissions than it costs you to place an advert on one of these platforms, then you can imagine how quickly you can grow this
!
There are real people out there who use this method to generate an insane amount of money online every month like clockwork.
But it is easier said than done.
These ads are becoming super competitive and if your ad doesn't grab attention and make people want to find out more, then you can burn through money like there's no tomorrow!
Positives:
You can make money very quickly

It's possible to scale your income to frightening levels if you can find affiliate programs with good conversion rates & write great ad copy
Negatives:
It's possible to lose a lot of money very quickly if you don't figure out how to get people to click on your ads (many people chase lost money here)

When you stop buying ads your income stops (it is possible to set up a long-standing advert or hire someone else to do it for you though)
Ratings:
Difficulty:

4 out of 5

Skill Level Required:

5 out of 5

Initial Investment:

4 out of 5

Income Potential:

5 out of 5

Passive Income:

3 out of 5
Many of the guests mentioned already have used this technique to promote their website which generally has affiliate links on there. There will be some guests in the new year who particularly focus on this business model though.
8. Podcasting
So as you can tell I also have a podcast (there is a podcast at the top of the page for this article in case you missed it).
However, my podcast was never designed to make money. I, personally, just wanted to share what I was learning about making money online and have some really cool chats with people that are living life on their own terms.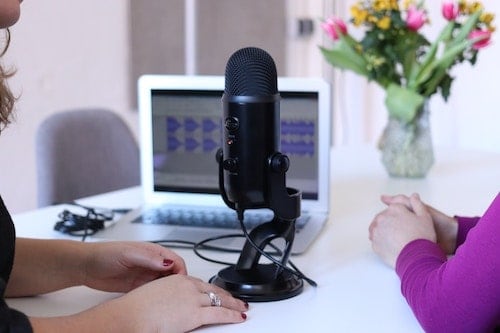 Benefits of having a podcast:
Learning from experts in your industry

Creating a personal brand or branding your business

Getting some cool freebies from guests or sponsors (I've had some amazing courses from mine)

Save time- send people to a podcast episode rather than constantly repeating yourself if someone asks you a question (you still help them get the answer and you don't need to spend ages writing a long message back!)
But it's also possible to make money from a podcast.
Even if you think you're a nobody!
Podcasts can have paid sponsors in exchange for you mentioning them during your podcast.
It's possible to find a small business or a "solopreneur" (possibly a blog owner) who wants to get their brand out there. People are willing to pay $100+ per episode, so if you make 2 episodes a week it's easily possible to make $1,000 a month online.
People like
John Lee Dumas
get paid tens of thousands of dollars a month from his podcast.
However, when you are just starting you can offer small businesses something like:
I'll mention your company 2 times per episode

I will promote your company on my Twitter account with X followers, my Facebook group with X followers etc.

I will send weekly emails to my highly engaged list of X number with promoting your company
This is amazing exposure for small businesses and many are willing to pay you good money for it!
Positives:
Podcasts can be really fun… you get to talk about a topic that you are passionate about

You can network with some amazing people who you normally wouldn't be able to speak to

You can start right now, it takes hardly any special equipment or software to start one (see below)
Negatives:
It's not really passive income as you have to keep creating podcasts to keep the money coming in (although you can outsource it to someone else eventually… but that kind of defeats the point!)

Connecting with people on the other side of the world in different time zones can be challenging sometimes (but I manage it on a weekly basis!)
Ratings:
Difficulty:

3 out of 5

Skill Level Required:

3 out of 5

Initial Investment:

2 out of 5

Income Potential:

5 out of 5

Passive Income:

2 out of 5
Check out my podcast with
Tej from Tej Talks
. He started his podcast because he wanted to learn more about investing in property and explains exactly how his podcast can make money.
You can get your free checklist for what you need to start a podcast in the
benefits of having a podcast
show notes.
9. MLM/ Network Marketing
Multi-Level-Marketing or Network Marketing is a type of business where "consultants" (also known as influencers/ recruiters etc.) get paid commission for selling a companies products.
This is a similar way as affiliate marketing but there is one difference…
They also get paid for recruiting more members to the program.
Sometimes this will be a direct commission for recruiting members, and usually, they will get commissions from sales their "downline" make.
This means they could be doing anything they want and their team could be making all the sales.
In reality, it doesn't always work like that.
There are many stats that show the vast majority of people don't make good money from MLM programs i.e.
99% of MLM
recruits lose money.
But equally, there are people who take it very seriously and live an amazing lifestyle and enjoy the perks of the business.
MLM Benefits:
Free travel

Fancy cars

Personal development training
Some MLM companies still focus on outdated and poorly scaled techniques such as "home parties" where a recruit may invite people over to show off the products and explain the business opportunity.
But the most successful consultants will always leverage the power of the internet to work 24/7/365. It may be on social media or building their own website.
If you are considering starting an MLM company see if you can find one which ticks these boxes:
Low start-up fee

– ✅

High-quality products

– ✅

You don't have to carry inventory

– ✅

Generous compensation plan

– ✅

An affiliate-like system

(so you can sell online) – ✅

Company is in the early momentum phase

– ✅
Also, be aware that some MLM companies are just pyramid schemes in disguise. They may offer a "product or service" but really the ONLY way you will get paid decent money is by recruiting more members into the MLM program.
Check out this 5-minute video to see how to avoid a pyramid scheme…
https://www.youtube.com/watch?v=SBGfHk91Vrk
Positives:
Often includes excellent benefits and bonuses i.e. fancy cars, luxury travel and lucrative bonuses

If you build a good "downline" you can make passive income
Negatives:
In reality, when you stop working on the business it will stop making you money unless you get to a very high level

It is very competitive and often involves "selling" the company to your friends and family to try and get some more recruits

You need to have excellent people skills and be able to sell the products and vision to others
Ratings:
Difficulty:

5 out of 5

Skill Level Required:

4 out of 5

Initial Investment:

2 out of 5

Income Potential:

5 out of 5

Passive Income:

3 out of 5
Barry Nelson has 3 successful businesses
. One of them is a network marketing business. On the podcast, he explains how he manages his time between work and family and how his life has changed since starting this business… believe it or not he has more freedom now!
Sell Things Online
Nearly all of the business opportunities above also include selling things online.
The majority of them are digital products that could be their own product or someone else's, but every make-money opportunity involves selling something.
This section covers the opportunities for selling physical products online.
10. Dropshipping
This has become a super popular way to make money online in recent years.
First of all, let's define a common misunderstanding of the difference between
dropshipping
and Amazon FBA (Fulfilment by Amazon):
Dropshipping is when you act as the middle man

between suppliers and customers. Therefore you don't have to own or store any stock.

Amazon FBA is when you invest and store merchandise

in an Amazon warehouse before being sold.
Here are the basic steps to getting a dropshipping business up and running:
Select a niche

Perform competition research

Find a supplier

Build an eCommerce website (Shopify is the most popular one, it costs from $29-$299 a month)

Acquire customers (i.e. using Facebook ads or other social media)

Analyse and optimise it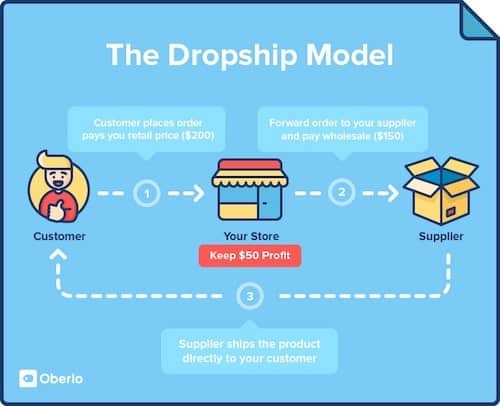 Image from
Oberlo
Whilst it is actually possible to start dropshipping without any monetary investment (you can use sites like eBay for your supplier's products), the most success happens when you own your own store and send customers to it.
Ways To Get Free Traffic:
Using social media/ connect with influencers

Guest posting on relevant blogs

Focusing on building an email list (MailChimp and MailerLite are free)
However, dropshipping can't rely on SEO or long term free traffic methods because you won't be writing articles using keywords like you will on a blog (aka website).
Therefore, you will also need a budget to invest in Facebook or Google ads to send potential customers to your store.
Similarly to the Affiliate Marketing with ads business model, the potential is unlimited and you can make a lot of money very quickly.
If you can create an ad that generates more profit compared to how much the ad costs then your income is unlimited.
However, that is easier said than done and you are likely to lose a fair bit of money early on if you're brand new to creating ads. Some people give up before they find a successful campaign whilst others are aware of the risk and manage to break through to become profitable.
Positives:
No need to store inventory and you don't need to write long articles or create products

Possible to make a lot of money very quickly if you can create a profitable ad campaign
Negatives:
If you stop working and creating ads then you will stop making money

It's possible to lose a lot of money by chasing lost money on ads

You will likely need to invest in some training as creating ads and dropshipping requires specific skills (i.e. copywriting and marketing)
Ratings:
Difficulty:

4 out of 5

Skill Level Required:

5 out of 5

Initial Investment:

3 out of 5

Income Potential:

5 out of 5

Passive Income:

2 out of 5
Check out my chat with
Jeremy Ong from Hustlr
. He explains how he started making $60k/ month from dropshipping vape cigarettes… he used to work 14 hour days making $600 a month in his day job.
11. Sell Things on eBay
This one's a great one!
Something that I have again personally done in the past and it's great to make a bit of pocket money from some random junk you have in the house.
However, there are actually more business savvy methods you can take with this one:
Dropshipping (as just explained in #10)

"Flea Market Flipping" (buying things for cheap and selling them on)
I won't go into dropshipping model again but it's possible to buy things from suppliers for wholesale value and sell them at retail value with this method.
The same principle applies for "flea market flipping".
The idea is that you buy things (or find things) for cheap or even free.
Then you can put them on eBay and make a healthy profit.
Here's the eBay secret sauce:
Buy things locally

Sell them worldwide
I'm sure you've heard the saying…
One man's junk is another mans treasure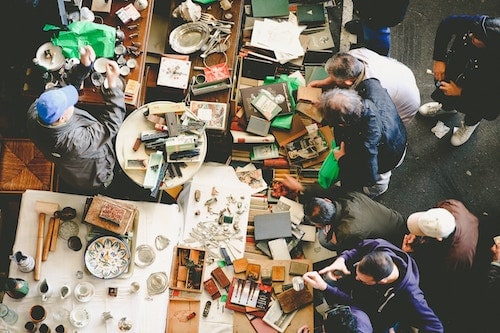 It's possible to find amazing deals all over the place if you train your mind to find them. Here are some ideas:
Flea market sales

The dump/ tip

Big dumpsters in retail areas

The side of the road (no kidding!)

Lettings/ real estate agents (who deal with tenants moving out and leaving stuff behind)

Moving companies
It's possible to get a great contact who comes across stuff left behind all over the place. It's often a huge problem for them to dispose of it, so that leaves you with an opportunity to pick up things for free or dirt cheap and sell them on.
You may think it's hard to sell certain items but when you put it on a worldwide stage such as eBay, you will be surprised.
Positives:
No money is required to start (you likely have hundreds of dollars worth of items in your house that you don't use and you can find things at the dump for free!)

Once you make a profit you can reinvest that and buy better items that can sell for more (it's possible to make a lot more than you think as you're about to find out…)
Negatives:
It takes some hard work and hustle to find these opportunities

It's not the most passive income (although you can outsource tasks, such as finding the items at flea markets or uploading them to eBay etc.)
Ratings:
Difficulty:

2 out of 5

Skill Level Required:

2 out of 5

Initial Investment:

1 out of 5

Income Potential:

4 out of 5

Passive Income:

2 out of 5
One of my personal favourite chats on the podcast was with
Rob Stephenson from Flea Market Flippers
. He explains how they are flipping a chair they found in the trash to make over $300k and buy a rental property in one year.
His energy is amazing!
12. Buy & Sell Cars (Or Other Vehicles)
No matter where you live in the world, chances are… people buy and sell cars there
all the time
!
Just Google "buy a car" and you will find numerous websites that you can buy and sell cars where you live.
The idea is again pretty simple:
Buy cars at a discount
Sell them for more
You can even add a step in the middle if you know a thing or two about cars i.e. fix the car up or make it better.
It doesn't have to be cars though!
Other types of vehicles to "flip"
"Van Life" has become all the rage!
People are realising they can live for a fraction of the price in a van and have the freedom and time to travel wherever they like. This isn't even grown-up students just out of college. It includes "mid-life crisis's" and newly pensioners!
If you can learn how to convert vans into a campervan, you can earn some serious money from this.
You can even target specialised vehicles such as VW campervans, which hold their value really well.
Certain cars do hold their value well so it's even possible to buy a car for yourself and sell it a couple of years later to make a profit (effectively giving you a free car!) Typically, Japanese models that are about 3-5 years old tend to do well for this.
By using these tips it's possible to make $1,000+ a month online by selling a couple of used cars per month… or fixing up one van every 3 months or so!
Positives:
You can make a quick profit if you can find a good deal on a car.

It can be a fun hobby to do during your spare time (i.e. converting vans into campervans is some people's idea of fun… I'm one of them!)
Negatives:
It's never really passive income unless you turn this into a business and employ other people

You can only make as much money as you can physically buy and sell… so it's hard to scale the profits
Ratings:
Difficulty:

2 out of 5

Skill Level Required:

2 out of 5

Initial Investment:

4 out of 5

Income Potential:

3 out of 5

Passive Income:

1 out of 5
The first time I mention him (but not the last).
Grant Sabatier from Millenial Money
explains how he went from $2 to over $1 million in 5 years, whilst working a normal job. Flipping VW campervans on the side was one of his extra income streams.
Online Jobs From Home
Some people just don't want to create an "online business".
Maybe you just want to make an extra $1,000 a month online by working for someone else. It may be that you don't want the stress of having to build something yourself or continue to grow it (aka water the plant) over time.
If that is you, then chances are one of these online jobs from home may be perfect for you.
There are normal people all around the world that generate an income every month with one of these jobs.
13. Virtual Assistant
This is possibly
the easiest and quickest way
for anyone to start to make $1,000 a month online.
Did you know there are tens of thousands of people who are looking for someone to help manage some smaller tasks for them every day?
These tasks may include (but are not limited to):
Email management

Book appointments with clients

Following up with customers or clients

Answering calls

Calander management

Managing social media accounts

Organising files or documents

Research

Personal errands (booking holidays/ flights)

Transcribing

Networking
It is becoming increasingly popular for "solopreneurs" to build a business (an entrepreneur who builds a business by themself… often online) online these days.
And
oftentimes
eventually they need help!
If this sounds like something you're interested in doing then here are a few…
Ways to find a Virtual Assitant job:
Fiverr (or other sites like Upwork, Freelancer etc.) – not the best

Job boards such as

ProBlogger

– better

Network on social media (active Facebook groups are great for this) – recommended
Without a doubt, the best way to land one of these gigs is to get to know the person first.
STOP.
Re-read that last sentence.
You can do that by following these steps:
Find out where they hang out (is it Instagram, Facebook, Twitter, a forum or somewhere else)

Interact with what they do (comment and share a blog post or social media post and join their email list

and

REPLY!)

Join communities that they are in and be helpful to people (share your knowledge, opinions and be honest)

Find an area you can see they need help in (i.e. if they have a growing Facebook group, can you help to manage that? Do they take a few days to reply to emails or even fail to do so?… you could help here! Do their blog posts need a spell check? Does their Instagram account suck?)
But whatever you do don't become a stalker, like…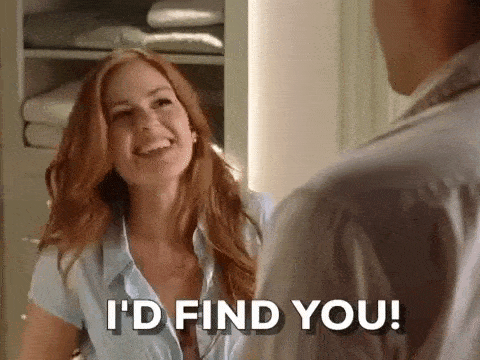 via GIPHY
When you use those 4 steps you are much more likely to work with clients that you want to… and you're much more likely to get paid the amount you deserve!
Here are a few great tips from Drew DuBoff to get the best package:
Work out how long you think you will need to spend on the tasks at hand

If it's your first one

work on a $25 an hour basis

Work out how much that costs per month and aim to get that rate i.e. 40 hours a month (aka 10 hours a week) = $1,000 a month

Always aim for a "retainer package"… aka $1,000 per month to do X, Y and Z (not $13.49 an hour to check some emails)
You may need to try it out with your first gig and be a bit more flexible but it's a great way to start making money online.
Positives:
You can make $1,000+ a month online quickly

You can use skills that you already have i.e. email management, Facebook group management, Instagram posting,

Organising a calendar

, research skills etc.
Negatives:
It is not passive income (although it is possible to turn it into a business and employ others to smaller jobs for you!)

Like a traditional job, there's a limit to how much time you can give to other people aka a limit to how much you can earn
Ratings:
Difficulty:

1 out of 5

Skill Level Required:

2 out of 5

Initial Investment:

1 out of 5

Income Potential:

3 out of 5

Passive Income:

2 out of 5
Check out my chat with
Drew DuBoff, a 21-year-old college student who made $25,000 in 6 months
working 10 hours a week. He actually did VA work from Alex Nerney (the guy who made $100k in year 1), another Make Time Online guest mentioned in #1.
14. Freelancing
This is similar to Virtual Assitant work.
But it typically involves providing some sort of specific work for your client i.e. Pinterest account management, writing blog posts, proofreading blog posts, researching blog posts, editing podcasts etc.
The 4 steps in the VA section apply again here.
The thing you likely have to offer compared to cheaper VA's or freelancers from sites such as onlinejobs.ph is your
English skills and your ability to connect with the clients
.
Just speaking from personal experience, I am much more likely to hire someone who I already know.
If it's a toss-up between a random profile on the internet or a real person I've messaged before I know who I will choose.
Here are some more tips to help you land some freelance work:
Use your own website to showcase your skills (have a "hire me" page on the menu bar, add any previous examples to prove authority)

Guest post for free if you are trying to get a writing Freelance gig (simply write "your niche + guest post" into Google to find opportunities… simple eh?)

Connect with other Freelancers (use Facebook groups and ask on social media if anyone is a freelancer)

Ask existing contacts if they know anyone that could use your services… and explain what your services include (sometimes they may even need them!)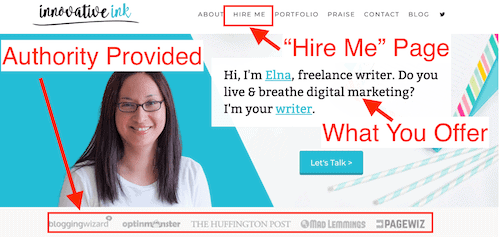 Tips from Elna Cain
There are 5 different ways you can get paid as a freelancer:
By the project, or flat rate

By the hour

How many words you write

By the page

Retainer fee, for ongoing work

(the golden ticket!)
They all work for different people but the ideal one is if you can land a retainer fee for ongoing work.
Whichever rate you (or your client) choose, try to make sure you are aiming for around $25+ an hour still.
For example, if it takes you 3 hours to write a 1,000-word article and the client wants to pay you by the amount of word you write. You know you can accept that project if they pay:
$75 divided by 1,000 = $0.08 per word (that would be $80 for 3 hours work!)
The more skilled you get the more money you can
demand
(once you gain the confidence, you will no longer ask!)
Positives:
Can be a consistent income stream & you can start earning quickly

Possible to charge higher rates over time & no investment is needed
Negatives:
You still trade your time for money

Can be hard to find good opportunities
Ratings:
Difficulty:

2 out of 5

Skill Level Required:

3 out of 5

Initial Investment:

1 out of 5

Income Potential:

4 out of 5

Passive Income:

2 out of 5
Numerous guests have done some form of freelance work, including Pete McPherson and Elna Cain. But
Ryan Biddulph managed to island-hop and retire early
thanks to smart blogging and freelance work.
Top tip-
you can get paid quickly from
Elna Cain's
viral blog if you're a Mommy blogger!… Plus, I'm always on the lookout for writers #justsaying
Work Online For Money
15. Running Ad Campaigns
Put your hand up if you know someone that owns a business.
Keep your hand up if you think they would like more customers that are already interested in what their business offers.
If you're like me you have both hands in the air right now (it makes it really hard to type!)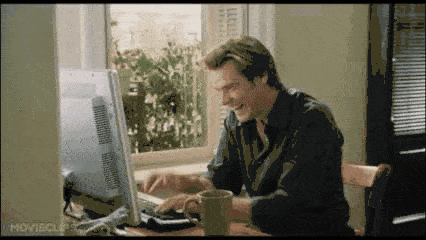 via GIPHY
These businesses would LOVE to pay someone to send targeted clients and customers their way.
The big word there is
targeted.
How to get targeted clients
If you run an advert on Facebook and Google and get 100,000 die-hard American football fans to click on a ballet workshop, how many do you think will purchase the workshop?
Yeah…
roughly
exactly diddly squat!
But what if you sent 100 parents of ballet enthusiasts who have signed posters of Misty Copeland in their bedroom?
I have no idea who Misty is either… I just Googled famous ballet dancers!
Yeah… the company would make a lot of sales!
Here's the truth:
Google, Facebook, Instagram and all online algorithms are becoming so smart that they send targetted ads to people who are looking for them.
Seriously, just think about the types of ads you see on YouTube or Facebook. Are you kind of interested in them?
Of course you are!
You can make your ads super-specific including:
Age

Gender

Where they live

Language they speak

Interests

Behaviours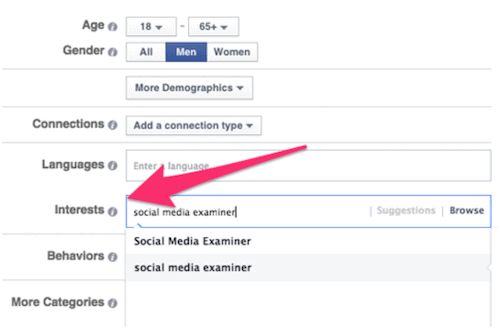 If you can learn how to create ads on these platforms that get clicked by targeted audiences then a lot of people would love to pay you for this skill.
Positives:
You can make a lot of money from making good ads

It's also a skill you can transfer and use in your own business or help you to set up a profitable blog (i.e. send traffic to your sales pages, affiliate marketing programs etc.)
Negatives:
It is not a passive income stream as you are trading your time for money

Creating successful ads is much harder now (people are more aware of them) and you will need to keep learning the skill as it can be different on each platform
Ratings:
Difficulty:

4 out of 5

Skill Level Required:

5 out of 5

Initial Investment:

3 out of 5

Income Potential:

4 out of 5

Passive Income:

1 out of 5
The second mention of
Grant Sabatier
, who shall be known as the king of side hustles forever! He used Google ads to start making money as a side hustle and learnt about them for free on YouTube.
16. Writing White Papers
So a white paper is kind of a cross between a magazine article and a corporate brochure.
It is supposed to help readers solve a problem, understand an issue or make a decision. Here's an
example
.
Basically, it should educate and sell.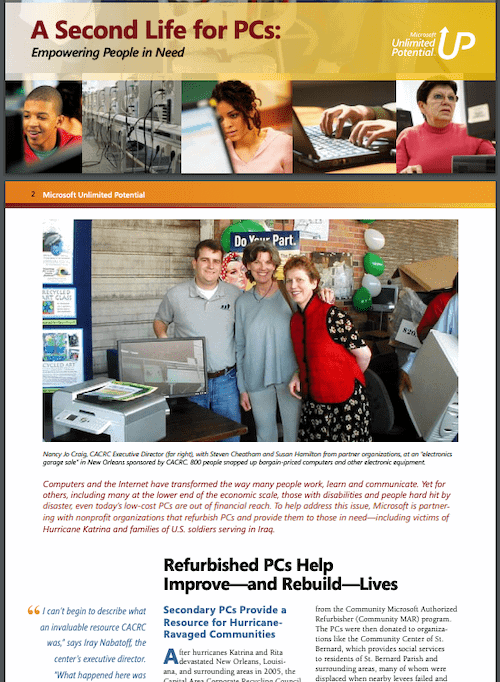 This is why clients are willing to pay $3,000+ for a 6-14 page white paper.
Just like any skill in life the more you practice writing these the quicker you will become.
Chances are you have been to school.
If you are lucky enough to have done so, you have probably been taught the exact skills needed for writing white papers:
Research

Writing
Typically you will find the
best opportunities from business-to-business companies.
These companies will often have complicated offerings and they want to convince another business to buy their product or service.
This is an area where you may find it hard to get into if you don't have experience in a particular industry. They can be complex and will often only want to hire people who have a good understanding of it.
But here are some tips to find an opportunity to write white papers:
Ask existing clients or contacts

– explain what a whitepaper is if they don't know and show them how it can help them

Look out for

companies that write brochures or articles written online

and explain how a whitepaper can be better for them

Offer to

write one for a fraction of the normal price

(or even free) to get started and build a portfolio (this is one of Grant Sabatier's top tips for side hustles)
Once you have done one or two it's much easier to show other businesses what you can do… ideally with their results (everyone likes results… aka how much money you will make them)
Another top Sabatier tip- try to find clients in the same industry so you build on your knowledge after each white paper
Positives:
You can make a lot of money from a considerably low word count

It becomes easier to do with practice
Negatives:
You are trading your time for money

It can be hard to get started
Ratings:
Difficulty:

4 out of 5

Skill Level Required:

4 out of 5

Initial Investment:

1 out of 5

Income Potential:

4 out of 5

Passive Income:

1 out of 5
Mention number 3 for Grant Sabatier! This guy had some crazy work ethic
for 5 years!
and still does!
17. Survey Sites
*Disclaimer- You will not be able to make $1,000 a month online from this method!
*
Maybe the title should be 24 ways to make $1,000+ a month online and one way to make a few hundred dollars (but it just doesn't have the same ring to it).
Yet some people will try to claim you can earn 4 figures a month from surveys. But they will almost definitely be about to scam you or are just lying!
It is possible to earn $200+ a month online from survey sites though.
It's not easy to make a lot of money from them but here are the…
Top tips to make surveys worth your while:
Create a

separate email address

so you only get survey emails in there

Sign up to as many legit survey sites as possible

as they don't all send surveys out every day

Always be honest

(it can get confusing keeping up any white lies)

Create a habit

and complete surveys you are accepted onto at the same time every day i.e. after your breakfast, during your lunch break or my favourite… when you first get to work… cheeky monkey!

Avoid paying for a survey site

… EVER
Companies are happy to pay people for their opinions as it helps them to make sure their ideas are suitable for the market.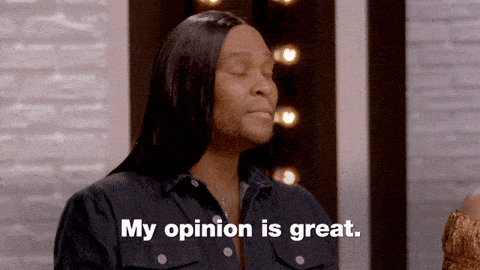 via GIPHY
All you have to do is sign up to legitimate survey sites and offer your honest opinions.
Positives:
You don't need any special skills, just the internet!

You're about to find out that you can make $40+ within the next 30 minutes
Negatives:
Some survey sites refuse your surveys (if you don't fit their criteria)

It's only realistic to make a few hundred dollars a month from this method… you're not going to quit your job from it
Ratings:
Difficulty:

1 out of 5

Skill Level Required:

1 out of 5

Initial Investment:

1 out of 5

Income Potential:

2 out of 5

Passive Income:

1 out of 5
Many of the Make Time Online podcast guests admit to doing a bit of this to earn some pocket money in the early days. Check out
15 legit survey sites that pay you money
if you'd like to earn $45 in the next few minutes (that's just from signing up to them!)
18. Dog Walking/ Pet Sitting
This one is technically not online (obviously).
However, it is possible to find opportunities online or through certain apps, such as
Rover
.
You are probably thinking… is it even possible to make $1,000 a month from this side hustle?
Would you believe me if one guy made over 6 figures a year from this side hustle?
He obviously created a system
to outsource it and make it more like a business
but it just shows what is possible from seemingly simple money-making opportunities.
Grant Sabatier's friend was still working in a full-time job when he did this too!
You would be amazed at how many people would love to walk dogs and get paid and there is a growing trend for people to own a dog.
Positives:
Easy to start as no specific skills are required (apart from walking)

You can use this as a side hustle in your free time and at times that work for you

You get to play with dogs without being tied to owning one!
Negatives:
It's not passive income (unless you create a business)

It's hard (but not impossible) to quit your day job from dog walking
Ratings:
Difficulty:

1 out of 5

Skill Level Required:

1 out of 5

Initial Investment:

1 out of 5

Income Potential:

3 out of 5

Passive Income:

1 out of 5
Grant Sabatier actually even did this as a side hustle himself! Technically it's not online but you can use websites like
indeed.com
to find the gigs almost anywhere.
More Techie Online Work
So these side hustles require you to have a bit more knowledge into certain technical aspects.
It doesn't mean you need to be able to code really hard stuff.
And these skills you need can certainly be learnt quickly and cheaply (or even free thanks to YouTube!)
19. Domain Flipping
Did you know that website URL's are kind of like a piece of property or real estate?
You can buy websites that are already making money and carry on taking income.
Kind of like buying then renting out a house.
Or you can buy a website to add value by fixing it up and selling it for a profit (as you can do with a house too).
These are some tips for what to look for in a domain:
Look for expired domains (

DomCop

or

ExpiredDomains.com

)

Especially 3-4 letter combos, single words or popular double word domain names

A good domain authority and page authority (use

Moz

to find this out)

How many backlinks the website has (which affects DA & PA)

What the website has been used for previously… try to avoid porn sites or illegal drug dealing etc. (use

archive.org

)

Avoid previous Google or Adsense bans (

isbanned.com

and

bannedcheck.com

)
Once you buy a website you can also improve its value by "fixing it up" or making it better.
Here are the most common ways you can improve a website:
Improve the SEO of the website

Get

backlinks

to the website from trusted websites (helps to improve Domain Authority and hence SEO)

Improve the website

speed

(add or remove certain plugins)

Use high-speed themes & designs i.e. Genesis (coding can help here)

Write more content to help rank for more keywords

Add appropriate affiliate links or display ads to improve the monetisation from the website
This may sound complicated but these are all skills you can learn and there are loads of tools you can use.
For example, Ahrefs has the industry's most accurate backlink checker, which can help you see what backlinks any website gets…
And as with everything you will only get better at picking these bargain domains over time.
Positives:
Possible to make money quickly from cheap domains if they have expired

There is no cap on how many domains you can own & some domain names will go up over time without doing anything (if they become popular or in-demand)

You can "force" an increase in value quicker by "fixing it up"
Negatives:
It's possible to lose money by buying a domain for more than you can sell it for

It's not really passive income (although you can buy and hold the website if it generates income)
Ratings:
Difficulty:

3 out of 5

Skill Level Required:

5 out of 5

Initial Investment:

3 out of 5

Income Potential:

5 out of 5

Passive Income:

3 out of 5
Grant Sabatier admits this was his most profitable side hustle. You can also use
Flippa.com
to buy and sell domain names.
20. Build Websites
If you have never done this, it may seem
very
hard to do.
However, it has never been easier to build your own website. In fact, I can build mine from scratch in 30 seconds thanks to the tools from my #1 recommendation.
I don't know how to code and I had no idea how to design a website before the one you are reading right now.
Using
WordPress means that you can use plugins to make the design and speed of the website very good very quickly.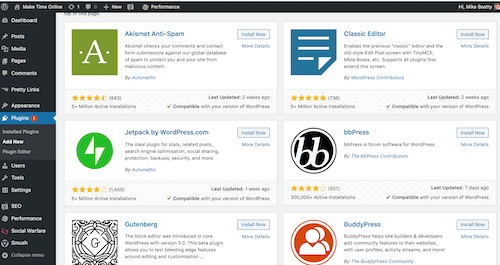 There are thousands of website themes that you can use, either free or paid versions. This means you can make your website stand out just by uploading a different theme, without needing to know how to code.
Here are some tips for building a website as a side hustle:
Find a small business or entrepreneur

who has a poor quality website or is looking to make one (same tactics as earlier… join FB groups & network on social media… become a friend, don't stalk people!)

Go above and beyond

for your

first

client (really understand what they want and do it for whatever price they are willing to pay)

Once you know how to do that you can use it as an example for another bigger client

in the same industry

i.e. law firm/ accountancy/ real estate broker etc.
By using those 3 simple steps Grant Sabatier managed to make $50,000 in 4 days from his second client that he built a website for!
Positives:
People are prepared to pay a lot of money for a good quality website

You can offer a very specific solution to people's problems
Negatives:
There is a learning curve for creating a website exactly how you want it

Some clients may ask for more technical bits than you are capable of delivering. However, it is possible to outsource those parts or learn them in time.
Ratings:
Difficulty:

4 out of 5

Skill Level Required:

5 out of 5

Initial Investment:

2 out of 5

Income Potential:

5 out of 5

Passive Income:

1 out of 5
Another side hustle for Grant Sabatier… that's number 6 for him! Check out my
number 1 recommendation
to see an example of someone selling a website for $40k.
Other Business Opportunities
It's possible to use online marketing and the internet to promote or make money in other businesses.
There have been numerous guests on Make Time Online that have utilised these opportunities.
21. Promote Existing Business
You may have your own physical business already.
It's easily possible to additionally make $1,000+ a month online by utilising a website and online marketing skills.
Seriously, just imagine you have a plumbing business in San Francisco…
How much more business could you get if you were to rank on page one of Google for "San Francisco Plumbers"?
If you have a niche business in an area that is not competitive, it may be much easier than you think to rank for keywords that can help your business (check out #3 for more info on SEO)
Also, it's possible to get a lot more attention to your business just by using social media content.
Examples of social media content to grow your business:
User-generated content. Can you add a competition or prize to someone that posts a picture of something with a #yourbusiness?

GoPro

does this really well (see pic below)

Facebook Livestreams show up on peoples notifications

Podcasts really help to build trust (see #9)

Infographics (use

canva

to design them for free)

Live webinars to give people the chance to interact and ask questions (you can upload these to YouTube or Facebook after to re-use the content)

Client testimonials (videos are ideal)

Guides or eBooks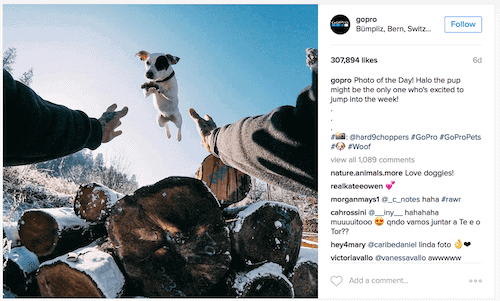 GoPros User-generated content
Getting people to engage and interact is one of the best ways to grow your business. All social media channels can help you to do that.
Positives:
Your business can grow exponentially

Very little monetary investment is required to build an online social media presence
Negatives:
You may need to invest some time into learning how to create a website and write content to be found in Google

It can be time-consuming to try to use ALL social media channels (focus on one or 2 to build engagement before trying to be everywhere!)
Ratings:
Difficulty:

3 out of 5

Skill Level Required:

4 out of 5

Initial Investment:

2 out of 5

Income Potential:

5 out of 5

Passive Income:

3 out of 5
Riaz Shah
explains how he used his online marketing knowledge to promote his events company and now generate over $20k a month.
22. Build a Personal Brand
This is quite a hard one to measure.
It also closely links to the previous make money idea.
But, it's possible to use the internet to create a personal brand that can help you in any business or area of life you move into.
Here are some ways to build a personal brand:
Social media channels (Facebook, Instagram, Twitter, YouTube etc.)

Starting a podcast

A website or blog
A personal brand means you are much more likely to connect with your audience and build trust over time. This means if you come to sell anything in the future or are looking to raise capital, you will already have people from around the world that know and trust you.
The key to building this brand is to be completely yourself and honest at all times.
People can tell when someone is being fake or trying too hard to be someone they are not.
If you don't know something or are trying to learn something then let your audience "follow your journey" rather than claiming to be an expert already.
Or you can even be a "research assistant" for them!
Positives:
It's not very much extra work to take a picture or video to share what you are doing

It can help you to stay accountable with your goals and vision
Negatives:
It can feel like you are putting in work without seeing an instant reward

It's hard to measure exactly what value your personal brand actually has
Ratings:
Difficulty:

3 out of 5

Skill Level Required:

2 out of 5

Initial Investment:

2 out of 5

Income Potential:

3 out of 5

Passive Income:

3 out of 5
Tej's second mention but he explains how it's possible to use online marketing, social media and a podcast to build a personal brand from the comfort of your own home.
Investing
Some people think that you can only invest when you have money in the bank to do so.
But this way of thinking is exactly why some people never have any month at the end of the money.
It's possible to find investment opportunities online for anyone's budget and with a bit of creativity.
It's also possible to make $1,000+ a month online using these investments.
Just by planning for these opportunities, it helps to set a budget as you know exactly what that money is going towards.
23. Invest In Index Funds
The hidden in plain sight secret of the rich…
If you're looking for truly passive income this is the one for you.
Obviously you need to have the monies to invest in the first place but by using "the 4% rule" it's possible to retire early
and
be inflation-proof!
"The 4% Rule" Overview:
Work out how much money you (and your immediate family) spend in a year

Times that number by 25

Stick it into index funds

Retire & never

need

to work another day in your life
The reason this works is that index funds will return a
conservative 7% interest
per year over the long term.
So if you were to take 4% out of your "pot" at the end of the year, you still are leaving the "pot" to grow by 3%+ each year (which should cover inflation).
For example:
You spend $40,000 a year

$40k x 25 = $1 million

After one year your pot = $1,070,000

You take 4% to live off aka $42,800

Your pot is now worth $1,027,200

Repeat and grow!
If you're like me you're probably thinking, well how am I supposed to get a pot of $1 million?
Erm… hello… have you not been reading this article?!!
I'm not saying it's easy but guess what… it
has
been done (no prizes for guessing which podcast guest did it!)
Index funds capitalise on 3 things:
Compound interest

You pay the lowest fees for a "managed portfolio of stocks and shares

You limit human error (and emotions of buying high and selling low)
I'm not going to go into detail here about why index funds beat any other form of investment in the stock market over the long run (the podcast series below does that for you)
https://twitter.com/olorrain/status/726455414305468416
Index funds beat hedge funds by 300% in 8 years- Warren Buffet (the greatest stock market investor of all time) has instructed his financial planners to stick all of his wealth into index funds for his family when he dies.
Positives:
If you invest with vanguard it is truly passive income (you only need to login once a year to withdraw your $40k!)

If you don't live in the USA, UK or Australia you can invest with Saxo bank or Internaxx in index funds ETF's
Negatives:
You need the money in the first place

You are reliant on the market to continue what it's done for the last 100+ years (until the current financial system changes it is very likely this pattern will continue in the long run)
Ratings:
Difficulty:

2 out of 5

Skill Level Required:

2 out of 5

Initial Investment:

5 out of 5

Income Potential:

4 out of 5

Passive Income:

5 out of 5
This is the exact strategy Grant Sabatier used to retire early. You can check out the 3 part podcast series on index funds (roughly 20 min an episode):
Scheduling these 3 episodes for when you next drive to work or go to the gym could change your whole financial future for the better.
24. Invest In Property/ Real Estate
So property can be more hands-on than paper assets, such as index funds.
But it does mean
you have more control if you have the right knowledge
.
If you buy a property with positive cash flow (the rental income makes more money than it costs each month) then you are "property bubble proof".
Hence, if the market crashes, you can hold your property and continue to rent it out for a profit.
Over time the value of property continues to rise (for the same reason index funds do… the current fiat currency financial system).
You can actually use online systems to help build a portfolio, such as:
Social media

Podcasts. You can start one yourself (like Tej did) or

The Property Podcast

has

everything

you need to invest

Blogs
You may be wondering how.
Well, Facebook for one is full of property groups.
Even if you don't have the money to invest but want to get involved you can start trying to find "property deals" on and sell them on.
Again, if you have good personal branding online this will really help to find potential investors that would love to buy that deal from you.
This is, in fact, how I have managed to turn a 3-bed terraced house into an 8 bedroom HMO in the UK, whilst living in Qatar. I connected with many property investors and developers until we found a deal that suited us.
If it wasn't for social media this wouldn't have been possible.
Positives:
It's possible to find deals on social media or other online channels

It's possible to sell deals in the same way

You have a lot of control over the asset with the right property education (there are so many strategies)
Negatives:
Property is less liquid than other assets and can be slow (due to regulations and hoops to jump through)

Even if you use lettings agents and outsource work it's not as passive as paper assets

If you need to sell at a bad time you can lose a lot of money (the key is to only invest what you won't need in the near-mid future)
Ratings:
Difficulty:

4 out of 5

Skill Level Required:

4 out of 5

Initial Investment:

5 out of 5

Income Potential:

5 out of 5

Passive Income:

4 out of 5
Check out my chats with Barry Nelson,
Grant Robe
(who we invested with) or
Saif Derzi
who have used the internet to network and help them invest in property in the UK.
25. Invest In A Friend/ Startup
This one is riskier than other methods of investing.
But the rewards
can
be much larger.
These opportunities can also be presented from people building a personal brand online. If you know the person and trust them, you're much more likely to invest in them.
There are startup companies starting all the time and they often need investment to get them off the ground.
Before investing in a startup make sure you do your research and don't just jump in because someone is your friend!
via GIPHY
Here are some things to look for:
A strong target market for the product or service

Good margins

Strong management team

Credible business plan and projections

An exit strategy

Passion and commitment
It's possible to invest in startups on crowdfunding platforms or if you know someone starting a business.
Positives:
Possible to make a big return on your investment

It's possible to get paid passive income from dividends or a lump sum if there is an exit strategy to sell for a certain price
Negatives:
It can be very hard to know which startups will be successful and which ones will flop

Your investment can be tied up for some time before you get any returns
Ratings:
Difficulty:

5 out of 5

Skill Level Required:

4 out of 5

Initial Investment:

5 out of 5

Income Potential:

5 out of 5

Passive Income:

5 out of 5
The last one so it's only fair we finish with Grant Sabatier's 8th mention in this list of ways to make $1,000+ a month online.
Proven Ways To Make $1,000 A Month Online Summary
So there you have it!
25 legit ways that "normal" people make $1,000 a month online.
Feel free to check out the podcast show notes at the bottom of any opportunity that interests you. Each one will have more tips and advice on what to do to get started for that money-making idea.
Here's the brutal truth though…
None of this is taught in schools.
And nobody is going to help you or your family learn this.
So if you think this could help someone you know please do share this in any way you can.