This Blog Income Reports Study on how to make money from a blog quickly has no affiliate links on it. It was made with the sole purpose of helping new bloggers go from 0 to 4 figures a month quickly by using the proven path already laid out for you.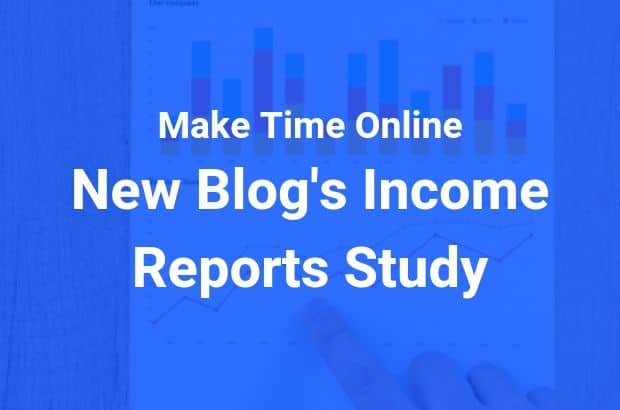 You probably already know that it's possible to make money blogging.
But for most people, it is hard to know how to monetise your blog at the start. Every "guru" you turn to tells you something different… you should do more freelancing, or use adverts, or affiliate marketing or write an ebook.
Here's the truth…
Every niche has a slightly different trend in making money within the first year or so.
I'd like to tell you that hard work and dedication will make you money online in the end. But the fact is if you don't see results quickly, you're more likely to give up.
This blog income reports study will show you how to make money from a blog quickly in 7 different niches. It is a proven road map for you to take a blog from zero to 4 figures a month… and beyond!
This has the proven path to make 4 figures a month so it is split up into 3 parts:
The Income Distribution of 7 Niches
The Blueprint to Make $1000+ Per Month
The Key Findings
Infographic
---
Use Visual.ly if you would like to get the code to embed this infographic and link back to this page.
How is This Blog Income Report Study Different?
---
Brandon Gaille produced a lot of amazing facts in his 2018 blog income report study.
However, one important thing was missing…
How does each niche make money?
More importantly, how does each blog niche make money in the early days?
The generic advice doesn't work for every niche, as you are about to find out.
For example, if you have a food blog is there any point in looking for affiliate programs to promote? Or if you have a marketing blog, should you bother using adverts?
The more you read this study, the more you will see the proven path that is laid out for how to make money from a blog in your niche.
The 7 Niches in This Blog Income Reports Study
There are 7 niches researched in this blog income reports study:
Food
Health and Fitness
Lifestyle
Mommy
Marketing
Personal Finance
Travel
And if you look into the majority of successful blog niches they will normally fit under one of these categories.
The lifestyle niche includes blogs that write about a variety of interests but could have an emphasis on DIY crafts, home decor, journaling etc.
The health & fitness or Mommy niches are closely linked to lifestyle but there was a clear focus on these blogs.
The Blog Income Reports Study Criteria
This study had a few criteria that had to be met:
At least 5 blog income reports in each niche
All income reports also need to be over $1,700 per month (most reports below this amount are just "a bit of this and that")
All income reports are below 6 figures a month (51 out of 57 were under 5 figures per month with the highest at $19,889)
Income reports must also have a break down of where the income was from
Why use these criteria?
We wanted to find blogs that are making money from their own niche. Not just making money "blogging about blogging".
Just think about it… have you seen those headlines on how to make money blogging like this?…
How I Made $1.5 Million Blogging Last Year... With my Eyes Closed on a Beach
Disclaimer- the "eyes closed and beach" part is totally made up!
These are great for motivation but when you see a Mommy blog with these numbers it's almost always because of one thing…
It has expanded into blogging about blogging.
Therefore, it's not an accurate representation of how that niche makes money anymore…
It's really just another marketing blog.
For this reason, many of the income reports used were not the blogger's most recent income report.
The farther back you look, the farther forward you are likely to see.

Winston Churchill
By finding the income reports towards the start of the blogger's journey we are able to see how to blog for money in the early stages.
Key Terms for the Study
So here are some key terms that you will need to be aware of for this study to make sense:
Ads: The amount of income from ad networks.
Affiliate: Affiliate marketing income (being paid a commission if someone buys something through a link on your website for someone else's product).
Own Products: Any products that the owner creates and sells. This includes ebooks, courses, physical products and apps.
Other: Any other income. This includes freelance work, sponsored posts, sponsorship for their website or podcast, coaching or other services they provide.
Start Year: The year the website was created.
Important Disclaimers
There are also some things to take into consideration with this study.
1. Some blogs overlap 2 or more different niches i.e. Fit Mom Journey is part Mommy and part Fitness.
However, the main niche that is written about is the one recorded in this study (hence, Fit Mom Journey is more about health and fitness).
2. Mommy bloggers often fall under the lifestyle niche but there were enough blogs that clearly had a focus on Moms and parenting.
3. It's hard to find blog income reports from websites that are not blogging about blogging!!
And there is a big reason why people make income reports…
Most income reports promote more affiliate links.
Yes, they can be educational, motivating and helpful. I'm grateful for them just doing this- research! But, 99 times out of 100, they are used to recommend more affiliate products.
But the truth is, many successful blogs will never produce a detailed income report.
This makes finding income reports that fit the purpose of this study quite challenging!
Part 1- How to Make Money From a Blog: The Income Distribution of 7 Niches
---
You can find all of the blog income reports used in this study towards the bottom of this page.
But if you're like me, you'll be pretty excited to see the difference between each niche.
How to Make Money From a Food Blog- Income Distribution
There is a clear monetisation method for food bloggers.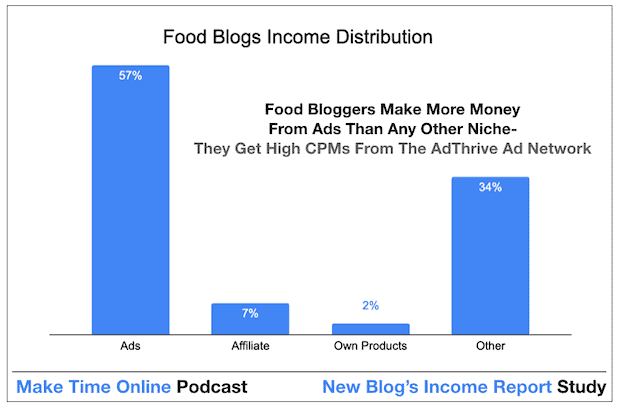 Ads for food blogs are crucial.
This is why getting onto the best ad networks and understanding what the requirements are to do this is so important for them. You can learn more about this on The Best 5 Ad Networks for Blogs.
Food Blogs Focus on Ads
Well duh!
But let's think about why and what this means…
The obvious reason for this is that food blogs tend to get a lot of traffic because everyone needs to cook.
When the typical "house chef" (AKA Mom… please don't shoot me for the stereotype!) struggles for ideas they do one of two things, in 2019:
Google recipe ideas
Search Pinterest for recipes
This means that new blogs can get hundreds of thousands of page views from Pinterest alone if they use it right.
Pinterest still has a high majority of active users that are aged between 25-45 and female. Hootsuite shows there has been an increase in male sign-ups since 2018, but they are still not as active on the platform.
Therefore, Pinterest is crucial for how to make money blogging about food. If you have a new food blog, all of your efforts should be spent on Pinterest promotion at the start.
Check out "5 Pinterest Hacks to Explode Your Traffic" if you want to get more pinning traffic tips.
How to Make Money From a Health & Fitness Blog- Income Distribution
There is again a clear method that health and fitness blogs use…
Advertising networks.
However, it's important to note this doesn't have to be the case.
For example, Avocadu didn't use any ads on the website at the start and focused much more on affiliate marketing and selling their own products quickly.
Health & Fitness Bloggers Get the Least Income from "Other" Means
Out of the 5 blogs in this study, Only Root and Revel started making any money from sponsored content.
None of these websites reported income from freelance or coaching work.
So how did health & fitness blogs make money from a blog?