In the spirit of full transparency, know that this Wealthy Affiliate review 2020 contains affiliate links. This means if you make a purchase through these links, I may receive a small commission at no extra cost to you. Click here to read my full disclosure policy.
Imagine what if would be like if you were in control of your own schedule.
Wouldn't it be amazing if you could make money from the comfort of your own home… or anywhere in the world with an internet connection?
Just picture this for a moment… living the life that you have always dreamed of…
No credit card details required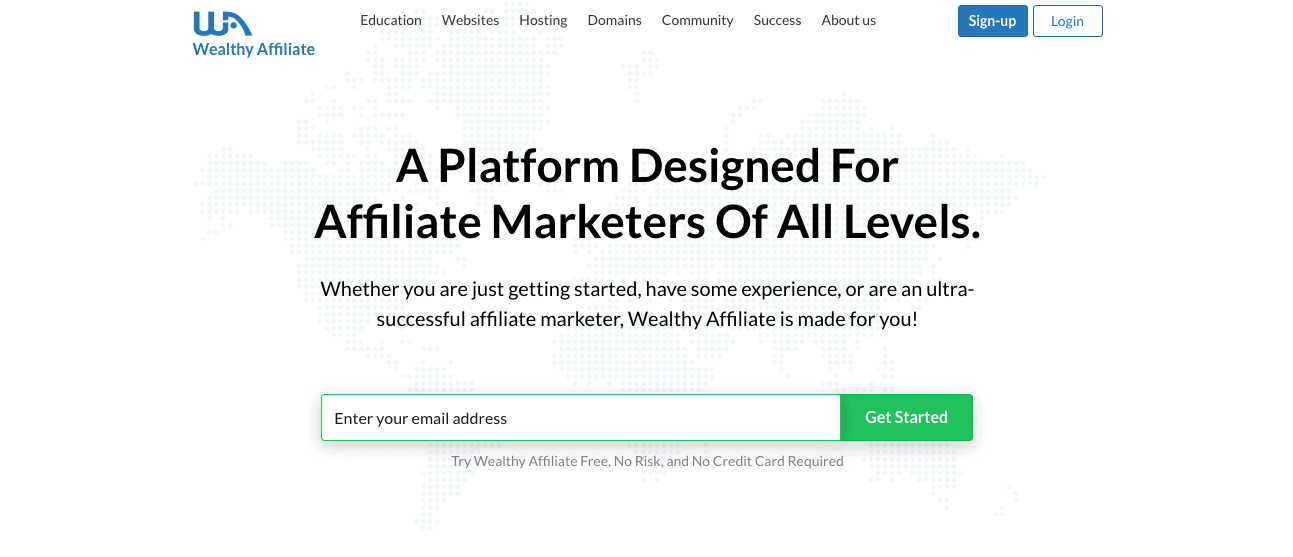 You probably agree that if you want to be financially independent and retire early you need to find ways of making passive income.
Well, creating an online business in a certain way can be a form of passive income for anyone. The best part is that you don't need to have thousands of dollars to get started like many other forms of passive income.
After you read this up to date honest Wealthy Affiliate review 2020, you will learn what Wealthy Affiliate can offer you.
Wealthy Affiliate Review 2020 Part One:
The Overview and Rankings
---
Name: Wealthy Affiliate
Owners: Kyle and Carson – 96 out of 100
Website URL: wealthyaffiliate.com
Training: 90 out of 100
Support: 99 out of 100
Website Builder: 99 out of 100
Research Tools: 95 out of 100 (for the paid version)
Success Stories: 95 out of 100
Price: Starter Member (Free- for as long as you want) Premium Membership ($49 per month/ $359 year)
Maketimeonline.com Rating: 97 out of 100
My Story
---
It all started on a sunny day in Essex, England, in August 2017.
Sarah, my wife, and I were sipping our coffee, chilled on my parent's sofa when she asked…
"Do you want to start a blog?"
I had no idea how much those 7 words would shape my life. Read the "About Mike" page to learn more about this story.
I didn't even know blogging was still a thing in 2017!
But after trying it out for a while and speaking to some people in this mysterious "blogging world" we realised some people were making a full-time income from it.
And others were making way more than I'd ever be able to as a teacher.
So it became a puzzle of mine to put the pieces together to figure out how they do this.
As you read each word in this Wealthy Affiliate review you will see how it has helped me to put a lot of the pieces together.
But I am not going to blow their trumpet to convince you to give it a go. I will be completely honest about my experience and show you the negatives so you can make an informed decision.
My First Online Sale…
Man, I remember the day that I made my first bit of money online.
It's such a weird feeling that is super hard to explain.
I was in freezing England after the Christmas break. We were out at dinner with my parents before we were heading back to Qatar when I got this buzz on my phone.
"Amazon Associates".
I recently had an email from them saying I had about a week left on my account to make the required 3 sales in your first 180 days.
So I didn't think much of it as I'd hardly used any affiliate links from Amazon on my website.
Then I clicked it and…
I made a massive…
$1.03!
This may sound weird but this was possibly the greatest $1.03 I have ever or will ever earn.
It was passive income.
I did the work once… and it paid me in the future.

Someone had read my review of Rich Dad Poor Dad, clicked the link and bought the book!
More than anything else, it was proof that I can make money online.
End of 2019 Update…
It's actually quite crazy how much I have learnt about online businesses over the last 15 months.
I also know how much there still is to learn.
But here's the truth:
I cannot fail if I don't quit.
How many types of business can honestly say that?
Here is what has started happening to my website in recent months…

I am getting over a thousand people to find my website every month for free!
This is all from Google and exactly what Wealthy Affiliate has taught me how to do.
But this is not the only method of traffic I have been taught…

I also know how to use social media and work with other online entrepreneurs to drive traffic to my website for viral traffic.
I've even used what I've learnt to start a new website and get hundreds of people to the website per day almost instantly…

Now, I can almost hear your mind thinking…
So what?
Traffic is not money.
Well, here's the secret amigo…
Yes, it is!
I just didn't know that until VERY recently…
Income Update…
If you're like me (and Jerry Maguire) the only thing you are probably interested in is seeing the money.
So I'm not going to hold anything back…


You're probably thinking…
So what?
"This is not enough to quit my full-time job!"
The thing that I want to make clear is this:
There are multiple streams of income (I make money from different affiliate programs)
The rate of growth is exponential (this time just a few months ago I hadn't made anything significant)
I am a PE teacher by trade! I. Did. Not. Know. This. Stuff!
Everything I have learnt has come from following the step-by-step training and people within Wealthy Affiliate.
It's even enough proof for me to quit my full-time job before the end of 2019! Exciting times ahead for sure! (I only joined in September 2018)
But enough about me.
Let's get back to the Wealthy Affiliate review 2020…
You Want the Proof? You Can't Handle the Proof…
---
Now I can almost hear your mind screaming…
Is Wealthy Affiliate a Scam?
So here's the thing…
There is so much proof, you don't need to hear it from me.
Meet Jerry- Joined May 2016
The 21-year-old college drop-out consistently makes 4 figures a month from Wealthy Affiliate.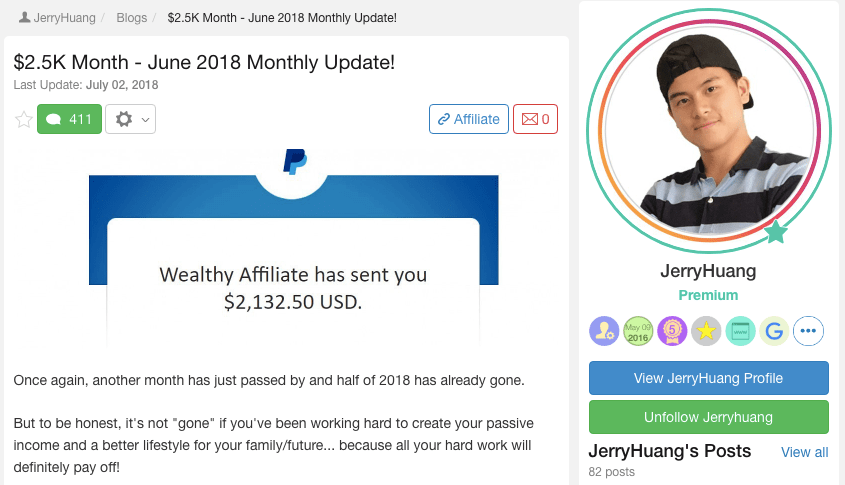 Do you notice the rate of growth in his income too?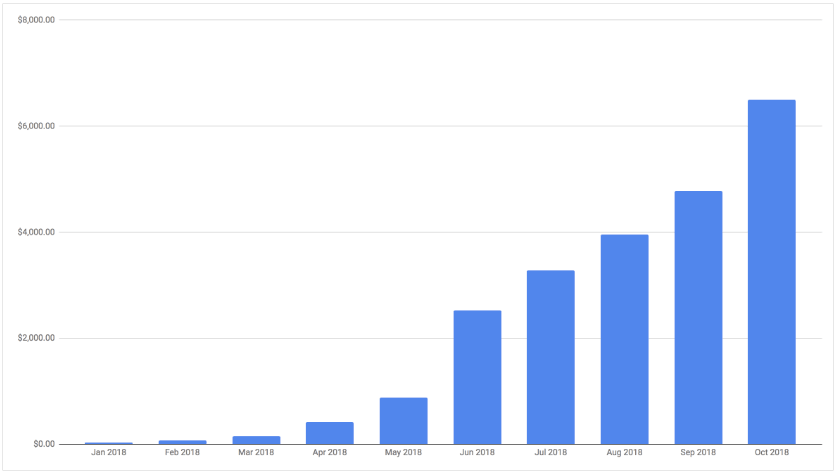 Oh, and did I mention he just made over $100k in a week from a new course he made?
Meet Grace aka LittleMama- Joined Sep 2016
The little darling of Wealthy Affiliate knows how to get paid on tap. Are you beginning to notice the rate of growth after making the first affiliate sale?
Her first annual membership referral was in November 2017
To $40k commissions in 2018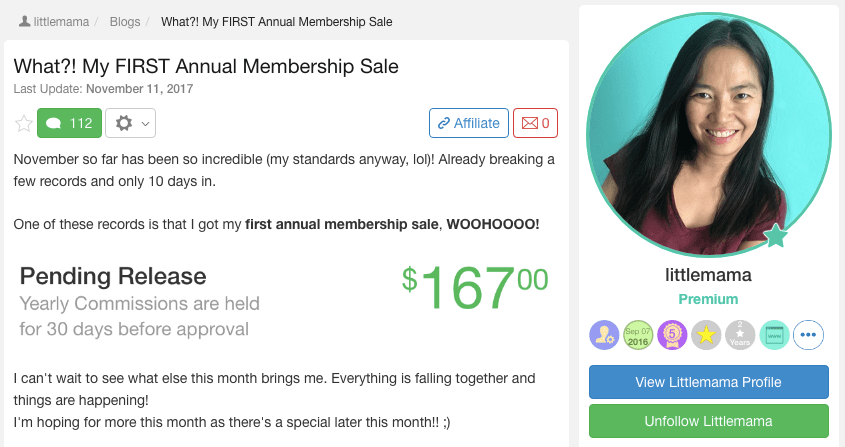 Will I Have to Promote Wealthy Affiliate?
Absolutely not.
As you continue to read this Wealthy Affiliate review in 2020 you will realise there are 2 training paths you can take.
Meet Juan- Joined May 2015
He makes money mainly from promoting other products on Amazon.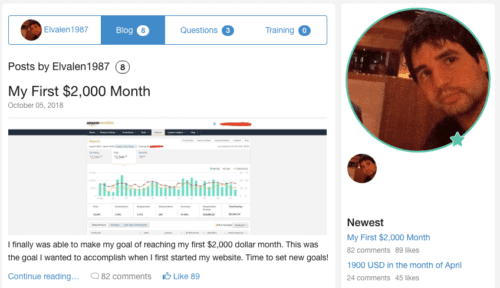 Will it Take Ages Before I Make Money?
How long is a piece of string?
It is entirely up to a number of factors including:
How much time you put into it
If you follow the training
Whether you collaborate and help out others
Meet Dylan- Joined Aug 2015
Dylan refined his tactics after working at Wealthy Affiliate for over a year. His new website generated over $4,000 in month 7!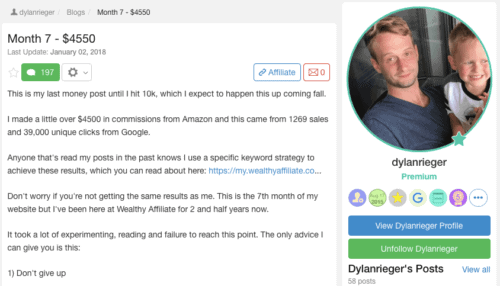 And yes it is possible to sell websites…
Will I Have to Put in Tons of Time?
This success story may help you decide…
Meet Steve- Joined Aug 2016
Here is a list of what he does:
Works a full-time job
Competes in "Iron Man" events (this is a full-time job just training in case you didn't know… it's heaps of swimming, cycling then a marathon to finish)
Manages a travel website
Spends quality time with his wife and friends
He is not a guy that has 40 hours a week to put into his online business… but he makes 4 figures a month!
Now, if this is not enough proof click here to see a whole load more.
Top Tip- Before you pay any money try the free account out. Find these people or thousands of others using Wealthy Affiliate and message them. They will tell you the truth about what they did and how much they worked.
No credit card details required
Why Use Wealthy Affiliate?
---
There are 3 main reasons why Wealthy Affiliate is my number 1 recommendation:
The step-by-step training is so easy to follow
Simple to use tools (read this to see "How to Build a Website in 30 Seconds")
Amazing support (24/7 live chat and over 1.5 million users ready to help)
Making money online can be overwhelming. There are a lot of moving parts and everyone has the next best shiny object ready to distract you.

As you keep reading this Wealthy Affiliate review 2020, you will begin to realise Wealthy Affiliate keeps it simple stupid.
They use a 4 step proven model:
Click on any of the above to read more about each step.
What are the Wealthy Affiliate Negatives?
---
Ok first of all I need to be fully open with you.
Wealthy Affiliate is NOT for everyone.
Here are some people that should not waste their precious time with Wealthy Affiliate:
Someone that wants to make money instantly
People that do not want to help others
Someone that doesn't want to put in any effort
If you're looking for a ready-made program to start paying you money (if you find this, hook me up… joking, this simply doesn't exist!)
If you use Wealthy Affiliate it does not mean you will be successful and have money flowing into your bank account each month.
It will show you what to do but you still need to put the work in. Some people do get frustrated with it and like to point the finger at the training program.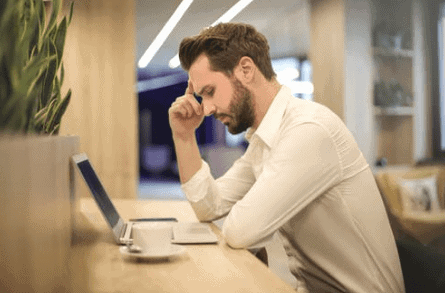 The Negatives
Nothing is perfect and there are some things that are not 100% ideal:
Information Overload

There is a lot going on inside Wealthy Affiliate. If you're not careful you will find yourself jumping around and trying to take on too much. The training exists for a reason. Trust it and follow it!

Email List Training

I was a massive skeptic about this initially. Read any "successful blogger's" number one tip and it will be…

"Build your email list immediately".

However, Wealthy Affiliate skims over this. It does have some webinars and some people have created training on it.

I ignored the training initially and thought I could go about building my list at the same time. Turns out, until you get traffic, nobody will join your list (no matter how good your content is!)

This is why Wealthy Affiliate doesn't focus on this in the starter trainings (hindsight is a wonderful thing!)



Who to Trust??

There are over 1.5 million users on Wealthy Affiliate.

This means there are some amazing people you can learn from. But it also means a lot of people won't know what they are talking about (they may still try to help you though!)

Figuring out who to take tips from isn't easy at the start, but that's where I can come in to point you in the direction of the best people to ask!
Disclaimer- Remember there is no magic button to press to make it all work. You will have to learn and put the time and effort in if you want to see results.
As you pay close attention to the rest of this Wealthy Affiliate review in 2020 you will begin to get excited about what Wealthy Affiliate can offer you…
Wealthy Affiliate Review 2020 Part Two:
What does Wealthy Affiliate do?
---
A lot!!
To be honest it does so much that it can be overwhelming reading it all.
All you need to know:
If you are interested in making money online to free up your time, then Wealthy Affiliate holds your hand into getting an online business up and running.
Some of the things Wealthy Affiliate does:
Step-by-step training – make a website suited for affiliate marketing (promoting other peoples products and getting a commission)
An amazing community to support you
Build your website in 30 seconds
Tools to track and monitor your progress
Tools to improve your research and content
Top quality hosting
When you try it out for free you will discover why so many people get excited and tell their friends about it .
Wealthy Affiliate Training, Many Formats to Suit your Taste
---
The training comes in different formats to suit your learning style:
Video
Written
Weekly live webinars
There are 2 routes you can take with the training:
Online Entrepreneur Training
Affiliate Bootcamp
Basically, route 1 is for those who have a specific niche and know exactly what they want to do.
Route 2 is for those who don't really know and so they hold your hand down the make money online route.
Now for me, the indecisive ninny here, I found this very hard to decide!
As I already had a blog up and running I literally would love to have a niche in anything to do with:
Health/ Nutrition
Success/ Business
Happiness/ Personal development
However, after starting route 1 I realised I would 100% need to sub-niche this down as it's too vague and pretty much covers everyone in the world (which turns out is not a good thing!!)
If you need to some help in deciding on your niche then I have created a post to show some things I wish I knew before (the video on there could save you hours of faffing!!)
Choosing Your Route
Working in the education system since 2011 has shown me how little financial IQ is taught at schools. This website is my way to help spread the word about financial education and demonstrate different ways we can create more money (and hence time) in our own lives.
…So route 2 it was!
The Bootcamp is more useful than a cold beer on a hot day. It literally shows you, step by step, how to create your online business.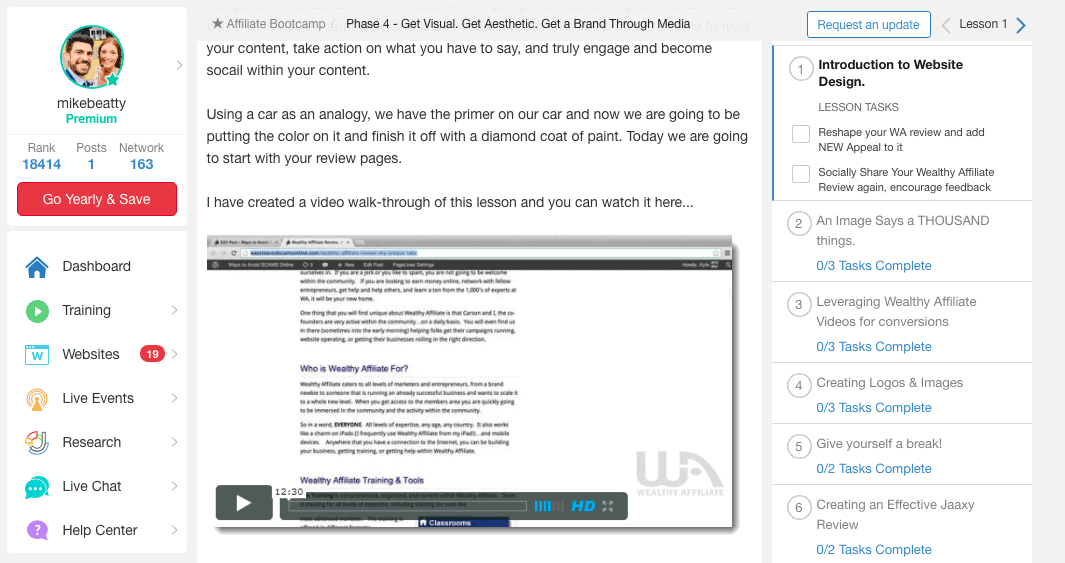 The information is incredibly thorough.
Do you remember reading that the downside to the training is the lack of depth in email marketing? Hindsight has taught me that it's actually a good thing they don't put this in too soon as this would cause overwhelm… I know this because I tried it anyway!
You would end up doing everything… but nothing well (Hello… that was me!)
Top Tip- Do EVERY step as it comes. Do not skip past action points and go at your own pace.
To avoid these mistakes and fast track your progress check out this free course…
Wealthy Affiliate Support, A Community of "Caring" Experts
---
When you try the program out you will find people at completely different stages of their online marketing journey:
Complete beginners
People who have been using it for 6 months
Members who are making 5 figures a month
I decided to join Wealthy Affiliate after reading Riaz Shah's website as I found his reviews to be very honest and informative.
He has been more helpful to me than Robin is to Batman (…yes I just referred to myself as Batman!) Just look at the detail in his response to a question I asked. This is only a fraction of the answer… talk about personal service!
There is also a Live chat and Forum so you can get quick responses to any question that pops up in your head!
After only 2 months of being a member, I wrote a post about "Why do People Create Blogs"… 13 people inside WA took the time to answer some questions for me.
People continually provide comments and feedback on my website and they are so helpful, generous and understanding of any type of problems.
No credit card details required
The SiteRubrix Suite, Create, Manage & Grow Your Websites
---
This was actually pretty amazing! I remember creating our website for our first blog on WordPress and I was so confused.
WordPress is actually very user-friendly but it took me ages to make the website look how I wanted it.
With Wealthy Affiliate, it took 30 seconds to create a website using Site Builder. No joke! Check out "How to Create a Website in 30-Seconds" for more info.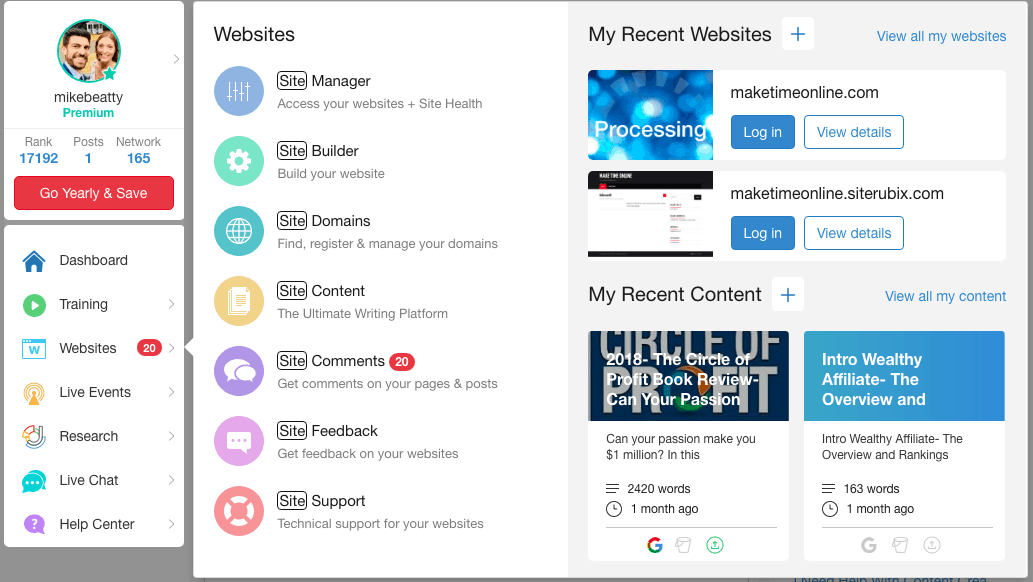 The screenshot above shows all the things that come with the SiteRubrix Suite. I honestly have found it soooooooo helpful!
For me, one of the best things about Wealthy Affiliate is the site comments.
You choose what you're interested in (so I never receive any baby advice or gardening websites) and you can skip websites if you'd rather not read it. So I actually find reading others people work really useful. All you do is write a meaningful comment to someone else.
In the screenshot above I had made 10 comments and then I used my "credits" to ask for specific feedback on certain posts that I have created. As you can see I had already received 20 comments (20 for the price of 10!!!!)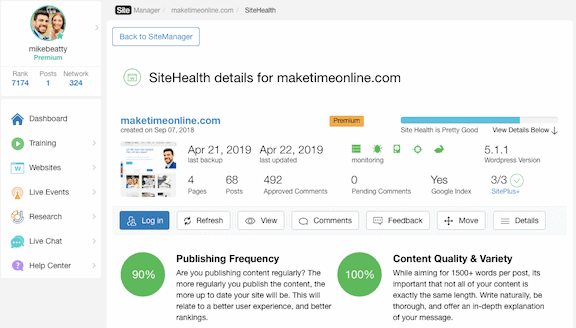 The Site Manager (above screenshot) is such a great way to see what you can do to improve your "Site Health".
It also shows the speed of your website and what you can do to improve this. This helps to ensure your website is optimised to improve its rankings on search engines and that your audience has a better experience when using the site.
Jaaxy Tool – Key Word Research
---
The training program shows you step by step how to make the website better for SEO using plugins (Search Engine Optimisation- in English this means it makes your website easier to find on Google)
The Jaaxy Tool is an amazing way to find keywords that receive a lot of searches each month.
If you want to learn more about SEO then check out this "Jaaxy Review" and particularly "How to Find Keywords For Your Website to Get Traffic on Tap".
As you absorb this information you will realise the best part of using Jaaxy is the QSR column (number of competing websites).
This helps you to find keywords that have less competition. Therefore, your website will rank higher on search engines and you will get more visitors to your site… aka more eyes on your website to purchase through your affiliate links.
This may sound overwhelming if you are brand new to this…
but just like everything else on this site…
follow the training, complete the tasks and all the pieces of the puzzle start coming together.
This is actually worth $49 per month by itself but it comes as part of the Premium Wealthy Affiliate package.
Managed WordPress Hosting- Set up Efficiently!
---
Picture your website like a load of files on your computer.
The "hosting" is basically where you store these files and share them with other people.
People can pay anything from $60 to a few thousand dollars per year.
So the Wealthy Affiliate hosting is top quality.
If you are on the free membership you get 2 .siterubrix free websites so you can get started and try out the training without having to pay anything. Plus you can stay on the free membership for as long as you like!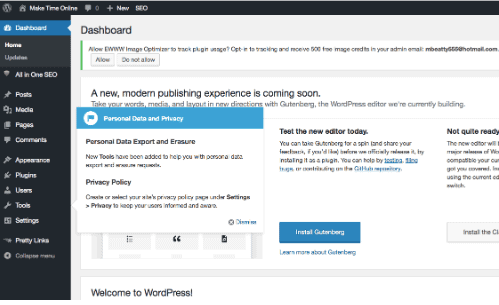 If you use the paid version you can get 25 free .siterubrix websites and 25 domains. WordPress is what all the big online marketers use to manage their website and WA helps you get set up on there super easily.
This means if you have another online business or website you can transfer it onto Wealthy Affiliate and get all the added benefits of:
Faster speeds
The Spam Blocker
SiteSSL (notice my website is https instead of http. You usually find this on websites that you make payments on as it makes the site more secure).
Why bother using the paid version?
---
This is something that I asked myself a lot when I started out.
You can access so many things on the free membership I didn't really see the point.
The 3 big things I could see was that on the paid membership you get:
The extra websites available (25 instead of 2)
Access to the Jaaxy Keyword Research Tool (usually $49 per month by itself)
Much more training
Check out all of the benefits for yourself:
The main reason I went for the paid membership was really because of what I'm about to tell you… and no it's not the Vegas trip…
Meet in Vegas, Lucrative Affiliate Program
---
If you sign up right now you will be getting a free trip to Vegas every year for the rest of your life!!… Only joking!!
Of course, they don't actually sell this to you like that (that would be cool though eh?!) and of course, it's great to set big goals but to get the all paid for Vegas-trip you need to get 300 people to sign up to Wealthy Affiliate.
Remember, you DO NOT have to promote Wealthy Affiliate at all.
If your passion is photography then Wealthy Affiliate can help you get a great online business set up for you too.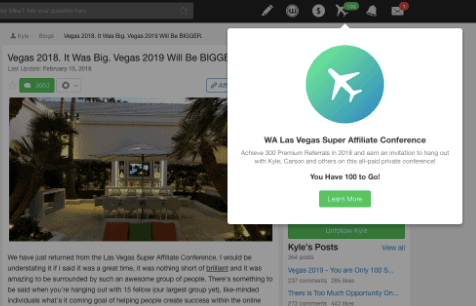 The bit that is interesting for a lot of beginners is that you can get paid to refer others to join Wealthy Affiliate.
Now, there are a lot of reviews that sell Wealthy Affiliate as the best thing since sliced bacon (I'm sure you'll understand why in a second).
The thing I have found surprising is that a lot seem to fail to mention this part. I'm not entirely sure why…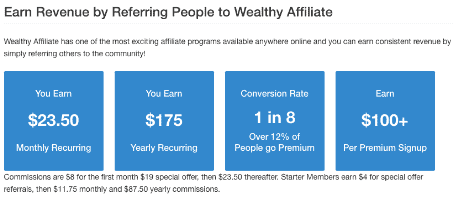 You get paid if someone signs up from your link…
If you're on the free membership (by the way did I mention you can be a free member for as long you like??) you receive:
$11.75 per monthly premium subscriber
or $87.50 for a yearly membership
If you are on the paid membership it doubles to:
$23.50 per month
or $175 for a yearly membership
So that means if 2 people sign up to Wealthy Affiliate from your link, you effectively get the premium Wealthy Affiliate membership for FREE!
Are you beginning to see how people make money online?
Wealthy Affiliate Review 2020: The "MakeTimeOnline" Final Word
---
Wealthy Affiliate is amazeballs for beginners and bloggers that want to start monetising or scale their website.
Especially if you are serious about making money online to free up your time, but still haven't found the right strategy.
Even if you don't join the paid membership you can stay on the free membership for as long as you like and learn a load from the free training.
This is the best one-stop-shop to get:
Tools (hosting, keyword tool, affiliate opportunities etc.)
Step-by-step training
And support
Have you noticed yet that if you want to connect with like-minded people there is a strong active community on Wealthy Affiliate?
Plus, I am already going through this process so you've got someone to give you personal feedback and help.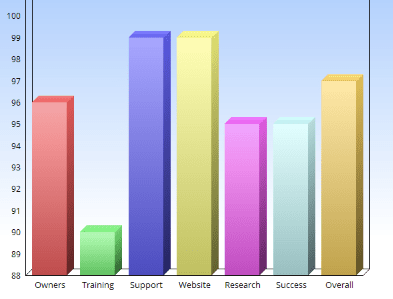 How Much Is Wealthy Affiliate Really Worth?
When you actually break down what you get from a premium membership with Wealthy Affiliate it looks like this:
100+ Step-by-Step Training Lessons (Value $997)
Super Simple Website Builder (Value $294)
Web Domain Marketplace (Value $99)
State-of-the-Art Web Hosting (Value $240)
Jaaxy Keyword Research Tool (Value $588)
Affiliate Program Marketplace (Value $197)
Weekly Live Training Calls (Value $497)
User Generate Training (Value $299)
Worldwide Community: >1.2 Million Members (Value $349)
24/7 Technical Support Team on Standby (Value $299)
The training, tools and support adds up to a total value of $3,859
But it doesn't end there as I remember exactly how hard and weird it was starting out as a brand new "online business owner" in September 2018.
So I'm going to give you some additional bonuses that no other WA members get and what I wish I had when I started…
My Recommendation and Special BONUS!!
---
I would recommend giving Wealthy Affiliate a try for free. This way you can check out the starter training and test out the platform. You can also message some other people inside if you'd like another person's point of view.
The special bonuses of signing up for the premium membership during your first week are: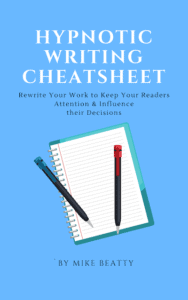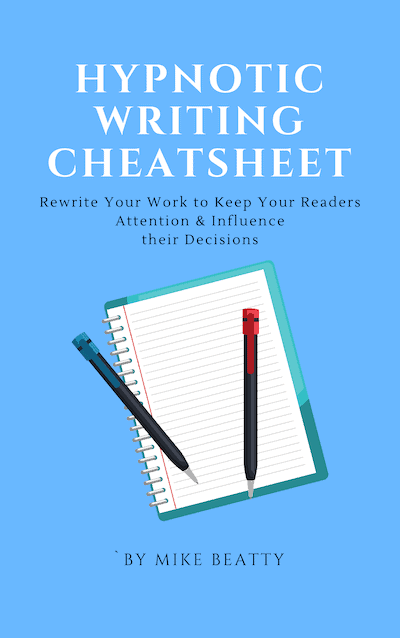 BONUS #1, Hypnotic Cheatsheet & Analogy Book ($67 Value)
Insert scientifically proven words into your writing that helps to keep your readers engaged and hooked to the end.
Make editing your writing much quicker.
Persuade and seduce your readers to take action that can help them.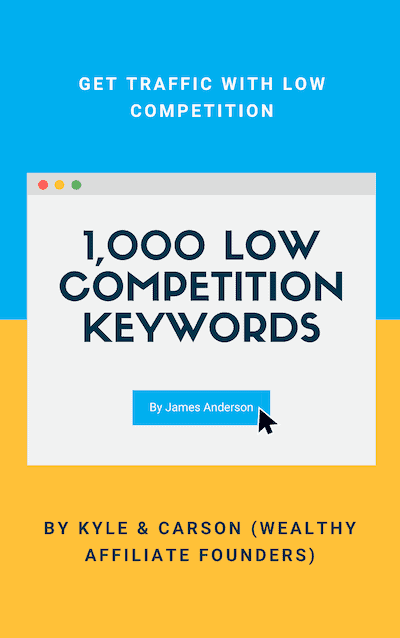 BONUS #2, 1000+ Amazing Keyword Ideas & Guest Posting Opportunities ($99 Value)
Get 1000+ low competition (not many websites writing about them) keywords with a lot of traffic (this is how you can get free traffic from Google every month)
Quickly improve the "authority" of your website by "guest posting" (writing a post for them to link back to your website) to some amazing websites
Save hours of time from having to do this research yourself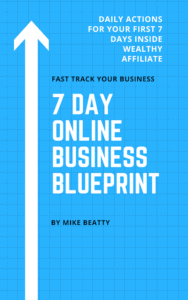 BONUS #3, Personal Business Blueprint + Checklist ($139 Value)
I'm also giving you this Personal Business Blueprint where I'll give you specific instructions to help you start on the right foot and plan your schedule.
I've also created a custom daily task for week 1 to assist you in Wealthy Affiliate's training.
This is NOT found anywhere else and NOT available to any other WA members!
BONUS #4, Top WordPress Themes & Plugins Guide ($97 Value)
Not sure what themes & plugins to use for your website?
If you've tried WordPress, you know WordPress has a TON of themes and plugins. I understand it's confusing for beginners.
So, I've created this guide to help you based on my experience.
This guide will be extremely helpful to kickstart your website!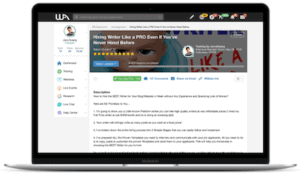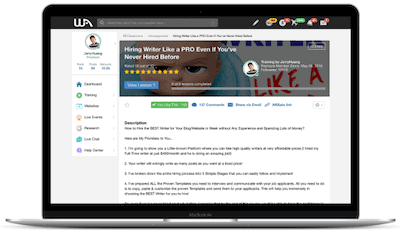 BONUS #5, Outsourcing Secrets: Hire Writer Like A PRO ($249 Value)
Do you hate writing? Feel like you suck at writing? Me too!
In this training, I'll give you the exact steps a Wealthy Affiliate member took to hire his full-time writer at just $400/month who writes really well.
Thanks to his writer, he's now automated his website. He hasn't written a single post for a very long time, yet the money just keeps coming in every single day.
This is how you can truly create an online business!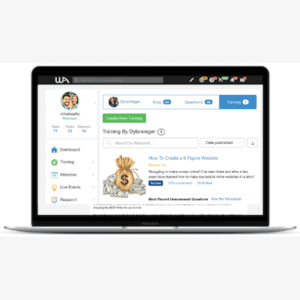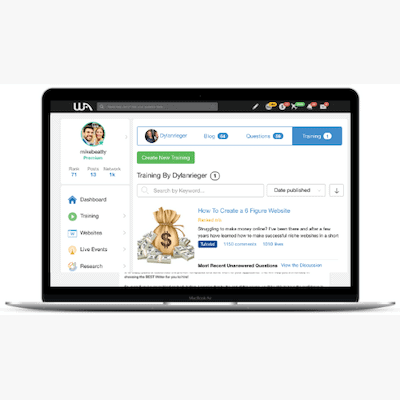 BONUS #6, How To Create a 6 Figure Website… In 6 Months ($299 Value)
Still no idea where to begin?
In this training, another Wealthy Affiliate member walks you through his exact strategy for creating a 6 figure business using Amazon
Following these steps have proven to create a website that generates $4,000 per month and this is possible to achieve within 6 months!
If I were to start again and not have a clear passion I wanted to follow… this would be exactly what I would do
Remember this is a special bonus for those "action takers" that join the premium membership during the first week.
Total Value: US $4,809
Your Investment TODAY: US $19
When you try the program out you will discover why so many people get excited about it and recommend it to others.
Now let me ask you this…
What's the life you would love to live worth to you?
Keep changing for the better,
Mike
No credit card details required
P.S. If you'd like the advice I wish I received when I started out, then check out this free course…
Updates to Questions Below
---
The training also includes how to use social media including Facebook, Google+, Pinterest and how to make your website a place for others to engage.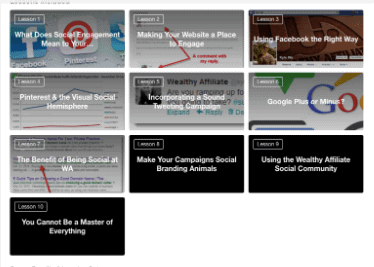 This Blog Income Reports Study on how to make money from a blog quickly has no affiliate links on it. It was made with the sole purpose of helping new bloggers go from 0 to 4 figures a month quickly by using the proven path already laid out for you.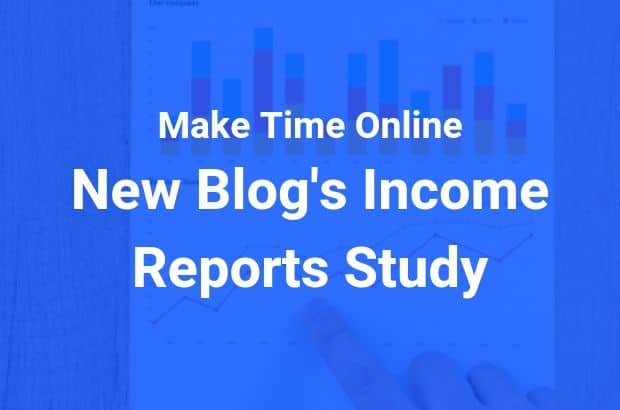 You probably already know that it's possible to make money blogging.
But for most people, it is hard to know how to monetise your blog at the start. Every "guru" you turn to tells you something different… you should do more freelancing, or use adverts, or affiliate marketing or write an ebook.
Here's the truth…
Every niche has a slightly different trend in making money within the first year or so.
I'd like to tell you that hard work and dedication will make you money online in the end. But the fact is if you don't see results quickly, you're more likely to give up.
This blog income reports study will show you how to make money from a blog quickly in 7 different niches. It is a proven road map for you to take a blog from zero to 4 figures a month… and beyond!
This has the proven path to make 4 figures a month so it is split up into 3 parts:
The Income Distribution of 7 Niches
The Blueprint to Make $1000+ Per Month
The Key Findings
Infographic
---
Use Visual.ly if you would like to get the code to embed this infographic and link back to this page.
How is This Blog Income Report Study Different?
---
Brandon Gaille produced a lot of amazing facts in his 2018 blog income report study.
However, one important thing was missing…
How does each niche make money?
More importantly, how does each blog niche make money in the early days?
The generic advice doesn't work for every niche, as you are about to find out.
For example, if you have a food blog is there any point in looking for affiliate programs to promote? Or if you have a marketing blog, should you bother using adverts?
The more you read this study, the more you will see the proven path that is laid out for how to make money from a blog in your niche.
The 7 Niches in This Blog Income Reports Study
There are 7 niches researched in this blog income reports study:
Food
Health and Fitness
Lifestyle
Mommy
Marketing
Personal Finance
Travel
And if you look into the majority of successful blog niches they will normally fit under one of these categories.
The lifestyle niche includes blogs that write about a variety of interests but could have an emphasis on DIY crafts, home decor, journaling etc.
The health & fitness or Mommy niches are closely linked to lifestyle but there was a clear focus on these blogs.
The Blog Income Reports Study Criteria
This study had a few criteria that had to be met:
At least 5 blog income reports in each niche
All income reports also need to be over $1,700 per month (most reports below this amount are just "a bit of this and that")
All income reports are below 6 figures a month (51 out of 57 were under 5 figures per month with the highest at $19,889)
Income reports must also have a break down of where the income was from
Why use these criteria?
We wanted to find blogs that are making money from their own niche. Not just making money "blogging about blogging".
Just think about it… have you seen those headlines on how to make money blogging like this?…
How I Made $1.5 Million Blogging Last Year... With my Eyes Closed on a Beach
Disclaimer- the "eyes closed and beach" part is totally made up!
These are great for motivation but when you see a Mommy blog with these numbers it's almost always because of one thing…
It has expanded into blogging about blogging.
Therefore, it's not an accurate representation of how that niche makes money anymore…
It's really just another marketing blog.
For this reason, many of the income reports used were not the blogger's most recent income report.
The farther back you look, the farther forward you are likely to see.

Winston Churchill
By finding the income reports towards the start of the blogger's journey we are able to see how to blog for money in the early stages.
Key Terms for the Study
So here are some key terms that you will need to be aware of for this study to make sense:
Ads: The amount of income from ad networks.
Affiliate: Affiliate marketing income (being paid a commission if someone buys something through a link on your website for someone else's product).
Own Products: Any products that the owner creates and sells. This includes ebooks, courses, physical products and apps.
Other: Any other income. This includes freelance work, sponsored posts, sponsorship for their website or podcast, coaching or other services they provide.
Start Year: The year the website was created.
Important Disclaimers
There are also some things to take into consideration with this study.
1. Some blogs overlap 2 or more different niches i.e. Fit Mom Journey is part Mommy and part Fitness.
However, the main niche that is written about is the one recorded in this study (hence, Fit Mom Journey is more about health and fitness).
2. Mommy bloggers often fall under the lifestyle niche but there were enough blogs that clearly had a focus on Moms and parenting.
3. It's hard to find blog income reports from websites that are not blogging about blogging!!
And there is a big reason why people make income reports…
Most income reports promote more affiliate links.
Yes, they can be educational, motivating and helpful. I'm grateful for them just doing this- research! But, 99 times out of 100, they are used to recommend more affiliate products.
But the truth is, many successful blogs will never produce a detailed income report.
This makes finding income reports that fit the purpose of this study quite challenging!
Part 1- How to Make Money From a Blog: The Income Distribution of 7 Niches
---
You can find all of the blog income reports used in this study towards the bottom of this page.
But if you're like me, you'll be pretty excited to see the difference between each niche.
How to Make Money From a Food Blog- Income Distribution
There is a clear monetisation method for food bloggers.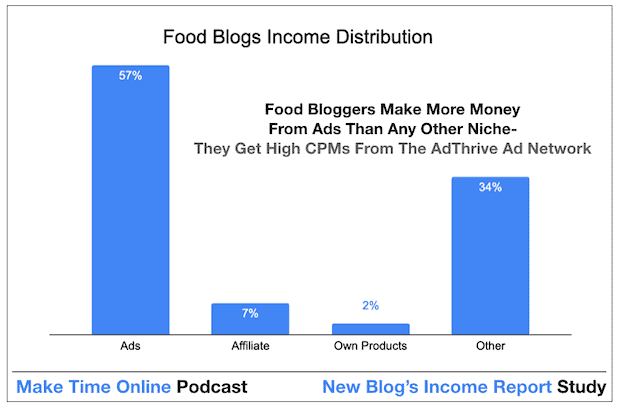 Ads for food blogs are crucial.
This is why getting onto the best ad networks and understanding what the requirements are to do this is so important for them. You can learn more about this on The Best 5 Ad Networks for Blogs.
Food Blogs Focus on Ads
Well duh!
But let's think about why and what this means…
The obvious reason for this is that food blogs tend to get a lot of traffic because everyone needs to cook.
When the typical "house chef" (AKA Mom… please don't shoot me for the stereotype!) struggles for ideas they do one of two things, in 2019:
Google recipe ideas
Search Pinterest for recipes
This means that new blogs can get hundreds of thousands of page views from Pinterest alone if they use it right.
Pinterest still has a high majority of active users that are aged between 25-45 and female. Hootsuite shows there has been an increase in male sign-ups since 2018, but they are still not as active on the platform.
Therefore, Pinterest is crucial for how to make money blogging about food. If you have a new food blog, all of your efforts should be spent on Pinterest promotion at the start.
Check out "5 Pinterest Hacks to Explode Your Traffic" if you want to get more pinning traffic tips.
How to Make Money From a Health & Fitness Blog- Income Distribution
There is again a clear method that health and fitness blogs use…
Advertising networks.
However, it's important to note this doesn't have to be the case.
For example, Avocadu didn't use any ads on the website at the start and focused much more on affiliate marketing and selling their own products quickly.
Health & Fitness Bloggers Get the Least Income from "Other" Means
Out of the 5 blogs in this study, Only Root and Revel started making any money from sponsored content.
None of these websites reported income from freelance or coaching work.
So how did health & fitness blogs make money from a blog?
Common Affiliate Opportunities for Health and Fitness Blogs
In a moment you'll notice there are a range of products promoted on each website without any real common trends.
Here are the main money earners for health and fitness websites (excluding ads):
Remember these are not affiliate links, but the links for you to join the affiliate programs.
Using Pinterest is again where the majority of your time should be spent if you have a new Health and Fitness blog.
Once you see what articles your readers are interested in, then you can look for appropriate affiliate products to promote.
How to Make Money From a Lifestyle Blog- Income Distribution
So how do lifestyle websites make money from a blog?
As you can see below, ads are also super important to lifestyle blogs when they first start to make money blogging.
However, due to the large range of topics lifestyle blogs cover there really is no right or wrong way to monetise these types of websites.
Lifestyle Blogs Use Different Income Streams
You can see from Chasing Foxes that it's possible to get an insane amount of traffic quickly to your blog. Silas and Grace pumped out 50 posts before they even launched their website and had over 2 million page views in a single month… within their first year!
This is obviously going to bring in some great income from ads. They relied heavily on Pinterest for this again.
Whereas Let's Reach Success focused on freelance work and sponsored posts in the early days.
Lifestyle Blog Formula
Despite there being many ways lifestyle blogs can earn money there is a general theme across the blogs in this study.
The main focus was on making money from a blog with ads and affiliate marketing:
Typically the websites built up traffic to monetise with some ads.
They used Amazon Associates to place links for products they were writing about.
This way they could test out what their audience was interested in.
Eventually, they could create their own product tailored to their readers wants.
To be honest this is not just a lifestyle blog formula.
It's also really the trend across the majority of these successful blogs as you are about to find out.
How to Make Money From a Mommy Blog- Income Distribution
Mommy's make money blogging in a very similar way to lifestyle blogs.
But again ads stand out as the main way to make money from a Mommy blog at the start.
There was an interesting finding from this study…
Mommy Blogs Quickly Blog About Blogging
Maybe this isn't always the case.
But…
Every one of the Mommy blogs (with Easy Baby Life less so) in this study started "blogging about blogging" or promoting some of their favourite blogging tools.
This kind of makes sense as a lot of Mom's will be interested in making some money from home so they can spend more time with their kids.
However, these income reports prove it is possible to make money without doing that as none of them had really monetised in this way… yet!
Common Mommy Blog Affiliate Ideas
There was one platform which dominated in all of these reports:
Amazon Associates.
That's a bit vague, so here are some common ideas they promoted:
Baby gifts
Baby gear- buggies/ prams/ car seat etc.
Breastfeeding stuff
Nursery ideas- cribs/ lamps etc.
There tend to be lots of different items promoted. But the "comparisons", "reviews" or "how to use" posts did well.
How to Make Money From a Marketing Blog- Income Distribution
This niche is where you see the biggest difference to every other niche!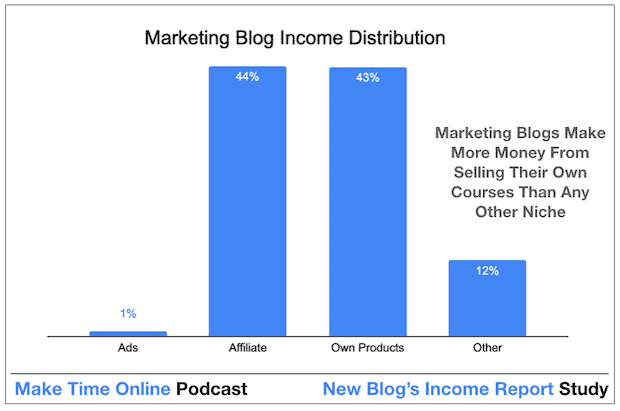 This is why you need to take "blogging about blogging" websites with a. pinch of salt.
Have you noticed yet that the things that work for these blogs may not work in your niche?
There are 2 key findings from this blog income reports study….
#1 Marketing Blogs Rely Less on Pinterest- They Do Not Focus on Ads
Readers on marketing websites (i.e. blogging about blogging or podcasting or how to use affiliate marketing etc.) do not want to see a load of pop-ups or ads everywhere.
There are two main reasons for this:
They want readers to click on their products and affiliate links, not the ads!
It slows the website down.
Simply put:
Ads are annoying and readers on marketing websites are more aware of them, unlike the typical readers in other niches.
Therefore, the last thing the readers on marketing websites want is to be interrupted every two seconds.
…Or struggle to scroll down without the website glitching.
#2 Marketing Blogs Make Money From Their Own Products Quickly
This was another interesting finding.
Even when I put in Pat Flynn, Melyssa Griffin and JLD's super high incomes ($150,000 a month+) the income distribution hardly changes…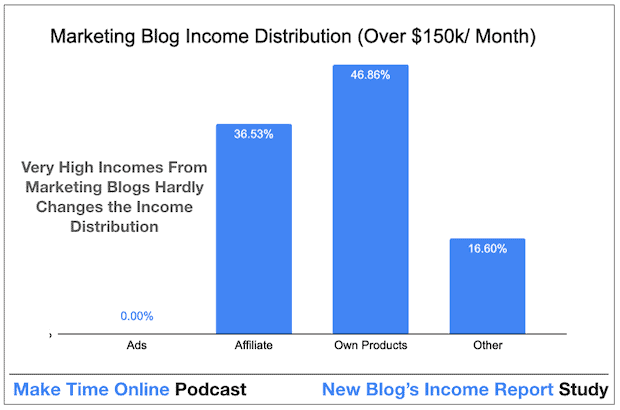 This just shows that it is possible to make money from your own products even with a new website.
However, you are about to find out that the income distribution changes a lot for other niches.
This is why it's good not to include these kinds of blog income reports in this study.
The Best Marketing Blogs Have Less Traffic and a Smaller Audience… But Build Better Relationships
Just take Pete McPherson's Do You Even Blog as an example.
With a relatively new website, Pete generates 60% of his income from his own courses. You can listen to my chat with Pete on the Make Time Online podcast about what he sees as the "Future of Digital Marketing".
Also, Ana from The She Approach has already had a lot of success from her own ebooks and courses, with 47% of her income coming from them.
Common Affiliate Networks for Marketing Blogs
There are some common networks for marketing blogs:
Remember these are not affiliate links, but the links for you to join the affiliate programs.
Every marketing website promotes individual affiliate programs too.
Ranging from Pinterest ebooks to full-on 6 Figure Blogging courses.
Click here to see my personal favourite blogging tools and courses.
How to Make Money From a Personal Finance Blog- Income Distribution
Another different looking graph!
As you can see personal finance bloggers make a higher percentage of their income from affiliate marketing than any other monetisation method.
So if you're a personal finance blogger, chances are you should be looking at affiliate programs to make money blogging.
Personal Finance Blogs Focus More on Affiliate Income Than Any Other Niche
Even in the early days, you can see personal finance websites focussing on affiliate marketing.
Affiliate programs such as survey sites (i.e. Survey Junkie) or reward sites (i.e. Ebates, now Rakuten) will make up a large portion of this income.
You can even see what Jeff and Ben from Dollarsprout recommend…
These type of affiliate links are easiest to convert (AKA low cost, free or even provide a sign-up bonus for people to join).
Are you beginning to see how getting someone to pay $10 to join is not as easy as paying someone $10 to join?
This is much easier to sell in the early days compared to $1,000+ courses that marketing websites may be offering, where trust is key.
Common Affiliate Programs for Personal Finance Blogs
Here are some of the common programs that personal finance bloggers use to make money from a blog at the start:
Remember these are not affiliate links, but the links for you to join the affiliate programs.
There are also loads of different affiliates depending on your specific focus i.e. credit card sign-ups or stock trading programs etc.
Plus, here's a little bonus look inside Jeff's income-generating platforms (this is super useful if you've never seen the backend of affiliate programs before)…
This was from their October 2018 Income report at $61,915, after Dollarsprout was more established.
You can check out our chat on the podcast if you'd like to hear how these guys created a $240k/ month online business in 3 years.
How to Make Money From a Travel Blog- Income Distribution
Again another different looking graph.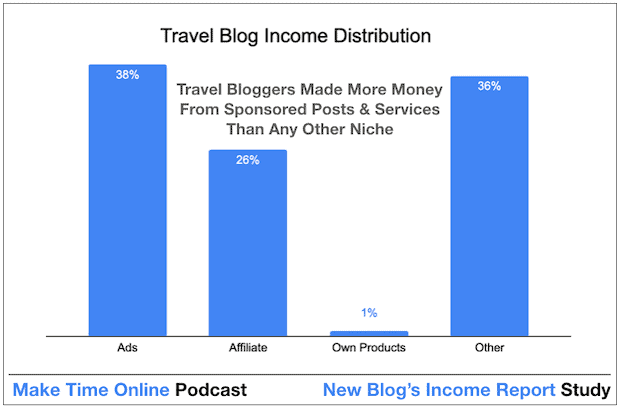 This time you can see that travel blogs typically get their income in a variety of ways.
Some sites such as Once in a Lifetime Journey make money blogging mainly from consulting. Others, such as External Expat do quite a bit of freelance work.
The fact is, travel blogs will have to hustle more to find these opportunities.
Travel Blogs Make Money With Sponsors and Freelance Income
If you're like me you may find this really helpful to know.
If you were starting a travel website the majority of them make money from other monetisation methods, such as sponsors and freelance writing.
In fact, 6 out of 8 of the travel websites in this study has some income from sponsored posts or freelance work.
So if you are trying to make money blogging with a travel blog by creating your own course, you may find it's an uphill battle.
Remember, don't reinvent the wheel!
Use the map that others have left you to copy their success.
Some Useful Marketplaces for Travel Blogs
Here are some of the places for how to make money from a travel blog:
Remember these are not affiliate links, but the links for you to join the affiliate programs or use the platform.
Freelancing and sponsored income comes in such a variety.
However, the best opportunities tend to not actually come from sites like Fiverr and Upwork.
This makes it harder to set out a blueprint for the best ways to do it.
For example, Will from Travel Blog Breakthrough got a big chunk of his income from a Trekking company after they saw his work on the Inca Trail Guide.
He jumped on a skype call to make that happen.
Make sure you check out the income reports below to find other ways of how blogger's make money from a travel blog.
Part 2- The Blueprint to Make $1,000+
---
Now, I bet you're looking at all of these pretty charts thinking…
So what?
Well, let's summarise the key takeaways and more importantly…
Let's work out an action plan moving forward.
#1 Every Blog Needs Traffic
First of all, let's start with the obvious.
If you want to make money from your website you have to get traffic.
Period.
5 out of 7 niches have a large chunk of their initial income from using ad networks.
Yes, Google Adsense is easy enough to get onto and start the ball rolling.
But the majority of these bloggers were getting most joy by using Mediavine or AdThrive.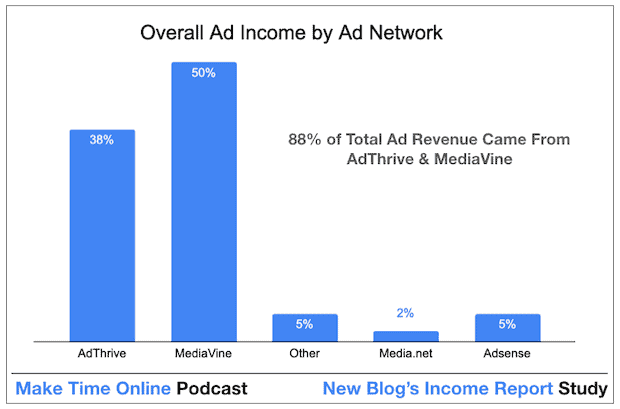 So it would be wise to aim for this.
Agreed?
Now, I can almost hear your mind saying…
But How do I Get This Traffic?
If you're like me, this is THE question you want to be answered!
This short video will explain exactly how many of the bloggers in this study have made sure they are writing content that people are actively searching for.
AKA how they get more traffic…
So if you use these techniques rather than just guessing, you will notice your articles will start getting much more attention quickly.
Click these links to try it out right now:
#2 Aim for 25,000 Sessions a Month (Unless You Have a Marketing Blog)
I know what you're thinking!
That sounds like a lot, right?
But there are 57 blog income reports that show you this is 100% possible for you to do.
Why 25,000 monthly sessions?
Simple because Mediavine requires 25,000 monthly sessions to allow a blog to use their network.
Therefore, aim for that!
AdThrive, which tends to pay a bit better on average requires 100,000 monthly page views.
(Note 100k page views means if 25,000 people click on 4 pages each you'd achieve that!)
This means to make some good money from ads on your blog, you need to focus on getting 25,000 monthly sessions…
Quickly!
Check out "The 5 Best Ad Networks for Blogs" to see more details about the ad networks.
Even the bloggers that did not focus on ads still needed the traffic to work out what affiliate programs or products their audience wants.
If you aren't getting 5,000 monthly sessions yet then check out "How to Use Pinterest for Beginners". As many of these income reports prove… Pinterest is still the fastest free way to get traffic to your website.
The most successful niches on Pinterest are still:
Recipes
Home decor
Fashion
DIY (crafts, decor etc.)
Followed closely by:
Kids and Parenting
Travel
Health & Fitness
Many other niches can be successful, but these are still the most widely pinned and active niches.
#3 Use Affiliate Products to Match Your Readers Interests
Once you get traffic from Pinterest (at least 5,000 page views a month) you can use Google Analytics to see what posts most of your readers are reading.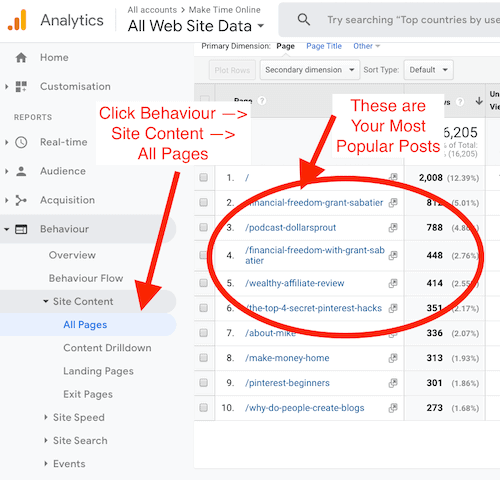 This proves exactly what the people reading your blog are most interested in. And are you beginning to notice you don't need to guess?
Use the data!
Once you know this, you can start to recommend great products that fit with these articles.
Plus, you can write more posts on these topics to get even more traffic!
There are plenty of niche-specific affiliate marketplaces in the sections above if you want some ideas of where to find these affiliate products.
#4 Create Your Own Product (Optional)
If you really want to start making a big income then this is the next step to take.
As you can see from this study already, it is possible to make well over $1,000 per month blogging without even thinking about this stage. (*Cough cough Chasing Foxes with $15k/ month from ads alone!*)
But if you make a better version of the affiliate product that you are promoting, you will get to keep all the profit instead of a per cent of the sale.
Hence, instead of making $5 commission on a $30 ebook, you can make the full $30 (or whatever you choose to charge for it).
This is the proven path that has already been laid out for how to make money from a blog.
Part 3- The Key Findings
---
There were some important and some unexpected findings from doing this blog income reports research.
#1 It is Possible to Make Money Blogging… Without Writing About Blogging
This could well be the biggest takeaway from this blog income reports study.
It is possible to make money in other niches than marketing.
All of the income reports below will show you how these blogs made money without talking about blogging.
You can tell that some of them (i.e. The Busy Budgeter) have clearly started to blog about blogging. But there was very little money made from "blogging about blogging" in these income reports.
#2 Some Niches Tend to Reach an Upper Limit
For example, Mommy & lifestyle blogs only have so many affiliates they can promote and only so many pageviews they can get in a month.
At this stage, it's hard for them to create a specific "Mommy product" so many of these blogs tend to start "blogging about blogging".
This opens up many more affiliate programs and provides an opportunity to create their own courses.
Just as I eluded (ooo posh word from me!) to earlier, most blog income reports will exist to provide motivation for others. But they also promote more affiliate links i.e. Bluehost hosting or an autoresponder or favourite theme to use etc.
Therefore, it is hard to find income reports that are based solely on a "non-blogging" niche. Many of the websites featured in this blog income reports study will eventually have affiliate links to blogging tools or courses.
#3 Income Distribution Changes Over Time
The graph below shows the average income distribution of 7 blogs, one from each niche.
The second graph is from the same 7 blogs. But they have since kicked on and made at least $40,000 a month.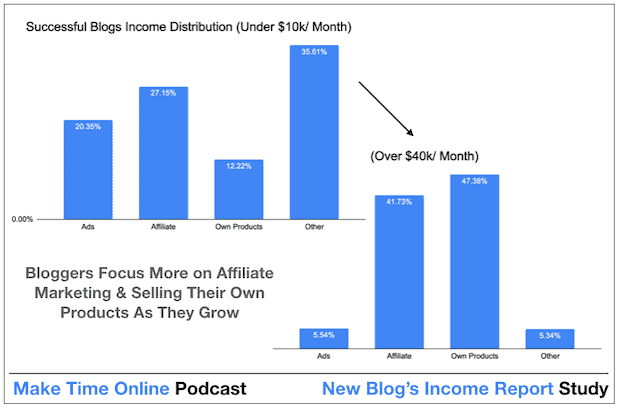 As you can see there is a much heavier reliance from their own products and affiliate marketing.
All 7 of these websites now have a focus on blogging about blogging (Show Me The Yummy has a course on how to make videos for food bloggers, which is sort of related).
Simply put…
Once you start making good money from your blog, focus on automating with affiliate marketing and funnels selling your own products.
The most successful blogs tend to have affiliate opportunities for their own products meaning it becomes even more passive.
The 7 Blogs Used For This
| | | | | | |
| --- | --- | --- | --- | --- | --- |
| Blog Name | Niche | First Income Report | Monthly Income | Second Income Report | Monthly Income |
| Just a Girl and her Blog | Lifestyle | Feb 2014 | $2,446 | Dec 2016 | $41,700 |
| Show me the Yummy | Food | Jun 2016 | $4,781 | Dec 2016 | $46,366 |
| The Realistic Mama | Mommy | Mar 2016 | $5,891 | Aug 2018 | $48,162 |
| Avocadu* | Health & Fitness | Apr 2016 | $4,244 | Aug 2019 | $111,929 |
| Making Sense of Cents | Personal Finance | Jan 2015 | $15,396 | May 2018 | $136,808 |
| It's a Lovely Life | Travel | Mar 2017 | $37,810 | Dec 2018 | $147,833 |
| Melyssa Griffin | Marketing | Jul 2015 | $9,226 | Dec 2016 | $283,680 |
The Most Important Finding of All
Every single blogger that has started making $2,000 per month or more has done this one thing.
There are ZERO exceptions.
I bet you want to know what it is, don't you?
But you won't like it…
Seriously though you won't…
Hustle.
I told you, you weren't going to like it.
There's no magic sauce that made these blogs earn money.
They all hustled at the start.
They all found "other" ways to make money or put in an incredible amount of effort to make money through the more "passive" ads, affiliate marketing and own products.
As you can see… content creation is key!
But you don't need to reinvent the wheel (in fact, it's better that you don't because if it hasn't been written about before, there is probably a reason!)
Find what works for others and make better versions of them.
57 Blog Income Reports in 7 Different Niches
---
So here are the blog income reports that were used in this study.
Feel free to click on the blog name and look into any of the reports in more detail.
Food Blog Income Reports
Health & Fitness Blog Income Reports
*Income report was taken from Alex and Lauren's book "How to Make Money Blogging". Their income on Create & Go is updated every month.
Lifestyle Blog Income Reports
Mommy Blog Income Reports
Marketing Blog Income Reports
**This is Ana's first $50,000 income report. The total has been divided by 12 even though it took 2 and a half years to get there because the income has sped up more recently.
***Only the income from Inspired BU was used for this study (not the income from Meet Penny)
Personal Finance Blog Income Reports
| | | | | |
| --- | --- | --- | --- | --- |
| Blog Name | Niche | Income Report Month | Start Year | Total Income |
| Millennial Boss | Personal Finance | Apr 2018 | 2016 | $1,950 |
| The Frugal Millionaire Blog | Personal Finance | Jan 2017 | 2014 | $2,171 |
| The Savvy Couple | Personal Finance | Jan 2018 | 2016 | $2,412 |
| Retired by 40 | Personal Finance | Dec 2016 | 2013 | $3,328 |
| Fitnancials | Personal Finance | Nov 2018 | 2013 | $4,612 |
| Inspired Budget | Personal Finance | Jun 2018 | 2017 | $7,296 |
| Unconventional Prosperity | Personal Finance | Feb 2018 | 2017 | $8,221 |
| Dollarsprout | Personal Finance | Jan 2018 | 2016 | $12,372 |
| Busy Budgeter | Personal Finance | Mar 2016 | 2014 | $12,484 |
| Making Sense of Cents | Personal Finance | Jan 2015 | 2011 | $15,396 |
Travel Blog Income Reports
***** Only travel related income was reported in this study- not the "blogging about blogging" income.
**** This income report gets updated every month but was used with the figures from August 2019
One Final Note on How to Make Money From a Blog
---
Remember this…
It is possible to make money in any way in any niche.
Of course, it is possible for food bloggers to create their own course or "monthly meal plans" and sell them in the early days.
Of course, you can make money from ads in any niche.
But what you have above is a proven path that successful blogs have taken to start making good money in different niches.
Use what they have left behind to your advantage.
Once you get that regular income, it then becomes possible to put more time into automating things and generating passive income from affiliate marketing funnels and sales of your own products.
How to Make Money From a Blog Quickly Summary
---
You can see a clear roadmap that successful blogs have taken to make money blogging in 7 different niches:
Food, Lifestyle & Mommy blogs should focus on Pinterest. Ideally creating list posts that people want to read & aim to get on Mediavine or AdThrive ad networks.
Health & Fitness blogs should do the same but quickly find affiliate products for their most popular articles.
Personal finance should also use Pinterest, noting that budgeting does better on Pinterest closely followed by ways to make money (use low cost or free affiliate products such as survey or cashback sites).
Marketing blogs should have an idea of a product they can create i.e. an eBook or Teachable course. The focus is on creating high-quality articles and really connect with the readers.
Travel blogs should still use Pinterest to drive traffic. Hustle to find sponsorships and freelance work to make up the income initially.
It doesn't mean that you have to stick to this, but it does give you an idea of the quickest and proven ways for your niche to start making money.
Feel free to use any of the charts and graphs from this study. All I ask is that you kindly link back to this study from your blog post.
Keep changing for the better,
Mike
P.S. Check out "The Most Profitable Niche" and "The 5 Best Ad Networks for Bloggers".
There may be affiliate links in this article on the best niche to make money online, read the full disclaimer here.
Imagine what it would be like if you knew what was the best niche to make money online.
Now let me ask you this…
"What are you passionate about?"
If you're like me then this is a question that you have often asked yourself.
But there is a slight issue to this question with making money online…
The playing field is not always equal depending on what niche you choose.
As you absorb this information, you'll realise these differences and find out what the best niche to make money online is.
If you are wondering whether your niche is profitable, about to start a blog or thinking of starting within a new niche, then read on to see these findings…
But I'm Not Interested in Just Making Money I Want to Enjoy What I do!
---
Yes!!!
That's the response I was hoping for!
So it's important that I start with this disclaimer:
Any online niche can make money. And they have a much greater chance of succeeding if you are passionate about what you do! Passion will show in every blog post that you write and it will never feel like work. This will allow you to reach higher levels of income than you could in a niche that you weren't interested in.
However, this article is using facts from a study by the Millionaire Blogger to help you see the best niche to make money online.
Read the Blog Income Report Research Study
What are the BIG 6 Niches?
---
Brandon Gaille found that the most profitable blogs that he studied fell into 6 niches:
Food
Personal Finance
Mommy
Travel
Marketing
Lifestyle
The lifestyle niche included a variety of interests that made up their everyday lives such as fitness, fashion, journaling and sewing.
The Mommy blogs could have fallen into this niche. But he found there were enough that had a clear focus on motherhood and used the word "mommy" or "mom within the title.
If the blogger wrote about SEO, blogging, social media marketing and small business then they fell into the marketing niche.
Personal finance, food and travel are pretty self-explanatory!
This study uncovered 2 main findings:
Which niche had the most bloggers making $2k+ per month?
Which niche had the highest median monthly income?
This then resulted in the best niche to make money online.
Related Articles:
#1 How Many Bloggers Make $2,000+ Per Month?
---
There seems to be a pretty clear cut off point from blogging being a hobby to becoming a more serious business.
What is that cut off point?
When it starts earning more than $2,000 per month!
So Brandon worked out the percentage of bloggers earning more than $2k per month for each niche.
Here are his findings…
As you can see the top three niches make up 62% of the bloggers in this study who were making $2k+ each month:
Personal finance- 24%
Marketing- 21%
Food- 17%
#2 Which Niche had the Highest Median Monthly Income?
---
Wow, these findings are eye-opening!
As you can see the personal finance and food niches stand out like Vince Vaughn at a midgets convention.
The BIG 3 Findings
---
Now, there are 3 huge takeaways from the study.
#1 Personal finance is the best niche to make money online. The food niche is not too far behind.
Brandon even made an equation to leave him with a score out of 100 to answer this question…
What is the best niche to make money online?
The closer the score to 100, the easier it is to make money in this niche:
#2 The marketing niche has an easy path to reach $2k per month
Even though the marketing niche has the lowest median income out of the 6 niches it still ranked 3rd overall.
This is because it seems like it's much easier to reach $2k per month.
It's possible to sell online courses that people would pay a high price tag for (unlike in the food niche) and there are heaps of affiliate marketing opportunities.
However, the marketing niche is much more saturated than other niches such as personal finance. This competition makes it hard to really grow your traffic or build your email list.
As you can see there is over 3.5 times the number of marketing blogs that appear on a Google search compared to personal finance blogs.
#3 The food blogging niche has a different income distribution to most. 42% of their income comes from ads!
Food blogs tend to get higher monthly engagement than other blogs… This is because people eat every day! So they will often click onto a recipe that they are looking for that night.
Look at it this way… It's not every day you are looking for a new credit card of a budget sheet!
This means food blogs tend to make higher monthly impressions and AdThrive (the highest paying ad network) is specifically targeted for food bloggers. AdThrive provides great ads for food blogs, which means visitors will be more likely to click on an ad as it is relevant for why they are on that website anyway!
Related articles:
Further Questions That Need Answering
---
Now, there are some clear results from these findings but it does leave us needing some more information to determine how conclusive the research is.
Here are some questions that would be great if Brandon could answer:
How were these blogs selected for this study?
How many blogs were in each niche? (there are a lot more marketing blogs that exist compared to something like the personal finance niche)
Does this mean there are some biases to finding better know blogs in certain niches?
What are the personal finance and marketing distribution of income?
The Best Niche to Make Money Online Summary
---
Unlike most articles you may find about what the best niche to make money online say, this shows a clear winner!
So the personal finance and food niches stand out as the most lucrative of the blogging niches. However, do you remember reading the disclaimer earlier?…
Any online niche can make money. And they have a much greater chance of succeeding if you are passionate about what you do! Passion will show in every blog post that you write and it will never feel like work. This will allow you to reach higher levels of income than you could in a niche that you weren't interested in.
STOP!
Now read that again.
On the other hand, you may be interested in 2 niches i.e. Travel or food. Now you have a clear road map about which one will be more lucrative and it would be worth pursuing your interest in food if you were on the fence!
The more you keep reading this article, the more you will understand what the best niche to make money online is.
Keep changing for the better
Mike
P.S. If you are interested in making money online to free up your time, have a look at my #1 recommended program here, which I am currently using.
P.P.S. Remember to pin this post and if you have any questions or thoughts please feel free to drop a comment below… or send me a message on WA here
So you want to make money online do ya? But how do you know the best ways to spot an online marketing scam?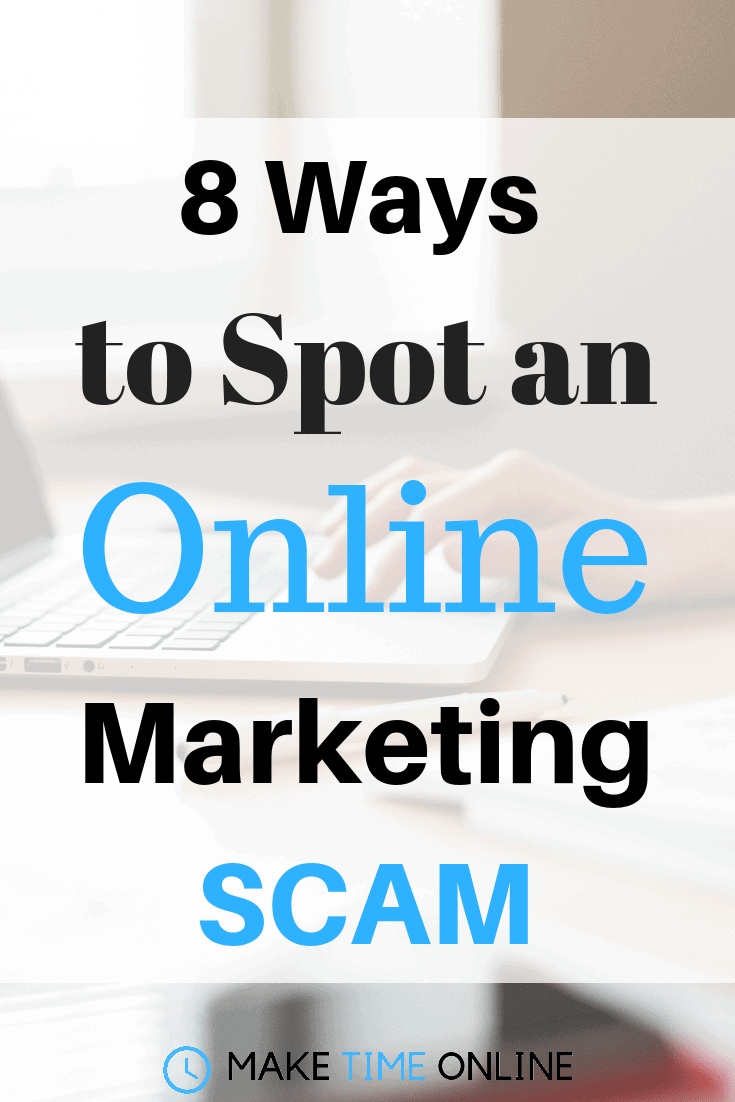 Let me ask you a personal question…
Have you looked into getting some training or using an online course to help learn from the best and minimise the mistakes you make?
If you have then CONGRATS!
Some people think they can just "figure it out" themselves.
Everyone knows that 99% of the time these people that are still in the same spot 10 years down the line.
Ask any successful person how they got to where they are today and they will tell you 2 things:
"I've learnt a lot (and continue to learn)"

"I have mentors or a support team
As you pay close attention to this page, remember that most of these people will have paid for both of these things at some stage in their journey.
Of course you've heard that 90% of people that buy a product related to internet marketing feel they were "ripped off" at some point.
The further on you read you'll begin to understand the best 8 ways to spot an online marketing SCAM!!
#1 Video ONLY Sales Page
---
Now, let me ask you this… Have you ever been forced to sit through a video before you even see any other information? i.e. what the product does, the cost etc.
Well do you see the red cross in the top corner of your screen?
If you are asked to wait for the video to finish before you see what to do next…
Click that cross and continue with your life!
Any respectable program will provide you with the information you WANT and NEED from the start.
Let's face the harsh reality that we are more likely to invest in something if we have spent time on it. This is exactly WHY some programs will force you to watch a 15-30 minute video FIRST!
This leads onto the next point to look out for…
#2 Upsell, Upsell, Upsell
---
PROVEN FACT!!
If you invest some money in something, you are likely to spend MORE money on it.
Now, let me ask you another question…
Have you ever seen an internet marketing product offered for under $10? Maybe even some random number like $6.87?
That's because the people selling the product know the fact above. Once you dip your hand into your pocket (or PayPal account) you are more likely to do it again.
This is another key ways to spot an online marketing SCAM!
This is why they make it look like it's a very cheap product but then have an upsell straight away ranging from $30-$1,000's.
Have you ever seen an upsell for $97?
You click "no thanks"
The next page is the same product for $47 at a ONE TIME offer!
Chances are this is a SCAM!
Any legit product will offer you a "try before you buy" free trial or it will just be a ONE-TIME payment.
If you see upsell after upsell it'll be likely the company won't be honest and up-front with you in the future.
Note there are definitely legitimate products that don't offer a free trial. Some products may actually give you certain things that they can't guarantee they can get back (such as a download).
#3 No Contact Details
---
If you can't even find a way to contact the company do you really think they have nothing to hide?
If something goes wrong with the product or you are not happy about something there will be no way to actually fix this.
AVOID it like the plague as it's a ways to spot an online marketing SCAM!
#4 Way to Spot an Online Marketing SCAM- Terrible Support
---
Now imagine you've just forked out some dollar for a course. You have a technical issue with it, so you send an email. How would you feel if you don't hear back from them for 3 days?
Your feeling of frustration and disappointment only grows when their response doesn't really answer your question.
It's another sign of things to come if they can't even support you at the start.
A legit training program will have different ways of contact and often has a platform you can ask questions to the community and the existing members.
#5 Pay $27 Today for an instant $357 a day Online ATM Machine
---
Have you ever seen an outrageous claim like this before?
Of course you have!
You probably know there may be some people who do really well using this program. But to get these kind've results these people will almost definately have one or more of the following:
TIME (to spend working on it all day)
MONEY (to spend driving traffic or buying the upsells)
TRAFFIC (already have a large following)
If they are using a rediculous overnight success story or $10,000's of income in the first month, you need to understand one thing:
This is NOT possible… so they are lying.
It's another way to spot an online marketing SCAM!!
NEXT!
#6 Some Guy in a Lamboghini & Mansion
---
If you see the owner of a product in a picture of his lambo outside his mansion then you know what to do by now. Click that red X. This is a key way to spot an online marketing SCAM.
Just think… it's possible to test drive a car, visit a national trust mansion and get a friend to take a photo on their phone. This proves NOTHING!
It's a classic case of short man syndrome!
They are usually show boating and flaunting these things because they know their product lacks credibility or any actual quality.
#7 Run for the Hills if there are Hundreds of Complaints
---
If you're like me you like to find out about a company before buying. There are a few ways to check whether a company recieves a lot of complaints but here are my favourite 2:
Mention (a social media tracking keywords website)
BBB (Better Business Bureau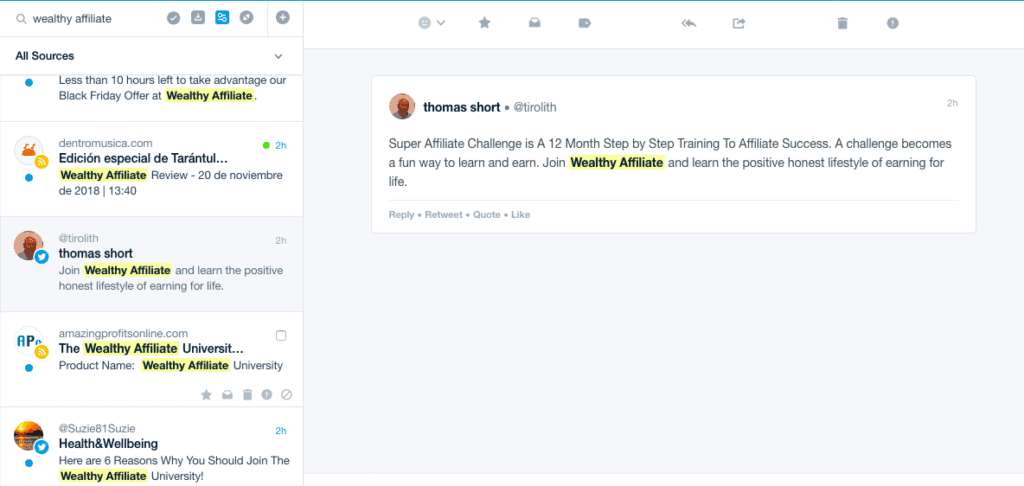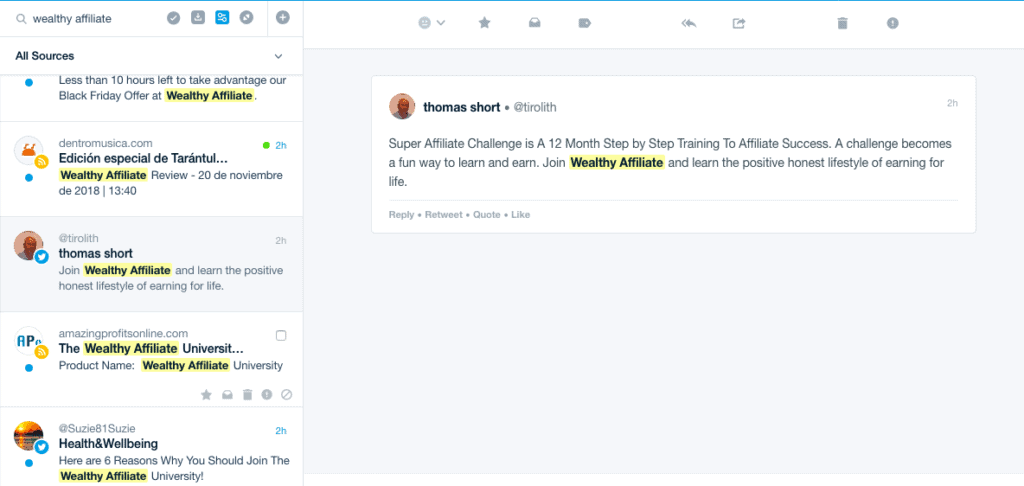 It's important to remember that a lot of GOOD companies will receive some complaints. In fact the better the company, the more customers it will have, the more likely someone will have a compaint.
For instance, someone may be annoyed that their product was delivered late, or maybe they didn't use it how it was intended to be used.
However, if a company is receiving hundreds of complaints then your "Spidy senses" should be tingling!
#8 Training from when Dinosaurs were Alive
---
In the online world using updated techniques can be the difference between doing something illegal and making a bigger difference that Nelson Mandela.
Tinternet (in Peter Kay's Northern accent) changes all the time.
Google, Facebook, Twitter all have these weird techie things called algorithms. If you are like me you have no idea (or really care) how these work. But what is important, if you're serious about your online business, is what these changes means to YOU.
For example, some old school backlinking techniques (a link to your website) are banned from Google and won't let your website rank at all now. Some older training programs may still tell you to do this!
Make sure the program you want to use gets updated more than Lady Gaga!
Make Time Online Summary
---
As this page ends you have realised that finding ways to spot an online marketing scam are easy like Sunday morning.
If you see any one of these 8 ways then…
STOP!
You really should consider whether the program will be honest and reliable.
Use the tools in #7 to see what other people have said about the product as this will help you know what to expect.
Keep changing for the better
Mike
p.s. If you are interested in making money online to free up your time, have a look at my #1 recommended program here, which I am currently using.
p.p.s. If you have any questions or thoughts please feel free to drop a comment below… or send me a message on WA here
There are affiliate links in this article on lucrative affiliate marketing tips for beginners, which means if you make a purchase through these links, I may receive a small commission at no extra cost to you. Read the full disclaimer here.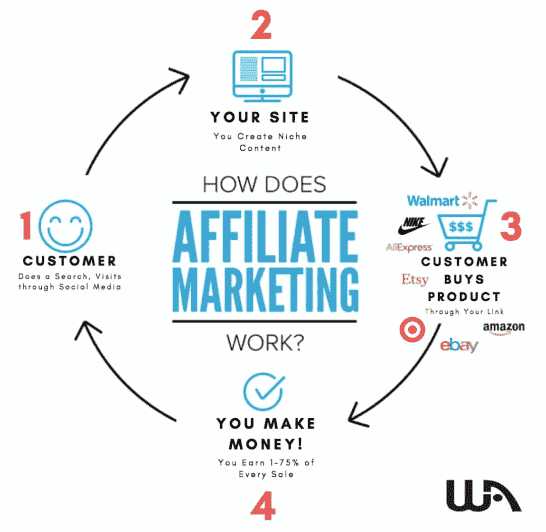 You probably already know there are hundreds of posts with a title just like this one.
"9 Lucrative Affiliate Marketing Tips for Beginners" is just another one of those pages where some guy reckons he's better than us at doing what we are all trying to do… make money online.
Well this is going to be different…
Here's how:
I'm not going to pretend I know it all.
In fact, I would imagine a lot of people reading this will know more about the topic than I do.
The further and further you read into this website the more you will realise I only offer "ready to use" tips that I have learnt from my own experience.
So shall we?…
#1 Be More Honest Than a Dude on Truth Serem
---
Call a sale a sale!
Tell your beautiful readers that you will get a commission if they buy from your link. Obviously, explain that it doesn't affect the price of what they are buying but be HONEST that it will benefit you.
The same goes if you've tried or not tried the product. Explain your reasons why you are writing about it or promoting it.
In my "starry-eyed" former non-Internet-marketing days I used to believe the best way to sell was to slip a sale in without the customer noticing.
Drift back to a time when you ended up spending more money than you planned. You know like when the checkout guy at McDonald's offers you the large portion without telling you it's extra money…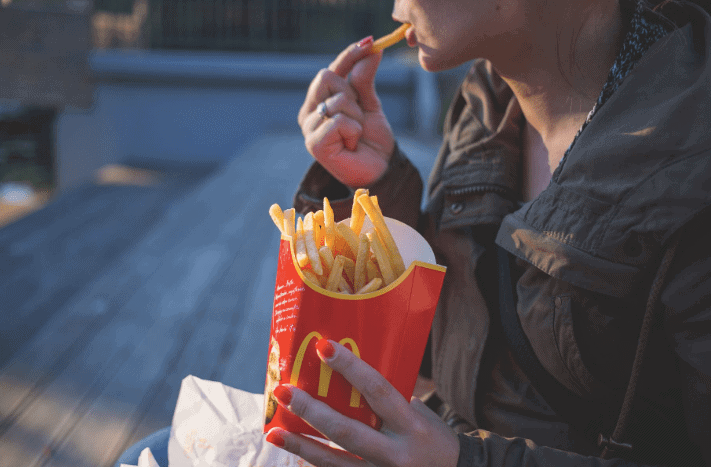 In actual fact, this is maybe the worst way to do it!
People are NOT stupid!
After you hand over your money in McDonald's you realise… "eurgh I fell for it again!"
And do you notice how the distrust makes you feel?
However, can you recall a time when a friend found an awesome deal and told you about it? Or a great film they saw at the cinema? They didn't sell anything to you they genuinely tried to help. Because when people trust you it's not selling, it's just like letting a friend know about an awesome deal.
Are you beginning to see how HONESTY sells?
Affiliate marketing should be a long game about helping people… not trying to make a quick buck.
#2 Create VALUE… for FREE
---
Do people really want freebies?
…Is a frogs ass watertight?
Wouldn't it be amazing if someone could solve YOUR problems?
If you create value that someone really wants then people will TRUST you.
How can you create freebies?
Blog post
Youtube video
Podcast
Infographics
If you really solve someone's problems you can create a freebie in exchange for their email address such as:
Cheatsheet
e-book
Email course (a great way to start for newbies)
Something packaged in a different way i.e. blog post come video/ audio
A "giveaway"
Focus on adding REAL value to people for FREE as much as you possibly can. That way your readers will keep coming back and… you guessed it… TRUST you!
#3 START with a Free Autoresponder
---
Have you heard that ConvertKit is the best autoresponder? Yeah, so have I from everyone that uses ConvertKit… guess what people who use Aweber recommend? BINGO… Aweber!
I have tried and tested the following autoresponders (there are loads more):
Mailchimp
Getresponse
MailerLite
ConvertKit
Aweber
Do you know how many email subscribers I had when I tried these out?… 3 (one was me, and one was Sarah, my wife)
The truth is it doesn't matter which one you START with… so DON'T throw your money away!!
Use a FREE one:
Both of these are completely FREE every month until you get over 1,000 email addresses (MailChimp is now 2,000!) And then it's easy to export your email addresses to another autoresponder if you outgrow this.
Guess what…
It is hard to get 1,000 email addresses!!
I personally use ConvertKit (this is an affiliate link) as it offers so much more and is far easier to use than the free programs. But until you have a sizeable email list don't convert (see what I did there!)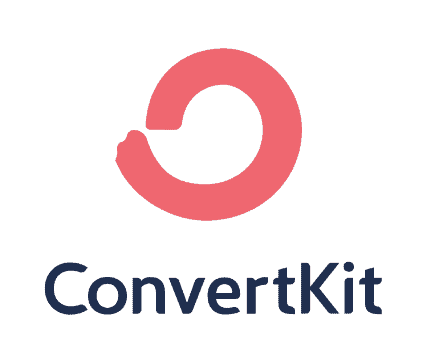 These "email marketing gurus" who tell you how easy it is to get email addresses using their FREE 2-page e-book… are lying!
As you absorb this information you'll notice that adding REAL VALUE wins at affiliate marketing!… 100% of the time.
As you can imagine, getting the first 1,000 is the hardest part and it gets easier after that.
#4 Find Out What People Say About Your Product in Minutes
---
What if you have found a product you can be an affiliate for, but you're still not sure if people will like it?
Use mention to literally see what others are saying about it!
Mention is a social media monitoring website that you can use for FREE.
This is what people are saying about Wealthy Affiliate…
Learn the positive honest lifestyle of earning for life.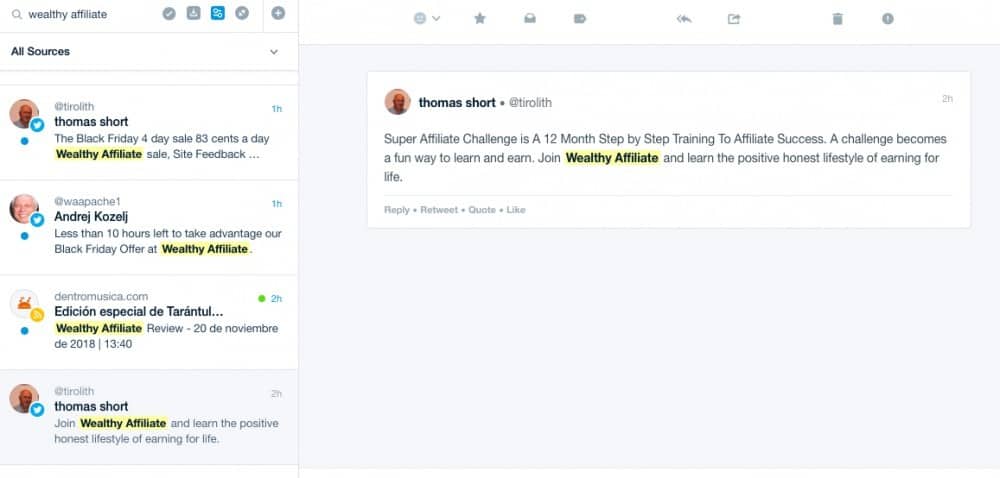 And this is what people are saying about Banners Broker…
Selling unregistered securities at best, and outright fraud at worst.

A quick 2-minute search on "mention" shows me which product I would be happy being an affiliate of and what product I would steer clear of!
#5 Make Sure Your Links WORK
---
Do you remember a time at school when you got all excited about a school trip, only to find out it's been cancelled?
That is the feeling you will give your readers if your link doesn't work.
Don't worry though! I have found another SIMPLE way to make sure your links are as good as gold…
Use the check my links extension on Chrome to find any broken links on your website (yes it's free).
Find out how this works in more detail here.
Are you beginning to notice how these affiliate marketing tips for beginners could help you?
#6 Get More Traffic with a Keyword Research Tool
---
"Eh hum… what the frick is a Keyword?"
Oh, I'm so glad you asked!
A Keyword is a particular word or a phrase that helps search engines match a particular search to a website…
Complex stuff right?
No, not really! It basically means your title, subtitles and tags on that page form your keyword(s)… Simples!
Of course, you've heard that "you shouldn't even think about SEO until you've blogged for 6 months!"
This is baloney!
You may have heard the jargon "sandboxing" before. It simply means Google won't promote your website until it's about 6 months old.
Yes, Google only ranks your website higher after 6 months of existence because thousands of websites are being created (and abandoned) every day. They are trying to separate the wheat from the chaff you see!
However, if you can spend time finding less competitive keywords now, you can potentially get loadsa traffic in the future.
And guess what?…
Keyword research tools are a massive TIME SAVER.
Hold on a minute… what is SEO?
Sorry, my bad! This means Search Engine Optimisation… basically, it means making your website easier to find on search engines.
Here's WHY this is important:

Read "How to Find Keywords for your Website" to learn some of the best tips and tricks for getting your content ranked.
You can do keyword research manually on Google but I use the Jaaxy Keyword Research for free with my membership at Wealthy Affiliate.
#7 Improve Your Rankings for FREE with Moz
---
Moz shows the domain authority of a website.
What's the domain authority (DA)?
It's a search engine ranking score that predicts how well a website will rank on a search engine's results page.
Simply put…
Imagine someone types in "how to make money online" into Google.
A website with a DA of 97 will be more likely to be on page 1 of the search results than a website with a DA of 13.
So if you type in your Keyword into Google check what the general score is of the competing websites. If this is similar to your websites DA then you should be good to compete for page 1… If you're way off, I would recommend finding another Keyword to use.
This is a search for make money online…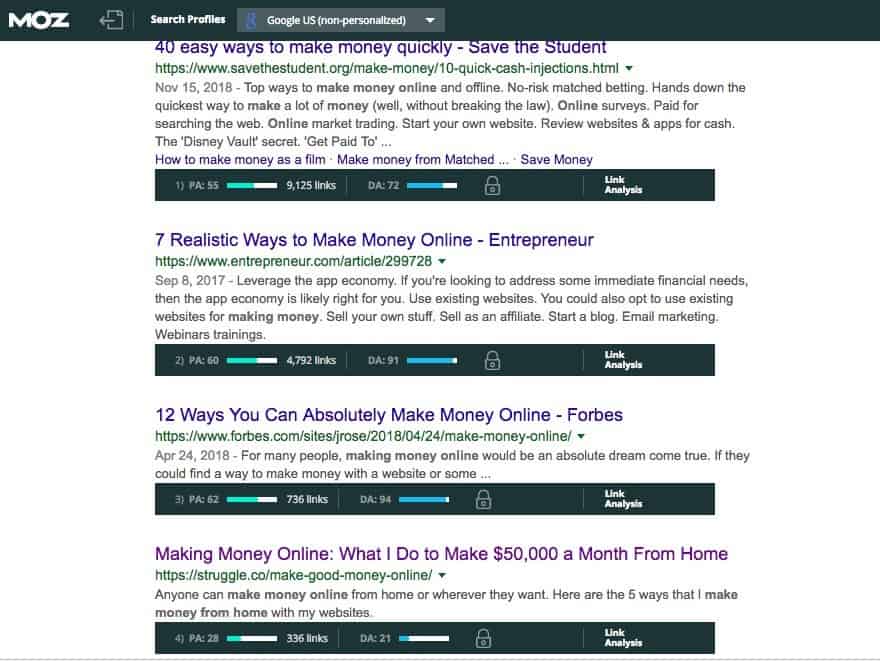 This is a search for make money online with affiliate marketing…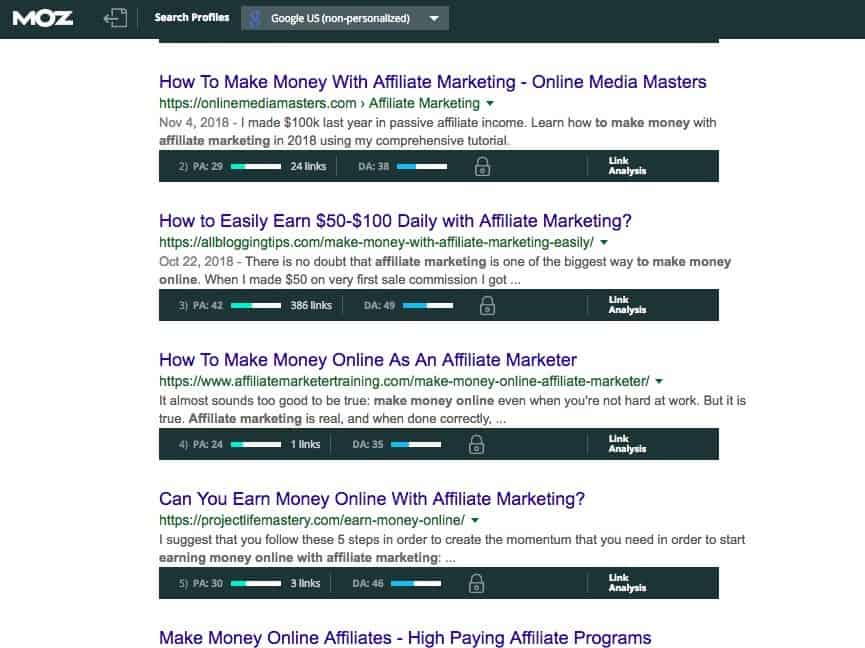 As you can see the websites DA that you are competing with are much lower when your keyword is more specific.
Notice that there is a website with a DA of 21 in the first screenshot. If you make a GREAT post with specific keywords that people are searching for then it is possible to get your website on page 1 of Google with a lower DA.
#8 Choose Amazing Products to Sell
---
This is the last but not least for affiliate marketing tips for beginners…
Picture yourself five years from now… You are the best copywriter (person who writes to sell) in the world. You have an amazing website and your audience really trusts you.
Now imagine you try to sell them a dog poo in a paper bag…
The point is… don't sell s#*!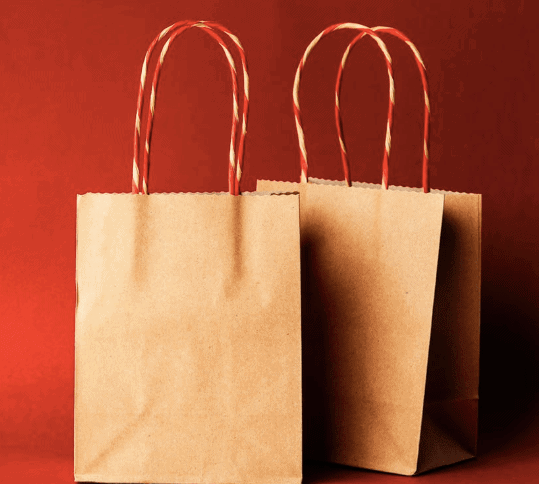 If you are promoting something, I do believe you should try it out, or at least trust someone that has.
Make sure you are completely happy with the product and you are clear on what value it adds.
However, if you're writing a review about something that you would not recommend, by all means, be HONEST and state why you're writing that review!
#9 Pitfalls to Avoid when Starting Affiliate Marketing
---
When does affiliate marketing fail?
Bombarding your followers with requests to try the product
Promote products in irrelevant groups and forums
Emailing and messaging your audience multiple times a day
Missing opportunities e.g. holiday seasons to promote Christmas cards
Not researching the right target audience for the product or service
Failing to provide all the information needed to buy the product
Not enough social presence
Give up too soon
Don't believe me? Give any of these a try and see how well they go down.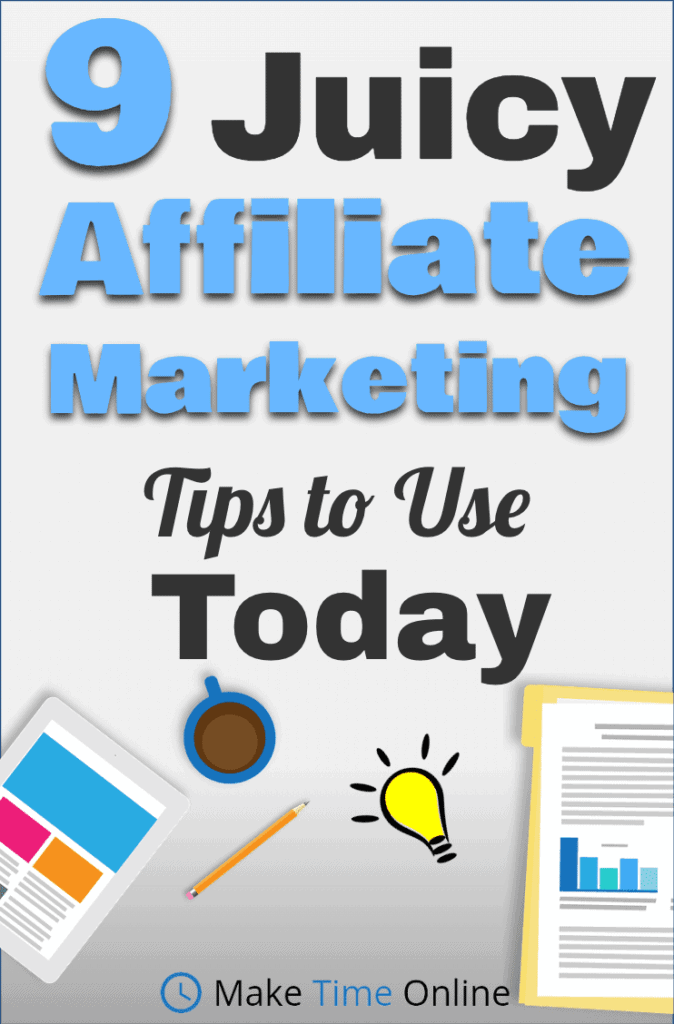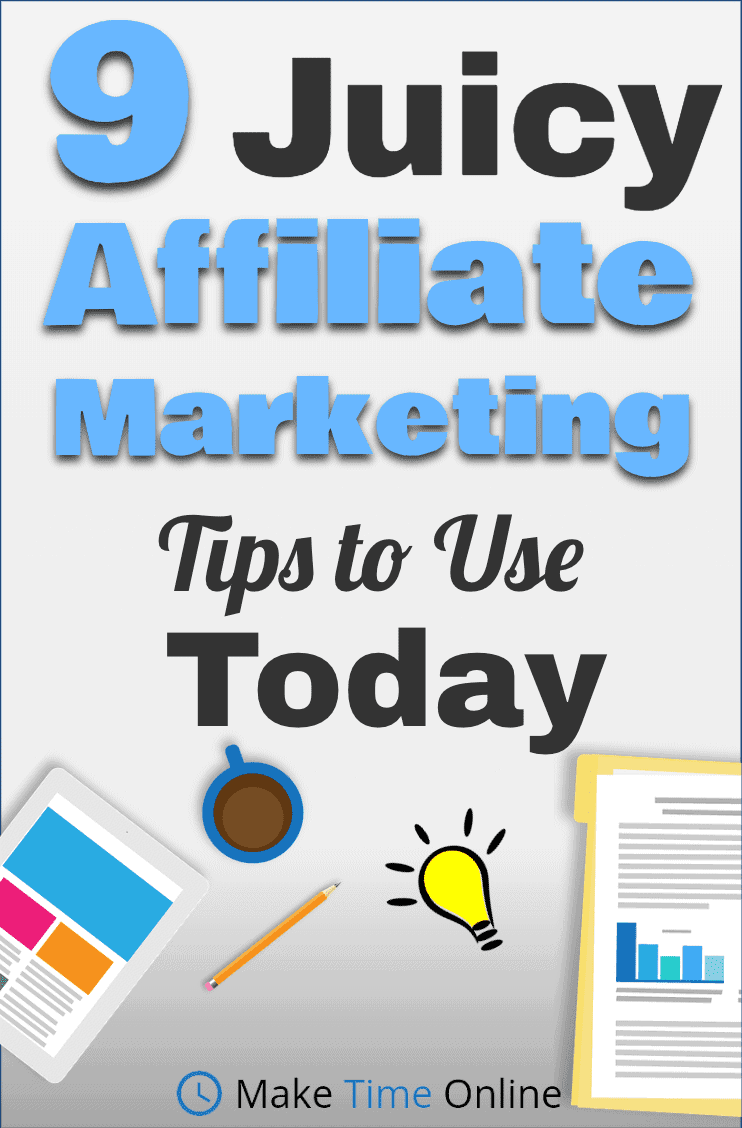 Affiliate Marketing Tips for Beginners Summary
---
Affiliate marketing is NOT a get rich quick scheme.
It is a business.
You probably already know that there are ways you can fast track your progress in any business.
As this article ends, you have learned that using a training program is a must if you want to save time and learn from people who have a proven track record.
Each and every day that you go without using a training program is going to be time wasted in getting your online business running properly.
Just remember, the key to success is to provide value.
Chuck a comment below about what your favourite tip is or if you have your tips please share them too! Or you can message me directly here.
Keep changing for the better,
Mike
P.S. Click here to learn about how real people have used affiliate marketing to earn over $2,000 a month from home.
There is one BIG secret to getting ahead in life…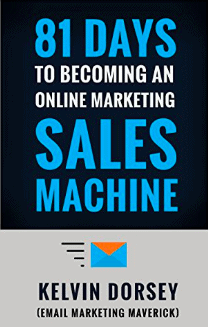 This book review of Kelvin Dorsey's "81 Days to Becoming an Online Sales Machine" will reveal what that secret is.
81 Days to Becoming an Online Sales Machine- The Overview and Rankings
---
Name: 81 Days to Becoming an Online Marketing Sales Machine
Author: Kelvin Dorsey- 91 out of 100
Originality: 85 out of 100
Practical methods: 79 out of 100
Enjoyability: 93 out of 100
Price: Kindle $1.27
Maketimeonline.com Rating: 87 out of 100
Pros and Cons
---
Pros
FULL of tips!
Great for beginner or experienced internet marketers
Easy to read- lots of white spaces and short chapters
Funny analogies & similies (as long as you are not a feminist!!)
Great book recommendations
Great examples used
Cons
Not as much on practical email marketing methods as I thought (considering he is an email marketing guru!)
Could be offensive at times to some people (but he does have disclaimers about this!)
Who is "81 Days to Becoming an Online Sales Machine" for?
---
The word "sales" comes with a pretty big judgment.
The truth is that everyone needs to be able to sell. As a teacher, I am constantly selling the idea of taking part in each lesson to learn.
Saying this, here is a list of people that would really benefit from reading this book:
Internet marketers- email marketing, blogger, Youtuber, podcaster (if you sell anything on the internet)
Entrepreneurs
Writers
If you want to start your own side hustle
If you aren't happy in your job
People that would like to improve their communication skills
Kelvin Dorsey uses 81 chapters (days) to explain some amazing Internet Marketing tips. As a taster here are my favourite 12…
#1 Target Market- Go From Zero to Hero in Less Than a Year
---
Kelvin makes this point better than milk compliments tea.
He tells a story about a salesman, Joe, who couldn't sell any of his self-improvement tapes:
One day Joe went to see an old friend with his tapes, who was now a successful businessman. His friend loved the tapes and thought Joe must be selling loads of these!
Joe told him this was his first sale and his old friend asked who he was selling these to.
This is the main point…
Joe didn't have a bad product, he was just targeting the wrong market. He was selling these tapes to anyone struggling in a marriage or business…
His friend said, "STOP!! You need to sell these to successful people. They are successful because they take ACTION and buy this stuff."
Joe went on to be the best salesman in his company simply because:
He targeted the right people (winners instead of losers)
He sold to their wants, not their needs
You must know your target market inside out. You need to know their:
Values
Wants (sell to these)
Needs
Interests
Where they spend time
What words they use
What frustrates them
This helps you to advertise to LESS people!
Effective advertising is always specific. You should only market to your target market.
If you try to sell to everyone you will sell to NOONE.
#2 The Secret to Curiosity
---
So you still want to know the secret to getting ahead in life?
I'll tell you later…
Why does the word "secret" entice people in so much?
People are innately fat and lazy- secret implies doing less work
People are curious creatures
People feel like everyone else is in on something that they aren't
People are competitive (ever looked for a car park space in a full car park?…)
"Secret" implies you'll gain an advantage over others
Curiosity plays a big role in getting your readers to click your links as an internet marketer.
Here are some ways to inflame curiosity with your headings:
Questions
Riddles
Unknown resolutions
Violated expectations
Access to information known by others
Weird and wacky
If you can do any of these things you're much more likely to get clicks on your links according to Mr Dorsey.
So anyway as promised the secret to getting ahead in life is…
Hard work
I didn't say you were going to like it!! But Mr Dorsey says it himself and he is an email marketing guru after all…
#3 The Story behind Selling in Stealth Mode
---
Imagine this:
You wake up to the smell of a perfectly brewed coffee wafting down the hallway.
You whack open your laptop and check your email. Your coffee tastes good!
The first thing you hear is…
*PING*…
You've got funds.
But you don't have only one of these emails…
You scroll down to see payment after payment.
There is this warm, fuzzy feeling as you realise your financial worries are now over…
For good!
As Kelvin explains… When you tell a good story it sells for you. The best part is people don't even realise they are being sold to (it's stealth like!)
Here are some tips for a good story:
Use emotion
Persuasion- paint an image vivid and real
Hit the 5 senses
Cut out adjectives add ACTION verbs
Notice the story above uses all of these tips.
#4 How to Use Wi$e Word$
---
Have you ever used a thesaurus before?
Chances are you were probably doing the opposite of how you should use it when writing online!
Instead of using it to find bigger or fancier words… use a thesaurus to find shorter and easier to understand words.
People read 25% slower on a computer screen than they do on paper
Some advice for writing stuff that gets read:
Avoid $10 words – it hurts your brain to read
Clarity- KISS (Keep It Simple Stupid)
Easy and fun to read- reading your work should NEVER be a chore.
Need an example to see what KD means?
This male homo-sapien is begetting a myocardial infarction in the cardiac blood-pumping organ.
Simply means:
He's having a heart attack
Long sentences cause more eye fatigue on screen than paper
#5 Change a No to a Yes- Perception
---
What piece of information can you give to make your prospects see their current situation in a different light?
Let's say a course costs $365.
This is the same as $1 a day for a year.
Or the equivalent of 5 pints of beer a month in a bar in the US (just over 1 pint of beer a week!)
Would you rather pay $1 a day or $365 right now?
It's important to talk in terms of your audience. This is why tip #1 is so important! Perception is often what causes people to buy or not to buy.
You can boost your products perceived value by:
Add testimonials (social proof)
Explain behind the scenes story
Use jaw-dropping benefits
Offer a guarantee
Offer a free trial
Add bonuses
#6 The Secret to Write in the BEST Mental State
---
A good mental state = thinking about your reader at all times
There is one little weird mind trick that Kelvin uses:
Imagine you only have a few months to live. A loved one has asked you to tell them everything you know on the topic you are writing about.
MORBID!! I know!!
But apparently it works for him and you can quickly see how this would make you really think about the content your putting out there!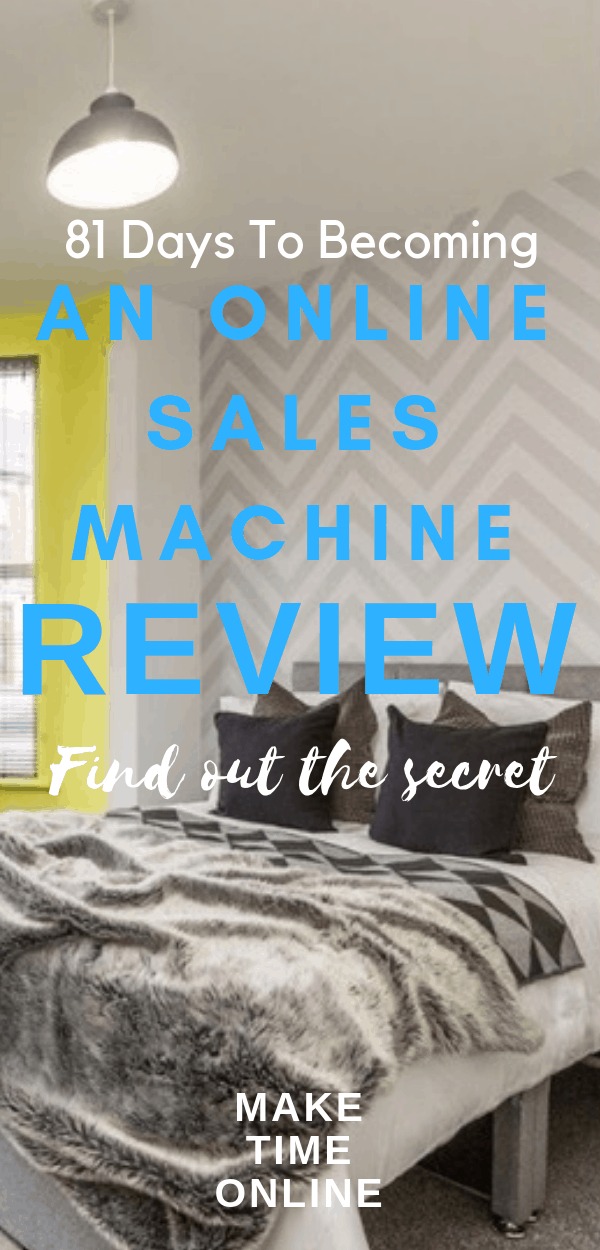 #7 Show off Your Personality
---
Have you ever found it hard to write with personality?
Well here is an example of an ice cream review that KD found… word for word:
This place is BAWLIN yo! Chicken nuggetz be crispy like you never SEEN.
I tasted one and I was like, "WHAAAT! Are you serious Wendy?"
Mean girls working on the friers, tho. This one chick wouldn't even let me holla. I was like, "please, you ugly anyway."
Next time you're not sure what writing with personality is… read this review then try to write!
Check out Tip #4 in this post to see more about how to do this!
#8 Email Marketing is King for Sales
---
Kelvin describes social media as being on the kid's table… everyone is SHOUTING but nobody is listening.
Email is where business happens.
66% of consumers have made a purchase online as a direct result of an email marketing message
There is no point in just trying to get as many email addresses on your list as humanly possible though. Just like so many things in life it is about quality over quantity.
Having high standards will increase your quality subscribers (i.e. the action takers who want your product and have money to pay for it)
High standards will attract the kings, low standards will attract the jokers
Here are 3 things you must have on a squeeze page (a website that asks for an email address) to raise standards :
Tact (copywriting skills- sell something in writing)
Poise (prove authority- read #5 to see how)
A reason (Ronseal- does what it says on the tin- Youtube this advert if you are not from the UK!)
#9 Multitasking = Screw up Several Things at Once
---
One thing I will always remember from this book is this:
Being stoned has been scientifically proven to be more productive than multitasking
In an experiment, the group that was stoned was more productive than the group that was interrupted by phone calls and emails.
The lesson?
Do the one most important thing- nothing else!
You may have heard this before about multitasking and when you do one task at a time you will notice your productivity go through the roof (plus make waaaay less mistakes)
Find the key tasks for what you do… do these more
#10 Go Fast or Go Home
---
This is something I seem to be hearing more and more from successful people… see my Millionaire Fastlane review here
The tortoise and the hare story is a myth!!
To be successful and stand out we need to be FAST and steady. It's so important to find ways to become more productive and do this CONSISTENTLY… see tip #12 for more on "BEAST mode"
You're average because you go slow, you're not slow because you're average.
#11 How to Avoid Failure
---
There are two ways:
Read books
Get a mentor
Kelvin makes a valid point that failure is being put on a pedestal by people looking for success. WHY?
Why make mistakes when someone else has almost definitely made them before! Learn from OTHER people's mistakes and take the shortcut to success.
#12 Be Persistent, Be Persistent, Be Persistent, Be Persistent, Be Persistent, Be Persistent
---
Kelvin leaves an important message throughout the book:
Don't stop
Take action every day.
Your actions compound over time very quickly (just think what you can achieve in the next 365 days!)
They compound even more when you enter your "BEAST mode".
You wanna know what BEAST mode is? Here are some ways KD describes it:
You go from sputtering along to hell-bent-for-leather!
Your concentration becomes like an IRON fortress that NOONE can penetrate.
You have boundless creative energy to solve problems and create solutions.
Setbacks amuse you!
You get the point I'm sure!
Obviously this is hard to keep up all the time – do this for only a few hours a day and you'll smash it!
Bonuses- There are 2!!!!!
---
Now, it's great to read books and stuff but unless you take action there's no point.
You may have noticed that I have tried to do stuff KD recommends throughout this post… Remember #5- it's important to give a bonus to boost perceived value… well here are 2 bonuses!
Possibly the most important takeaway from the whole book:
1. You must have something GOOD to sell.
You could be the worst salesman in the world… but if you can put an amazing product in front of a group of people that are prepared to pay for it… you will sell!
2. The recommended books from this book:
Hypnotic Writing- Joe Vitale
How to write a good advertisement – Victor O. Schwab
The Success system that never fails- W. Clement Stone
Tested Advertising Methods- John Caples
How to Make Maximum Money With Minimum Customers- Craig Garber
Winning through intimidation- Robert Ringer
81 Days: The "MakeTimeOnline" Review Final Word
---
This book is for anybody that does internet marketing or wants to sell anything (and if you NEVER want to sell anything, you probably shouldn't be on this website!)
It is jam-packed with jaw-dropping tips.
These tips above are some of my favourites but remember there are 81 of them and I have only given you 12!!
If you're wondering what else the book can offer you after this EPIC review then here's a little taster:
Why you should advertise on the DARK side
The BEST ways to increase traffic
How to build a GREAT email list
The number ONE productivity booster tip
What you can learn from Rafa Nadal and Roger Federer
Why the GOLDFISH is the entrepreneur of the animal kingdom
Keep changing for the better,
Mike
p.s. If you have any questions and I mean ANY questions about this book, please leave them below.
p.p.s. If you have read the book before or used any internet marketing techniques before I'd love to hear from you too.
p.p.p.s. If you are interested in making money online to free up your time, have a look at my #1 recommended program here, which I am currently using.
Since 2000, Gallup has polled millions of employees from over 200 countries to work out the answer to "do most people hate their jobs?". They reported that 85% of all people hate their jobs.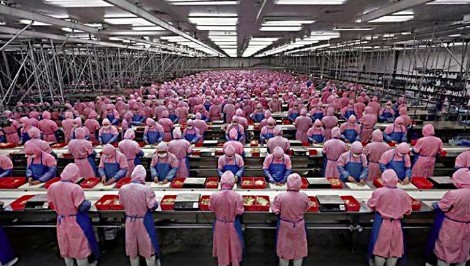 Work has been reported more often a source of frustration than fulfilment for 90% of employees. Employees that don't enjoy their jobs typically are "emotionally disconnected" and "disengaged". Some countries in Asia and Africa have a much higher rate of "disengagement" but even more developed countries, such as the United States, has 70% of employees that hate their job.
The question begs to be asked. Why do so many people hate their jobs?
5 Things Forcing Employees to Resent Their Jobs
---
Longer Hours
Employees are expected to work longer and longer. Working weeks of over 50 hours (don't forget to include travel time!!) is very typical for a lot of jobs. Due to the high competition for each job people feel they have to justify why they have this position and therefore work longer!
Trivial Work- Low Self Gratification
More and more "service jobs" (McJobs) are being filled by overqualified people. Technical positions are being shipped overseas to cheaper areas. This means employees are left with a gap not being filled. They do not feel like they are contributing what they can to society and are left with that empty feeling.
Not Rewarded for Hard Work
The majority of jobs still pay people based on how many hours they work. Employees sign a contract that says something like "I will work 45 hours a week, with an expectation to do more on some weekends". The employee gets paid the same amount every month no matter how well they do they job.
Our Wages seem to be Going Down
"Each year my pay goes up (slightly) but every year it feels harder to do the same things I did last year". I remember a colleague telling me this when I first started teaching.
This was around the same time that was reading and learning a lot about the world economy (because it never made any sense to me!) The short answer to this concern is that it is true… 100% true. Inflation means that our money doesn't go as far each year, unless your employer hands out 10% pay rises (I'm not even joking about the amount – stay tuned for a future post about inflation… it's frightening!)
Does Job Security Even Exist Anymore?
Remember employees don't get paid extra for doing great work… well they may get fired if they don't do their job well enough! I remember hearing Ross on friends saying that he got "tenure" at his job. I had no idea what this meant at the time, but it has historically been possible for people to get a job for life. People under 30 are probably not even aware this is (was) a thing!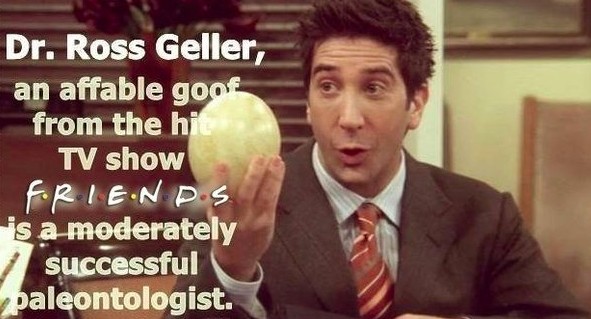 So What Can You Do?
---
To be honest, there is a way out. The Internet has literally created a new era for human beings and it's called "the information age". Knowledge becomes information and information is money in today's world. Therefore, all you need to get started is some knowledge about anything… and not even a lot because you can (and will) learn as you go.
If you were to work as hard on the Internet as you were at your job you would 100% be more successful (in terms of value you provide, self-gratification and money that you earn). There are lots of reasons for this but here are a few (to read more click here):
It's easy to build an online presence (Click here to build a website in the next 5 minutes)
There are fewer barriers to starting your own online business compared to most businesses (you just need a laptop, or phone and internet connection)
There are more people online every day = More money being spent online every day
Make money by the second, not by the month.
One of the worst relationships we have is… using time to earn money. It has been ingrained into us that the best way to earn more money is to work harder and longer. It's important to remember that if you have grown up with "formal education" you have been taught how to become an employee.
The information age creates so many NEW opportunities that our teachers, parents and their parents won't even be aware of. It's important to think carefully about where we receive our information from.
Are You Too Comfortable?
---
Do you really HATE your job? If you do that's great! It's so much easier to change something when we reeeeaaaaallllllly HATE it.
If you are one of those people (like me!) who actually quite enjoys their job but you feel like there is more to life than doing it for the next 20-50 years, then, unfortunately, your situation is harder. You are too comfortable right now so it makes changing very hard as you have to visualise your future self. EURGH I KNOW!
What a lot of people will do when they really hate their job is quit… and then find another one. The problem is that a few months or years down the line they are back in that same position. So they quit and find another one. I'm sure you get the idea.
So the bad news is you are likely to be unhappy with your current job situation (like 85% of people). The good news is there is a way out of the day to day grind, and no experience is necessary!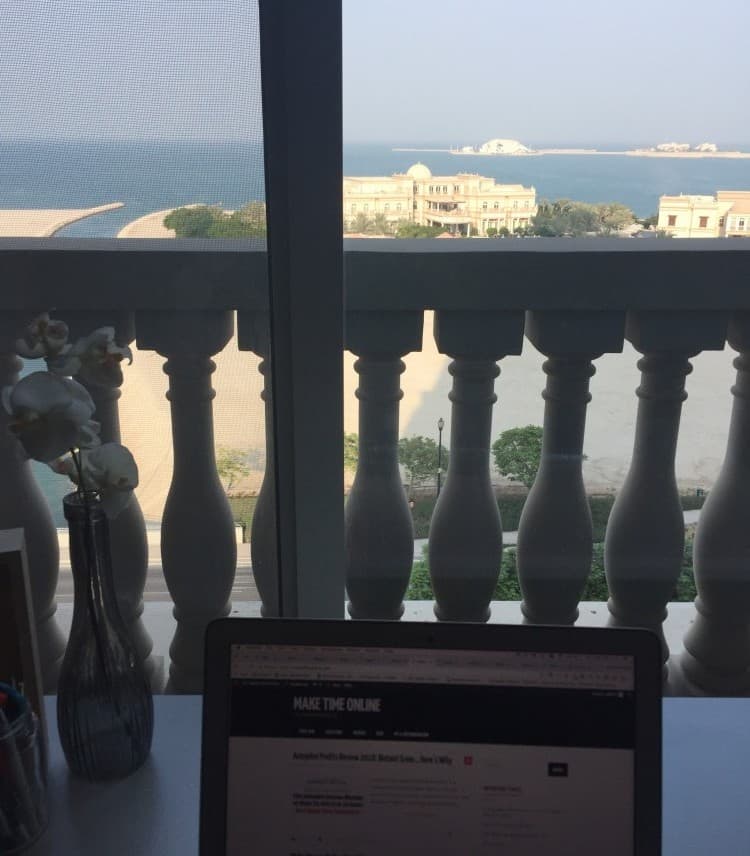 Do you Want to Change?
---
If you are ready to make a change you have to know that it will require more work of you right now. The key here is the words RIGHT NOW. It doesn't mean you will have to work harder or longer forever (or even for too long).
The plan is to stop NEEDING to work full time. When this happens you will actually work a lot less. To get to this stage without giving your whole lifestyle up right now you will have to work harder initially.
I am currently putting in an extra 2 hours every day (Sarah keeps telling me off when I spend more- like right now… Coming Dear!!!), so note it doesn't have to be a huge commitment. I have spoken to people that started with 5 hours a week and some that stayed up late each night to commit more time to their online business.
Just remember we want to separate ourselves from the time and money relationship. What you DO with that time is far more important. Unfortunately, when starting out it can seem overwhelming and hard to know what to actually do.
This is why I've started using Wealthy Affiliate. There is step-by-step training to help you get your online business up and running… no matter what you're interested in! The support is amazing, any question will get answered quickly as there will be someone else that had the exact same thought before. You will 100% have support from at least one person too (me!)
If you have any questions or want to vent about something at work please leave them below. I'm sure that I can personally help you out as I have been there and done that!
Keep changing for the better,
Mike
If you are interested in seeing how I started my online business and the current training I am using then check out my #1 recommended program here.
"The Millionaire Fastlane"
review in PDF will show you how it is one of the most straight-talking, to the point, eye-opening books that I have ever read.
BEWARE of this disclaimer straight away: This is not for everyone! MJ De Marco is very blunt, there's definitely a bit of over exaggeration and he will say something that you probably won't like.
A lot of the ideas in his book are about making some big money (over $200,000 per month according to MJ). If this is not something you are interested in learning then this book may not be for you.
However, with the way the world's financial system currently is, you are either on the Fastlane or you're going backwards.
The Millionaire Fastlane – The Overview and Rankings
---
Name: The Millionaire Fastlane
Author: MJ De Marco – 89 out of 100
Originality: 98 out of 100
Practical methods: 78 out of 100
Enjoyability: 95 out of 100
Maketimeonline.com Rating: 89 out of 100

Pros and Cons
---
Pros
Gives you one massive kick up the butt!
Practical advice into what business to start to get on the fastlane
Helps to question the status quo- does living in the rat race really have to be normal?
Makes you want to stop wasting your time! Is playing fortnite or watching strictly come dancing really enjoyable or are you escaping?
Shows you why your most important asset is TIME (I'm sure you know I agree with this one!)
Become a producer rather than a consumer
Working for money makes no sense!
Cons
Does a bit of author bashing- even though I completely agree the name dropping is not needed- he even criticises Robert Kiyosaki, who I actually think is promoting the same thing as him!
Can be overwhelming to hear so much of what we know is apparently so "wrong"!
Sidewalk, Slowlane and Fastlane
---
Sidewalk
MJ claims the "Sidewalker" has no financial plan and spends surplus money immediately on new gadgets, a new car or trip.
They believe they need to use time and money right now as they don't know what tomorrow will bring. They will gamble and buy lottery tickets in the hope it brings them the big bucks!
Slowlane
The "Slowlaner" knows that if they save their money now they can invest it in the stock market and in 50 years their $10,000 will become $4 squidrillion due to compound interest.
They believe their job is their sole source of income.
The issue for the slowlaner is that it takes their whole life to get their hands on this money and due to changes in the financial system or their pension scheme, they may never see this money or it isn't worth as much due to inflation and taxes.
Fastlane
The "Fastlaner" knows about another way.
A way where the more they help others, the richer they become in time, money and personal fulfilment.
They don't have to wait 50 years to start living this life it can be in 5 or 7 years time. They know that it won't be easy but every time they fail, they learn, which helps for the next time.
Who is this book for?
---
This book is for people that really want to change their lifestyle and be able to own time so they can choose ANYTHING they want to do.
MJ will literally question everything you currently know about money and how to earn it, even though most of his financial ideas are nothing new… he makes them sound new!
However, I can almost guarantee that some people will stop reading half-way through or they won't even pick up the book because he is too direct and comes across as pretty arrogant. This doesn't take away from the fact that this guy talks sense and knows his stuff.
So it is my job in this blog post to ensure you get the main points from his book because I feel like they are too important to not be known!
The main question that can really help you decide how to start a business is this simple question…
Does it make financial CENTS?
Here are the 5 most important commandments to ensure your business is on the Millionaire Fastlane.
Control
---
"You are either in control of your own financial plan or you aren't, there is no in between." MJ DeMarco
This is a very important commandment but most people will not even realise whether they are in control or not until further down the line. A great example is network marketing. You will hear about some network marketers that will do very well for themselves, or you may even be one.
However, if something was to change in that company tomorrow that meant you couldn't sell their products anymore, all your income would disappear overnight.
That is because you do not control the company. You own a job managing and creating a sales organisation.
Obviously choosing the right company in the first place could offset this risk and I'm not saying you can't earn some good money (over $20,000 per month) from network marketing. You will just never earn "big" (over $200,000 a month) or "legendary" (over $1 million per month) money from this… unless you own the network marketing company!
What should I do then?
Start creating your own brand or business.
Even as an affiliate marketer (promoting other people's products online for a commission) this is something you can do. You can start selling other people's products but create your own brand at the same time. Eventually, you can create your own products for this brand and really take control.
So would you rather be a driver or a hitchhiker? In General:
Drivers create network marketing companies; they don't join them.
Drivers sell franchises; they don't buy them.
Drivers offer affiliate programs; they don't buy them
Drivers offer employment; they don't get employed
Drivers accept rents and royalties; they don't pay rent and royalties
Some questions to ask yourself:
Do I own the company?
Am I reliant on another platform or someone else to make money?
Do I have a diversified income stream or am I reliant on one income source?
Entry
---
Is it easy to start?
If it is… it won't be on the Fastlane!
Working a JOB, Investing in stocks, starting network marketing, buying a special kit that has a website made for you for $40 are all examples of things that are super easy to enter into.
If it's something that everyone is doing, then you will become just like everyone… and everyone isn't wealthy!
It's actually quite a well-known investing technique (which hardly anybody does due to fear and greed) that if everyone is buying something you should be selling it. It was the same with the dot-com bubble in 2000, the property bubble in 2008 and the crypto bubble just at the end of last year in 2017.
Just afterwards when people want rid of their "terrible" investments would have been a perfect time to buy these investments whilst they were on sale… time will tell if that's the case for certain cryptocurrencies.
What stops everyone from doing it?
If there is something that stops everyone from doing it then there will always be a level of difficulty and therefore it can be a better opportunity.
It's important you figure out what this is and are prepared for this.
For example, consistency of working on your business is a big reason why everyone is not an affiliate marketer. It is relatively easy to set up a website.
But it is not easy to set up an autoresponder, be present on social media platforms, have an email list, create quality content and consistently add value to your audience.
You must be prepared to be consistent.
The only way to beat the masses if everyone is doing something is to be exceptional. You do not have to always reinvent the wheel but you do need to be prepared to put the effort in.
Need- possibly the most important Commandment
---
Does it solve someone's problems?
People will ONLY care about what your business can do for THEM!
Do not ever believe anything else.
You may have found something completely unique and something that you think you would love to have. However, you have to surrender your own wants and address the wants of others (people are innately selfish according to MJ!)
Chase Needs, Not Money!
Are you doing something to solve problems or are you doing it to make money (Wantrepreneurs)?
A lot of people will make this mistake.
They will think about something that they are an "expert in" or something that they think can make them money. This is the WRONG way to think!
I think this is why business people typically have such a bad name for themselves. People associate business owners with chasing money.
However, the best business owners will actually chase needs e.g. Richard Branson, Mark Zuckerberg, Elon Musk and Bill Gates.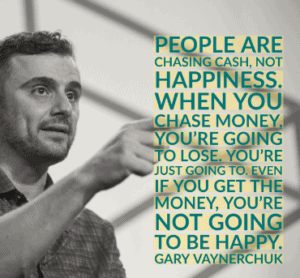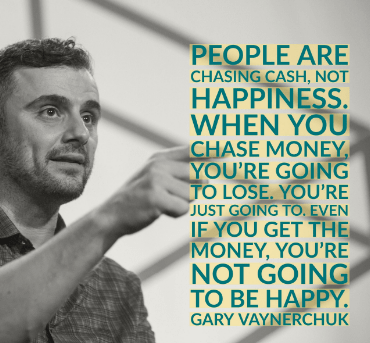 The niche is so important
I didn't start my affiliate marketing business for ages.
I thought about it for a long time before acting on it (it's been something I considered when Sarah and I started our first blog in mid-2017). This is because I knew the niche was very important (thanks to MJ).
I thought about some type of fitness, self-development, food, happiness niches just to name a few. However, I decided on my "making money online" niche because I could see there was a demand for it. For one… I wanted it!
I was no expert in this niche!
I didn't just dive into starting a business when I read Rich Dad Poor Dad in 2012. I ensured my business idea made financial CENTS and I checked to see if people needed it. The more I work on it, the more of an "expert" I am becoming.
Click here to read more about how to find your niche.
Is your business different?
Something I realised about financial advice gurus was that they nearly all focus on SAVING money and living BELOW your means (frugal has become this cool word thrown around on Twitter).
Even really successful financial gurus such as Dave Ramsey, Tony Robbins and Andrew Hallam focus on these things.
I get why they do this and I understand so many people need to do this more, after all, it is the foundation of getting our finances in check.
However, what people really need to do more of is increase their financial intelligence.
Doing this will help to find ways to make more money and expand their means (or solve other peoples needs)! Plus it's much easier to be passionate or get excited about living a lifestyle that you really want rather than cutting back on things.
Some examples of fastlane thinking:
Make them look better (nutrition, exercise, clothing, makeup).
Raise a positive emotion (love, happiness, laughter etc.)
Educate them.
Make things easier.
Enhance their dreams and provide hope.
Give them security (housing, safety, health).
Only follow your "love" if the market wants it
This has to be the most common mistake! You will hear a lot of affiliate marketers who claim "do what you love to make more money" (Wealthy Affiliate's training can even be interpreted like this).
However, it's crucial to realise there are niches that do NOT solve needs as an affiliate marketing e.g. being an affiliate of underwear will never be profitable!
Remember:
Choose a profitable niche that you are interested in… make money… you will then develop a passion for this niche (note that a passion and a love for something are two very different things)
Still on the search for a business idea?
Start listening out for pain points of people and what people want. These are some common phrases to look out for in daily life:
I hate…
I don't like…
This frustrates me…
Why is this like this?
Do I have to… ?
I wish there was…
I'm tired of…
This sucks…
Time
---
Can the product exist in time and standalone without your connection to it?
This is an area where people starting a "business" get confused. If you need to work to earn money, you have created a job, not a business!
Your business should be able to bring money in at any time of the day… including when you sleep!!
Does it serve while you are away?
One of the most important things to do with a business is to automate it. If you need to do everything in the business it will be impossible to grow. The more value you provide, the more time you will need to give.
The beauty of affiliate marketing is that you can use systems and hire people (on an hourly basis or part-time) to help grow and improve your business.
The goal is to get away from the worst relationship ever created… your time for money.
Scale
---
Scale is about leverage
There are 6 business habitats (plus real business examples):
Local community (pool)- Tanning salon
City (pond)- Upscale Restaurant
State/ county (lagoon)- A fitness business
Regional (lake)- A property developer
National (sea)- A big bank
Worldwide (ocean)- Internet company
The 2 ways to scale
Net Profit= Units Sold x Unit Profit
Imagine you were selling sandwiches at a local store. How many can you sell in one day? Fifty? A hundred? How many hours are there in a day? Can you see how scale is limited here?
This guy could scale his business by making more stores across the country and increasing his reach but his unit profit will always be limited (max $10?). He can only ever sell to people physically coming into the store and during certain hours of the day.
The best thing about starting an online business is that your products scale but your work doesn't. You literally can reach the whole world and unit profit can easily change (depending on what you are selling or promoting).
Millionaire Fastlane: MakeTimeOnline Summary
---
If you are not in the fastlane you will be going backwards in today's financial world!
The world has really changed since the internet was invented and the gap between people using it to help them and those that are not will only get bigger.
Making money online meets all five of the commandments.
It is one of the few types of businesses that does this.
It's clearly written in MJ De Marco's book but it's up to you how you use the information.
To be on the fastlane you need to make financial CENTS. Possibly the most important lesson is that when you chase people's needs, money will flow to you. So figure out what people want and need and help them solve this problem. Stop chasing money!
Keep changing for the better,
Mike
If you are interested in seeing how I started my online business and the current training I am using then check out my #1 recommended program here.