In the spirit of full transparency, know that this post on Pinterest hacks contains affiliate links. This means if you make a purchase through these links, I may receive a small commission at no extra cost to you. In fact, you may receive a discount or some money for free! Click here to read my full disclosure policy.
You probably know the main challenge for new bloggers is to get traffic to their blog.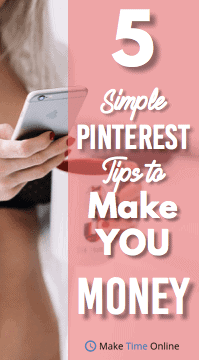 Now you may think all you need to do is pin more on Pinterest and you will start seeing traffic role in. In fact, by learning some expert pinner's secrets you can become much smarter with your efforts and even completely automate the process with a few hours of work a month.
This article (with video) will show you the top 5 Pinterest hacks to start driving crazy traffic to your blog.
Why Use Pinterest?
---
Now, I can almost hear your mind saying… I've already got an account with Facebook and Twitter, why should I bother with Pinterest?
This is the exact question I had been asking for about 2 years before taking the plunge!
I'm definitely not the Don on Facebook or Twitter or Instagram. However, I do use all of them and have a bit of a following (over 2 thousand) on each.
All of them have taken time to grow and to be honest I had been putting off starting another social media platform because of that.
However…
Pinterest beats all of these for one simple fact…
All of the other social media platforms are designed to keep the users on their platform.
Simply put, the best traffic drivers are:
Pinterest = user to content (awesome)
Google = user to content (awesome)
Facebook = user to user (good)
Twitter = user to user (good)
Instagram = user to user (average at best)
People literally use Pinterest to find valuable content. It is like using Google.
I HAD NO IDEA!!!!!
In 2018, after hearing this, I felt like I had been wasting all of my efforts on social media.
I thought Pinterest was for pretty wedding photos, flowers and basically… I thought it was for girls!
As it turns out, my stupid bias judgemental mind had been holding my website traffic back.
… Onwards and upwards…
So rather than dive into it full steam ahead, I went out of my way to find out some of the best Pinterest hacks to drive traffic to my blog.
Tip 1- Create Killer Content
---
Well Duh!! This is more important than water is to a fish.
I thought you said these were gonna be top secret tips?!
Well actually it may not be top secret but this one is ALWAYS the top priority. If you can genuinely help to solve someone's problems then this person is likely to become an avid fan and share, pin, tweet (whatever!) your content. Always ask yourself…
Am I actually helping to solve someone's problems?
It's so important that your content is easy to read.
Let's face it people on the internet are in a hurry. Think about the last time you read an article. Chances are very high that you skimmed it and tried to take in something useful without wasting your time reading it!?
So a very valuable tip is to create content that is EASY to read.
Help people skim read it if they want.
Remember, the main focus should be providing the reader with valuable information that helps THEM.
Solving other people's problems and helping them builds trust. This means they are more likely to read more of your stuff and come back.
Tips for making blogs easy to read:
Do not leave a wall of text. Use Line breaks and mix up your paragraph lengths… When writing ONLINE a paragraph should NEVER be more than 3 lines of writing.
Use images to convey your message.
Yes, you may think you sound clever. But these LOOOONG words make reading harder. If you can keep it simple people will keep reading.
Don't use 20 words if it can be said in 4. After writing a post CUT it down!! I've heard as a good rule of thumb to delete the entire first & last paragraph and remove every 6th sentence! Seriously… cut it down, don't get attached to your words, you will thank yourself in the future!
Use Stories/ similies/ metaphors
People find it easy to remember a story. They often come to their own conclusion and form their own opinions from them. It is much more powerful when we learn something ourselves than when we are told something.
Tip 2- Create Awesome Images
---
The way your pins look is IMPORTANT.
In fact, this is maybe the most important of the Pinterest hacks.
How can you make Pins that stand out?
Pins need to:
Stand out – BOLD and bright text
Grab attention – Eye grabbing picture
Entice people to click – A title that makes you want to know more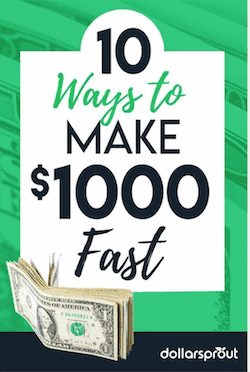 Here is one of the pins from the Pinterest kings Jeff and Ben at Dollarsprout.
What's the perfect pin size?
People seem to recommend different sizes all the time. There is no perfect pin size.
Currently in November 2018, from what I have found many are using or recommend 600px wide by 900-1,250px tall.
This is something I was terrible at when I started. It wasn't until I took Jeff and Ben's $9 "Perfect Pin" course that I really saw traction from Pinterest.
Check it out here, it can save sooooo much wasted time! As you read on you will find out more about Jeff and Ben from Dollarsprout (spoiler alert they now make over $240k/ month)
Tip 3- Use descriptions wisely
---
This can make a big difference in 2 ways:
People finding your pin
People clicking on the link
To help more people do both of these things your pin descriptions need to:
Includes keywords (helps people find it)
Have WIIFM (what's in it for me?)
200-300 characters
Has CTA (call to action – tell them what to do)
There's not much more to it than that.
The aim of the description is to get people clicking on that link! Try out different descriptions for pins leading to the same post to make the most of these Pinterest hacks.
Tip 4- Make a Clean and Branded Profile
---
Your business profile needs to come across well for your niche.
People just want to know what you do… So tell them
To get your Profile looking "Pinterest Pretty" you need to do the following things:
Use similar colours in your pins
Neat design (don't make it too busy/ too many words!)
Ensure your description and your business name uses keywords
Your description gets to the point.
Tell people what you do.
To be honest with you… there is too much to explain in one blog post about how to set up your Pinterest account and explain how Pinterest works.
If you're keen to see the same results as some of the most successful bloggers that make 6 figures a month then check out the best book I have found that explains everything you need to know about Pinterest. Including:
How to set your profile up for best results (with checklist)
The secret manual Pinning strategy to make pins go viral
How to only spend 1-2 hours a month setting up your pins
How to use Pinterest for affiliate marketing
All of this is great but there's actually one last BIG tip to getting more engagement on Pinterest.
The answer lies in Group Boards…
Tip 5 + Bonus Tip- The Group Boards Secret
---
Driving traffic from Pinterest is a game of applying to as many group boards as you can, and pinning bright, bold, click-bait pins to them repeatedly!
However, something that I have found hard to find anywhere else is…
How do I apply for group boards?
You basically have to find other people's boards that you would like to join. You need to message the owner and ask if you can become a "collaborator" of the board.
Type in a keyword into the search tab on Pinterest and look at the group boards for this.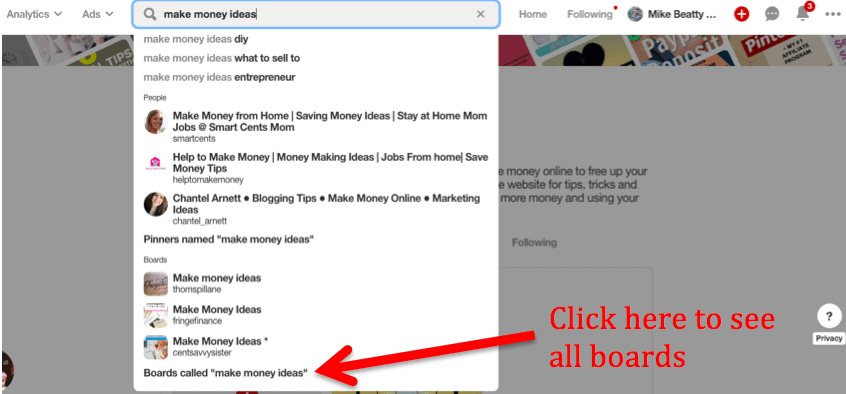 Group Boards are amazing and different from any other social media platform because…
If you only have 50 followers and "collaborate" on a board with 10,000 followers, then all of these people can now see your pins. 
You could spend hours applying to loads of boards… However, some group boards are better to apply to. The BEST ones need to have the following:
Less than 20 collaborators
A very specific topic (not affiliate marketing… but affiliate marketing on Pinterest for beginners)
Realistically you won't know what boards are good until you join them. SO you need to hustle here and ask around. Once you're on the board you can check out what the best boards are by watching this short video…
Read the podcast chat show notes with Jeff and Ben from Dollarsprout.
You can message the owner of a board on a pin to ask to join a group board as a "collaborator".
If you'd like a step by step 6-day guide to using Pinterest from setting up your account to finding group boards then get this sent to you for free right now…
Plus get your bonus email template to join the best group boards…
But I have nothing to offer!
You can't name drop because you know nobody… you have no followers… you are just starting a blog…
So what can you do?
Comment and engage on their stuff!
Find where they hang out and contribute to their work regularly.
Is it easy to comment? Yes!
Can it be time-consuming? Yes!
Does everyone do this? Hell no!
There's always a way for you to stand out. You just have to be willing to go the extra mile!
Last little nugget before you go…
Use tailwind to automate your pins like clockwork… simples.
I just spent 3 hours setting up my pins (30+ a day) for the next 3 months. That's 3000 pins going out at THE best times of the day!!
Pinterest Hacks Summary
---
These Pinterest hacks really can drive more traffic to your website than rush hour on the M25 (that's British humour… Google the M25 if you don't know what I'm chatting about).
Use these 5 tips and find the best group boards to pin onto and you will have visitors pouring onto your site just like Jeff and Ben did in 2016. Check out how they went from not making any money from their blog for 13 months to now earn $240k per month.
Keep changing for the better,
Mike
P.S. It's so important to have your account set up the right way to get the best results from these Pinterest hacks. Make sure your account is set up right by getting the free course below…
Be sure to pin this page to come back to it later and share the secrets…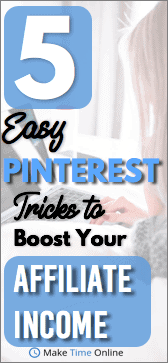 In the spirit of full transparency, know that this post answering does affiliate marketing online work contains affiliate links. This means if you make a purchase through these links, I may receive a small commission at no extra cost to you. In fact, you may receive a discount or some money for free! Click here to read my full disclosure policy.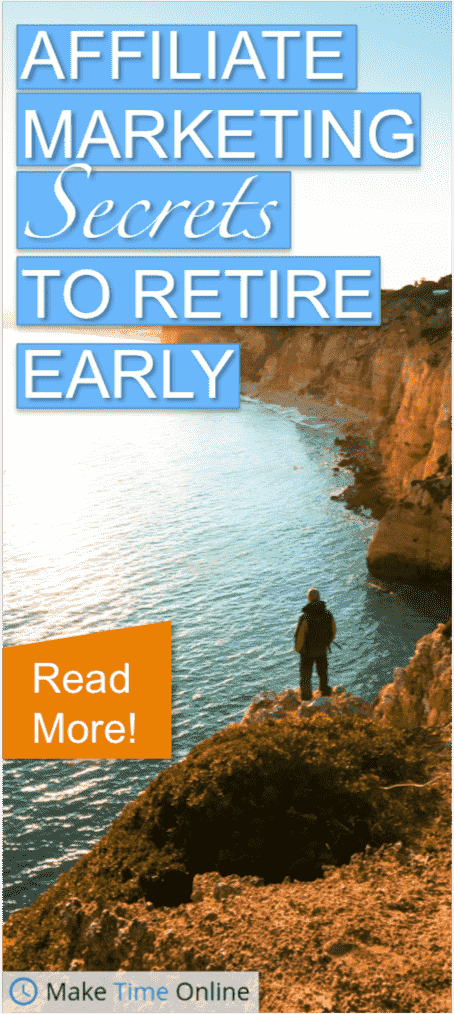 You probably agree that most people dream of making money whilst they sleep. 
And most people struggle to find ways of creating passive income without investing large sums of money. However, affiliate marketing has generated a passive income stream for thousands of people. Plus, it is possible to get started without needing any money. 
This post will answer the question "does affiliate marketing online work?" and help you decide if it's a good fit for you.
What is Affiliate Marketing?
---
Pat Flynn's Smart Passive Income possibly has the best definition of what affiliate marketing is:
Affiliate marketing is the process of earning a commission by promoting other people's (or company's) products. You find a product you like, promote it to others and earn a piece of the profit for each sale that you make.
If you're like me then you probably will find this diagram super helpful…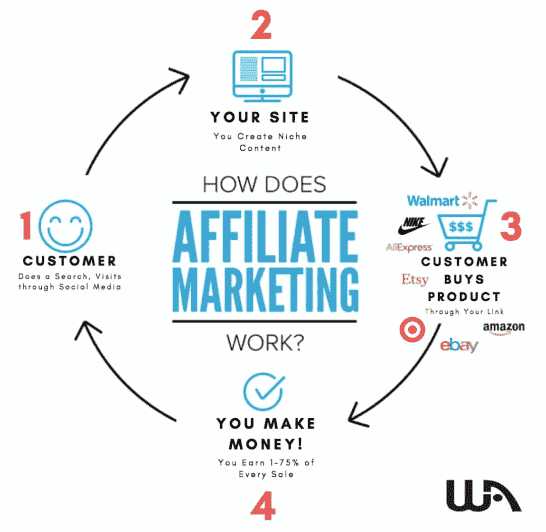 STOP! Now study that again. When you understand this diagram, affiliate marketing really starts to make sense.
Here are the 4 main roles in affiliate marketing as defined by Neil Patel:
Merchant:
This is the person or company that creates the product. 
It could be an online course or a physical product such as a child's toy or super cool hoverboards!
Affiliate: 
This is an individual or company that is also known as the publisher.
They will normally receive a commission of anything between 4-75% for each sale made through their special link. 
Consumer: 
The customer, or consumer, is what makes affiliate marketing go 'round. 
Without sales, there would be no commission or any products being sold. If you have ever bought anything then you were a consumer at that time, hence we are all consumers!
The Network: 
A network works as the "middle-man" between the merchant and the affiliate.
It is possible to set up a direct revenue share with someone that created a product. But almost all affiliate marketing online will be through a network such as ClickBank or Commission Junction. 
Master Blogging goes into a lot more detail about the terminology in affiliate marketing too.
Does Affiliate Marketing Online Work in 2019?
---
Does Pamela Anderson have trouble seeing her belly button?
The more you read each word in this post, the more you realise that companies and individuals who have created products want to get their babies in front of as many people as possible. 
Let me ask you this…
Would you rather pay someone else 0% of $100 profits… or 50% of $1,000 profit?
Simply put affiliate marketing is a win-win. 
The owner of the product doesn't have to do all the marketing or advertising themselves. And the person recommending the product (the affiliate marketer) doesn't have to spend all their time creating products. 
Benefits for the Merchant:
Cost-effective
Better ROI as you only pay when sales have been made (no upfront cost to advertising)
Increases traffic to your website
Can be tracked and analysed (see the success of each affiliate)
Save time as you don't have to market it yourself
Instant results
Long lasting results
Benefits for an Affiliate:
You don't have to spend ages creating products
There is no cost to marketing it (use your own channels i.e. social media/ website/ email)
No limits to how much you can earn
If you create a "funnel" that works you can scale it quickly by paying for traffic
Possible to make money for free
Builds relationships with the merchant
There are literally thousands of income reports that exist now. If you're still doubting whether affiliate marketing can genuinely work then see for yourself…
Real Life Examples:
There are loads of really impressive ones like Pat and Michelle who have been in this game a lot longer. But just take a look at the success of people starting out with affiliate marketing in more recent years!
How I Made Over $1,500,000 in 2018 – Michelle-Schroeder Gardner who started in 2011
$213,000 Month November 2017 – Pat Flynn who started in 2007
How I Made My First $25,000 From Blogging July 2018 – The She Approach started in September 2016
How I Made $3,878 in 3 months of blogging part time – Gathering Dreams – started in 2017
What do you think?
Does affiliate marketing online work even in 2019?
Is Affiliate Marketing Online Easy?
---
Is the Pope Jewish?
You're smart enough to know that nothing worthwhile in life is easy. 
Just because it's not easy does it mean it's not worth doing?
However, there are really only a couple of things you will need to do to be successful with affiliate marketing:
Review products (Youtube channel or a website aka blog)
Build an audience (you can be successful using a social media channel but an email list has been proven to be far better)
So let's break it down a bit eh?
1. Review Products
This doesn't mean all you will do is leave reviews on products. 
In fact, it's highly recommended that you do not do that! 
But product reviews are proven to be a great way to make affiliate sales. Just think about it for a minute… if someone helps you understand what a product does and why you need a product, do you think you're more or less likely to buy it? 
Also, if someone finds your website by typing in "GoPro Hero 7 Review" do you think they may already be interested in buying a GoPro? You will be attracting the right people to your website. 
Of course, you've seen those review videos on Youtube right?
Well, you can also leave reviews on a website. 
Just think about it… when you're considering to buy a product what do you do? 
BINGO… Google it! 
You are likely led straight to someone's website (aka a blog!)
So the really successful affiliate marketers will have their own website. 
With today's technology, building a website doesn't have to be hard and can be done with a few clicks (no you don't need to be able to code!) You can learn how to do this for free here "How to Build a Website the Easy Way".
2. How to Build Your Audience. 
You will be able to collect email addresses much easier with your own website than anywhere else. This way you can provide value to your readers and then provide some sort of upgrade to help them… for free! Find out "Why do People Create Blogs? These 28 Bloggers Explain Their Story"
The key here is to provide your email list with quality information regularly. 
You are not going to try and sell anything and everything to them. If you do your job right you will only attract people onto your email list that you can genuinely help. 
At the end of the day, that is what affiliate marketing is… 
Helping put a product in front of someone that would benefit from it!
Email marketing has been proven to be more successful than any other type of marketing. Just see some of the stats below…
An example of a content upgrade is an email course. 
You can provide your audience with some of your best knowledge about a topic that you hav