In the spirit of full transparency, know that this Elna Cain podcast show notes contain affiliate links. This means if you make a purchase through these links, I may receive a small commission at no extra cost to you. Click here to read the full disclosure policy.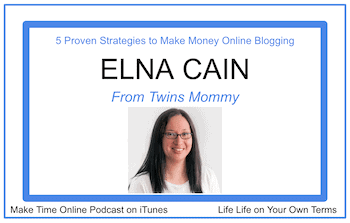 You probably know that blogging can be a great way to make money online.
Some people think there is only one way to do it. In fact, it has been proven by real people that it's possible to make money from blogging using different strategies.
This podcast with Elna Cain will show you 5 different ways you can make money online using blogging.
Listen in to hear us chat about:
Different websites that Elna has used to make money online
How she started making money online with twin babies (they were 1-year-olds at the time!)
How Elna has created an amazing community of 11,000 Moms in under 5 years.
What she would tell herself if she could go back in time
Listen on Apple Podcasts/ Google Podcasts
Elna Cain Background
---
Elna started trying to make money online when her twins were super young.
She didn't want to go back to work and miss out spending time with them.
Even getting a part-time job would have eaten up most of her income from childcare, gas money etc.
Does this sound familiar to you?
So she spent time learning about making money online whilst the kids were napping.
Freelance writing interested her and after putting in some time and effort she got some opportunities to write for money.
5 Ways to Make Money Online Blogging
Elna has an amazingly diverse experience of making money online.
In the podcast, she actually talks about 5 different strategies to make money online using blogging, that she has personally used.
---
#1 Freelance Writing
This was her first gig!
It was the obvious way to make money online.
Write something for someone willing to pay for it.
Simple right?
But how did she actually find her first opportunity?
Here are some of the things she did to get her name "out there":
Guest posting
Using Twitter
Use LinkedIn
Following brands
Searching job board sites i.e. Problogger
This is how she got her first payment:
She connected with a project on wheels.com from Pro bloggers job board site.
She didn't know anything about "cars"!
But she did know that she could research a lot of the content needed i.e. gas prices etc.
She mentioned some other websites that you can find jobs such as Fiverr, Upwork and Freelancer but she didn't personally have much luck with them.
Positives:
Make money quickly
You can research topics you're not sure about
You can learn more about blogging, whilst getting paid
Negatives:
You are trading your time for money (not passive income)
It can be hard to find good opportunities
So what else does she have up her sleeve?
#2 Viral Blogging
---
The idea on this website is to create viral content and get it shared lots on Pinterest.
This pretty much means:
Write huge "list posts" that people can save and bookmark it
Writing topics that people are searching for already
So how do you know what people are searching for?
Simply search popular content on Pinterest.
Here are some viral ideas as examples in the parenting niche:
Ultimate guides i.e. Birth plan
Specific topics- Get your baby to sleep through the night, avoid pain with labour etc.
Anything visual i.e. Recipes do well
Note you can use any niche that does well on Pinterest and look out for the most viral pins.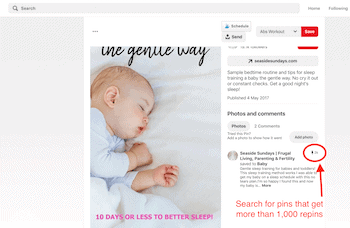 Positives:
Get traffic quickly
Viral spikes (using social media i.e. Pinterest)
Generate money quickly through ads
Negatives:
Time-consuming
Need a budget to hire writers to create the content
Reliant on Pinterest
Top tips:
Hire freelance writers ideally "ghostwriters" (write anonymously in your own name)
You can even help new bloggers that want to make money quickly with a site like this.
Related content:
#3 Contributor Blogs
---
If you're like me, you're about to learn something new…
Have a website that other people contribute to it.
The principle is simple…
Get traffic to the website then other people are happy to write on it for free to promote themselves or another website.
AKA no writing required by you!
Top tips:
Use a page called "write for us"
Leverage Facebook groups or communities you are part of
Potentially buy a website that has aged content already (great idea if you can!)
Oversee the first post by a contributor
Give access for them to contribute after that & review all posts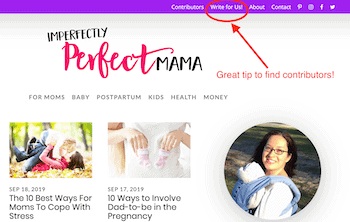 Positives:
Monetises by ads so it's very hands-off
Less time consuming as you don't need to keep writing content
Possible to monetise quickly
Don't need set writers
Negatives:
You need a following or community to help write content
Need to build it up if you don't want to pay for writers
This is such a simple, yet really effective strategy to make money online blogging.
#4 SEO Focus
---
This strategy is what I call the "traditional" way to blog.
You write content to be found in search engines so you get monthly traffic without doing any other promotion.
But…
There is a good way to do this and a not so good way.
Here are Elna's tips:
Look at other blogs and work out how they are succeeding
Replicate their content ideas… but make it your own
Find the topics that are highly searched on Google in your niche.
Check out the top posts for a keyword and replicate their post style i.e. list posts, tutorial, review based.
Positives:
More reliable traffic every month compared to Pinterest or other social media platforms
No extra work required to advertise your content
Therefore, you can create more systems or "funnels" to create passive income
Negatives:
Takes longer to get traffic and monetise the website
More research is required to find low competition keywords
It can feel like nothings happening for quite some time, so it's easy to give up or get demotivated
Related content:
#5 Creating Courses
---
This one has been covered quite a few times on the podcast.
It's really the number one way that bloggers tend to go from turning their hobby into a 6 figure (or more) business.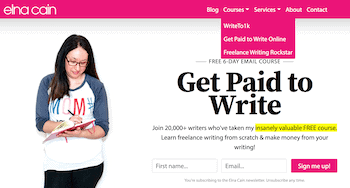 Positives:
Unlimited income potential (you set the price and sales pages etc.)
You can use funnels and techniques to automate sales
You will likely to create something that you enjoy talking about or are passionate about.
Negatives:
Time-consuming to create
It takes more learning to create the sales pages and get used to the different software or systems needed
There's no guarantee anyone will buy it, it's up to you to spread the word at the start
You probably already noticed this.
But, many of the strategies Elna mentioned involved…
BONUS- Pinterest Focus
---
First of all, it's important to realise Pinterest can be fickle.
Traffic can come and go due to viral spikes.
BUT…
Pinterest is still the quickest way to get a lot of traffic to your blog.
Many of Elna's websites have used Pinterest to get traffic quickly.
Her top tip for getting traffic quickly:
This will help you hone in on the right type of audience & followers.
The amount of followers you have is not super important, but the right audience is very important. If they don't engage on your account then your pins will never be shared.
How Long Will it Take to See Traffic From Pinterest?
---
Elna explains that if you have things set up well you can see traffic within 30 to 60 days.
This will only work if you use Tailwind and also get onto good group boards early.
However, group boards are not what they once were.
Saying that, if you only get into good group boards they can really help especially at the beginning.
In fact, pinning to poor group boards can really hurt your Pinterest account.
Here is a great way to check and see if a group board is worth pinning to.
It's recommended to use Pinterest at the start for many niches, then branch out with other platforms such as YouTube, Facebook and SEO.
Bloggers Tools & Advice
---
A really important point that Elna makes is that your first blog may not be a success.
But that's OK.
Use your first blog as a chance to test things out. Try YouTube or different social media platforms if you want to.
You can always start a new one with the skills you learn.
Another great tip is to find ways to delegate and outsource things as soon as possible.
This leads nicely onto…
The Best Blogging Tools
Even if you cannot afford to pay someone to help out, you can easily use some of these tools to help:
So, the final golden nuggets from this Elna Cain podcast is…
Top 3 Tips if Elna Cain Could go Back in Time
---
Here is what she would tell herself if she could go back in time to when her twins were born…
You will get some sleep eventually!
You're doing a good job as a Mom
Keep your head down (don't be deflated by others success stories or negativity online)
It really is amazing how far she has come in the last few years.
Plus, she's so modest and down to earth!
Full Elna Cain Podcast Transcript
---
Links
---
If you'd like to get in contact with Elna here are the best places to find her:
There are also links under each strategy to see a real example of what it looks like.
Elna Cain Podcast Summary
---
Here are my top 5 takeaways from this chat:
If you enjoy what you do, it won't feel like work
It is possible for anyone to start doing this (even if you think you haven't got the time or knowledge… if a Mom with twin babies can, anyone can!)
You will make mistakes at the beginning & your first blog may not be your best one, but that's OK.
There are different types of websites and strategies to make money online
Focus on your Pinterest SEO
Keep changing for the better,
Mike
P.S. What was your main takeaway from this chat? Was there anything you learnt or something you'd like to know more about?
Drop a comment below!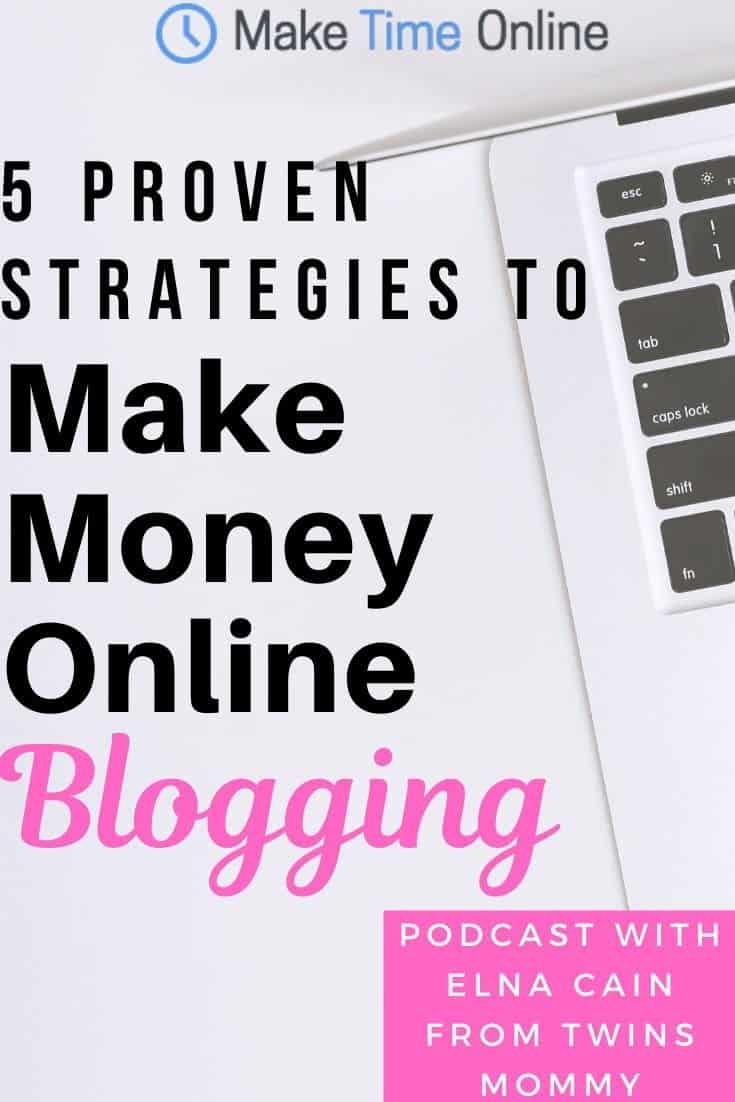 This Blog Income Reports Study on how to make money from a blog quickly has no affiliate links on it. It was made with the sole purpose of helping new bloggers go from 0 to 4 figures a month quickly by using the proven path already laid out for you.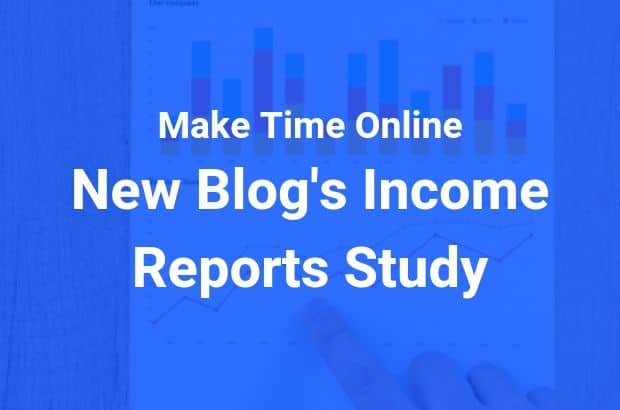 You probably already know that it's possible to make money blogging.
But for most people, it is hard to know how to monetise your blog at the start. Every "guru" you turn to tells you something different… you should do more freelancing, or use adverts, or affiliate marketing or write an ebook.
Here's the truth…
Every niche has a slightly different trend in making money within the first year or so.
I'd like to tell you that hard work and dedication will make you money online in the end. But the fact is if you don't see results quickly, you're more likely to give up.
This blog income reports study will show you how to make money from a blog quickly in 7 different niches. It is a proven road map for you to take a blog from zero to 4 figures a month… and beyond!
This has the proven path to make 4 figures a month so it is split up into 3 parts:
The Income Distribution of 7 Niches
The Blueprint to Make $1000+ Per Month
The Key Findings
Infographic
---
Use Visual.ly if you would like to get the code to embed this infographic and link back to this page.
How is This Blog Income Report Study Different?
---
Brandon Gaille produced a lot of amazing facts in his 2018 blog income report study.
However, one important thing was missing…
How does each niche make money?
More importantly, how does each blog niche make money in the early days?
The generic advice doesn't work for every niche, as you are about to find out.
For example, if you have a food blog is there any point in looking for affiliate programs to promote? Or if you have a marketing blog, should you bother using adverts?
The more you read this study, the more you will see the proven path that is laid out for how to make money from a blog in your niche.
The 7 Niches in This Blog Income Reports Study
There are 7 niches researched in this blog income reports study:
Food
Health and Fitness
Lifestyle
Mommy
Marketing
Personal Finance
Travel
And if you look into the majority of successful blog niches they will normally fit under one of these categories.
The lifestyle niche includes blogs that write about a variety of interests but could have an emphasis on DIY crafts, home decor, journaling etc.
The health & fitness or Mommy niches are closely linked to lifestyle but there was a clear focus on these blogs.
The Blog Income Reports Study Criteria
This study had a few criteria that had to be met:
At least 5 blog income reports in each niche
All income reports also need to be over $1,700 per month (most reports below this amount are just "a bit of this and that")
All income reports are below 6 figures a month (51 out of 57 were under 5 figures per month with the highest at $19,889)
Income reports must also have a break down of where the income was from
Why use these criteria?
We wanted to find blogs that are making money from their own niche. Not just making money "blogging about blogging".
Just think about it… have you seen those headlines on how to make money blogging like this?…
How I Made $1.5 Million Blogging Last Year... With my Eyes Closed on a Beach
Disclaimer- the "eyes closed and beach" part is totally made up!
These are great for motivation but when you see a Mommy blog with these numbers it's almost always because of one thing…
It has expanded into blogging about blogging.
Therefore, it's not an accurate representation of how that niche makes money anymore…
It's really just another marketing blog.
For this reason, many of the income reports used were not the blogger's most recent income report.
The farther back you look, the farther forward you are likely to see.

Winston Churchill
By finding the income reports towards the start of the blogger's journey we are able to see how to blog for money in the early stages.
Key Terms for the Study
So here are some key terms that you will need to be aware of for this study to make sense:
Ads: The amount of income from ad networks.
Affiliate: Affiliate marketing income (being paid a commission if someone buys something through a link on your website for someone else's product).
Own Products: Any products that the owner creates and sells. This includes ebooks, courses, physical products and apps.
Other: Any other income. This includes freelance work, sponsored posts, sponsorship for their website or podcast, coaching or other services they provide.
Start Year: The year the website was created.
Important Disclaimers
There are also some things to take into consideration with this study.
1. Some blogs overlap 2 or more different niches i.e. Fit Mom Journey is part Mommy and part Fitness.
However, the main niche that is written about is the one recorded in this study (hence, Fit Mom Journey is more about health and fitness).
2. Mommy bloggers often fall under the lifestyle niche but there were enough blogs that clearly had a focus on Moms and parenting.
3. It's hard to find blog income reports from websites that are not blogging about blogging!!
And there is a big reason why people make income reports…
Most income reports promote more affiliate links.
Yes, they can be educational, motivating and helpful. I'm grateful for them just doing this- research! But, 99 times out of 100, they are used to recommend more affiliate products.
But the truth is, many successful blogs will never produce a detailed income report.
This makes finding income reports that fit the purpose of this study quite challenging!
Part 1- How to Make Money From a Blog: The Income Distribution of 7 Niches
---
You can find all of the blog income reports used in this study towards the bottom of this page.
But if you're like me, you'll be pretty excited to see the difference between each niche.
How to Make Money From a Food Blog- Income Distribution
There is a clear monetisation method for food bloggers.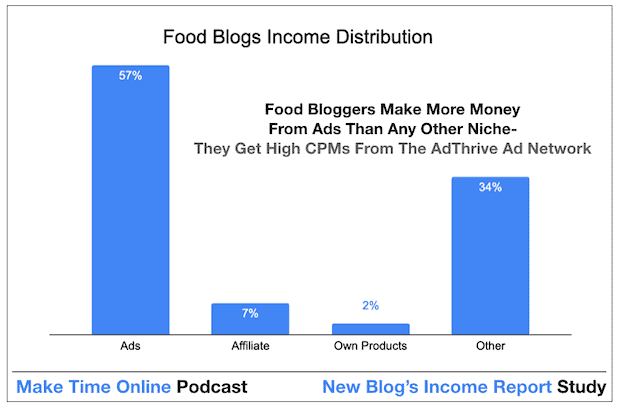 Ads for food blogs are crucial.
This is why getting onto the best ad networks and understanding what the requirements are to do this is so important for them. You can learn more about this on The Best 5 Ad Networks for Blogs.
Food Blogs Focus on Ads
Well duh!
But let's think about why and what this means…
The obvious reason for this is that food blogs tend to get a lot of traffic because everyone needs to cook.
When the typical "house chef" (AKA Mom… please don't shoot me for the stereotype!) struggles for ideas they do one of two things, in 2019:
Google recipe ideas
Search Pinterest for recipes
This means that new blogs can get hundreds of thousands of page views from Pinterest alone if they use it right.
Pinterest still has a high majority of active users that are aged between 25-45 and female. Hootsuite shows there has been an increase in male sign-ups since 2018, but they are still not as active on the platform.
Therefore, Pinterest is crucial for how to make money blogging about food. If you have a new food blog, all of your efforts should be spent on Pinterest promotion at the start.
Check out "5 Pinterest Hacks to Explode Your Traffic" if you want to get more pinning traffic tips.
How to Make Money From a Health & Fitness Blog- Income Distribution
There is again a clear method that health and fitness blogs use…
Advertising networks.
However, it's important to note this doesn't have to be the case.
For example, Avocadu didn't use any ads on the website at the start and focused much more on affiliate marketing and selling their own products quickly.
Health & Fitness Bloggers Get the Least Income from "Other" Means
Out of the 5 blogs in this study, Only Root and Revel started making any money from sponsored content.
None of these websites reported income from freelance or coaching work.
So how did health & fitness blogs make money from a blog?
Common Affiliate Opportunities for Health and Fitness Blogs
In a moment you'll notice there are a range of products promoted on each website without any real common trends.
Here are the main money earners for health and fitness websites (excluding ads):
Remember these are not affiliate links, but the links for you to join the affiliate programs.
Using Pinterest is again where the majority of your time should be spent if you have a new Health and Fitness blog.
Once you see what articles your readers are interested in, then you can look for appropriate affiliate products to promote.
How to Make Money From a Lifestyle Blog- Income Distribution
So how do lifestyle websites make money from a blog?
As you can see below, ads are also super important to lifestyle blogs when they first start to make money blogging.
However, due to the large range of topics lifestyle blogs cover there really is no right or wrong way to monetise these types of websites.
Lifestyle Blogs Use Different Income Streams
You can see from Chasing Foxes that it's possible to get an insane amount of traffic quickly to your blog. Silas and Grace pumped out 50 posts before they even launched their website and had over 2 million page views in a single month… within their first year!
This is obviously going to bring in some great income from ads. They relied heavily on Pinterest for this again.
Whereas Let's Reach Success focused on freelance work and sponsored posts in the early days.
Lifestyle Blog Formula
Despite there being many ways lifestyle blogs can earn money there is a general theme across the blogs in this study.
The main focus was on making money from a blog with ads and affiliate marketing:
Typically the websites built up traffic to monetise with some ads.
They used Amazon Associates to place links for products they were writing about.
This way they could test out what their audience was interested in.
Eventually, they could create their own product tailored to their readers wants.
To be honest this is not just a lifestyle blog formula.
It's also really the trend across the majority of these successful blogs as you are about to find out.
How to Make Money From a Mommy Blog- Income Distribution
Mommy's make money blogging in a very similar way to lifestyle blogs.
But again ads stand out as the main way to make money from a Mommy blog at the start.
There was an interesting finding from this study…
Mommy Blogs Quickly Blog About Blogging
Maybe this isn't always the case.
But…
Every one of the Mommy blogs (with Easy Baby Life less so) in this study started "blogging about blogging" or promoting some of their favourite blogging tools.
This kind of makes sense as a lot of Mom's will be interested in making some money from home so they can spend more time with their kids.
However, these income reports prove it is possible to make money without doing that as none of them had really monetised in this way… yet!
Common Mommy Blog Affiliate Ideas
There was one platform which dominated in all of these reports:
Amazon Associates.
That's a bit vague, so here are some common ideas they promoted:
Baby gifts
Baby gear- buggies/ prams/ car seat etc.
Breastfeeding stuff
Nursery ideas- cribs/ lamps etc.
There tend to be lots of different items promoted. But the "comparisons", "reviews" or "how to use" posts did well.
How to Make Money From a Marketing Blog- Income Distribution
This niche is where you see the biggest difference to every other niche!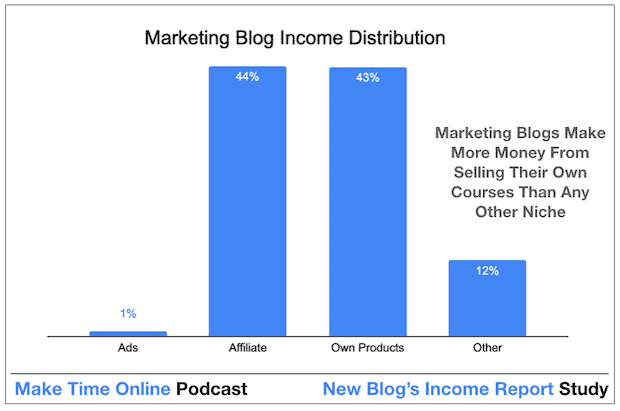 This is why you need to take "blogging about blogging" websites with a. pinch of salt.
Have you noticed yet that the things that work for these blogs may not work in your niche?
There are 2 key findings from this blog income reports study….
#1 Marketing Blogs Rely Less on Pinterest- They Do Not Focus on Ads
Readers on marketing websites (i.e. blogging about blogging or podcasting or how to use affiliate marketing etc.) do not want to see a load of pop-ups or ads everywhere.
There are two main reasons for this:
They want readers to click on their products and affiliate links, not the ads!
It slows the website down.
Simply put:
Ads are annoying and readers on marketing websites are more aware of them, unlike the typical readers in other niches.
Therefore, the last thing the readers on marketing websites want is to be interrupted every two seconds.
…Or struggle to scroll down without the website glitching.
#2 Marketing Blogs Make Money From Their Own Products Quickly
This was another interesting finding.
Even when I put in Pat Flynn, Melyssa Griffin and JLD's super high incomes ($150,000 a month+) the income distribution hardly changes…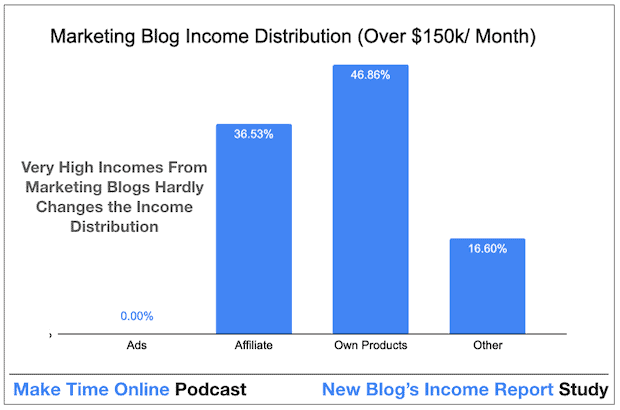 This just shows that it is possible to make money from your own products even with a new website.
However, you are about to find out that the income distribution changes a lot for other niches.
This is why it's good not to include these kinds of blog income reports in this study.
The Best Marketing Blogs Have Less Traffic and a Smaller Audience… But Build Better Relationships
Just take Pete McPherson's Do You Even Blog as an example.
With a relatively new website, Pete generates 60% of his income from his own courses. You can listen to my chat with Pete on the Make Time Online podcast about what he sees as the "Future of Digital Marketing".
Also, Ana from The She Approach has already had a lot of success from her own ebooks and courses, with 47% of her income coming from them.
Common Affiliate Networks for Marketing Blogs
There are some common networks for marketing blogs:
Remember these are not affiliate links, but the links for you to join the affiliate programs.
Every marketing website promotes individual affiliate programs too.
Ranging from Pinterest ebooks to full-on 6 Figure Blogging courses.
Click here to see my personal favourite blogging tools and courses.
How to Make Money From a Personal Finance Blog- Income Distribution
Another different looking graph!
As you can see personal finance bloggers make a higher percentage of their income from affiliate marketing than any other monetisation method.
So if you're a personal finance blogger, chances are you should be looking at affiliate programs to make money blogging.
Personal Finance Blogs Focus More on Affiliate Income Than Any Other Niche
Even in the early days, you can see personal finance websites focussing on affiliate marketing.
Affiliate programs such as survey sites (i.e. Survey Junkie) or reward sites (i.e. Ebates, now Rakuten) will make up a large portion of this income.
You can even see what Jeff and Ben from Dollarsprout recommend…
These type of affiliate links are easiest to convert (AKA low cost, free or even provide a sign-up bonus for people to join).
Are you beginning to see how getting someone to pay $10 to join is not as easy as paying someone $10 to join?
This is much easier to sell in the early days compared to $1,000+ courses that marketing websites may be offering, where trust is key.
Common Affiliate Programs for Personal Finance Blogs
Here are some of the common programs that personal finance bloggers use to make money from a blog at the start:
Remember these are not affiliate links, but the links for you to join the affiliate programs.
There are also loads of different affiliates depending on your specific focus i.e. credit card sign-ups or stock trading programs etc.
Plus, here's a little bonus look inside Jeff's income-generating platforms (this is super useful if you've never seen the backend of affiliate programs before)…
This was from their October 2018 Income report at $61,915, after Dollarsprout was more established.
You can check out our chat on the podcast if you'd like to hear how these guys created a $240k/ month online business in 3 years.
How to Make Money From a Travel Blog- Income Distribution
Again another different looking graph.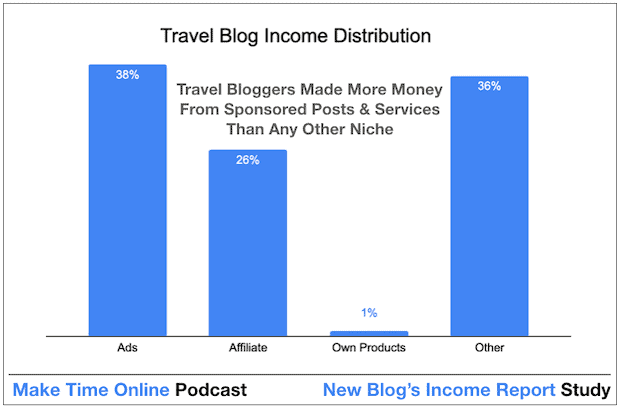 This time you can see that travel blogs typically get their income in a variety of ways.
Some sites such as Once in a Lifetime Journey make money blogging mainly from consulting. Others, such as External Expat do quite a bit of freelance work.
The fact is, travel blogs will have to hustle more to find these opportunities.
Travel Blogs Make Money With Sponsors and Freelance Income
If you're like me you may find this really helpful to know.
If you were starting a travel website the majority of them make money from other monetisation methods, such as sponsors and freelance writing.
In fact, 6 out of 8 of the travel websites in this study has some income from sponsored posts or freelance work.
So if you are trying to make money blogging with a travel blog by creating your own course, you may find it's an uphill battle.
Remember, don't reinvent the wheel!
Use the map that others have left you to copy their success.
Some Useful Marketplaces for Travel Blogs
Here are some of the places for how to make money from a travel blog:
Remember these are not affiliate links, but the links for you to join the affiliate programs or use the platform.
Freelancing and sponsored income comes in such a variety.
However, the best opportunities tend to not actually come from sites like Fiverr and Upwork.
This makes it harder to set out a blueprint for the best ways to do it.
For example, Will from Travel Blog Breakthrough got a big chunk of his income from a Trekking company after they saw his work on the Inca Trail Guide.
He jumped on a skype call to make that happen.
Make sure you check out the income reports below to find other ways of how blogger's make money from a travel blog.
Part 2- The Blueprint to Make $1,000+
---
Now, I bet you're looking at all of these pretty charts thinking…
So what?
Well, let's summarise the key takeaways and more importantly…
Let's work out an action plan moving forward.
#1 Every Blog Needs Traffic
First of all, let's start with the obvious.
If you want to make money from your website you have to get traffic.
Period.
5 out of 7 niches have a large chunk of their initial income from using ad networks.
Yes, Google Adsense is easy enough to get onto and start the ball rolling.
But the majority of these bloggers were getting most joy by using Mediavine or AdThrive.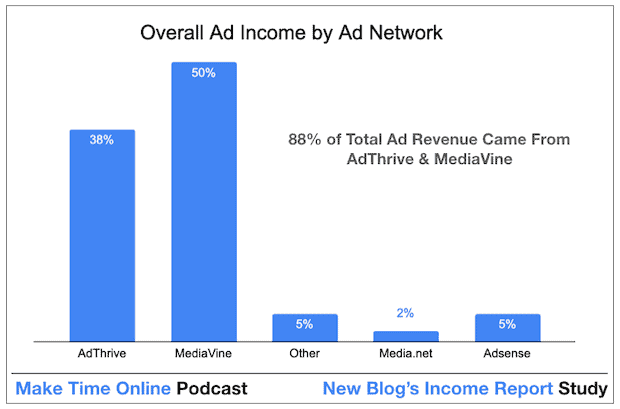 So it would be wise to aim for this.
Agreed?
Now, I can almost hear your mind saying…
But How do I Get This Traffic?
If you're like me, this is THE question you want to be answered!
This short video will explain exactly how many of the bloggers in this study have made sure they are writing content that people are actively searching for.
AKA how they get more traffic…
So if you use these techniques rather than just guessing, you will notice your articles will start getting much more attention quickly.
Click these links to try it out right now:
#2 Aim for 25,000 Sessions a Month (Unless You Have a Marketing Blog)
I know what you're thinking!
That sounds like a lot, right?
But there are 57 blog income reports that show you this is 100% possible for you to do.
Why 25,000 monthly sessions?
Simple because Mediavine requires 25,000 monthly sessions to allow a blog to use their network.
Therefore, aim for that!
AdThrive, which tends to pay a bit better on average requires 100,000 monthly page views.
(Note 100k page views means if 25,000 people click on 4 pages each you'd achieve that!)
This means to make some good money from ads on your blog, you need to focus on getting 25,000 monthly sessions…
Quickly!
Check out "The 5 Best Ad Networks for Blogs" to see more details about the ad networks.
Even the bloggers that did not focus on ads still needed the traffic to work out what affiliate programs or products their audience wants.
If you aren't getting 5,000 monthly sessions yet then check out "How to Use Pinterest for Beginners". As many of these income reports prove… Pinterest is still the fastest free way to get traffic to your website.
The most successful niches on Pinterest are still:
Recipes
Home decor
Fashion
DIY (crafts, decor etc.)
Followed closely by:
Kids and Parenting
Travel
Health & Fitness
Many other niches can be successful, but these are still the most widely pinned and active niches.
#3 Use Affiliate Products to Match Your Readers Interests
Once you get traffic from Pinterest (at least 5,000 page views a month) you can use Google Analytics to see what posts most of your readers are reading.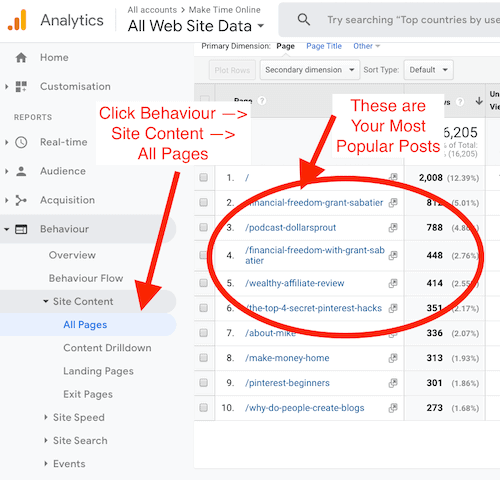 This proves exactly what the people reading your blog are most interested in. And are you beginning to notice you don't need to guess?
Use the data!
Once you know this, you can start to recommend great products that fit with these articles.
Plus, you can write more posts on these topics to get even more traffic!
There are plenty of niche-specific affiliate marketplaces in the sections above if you want some ideas of where to find these affiliate products.
#4 Create Your Own Product (Optional)
If you really want to start making a big income then this is the next step to take.
As you can see from this study already, it is possible to make well over $1,000 per month blogging without even thinking about this stage. (*Cough cough Chasing Foxes with $15k/ month from ads alone!*)
But if you make a better version of the affiliate product that you are promoting, you will get to keep all the profit instead of a per cent of the sale.
Hence, instead of making $5 commission on a $30 ebook, you can make the full $30 (or whatever you choose to charge for it).
This is the proven path that has already been laid out for how to make money from a blog.
Part 3- The Key Findings
---
There were some important and some unexpected findings from doing this blog income reports research.
#1 It is Possible to Make Money Blogging… Without Writing About Blogging
This could well be the biggest takeaway from this blog income reports study.
It is possible to make money in other niches than marketing.
All of the income reports below will show you how these blogs made money without talking about blogging.
You can tell that some of them (i.e. The Busy Budgeter) have clearly started to blog about blogging. But there was very little money made from "blogging about blogging" in these income reports.
#2 Some Niches Tend to Reach an Upper Limit
For example, Mommy & lifestyle blogs only have so many affiliates they can promote and only so many pageviews they can get in a month.
At this stage, it's hard for them to create a specific "Mommy product" so many of these blogs tend to start "blogging about blogging".
This opens up many more affiliate programs and provides an opportunity to create their own courses.
Just as I eluded (ooo posh word from me!) to earlier, most blog income reports will exist to provide motivation for others. But they also promote more affiliate links i.e. Bluehost hosting or an autoresponder or favourite theme to use etc.
Therefore, it is hard to find income reports that are based solely on a "non-blogging" niche. Many of the websites featured in this blog income reports study will eventually have affiliate links to blogging tools or courses.
#3 Income Distribution Changes Over Time
The graph below shows the average income distribution of 7 blogs, one from each niche.
The second graph is from the same 7 blogs. But they have since kicked on and made at least $40,000 a month.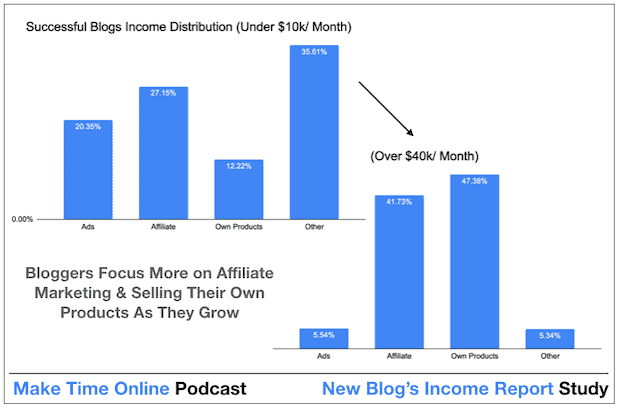 As you can see there is a much heavier reliance from their own products and affiliate marketing.
All 7 of these websites now have a focus on blogging about blogging (Show Me The Yummy has a course on how to make videos for food bloggers, which is sort of related).
Simply put…
Once you start making good money from your blog, focus on automating with affiliate marketing and funnels selling your own products.
The most successful blogs tend to have affiliate opportunities for their own products meaning it becomes even more passive.
The 7 Blogs Used For This
| | | | | | |
| --- | --- | --- | --- | --- | --- |
| Blog Name | Niche | First Income Report | Monthly Income | Second Income Report | Monthly Income |
| Just a Girl and her Blog | Lifestyle | Feb 2014 | $2,446 | Dec 2016 | $41,700 |
| Show me the Yummy | Food | Jun 2016 | $4,781 | Dec 2016 | $46,366 |
| The Realistic Mama | Mommy | Mar 2016 | $5,891 | Aug 2018 | $48,162 |
| Avocadu* | Health & Fitness | Apr 2016 | $4,244 | Aug 2019 | $111,929 |
| Making Sense of Cents | Personal Finance | Jan 2015 | $15,396 | May 2018 | $136,808 |
| It's a Lovely Life | Travel | Mar 2017 | $37,810 | Dec 2018 | $147,833 |
| Melyssa Griffin | Marketing | Jul 2015 | $9,226 | Dec 2016 | $283,680 |
The Most Important Finding of All
Every single blogger that has started making $2,000 per month or more has done this one thing.
There are ZERO exceptions.
I bet you want to know what it is, don't you?
But you won't like it…
Seriously though you won't…
Hustle.
I told you, you weren't going to like it.
There's no magic sauce that made these blogs earn money.
They all hustled at the start.
They all found "other" ways to make money or put in an incredible amount of effort to make money through the more "passive" ads, affiliate marketing and own products.
As you can see… content creation is key!
But you don't need to reinvent the wheel (in fact, it's better that you don't because if it hasn't been written about before, there is probably a reason!)
Find what works for others and make better versions of them.
57 Blog Income Reports in 7 Different Niches
---
So here are the blog income reports that were used in this study.
Feel free to click on the blog name and look into any of the reports in more detail.
Food Blog Income Reports
Health & Fitness Blog Income Reports
*Income report was taken from Alex and Lauren's book "How to Make Money Blogging". Their income on Create & Go is updated every month.
Lifestyle Blog Income Reports
Mommy Blog Income Reports
Marketing Blog Income Reports
**This is Ana's first $50,000 income report. The total has been divided by 12 even though it took 2 and a half years to get there because the income has sped up more recently.
***Only the income from Inspired BU was used for this study (not the income from Meet Penny)
Personal Finance Blog Income Reports
| | | | | |
| --- | --- | --- | --- | --- |
| Blog Name | Niche | Income Report Month | Start Year | Total Income |
| Millennial Boss | Personal Finance | Apr 2018 | 2016 | $1,950 |
| The Frugal Millionaire Blog | Personal Finance | Jan 2017 | 2014 | $2,171 |
| The Savvy Couple | Personal Finance | Jan 2018 | 2016 | $2,412 |
| Retired by 40 | Personal Finance | Dec 2016 | 2013 | $3,328 |
| Fitnancials | Personal Finance | Nov 2018 | 2013 | $4,612 |
| Inspired Budget | Personal Finance | Jun 2018 | 2017 | $7,296 |
| Unconventional Prosperity | Personal Finance | Feb 2018 | 2017 | $8,221 |
| Dollarsprout | Personal Finance | Jan 2018 | 2016 | $12,372 |
| Busy Budgeter | Personal Finance | Mar 2016 | 2014 | $12,484 |
| Making Sense of Cents | Personal Finance | Jan 2015 | 2011 | $15,396 |
Travel Blog Income Reports
***** Only travel related income was reported in this study- not the "blogging about blogging" income.
**** This income report gets updated every month but was used with the figures from August 2019
One Final Note on How to Make Money From a Blog
---
Remember this…
It is possible to make money in any way in any niche.
Of course, it is possible for food bloggers to create their own course or "monthly meal plans" and sell them in the early days.
Of course, you can make money from ads in any niche.
But what you have above is a proven path that successful blogs have taken to start making good money in different niches.
Use what they have left behind to your advantage.
Once you get that regular income, it then becomes possible to put more time into automating things and generating passive income from affiliate marketing funnels and sales of your own products.
How to Make Money From a Blog Quickly Summary
---
You can see a clear roadmap that successful blogs have taken to make money blogging in 7 different niches:
Food, Lifestyle & Mommy blogs should focus on Pinterest. Ideally creating list posts that people want to read & aim to get on Mediavine or AdThrive ad networks.
Health & Fitness blogs should do the same but quickly find affiliate products for their most popular articles.
Personal finance should also use Pinterest, noting that budgeting does better on Pinterest closely followed by ways to make money (use low cost or free affiliate products such as survey or cashback sites).
Marketing blogs should have an idea of a product they can create i.e. an eBook or Teachable course. The focus is on creating high-quality articles and really connect with the readers.
Travel blogs should still use Pinterest to drive traffic. Hustle to find sponsorships and freelance work to make up the income initially.
It doesn't mean that you have to stick to this, but it does give you an idea of the quickest and proven ways for your niche to start making money.
Feel free to use any of the charts and graphs from this study. All I ask is that you kindly link back to this study from your blog post.
Keep changing for the better,
Mike
P.S. Check out "The Most Profitable Niche" and "The 5 Best Ad Networks for Bloggers".