In the spirit of full transparency, know that this podcast show notes with Alex Nerney from Create and Go contains affiliate links. This means if you make a purchase through these links, I may receive a small commission at no extra cost to you. Click here to read the full disclosure policy.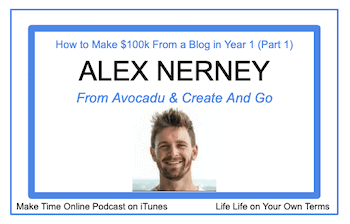 If you're like me, then the thought of creating an online business to allow you to travel the world, work anywhere at any time really appeals to you.
Well, it did to Alex too.
So he did it!
Now his mission is to teach as many other people how to make money from a blog.
Listen in to this podcast to find out:
Why Alex and Lauren quit their jobs when they were not making any money online.
What the process was for Avocadu (their health and fitness blog) to start making money.
Why nobody cares about your ideas.
The worst mistakes bloggers make on Pinterest.
This has been split into a 2 part-er due to the amount of value thrown in.
Enjoy!
Click here to listen to part 2 now.
Alex's Journey From Earning $0 After Quitting a Job to Making Over $100k/ Month
---
Alex was a personal trainer waking up at 5 am every day to train his clients.
He bounced around for a long time trying out different things.
But he knew there was another way to live life.
It wasn't until going to a Fastlane Meetup that he actually realised this "Internet lifestyle" was a real thing.
After taking the plunge in December 2015 and "going all in" Alex and Lauren starting making their first bit of income from their health and fitness website Avocadu.
Related content:
What Did Avocadu Do?
---
Simply put…
They started making money from affiliate sales, then quickly made their own products to increase their profit.
It wasn't down to luck though.
They put out loads of great content, but more importantly…
They tracked data… a lot!
So what data did they actually measure?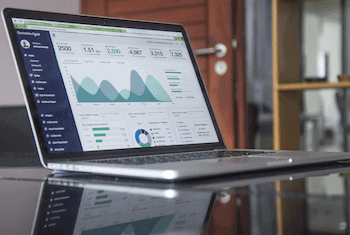 Here's the rundown:
What are the highest-traffic articles
The best converting opt-in pages on these sites (using Thrive Leads)
What emails their readers liked the most (using ConvertKit)
Create a course to replace their affiliate sales (find the best online course platforms here)
Once they figured this out, they produced more of these.
As you can see it's pretty simple when it's laid out like this.
If you could take one thing away from this podcast it is this:
Find out what your audience is responding to… this will show you what to do next. 
Noone Cares About Your Ideas!
---
Just look at the data.
Respond to it.
You don't need to come up with some new invention or something groundbreaking. In fact, it's recommended that you don't.
Sounds simple, doesn't it?
But how do you get traffic in the first place to track data?
Pinterest (or any Tool) = Traffic
---
You may hear that Pinterest is the best way to get traffic.
At the end of 2019, this is still true for many niches.
Alex explains that Pinterest is full of "private people" that like reading. Hence, it's great for blog traffic!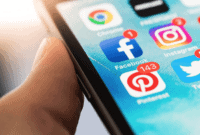 The thing is Pinterest is not the ONLY way to get traffic. There will always be the next "Pinterest" if it were to disappear.
So how dis they get traffic?
Alex and Lauren really analysed one Pinterest's content.
They found:
People linking to bad articles
Pins that were not beautiful
Bad titles that didn't get clicked
By fixing these 3 mistakes, Avocadu was able to stand out.
Related content:
Common Pinterest Mistakes
---
First of all, Pinterest HAS CHANGED!!
It's a different thing to what it was in 2015.
Here are some of the common mistakes that people still make:
Deleting pins
Try to game the system
Pinterest's algorithm has changed to stop a lot of old tactics being effective.
It takes good content and consistency to get traffic from Pinterest.
Full Podcast Transcript
---
Alex Nerney From Create and Go Links
---
Here are some ways to get in contact with Alex Nerney from Create and Go:
If you'd like to see all of Create and Go's courses then click here.
Here are some book recommendations from the chat:
What Would You Like to Know More About?
---
Over to you amigo.
What did you take away from this chat?
Is there anything that inspired you?
Or anything you really want to know more about?
Comment below…
I'd love to know what you think!