There may be affiliate links in this podcast's show notes, read the full disclaimer here.
You've probably heard of the benefits of meditation before.
But, if you're like me you probably put this kind of thing to the back burner especially when you are busy or have important things coming up. 
However, Barry Nelson proves it is possible to meditate daily. He has 3 successful businesses and two young kids but manages to find time for an hour or more of meditation every day. 
This podcast will show you how this is possible and the benefits of doing so. 
Barry Nelson's Background
---
1:30 mins 
You will find out: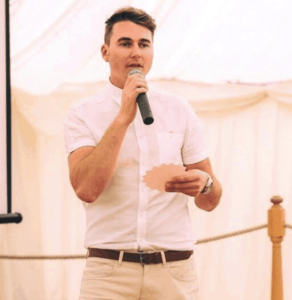 That Barry grew up in Ayrshire, Scotland
He didn't know what he wanted to do when he finished school
He didn't have much money to start with 
How Barry started his first business- The Garden Barber… "he'll trim your bush!"
How it turned into a construction company – Turning over £1.5 million each year
The way it's possible to work smart rather than working hard
How his online business led to working on his personal development 
When Barry starting investing in property
How he now runs 3 businesses (construction, property and online business)
Personal development is crucial if you are interested in creating your own lifestyle. Check out "What I've Learnt from Reading Over 100 Books in the Last 3 Years" for 9 key lessons from some of the world's most successful people. 
Why Barry Started Investing in Property
---
6:30 mins
In this section Barry talks about:
The materialistic view of property investors pulled him in initially
Not enjoying the graft of construction
How he knew property was a place to grow & shelter wealth from an early age 
The way he found deals and investment money on tap

Buying 15 houses in 17 months!!
Property is one of the 4 main asset classes you can invest in. Find out how it's possible to diversify into another asset class in "The Secret to Earn Passive Income".
Mindset
---
11 mins
It's certainly not always rainbows and butterflies! Here, Barry mentions:
Facing challenging times
Some days you don't want to deal with the problems
Reading books and listening to podcasts to help grow your mindset is a must
You will have put yourself in the situation- so you'll have to find the solution
It's not always about the materialistic gains
Solving problems for other people makes the work enjoyable and meaningful
Miracle Mornings & Overcoming Challenges
---
14:30 mins
This is the main section where you will learn how meditation creates more freedom:
Barry found meditation the hardest habit to do after reading "The Miracle Morning" (there are 6 habits)
Helps you take your time rather than being reactive, emotional and overwhelmed
The problem is often not as big as you first thought
"You can tell the size of the man by the size of the problem that gets him down"
Find out how long Barry meditates for 
Discover how he finds the time
What Barry listens to when doing guided meditation
If a guy with 2 young kids and 3 business can find time to meditate each day, do you think most people can?
[click_to_tweet tweet="'You will never find time for anything. If you want time, you must make it'" quote="You will never find time for anything. If you want time, you must make it"]
If you love a life hack and don't like remembering everything in your brain then find out how you can "Save Hours of Time with these Resources".
How Meditation Creates More Freedom
---
23:30 mins
Barry initially felt meditation was quite hippyish & woo woo! 
However, he quickly found some huge benefits including:
You can look at things from the bigger picture
It makes you feel better and more organised
He wasn't so overwhelmed by problems
Makes more time (it sounds counterproductive but it's weird how this happens!)
#Infographic: Benefits of #Meditation

• Reduces pain and enhances the body's immune system.
• Reduces feelings of #depression. #anxiety, anger and confusion.
• Increases blood flow and slows the heart rate… https://t.co/uwZrsUDz7t @KoreChiro#wellness pic.twitter.com/X3JLX68zEx

— Dr. Edward Ko (@DrEdwardKo) March 19, 2019
Growing Businesses with Social Media
---
28 mins
Barry talks about how the internet and particularly social media has helped all of his businesses. He talks about:
Meeting more like-minded people 
Adding value to others
The more your post the more traction you get
Makes you visible & raise your profile
The more people you know the more people you can help and the more they can help you
Being real- show the challenges and people reach out if they are in a similar experience
Get things off your chest- attracts people with similar beliefs
Don't be afraid to be yourself!
What other people think about me, is none of my business
Daily Life for Barry Now
---
35 mins
Barry talks a lot about setting blocks of time and having "boxes" for each business:
Opens one box at a time i.e. went to some viewings and met tenants earlier.
Usually a dominant business each day i.e. construction business on Monday's
Online business tends to be evenings and weekends
Always find time for family- take kids to their activities etc.
Set times during the day- plans the week before
Try to stick to these time slots
…And if you follow him on social media you will see how often he's off on holiday in some sunny part of the world!
Top Tips
---
40 mins
1- Work on yourself- you are in charge of changing your own life i.e. read 10 pages of a book each day, listen to audiobooks/ podcast when you're driving
2- Don't wish your life away. Always something that you're working towards and wishing to have something else or something bigger. Being content and happy with your life NOW
What if you woke up tomorrow with only the things that you are grateful for yesterday?
3- Start looking at the lifestyle you are willing to live. If there's something you want to do, find time to start doing it. You don't always have to be something that you don't want to be. You must be intentional. You can't just think about it then watch Netflix and drink beer every evening. 
You have to put the time and effort in. It won't magically happen but you'll need to stay the course. 
If you want to just sit on a beach working 5 hours a week, how can you do that? 
Reverse engineer your life!
Chances are if you're like me then you've never really given this much thought. If you're not sure where to start then check out "Why Make Time Online? Financial Independence Retire Early Blog".
Action
---
Meditate!
Try it if you've never given it a go before…
If you already do it become more intentional with it. Remember 10 minutes a day is more important than a 1-hour session once a week. 
Focus on creating the habit, then the duration and how you do it can be tweaked afterwards. 
Try out these apps if you'd like some guided meditation or simply YouTube "guided meditation":
Headspace (10, 10-minute sessions for free)
Calm (7-day free trial & free for teachers)
Check out the book that Barry has been reading (we've just started listening to the audio version and it's pretty eye-opening!) Joe Dispenzer- "Breaking the Habit of Being Yourself"
Links
---
Connect with Barry on any social media channels:
Summary
---
Barry Nelson knows a lot about managing his time. Any parent with two young children would vouch for how challenging this can be by itself. 
Throw in 3 businesses to run and you've got yourself a full plate right there!
The more you listen to this podcast the more you will realise that Barry is solution focused and has actually created a lifestyle that he wants for himself and his family. As time goes by he is solving bigger problems and creating more time for his family to enjoy together. 
Here are my top 5 takeaways from this podcast:
Work on yourself
Don't wish your life away. Be grateful for what you already have.
Think about the lifestyle you want to live, then figure out how to live it!
Work smart, not hard
Be open and honest about what you're doing. You will start attracting more like-minded people into your life.
What was your main takeaway from this podcast?
Keep changing for the better,
Mike
P.S. If you have any experience of meditating or are interested in starting please feel free to drop a comment below… and if you have any other habits you use to manage your time it would be great if you could share them too!
P.P.S. Interested in creating a lifestyle that you want to live, but not sure where to start? Watch this short video about my #1 recommended program…