In the spirit of full transparency, know that this Ian Pribyl podcast show notes contain affiliate links. This means if you make a purchase through these links, I may receive a small commission at no extra cost to you. Click here to read the full disclosure policy.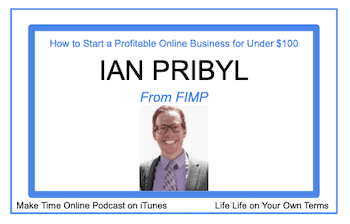 You probably are aware that any business will cost you money to set up.
People are aware that online businesses can be pretty low cost to get started. But, there is a way that you can generate profit from less than $100 investment.
This Ian Pribyl podcast will show you that if you put in the work, everything you need to know to make a profitable online business is provided for free.
Yep, the total investment cost for the business is under $100!
Listen in to hear us chat about:
Why Ian couldn't afford to pay for a $177 course in one go
If SEO is dead in 2019
How to know if your niche is a buying audience
Ian's advice if he could time travel
Listen on Apple Podcasts/ Google Podcasts
Ian Pribyl's Background
---
3 mins
You will hear that Ian had some very humble beginnings.
He became interested in making money online in his teens.
But it wasn't easy to do.
There were so many scams and people that just wanted to take his money. And it was hard to keep going after being scammed by online courses and "gurus".
It wasn't even like he had the money to throw away on them. He even had to split a course into 2 payments because he couldn't afford it in one go.
It was $177!
These beginnings give him a great perspective for many people trying to start an online business that cannot afford to throw away money.
A lot has changed in online marketing since Ian started in 2007.
So, maybe you'd like to know the answer to this question…
Is SEO Dead in 2019?
---
13 mins
In 2007, Ian explains how Internet marketing was very different.
Simple websites with 6-7 pages could get ranked well on Google.
There is no denying SEO (search engine optimisation AKA getting ranked on Google) has evolved and there have been many fads on the way.
However, effectively SEO has fundamentally stayed the same.
Getting links to a website are still super important
Creating great content that people want to read still wins
If you hear anyone saying SEO is dead, then chances are they are trying to sell you something or they have their own agenda.
Related content:
From Nothing- Everything You Need to Start an Online Business for Under $100
---
19 mins
If you are interested in starting an online business but have no idea where to start, then this is the book for you.
It will teach you all you need to know from setting up your website to what to write with step-by-step instructions.
Plus, it will do all of this with everything you need to build a profitable business…
For under $100.
And when Ian says everything, that means everything. There are no little extra bits you need or additional training you'll need to buy.
The book has it all covered.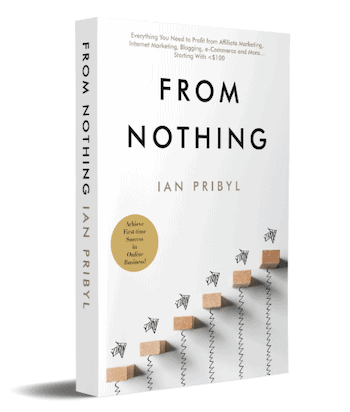 All that is required is a bit of elbow grease, an open mind and the book From Nothing.
Are You Dealing With a Buying Audience?
---
37 mins
Ian really shows some of his amazing knowledge for making money online here.
He touches on some of the things he covers in "From Nothing" and FIMP.
There's really only one question you need to ask yourself:
Is your target reader seeking to make a purchase to answer a question or solve a pain point?
Once you know the answer to this you can work out the next question:
So how do you make money from this niche?
You simply solve their problem.
Make sure it's helpful, what they are looking for and will solve their problem. Then making money online is simple.
Here are the 3 biggest industries for making money online:
Health
Wealth
Relationships
Important note- they are not niches!
There are thousands of niches underneath these umbrellas.
The reason these are the 3 biggest money-making industries is that they are typically people's biggest pain points.
How to Monetise Your Website
There are endless ways to monetise your website once you get the traffic.
For example:
Sell a product
Dropship
White list products
Affiliate marketing
Paid per leads i.e. credit card companies
All of these fall under one of the 4 main monetisation methods:
Advertising
CPA (cost per acquisition- affiliate marketing falls under this)
Dropshipping
Sell your own physical or digital products
The thing is, you really will only get serious about monetising in any of these ways when you get 75-100 pageviews every day.
Now, I can almost hear your mind thinking…
"But how do I get that traffic?!"…
Well, that's where Ian's Free Internet Marketing Project (FIMP) and book "From Nothing" comes in!
Related content:
Top 3 Tips if Ian Pribyl Could go Back in Time
---
If Ian could go back to when he was 16 years old, here are 3 pieces of advice he would give himself:
Focus on your mindset and expectations
Self-care & exercise
Meditation and mindfulness
Are you beginning to notice a trend of what so many successful online business owners are saying?
Full Podcast Transcript
---
Links from This Ian Pribyl Podcast
---
Contact Ian and check out his amazing (free) project FIMP below-
Free Internet Marketing Project
Check out my FIMP review for more details.
Some books mentioned:
10% Happier- Dan Harris (great for meditation… I since read this and it's easily the best mindfulness book I've read… and yes I've read a few!)
You can hear from Ian's passion how much it means to create something with so much detail that is so affordable. He even says if it changes one life then it's all worth it.
You can get all of the information you need from the link above. But if you'd rather have all the information in one place…
Ian's book literally has all the knowledge you need to start a profitable business… and it costs under $10.
Ian Pribyl Podcast Summary
---
On a personal note, I just want to say how incredible Ian's values and vision are.
I have not spoken to anyone who genuinely wants to help people so much.
He is brutally honest 100% of the time and just gives so much time to anyone that wants to learn more about Internet marketing.
I hope you enjoyed the chat as much as I did.
Keep changing for the better
Mike
P.S. What was your main takeaway from this? Is there anything you want to know more about? Drop a comment below and let us know!