In the spirit of full transparency, know that this FIMP review contains affiliate links. This means if you make a purchase through these links, I may receive a small commission at no extra cost to you. Click here to read my full disclosure policy.
You probably found this FIMP review because you've seen the promises that there is some Free Internet Marketing Training available that shows you exactly how to make money online.
Most people are pretty sceptical about this kind of thing. And as Ian Pribyl will tell you, that's a good thing!
This honest FIMP review will show you exactly what to expect from the training and whether it is worth your time.
You can also listen to my chat on the podcast with Ian Pribyl, the founder of FIMP.
FIMP- The Overview and Rankings
---
Name: Free Internet Marketing Project/ First Time Internet Marketing Project
Owners: Ian Pribyl (99 out of 100)
Website URL: https://stoppingscams.com/FIMP
Type: Internet Marketing Training
Training: 95 out of 100
Success Stories: 90 out of 100
Price: Free/ $297 one-time or $127 x 3 monthly payments for First Time Internet Marketing
Maketimeonline.com Rating: 95 out of 100
FIMP Pros and Cons
---
Pros
46 Text and screenshot lessons for free!
All the information you need to become profitable as an internet marketer
Support from the Facebook group
Only white hat methods taught
Shows you the cheapest ways to make money online (everything for under $100)
65+ updated Video training with real examples (for the paid First Time Internet Marketing course)
Cons
No tools provided
Information overload if you try to go too quick
No instant support- just the Facebook Group
Limited Social Media training
What does FIMP do?
---
It promises to show you exactly how to go from nothing to earning real money as an Internet Marketer.
It claims to be the cheapest way to create your own online business in the industry. Check out what real people are saying about it in the short video below…
So it's starting to sound pretty good right?
Well, let's dive in a bit deeper into this FIMP review…
Ready to make passive income online?
Hey, I'm Mike.
I created a passive income online within a year. I had no marketing skills or online experience when I started.
What's Inside FIMP… the Free Version?
The Free Internet Marketing Project has 46 text-based lessons.
There are additional blog posts and resources that point you in the right direction to get more information about different areas.
Simply put… this training will take you from knowing nothing about Internet Marketing to being able to make a profitable website in many niches.
There is so much inside FIMP that it would take way too long to actually go through it all in detail.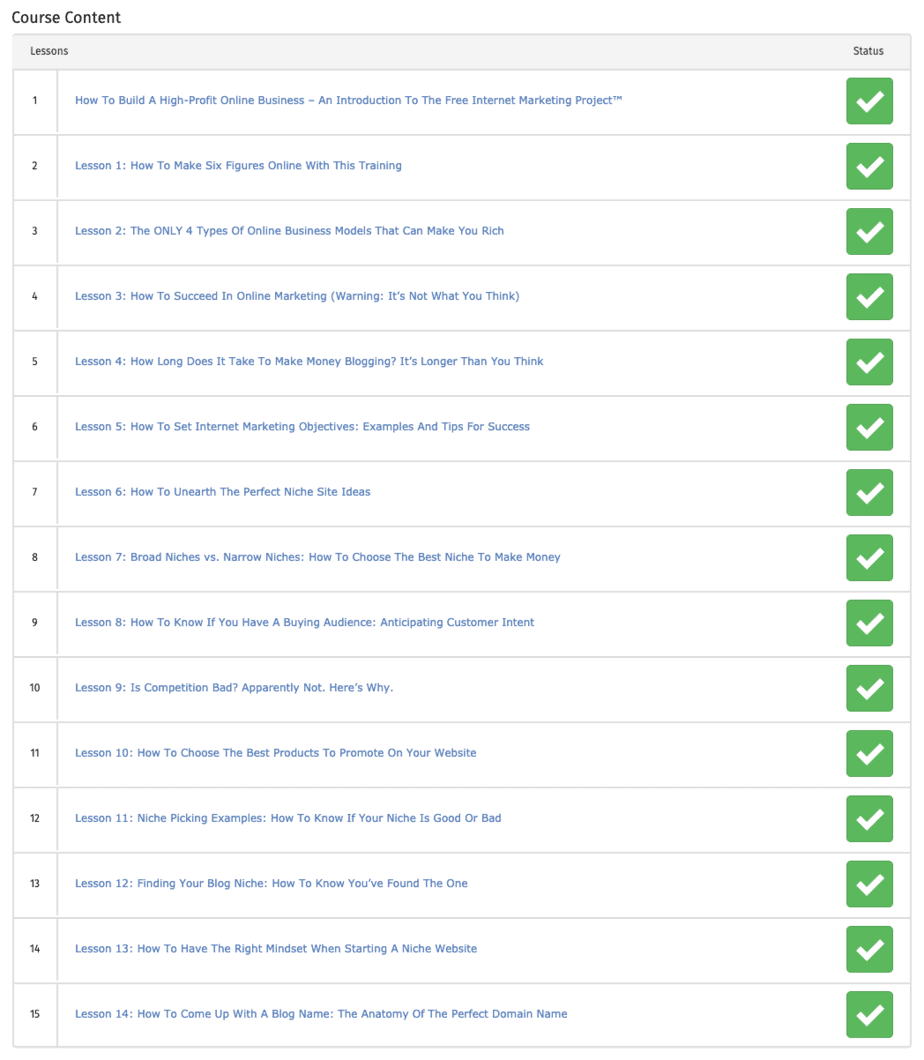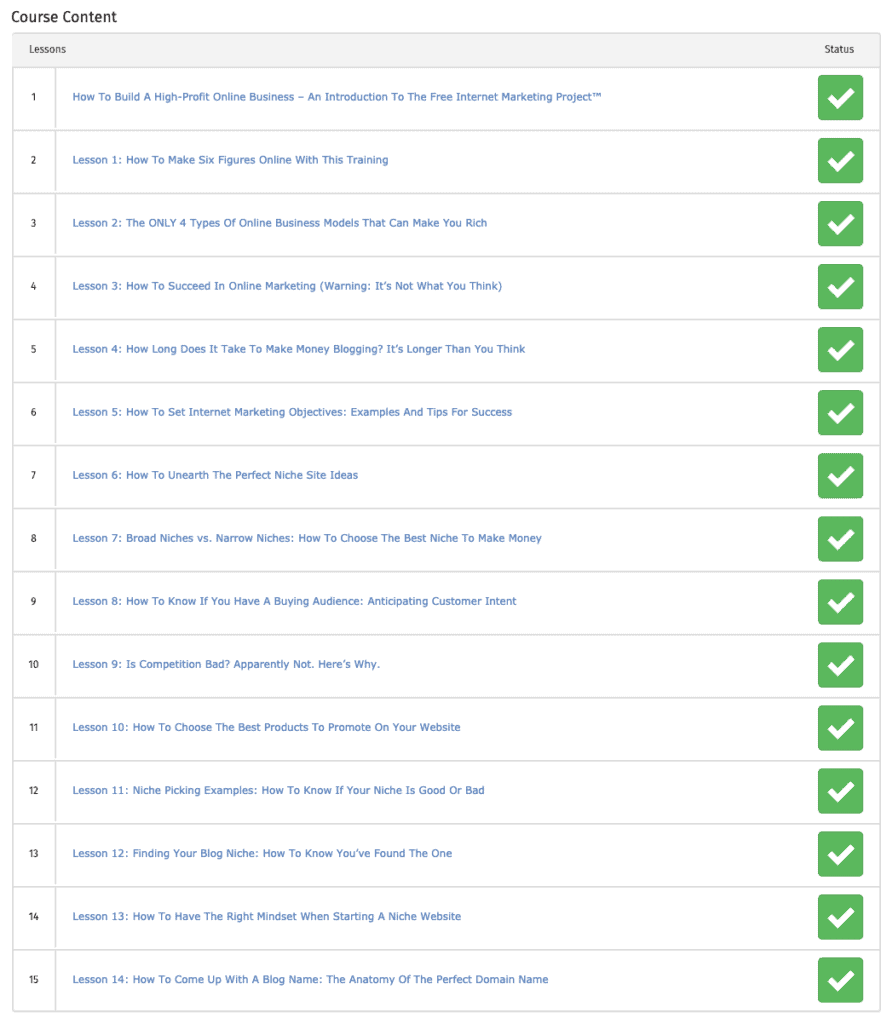 But here are the main lessons you will get:
The ONLY 4 Types of Online Business Models
How to find the perfect niche for you to make money with
The exact way to set up and design a website (this will cost less than $100)
How to plan & write articles
How to bring traffic to your website
When and how to monetise your website
There is so much more to it than this including working on your mindset, what tools to use and exactly how long it will take to see results (6-12 months if you are posting 2 or more articles a week).
So if all of this is free why is there are paid membership option?
What's Inside The Paid First Time Internet Marketing Project?
First of all, I want to mention that Ian has made it clear that the original way he set up FIMP was not sustainable.
Here is what you can get for $297 and the paid version: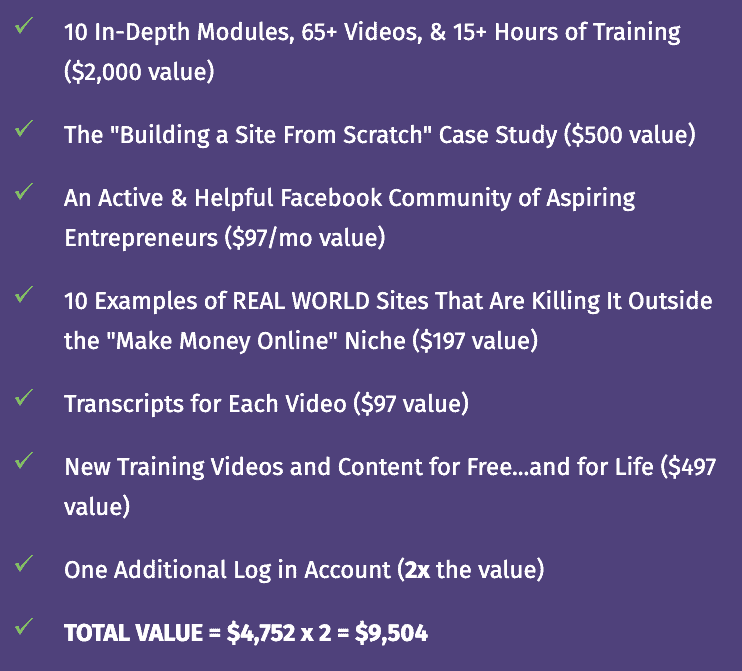 So here are the big differences:
You get more in-depth training including 65 "over the shoulder" videos
10 Examples of real-world niche sites that are "killing it" today
"Building from scratch" case study
However, also note that there are many other courses that offer the same stuff, such as:
Now all of this information and promises probably has your mind thinking…
Also note that you might need to use some tools which you have to pay for so you can utilize the course's experiences and teachings:
ClickFunnels- $97 a month- (totally not needed until you have created your own product or have your own business up and running- you can use Elementor & Mailchimp for free if you want to test a Funnel)
Keysearch- $17-$34 a month (keyword research tool)
Hosting and domain (Bluehost is known for the highest affiliate payout. It seems cheap for your first year but then it's $100+ a year- and it has pretty poor support and is very slow. I'd recommend Namecheap or Siteground any day before this.)
Getresponse – $15+ a month (Email autoresponder)
Ads – $100+ a month (otherwise they are a waste of time… and money… and they are VERY hard to make work for affiliate products any more!)
Many people are surprised to know that there are hidden additional costs to this, and the things taught here are becoming harder to implement especially that the market is becoming more saturated…
Is FIMP a Scam?
---
The short answer is no.
The longer one follows…
There are two main ways an online course can be a scam:
Take your money and run off into the sunset, never to be heard from again
Provide some information but it doesn't live up to their promises
Therefore, FIMP is 100%, not a scam.
In fact, it gives you all the knowledge you need to make money as an Internet Marketer for free. Plus it doesn't sell any unrealistic expectations. Ian is upfront that this will take time and effort for you to see results.
FIMP: The Good
---
Keep reading this FIMP review to find out some of the things I like about FIMP…
#1 So Much Great Content for Free
---
FIMP has all the information anyone needs to start making money online.
It's all there for you if you follow exactly what Ian recommends!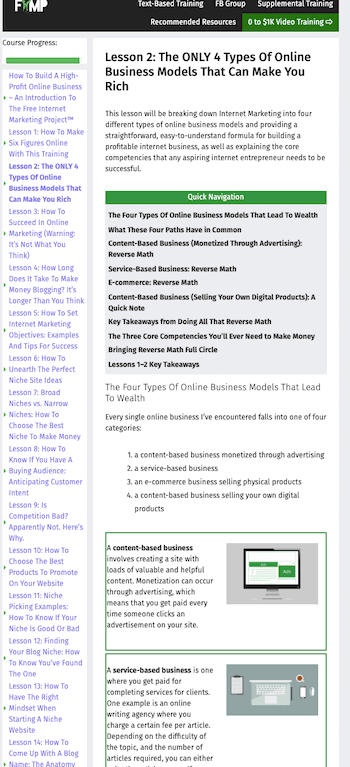 The detail around certain topics (i.e. niche selection) is second to none and it is all available for anyone to see.
#2 In-Depth Step-by-Step Training
---
This kind of information can be great and many Internet marketers offer similar value.
However, they rarely offer it for free in an easy to follow solution.
It's normally scattered and hidden within the website so that it leaves you wanting more.

Ian provides step-by-step training on exactly what to do and then what you need to do next.
There is no need to search for anything more apart from the times that Ian links you to another great piece of content that can help you.
#3 Support From the Community
---
The Facebook group that Ian has set up is a great place to get advice and get totally honest feedback.
I actually struggled to find the log in to the course recently so I asked the question.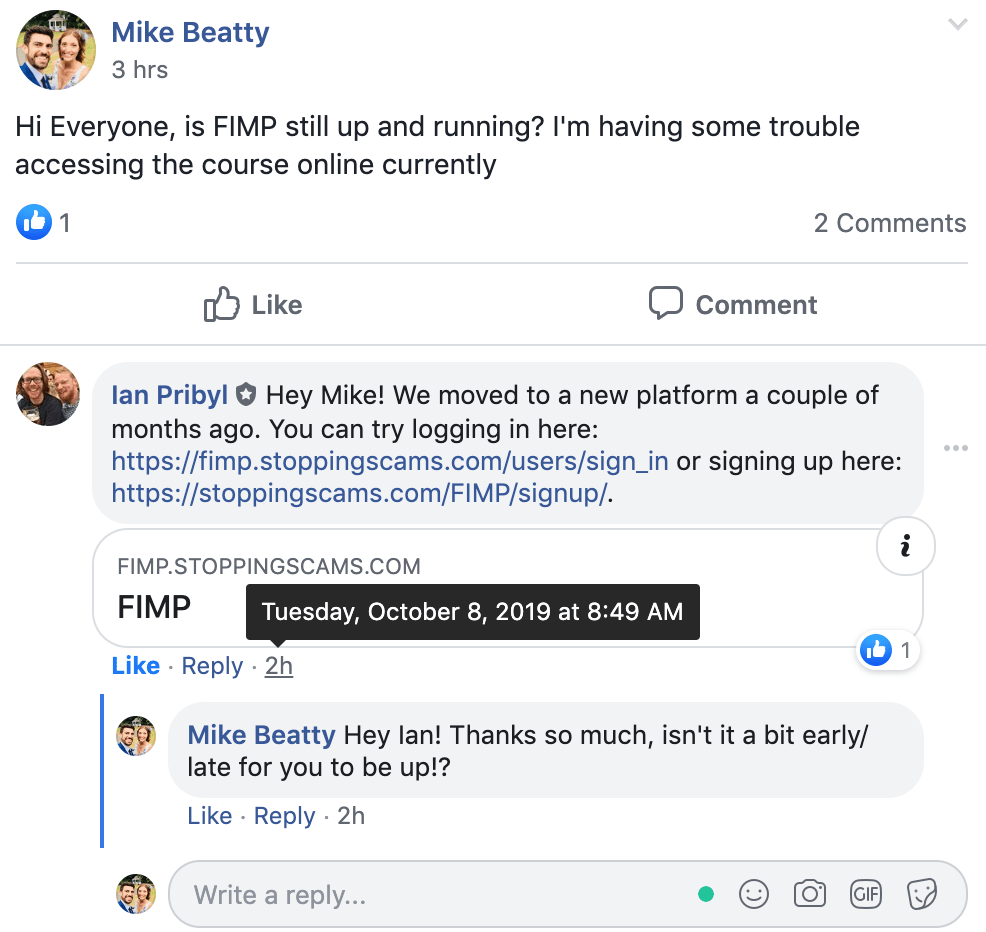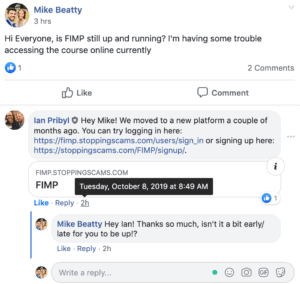 It turned out it had moved… I wasn't just going crazy!
Ian replied at 2:30 am EST (I was in the Qatar time zone). I'll admit he could be anywhere in the world, but it just goes to show how amazingly diligent he is to the project.
#4 Focused on Finding the Cheapest Ways to Profitable Internet Marketing
---
This is the tag line for the whole campaign:
Make a profitable online business for a total cost of under $100.
Ian had it tough growing up, so he is determined to create the most affordable way for anyone to make money online.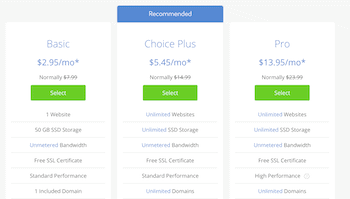 He only recommends the most affordable tools and methods needed to get your online business up and running to make a profit.
#5 White Hat Marketing Tactics Taught
---
Ian doesn't teach the spammy, scammy sales techniques often taught online.
He only recommends legit, proven and honest methods of building an online business.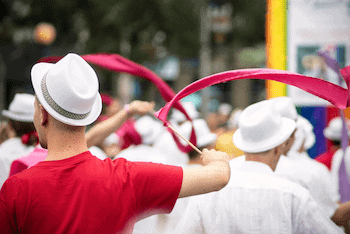 If you take pride in your work and have strong morals, then this is the course for you.
FIMP: The Not So Good
---
Whilst FIMP is clearly amazing, every course has pros and cons.
Here are some of the bad parts of FIMP that you should be aware of before diving in…
#1 No Tools Provided
---
Ian recommends and walks you through every tool and way to set up your online business that you will need.
However, there are no SEO tools, hosting or additional products provided.
If you really want these things provided in one place then FIMP won't offer that.
This is pretty understandable seeing as it's free and could even be looked at as a positive…
You are in complete control of every aspect of your online business.
#2 There's A Lot of Information
---
Honestly… a lot!
Some lessons have over 5,000 words alone.
Again this could easily be seen as a positive in this FIMP review as you are getting thorough and actionable advice.
However, don't expect to just breeze through this information within a few hours.
You will need to dedicate some serious time and effort into reading and learning each phase. This is true no matter what route you go down in FIMP or setting up any online business.
#3 No Way to Get Instant Support
---
The Facebook group is great. It's pretty active and you will get answers to your question.
But there is no live chat or method of getting little questions answered instantly.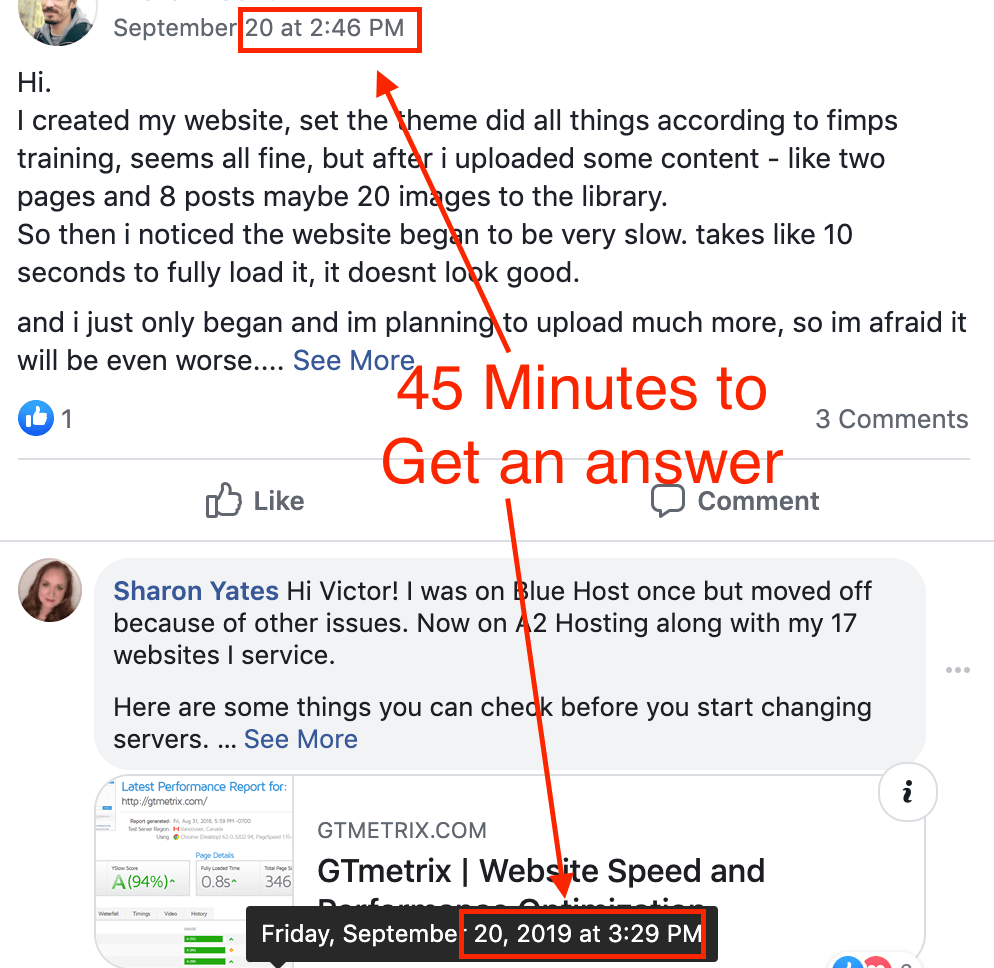 Are people quick to respond… yes.
Will you get a niggling question answered in under 15 minutes… unlikely.
#4 Limited Social Media Training
---
Ian admits it himself.
He doesn't like social media marketing and I can completely understand why.
It's time-consuming to maintain, takes time to understand and learn the market and can change overnight (thanks to algorithm changes).


However, I have learnt that social media marketing is the only way to get decent traffic to your website quickly when it is new (we're talking under 6 months).
Pinterest is great for many niches as it's technically also a search engine and it doesn't matter about your domain authority. Check out how to use Pinterest for beginners for more information.
Ready to make passive income online?
I've created a growing passive income online with no previous marketing skills or online experience…
I've made a special video for you to explain exactly how I did this.
My Opinion- FIMP
---
It is hands down the cheapest way to get an online business up and running and to make it profitable.
However, this is a method that will take some serious elbow grease and a lot of time and effort to see results. You need to approach it with a good mindest knowing that following the training will eventually get you the results you want.
If you are serious about Internet Marketing then this is a training course that you should check out.
There is a completely free route, so the only thing can possibly lose is your time. But I would bet almost anyone would take something away from the training (even if it's a refresher for them).
Click here to try FIMP for free.
Is There an Alternative?
---
Here's something I've learnt from Ian…
Anyone that is legit that is offering you a recommendation will not recommend only one product (because that's fishy, isn't it?!)
There are different "horses for courses" as they say.
I also highly recommend Wealthy Affiliate for anyone starting out as an Internet Marketer.
To be honest it is very similar to Ian's training and you can try both for free. But here are the differences I wish I was aware of before starting either:
FIMP will give you more nitty-gritty details about niche selection and keyword research
Wealthy Affiliate costs $349 per year- FIMP is free or a $297 one-off payment
Wealthy Affiliate comes with all the tools you need. For example, website hosting for 50 websites (additional $70+ a year per website with FIMP, this is a must) Keyword research tool (additional $297/ year with FIMP, this is not necessarily needed)
Wealthy Affiliate has a much bigger community with live chat to get instant support and weekly live webinars
Wealthy Affiliate has many more webinars and training lessons (not necessarily a good thing, it's just been running much longer)
There's not much in it but basically, Wealthy Affiliate is more established with a bigger community. If it comes down to numbers for you then here's a quick break down:
FIMP- Minimum of $75 a year for hosting and domain name [optional $297/ year for Long Tail Pro keyword research tool + $297 one-off payment]
Wealthy Affiliate- $49 a month or $349 per year for everything + $10-15 for a domain name
Learn more in my Wealthy Affiliate review.
FIMP Review: The "MakeTimeOnline" Final Word
---
To sum up this FIMP review…
FIMP is the real deal and is the most cost-effective method of starting an online business out there.
If you are serious about starting an online business you cannot avoid spending $75 a year on hosting and a domain name. FIMP shows you how to make money from this expense only.
You will need to put in time and effort to see results, but that's a given for anyone serious about creating an online business.
In 2018 I had no idea what affiliate marketing was.
Once I learnt about it, it just seemed like a great business model that can grow over time using the power of the internet.
So I tried to figure it out by myself… that got me nowhere fast.
Then I fell for some terrible online scams.
But eventually, I found Wealthy Affiliate. It teaches long-term proven strategies to build an online business with all the tools & support needed.
And this happened…
Once you learn the process of getting thousands of people to find your website every month (for free) there really is not limit to what you can achieve online.
I've reviewed hundreds of courses or programs that claim to help people make money online. And I've spoken to dozens of 6-7 figure online entrepreneurs on my podcast.
This is by far the best place I've seen to help beginners get set up on the right foot. You can read my full Wealthy Affiliate review here (including the pros and cons!)
Or you can watch an insiders video I made that explains exactly how it works here.