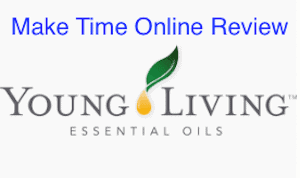 You're probably asking yourself "is Young Living a Scam?"
Chances are someone has shown the opportunity to you as a way to work from home but you're still unsure.
Well, I'm not going to drag it out. Young Living is not a scam and is completely legit.
But it may not be the best opportunity for you to make money from home.
This honest Young Living review, with videos, will show you everything you need to know about the company so that you can make an informed decision on whether it is right for you or not.
Young Living Review- The Overview and Rankings
---
Name: Young Living
Founders: D. Gary Young & Mary Young in 1993 (70 out of 100)
Website URL: youngliving.com
Type: Essential Oils MLM Company
Products (Including Pricing): 85 out of 100
Success Stories: 6 out of 100
Price To Join MLM: $45-$265 + 100 PV ($100) per month (30 out of 100)
Maketimeonline.com Rating: 48 out of 100
What To Look For In An MLM:
Low start-up fee – ✅
High-quality products – ✅
You don't have to carry inventory – ❌
Generous compensation plan – ✅
An affiliate-like system – ✅
Company is in the early momentum phase – ❌
Young Living Pros and Cons
---
Pros
Charitable giving
No weird binary compensation plan
Natural & good quality essential oils
Good experience & record
Cons
94% of distributors make an average of $1 per year!
Controversy over products with the FDA
The truth about MLM's (99% of recruiters lose money)
It's not in the early momentum phase to jump in before others
Previous lawsuits and a slightly crazy founder
Many negative Young Living reviews about poor customer service
The true ongoing costs are much higher than you may think
What Is Young Living?
---
Young Living is a Multi-Level-Marketing company that promotes essential oils.
Essential oils are from plants and are provide various benefits to human health including:
Natural remedies for cuts and flu
Aid digestions & boost energy
Relieve stress & reduce depression
Improve focus
Improve skin conditions like eczema
There are many proven benefits to essential oils and some people use them religiously in the house.
Here's a 5-minute promotional video to explain more about essential oils and the Young Living MLM opportunity…
So Young Living sounds like an exciting opportunity, right?
Well, let's dig into more about the leadership and owners of Young Living…
Who Owns Young Living?
---
D. Gary Young & Mary Young started the company in 1993.
Gary always had a passion for alternative medicine, essential oils and life!
The 3-minute video explains more about him…
He had many challenges in setting up Young Living along the way including:
Being arrested and fined for practising medicine without a license in 1982
Having his Young Live Wellness Center shut down in 1988 for promoting misleading health cures
Being fined for the death of an employee in one of the lavender fields distillery of Young Living in 2000
Lawsuits against fraudulent medicine practices in 2005 (causing near-fatal kidney failure in a patient)
Firing 3 employees in 2007 who set up a rival company doTERRA (he filed a lawsuit against doTERRA for stealing trade secrets… it got dismissed and Young Living were forced to pay doTERRA $2 million in legal fees!)
Despite all the setbacks Gary's vision has got the company to where it is today.
The company surpassed $1.5 billion in sales revenue in 2017.
He also set up the Young Living Foundation in 2009 to provide education, schools, and housing to communities in need around the world.
Gary passed away at the age of 68 in 2018 from a stroke. But the company is still run by his wife and Jared Turner who serves as Chief Operating Officer.
If you want to know more about the founders then you can check out this Q&A about Gary.
How Does Young Living MLM Work?
---
Young Living has lavender farms all around the world to make sure all the essential oils come from sources you can trust.
The 6-minute video below goes into more detail about how the essential oils come into production…
There are 3 grades of essential oils, which have an impact on your health:
100% Synthetic Essential Oils (Perfume Grade) – They're made up of chemicals to mimic the aroma but there are no therapeutic benefits to the body
A mix of Synthetic and Pure Essential Oils (Food Grade) – They may contain synthetics, pesticides, fertilizers, chemical/synthetic extenders, or carrier oils. There are natural benefits but cut the costs.
100% Pure Essential Oils – They are usually made from organically grown plants distilled at the proper temperatures using steam distillation (these are used at Young Living and are typically more expensive).
So let's dig into the Young Living products a bit more…
Young Living Products
---
There are 4 main types of products on offer at Young Living:
Essential oils & blends (a range of oils with different benefits. Prices vary from $15-$80 for a single product)
Thieves (oils, personal care & home care products that boost the immune system. $15-$80 for products)
Wellness Products (vitamins, snacks, weight loss and supplements. $10-$100)
Beauty Products (soap, shampoo & facial care etc. $15-$120)
There is such a wide range of products that you can check out here.
The 47-second video below shows more about how to use one of the essential oils…
Also note that there are loads of other MLMs that offer the same stuff. The most popular ones are:
If you're like me you're probably interested in…
How To Make Money With Young Living
---
This is likely the main reason you are reading this Young Living review.
Just like most MLM companies, there are 2 main ways you can earn money:
Get a commission on selling their products
Get bonuses from recruiting more members to join the MLM program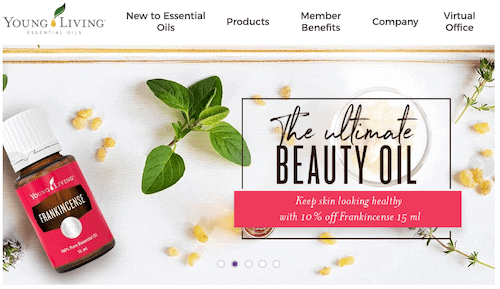 Before we find out exactly how much you can get paid let's figure out…
How Much Does It Cost To Join Young Living?
---
It costs $45.
You can become an Independent Distributor with the Basic Starter Kit for $45.
You get 24% off retail price and you can then start promoting the products for a commission.
There are also some Premium Starter Kits with more products and samples that range from $150-$265.
However, this is not the only cost.
You also need to gain 100PV (Point Value) every month to remain "active".
In reality, this means spending an extra $100 a month on Young Living products until you sell enough of the products.
Young Living Compensation Plan
---
As already explained there are 2 main ways to earn money from Young Living.
However, every MLM company has a super complicated compensation plan.
Young Living is no different and they break it down into 8 methods to make money:
Retail Customer Earnings (24% commission… this is your discount and you can sell them at retail price and keep the difference!)
Starter Kit Bonus ($50 bonus if you recruit someone that purchases the $150 Premium kit)
Fast Start Bonus
Rising Star Bonus Pool
Unilevel Commission ("5 levels deep" 8% commission of the people you sponsor, 5% on the people they sponsor, 4% on the next 3 levels)
Generation Commission
Generation Leadership Bonus (2-3% bonus on everyone in your team. You need 2 teams of 4,000 PV + 1,000 PV elsewhere)
Diamond Leadership Bonus
The overall plan looks super complicated but all you need to know is:
You get 24% commission from selling products directly
You get loads of bonuses when you recruit more MLM members (this is where the real money is made!)
This 7-minute video explains the compensation plan a bit more…
Or you can check out the official compensation guide here.
Is Young Living a Scam?
---
The short answer is no.
The long answer is below…
There are two main ways make money from home opportunity can be a scam:
Take your money and run off into the sunset, never to be heard from again
Provide some information but it doesn't live up to their promises
Young Living clearly provides a lot of legit products and the 25 years of experience speaks for itself.
However, is the Young Living MLM opportunity right for you?
The rest of this Young Living review will help you decide…
Just to be fully transparent with you, I have not purchased this program myself and I do not endorse it in any way.
I have researched the website, testimonials and information on the Internet to get to the bottom of what this program genuinely does. This is because I have been burnt from programs just like this in the past and I want to prevent others from making the same mistakes. If you'd like to learn more "Ways to Spot an Online Marketing Scam" then click the highlighted text.
Related content:
Is Young Living A Pyramid Scheme?
---
You may think that is Young Living a scam answers this question.
But there is always a huge debate around MLM programs and pyramid schemes.
The simple fact is… you can make money just by selling Young Living products.
Therefore, it's technically not a pyramid scheme.
However, if you want to quit your full-time job and work from home, then you absolutely will HAVE to recruit more MLM members.
This is a sign that a company may actually be a pyramid scheme in disguise…
What Is A Pyramid Scheme?
---
A pyramid scheme is when a company recruits members by promising them payment for recruiting more members.
Technically there are no products sold or any other ways for recruits to make money other than recruiting more people to join the company.
The issue with this is… eventually the world will run out of people that can join!
It's actually surprisingly sooner than you may think too!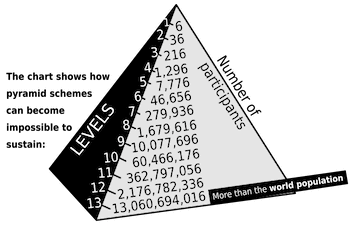 As you can see just by recruiting 6 members each the world's population is not enough to cope with a 13-level company!
…and most pyramid schemes require you to recruit more than 6 people each to make any decent money!
Check out the 5-minute video below to learn how to spot and avoid a pyramid scheme…
Young Living: The Good
---
Here are some of the things I like about Young Living…
Key Terms:
Black Hat Methods – Using lies and unethical methods to make someone buy something
White Hat Methods – Being honest and genuine to help people make informed decisions about purchases
Pyramid Scheme – recruits members via a promise for payment from referring others to the service rather than providing a product
Affiliate Marketing- Connecting a customer to a product they are looking for and receiving a commission for doing so
Red Flag – A warning sign
#1 Charitable Giving- Young Living Foundation
---
There's no denying that Young Living does a lot of good.
The foundation set up in 2009 has helped children to be saved from trafficking.
It provides them with a safe place with education and a loving family.
The 5-minute video below shows more about what the foundation has done in 2018…
It is inspirational what a difference one company (and one man… Gary) has managed to achieve and provide.
#2 No Binary Compensation Plan (Avoids Balancing Your "Legs")
---
If you've ever looked into other MLM opportunities you likely have seen the whole "2 leg" binary compensation plan.
It looks something like this…
You're only as "strong" as your weakest leg. So even if you recruit numerous people into the company you will place them under your existing 2 "strongest legs".
This gets super confusing and makes understanding the commission very hard.
Young Living keeps it simple…
It's "5 levels deep" and you receive:
8% commission of the people you sponsor, 5% on the people they sponsor, 4% on the next 3 levels.
Simple!
#3 Natural & Good Quality Essential Oils
---
Having Lavendar farms around the world means that Young Living is in complete control of what goes into their essential oils.
Buying natural oils is often super expensive but their farms mean they can offer their products at a lower price.
The last thing you want to do is promote essential oils that are actually man-made or synthetic.
#4 Good Experience & Record (Over 25 Years)
---
Their record speaks for itself.
The company has been going for over 25 years!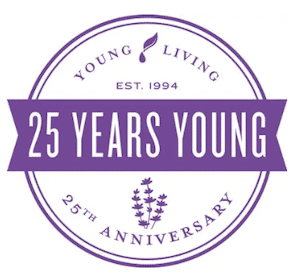 It generates billions (with a B!) of dollars every year and gives back to a great cause.
Young Living: The Hidden Truths
---
Here are some of the bad parts of Young Living that you should be aware of…
#1 The Truth In The Income Disclosure (94% Earn $1 Per Month)
---
Check out the Young Living income disclosure statement.
It shows that 94% of recruiters earn an average of $1 a month!
I don't know about you, but I certainly couldn't quit my full-time job from $1 a month!

You may notice that there are some people that earn up to $262,864 a month.
But that percentage is less than 0.1%!!
As usual, these will be the members that joined the company early and got a head start in recruiting people.
Compare this to other business opportunities like affiliate marketing. I have personally spoken to completely normal people on the podcast including:
Maybe I just got lucky and spoke to the top 1%ers. But there are so many "normal" people that seem to make serious money with online marketing. And I have hardly found anyone that makes great money from MLMs.
#2 Controversy Over Products
---
The Food and Drug Administration (FDA) has issued warnings against the company before.
The company was found to be selling products that were classed as drugs, which they are not licensed to do.
The issue seemed to arise from MLM recruiters using phrases such as "combat Ebola virus" or other diseases.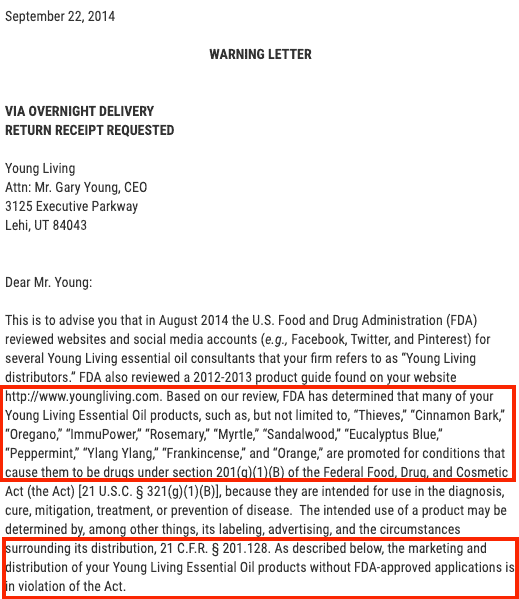 The problem was resolved but it shows how even a company that has been going for 20 years can get itself into trouble around a technical issue that could cause the whole business to disappear overnight.
You can see the full FDA accusation here.
#3 MLM'S Success Rate (1%)
---
The FTC released a study around 350 MLM companies.
The main finding was pretty shocking…
99% of MLM recruiters lose money!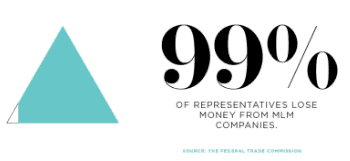 Of course, it's great to think of yourself in the 1% of people that can make money.
And often this 1% makes very good money!
However, the stats don't lie!
#4 It's Not In The "Early Momentum Phase"
---
For me, this is the main thing I would look for in starting an MLM company.
You can see there are people in Young Living who make millions of dollars every year.
They will typically be people that joined the company very early and helped it to grow.
It's much easier to promote something that more and more people are searching for.
The chart above shows Young Living has plateaued in its searches on Google every month.
If you compare it to other MLM's like Farmasi you can see it gets much more searches every month.
However, getting in early in Farmasi would be much more appealing than joining a company that is not growing.
#5 Young Living Lawsuits & Founders History
---
You could probably tell this was coming from Gary Young's struggles with the company earlier in this Young Living review.
A class-action lawsuit was filed against the company claiming it's a "cult-like" pyramid scheme in recent years.
Apart from that, you can tell Mr Young had a bit of a wild side to him too…
This side of him resulted in him sometimes being quite headstrong.
It caused a lot of complications in the early days of the company including fines for not being licensed.
The history speaks for itself and it shows the company is not without its flaws.
#6 Poor Service- Young Living Complaints & Negative Reviews
---
Young Living is not accredited by the Better Business Bureau (BBB).
For a company that has been running for over 25 years, this is quite rare.
It also shows numerous complaints from existing customers and recruiters.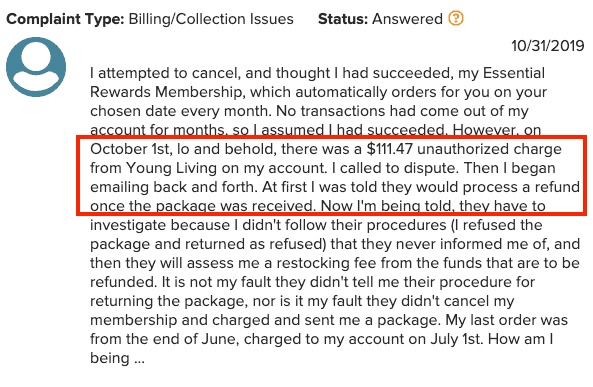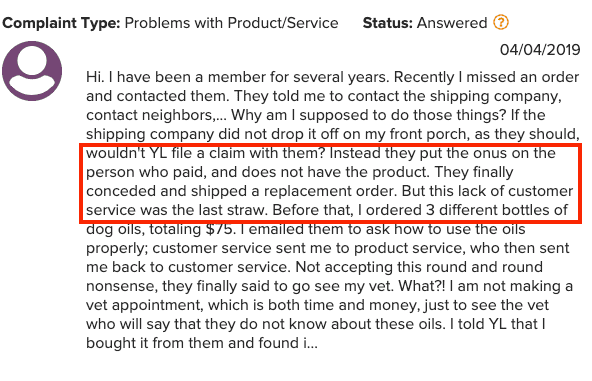 The most common one is the poor customer service and lack of communication with products being ordered without people being aware.
If it just had one or two of these types of complaints it would be pretty normal for any big company.
But click the link above and you will see dozens of the same thing.
#7 True Ongoing Costs
---
There's a minimum of 100 PV per month to be met in order to qualify for uni-level commission.
$1 equals 1 PV.
That means you will need to set up a direct order to make sure you stay active the whole time.
Particularly in the early stages of starting the MLM program, you will likely have to fork out this cost by yourself.
The video below explains how this works…
Yes the "E.R" model helps to give you discount and free products.
But in reality, it's Young Living's way of making sure every MLM recruiter pays the company an extra $100 a month (whether they sell it or pay it themselves).
Related content:
My Opinion – Young Living
---
Young Living is simply not worth joining for the majority of people in my opinion.
It's a legit company that is doing good for the world with their charity and providing some essential oils.
However, with the ongoing costs of $100 a month and the actual success rate of MLM recruits, it's clearly not a great opportunity for most people.
If you use online marketing this opportunity could work.
Without it, you will be selling to friends and family, in reality.
This will leave your relationships like…
If you manage to find a great mentor to join up with that uses online marketing (social media, websites and online ads) it may work for you.
But you will likely be taking a. stab in the dark at finding someone that can really help you.
Is There An Alternative?
---
It wasn't that long ago that I was still trying to figure out how it's possible for people to make money online.
I wanted to find a passive income system that ticked a few boxes:
I could work on part-time when I wanted (I was still in a full-time job)
Therefore I needed it to not cost a fortune to start and maintain
Didn't need me to sell stuff to my friends and family
It was in September 2018 that I found Wealthy Affiliate.
In September 2019 I quit my full-time job.
The best thing about it is:
It's free to start (no credit card details are required)
You are taught how to get qualified traffic brought to you for free (just think about how you found this review… there was no money or time spent from me promoting this!)
There is support from hundreds of thousands of other online marketers
You don't need ANY technical skills to start (I was a PE teacher!)
Even if you really like Young Living, the lessons you will learn within Wealthy Affiliate will actually help you to promote the program much better than the majority of distributors.
This is how some people make it into that 1% of profitable MLM distributors!
When you try out this program, you will see why so many people recommend it.
Young Living Review: The "MakeTimeOnline" Final Word
---
So is Young Living a scam?
Absolutely not.
It sells legit and natural essential oils. It also provides an opportunity for people to. make money from home.
However, unless you know how to use online marketing to sell for you 24/7/365, you're likely to become one of the 99% of MLM recruits that lose money.
Keep changing for the better,
Mike
P.S. Since you're still here, I'm going to assume that you are interested in making money online to free up your time. So check out my review of my #1 recommended program and join the form below to get $950 worth of marketing freebies…