Farmasi Review- A Pyramid Scheme Scam or Easy MLM Opportunity?
In the spirit of full transparency, know that this Farmasi review contains affiliate links. This means if you make a purchase through these links, I may receive a small commission at no extra cost to you. Click here to read my full disclosure policy.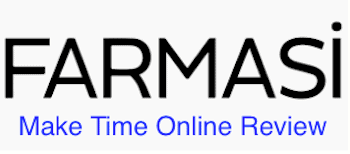 You have probably found this page because someone has shown you a "work from home" opportunity called Farmasi.
Most people would love to make money from home so that they can live their life on their own terms. However, this is often just a pipe dream. Farmasi promises to be an opportunity that could help you genuinely live this dream.
This Farmasi review, with videos, will show you exactly what the company is about with the pros and cons of joining so that you can make an informed decision.
Farmasi Review – The Overview and Rankings
---
Name: Farmasi
Founder: Dr. C. Tuna (90 out of 100)
Website URL: farmasius.com
Type: Beauty Direct Selling (but really Multi-Level-Marketing aka MLM)
Products: 85 out of 100
Success Stories: 40 out of 100
Commission Structure: 50% on direct sales + Other bonuses (95 out of 100)
Price: $19.99 to Join as a Beauty Consultant (99 out of 100)
Maketimeonline.com Rating: 82 out of 100
What To Look For In An MLM:
Low start-up fee – ✅
High-quality products – ✅
You don't have to carry inventory – ✅
Generous compensation plan – ✅
An affiliate-like system – ✅
Company is in the early momentum phase – ✅
Farmasi Review Pros and Cons
---
Pros
It is still a new opportunity to the USA and it's on the rise (you can get in early)
The company's got a long history in other countries so it's not just a new fad that will die
Affordable products that people seem to like
Very low cost to start
Natural products and cruelty-free
There is a focus on selling products (50% commissions)… Farmasi is not a pyramid scheme
50% discount as a beauty consultant
No monthly fees or minimum order requirements (you don't need to hold inventory)
Cons
Low predicted income disclaimer
The truth about MLM's
Highly competitive market
Already some complaints
Everyone will have a different experience… your mentor REALLY matters
What Is Farmasi Cosmetics USA?
---
Farmasi is a beauty company that sell a wide range of beauty products including makeup, fragrances and shampoos.
It claims to also offer a "direct selling" opportunity to people who would like to earn an income from "selling Farmasi's products".
It's possible to become a beauty consultant and make a living from this at home.
Check out the 4-minute YouTube video below to have Nicole explain a bit more about the company…
As you continue to read this Farmasi review you will find out that Farmasi is really a Multi-Level-Marketing company (this isn't necessarily a bad thing, it's just important to be aware of this!)
First of all, let's clarify the difference…
What's The Difference Between Direct Selling & Multi-Level-Marketing?
Direct sales is a business model where independent "contractors" sell the companies products to other people. They typically earn a commission from doing this.
Multi-Level-Marketing is exactly the same thing.
However, the difference is you can also earn a commission from recruiting more members beneath you (in your "downline").
Both models are completely legit and legal.
However, pyramid schemes are not (we'll get onto this a bit later on).
Most importantly, you're probably wondering…
What Are The Farmasi Makeup Products?
There are a lot of products offered by Farmisi!
If you're like me, then you probably jump on YouTube to find out more about the products and see what people are saying about them.
You can find loads of YouTube videos, but here is a pretty good one with a handful of products being reviewed in one go…
One of the BIG selling points is that Farmasi is originally a company from Turkey. It has to adhere to European standards which means there are no harsh chemicals that are often put in makeup in the USA.
Farmasi Products Categories & Catalogue- Skintrends, Foundation & Cosmetics
Here are the main product categories on offer with Farmasi:
Dr. C. Tuna- foot care, oral care, skincare, haircare, aloe vera, baby
Makeup- body, face, lips, eyes, nails
Fragrance- for men and women
Accessories- bags, for hair, facial cleanser
Personal Care- hair care, cleansers, soap, health
Men- body wash, fragrances, moisturisers
Christmas- bag, box, fragrance, makeup
There is a range of prices but the majority of products range from $5-$50.
The vast majority are under $20 (and this is the retail price… You get 50% off if you are a beauty consultant!)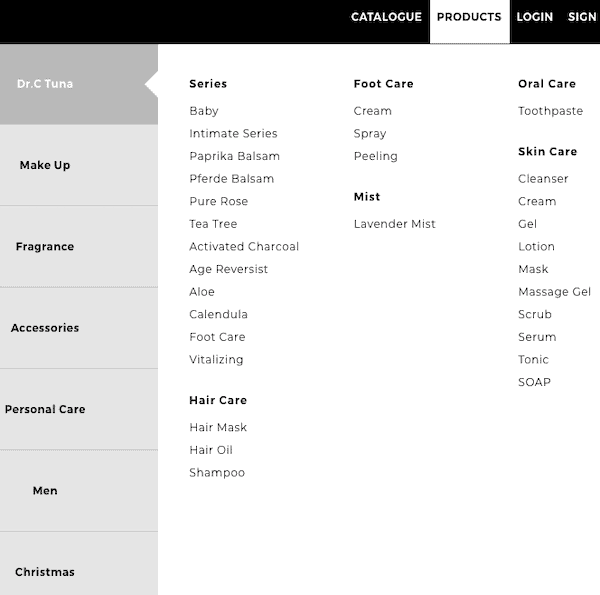 Here are some example retail prices of popular Farmasi products:
Liquid Lipstick: $11.90
Gel Cleanser: $14.90
BB Cream: $15.90
Foundation: $22.90
Click here to see all the products on offer at Farmasi.
How Do You Get Paid With Farmasi Online?
This is probably the reason you are on this website right now.
It is possible to get paid in numerous ways from Farmasi.
There are 7 ways to be exact:
Personal sales (50% commission)
Online sales (50% commission from online sales)
Welcome program (incentives to receive free products within your first 4 months)
"Building your team" program ($40 bonus when 2 members join your team and each accumulates 125 PV within one month)
Personal bonus (extra % bonus)
Group bonus (extra % bonus)
Leadership bonus (extra BIG bonuses)
PV means Personal Volume
GV means Group Volume
100 points is roughly $200 worth of retail price products (or $100 with your 50% off as a beauty influencer)
How Much Does It Cost To Join Farmasi As A Beauty Influencer?
It costs $19.99 to become a beauty influencer and get your starter kit.
There are no monthly fees or a "sales quota" that you need to hit to stay active as an influencer.
That. Is. It.
$19.99 one time fee.
Simples.
Beauty influencer is the same as a beauty consultant, distributor, rep etc.
What is in the Farmasi USA Kits?
Here are the costs of the 4 Farmasi USA Kits…
Starter Kit- $19.99
Welcome letter
Dr C Tuna guide English
Dr C Tuna guide Spanish
FARMASİ opportunity brochure
Catalog English 2 PCS
FARMASİ Catalog Spanish 3 PCS
Expansion- $49.99
Expansion 2- $125 ($340 Worth of Products)
Kit Expansion 3- $200 (Over $500 Worth of Products)
You must buy the starter kit to become a beauty influencer. But you do not need any of the expansion packs.
However, you do receive over the 50% discount for any of the additional packs. You will find out more about this soon in this Farmasi review.
You can see all of the products that are included in each expansion pack in the video below…
Farmasi Compensation Plan
Typically a direct sales model is pretty simple.
It's a commission that you get paid every time you make a sale of a product (in this case the whopping 50% commission).
However, this is the part that really proves Farmasi is, in fact, an MLM company.
You DO get paid to recruit other members and you earn bonuses from sales your "downline" makes.
*Again note- it's not necessarily a bad thing, in fact, you'll get paid MORE money with this model. But it is important to realise Farmasi is NOT just a direct sales model like they claim.*
You can find the full Farmasi MLM Compensation Plan here.
So this Farmasi review shows the opportunity is starting to sound pretty exciting right?
Now, I can almost hear your mind asking…
Is Farmasi a Scam?
---
The short answer is no.
The longer one will follow in this Farmasi review…
There are two main ways an online course can be a scam:
Take your money and run off into the sunset, never to be heard from again
Provide some information but it doesn't live up to their promises
Farmasi clearly delivers on the products that it offers and it does provide a legit opportunity for people to work from home.
There are no crazy claims that you'll be able to make thousands of dollars by clicking a button. The website is very open and honest about what to expect as a Farmasi beauty consultant.
So let's dig in a bit deeper in this Farmasi review…
Just to be fully transparent with you, I have not purchased this program myself and I do not endorse it in any way.
I have researched the website, testimonials and information on the Internet to get to the bottom of what this program genuinely does. This is because I have been burnt from programs like this in the past and I want to prevent others from making the same mistakes. If you'd like to learn more "Ways to Spot an Online Marketing Scam" then click the highlighted text.
Is Farmasi a Pyramid Scheme?
Farmasi is also not a pyramid scheme.
If you become a beauty consultant with the company you are encouraged to sell and promote the products that Farmasi offers.
In fact, with a massive 50% commission on anything you sell, it's certainly possible to make decent money just from selling Farmasi's products.
What Is A Pyramid Scheme?
Some MLM companies are pyramid schemes in disguise.
They use a "product" to make it look like they are selling something legitimately. However, the only real way people can make decent money from the company is by recruiting other people into the company.
This short video explains what to look out for to avoid pyramid schemes…
Related content:
Farmasi: The Good
---
There are pros and cons to every business opportunity.
So here are some of the things I like about Farmasi…
Key Terms:
Black Hat Methods – Using lies and unethical methods to make someone buy something
White Hat Methods – Being honest and genuine to help people make informed decisions about purchases
Pyramid Scheme – recruits members via a promise for payment from referring others to the service rather than providing a product
Affiliate Marketing- Connecting a customer to a product they are looking for and receiving a commission for doing so
Red Flag – A warning sign
#1 Farmasi Is On The Rise
---
This is, without doubt, the number 1 reason why Farmasi may be a good business opportunity currently.
It's only moved to the USA since the start of 2019. If you were to get involved now, you could still be an "early adopter".
Just look at the increased interest on Google in this last year…
This is compared to 3 other relatively big MLM opportunities that I have previously reviewed:
It's still not as widely searched as MONAT or Arbonne, but it is certainly on the rise very quickly and could possibly catch up with them soon.
#2 Company Longevity
---
The concern about new companies or start-ups that are rising like Farmasi is that they will fizzle out and die this time next year.
However, the Farmasi brand was born in 2004 and has been part of Dr. C. Tuna's work since the 1950s.

It has a track record in 125 countries worldwide, but it has only just moved the opportunity to the USA!
There are also many positive Farmasi review's online from other countries.
#3 Super Affordable Products & Start-Up Fee
---
You see so many MLM companies that offer insanely high priced items that anyone with half a brain cell would just search for on Amazon and buy them for a fraction of the price!
However, Farmasi is (again) different from other MLM companies here.
The products are mainly under $20 retail price (or 50% less if you are a consultant).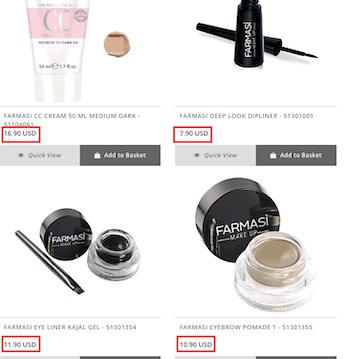 The low price of $19.99 to become a consultant means that if someone is planning on spending $40 on makeup in the rest of their life, then they may as well become a consultant (as this will save them money in the long run!)
Even if they have no intention on ever promoting the products to anyone else, they get a 50% discount just by becoming a beauty consultant!
That is very affordable and reasonably priced!
#4 Natural Products- Cruelty-Free
---
This is the little bit of sales jargon that can make the products stand out…
There were no tests done on animals and no animal-derived ingredients were used to make any of the products.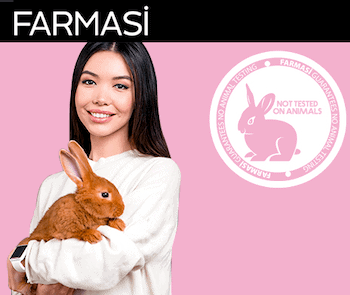 I'm going to be totally honest with you here…
I have no idea if that is normal or not…
But a quick Google search proved that there are still 30+ makeup brands that test products on animals in 2019… including L'Oreal (even I have heard of them!)
#5 Farmasi Is Not a Pyramid Scheme- Focus on Selling Products
---
There are so many MLM companies out there which are really a pyramid scheme in disguise.
They use some random-ass products (such as a water filter system, motivational speaking, or crazy overpriced health products) to make it seem like they are legit. However, the ONLY way you can possibly make any money from them is by recruiting people into the company.
Farmasi, on the other hand, offers such reasonably priced products and a great commission structure.
It's worth the consultant's time promoting the products rather than just the MLM program as people regularly use make-up, perfume and shampoos. They can earn a good commission from the sales they make and it's likely people will be a returning customer (as long as they like the products).
#6 CRAZY Good Compensation Model- & No Minimum Order + 50% Commission!!
---
Now, I'm again not the best person to know this as I don't personally use makeup!
But I know for a fact my wife spends a LOT of money on makeup and smelly things… all the time! And she tells me she doesn't spend as much as many of her friends on it!! (Somehow she believes that makes it acceptable!)
So let's say you recommend the products to 3 friends who buy $500 worth of makeup (honestly I still don't get it!… the great thing is that if someone does just want to spend $5 then they can as there are no minimum order limits)
You would pocket a tasty $250.
That's a whopping 50% commission!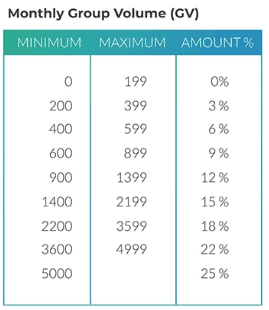 But there's more…
Here's an example…
So you've just bagged $250 and 250 PV (this contributes to your GV too).
As you can see in the table above, you would earn 3% of your PV, which is $7.50… pretty rubbish, right?
But let's say you have a "downline" of recruits that also sell products and your GV (Group Volume) is over 5,000 points ($10,000 worth of retail priced products)
In the same situation, you only sold 250 PV. But now you receive a 25% commission, which is $62.50 profit to you.
That's on top of the $250 you would pocket from the original sales.
I won't go into the Group bonus here as that get's confusing with the numbers. 
I recommend watching the videos in the Compensation plan above to understand that bit.
All you need to know is that you can also get bonuses from members in your downline making sales. 
#7 50% Discount As A Beauty Consultant
---
You get a 50% discount as a beauty consultant, which actually is another good selling point if someone is tempted to join as a consultant.
Personally, I don't think you need to pressure anyone to do this as your commission is very good even if they don't want to become a consultant.
But if you were to explain to me that if I was to spend more than $40 on Farmasi products then I would have saved money by being a consultant, I would probably bite your hand off!
#8 No Monthly Fees or Minimum Order Requirements!
---
This is again another huge pro of Farmasi compared to many MLM companies.
You don't need to set up a monthly standing order to make sure you stay active. You don't need to accumulate a load of inventory and need to buy an extra house just to store it.
Simply sell what you sell and continue every month.
What business can you start for $19.99?
Farmasi: The Not So Good
---
Here are some of the bad parts of Farmasi that you should be aware of before you dive in…
#1 The Farmasi Income Disclaimer- $500-$2,000 Income Per Year!
---
In the Farmasi Income Disclaimer, they don't have any figures to provide in the USA… yet!
So they have provided some information about how much beauty influencers should expect to earn on average…
The average annual gross revenue for Entrepreneurs is projected to be anywhere between $500 and $2,000. Please note: These numbers do not reflect the expenses associated with building an Farmasi business, which could exceed the commissions received.

This is hardly a "quit your job and work from home" amount of money that you can expect to earn from Farmasi then.
It is important to consider that some influencers will receive much more than this $500-$2,000 per year.
This means that the majority of people should not expect to earn $2,000 a year as a Farmasi Consultant.
#2 The Truth About MLM Programs
---
A study by the FTC found that 99% of MLM recruits lose money.
The same study revealed that 95% of MLM recruits quit within 10 years.
Obviously, Farmasi claims to be a direct selling company, but when you peel back the truth, you are actually rewarded by recruiting other members. Therefore, the real money in this opportunity is in fact from an MLM business model.
#3 Highly Competitive Market
---
The beauty industry is not short of competition.
There are thousands of brands and companies trying to "break into" the market all the time.
However, there are a select few brands that tend to dominate the market consistently.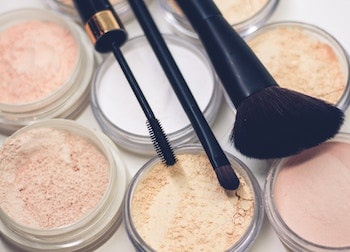 Even though there is a lot of competition, the beauty industry is a $532 billion industry. So if Farmasi can establish themselves there is clearly plenty of money in this market.
#4 Beauty Consultant's Complaints
---
Despite Farmasi only existing in the USA since the start of 2019, there are already some complaints from former beauty consultants.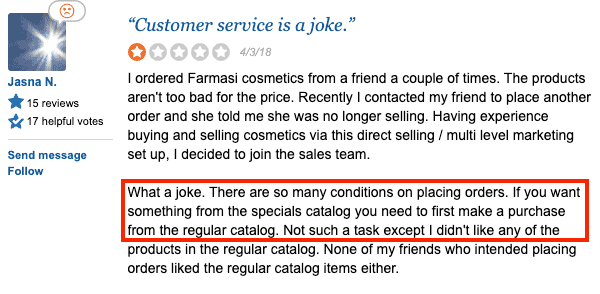 It sounds like the customer service needs some work and there appear to be some conditions on purchasing certain products.
Hopefully, this is just standard teething issues for any business and these complaints are addressed.
#5 The Returns Policy- This WILL Be a Common Complaint In The Future
---
Farmasi's return policy has the potential to become a sore spot for customers and beauty influencers in the future.


The company is still too young to be reviewed on the Better Business Bureau (BBB). However, I expect to see numerous complaints about this returns policy in the future.
Even after reading the policy it is unclear what their returns policy actually is.
It appears the influencers are expected to offer full refunds, but the company itself only offers 80% refunds.
Unless this is cleared up on their sales pages, people will be miffed (English word for annoyed) if they return their products within 30 days and don't receive a full refund.
#6 You Don't "Own a Business"
---
This is important to understand, and something we'll cover later in this Farmasi review.
Just because Farmasi gives you a ready-made website and you can earn commission on their products, it does not mean you OWN the business.
If Farmasi disappeared tomorrow you would not get paid one penny, no matter how many products you sold.
Some people see the $19.99 price tag to "start a business" and then rudely find out they own nothing later down the line.
It's important to be aware of this… but it is possible to set up your own business using Farmasi as one income stream (as you will find out later in this Farmasi review).
#7 Your Success at Farmasi Depends on Who You Join With
---
This is sooooo true!
Yet people often see the "money opportunity" and jump straight into it.
Not. All. Influencers. Are. Equal!!
Stop…
Read that again.
Some Farmasi beauty influencers will have no experience in online marketing. Some influencers will have made loads of money using online marketing before they even started with Farmasi.
Others will provide you with a load of online marketing training just for joining their team.
Here's the truth…
If you don't use online marketing for your Farmasi business, you have really just paid $19.99 to get a Farmasi booklet.
If you want to make money from Farmasi, then you'll need to learn how to use the magical internet to sell for you… 24/7/365.
Before you jump to conclusions, remember... I am not a Farmasi influencer!
But you are about to find out how I recommend you get started in this Farmasi review...
Related content:
My Opinion – Farmasi
---
I genuinely think this is the best MLM type of opportunity that exists in the USA right now (going into 2020 and beyond).
This is mainly because:
Of how the trend is spiking upwards
The low priced products (which seem pretty good)
No monthly fees/ needing to hold inventory
And the really good compensation plan (50% commissions!! Plus bonuses!)
I am not a Farmasi influencer because I do not live in the USA and it doesn't exist in the UK (yet). Some people would argue that because I do not use the products myself I shouldn't even consider it (but I know for a fact my wife would!… and I'd try out some of those men's products for a giggle)
However, if you just join Farmasi from any old beauty influencer, you are likely to fall into that 99% of MLM recruits that don't ever make money.
This is a legit opportunity, but only for people that can use online marketing.
"But I Don't Know Where to Begin With Online Marketing"…
---
That was exactly what I was thinking in September 2018.
Since then I have learnt A LOT about online marketing.
In fact, jumping in one of the most competitive online niches I've still managed to get "traffic" from Google (this means people come to my website every month, without me having to pay any advertising fees… just think about how you found this Farmasi review!)
Look at the stats for this website from "organic search traffic" (Google) below…

Do you notice the rate of growth too?
After learning loads about online marketing I realised I could also get free traffic from places other than Google i.e. Pinterest or other social media platforms.
Check out what's happened to a brand new website I started on 26th October…

I'm not saying this to brag.
I'm simply showing you that I was able to learn all this from using the training, tools and community from one place.
The best thing about it is:
It's free to start
Qualified traffic is brought to you for free
You can truly create your own online business (that you completely own) and make money from Farmasi or thousands of other methods of income 24/7 (talk about multiple income streams!)
You don't need ANY technical skills to start- it has step-by-step training!
When you try out this program you will see why so many people recommend it.
You can read my full Wealthy Affiliate review here.
But it doesn't end there amigo…
Special Farmasi Bonuses
Here's a reminder…
You will not build an online business simply by paying $19.99 for the Farmasi starter kit.
You really need to learn how to use online marketing to make the most out of Farmasi.
Now, I am not a Farmasi influencer so you cannot join Farmasi through me (remember I'm from the UK, it doesn't exist here… yet!)
BUT… I do personally know a very successful "blogger" (yes bloggers that make money are a type of online marketer!) who would be great to join with.
So here are the special bonuses on offer for you today to make sure you are set up on the right foot:
Special recommendation to an amazing online marketing Farmasi influencer with all of her marketing strategies (she normally charges $150/ hour for marketing consultancy)
Her team includes VP's of marketing, corporate trainers & professional makeup artists (you can get help from all of these people as you will be part of their "downline")
Access to a community of over 1 million additional online marketers (there is a 24/7 live chat feature to ask any niggling questions… $997 value)
A keyword research tool to help you rank on Google to get free traffic (worth $360/year)
Website hosting for up to 50 websites (this would cost a minimum of $70/ year for every website you own)
1-1 support from me for any online marketing questions you have ($200/ hour value)
These bonuses are worth over $2,000 for one year.
*I cannot emphasise enough how picking the right team is crucial for your success with Farmasi.*
You can get all of this for a one-time payment of $19 with Wealthy Affiliate. Simply message me inside Wealthy Affiliate once you have done so and I will send you all of your bonuses, including my Farmasi influencer recommendation.
This will also give you full access to everything at Wealthy Affiliate including the community, training and tools for a whole month.
If you really don't want to continue with Wealthy Affiliate after that month then you can cancel your subscription and you won't be charged any more.
If you like the training and tools as much as I do, then it costs $49/ month to continue or $359/ year (that's less than $1 a day and is far more cost-effective and what I personally did… it also means you will stick with it for a year, which is important as this is not a "get rich quick overnight scheme!")
Remember not only will this platform help you to promote Farmasi but anything else you'd like to promote online…
And that is how you truly create your own business from home.
No credit card details required
Farmasi Review: The "MakeTimeOnline" Final Word
---
Farmasi has the potential to be one of the best MLM opportunities that currently exist in the USA.
It claims to be a direct sales company, but it does have the structure of an MLM company because you can get paid for recruiting more people.
Here is a quick summary of this Farmasi review:
The number of people searching for Farmasi on Google is rapidly increasing (and it's possible to get traffic from Google to your own website)
The 50% commission structure for making product sales means Farmasi is not a pyramid scheme (your focus will be on selling products as a beauty influencer… not just recruiting people)
People continually buy makeup and beauty products as they continually run out (so it's a good business model)
The products have good ratings and seem high quality
The products are a very reasonable price
There is no monthly sales quota so you don't need to hold inventory
The team you join is crucial for your success at Farmasi
The main reason so many people fail to make money with MLM companies is that they have the wrong expectation for the company or they join with a recruiter who doesn't know what they are doing.
Do you realise that the only way you will make good money from Farmasi is if you use online marketing?… and you won't get the training you need directly from Farmasi itself.
Keep changing for the better,
Mike
P.S. Since you're still here, I'm going to assume that you are interested in making money online to free up your time. Join the form below to get some additional online marketing freebies, including a 7 day "quick-start guide" to set up your online business for success…