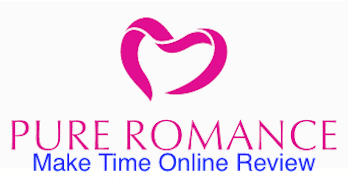 Has someone introduced the company to you and now you're wondering… is Pure Romance a pyramid scheme?
Most people would love to be able to earn a living from home on their own terms. But it can be really hard to know where to start.
Pure Romance promises to be that opportunity that you've been looking for.
This honest Pure Romance review, will show you all of the hidden truths and the pros of joining the company. That way you can make an informed decision about what opportunity is right for you.
Pure Romance Review- The overview and rankings
---
Name: Pure Romance
Website URL: pureromance.com
Type: Sex-related products MLM
Products (Including Pricing): 40 out of 100
Success Stories: 10 out of 100
Price To Join MLM: $479 minimum up to $979 (40 out of 100)
Maketimeonline.com Rating: 30 out of 100 (check out my #1 recommendation, 97 out of 100)
What To Look For In An MLM:
Low start-up fee – ✅
High-quality products – ✅ (but expensive)
You don't have to carry inventory – ✅
Generous compensation plan – ✅
An affiliate-like system – ✅
Company is in the early momentum phase – ❌
Pure Romance pros and cons
---
Pros
It's been around for over 20 years
Decent commissions
Sexual health foundation to support women's sexual health
Cons
Expensive products
For women only
MLM's have a low success rate
Bit of an awkward selling point
Negative reviews from the previous employees
Expensive monthly fees to remain active
What is Pure Romance?
---
Pure Romance, founded in 1993 by Patty Brisben, is a multi-level marketing organization that sells various products, including sex toys, lingerie, cosmetics, lotions, essential oils, and more!
The website states that Pure Romance aims to better women's lives via education and community awareness.
According to rumors, the organization has a tradition of arranging parties where one of its advisors visits the client's home and provides an unforgettable evening.
The consultant is responsible for entertaining guests and providing advice on sexual health and how to spice up relationships at this party. In addition, she will demonstrate each product and explain how it functions.
Individuals can also become Pure Romance consultants and operate their businesses independently. The business model is multilevel marketing, with commissions and bonuses paid down to the fourth level of the downline.
You can get more of a feel for what the MLM company has provided for people below in the 3-minute video…
So it's starting to sound pretty good, but this still doesn't answer the question…
Is Pure Romance a pyramid scheme?
---
No. Pure Romance is not a pyramid scheme.
Many people consider all MLM companies to be pyramid schemes because they involve people getting paid to recruit more people into the company.
Well technically, this is not how Pure Romance pays you.
You would only get paid when people you recruit buy more products or sell products to other people.
You just receive a commission or a bonus from these sales.
However, it is important to realise that if you want to make serious money from Pure Romance, you will need to recruit many people into the MLM company.
Therefore, some people would claim it's a pyramid scheme in disguise…
What is a pyramid scheme?
---
A pyramid scheme is when a company recruits members by promising them payment for recruiting more members.
Technically speaking there is no product involved.
You only get paid from recruiting more people into the company.
Here's the issue with this…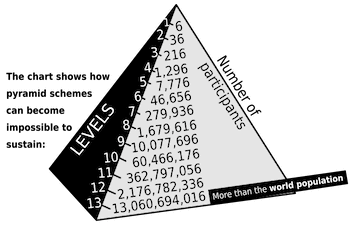 As you can see from the diagram above, there are not enough people on the planet to make this sustainable for every person.
The people near the top earn crazy money…
The people just a few levels down will not be able to recruit enough people to earn a penny.
Most pyramid schemes (and arguable MLM programs) require you to recruit more than 6 people to make enough money to stay at home.
Watch this short video if you want to learn a bit more about spotting a pyramid scheme…
How does Pure Romance work?
---
Many individuals are eager to join MLM possibilities due to the independence they bring.
Consultants who are independent business owners, setting their own s and earning pay based on sales volume, provide independence.
However, you should be aware of the risks associated with this business strategy!
To become a consultant, you must first purchase a Kit to demonstrate the product line to prospective clients. There are presently three kits available for purchase:
Standard Kit – $159.00

Deluxe Kit – $399.00

Premium Kit – $519.00
These kits contain marketing materials, 10 product catalogs, a personal website, a credit card reader, an online office, a point-of-sale application, and a free Media Center trial for 90 days.
According to Pure Romance, these Kits are worth more than twice their purchase price, yet I find them extremely pricey.
Remember that an active Pure Romance consultant earns commissions and bonuses if you purchase these packages after being recruited (recommended) by them.
The Starter Kit is the least expensive option, but if you organize a party with numerous guests, you should bring a wider variety of products.
Remember that risks are involved, not just because you must purchase a kit but also because you must complete certain standards to preserve your consultant status.
According to their Incentive Requirements Guide, there are four ways to acquire active status. These include:
Buy $200 worth of goods in sixty days.

Buy a product package during the next sixty days.

Within sixty days, participate in the New Consultant Inventory Advantage Program.

Buy the Deluxe Plus package.
If you do not satisfy the requirements within 60 days of purchasing the kit to maintain your status, and must buy another kit to restore it.
After sixty days, you will be required to meet one of those specific conditions. Otherwise, you will continue to lose money.
As you can see, the first investment is significantly higher than you anticipated!
The reality is that the majority of MLM participants end up losing money. They purchase pricey things that they are unable to sell.
In doing so, they benefit skilled recruiters with marketing expertise and the ability to suggest many candidates.
To continue as an advanced consultant, selling $200 worth of merchandise every two months is necessary.
If you fail, you will be demoted to the Family & Friends level, meaning you will not be eligible for the entire compensation plan, which includes bonuses and overrides.
Unfortunately, things can only deteriorate from here…
You will lose your whole downline and active status if you do not achieve $600 in retail volume within one year.
If this happens, you'll lose your consultant status and have to buy a new starter kit to get it back.
This method is believed to be highly unfair to those just starting out and needing more company expertise.
This scenario is worse than being an employee because losing your hard-earned money means not reaching your goals.
Pure Romance products
---
Pure Romance has 6 different categories of products:
Bath & body
Lubricants & creams
Wellness (essential oils and body care)
Sex toys
Lingerie
Sexual Health (products to improve your sex life)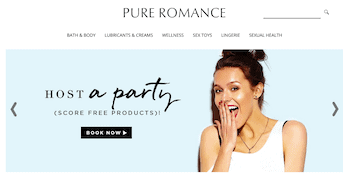 You can find the whole range of products at the Pure Romance shop.
The products range in price and they have something for pretty much anything you can think of (and much more than what I could have thought of too!)
Check out the 90-second video about one of Pure Romance's best products…
Also note that there are other MLM companies that offer similar products, such as:
Now, I can almost hear your mind asking…
How to make money with Pure Romance
---
So the juicy part!
Probably the bit you've been waiting for.
There are 2 ways you can make money from Pure Romance (and most MLM's):
Get a commission from selling products
Get bonuses from recruiting more people into the company and the sales they make (either for themself or others through their links)
That is really all there is to it, even though most MLM companies complicate it with the compensation plan.
Before we get to that, you're probably asking yourself…
How much does it cost to join Pure Romance?
---
You will have to spend $159, $319 or $479 to join the company.
This gives you different "starter kits" with a range of products to test or sell on. It gives you a 30%-45% discount so anything you sell on you will get a profit on straight away.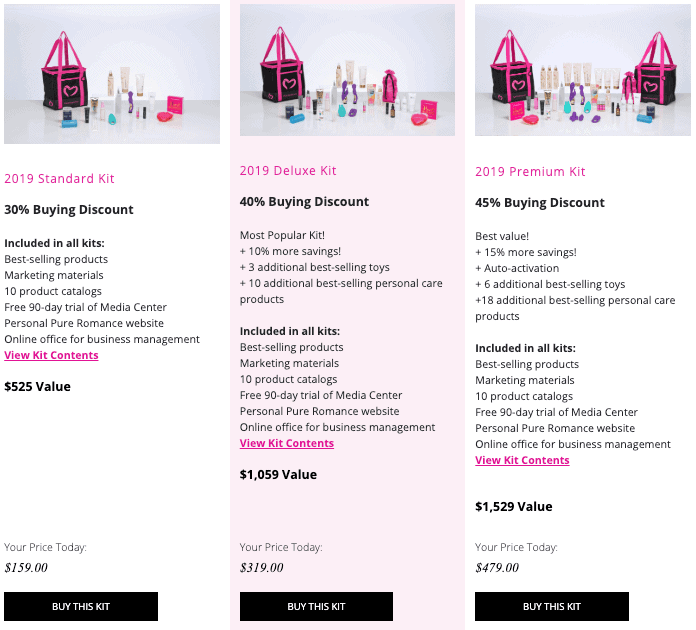 Click here to see more about the information above.
This is not the only cost though as you will find out later in this Pure Romance review.
There are ongoing monthly costs that you will have to stump up if you can't sell enough products to ensure you stay "active".
Pure Romance compensation plan
---
Man, they make these confusing.
Something a bit concerning about this company is that they don't make it easy to find their compensation plan.
Normally it's just on the website or a simple Google search brings it up.
Well, Pure Romance either has something to hide or they are in the process of changing it.
Just remember, there are only 2 ways you can earn money as a distributor:
Make product sales
Recruit more people
You don't need to know any more than that initially.
Here is a really long video about it if you want to learn more about it though.
This is the link to the compensation plan which just takes you to their website home page currently (maybe it will work again in the future?)
Is Pure Romance a scam?
---
No, it's not a scam!
You can make money from home by selling their products.
However, will you be able to sell enough and recruit enough people to make a full-time income?
The rest of this Pure Romance review will look into that…
Just to be fully transparent with you, I am not a distributor myself and I do not endorse it in any way.
I have researched the website, testimonials and information on the Internet to get to the bottom of what this program genuinely does. This is because I have been burnt from programs just like this in the past and I want to prevent others from making the same mistakes. If you'd like to learn more "Ways to Spot an Online Marketing Scam" then click the highlighted text.
Related content:
---
Common positive reviews
Here are some of the common positive reviews we have seen in Indeed about their job opportunity…
"You make your own hours. Make how much you want. Have people to back you up and answer any questions you have. You can be flexible if you have kids. Or if you go out on the weekends for trips."
"My experience working at Pure Romance is amazing. Love my sisterhood, love the income, bonus checks, free time, and making my own work hours I can work it as little or as much as I want around my other job and going to school online."
Common negative reviews
And here are the negative things people are saying about their job opportunity…
"I was with this company for three years, then they changed the employee discount and it was n ok longer profitable to throw parties. But it was definitely fun while it lasted and if they changed it I would be back in a heart beat."
"You have to build strong clientele to thrive in this business. If you don't you wont! Very simple but true."
---
Pure Romance: The good
---
Here are some of the things I like about Pure Romance…
Key Terms:
Black Hat Methods – Using lies and unethical methods to make someone buy something
White Hat Methods – Being honest and genuine to help people make informed decisions about purchases
Pyramid Scheme – recruits members via a promise for payment from referring others to the service rather than providing a product
Affiliate Marketing- Connecting a customer to a product they are looking for and receiving a commission for doing so
Red Flag – A warning sign
#1 It's been going for 20+ years
---
Any company that has existed for 20 years and is worth millions of dollars must be doing something right.
The long history tells you the company is legit and some people clearly enjoy their products!
#2 30-60% commissions
---
So just getting the $159 starter pack you can start earning 30% commissions by selling the products.
However, there are even better commissions as you "rank up" the levels of the company.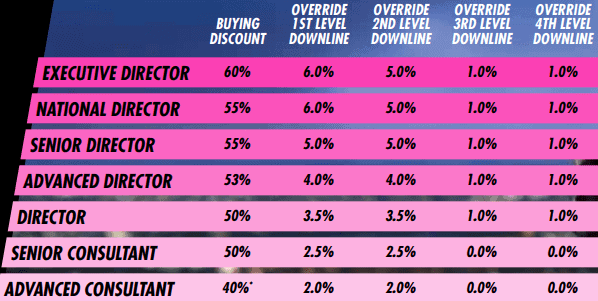 You can see you can get up to 60% discount on products, which is the same as earning 60% commission (i.e. you buy the product at a discount, then sell it at retail price!)
#3 Sexual Health Foundation
---
Sexual health is certainly a taboo subject still.
Anyone working to try and educate people (including our health care system) to understand this better is working towards a great goal.
Here is a short video about the work that Patty is doing with help from Pure Romance.
It shows there is more to the company than simply making money!
Pure Romance: The not so good
---
Here are some of the bad parts of Pure Romance that you should be aware of…
#1 Expensive products
---
This is always the biggest red flag for me!
When you see MLM companies with crazy high prices in comparison to other products out there it's a big concern.
This is because it typically means the company is encouraging people to recruit rather than sell products.
If you get a huge discount as a distributor (which they do) it makes sense for MLM consultants to encourage people to become a consultant themselves.
That way they can "utilise the discount".
Here's the truth:
You will need to hit a "monthly sales quota" to remain "active".
If you don't sell enough then guess who needs to buy the products?
BINGO…
You will!
You (as the distributor) becomes the companies biggest customers and the reason the company keeps growing, but the majority of distributors still don't earn anything!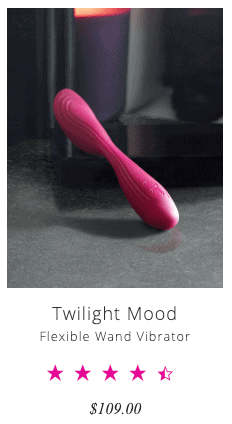 This is the exact reason that MLM success rates are so low…
#2 MLM'S success rate (1%)
---
The FTC released an article on an eye-opening study…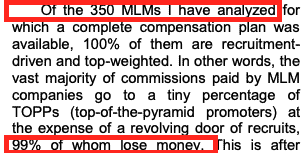 99% of MLM distributors lose money!
If you read the hidden truth #1 again, you'll start to understand why!
#3 For women only
---
I'm all for improving business opportunities for women.
However, it's actually pretty sexist (in the other way!)
Honestly, just imagine what would happen if there was a company that was only available for men in today's age?!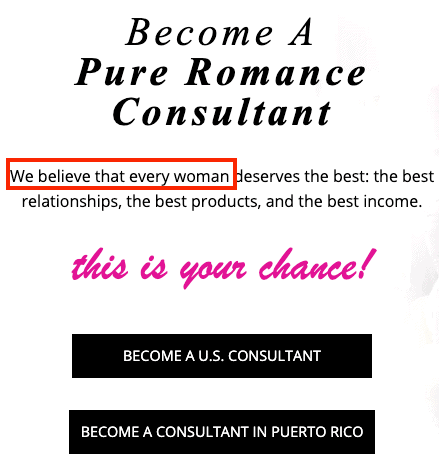 It also means that this isn't an option for half of the population, making it even harder to sell or recruit people.
#4 Awkward to sell
---
Here's the thing about the most successful MLM distributors…
They never shut up about their companies products.
They will usually take them everywhere they go, post demonstrations on social media and speak to just about anyone that will listen to them.
This works well for health products, makeup or cat food.
Now imagine doing this about vibrators…
Yeah, it's not really the easiest topic to casually bring up in conversation around the dinner table.
You'll end up getting this look from most people…
Then they will try to leave the conversation and unlikely to want to speak to you ever again.
#5 Former distributors claim it's a pyramid scheme
---
This is quite a common complaint on platforms that people can leave their reviews such as Glassdoor or the Better Business Bureau.

When people are complaining about the same thing, you have to pay attention to it.
If it's just one or two then you can usually take it with a pinch of salt.
#6 Expensive monthly costs to stay active
---
As it's hard to find any information about the compensation plan or even the income disclosure of the company I found this out through some reviews on Trust Pilot…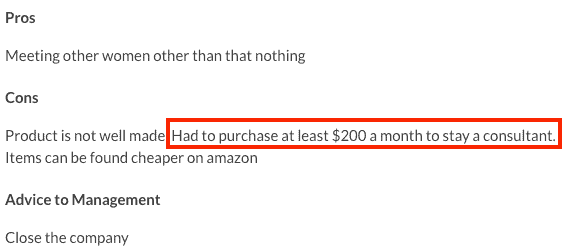 If you can sell $200 of products every month then you won't need to pay for this yourself.
But the fact is, that will be pretty hard to do on a consistent basis.
Can you see why so many people lose money as an MLM distributor?
Related content:
My opinion – Pure Romance
---
The MLM opportunity may suit a very select few people.
I can't really even tell you exactly who, but I guess you'd need to have a pretty open-minded group of friends and some excellent online marketing skills.
In my opinion, this Pure Romance is not really a good opportunity for many people.
The expensive monthly fees and products scream warning signs to me no matter what MLM company it was.
Is there a better opportunity?
---
If you were to have any joy from any MLM opportunity, you would certainly need to learn how to make the internet work for you 24/7/365.
The thing is once you learn online marketing skills you will realise there are so many ways to make money online that you won't actually need an MLM company.
I stumbled on a training platform and community that has helped me to make a passive income online.
The best thing about it is that it has:
A completely free membership so you can try out the training and see if you would like it
Step-by-step training to help beginners get a profitable website set up from scratch (I am certainly no techie!)
A great community of hundreds of thousands of online entrepreneurs who continually help people learn the skills
There really is no BS in this community. People will tell you exactly what it takes to be successful online and you are told upfront that it won't happen overnight (that just doesn't exist by the way!)
But once you set things up, it can become passive income (and there really is no limit to what you can make).
Once you check it out for free, you will see why so many people recommend it.
Pure Romance review: The "MakeTimeOnline" final word
---
So is Pure Romance a pyramid scheme?
Technically no.
You can make money from selling their products.
However, if you want to work from home and quit your day job, you will have to recruit a lot of people into the MLM business. And that is really just a pyramid scheme in disguise.
Keep changing for the better,
Mike
P.S. Since you're still here, I'm going to assume that you are interested in making money online to free up your time. So check out my review of my #1 recommended program and join the form below to learn exactly how I make money online…