2018 Wealthy Affiliate Review – Is This The BEST Affiliate Program?
So here we go! I joined the Wealthy Affiliate program in August 2018 and this is the MakeTimeOnline 2018 Wealthy Affiliate review.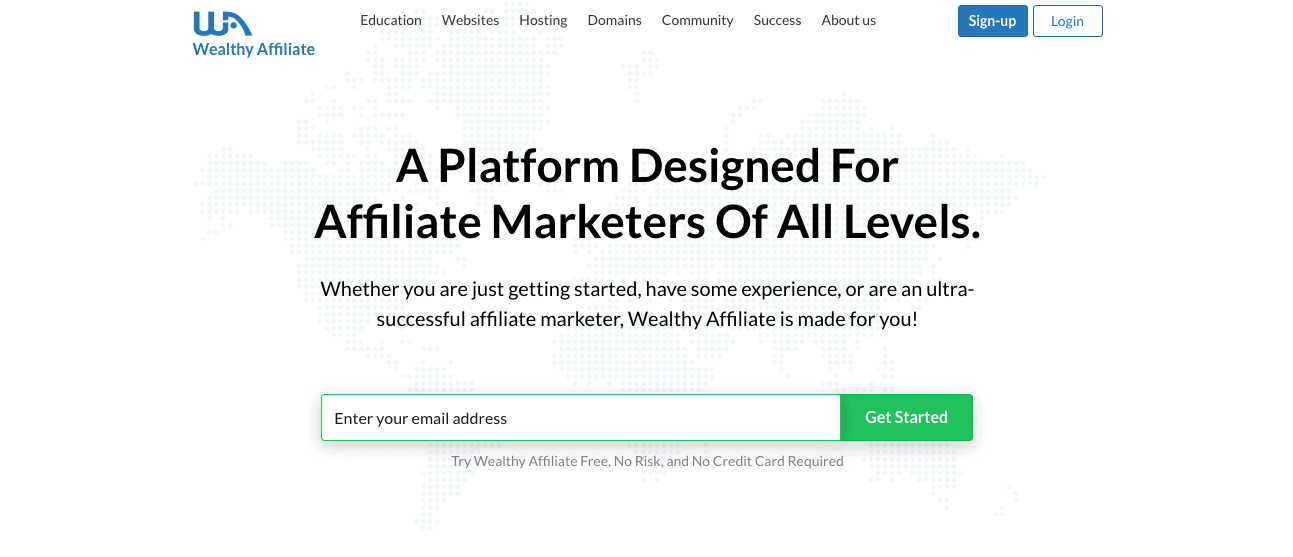 Just imagine being in control of your own schedule; making money from the comfort of your own home (or anywhere in the world with internet connection) and living the life that you have always dreamed of…
Yes, I'm now officially on the journey to finding out how to make money online to free up time. After all, I value time much higher than anything else… because you can never get it back!!
I already know this won't be easy but after blogging for a year and "e-meeting" some amazing people who seem to do this for a living I think it's definitely worth a shot.
Anyhoo… sit somewhere comfy and with a cup of your favourite beverage and see what to make of the training program I have started using…
Wealthy Affiliate- The Overview and Rankings
---
Name: Wealthy Affiliate
Owners: Kyle and Carson – 96 out of 100
Website URL: wealthyaffiliate.com
Training: 90 out of 100
Support: 99 out of 100
Website Builder: 99 out of 100
Research Tools: 95 out of 100 (for the paid version)
Success Stories: 95 out of 100
Price: Starter Member (Free- for as long as you want) Premium Membership ($49 per month/ $359 year)
Maketimeonline.com Rating: 97 out of 100
My Story
---
So in August 2017 my wife, Sarah, and I started a blog. We kind of started to keep track of what we were doing as we had moved from England to be expat teachers in Qatar. So we could see this being a distant memory at some point in the future (plus my Mum wanted to know what we were up to!!)
However, it became a place where we started writing about what we had learnt and what we did that was new.
I loved it! I found I was taking more action from the books I was reading and my productivity levels rocketed.
We started waking up earlier to exercise, meditate, read, write and get the main things done before setting off for work.
We ran a marathon, walked the 3 highest mountains in the UK within 24 hours, started a property investment business, travelled more and spent more quality time with family and friends than ever before.
After a year of reading others blogs and speaking to many, many bloggers I realised some of them seem to be "blogging" full time (I had no idea blogging was still a thing!)
So it has become a puzzle of mine to put the pieces together and figure out how they do this.
Well, Wealthy Affiliate has definitely helped me to put a lot of pieces together. But I am not going to blow the websites trumpet to convince you to give it a go. I will be completely honest about my experience so far (which is only about a week currently – note I will update this review over time) and will continue to be completely honest with you on this journey.

What does Wealthy Affiliate do?
---
A lot!!
To be honest it does so much that it can be overwhelming reading it all.
All you need to know:
If you are interested in making money online to free up your time, then Wealthy Affiliate holds your hand into getting an online business up and running. 
Some of the things it does:
Step-by-step training – make a website suited for affiliate marketing (promoting other peoples products and getting a commission)
An amazing community to support you
Build your website in 30 seconds
Tools to track and monitor your progress
Tools to improve your research and content
Top quality hosting
Wealthy Affiliate Training, Many Formats to Suit your Taste
---
So far the training I have been through has been great. I read others reviews saying that there is loads of text and only a few videos, but from what I've found the videos covers pretty much all the text.
So if you don't like reading then the videos are more than enough to gain the information.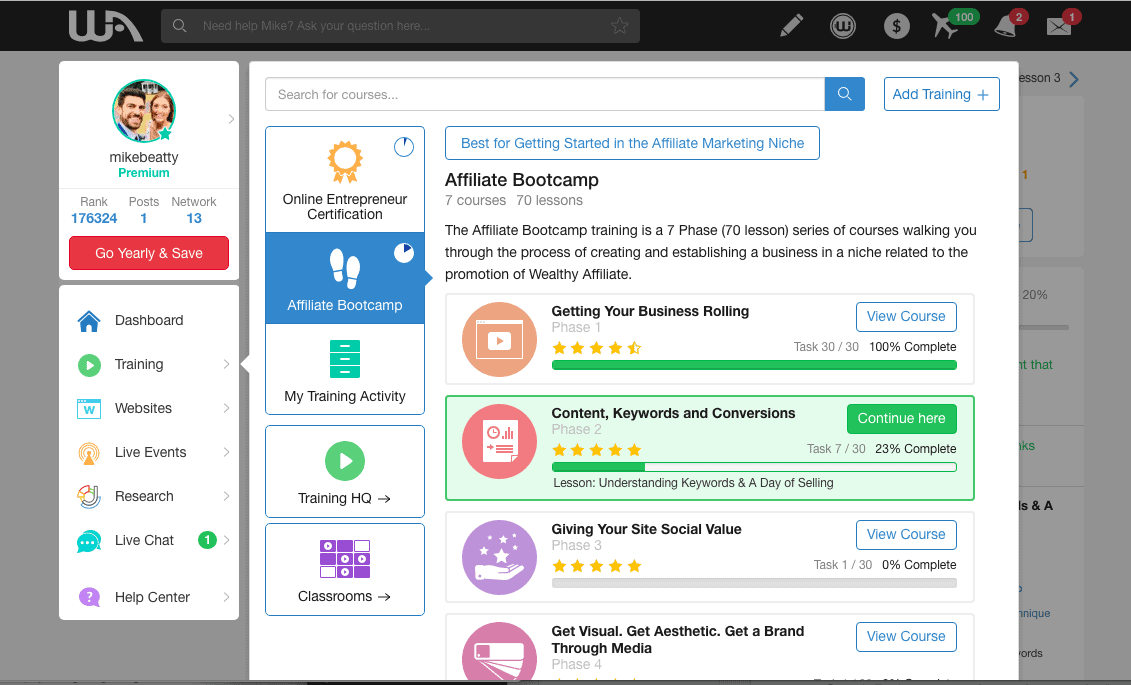 There are 2 routes you can take with the training:
The Online Entrepreneur Training
The Affiliate Bootcamp
Now for me, the indecisive ninny here, I found this very hard to decide! Basically, route 1 is for those who have a specific niche and know exactly what they want to do. Route 2 is for those who don't really know and so they hold your hand down the make money online route.
As I already have a blog up and running I literally would love to have a niche in anything to do with health, success or happiness. However, after starting route 1 I realised I would 100% need to sub-niche this down as it's too vague and pretty much covers everyone in the world (which turns out is not a good thing!!)
If you need to some help in deciding on your niche then I have created a post to show some things I wish I knew before (plus the video on there could save you hours of faffing!!) 
If you are reading this then there's a very big chance you may have done something similar to me in life…
You lived (or are living) the script of going to school, getting a job and working hard to pay for your house and lifestyle. Then you read Rich Dad Poor Dad and your whole world shifted!
That was me in 2014. Since then I have developed a passion for increasing my own financial IQ and we continue to take action with our UK property business.
Working in education since 2011 has shown me how little financial IQ is taught at schools. This website is my way to help spread the word about financial education and demonstrate different ways we can create more money in our own lives.
…So route 2 it was!
So far the Bootcamp has been more useful than a cold drink on a hot day. It literally shows you step by step how to create your online business.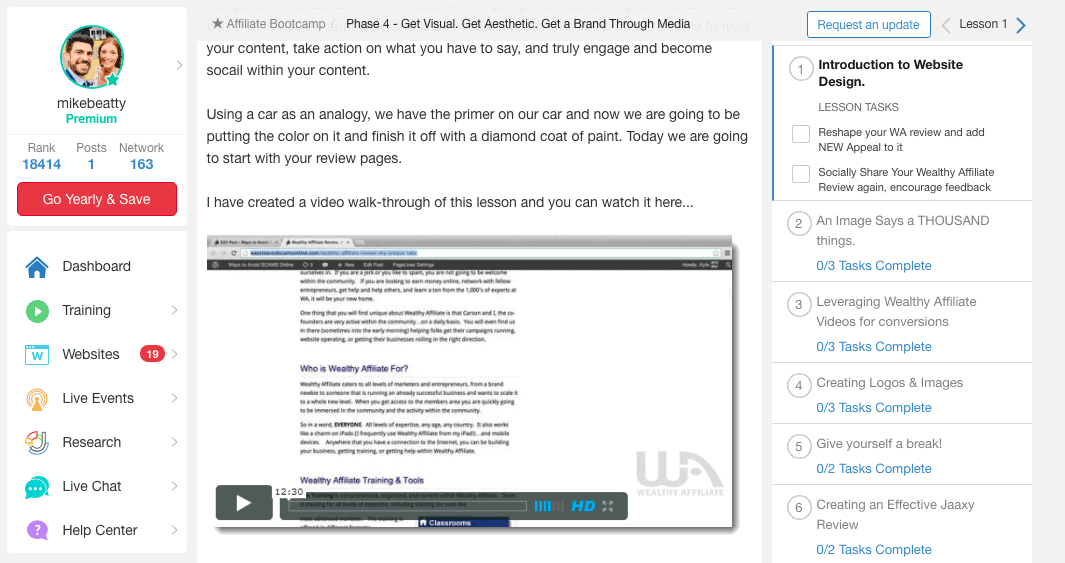 The reason that I haven't rated the training higher is that it apparently skims through some things that really benefits affiliate marketing i.e. email marketing.
I read Anik Singal's book "The Circle of Profit" recently. Since reading this I followed (almost) everything that he said. I had my opt-in page, I created a free resource to collect peoples email addresses, I found ways of getting some traffic to my page (mainly by paying for clicks).
…What I hadn't done is find my specific niche. It was still too vague, so basically nobody even wanted a free e-book.
However, I have spoken to people who make their living off email marketing.
From the reviews I've read about Wealthy Affiliate and by skimming through the training, they miss this strategy out in any real depth (luckily Anik's Book is quite thorough on this!)
Do not fear though!! the next section really makes up for this…
Wealthy Affiliate Support, A Community of "Caring" Experts
---
One week in, I had more messages from Kyle, the founder, than anyone else. The thing is, they were all automated and he has yet to give a genuine reply to my questions. I'm guessing there are 1000's of people messaging him so I'm not surprised, but some reviews claim that the founders will message you with personal messages. Time will tell on that one.
I decided to join Wealthy Affiliate after reading Riaz Shah's website as I found his reviews to be very honest and informative. He has been more helpful to me than Robin is to Batman (yes I just referred to myself as Batman!)… just look at the detail in his response to a question I asked. And this is only a fraction of the answer… talk about personal service!
There is also a Live chat and Forum so you can get quick responses to any question that pops up in your head!
I have been using WA for 2 months now and I have already made some great connections with the community. I recently wrote a post about "Why do People Create Blogs" and I had 13 people who took the time to answer some questions for me.
People continually provide comments and feedback on my website and they are so helpful, generous and kind.

The SiteRubrix Suite, Create, Manage & Grow Your Websites – SEO
---
This was actually pretty amazing! I remember creating our website for our first blog on WordPress and I was so confused. WordPress is actually very user-friendly but it took me ages to make the website look how I wanted it.
With Wealthy Affiliate, it took 30 seconds to create a website using Site Builder. No joke! Just a few clicks of a button and you'll have a website built for you.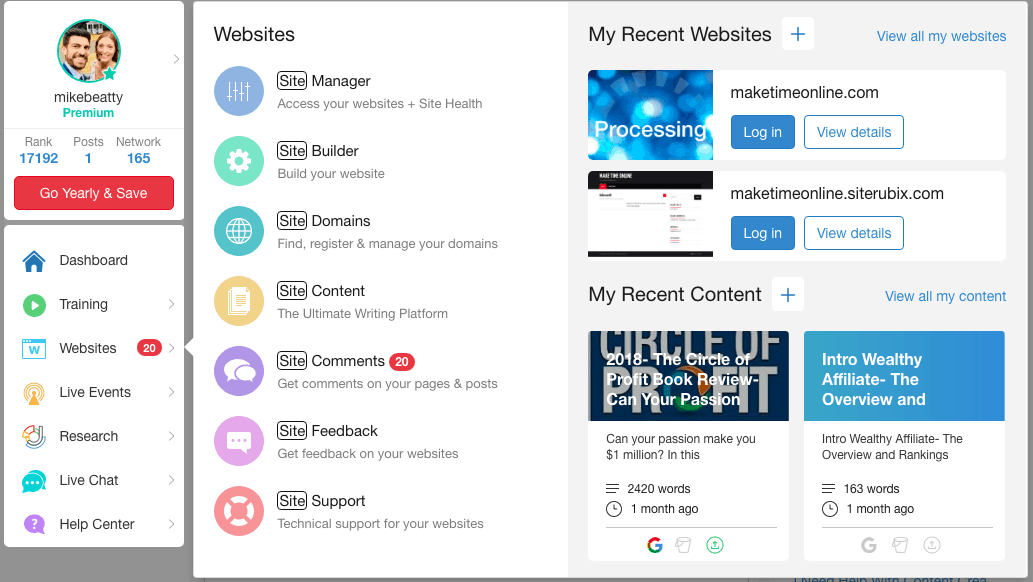 The screenshot above shows all the things that come with the SiteRubrix Suite. I honestly have found it soooooooo helpful!
For me, the best part about Wealthy Affiliate is the site comments.
You get to choose what you're interested in (so I never receive any baby advice or gardening websites) and you can skip websites if you're not interested. So I actually find reading others people work really useful.
In the screenshot above I had made 10 comments and then I used my credits to ask for specific feedback on certain posts that I have created. As you can see I have already received 20 comments and this is only a couple of hours of it being out there (20 for the price of 10!!!!)
The Site Manager (above screenshot) is such a great way to see what you can do to improve your "Site Health".
It also shows the speed of your website and what you can do to improve this. This helps to ensure your website is optimised to improve its rankings on search engines and that your audience has a better experience when using the site.
Jaaxy Tool – Key Word Research
---
The training program shows you step by step how to make the website better for SEO using plugins (Search Engine Optimisation- in English this means it makes your website easier to find on Google)
The Jaaxy Tool is an amazing way to find keywords that receive a lot of searches each month. The best part is using the QSR column (number of competing websites) you can find keywords that have less competition. This means your website has more chance of ranking higher on search engines when someone types in your keyword.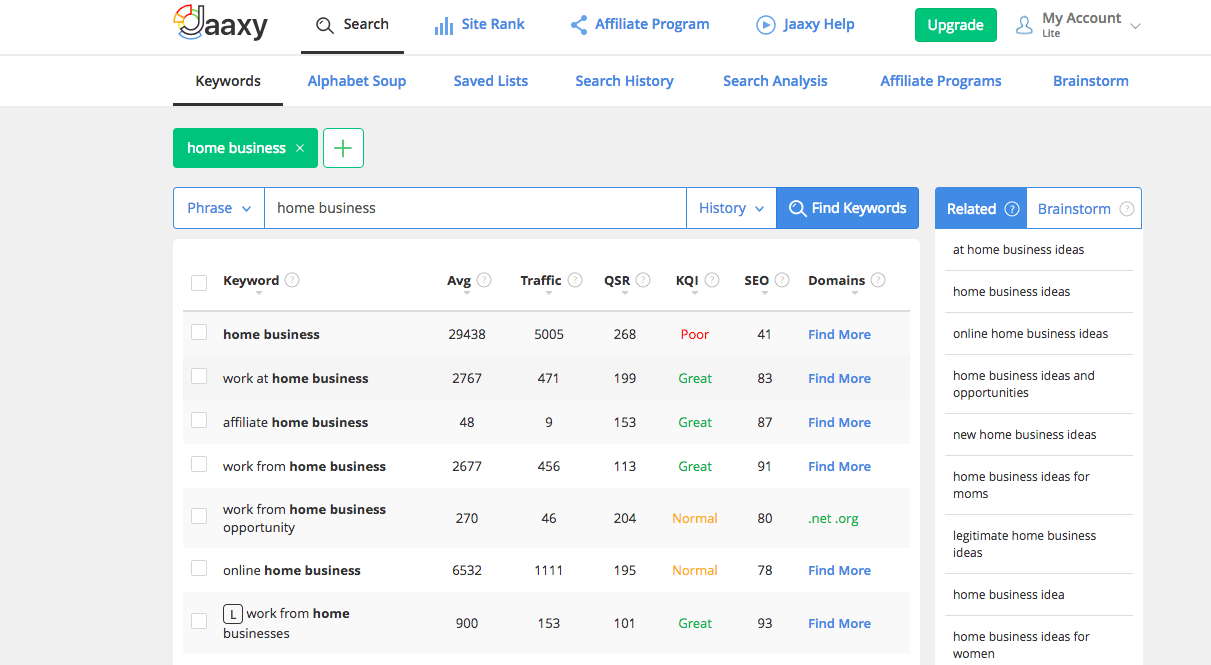 This helps to give you inspiration of what to write about. It also helps to decide what title and keywords you want in your post as this is what people are already searching for!
I tried using the Jaaxy Tool before watching any training and I was completely confused! But just like everything else on this site… follow the training, complete the tasks and all the pieces of the puzzle start coming together.
This is actually worth $49 per month by itself but it comes as part of the Premium Wealthy Affiliate package. 
If you want to see some of the benefits of using Keyword Research in more detail check out this post. Jaaxy Tool- Keyword Research
Managed WordPress Hosting- Set up Efficiently!
---
The hosting is top quality. It has very quick loading speeds, again making this better for SEO.
If you are on the free membership you get 2 .siterubrix free websites so you can get started and try out the training without having to pay anything. Plus you can stay on the free membership for as long as you like!
If you use the paid version you can get 25 free .siterubrix websites and 25 domains.
This means if you have another online business or website you can transfer it onto Wealthy Affiliate and get all the added benefits of faster speed, the Spam Blocker and SiteSSL (notice my website is https instead of http. You usually find this on websites that you make payments on as it makes the site more secure).
Why bother using the paid version?
---
This is something that I asked myself a lot when I started out.
You can access so many things on the free membership I didn't really see the point.
On the paid membership you get the extra websites available (25 instead of 2) and access to the Jaaxy Keyword Research Tool (usually $49 per month by itself) plus all of these benefits:
The main reason I went for the paid membership was really because of what I'm about to tell you… and no it's not the Vegas trip…
Meet in Vegas, Lucrative Affiliate Program – No Chance As A Newbie
---
If you sign up right now you will be getting a free trip to Vegas every year for the rest of your life!!… Only joking!!
Of course, they don't actually sell this to you like that (that would be cool though eh?!) and of course, it's great to set big goals but to get the all paid for Vegas-trip you need to get 300 people to sign up.
Obviously, this is unlikely if you are like me and new to it. Chances are, people will be signing up from someone that has been using Wealthy Affiliate much longer. But they do set more realistic timeframes to achieve something like this.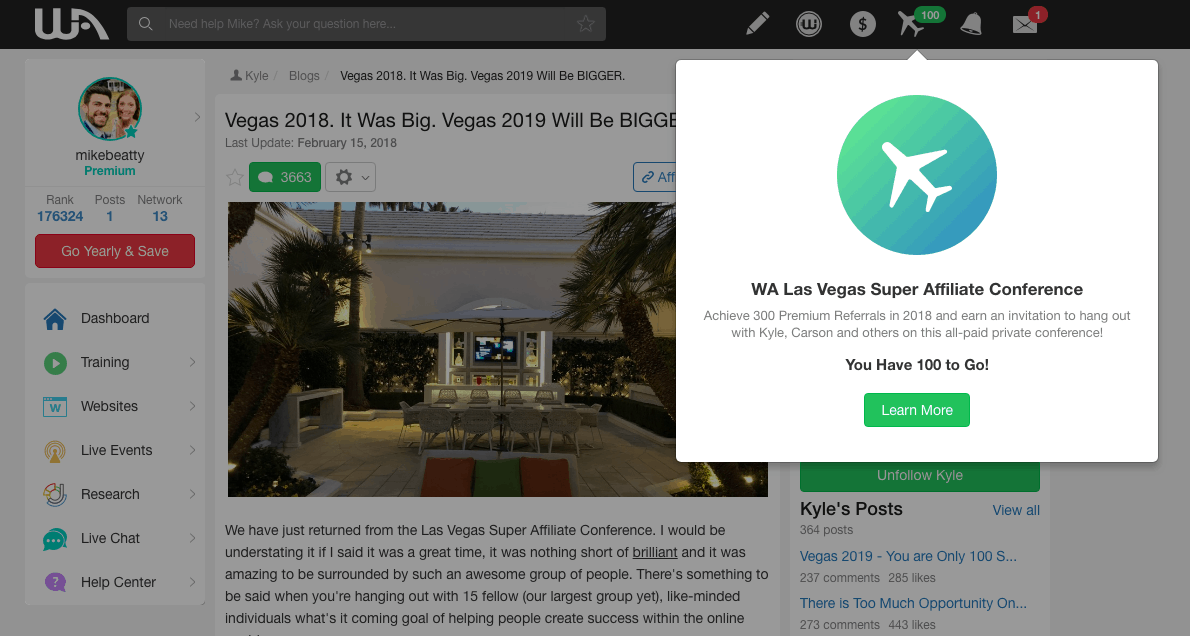 The bit that is interesting though is that you can get paid to refer others to join Wealthy Affiliate. Now, there are a lot of reviews that sell Wealthy Affiliate as the best thing since sliced bread (I'm sure you'll understand why in a second).
The thing I have found surprising is that a lot seem to fail to mention this part. I'm not entirely sure why… maybe there's some training later that tells you not to… but I'm going to tell you!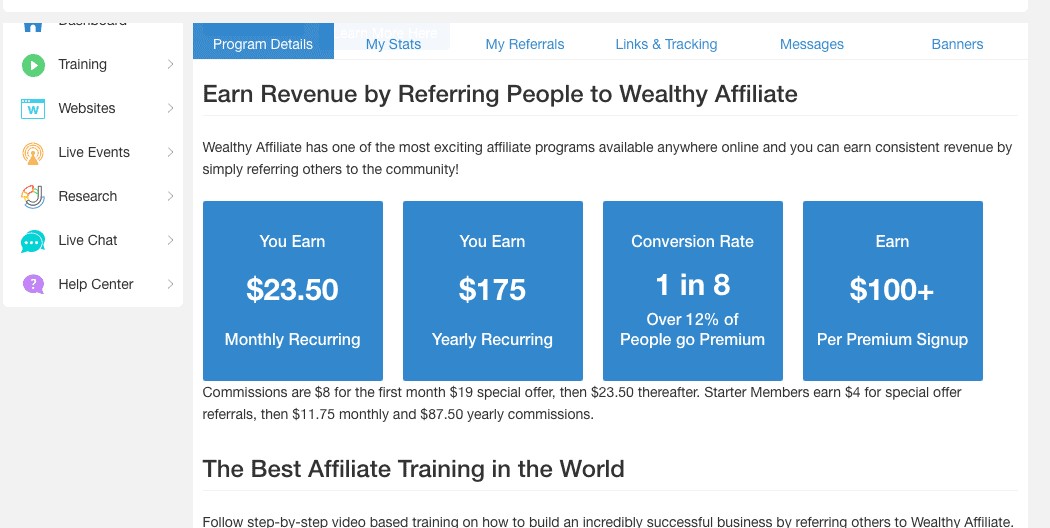 You get paid if someone signs up from your link…
If you're on the free membership (by the way did I mention you can be a free member for as long you like??) you receive $11.75 per monthly premium subscriber or $87.50 for a yearly membership.
If you are on the paid membership it doubles to $23.50 per month or $175 for a yearly membership.
So that means if 2 people sign up to Wealthy Affiliate from your link, you get the premium Wealthy Affiliate membership for FREE!
Is it starting to make sense how people make money online?

Wealthy Affiliate: The "MakeTimeOnline" Final Word
---
I really do think it's great for beginners. If you are serious about getting started at making money online (which eventually leads to time… hence the URL name!) I think the training is brilliant.
Even if you don't join the paid membership you can stay on the free membership for as long as you like and access a load of the training. Some of the more in-depth training will require you to become a paid member but that's something you can decide when you get there.
As I said at the start I've read a lot about this over the last year.
This is one of the best ways to get hosting, domains and training in one place. If you want to build a community of like minded people there is a strong active one on Wealthy Affiliate.
Plus, I am already going through this process so you've already got someone to give you personal feedback and help.
My Recommendation and Special BONUS!!
---
I would recommend giving Wealthy Affiliates a try for free. Choose a week when you know you have time to commit to it and make sure you put in at least some time each day.
The special bonuses of signing up for the paid membership:
You get your first month for $19 (a 59% discount!) if you sign up in the first 7 days.
You get personal and private access to me! If you have any questions starting out you can bet I had the same ones.
You get access to Jaaxy the Keyword Research Tool. This is so helpful at helping decide on a niche. This is worth $49 a month on its own, but it comes with the paid membership.
Remember this is a special bonus for those action takers that join the paid version in the first 7 days.
All you have to do is click the link above and see what you think… what's the worst that can happen?
One last great tip to leave you with… If you sign up during Black Friday (end of November) it only costs $299 for the year, which works out to be $0.82 per day…
What would you pay to live the life you always dreamed of?
If you have any questions and I mean ANY questions about Wealthy Affiliate, please leave them below. If you have used or currently have a membership please feel free to add your review below.
Keep changing for the better,
Mike

Updates to Questions Below
---
The training also includes how to use social media including Facebook, Google+, Pinterest and how to make your website a place for others to engage.