In the spirit of full transparency, know that this Take Surveys For Cash review contains affiliate links. This means if you make a purchase through these links, I may receive a small commission at no extra cost to you. Click here to read my full disclosure policy.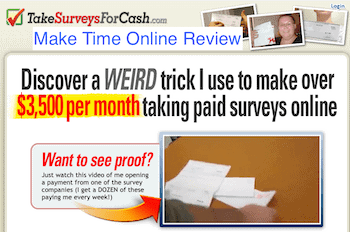 You may agree that receiving $500 checks in the mail a few times every week would be great.
Most people think that is really unlikely to happen without putting in a lot of time and effort into something. Take Surveys For Cash promises you can do it simply by giving your opinion on websites for a few hours.
This Take Survey For Cash review, with video, will reveal the truth behind the program. It will also show you a legit way that you can start earning money from home today.
Take Surveys For Cash Review- The Overview and Rankings
---
Name: Take Surveys For Cash
Owners: Jason White (not a real person- 0 out of 100)
Website URL: takesurveysforcash.com
Type: Survey Intermediary
Success Stories: 1 out of 100
Price: $39
Maketimeonline.com Rating: 1 out of 100
Take Surveys For Cash Pros and Cons
---
Pros
60-day money-back guarantee (hopefully)
Cons
Black hat sales tactics
Pressure you into buying
Unrealistic claims
Paying for surveys
Fake proof
What does Take Surveys For Cash do?
---
Jason White names himself the "King of Paid Surveys".
Supposedly by joining this program you will make $3,500 per month and reach financial freedom.
The truth is, you can't find anything about Jason White online.
If he really has found this way for you to receive thousands of dollars a week by filling out a few surveys, then don't you think this guy would be well known and show himself on the sales page?
This begs the question…
What Are Online Surveys Really?
Yes…
Legit online survey sites do exist.
Yes…
It is possible for you to get paid money from providing your opinion.
BUT…
Not like Take Surveys For Cash makes out.
Check out this short video below…
You can find a list of legit survey sites further down this page.
It's possible to make a few dollars per survey as you will find out later in this Take Surveys For Cash review.
But you will only be able to make a couple of hundred dollars in a month.
And that's if you set things up well!
Now, I can almost hear your mind saying…
Is Take Surveys For Cash a Scam?
---
The short answer is yes.
The long answer is below…
There are two main ways an online course can be a scam:
Take your money and run off into the sunset, never to be heard from again
Provide some information but it doesn't live up to their promises
Take Surveys For Cash will send you some survey opportunities.
But they will not live up to their promise of reaching financial freedom and making $3,500 in a month!
Therefore, it is a…

Just to be fully transparent with you, I have not purchased this program myself.
I have researched the website, testimonials and information on the Internet to get to the bottom of what this program genuinely does. This is because I have been burnt from programs just like this in the past and I want to prevent others from making the same mistakes. If you'd like to learn more "Ways to Spot an Online Marketing Scam" then click the highlighted text.
Related content:
Take Surveys For Cash Red Flags
---
Here are some of the red flags and hidden truths about the program…
Key Terms:
Black Hat Methods – Using lies and unethical methods to make someone buy something
White Hat Methods – Being honest and genuine to help people make informed decisions about purchases
Affiliate Marketing- Connecting a customer to a product they are looking for and receiving a commission for doing so
Red Flag – A warning sign
#1 Paying for the Survey Site
---
This is a massive red flag as you can see in "15 Best Legit Survey Sites That Pay Cash".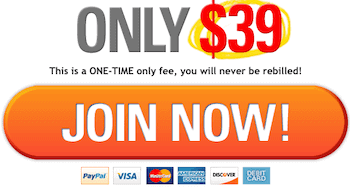 I've been there and got the T-shirt for this one through another survey scam, "Gold Opinions".
Paying for an intermediary survey site does NOTHING that the "free to join" sites do (note- some survey sites even pay you a signup bonus as you will find out later in this Take Surveys For Cash review!)
Apart from sending you more junk, if anything at all.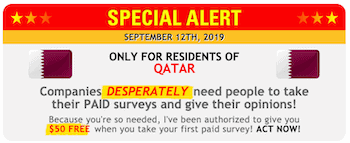 Don't worry though… there is a special discount in your country!!
Or is there…
#2 Black Hat Sales Tactics
---
This is where their marketing is quite clever.
They certainly know how to pull on your wants and emotions.
First of all, they claim there's a special discount in your country.
However, look at what happened when I used a VPN to use the website.



They just use your IP address.
There is no special deal for you!
They then go on to show you some amazing holiday you could receive by becoming a member.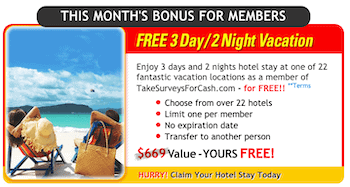 And that your membership is basically free because they will send you $50 once you take your first survey.
This is all lies.
They know what you want and they will do anything to make you put your hand in your pocket.
Honestly, just think about it…
What serious business will charge someone $39 then give them $50 and a free $700 holiday?
#3 Fake Proof
---
This is actually just borderline illegal I'm sure.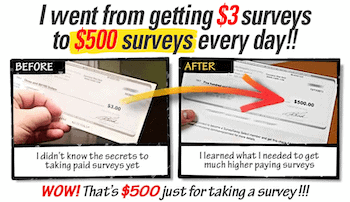 You can clearly see that the check on the right is identical to the one on the left.
The difference is the owners of this scam have changed the digits on the check. Notice the bold writing that stands out and doesn't quite align with the rest of the check.
$3 for a survey is legit.
$500 for 50 surveys (let alone 1) is FAKE!
#4 Too Good to be True
---
Remember, you can get 12 of these $500 checks a week!

Sorry to burst their bubble again…
But they are lying!
Yes, you can get 12 checks from surveys in a week.
But they will be for around $1 each… not $500!
#5 No Positive Experiences
---
If you Google any legit company online you WILL find some people that have something good to say about it.
You will find someone that shows you the proof of success they've had with it.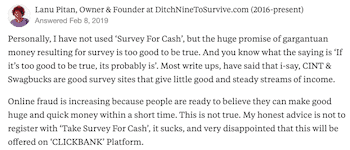 The only people you find saying anything good about Take Surveys For Cash are the people promoting it.
Let me explain who these people are…
#6 Clickbank Product for e-Business
---
Clickbank is a legit website that offers "affiliate marketers" the opportunity to promote someone else's product and receive a commission for doing so…
If someone clicks their link and then BUYS the product.

Here's the truth…
Clickbank has a bit of a bad reputation for its e-Business products.
Here are some scams that I have reviewed previously from this section of Clickbank:
I could go on, but I think you get the point.
Related content:
My Opinion on Take Surveys For Cash
---
It's a scam!
Don't waste your money or your time!
Honestly, I don't want to be all doom and gloom because it really is possible to make money online.
But not in this way.
If you like the idea of getting paid for your opinions here's what I learnt the hard way…
Survey Recommendations
So you want to get paid for filling out surveys online?
Disclaimer- You will not be able to quit your day job doing this but it is possible to make $100-$200 a month if you set things up well.
There are legit survey sites out there and here are Make Time Online's top 5 survey site recommendations:
It's the easiest and quickest way to make a bit of cash online.
But to get $100+ per month you will need to use a system because they won't pay you too much per survey…
Set up a separate email address for surveys
Join as many good sites as possible
Cash-out as soon as possible
Find out more in the best 15 survey sites to get paid real money here.
Now, if you are interested in earning more than $200 a month online there is another way…
An Evergreen Strategy That Brings You The Money
---
It wasn't that long ago that I was still trying to figure out how it's possible for people to make money online.
The problem I had at the time was that it needed to suit me. I wanted to find something that:
I could work on when I wanted (I was still in a full-time job)
Taught me step-by-step what I needed to do
Didn't cost a fortune to start and maintain
Didn't need me to sell stuff to my friends and family
It was in September 2018 that I found the system that I still use today to make a passive income stream.
The best thing about it is:
It's free to start (honestly it is)
Customers are brought to you that are already interested (just think about how you found this review… there was no money or time spent from me promoting this!)
You get access to a huge community of online marketers (and me as a personal coach to help you on your journey)
I'm doing this full time now and I genuinely want to help you achieve the life you want.
When you try out this program you will see why so many people recommend it.
No credit card details required
Take Surveys For Cash Review: The "MakeTimeOnline" Final Word
---
To sum up this Take Surveys For Cash review…
The program sucks!
If you have purchased Take Surveys For Cash and found it to be terrible then contact Clickbank.
When I made the same mistakes with another program the actual company went awol when I messaged them. But Clickbank can sort it out for you (if you are inside the 60 days).
Keep changing for the better,
Mike
P.S. Since you're still here, I'm going to assume that you are interested in making money online to free up your time. So check out my review of my #1 recommended program to help you do just that…