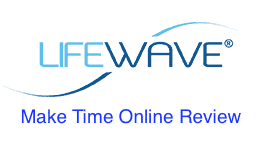 Has someone introduced some new opportunity to you and now you're wondering "is LifeWave a scam?"
It's a lot of people's dreams to be able to work from home and live life on their own terms.
But most people have no idea where to start.
This is where LifeWave comes into the picture. It promises to offer this work from home opportunity that you've been looking for.
This honest LifeWave review, with videos, will expose the pros and hidden truths about the MLM opportunity so that you can make an informed decision if it's right for you or not.
LifeWave review- The overview and rankings
---
Name: LifeWave
Founder: David Schmidt in 2004 (70 out of 100)
Website URL: lifewave.com
Type: Health & Wellness company
Products (Including Pricing): 30 out of 100
Success Stories: 10 out of 100
Price To Join MLM: $25 + package from $99.95 up to $1,499.95 & 55 PV ($100) per month (60 out of 100)
Maketimeonline.com Rating: 42 out of 100 (check out my #1 recommendation, 97 out of 100)
What To Look For In An MLM:
Low start-up fee & maintenance cost– ✅
High-quality affordable products – ❌
You don't have to carry inventory – ❌
Generous compensation plan – ✅
An affiliate-like system – ✅
Company is in the early momentum phase – ✅
LifeWave pros and cons
---
Pros
Good track record and been in business for over 15 years
Clinically proven products
Trusted by Olympic athletes
Cons
Expensive to start
99% of MLM recruits lose money
Not transparent
6-figure lawsuit
Competitive industry
What is LifeWave?
---
LifeWave is a health and wellness Multi-Level-Marketing company.
Their main product is their "healing patches", which claims to help you get more energy and sharpen your mental focus.
The MLM opportunity means there is also a chance for everyday people to make money from the company.
The 6-minute video below explains more about this opportunity…
So it's starting to sound like a great opportunity! But it's important to realise that is a promotional video from LifeWave.
So I can almost hear your mind asking…
Is LifeWave a pyramid scheme?
---
No, LifeWave is not a pyramid scheme.
It's possible for distributors to earn money from selling LifeWave's products and earn a commission. Technically, you don't need to recruit other people into the company to earn money.
In reality, you will have to recruit people to earn enough money to work from home.
What is a pyramid scheme?
---
A pyramid scheme is when a company recruits members by promising them payment for recruiting more members.
If there are no products or services being sold, then it's illegal in most countries these days.
It's simply because the world would run out of people to recruit meaning it's impossible for every distributor to make money…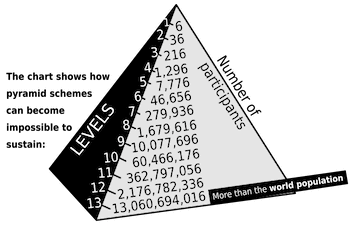 Now, whilst it is possible to make money without recruiting as a LifeWave distributor, it's not really possible to make very good money!
Watch the 5-minute video below if you'd like to learn more about how to spot a pyramid scheme…
How does LifeWave work?
---
LifeWave creates a range of products to sell to customers.
But they have a clever way of selling…
They pay "distributors" (aka everyday people) to advertise the products for them! In return, they offer these people commission and bonuses for any sales they make.
We'll dig into the compensation plan soon to work out exactly how distributors get paid.
But first, let's look at the…
LifeWave products
---
The company stands out due to its flagship product… the healing patches.
If you have any interest in joining LifeWave you need to watch this 2-minute video to understand exactly what the patches do…
These patches cost $79.95 for 30 patches.
The patches only contain water, oxygen and amino acids. They do not use any harmful chemicals!
Supposedly some of the benefits are:
More energy
Better sleep
Reduced stress
Sharper mental focus
Pain relief
Anti-ageing
Fat burning
Apart from this LifeWave does have some other products such as:
Skincare (moisturiser for $99)
Nutritional supplements (some pills in a $179.95 pack with patches)
If you've ever bought a moisturiser before you can probably tell that's quite pricey! We will look into exactly why that is later on in this LifeWave review.
Also note that there are many other company that are selling very similar product with that of LifeWave…
For now, let's figure out how you can make money…
How to make money with LifeWave
---
Like most MLM companies there are 2 ways you can make money as a "distributor":
Earn a commission on direct sales you make
Recruit more people into the MLM and earn bonuses and commissions from any sales they make
Simple, right?
So…
How much does it cost to join LifeWave?
---
You need to buy a $25 basic starter kit, which contains:
Your online "back office"
Marketing materials such as brochures
Basic training on who you can try and sell to
But it doesn't end there!
You will be encouraged to buy more expensive packages, because "they can help you earn more money" (is what the person who introduced this opportunity to you probably said).
This is technically true because the more products you buy at the initial discount means that if you can sell them you can (in theory) make more money.
The keyword there is IF!
In reality, the reason they encourage you to buy the more expensive kits is that…
They make more commission!
Ooops… the cats out the bag!
Here are the other packages they will encourage you to buy:
Bronze – $99.95
Silver – $299.95
Gold – $499.95
Platinum – $999.95
Diamond – $1,499.95
(you're going to have to buy something otherwise how are you going to market anything to anyone with nothing?!)
LifeWave compensation plan
---
The insanely complicated compensation plan claims you can earn money in 6 ways:
Retail profits
Product introduction bonus
Binary commission
Matching bonus
Diamond & Platinum introduction bonus
New member bonus
Have you noticed all of these ways actually fall under 2 methods:
Sell products (25% commission)
Recruit people
Let's keep it simple now!
Check out the full LifeWave's Compensation Plan if you want to know more or watch the 15-minute video to be walked through the plan visually…
With all of this Mumbo Jumbo, you're probably wondering…
Is LifeWave a scam?
---
No LifeWave is not a scam.
There are real people who have made money as a distributor.
Do many people quit their full-time job from this opportunity?
No.
Is it the right opportunity for you?
The rest of this LifeWave review will help you decide…
Just to be fully transparent with you, I am not a distributor myself and I do not endorse it in any way.
I have researched the website, testimonials and information on the Internet to get to the bottom of what this program genuinely does. This is because I have been burnt from programs just like this in the past and I want to prevent others from making the same mistakes. If you'd like to learn more "Ways to Spot an Online Marketing Scam" then click the highlighted text.
Related content:
LifeWave: The good
---
Here are some of the things I like about LifeWave…
Key Terms:
Black Hat Methods – Using lies and unethical methods to make someone buy something
White Hat Methods – Being honest and genuine to help people make informed decisions about purchases
Pyramid Scheme – recruits members via a promise for payment from referring others to the service rather than providing a product
Affiliate Marketing- Connecting a customer to a product they are looking for and receiving a commission for doing so
Red Flag – A warning sign
#1 15+ years in business
---
Any business that has survived for 15+ years must be doing something right!
They have a pretty clean record as a company and have continued to make money for over a decade.
This is a great sign for a companies longevity.
#2 Clinically proven products
---
There are scientific studies that back up the benefits of the patches…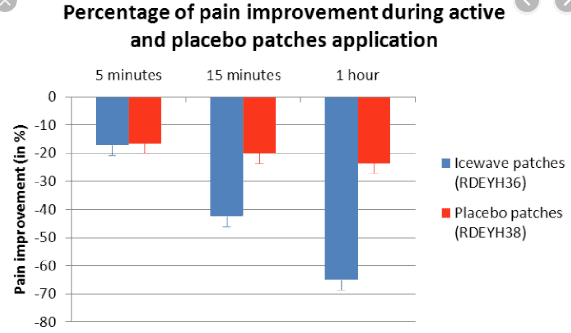 There are also some people that claim the patches do nothing but as my Dad always taught me…
You can't argue with facts.
#3 Trusted by Olympic Athletes
---
Personally, I think this is pretty gimmicky…
However, there are a lot of people out there that will say "anything that's good enough for David Beckham is good enough for me".
Even if you think this is just clever marketing, you can always use it to help you sell the products!
LifeWave: The hidden truths
---
This is probably the main part you were interested in (behind how to make money I'm guessing).
Here are some of the bad parts of LifeWave that you should be aware of before you jump in…
#1 Expensive products
---
Now, it's super hard to find any other company that sells the "special patches".
You could argue it's a good thing as it makes the company unique.
I would argue… is that because nobody really wants them?
So I just compared their other products to similar items on the internet instead.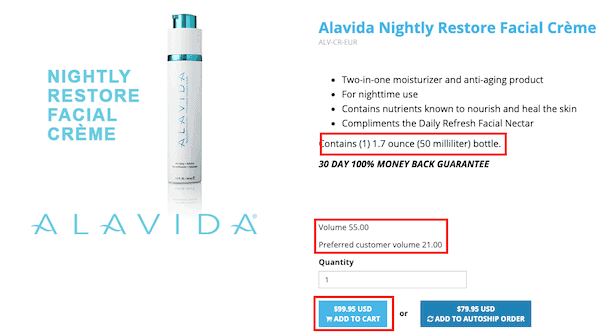 This is ALWAYS the biggest red flag for me when I research an MLM company.
Here's why:
Nobody in their right mind will pay 450% more for a very similar product.
So how does LifeWave get enough customers to make money?
Because the distributors have to hit a monthly "target" to stay active. They have to achieve 55PV every month (around $100 of products) to be eligible for their commission.
If they don't sell enough products, they set up an "auto-ship order" (see the above screenshot) which means they make sure they keep buying enough products themselves to stay active…
The distributors are the biggest customers of LifeWave and this is why they charge so much for average products!
Oops… the cat's out of the bag again!
#2 MLM'S success rate (1%)
---
The FTC released a study on over 350 MLM companies.
Their findings were pretty shocking…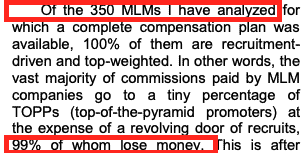 99% of distributors lose money from MLMs.
Read hidden truth #1 again and you'll be able to realise why!
#3 Not transparent
---
There's no income disclaimer for LifeWave!
It's not the law to provide one publicly but almost all MLM companies do this for transparency.
Either they have something to hide… or they probably have something to cover up… or maybe they're hiding something (take your pick).
#4 6-Figure LifeWave lawsuit
---
The Irish Times shows that the company had to contend with a 6-figure lawsuit for under-declaring their tax bill.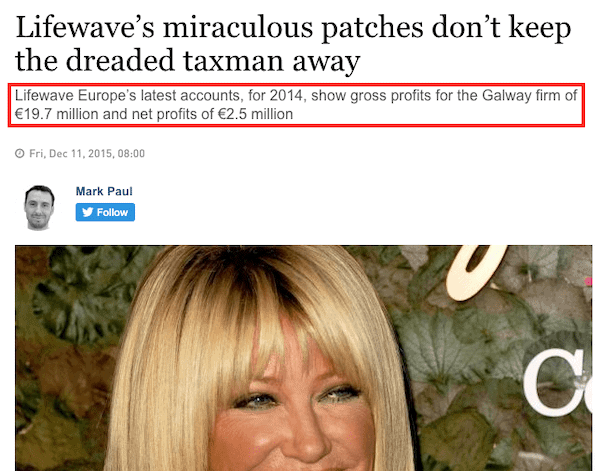 Not the best sign for any company that you're about to go into business with!
#5 Competitive industry
---
There are soooooo many health and wellness MLMs. Here are just a few of the ones I've personally reviewed: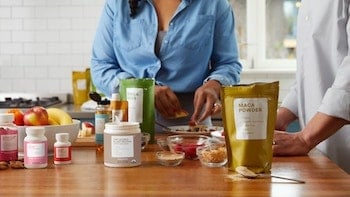 Yes, their special patches are different. But the health and wellness niches is a tough one to compete in.
So many people are offering the "new best products" from the shiny MLM program they've joined.
#6 Not growing
---
This is the biggest concern for me.
If the MLM company is not growing it means you are going to find it hard to get people interested in it.
The above chart is just how many people search for the keywords in Google over the last year.
When you compare it to other new "on the rise" MLM companies such as Farmasi, you can see how some MLM opportunities are better than others.
You can read more in my Farmasi review here if you'd like to see what an interested MLM opportunity looks like (no I'm not a distributor for them either!)
Related content:
My opinion – LifeWave
---
Is LifeWave a scam?
No.
But, do you want my honest opinion?
When you add up the cost to start (probably looking at over $500 if you want to take this seriously) and the monthly costs for your auto-ship payments (~$100 a month), you're going to have spent a small fortune before you make any commissions.
Then it will just be a case of chasing your tail to earn your money back.
On top of that… you won't really learn any skills that you'll be able to transfer into a future business or something that you actually own.
For that reason, I wouldn't recommend LifeWave to anyone.
Is there a better opportunity?
---
In 2018 I had no idea how these people make passive income online.
I was lucky enough to stumble onto a legit opportunity with a genuine community of people who tell you how it is.
The training will help you set up a website from scratch, to get free traffic to your website every month and how you can make money from that traffic.
It's pretty crazy how much I've learnt since joining Wealthy Affiliate. The best thing is:
You don't need to sell to your friends and family
You can work on the business in your spare time, rather than needing to quit your full-time job straight away
It's completely free to start so you can try it out without any risk
Once you try it for free, you will see why so many people recommend this program.
P.S. Since you're still here, I'm going to assume that you are interested in making money online to free up your time. So check out my review of my #1 recommended program and join the form below to learn exactly how I make money online…