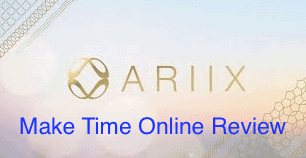 You've probably heard about this "great opportunity" but want to know… is ARIIX a scam?
Well, I'm not going to lead you on for ages to help you answer that question.
ARIIX is a completely legit Multi-Level-Marketing (MLM) company that sells legitimate products. But will it help you live life on your own terms and make serious money from home?
Now, that's a better question to ask.
This honest ARIIX review, with videos, will explain exactly what ARIIX is, how to earn money from it and the pros and cons of joining.
You can then make an informed decision if it's right for you or not.
ARIIX Review- The Overview and Rankings
---
Name: ARIIX
Founders: Mark Wilson, Deanna Latson, Dr Fred Cooper, Riley Timmer & Jeff Yates in 2011 (80 out of 100)
Website URL: ariix.com
Type: Health & Wellness MLM Company
Products (including price): 40 out of 100
Training: 65 out of 100
Success Rate: 10 out of 100
Price: $294.95- $2,098 + monthly auto-ship of 100PV = ~ $210/ month & $25 annual renewal fee (15 out of 100)
Maketimeonline.com Rating: 42 out of 100
What To Look For In An MLM:
Low start-up fee – ❌
High-quality products – ✅(but are very expensive)
You don't have to carry inventory – ✅
Generous compensation plan – ✅
An affiliate-like system – ✅
Company is in the early momentum phase – ✅
ARIIX Pros and Cons
---
Pros
Support and training offered by the company
Range of products to sell and promote
Multiple ways to earn money
FDA-approved products
There are positive reviews about the products
Cons
90% of recruits make less than $15k a year
You're encouraged to recruit more members to make money
Negative ARIIX reviews online
The health and wellness industry is very saturated
Expensive costs to join and stay active
What Is ARIIX?
---
Ariix was created in 2011 by six individuals with direct selling business expertise, primarily with Usana Health Sciences, another health and wellness MLM company.
Ariix is based in Bountiful, Utah, and has offices throughout the United States, Canada, Hong Kong, Japan, and South Korea, among others. Ariix sells its products through a membership-based network of independent distributors.
Ariix, according to the company, was founded to provide consumers with high-quality health and wellness products supported by research and comprised of the finest ingredients. Ariix also desired to provide individuals with the opportunity to operate their firms and serve as their own bosses.
The exact meaning of Ariix is The Right Business, The Right Opportunity, and the Right Timing.
ARIIX is an MLM company based in Utah offering health and wellness products.
It is different from other health and wellness MLM's due to the high number of products and range of brands it offers.
Most MLMs focus on selling their own products.
ARIIX carries a range of brands for recruiters to sell!
The below 3-minute video is one of ARIIX promotional videos that explains more about the MLM program…
If that's got you interested, it's time to dig in a bit more about the company…
Who Owns ARIIX?
---
ARIIX was founded in 2011 by a team of 9 people!
The CEO of ARIIX is Fred Cooper, and the President of the company is a Mr. Mark Wilson.
There are over 100 years worth of experience between these 9 people so it's safe to say the company has a wealth of knowledge in its field.
You can find out more about the executives here.
It's also important to know more about the…
ARIIX Products
---
Ariix sells a variety of health and wellness items categorized as follows:
Ariix sells a variety of supplements, including Immune Ariix, intended to strengthen the immune system, and Joint Ariix meant to promote joint health.
The skincare items in Ariix's collection include an anti-aging serum and a brightening cream, both aimed at improving the appearance of the skin.

The weight loss products offered by Ariix consist of a meal replacement smoothie and an appetite suppressor.

Personal Care- The personal care items offered by Ariix include toothpaste and deodorant.

Ariix sells a line of essential oils that can be used for various purposes, including stress reduction and relaxation.
Ariix also offers a variety of bundles that contain some or all of the products in the preceding categories. The Immune Ariix bundle has three supplements designed to promote immunity, whilst the Joint Ariix bundle contains three supplements designed to support joint health.
Ariix's products are manufactured in FDA- and GMP-compliant facilities. The United States, Canada, South Korea, Japan, and Hong Kong produce Ariix goods. Ariix further boasts that its goods contain only the finest ingredients worldwide.
Some of Ariix's products are available in brick-and-mortar stores, while others can only be purchased online or through one of the company's independent distributors.
ARIIX has a huge range of products.
In each product line ARIIX calls them a brand.
Here are the main 7 brands within ARIIX:
Nutrifii- Supplements for calcium therapy, energy at the cellular level, heart and brain support, detoxification, and antioxidant. The average cost of these supplements is $65.
Slenderiiz – Products for weight loss and keeping metabolic strength, metabolic support, proteins, beauty boost, and homoeopathic support for quick weight loss are included. The average price of each supplement in the program is about $50.
Jouvé– A skincare line including brightening cream, night cream, and tightening serum. The average price of these skincare products is $110. 
Priime– contains a variety of oils. They claim to be derived from all over the planet. $55 is the average price of the products.
Puritii– The air filtration system which removes an incredible 99.99% of particulates, hazardous gases, and microbes from your office and homes. This kit costs $2,464. 
Reviive– More personal care products including shampoo, conditioner and body wash. The average price of these products is $32.
Nucerity– The new skincare product line with an average price of $100.
But also take note that there are many other similar companies selling the same stuff, such as:
You can see more about one of the brands within ARIIX in the 5-minute video below…
So you're probably wondering…
How Does ARIIX Work?
---
So ARIIX clearly provides a huge range of products to its customers.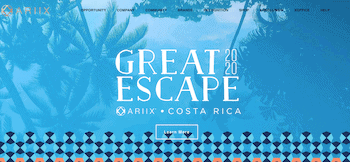 But how can you benefit from the company?
How To Make Money With ARIIX
---
Most MLM companies are very similar.
There are 2 main ways to earn money as a member of the MLM program:
Make a commission from selling their products
Recruit other people into the MLM business and get bonuses and commissions
First of all, let's work out…
How Much Does It Cost To Join ARIIX?
---
There are 9 packs you can buy to become an MLM representative or distributor:
Nutrifii Member Pack – $421.36 (discounted to $294.95) – includes 5 products
Slenderiiz Plus Member Pack – $428.50 (discounted to $299.95) – includes 5 products
Nutrifii Business Pack –  $749.95 – includes 15 products
Slenderiiz Business Pack –  $711.95 – includes 10 products
Jouvé Business Pack –  $749.95 – includes 25 products
Business Pack 500 –  $789.95 – includes 13 products 
Slenderiiz Elite Pack –  $1,388.95 – includes 21 products 
Elite Pack – $1,414.95 – includes 43 products 
Ultimate Pack –  $2,098.00 – includes 63 products
The price varies so much and it really varies what products you will get with each pack.
To be honest, when you are trying something out you should always go for the cheapest option to test the waters and see if it's "for you".
However, the representative trying to sell it to you will probably advise a much higher one "so that you get the best products and it will make it easier to sell something."
Translated that means "they get more commission the more you spend".
But it doesn't end there!…
To stay eligible for commissions, you have to accumulate a sales volume of 100PV per month.
In real money terms that is $148 every month. If you don't sell that… you need to buy it!
Oh and there's also a $25 annual renewal fee.
1st year at ARIIX = $294.95 + $1,776 + 25 = $2,095.95
If you sell products you won't need to pay the whole $1,776, but you will likely be asked to set up an auto-renewal for this amount every month, so you stay "active".
ARIIX Compensation Plan
---
Ahhhhh!! MLM Compensation plans… why do they have to be confusing?!
Oh yeah… because if it's confusing, you don't really know what it all means so you willingly join into a company even though they only pay you good money if you recruit other people (aka pyramid scheme).
Oops… did I just say that?
ARIIX's compensation plan does you no favours in trying to get your head around it.
So I'll do my best to explain it in plain English by ignoring the complicated terminology such as PV's, Unilevel, Binary and Matrix…
It's also known as "Activ8" and you get paid in 4 ways:
Retail commissions – You buy products at wholesale price. Sell it at a higher price (retail price). Your profit here is the retail commission.
Commissions for signing people up – Get commission for getting other people to join AND buy something! You don't get a commission for someone joining the company… only on the stuff they buy and manage to sell (that's the whole PV thing).
Team lead bonus – A special kind of bonus which you'll get from customer and member sales in their first month. The higher your rank (or their enrollment package), the higher your team lead bonus is. Hence, why recruiters encourage you to buy a more expensive pack!
More bonuses – The Activ8 compensation plan offers a whole list of bonuses that you can claim by meeting certain conditions.
You can find a quick overview in this 3-minute video…
If you want the nitty-gritty and up to date compensation pack to understand it more then check out this 15-minute video…
Or just check out their compensation plan right here.
Is ARIIX a Scam?
---
Technically no…
There are two main ways an online course can be a scam:
Take your money and run off into the sunset, never to be heard from again
Provide some information but it doesn't live up to their promises
They certainly do provide legit products.
And you certainly can make money from the MLM program.
Will you be able to quit your job and earn $10,000 in month 3? Very debatable.
The rest of this ARIIX review will show you the pros and cons to fully answer "is ARIIX a scam?"
Just to be fully transparent with you, I have not purchased this program myself and I do not endorse it in any way.
I have researched the website, testimonials and information on the Internet to get to the bottom of what this program genuinely does. This is because I have been burnt from programs just like this in the past and I want to prevent others from making the same mistakes. If you'd like to learn more "Ways to Spot an Online Marketing Scam" then click the highlighted text.
Related content:
Is ARIIX A Pyramid Scheme?
---
Again technically no.
You only get a commission when someone joins AND buys something (which they have to do to join the company!)
You can also make money by purely selling the products.
However, will it be much money?
Absolutely not.
Maybe enough to cover the insane $148/ month fee… if you're lucky.
Here's some more clever marketing by ARIIX explaining how to join a company…
Hold up…
What Is A Pyramid Scheme?
---
A pyramid scheme is when a company recruits members by promising them payment for recruiting more members.
Technically there are no products sold or any other ways for recruits to make money other than recruiting more people to join the company.
The issue with this is… eventually the world will run out of people that can join!
It's actually surprisingly sooner than you may think too!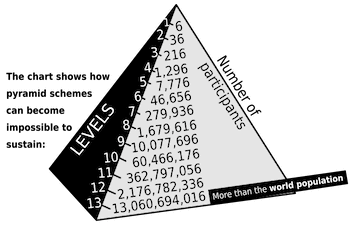 As you can see just by recruiting 6 members each the world's population is not enough to cope with a 13-level company!
…and most pyramid schemes require you to recruit more than 6 people each to make any decent money!
Check out the 5-minute video below to learn how to spot and avoid a pyramid scheme…
---
Common positive reviews
Here are some of the positive reviews we had from Indeed about the job opportunity…
"Work is always flexible as it's your own business centre. I've learnt a lot about customer service, organisation skills, honest marketing, etc. The most enjoyable part of the job is getting to see people's genuine life changing results from using the products; whether it be serious skin or health concerns. The community surrounding the work is incredible."
Common negative reviews
And here are the common negative reviews…
"Unfortunately the atmosphere is tense, management concerns, employees are delivered to themselves due to the absence of team leader because they are overbooked. Big concern from the logistics, lack of staff and profesionalism, which generates deliquates situations. You can not provide an optimal service to the representatives and customers."
---
ARIIX: The Good
---
Here are some of the things I like about ARIIX
Key Terms:
Black Hat Methods – Using lies and unethical methods to make someone buy something
White Hat Methods – Being honest and genuine to help people make informed decisions about purchases
Pyramid Scheme – recruits members via a promise for payment from referring others to the service rather than providing a product
Affiliate Marketing- Connecting a customer to a product they are looking for and receiving a commission for doing so
Red Flag – A warning sign
#1 Good Support & Training- Business Orientation System (B.O.S.)
---
One thing that MLMs don't often provide is the training required to get started.
It's often left down to the person you join with to help you out and that varies… a lot!
ARIIX uses BOS to make sure you start on the right foot.
Check out the first 3 minutes of the video below to see what's included…
There are 9 online modules to help you get your business up and running:
To Connect to Company module- learn administrative tasks such as how to manage your backstage website & who to contact
Know your company module– meet the leaders
Know your products– as above section
The module on knowing your vision– set your goals
Know your industry module– learn about the health industry
Know how to invite– learn how to ask people if they are interested in joining
10 Communication skills module– how to communicate with customers and potential leads
Generate leads- how to find people interested in joining
Campaign module – Select videos/ presentations to send our prospects
Not bad at all for an MLM!…
#2 Diverse Line of Products
---
The huge range of products means you are not stuck only on one set of people.
For example, some MLM companies only offer skin care.
Some only offer nutrition stuff… some only offer water filtration services.
ARIIX offers so many different types of health products that you can probably find something that everyone uses.
Therefore, everyone in the world has become a potential customer!
That's not always a good thing though as you will find out later in this ARIIX review…
#3 Multiple Ways to Earn- Compensation Plan
---
The compensation plan is more confusing than trying to do you 13 times tables whilst doing a handstand with your feet stuck to the floor.
However, there are so many different ways to get bonuses.
The majority do involve recruiting people initially.
But if you can recruit a good little team you may find bonuses popping up every month, without even expecting them!

Will you have complete control?
Is that a good thing?
Only you can decide…
#4 FDA-Approved Products
---
The products are regulated and have plenty of certifications.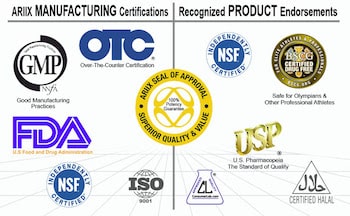 You can be sure the products are safe to be selling to the masses!
#5 Positive Ariix Reviews About Products
---
You can even find some amazing reviews about ARIIX products.
Some people even saying…

You can tell the products are legit when you find real people leaving reviews like this.
Ariix: The Not So Good
---
Here are some of the things I don't like about Ariix that you should be aware of…
#1 90% Make Under $15k a Year
---
 Check out ARIIX's income disclosure statement.
As you can see from the table below over 50% of ACTIVE representatives make a weekly average of $70.
If you look at the statement it shows the average yearly earnings was $2,025.62 for ALL representatives.
Do you remember reading earlier it will cost you $2,095.95 for your first year?
Translated, that means the average recruiter is about $70 out of pocket every year.
Note some of these would only be active for one month or a day, but it really paints to picture.
Especially when you consider some people are earning over $1 million a year!
That really means the vast majority of consultants would be losing money!
#2 MLM's Are Encouraged To Recruit To Make Good Money
---
This is just a given for MLM programs.
If you don't like selling things that you aren't sure works or not, then this gig isn't for you.
To make a full-time income from this you will HAVE to recruit people.
The thing is you'll need to recruit people before you have any proof the MLM program is any good or works for yourself.
#3 Negative Ariix Reviews
---
There are a lot of negative reviews for ARIIX online.
Here are some of the common themes people complain about…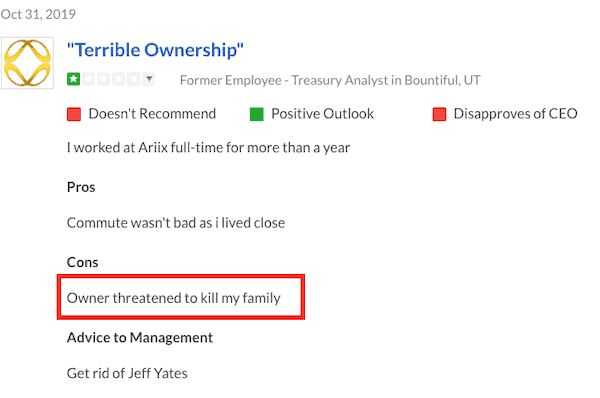 It doesn't leave a good representation of a company when you see numerous reviews with "terrible owners" or "ARIIX is a pyramid scheme" and the likes.
#4 Saturated Market
---
Here are a few other health and wellness MLM programs I have reviewed before: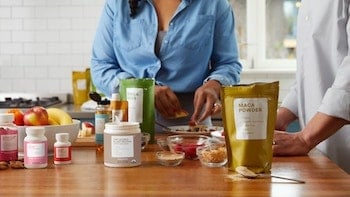 These are by no means the only health and wellness companies either.
There is a lot of competition in people trying to sell similar products.
Without some unique selling point or a better price, there is really no way to stand out in this crowded market.
#5 Expensive Cost To Stay Active
---
This is probably the biggest concern for me.
There's no way you should have to fork out $148 a month to stay active in ANY company.
I trawled their website for products and the cheapest 100PV I could find cost $154.
I'm sure there's something you can buy for $148 as explained in the compensation plan (remember they do have a lot of products).
Related content:
My Opinion – ARIIX
---
It doesn't stand out compared to other health and wellness products and it costs too much to join and stay active.
Yeah sure, you could probably sell a couple of shampoos to your Mom and your best mate.
But if you really want to make serious money from the company you are going to have to try and recruit them.
Chances are, they will resent you for it.
If you want to make any MLM work, then realistically you need to learn how to market online.
That way the magic internet can sell for you 24/7/365.
Is There An Alternative?
---
It wasn't that long ago that I was still trying to figure out how it's possible for people to make money online.
I wanted to find a passive income system that ticked a few boxes:
I could work on part-time when I wanted (I was still in a full-time job)
Therefore I needed it to not cost a fortune to start and maintain
Didn't need me to sell stuff to my friends and family
It was in September 2018 that I found Wealthy Affiliate.
In September 2019 I quit my full-time job.
The best thing about it is:
It's free to start (no credit card details are required)
You are taught how to get qualified traffic brought to you for free (just think about how you found this review… there was no money or time spent from me promoting this!)
There's support from hundreds of thousands of other online marketers
You don't need ANY technical skills to start
If you really wanted to be an ARIIX recruiter, the training you learn here would actually help you… massively… and that's how you get to be in the 1% of MLM recruits who actually do make serious money!
When you try out this program you will see why so many people recommend it.
ARIIX Review: The "MakeTimeOnline" Final Word
---
So is ARIIX a scam?
Absolutely not.
Is it an easy way to quit your job and work from home?
No.
To be successful with an MLM program you are going to need to learn how to use online marketing to help you.
Keep changing for the better,
Mike
P.S. Since you're still here, I'm going to assume that you are interested in making money online to free up your time. So check out my review of my #1 recommended program and join the form below to get $950 worth of marketing freebies…