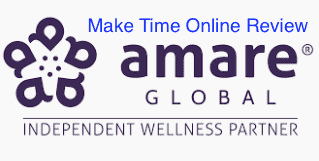 You are probably looking to find out more about the Amare Global MLM opportunity.
Maybe you've seen the business opportunity advertised online, or maybe someone has approached you to suggest you may be "a good fit" for Amare Global.
But chances are you're intrigued to learn what the MLM opportunity really is and find out whether it's a pyramid scheme scam or legit.
This honest Amare Global MLM review, with videos, will show you exactly what to expect from the program and lay out the pros and cons.
You can then make an informed decision about whether it is right for you or not.
Amare Global Review- The Overview and Rankings
---
Name: Amare Global
Owners: Hiep Tran & Shawn Talbott (80 out of 100)
Website URL: www.amare.com
Type: Health & Mental Wellness MLM
Products (Including Pricing): 50 out of 100
Success Stories: 15 out of 100
Price To Join MLM: $24.95 to $69.95 (annual) or $845.95 one-time fee + 100PV sales each month (30 out of 100)
Maketimeonline.com Rating: 44 out of 100
What To Look For In An MLM:
Low start-up fee – ❌
High-quality products – ✅(but a very high price)
You don't have to carry inventory – ✅
Generous compensation plan – ✅
An affiliate-like system – ✅
Company is in the early momentum phase – ✅
Amare Global MLM Pros and Cons
---
Pros
It's still pretty new and in the "momentum phase"
25% commissions are quite good for MLM companies
Good quality products being sold
Cons
Expensive products that will be hard to sell
There's an emphasis on recruiting to make money
The founder has a shady history
Only 1% of recruiters make money from MLM's
The health industry is a very crowded market
What Is Amare Global?
---
Amare is a business that uses multi-level marketing to offer health items (MLM). If you haven't already, you should read my other nutrition MLM evaluations.
I offer you the inside scoop on these types of businesses and their goods, putting the claims up against the science—or lack thereof—and giving you the real deal on all things dietary.
Amare bills itself as "The Mental Wellness Company," and according to its guiding principles, "mental wellness is everything: mental fitness, confidence, physical performance, stress resilience, and financial wellness." However, I suspect that the "financial wellness" part was added to help with salesperson recruitment, a common MLM strategy.
Amare frequently refers to the gut-brain axis, which is unquestionably real.
What isn't known, at least not yet, is how to optimize the gut for mood or weight reduction precisely, or, as the firm likes to say, "optimizing" the function of the gut-brain axis.
The 11-minute video below provides an overview of what the company is about.
The companies products are supposedly completely backed by science.
Before we dig into that let's learn a bit more about the management of the company. This is where you can tell a lot about a company as it offers the transparency required to trust an MLM business model…
Who is Amare Global's CEO?
---
Hiep Tran is Amare Global's CEO.
I couldn't find any information on Hiep in having any MLM experience, but he was the co-founder of a company in 2008 called Meritus.
It was quite a big card payment business that got acquired by Optimal payments in 2014.
Tran worked very long hours and managed to help build the business, but it took a toll on his health, and subsequently he resigned in 2016.
It's a big reason why his focus is now on Amare Global, which helps with mental wellness.
But he is not the only one running the show…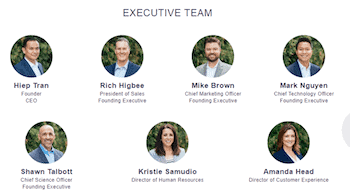 There is a whole team of "executives" at the company. One person that features a lot in the promotional videos and the research of the products is Shawn Talbott.
You can find out more about Shawn later on in this Amare Global MLM review.
For now, let's find out…
How Does Amare Global MLM Work?
---
So you already know that the Amare Global MLM company sells and promotes a range of health and wellness products.
But how can you benefit by joining the program?
Similarly to most MLM companies, there are 2 main ways you can make money:
Sell their products and earn a commission
Recruit more people to join the MLM program
So let's dig into their products a bit more…
Amare Global Probiotics & Products
---
Amare Global distributes a variety of nutrition, health, and mental awareness-related items. Amare's flagship product is Amare Mental Focus, which consists of a daily supplement, a chewable tablet, and a liquid injection. The purpose of Amare Mental Focus is to enhance cognitive function and memory.
Amare also sells the Amare Sleep supplement line, which consists of a daily supplement and a liquid shot. Amare Sleep is developed to improve sleep quality and reduce stress.
In addition to selling supplements, Amare Global offers skincare goods, essential oils, and a coffee mug that changes color when exposed to hot liquid.
Amare's wares:
The Amare Essential Oils are a collection of essential oils that enhance mood and encourage relaxation.

The Amare Weight Loss System comprises meal comprisest shakes, vitamins, and an application.

An assortment of protein powders and training supplements.

Amare Mental Clarity is a dietary supplement to enhance concentration and mental clarity.

Amare Beauty: A brand of cosmetics and skincare items.

Amare Sleep is a range of supposed sleep-improving supplements.

Amare Global sells all of its products through a network of independent distributors, also Amare Global clients. Amare Global's products are not sold in retail outlets.

The items of Amare Global are on the pricier side. A bottle of Amare Essential Oils, for instance, costs $39.95, while a month's supply of the Amare Weight Loss System costs $229.95.
There are many products on sale but one of the most popular items is the Amare Global Probiotics.
Here's Shawn Talbott to explain the science behind the products…
As you can see their key selling point is that Amare targets the gut, the brain and the connection between the two (the axis).
Every product at Amare is designed to improve mental wellness and our bodies physical energy by providing essential nutrients and include:
Probiotics
Sleep tablets
Energy drinks
Tablets for focus
Digestion tablets
Protein powder
Vitamins for fiber, omega and superfoods
The individual products range in price from $22-$70.
You can buy any product individually but it works out cheaper to buy a pack (if you are looking to get more than one product).
Here are some of the most popular packs that are on sale at Amare:
FundaMental Pack ($134.95)
Launch Pack ($849.95)
Family Wellness Pack ($459.95)
Core Wellness Pack ($188.95)
Kids FundaMental Pack ($119.90)
Project B3 Pack ($274.95)
You can find the full list of Amare products here.
Also note that there are many other companies out there that are selling very similar offerings from Nikken…
How To Make Money With Amare Global MLM
---
This is the part that you are probably most interested in.
As already mentioned you can make money in 2 main ways:
Commission from selling the products
Commission from recruiting more people into the MLM program
So let's find out exactly…
How Much Does It Cost To Join The Amare Global MLM Program?
---
There are 2 types of membership to join Amare.
1. Amare Global Preferred Customer- $24.95/ Year
25% Off on retail product prices
Get free products when you refer other people as customers.
2. Amare Global Wellness Partner– $69.95/ Year (or $849.95 for the launch pack)
25% Off on retail product prices
The chance to earn more commissions with the company's Compensation Plan.
Business starter kit, systems, and tools (includes website, app and back-office).
Need to sell 100 PV (personal volume) every month to stay active
There is also the launch pack for $849.95, which has over $1,600 worth of products including samples, brochures and products.
If you choose this option the $69.95 joining fee is waived.
Amare Global MLM Compensation Plan
---
Here's an interesting fact about MLM companies:
They "obfuscate" (make something deliberately more difficult to understand) their compensation plans to make them seem really complicated.
It's hard to say exactly why they do this but some people argue it's to hide the fact that you make most of your money by recruiting people into the company.
All you need to know about Amare Global's compensation plan is:
The 25% commission comes from the 25% discounted price you get from their products. E.g. you get $25 commission from selling a $100 product.
You get bonuses and commission from your "downlines" making sales.
Here's an example of the "me and 3" bonus commission: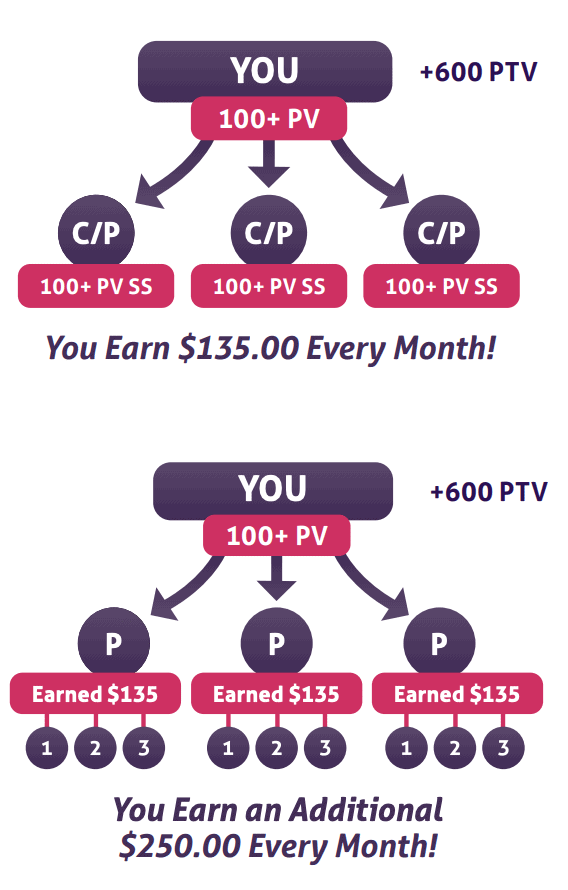 If you have recruited 3 people and they continue to make their 100 PV sales each month you get a bonus.
If they sell additional products each you can get a larger bonus.
6 Additional Ways To Make Money With Amare Global
Here are the 6 additional ways you can earn money from the Amare Global MLM program:
Personal customer volume bonus (5-15% bonus commission when you sell more than 500 PV in a month)
Heart start bonus commission (bonus on products sold in your first 60 days as a "Wellness partner")
Me and 3 Bonus (as above)
Unilevel residual commission (bonuses from your downline… see screenshot below)
Revenue bonus pool commission (extra commission when you "move up the ranks" in the business)
Go forward infinity bonus commissions (if you reach the top 3 ranks in the company you get more commission!)
The important aspect to consider here is that you can get paid "7-levels deep" form your downline. This is what often attracts people to MLM businesses as this is how the "passive income" is generated if you can build a strong team around you.

You can access the 20-page Amare Global's compensation plan here. Or you can watch this (pretty long) video which explains it in more detail…
Now, I can almost hear your mind thinking…
Is Amare Global a Scam?
---
No. Amare Global is not a scam.
There are two main ways an online course can be a scam:
Take your money and run off into the sunset, never to be heard from again
Provide some information but it doesn't live up to their promises
Amare Global clearly offers legit products and it also provides a business opportunity for people to make money from home.
Is this the right opportunity for you?
The rest of this Amare Global MLM review will help to answer that question.
Just to be fully transparent with you, I have not purchased this program myself and I do not endorse it in any way.
I have researched the website, testimonials and information on the Internet to get to the bottom of what this program genuinely does. This is because I have been burnt from programs just like this in the past and I want to prevent others from making the same mistakes. If you'd like to learn more "Ways to Spot an Online Marketing Scam" then click the highlighted text.
Related content:
Is The Amare Global MLM A Pyramid Scheme?
---
Technically no.
Amare Global is not a pyramid scheme because it's possible for the wellness partners to make money from selling the products.
They can make money from recruiting people to the MLM program but it's not the only way to make money.
What Is A Pyramid Scheme?
---
A pyramid scheme is when a company recruits members by promising them payment for recruiting more members.
Technically there are no products sold or any other ways for recruits to make money other than recruiting more people to join the company.
The issue with this is… eventually the world will run out of people that can join!
It's actually surprisingly sooner than you may think too!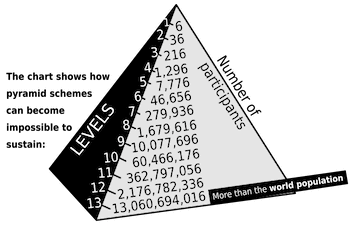 As you can see just by recruiting 6 members each the world's population is not enough to cope with a 13-level company!
…and most pyramid schemes require you to recruit more than 6 people each to make any decent money!
Check out the 5-minute video below to learn how to spot and avoid a pyramid scheme…
---
Common positive reviews
Here are some of the positive reviews we had from Indeed about the job opportunity…
"Worked at Amare for more than a year, received superior training, support and tools needed to be successful in my role. Outstanding leadership who listened, encouraged, and provided a forum for success."
Common negative reviews
And here are the common negative reviews…
"Virtual environment makes camaraderie and work relationships challenging."
---
Amare Global MLM: The Good
---
Here are some of the things I like about Amare Global.
Key Terms:
Black Hat Methods – Using lies and unethical methods to make someone buy something
White Hat Methods – Being honest and genuine to help people make informed decisions about purchases
Pyramid Scheme – recruits members via a promise for payment from referring others to the service rather than providing a product
Affiliate Marketing- Connecting a customer to a product they are looking for and receiving a commission for doing so
Red Flag – A warning sign
#1 Still Relatively New and In The Momentum Phase
---
This is the biggest reason that Amare Global is potentially an interesting opportunity right now.
The company started in 2016 and as you can see in the chart below, the trend is still rising for the number of people searching for Amare Global on Google.
It has stopped rising so steeply but it is possible to get into the company during the momentum phase when people are still interested in it.
#2 Commissions Of 25% Isn't Bad For MLM's
---
You receive a 25% commission from your sales of the products as this is the discount you receive from the company as a Wellness partner.

As you can see above, it is possible to charge your own price as long as the price is above the wholesale price (the price you would pay for the products).
#3 Good Reviews Of Amare Global's Products
---
It's clear that some people really like the products.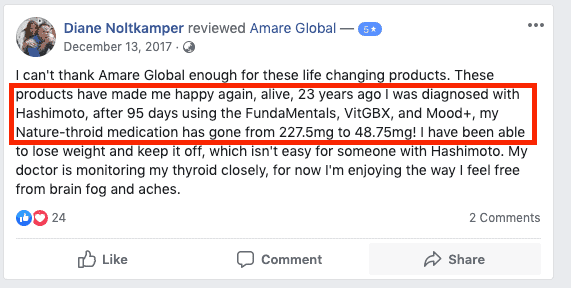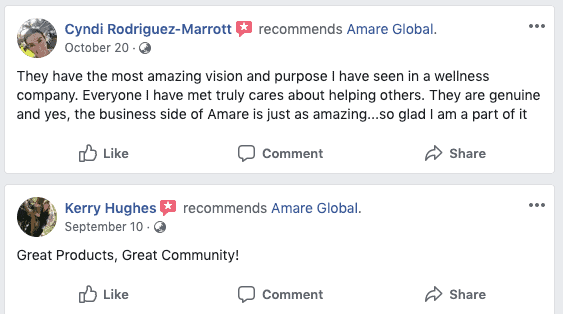 Obviously you have to take all Facebook reviews with a pinch of salt but there are a number of different sources that suggest they like the products.
Amare Global MLM: The Not So Good
---
Here are some of the bad parts of Amare Global that you should be aware of before jumping into the business opportunity…
#1 Expensive Products That Are Hard To Sell
---
This is the number one reason you should be wary of the company.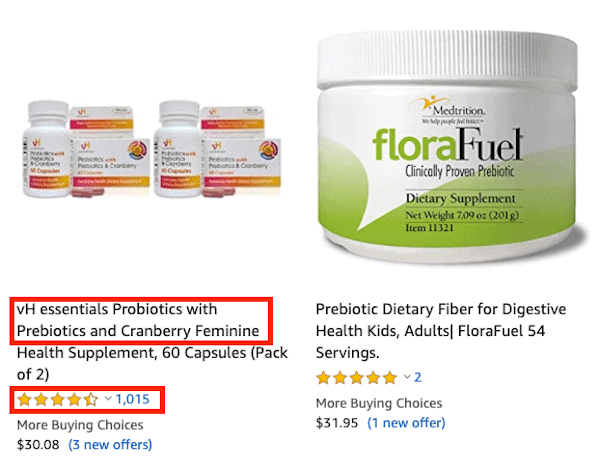 It's possible to find very similar products for a fraction of the cost.
Yes, Talbott makes the Brain-Gut-Axis "science" sound like they have a unique selling point. But in reality, people want to receive these types of products at the most affordable price.
#2 MLM's Have An Emphasis On Recruitment
---
The elephant in the room!
To make good money from this MLM opportunity you will HAVE to recruit more people into the company.
There are different ways to do this, but when you start out you won't have any proof the business model works.
Yet, you'll still need to convince people it's the best opportunity since sliced bread if you want to make serious money.
Some people are great at selling and love this side of it.
However, many people that become a partner are not aware how much of this they will need to do to make good money.
#3 Shawn Talbott's Shady History & Lawsuit
---
The FTC shows that Shawn was caught up in a $4.5 million lawsuit for a previous MLM company (Cortislim).
Shawn and two other guys were alleged to have made some exaggerated claims about their products to try and sell more in "infomercials".
With this information, re-watch the video of Shawn at the top of this page and see if this could be a repeating pattern.
It doesn't have an impact on Amare Global, but it is something to be aware of.
After all, do leopards ever change their spots?
#4 The Truth About MLM's: Only 1% Make Money
---
Another report from the FTC shows quite a shocking stat.
99% of MLM recruits lose money!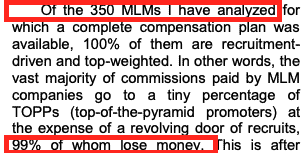 As mentioned earlier there are some people that are just great at selling.
They could probably sell anything even if they don't have experience or proof. However, without the right training or understanding selling, the majority of people hate doing it. And are typically pretty bad at it!
This is the reason why a tiny per cent of MLM recruits make jaw-dropping money. And the rest end up losing money.
#5 Crowded Market
---
Amare Global is not the only health and wellness MLM company. Here are a few others I have reviewed to give you an example:
Optavia, MONAT, Farmasi and Ariix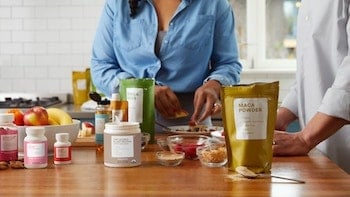 Many of them sell similar products and you can see that some of them are much more affordable (check out Farmasi if you're interested in these).
#6 Ongoing Costs (100 PV)
---
Yes, the $69.95 annual price tag makes it seem like Amare Global is pretty low cost to get involved with.
You may even be thinking… it may be worth a punt for that money.

However, it's not the total cost you will need to keep in mind.
You need to sell 100 PV every month to stay active with the company.
I have honestly tried to find out how much that translates to in real terms. But the compensation plan, products sales page and most other reviews seem to hide (or just make it unclear) how much PV you get from selling each product.
Judging by other MLM companies you will need to sell around $100-$150 of products every month just to stay active.
So unless you make these sales guess who needs to pay for them to stay active?
Yep… you will!
So particularly at the start, you are likely going to need an extra $100+ every month (but don't worry they set up a direct debit for you so you never forget!)
Related content:
My Opinion – Amare Global MLM
---
It's a legit company and the products seem pretty good.
However, with the monthly costs to stay active and the fact that you can find very similar products for a fraction of the cost, I don't think this is an opportunity worth starting.
If you had a bunch of friends that were looking for an opportunity like this and love their "vitamins and nutrition" then you could quickly get a team set up around you.
However, if you're like me, you probably don't want to abuse your relationships and to sell to your friends and family about some "great opportunity".
Therefore, I only see this as a good opportunity for people that know a lot about nutrition and are good salespeople.
Is There An Alternative?
---
It wasn't that long ago that I was still trying to figure out how it's possible for people to make money online.
I wanted to find a passive income system that ticked a few boxes:
I could work on part-time when I wanted (I was still in a full-time job)
Therefore I needed it to not cost a fortune to start and maintain
Didn't need me to sell stuff to my friends and family
It was in September 2018 that I found Wealthy Affiliate.
In September 2019 I quit my full-time job.
The best thing about it is:
It's free to start (no credit card details are required)
You are taught how to get qualified traffic brought to you for free (just think about how you found this review… there was no money or time spent from me promoting this!)
Get support from hundreds of thousands of other online marketers
You don't need ANY technical skills to start (I certainly didn't… I was a PE teacher!)
When you try out this program you will see why so many people recommend it.
Amare Global MLM Review: The "MakeTimeOnline" Final Word
---
So there you have everything you need to know about the Amare Global MLM opportunity.
It's completely legit and they clearly have some products that people like.
However, is it the right opportunity for you?
Keep changing for the better,
Mike
P.S. Since you're still here, I'm going to assume that you are interested in making money online to free up your time. So check out my review of my #1 recommended program and join the form below to get $950 worth of marketing freebies…