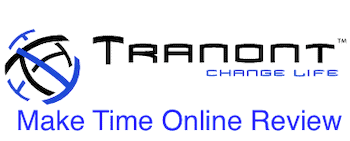 You've probably been asking yourself "is Tranont a pyramid scheme?"
Chances are someone has reached out to you to show you what a great opportunity the company could be for you to work from home.
But you may have your doubts about the company.
I'm not going to drag this out… Tranont is a legit company.
But is the opportunity right for you?
This Tranont review, with videos, will show you the pros and cons of joining the MLM program so you can make an informed decision.
Tranont Review- The Overview and Rankings
---
Name: Tranont
Founder: Lorne Berry in 2014 (50 out of 100)
Website URL: tranont.com
Type: Health, Wellness & Wealth MLM Company
Products (Including Pricing): 10 out of 100
Success Stories: 10 out of 100
Price To Join MLM: $99 start-up fee + product packs of $150+/ month (5 out of 100)
Maketimeonline.com Rating: 18 out of 100
What To Look For In An MLM:
Low start-up fee – ❌
Affordable High-quality products – ❌
You don't have to carry inventory – ❌
Generous compensation plan – ✅
An affiliate-like system – ❌
Company is in the early momentum phase – ❌
Tranont Pros and Cons
---
Pros
Offers a variety of products
Multiple ways to potentially earn an income
Cons
Negative product reviews
Expensive ongoing costs to join
Shady history of the founder
Expensive products
99% of MLM recruits lose money
What Is Tranont?
---
Tranont is a Multi-Level-Marketing health, wellness and wealth company.
In 2014, Lorne Berry started Tranont, a Utah-based MLM (Multi-level Marketing) company.
Tranont is unique among the MLMs I've evaluated in that it sells products that are unrelated to one another.
The first division of this business sells nutritional and enzyme supplements. The company's second division sells wealth products, including credit services, tax solutions, and many others.
You can earn money by selling Tranont items and recruiting others to do the same through a home-based Tranont opportunity in addition to their brick-and-mortar business.
Nevertheless, before we discuss the work-from-home possibilities, let's look at some Tranont items and their prices.
The business focuses on a variety of products:
Medicinal products

Enzyme supplements

Nutritional supplements

Wealth creation

Credit services

Taxed goods

Estate planning, etc.
Distributors that join Tranont have a great deal of freedom and flexibility in determining how to make money and launch their businesses.
It is important to note that the company has been involved in problems in the past – a common problem with MLMs. In 2017, a civil action case was filed against Tranont. It was accused of numerous practice violations, including defamation, wiretapping, and fraudulent business practices.
The unique selling point for the company is that it combines health and wealth features into one company. There are many similar MLM companies that provide either health or wealth products or services but rarely both.
Here is a 3-minute promotional video to explain a bit more about the company…
So it seems like an interesting opportunity for some people.
So let's dig into the companies background and who actually runs the show…
Who Owns Tranont?
---
Lorne Berry was Tranonts founder in 2014.
He has 10 years experience of working in a large real estate subdivision in Utah before this.
He is pretty well rounded with business as he also partnered in restaurants and spent many years working in international business helping organisations expand into Asian markets.
However, he doesn't have any previous experience with MLM companies.
You'll also find out a bit later in this Tranont review about how he accumulated almost one million dollars of personal debt and filed for bankruptcy.
First of all, let's find out…
How Does Tranont Work?
---
Tranont has 2 types of products and services:
Finance services
Health products
So let's see what that actually means…
Tranont Services
There is a range of services provided at Tranont, but the most popular one is improving credit scores.
Here's the full list of services on offer:
Legal services
Access to TaxBot and
Credit services & education
Tax services
Id theft protection
Healthcare savings
The company was built with the average middle-income family in mind so it will connect with a wide range of people.
Tranont Products
---
Whilst there are many financial services provided, tranont also offers a range of health and wellness products.
Find out a bit more about one of the brands (plant-based "Life") in the 3-minute video below…
Here are the other Tranont products:
Icaria Glow – Super antioxidant drink (Retails at $89 for a bottle)
Life – A food capsule supplement in the video above (Retails at $45 for a bottle of 90 capsules)
Balance – Antioxidants and patented amino acid chelated minerals (retails at $50 for a bottle of 90 capsules and also available in bundle packs that costs $140)
Vibe – Vitamin B supplement (Retails at $45 for a bottle of 90 capsules and $140 for a bundle pack)
Restore – Helps digestion, and enhance immune (Retails at $50 for a bottle of 90 capsules)
You can see the full range of products and packs available at Tranont here.
Also note that there are loads of other companies selling very similar stuff as Tranont, such as:
How To Make Money With Tranont
---
There are 3 main ways to get paid from Tranont:
Get commission from selling products to customers
Build a team of Tranont MLM recruits
Get bonuses from becoming a certified licensed agent
Requirements for receiving compensation
Before earning as an affiliate, you must first be a member in good standing. This is known as "current Yearly Renewal and Subscription Costs."
Each associate with 100 OV within 30 days and paid the $49 annual fee is considered an affiliate.
In addition, affiliates must get a subscription plan. This plan costs $125 and provides an additional 100 PV.
Retail commissions
If they offer Wealth Core products and services, any member of the organization can earn commissions ranging from 10% to 35%. The 30% commission you earn is then split between the business and your superiors.
The tariff depends on the number of members who utilize these services and the monthly amount they spend on Tranont. Tranont indeed pays its most productive members, but it is important to remember that you are operating in an MLM environment. You will need to work harder, as MLM products and services are typically pricey, and selling will be a much more difficult endeavor.
The 3-minute promotional video below gives you an overview of how Tranont MLM agents can make money…
How Much Does It Cost To Join Tranont?
---
There are a couple of things you need to do to become active (and stay active) as a Tranont representative:
Pay a one time $99 activation fee
Earn 100 PV (personal volume) every month i.e. at least $150/ month
Now, let's work out how the compensation plan works…
Tranont Compensation Plan
---
The compensation plan of any MLM company looks super confusing at first glance.
When you peel back the layers there are really 6 ways to earn money as a Tranont MLM representative:
Commission on sales (10-35%)
Monthly team bonus (gaining PV & GV to move up the "ranks")
Car bonus ($1,500 PV & 3 customers with that volume or $1,500 GV & sponsor 3 recruiters with that volume)
Bonus pools (Become Emerald rank or above)
TranontLife Commissions
Promotional trips and incentives
Most parts of the commission structure above probably make sense.
The main table you need to be aware of at the start is the monthly team bonus, as this is what you will be working towards: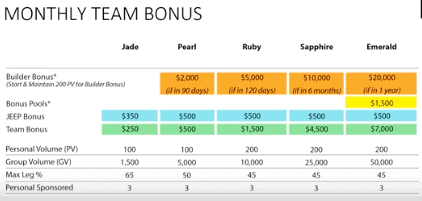 There are some VERY lengthy compensation plan videos on YouTube.
But the one below shows a representative's personal experience with the company and explains it a bit better (take all the talk of "how easy" it is with a pinch of salt though)…
You can also find the full compensation plan here.
Tranont Jeep Bonus
---
Everyone seems to be harping on about this "Tranont Jeep Bonus"!
The person who introduced the opportunity to you probably told you about how amazing this part is.
First of all, let's explain the truth:
You have to purchase the Jeep yourself!
It needs to be under 3 years old, have massive Tranont stickers on it and only then will they "supplement" you with $350-$500 per month.
To become eligible for the jeep bonus you need to do one of two things:
Earn $1,500 PV a month & have 3 customers with that volume
Earn $1,500 GV (group volume) & sponsor 3 MLM recruiters with that volume
Basically… it's not easy!
You either need to buy a lot of Tranont stuff yourself and encourage more people to do it.
Or more realistically… you need to recruit a lot of people (3 NEW recruits will not make you $1,500 GV any time soon!)
Now, I can almost hear your mind asking…
Is Tranont a Scam?
---
No, Tranont is not a scam.
There are two main ways an MLM can be a scam:
Take your money and run off into the sunset, never to be heard from again
Provide some information but it doesn't live up to their promises
Tranont clearly has legit products.
But is it an opportunity that is right for you?
Keep reading this Tranont review to make your mind up…
Just to be fully transparent with you, I have not purchased this program myself and I do not endorse it in any way.
I have researched the website, testimonials and information on the Internet to get to the bottom of what this program genuinely does. This is because I have been burnt from programs just like this in the past and I want to prevent others from making the same mistakes. If you'd like to learn more "Ways to Spot an Online Marketing Scam" then click the highlighted text.
Related content:
Is Tranont A Pyramid Scheme?
---
Technically, Tranont is not a pyramid scheme because you can make money from selling their products.
However, it does have some signs of being a pyramid scheme.
Simply put… you can only make big money if you recruit a lot of people.
What Is A Pyramid Scheme?
---
A pyramid scheme is when a company recruits members by promising them payment for recruiting more members.
Technically there are no products sold or any other ways for recruits to make money other than recruiting more people to join the company.
The issue with this is… eventually the world will run out of people that can join!
It's actually surprisingly sooner than you may think too!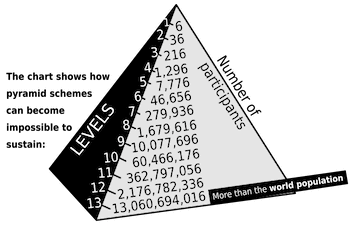 As you can see just by recruiting 6 members each the world's population is not enough to cope with a 13-level company!
…and most pyramid schemes require you to recruit more than 6 people each to make any decent money!
Check out the 5-minute video below to learn how to spot and avoid a pyramid scheme…
---
Common positive reviews
Here are some of the positive reviews we had from Indeed about the job opportunity…
"Tranont has a great company culture and while it has taken a small hit to due to COVID and people going remote, management continues to be committed to making Tranont a fun and great place to work, while brining people together in creative ways."
Common negative reviews
And here are the common negative reviews…
"The hardest part of the job was that it seemed that the warehouse workers were undervalued (and definitely underpaid). We were constantly given jobs and tasks to complete (with no prior warning or preparation) that in no way fit our job description, with no regard for the fact that we were already barely keeping on top of things because we were constantly busy."
---
Tranont: The Good
---
Here are some of the things I like about Tranont…
Key Terms:
Black Hat Methods – Using lies and unethical methods to make someone buy something
White Hat Methods – Being honest and genuine to help people make informed decisions about purchases
Pyramid Scheme – recruits members via a promise for payment from referring others to the service rather than providing a product
Affiliate Marketing- Connecting a customer to a product they are looking for and receiving a commission for doing so
Red Flag – A warning sign
#1 Variety Of Products
---
You are not limited to who is your potential customer.
Almost everyone wants to be better with their money and get healthier.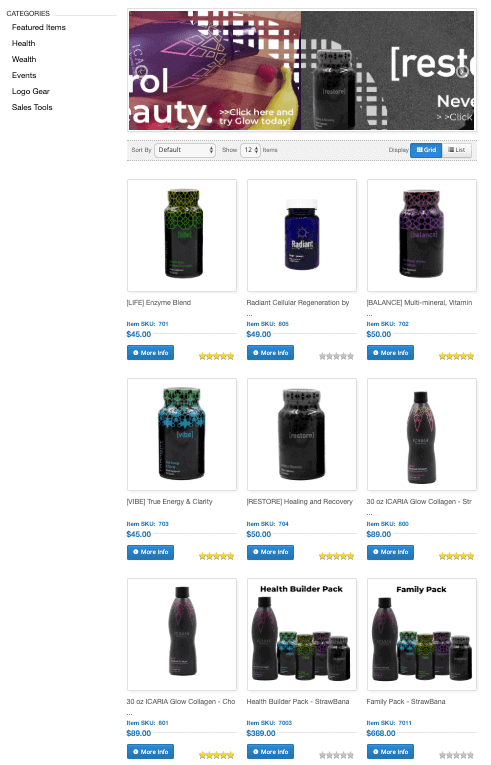 The diverse products and services means that almost anyone you know would probably be interested in something from Tranont.
#2 Numerous Ways to Earn Income
---
There's multiple income streams from Tranont's compensation plan once you build a team around you.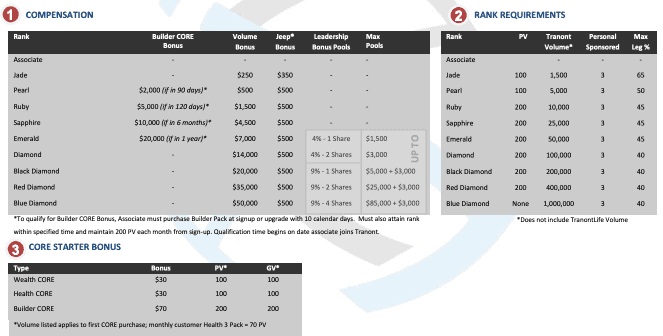 The company is designed to encourage people to help people.
Basically, if you can help your downline to promote Tranont better, you will do better!
It's a win-win mentality rather than a competitive business model.
Tranont: The Hidden Truths
---
Here are some of the bad parts of Tranont, which are not completely obvious before you join the program.
It's important to be aware of these before diving in…
#1 Negative Product & BBB Tranont Reviews
---
For a company that doesn't have too many reviews on the Better Business Bureau, it has numerous negative reviews…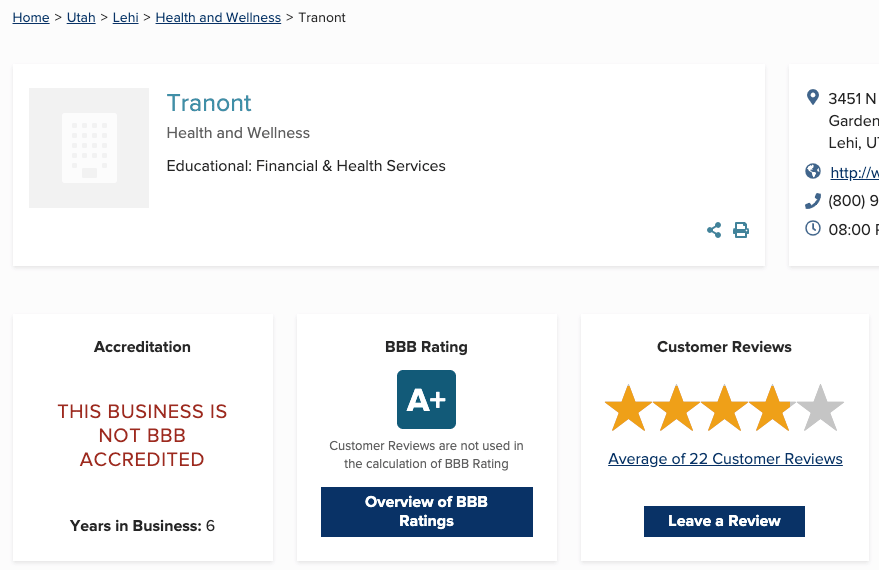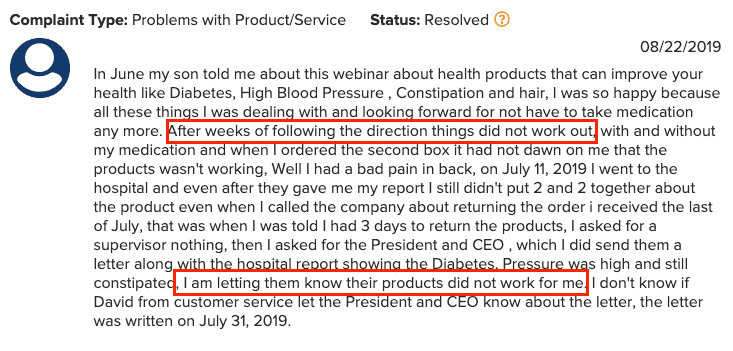 The company has existed for over 6 years and is still not accredited by the BBB.
I noticed that the average rating is over 4 stars out of 5.
However, after digging into some of these reviews look what I found…
#2 The Truth About The BBB Tranont Reviews
---
The company has been deleting negative reviews!
I didn't want to believe that to be the case at first but…


Seeing 2 comments like this really seems like a coincidence to me.
It also explains why there are not as many reviews as I expected.
The other suspicious thing about the positive reviews is that there are many that are a simple one-line without explaining why they like the company (this is very rare for people taking time to leave a company a review).
Plus there are numerous times that "positive reviews" are bunched i.e. 2 days in a row…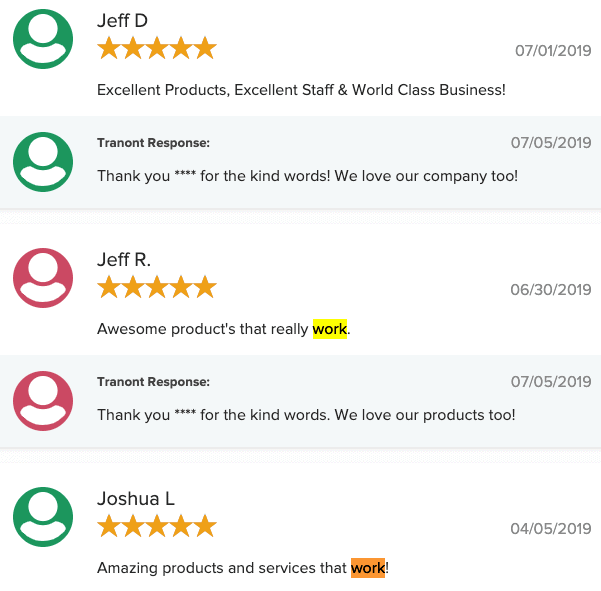 Either this is all a coincidence or the company is leaving reviews themself or asking people to leave positive reviews.
You can be the judge!
#3 Expensive Ongoing Costs
---
This is the main reason to be wary of the company in my opinion.
You are going to spend a small fortune just to stay active.
$150 a month!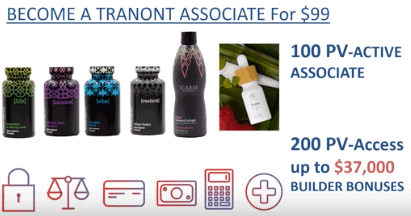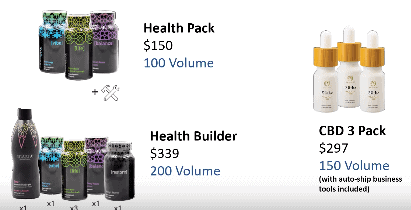 In reality, this means you will need to increase your storage space as you will need to keep buying products every month to stay active.
#4 MLM'S Success Rate (1%) & No Tranont Income Disclosure
---
The FTC released a study that had one jaw-dropping stat (for the wrong reason!)
Out of 350 MLM programs analysed, 99% of recruits lost money!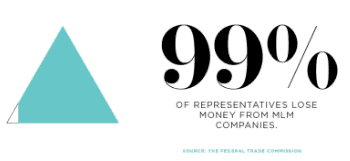 Some programs will have a higher success rate than others.
Tranont doesn't even leave an income disclosure so it's impossible to tell if this company is one of them.
But if I was a betting man, I would bet they are no better than average!
#5 Shady Past Of Tranont Founder
---
Lorne Berry was bankrupt in 2013 after accumulating over $700k in debt.
As a property investor myself, I understand the difference in good debt and bad debt.
However, it's pretty clear that Lorne was way off the mark here!
Do you really think you want to take financial advice from a man who filed for bankruptcy?
#6 Expensive Products
---
Another nail in the coffin for Tranont…
Their products are 3-6 times more expensive than comparable products on Amazon.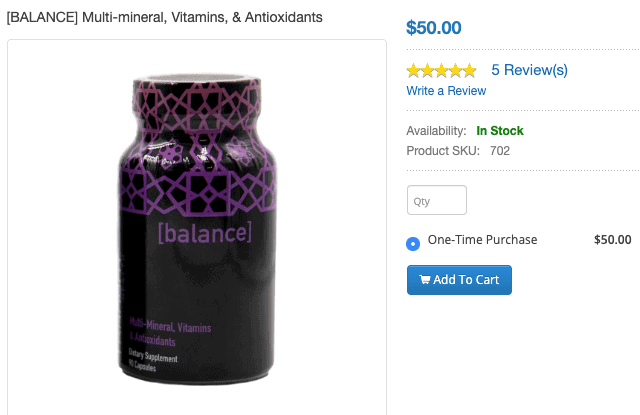 Yes, people want quality health products.
But there really isn't any special science or anything that Tranont has to make them stand out from the crowded market.
#7 It's Already Been Through The "Momentum Phase"
---
For me, this is possibly the biggest factor…
Tranont is not growing and people are not searching for it as much any more.
It started in 2014 and there are other MLM companies (such as Farmasi) that are in a much better position to jump on the band wagon before others.
Related content:
My Opinion – Tranont
---
It's simply not worth trying the opportunity.
There are better MLM programs out there and MLM's, on the whole, are hard to make any money (even harder to make great money).
The good thing about MLM's is the "helping nature" and how you can learn a lot from personal development.
If you find a great mentor then any MLM company can be a great opportunity.
The fact is that most people recruiting have no idea what they are doing themselves. And the training is rarely good enough to really learn the ropes by yourself.
Is There An Alternative?
---
It wasn't that long ago that I was still trying to figure out how it's possible for people to make money online.
I wanted to find a passive income system that ticked a few boxes:
I could work on part-time when I wanted (I was still in a full-time job)
Therefore I needed it to not cost a fortune to start and maintain
Didn't need me to sell stuff to my friends and family
It was in September 2018 that I found Wealthy Affiliate.
In September 2019 I quit my full-time job.
The best thing about it is:
It's free to start (no credit card details are required)
You are taught how to get qualified traffic brought to you for free (just think about how you found this review… there was no money or time spent from me promoting this!)
There is support from hundreds of thousands of other online marketers
You don't need ANY technical skills to start
When you try out this program you will see why so many people recommend it.
Tranont Review: The "MakeTimeOnline" Final Word
---
So is Tranont a pyramid scheme?
Technically no.
But it is a pyramid scheme in disguise as the only way to earn great money is by recruiting a lot of people.
If you are looking for an opportunity to work from home then Tranont is almost definitely not for you.
Keep changing for the better,
Mike
P.S. Since you're still here, I'm going to assume that you are interested in making money online to free up your time. So check out my review of my #1 recommended program and join the form below to get $950 worth of marketing freebies…