Someone has probably introduced you to Emris International and you're wondering if it's a scam.
Most people think it's super hard to make money from home.
But, in fact, choosing the right opportunity can make all the difference to making a success of it, or being left feeling tired and dejected.
Once you read this Emris International review, you will have found everything you need to know about whether this is the right company for you.
Emris International Review- The overview and rankings
---
Name: Emris International
Founders: Aspen Emry, Ilean & Matthew Harris (80 out of 100)
Website URL: emrisinternational.com
Type: Health & Wellness MLM
Products (Including Pricing): 60 out of 100
Success Stories: 10 out of 100
Price To Join MLM: $49 for the business kit + 80PCV per 5 weeks to stay active (70 out of 100)
Maketimeonline.com Rating: 55 out of 100
What To Look For In An MLM:
Low start-up fee – ✅
High-quality products – ✅ (but expensive)
You don't have to carry inventory – ❌
Generous compensation plan – ✅
An affiliate-like system – ✅
Company is in the early momentum phase – ✅- sort of
Emris pros and cons
---
Pros
Focus on selling products to get paid rather than recruiting
Good leadership
It's still a new company- possible to get in early
Cons
Crowded market
Expensive products
Low success rate
No sign of growth
Complicated compensation plan
What is Emris International?
---
Emris is a health and wellness Multi-Level-Marketing company.
They claim to be a "direct sales" company, but they're not really… because they pay distributors commissions for sales in their downline.
Basically, you are getting paid to recruit more people into the company, therefore, it is an MLM.
MLM's are not all scams, by the way, they just have a pretty low success rate.
You can watch a bit of the video below to learn a bit more about Emris International…
The company focuses on selling CBD/ hemp oil plus it has a range of other health and wellness products.
Now, I can almost hear your mind asking…
Is Emris International a pyramid scheme?
---
Technically… no.
Emris International pays distributors a commission of every sale they make for their products.
Basically, if someone clicked on a link on your website (which the company would provide you with) you would earn a commission from any purchases they make.
This is very similar to affiliate marketing, which is another type of business model, that I personally use to make money from home. However, there isn't any training in how you can get people to look at your website.
No visitors = no clicks on the links = no money made.
The issue is, with most MLMs, you can only make good money by recruiting more people into the company.
And Emris International is the same in reality.
What is a pyramid scheme?
---
A pyramid scheme is when a company recruits members by promising them payment for recruiting more members.
They are illegal in almost all countries in the world nowadays.
The reason is that there aren't enough people in the world for everyone to achieve success or make money from them.
Check out this diagram…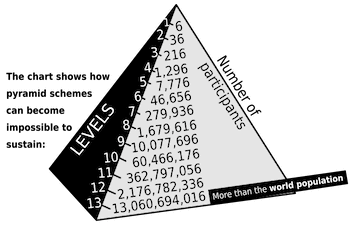 Most MLM companies require you to recruit at least 6 people to make enough money to work from home.
However, if everyone did this, the world would run out of people just 13 levels deep. If an MLM has been running for many years then chances are it will already be more than 13 levels deep (but hardly anyone actually manages to recruit 6 members).
The short video explains more about what to watch out for…
Emris International products
---
There is already a range of products at Emris International and it only started in 2019.
Some of the main categories include:
Hemp/ CBD oil ($79-$99)- An isolate of cannabis with supposedly a lot of health benefits. People think it's so on-trend right now!
Nutrition and supplements ($74)- helps immune system and digestion etc.
Weight management ($62) – pills that do what it says (apparently)
Skincare products ($86-$162) – cleanser, creams and anti-ageing products
Note you get 20% off if you become a VIP customer!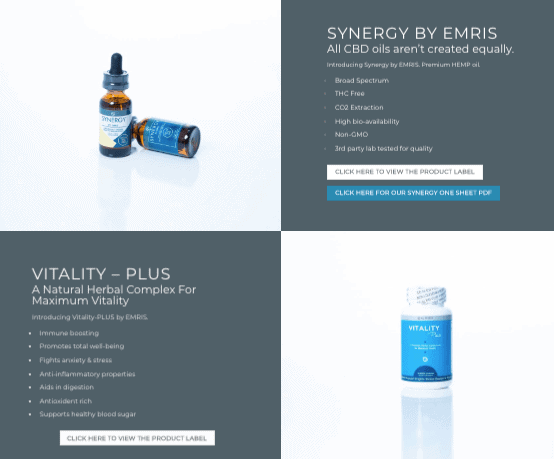 The flagship product is certainly their hemp oil called "Synergy".
It is important to realise that the CBD MLM market is already very saturated. There are tons of companies that offer a very similar product line such as:
This will make it harder to sell these products as there are a lot of companies trying to sell the same thing. 
So you may be asking yourself…
How to make money with Emris
---
Like most MLM companies, there are 2 main ways you can earn money from Emris International:
Commission from direct sales of products
Bonuses from sales your downline makes (either themselves or sales they make)
Most compensation plans try to complicate this, but when you boil it down this is how you will make money.
Before we delve into it…
How much does it cost to join Emris?
---
You will need to pay $49 for a business kit.
But it's not as simple as that…
Emris International Ambassador
This gives you one year as an ambassador of Emris International.
That is what gives you access to be a "direct seller" and get a commission from sales you make (remember… you get a website that people can purchase from, it's not like you need to go out the house and haggle with people!)
Emris International Brand Ambassador
If you want to be a "Brand Ambassador" you will need to maintain a minimum of 80 PCV (Personal commissionable Volume) for the last 5 weeks.
This gives you extra perks and bonuses.
80PCV equals around $80. So if you don't sell $80 of products yourself in 5 weeks… you will need to purchase $80 of products every 5 weeks!
Emris International Brand Ambassador with Residual Commission
If you want to be eligible for the "binary compensation plan" which can provide residual income, then you will need to have 2 active Brand Ambassadors that you have recruited to the company ("one on each leg").
Emris International compensation plan
---
MLM compensation plans are nearly always sooooo confusing!
Emris is no different.
There are 9 ways that you can earn money as seen in the image below: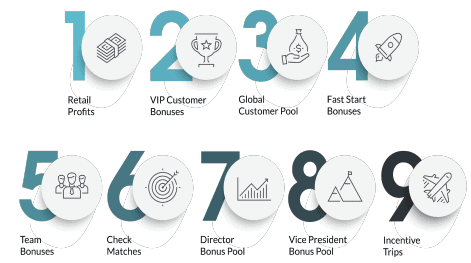 There are certain points you need to achieve to get each bonus and "rank up".
However, when you are starting out you just need to know that if you can sell some products and if you can recruit a handful of people, it's possible to make some money.
If you want to make really good money to stay at home and work, you WILL have to recruit quite a lot of people (think dozens).
You can find the full Emris International compensation plan here.
Is Emris International a scam?
---
No Emris International is not a scam.
Judging by the stats and facts alone, chances are you will lose money if you join this company as a distributor.
However, you can use the duplicated website to "drive traffic" and make product sales without having to recruit anyone to the company.
If you know how to use Facebook/ Google ads and a have a bit of social media presence then it's certainly possible to make some money.
You will need to learn more about online marketing if you want to make money. And you won't get the best training from Emris International on how to do this.
Just to be fully transparent with you, I am not a distributor myself and I do not endorse it in any way.
I have researched the website, testimonials and information on the Internet to get to the bottom of what this program genuinely does. This is because I have been burnt from programs just like this in the past and I want to prevent others from making the same mistakes. If you'd like to learn more "Ways to Spot an Online Marketing Scam" then click the highlighted text.
Related content:
Emris International: The good
---
Here are some of the things I like about Emris…
Key Terms:
Black Hat Methods – Using lies and unethical methods to make someone buy something
White Hat Methods – Being honest and genuine to help people make informed decisions about purchases
Pyramid Scheme – recruits members via a promise for payment from referring others to the service rather than providing a product
Affiliate Marketing- Connecting a customer to a product they are looking for and receiving a commission for doing so
Red Flag – A warning sign
#1 Focus on selling products (20% Commission)
---
This is a huge positive for any MLM company.
If they have some legit products and you can earn a decent commission from selling them, then it's possible to make money.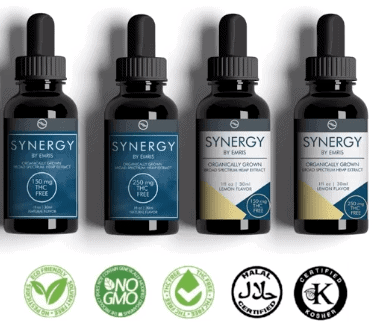 A 20% commission on some items over $50 means it's possible to earn decent money if you can get the right visitors to your website (that's a big if!)
#2 Good leadership
---
The leadership team has over 50 years of business experience.
Aspen Emry, the CEO, has over 15 years of experience in direct selling.
Ilean Harris puts together the systems to grow and scale a business.
Matthew Harris has the experience of growing up in a 3rd world country who has transformed his life from direct selling.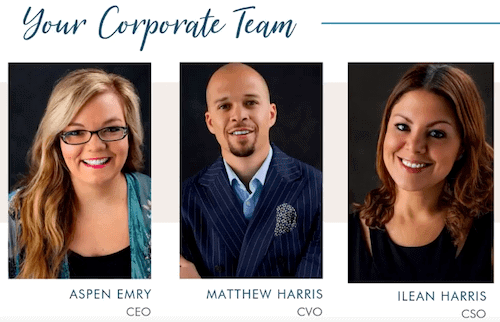 You can tell the corporate team is hungry for success and they have a clean record without and lawsuits or legal battles in their history (yet… they are still relatively young!)
#3 Possible to get in early
---
The company only started in 2019.
The best thing about this for MLM companies is that you have the chance to get in early still.
Some of the more well known MLM programs are usually pretty useless to join as the money has already been made.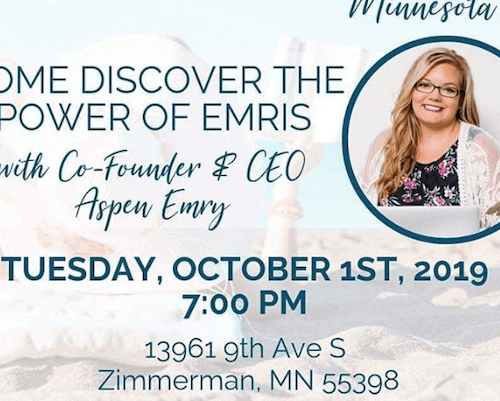 If Emris takes off and you're there near the start, you could piggyback off their success.
Emris International: The hidden truths
---
Here are some of the bad parts of Emris International that you should be aware of…
#1 Crowded market & CBD oil losing a trend
---
The health and wellness industry is just so crowded.
There are so many similar MLM companies that I have previously reviewed, such as:
Just to name a few!
But this isn't my main concern about Emris International.
Just take a look at the trend of Hemp oil and CBD oil recently…
It's on a massive downward spiral!
People are simply not searching for it as much anymore and you can see the direction it is going.
That means Emris's unique selling point is actually one of the worst-selling points about joining this MLM.
#2 Expensive products
---
This could easily have been the number one hidden truth, but I think the graph above sums up the whole Emris International opportunity.
Saying that, when you see a big price difference in MLM companies products that is a big red flag.
It means the company is not really trying to sell their products, but the MLM opportunity.
So having the website and a decent commission shows they are trying to put an emphasis on selling the products (what the best legit MLM companies do), the price of their products tells a different story.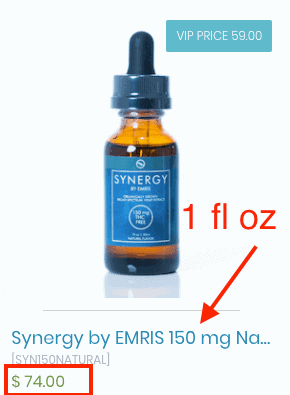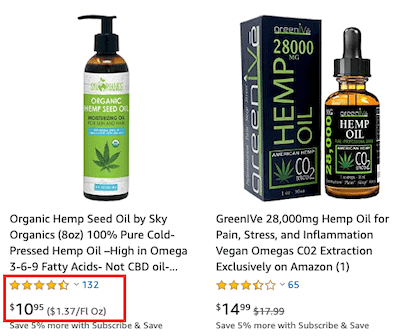 Compare Amazons $1.37/ Fl Oz to Emris's $74/ Fl oz.
That is a 5,000%+ markup in a comparison.
Who in their right mind would choose that?
I'll tell you who… someone who's desperate to quit their day job and willing to try a "work from home" program, therefore is willing to spend silly money on a random product.
And there's the issue…
The people you are trying to sell to are not raving customers…
But people desperate to work from home that they'll give the product a go to see if they can make money.
And when they don't make money, this happens…
#3 MLM'S success rate (1%)
---
They quit!
The FTC released an article showing that 99% of distributors lose money.
Re-read hidden truth #2 again to see why!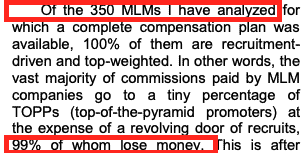 To me, it's pretty disgusting that people sell this dream to people who are desperate to believe them, even though they know the chance of success is so small.
#4 No sign of growth despite being new
---
So one of the last things that Emris has going for it is that it's a new company.
Well, Google trends to the rescue once more…
Compare this to another company that only started in the US in 2019 and you can see they are not really growing at all!
You can read my full Farmasi review here. It is one of the best MLM types of opportunities I have found (note I'm not a distributor) if you can use online marketing to sell it!
#5 Complicated compensation plan
---
Well, this is just annoying!
There's no need to make something so complicated!
Here's my opinion on why MLM companies use these crazy structures…
It's to disguise the fact that the main way to make money is by recruiting more people.
It seems like there are all these ways to make money, whereas, in reality, it's by doing one thing…
Recruiting more people aka pestering your friends and family.
Related content:
My opinion – Emris International
---
If you want to join the company you need to be aware this will happen to you…
You will be required to try and sell this to your friends and family.
The only way you won't be required to do that is if you know how to drive traffic to a website with ads on Google or Facebook.
The thing is… there are other ways to get traffic to a website.
And this is the skill that the 1% of successful MLM distributors learn how to do.
Is there a better opportunity?
---
I remember wondering how people make money online.
Or how these people could work from home.
I was a PE teacher at the time getting annoyed at how bad the education system was and why things like this weren't being taught.
Noone could really give me an answer so I went and figured it out for myself.
There was one place, which provided me with:
Step-by-step training on how to set up a profitable website
All the tools I needed to do this
The support that was needed (there are hundreds of thousands of people making money from this community!)
The best thing about it is that it is completely free to start and doesn't cost a fortune to upgrade to the premium version!
Emris International review: The "MakeTimeOnline" final word
---
So is Emris International a scam?
Of course not. It's possible for you to make money from the company.
However, with the rapidly decreasing trend for hemp oil and the lack of growth for the company considering how new it is, it's unlikely to be worth your time.
If you can use online marketing to drive traffic to the website then it's possible to make money from the MLM program.
Keep changing for the better,
Mike
P.S. Since you're still here, I'm going to assume that you are interested in making money online to free up your time. So check out my review of my #1 recommended program and join the form below to learn exactly how I make money online…