There are affiliate links in this EZ Money Team review, which means if you make a purchase through these links, I may receive a small commission at no extra cost to you. Read the full disclaimer here.
You probably agree that more and more people are looking to make money online.
It can become really hard to know where to start with all the noise out there. EZ Money Team promises to help you make money quickly and easily.
In this EZ Money Team review, you will learn that it's not as easy as they make it appear. The further on you read you'll begin to understand there are other legitimate money making opportunities online.
No credit card details required
EZ Money Team Review – The Overview and Rankings
---
Name: EZ Money Team
Owner: Jeffrey Hart (but really Oscar T. Ortiz 0 out of 100)
Website URL: ezmoneyteam.org
Support: 0 out of 100
Training: PDF Files and videos (25 out of 100)
Success Stories: 0 out of 100
Price: Between $9-$67 + upsells
Maketimeonline.com Rating: 6 out of 100
Pros and Cons
---
Pros
Some tools are genuinely useful and legitimate
The training can be useful if you're new to affiliate marketing
Cons
You're encouraged to promote online scams
Fake names and testimonials are used
Overhyped claims!
Unrealistic and unachievable system
What Does EZ Money Team do?
---
EZ Money Team will make you $1,000,000 in your first 12 months by following the training and techniques!
All you have to do is "set and forget" your "online business" with software platforms and step-by-step training.
Wrong!
The more you read each word in this EZ Money Team review, the more you will realise what you will actually get from the program.
So this is Jeffrey Hart.
He will make you a millionaire.
Wrong!
Seriously though, it is possible to make a million dollars in the online world within a year. But doing this without any prior experience of working online and using the tactics used in EZ Money Team is virtually impossible…
Scrap that… it is impossible.
Is EZ Money Team a Scam?
---
EZ Money Team is technically not a scam.
They will send you some information about how to make money online. The training even comes in 5 modules:
Affiliate account and website
Email marketing and managing clicks
Traffic generation
Tips and tricks
Platinum and Gold membership bonus programs
But there are too many red flags that expose the program for what it really is…
An overhyped program that makes the owners rich and wastes your time and money.
Related content:
11 Red Flags
---
It's great to look for the positives in all programs because there is always something that can be learnt (even if it's to do more research before jumping into the next one).
But there are legitimate make money online opportunities out there that you could spend your money and time on straight away.
So here are the 13 BIG red flags that are revealed in this EZ Money Team Review…
#1 Fake testimonials
Meet Sarah, the "single mother of three who uses EZ Money to put over $120,000 into her bank account".
Well here she is again on iStock.com (a place you can legally use images for free without copywriting issues)
It makes you wonder how real her bank account screenshots are now doesn't it?!
#2 Who is Jeffery Hart?
So after some digging on the Internet, it's possible to find out that Oscar T. Ortiz is the actual creator of EZ Money Team (Google it!).
Now I can almost hear your mind saying, "but why doesn't he use his real name?"
Well, my amigo, that's because Oscar is…
#3 Promoting Other Online Scams
This YouTube video shows some of the other online programs that EZ Money is promoting…
There are online scams in the list above, such as:
Million Biz Pro,
My Internet Success Coach,
Steal My System
Let me ask you this…
Do you really want to promote online scams?
#4 Upsells- Over $2,161 for Year One!
It's actually quite hard to tell exactly how may upsells there are because there were also downsells (see #5).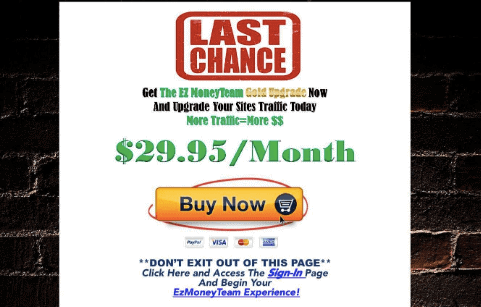 However, this is roughly what else you'll be encouraged to buy…
CoolHandle- hosting for a website ($3.95-$8.95 per month)
Clickdrop- generate leads (can be $50-$1,000's you pay to someone else)
ClickMagick- track emails/ mask affiliate links ($12-$66 per month)
Platinum membership- create your own product on EZ Money Team Platform ($97)
Gold membership- 50 VIP swipe emails ($29.99 per month)
Webfire – automated traffic system ($997 yearly/ $197 per month)
So to use the system as it's designed to be used you will actually need to spend $1,000's a year just to get started!!
#5 Instant price drops
I've never seen such easy & quick price drops… ever!
Do you remember reading at the start it costs between $9-$67?
Well, that's because when you go to exit the tab at the top a link pops up saying there is a discount for you…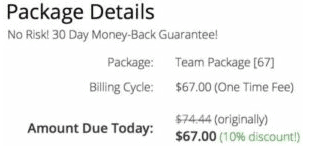 This doesn't only happen once…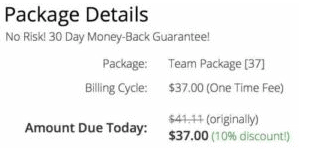 And eventually, you can get down to $9!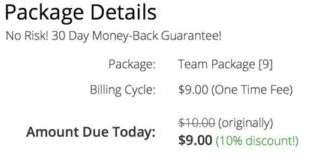 And are you beginning to realise that using the program will cost you a lot more than $9 due to the upsells?
Do you think you can trust a company that doesn't tell you the cost and what you will receive up front?
#6 Doesn't Tell You What You'll Learn!
This is one of the biggest red flags of ANY online program.
If it is not crystal clear what you will learn from a course then avoid it.
Period.
There are so many sales tactics such as this…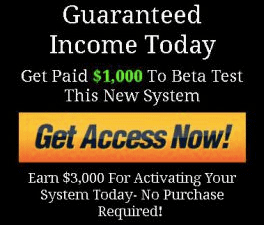 And fake testimonials such as this…
Why do you think there is a super long sales page with loads of random made up success stories?
That's right!…
Because it's distracting you from the fact the program is useless and isn't actually telling you what it is!
#7 Traffic Driving Training Methods Are Terrible
I don't know about you but when I purchase a course I want to know how much money I will need and what I will receive from it.
One of the worst things, apart from upsells, is needing more money to get started.
Module 3 shows you how to get traffic. But you will need to have deep pockets amigo…

So spending $997 a year on "automated traffic" is just the tip of the iceberg.
It's recommended that you use other "paid traffic" techniques such as Facebook advertising and "solo ads".
Now, these methods can work online but you CANNOT just post a Facebook ad and watch the traffic roll in. In fact, there are courses out there like Khalid Hamadeh's Facebook Ads course for this. !
If you want your money to disappear from your bank account quicker than you can say "make money online" then try it out yourself!
There are 2 much better and FREE ways to get traffic to your website:
#7 Fast, Easy Money!
Would you like to pay $9 today for an instant money making machine?
Well duh?!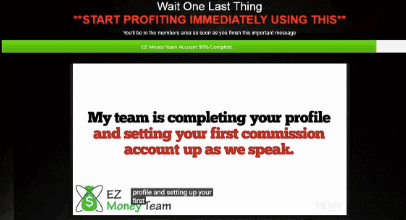 The thing is pumpkin… this doesn't exist.
End of.
If it seems too good to be true… it probably definitely is!
#8 "Black Hat" Tactics
The training you will receive is basically how this guy makes money online…
By selling people shit in a bag on fire!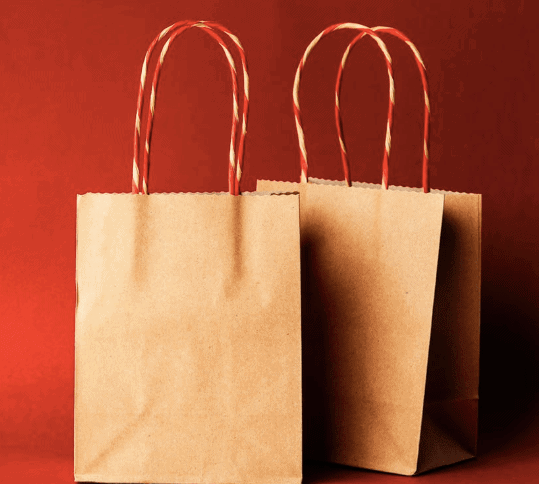 If you're happy enough selling junk to other people to make you money then, by all means, crack on and see how far you can get!
#10 Limited Spots Left…
Let me ask you this…
Have you ever seen this before online? How about when you're looking for a hotel?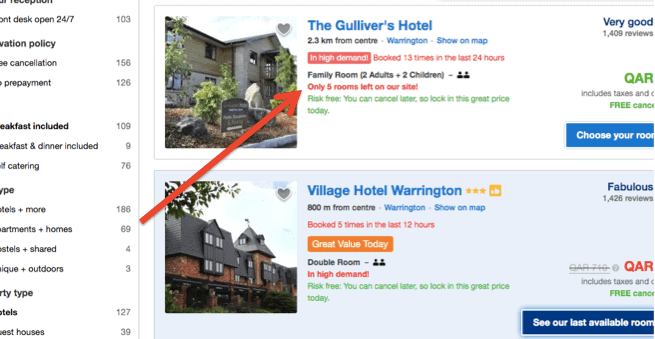 It's a clear, well-known marketing strategy that makes people think they need to act fast.
The difference is that a hotel literally only has so many rooms available.
An online course can NEVER run out of spaces!
#11 Continually Sells You "The Dream"
The number one question you should always ask yourself before purchasing an online course…
"Does this sound too good to be true?"
You are smart enough to know the answer to this question!
Related content:
My Final Opinion- EZ Money Team Review
---
Every heard the expression…
The blind leading the blind
The issue with so many "make money online" programs is that the owners have never made money online.
This is why I want to expose these scam programs such as this EZ Money Team review and stop people forking out $1,000's for shit in a bag.
Since you're still here I'm going to assume that you would like to make money online to free up your time. Now I would like to help you experience a program that has proven success stories, real training and awesome support from REAL people!
And yes, these programs do exist, but they are not so easy to find!
No credit card details required
EZ Money Team Review: The "MakeTimeOnline" Final Word
---
Yes, you will receive some training and some basic knowledge about affiliate marketing.
Will it be in the best way to make money and in an ethical way?
Absolutely not.
If you have any questions and I mean ANY questions about EZ Money Team, please leave them below. If you have used or currently are a member please also add your review below.
Keep changing for the better,
Mike
P.S. If you are interested in making money online to free up your time, check out this 1-minute video to see more information about my #1 recommended program…