Facebook is one of the best platforms you can use to generate revenue. With Facebook ads, you will surely be able to grow your online business.
And if you're thinking of getting lessons from someone legit and someone who knows his way around Facebook ads, then Khalid Hamadeh must be a part of your list.
Khalid Hamadeh is a well-known Facebook ads expert who has his own online courses that teach about how you can make money online, specifically through advertising in Facebook.
In this review, I'll help you do a background check on him so you can decide if he's a legit way to make money online or just another scam.
Disclaimer:This Khalid Hamadeh review has been thoroughly researched with information and testimonials that are available online to anyone in the public. Any conclusions drawn by myself are opinions.
Khalid Hamadeh Review
The overview and rankings
Name: Khalid Hamadeh
Founder: Khalid Hamadeh
Type: Facebook ads expert, instructor
Price:
Best for: Anyone who wants to earn through FB ads, newbie entrepreneurs
Khalid Hamadeh Pros
Unique perspective on Facebook ads
Positive online reviews
Legit expert and instructor
Khalid Hamadeh Cons
Summary:
Khalid Hamadeh is a Facebook ads expert who formerly worked for Facebook, and currently has an online course that teaches anyone how to make money from Facebook ads.
Make Time Online Rating: 60 out of 100
Recommended: Yes
Here's my top recommended program >>
What is Khalid Hamadeh about?
Khalid Hamadeh is a person, a Facebook ad expert. He is not a course you'll be enrolling in or a program about internet business.
He offers a course about Facebook so you can create an internet business out of it…

So since we've cleared any possible confusions you'll have, let us know what this guy is really up to.
Khalid Hamadeh is a former Facebook employee. He worked as a Solutions Manager and Partner.
Basically, he was someone who has been in contact with famous brands such as Netflix, Coca-Cola, Nestle, and eBay and has advised them with their Facebook ads strategy and campaigns.
Next, he founded a few e-commerce brands and an ad intelligence service, using Facebook ads as the main growth driver. He also runs a Facebook ads consultancy. He knows how to run ads, not only with multi-million dollar budgets but also with his own (limited) cash.
The approach in his course is to look closely at the strategies these "digitally native" brands use to grow so fast using Facebook, Instagram, and Messenger ads.
Think of companies like AllBirds, Masterclass, or Casper.
He has first-hand experience and has looked behind the curtains to learn what successful brands do differently. These differ from the big multinational brands we know (which he also advised in his role) but the more sophisticated advertisers like reMarkable.
Khalid takes a unique approach I haven't seen in any other Facebook ads course by teaching the strategies, secrets, and best practices of these "digital natives." 
After working for Facebook for more than 3 years, he made a career detour and decided to provide an educational platform where people can learn how to use Facebook and Instagram ads as sources of sales.
From the start of the course, it's clear that working at Facebook gave Khalid a good understanding of Facebook's conflict of interests, how that translates to their future roadmap, and, most importantly, how it affects advertisers on the platform.
Working closely with Facebook's engineers taught him how the ad auction process works and which buttons you can use to win more auctions as an advertiser.
He's pretty much someone whom you can call the real deal. Because he really is…
And I'll tell you more about him below.
Check out this 4-minute video about him…
Let us then know more about him…
Who is Khalid Hamadeh?
Khalid has worked in the Facebook industry for some time already.
He has 6 years of experience as a Facebook ads expert and within those years, he spent 3 of them working as an ads specialist. 
He is someone you really wouldn't take lightly as he has worked for multinational enterprise clients, hundreds of companies, and thousands of entrepreneurs and marketers.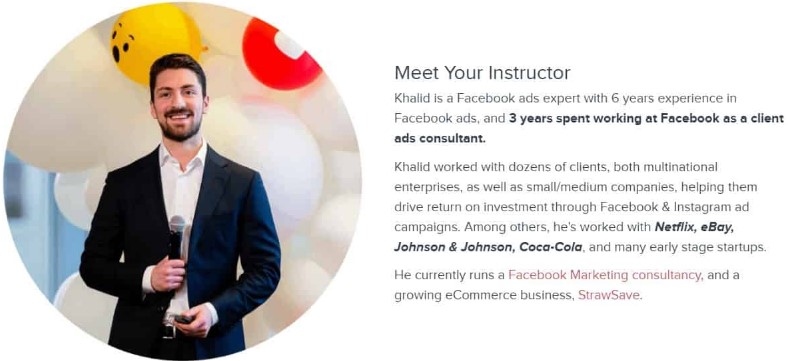 So when he said he knows what he'll be teaching you, you don't have to think twice.
Khalid is the founder of Khalid H Facebook Marketing Consultancy and of the eCommerce business, Strawsave.
If you want to know more about him, his Facebook and IG page would be a great place to start with.
Ready to make passive income online?
Hey, I'm Mike.
I created a passive income online within a year. I had no marketing skills or online experience when I started.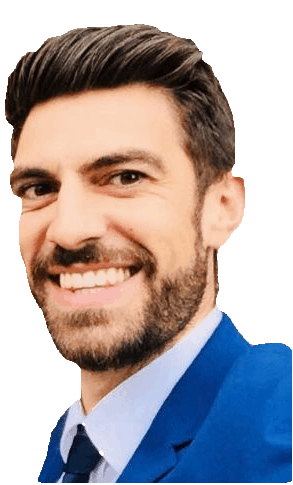 Learn how here
How does Khalid Hamadeh's Course Work?
As for the course he offers, we call it Khalid H Facebook Courses.
And how does it work?
Well, you can start with the signing up process. After all, that's the first step you will have to take in almost every online course.
After the signup process, you can make your purchase and wait until Khalid gives you access to the course. Don't worry cos Khalid is responsive and is active online.
You will then be given the training videos that will teach you everything you need to know about Facebook and Facebook ads.
When you're done with the course, you can then start implementing the strategies and methods you've learned from Khalid to start your own online business centered on ads.
Inside Khalid Hamadeh
Khalid Hamadeh mainly focuses on his job as a Facebook ads expert and that is why he created a course that will help students understand the what's and how's of Facebook.
Below is the essential information you may want to know about Khalid H Facebook courses.
Introduction
It is a course taught by a former Facebook employee. In this course, Khalid will teach you the secrets, principles, and practices used by the world's best Facebook ad marketers.
With the 80+ on-demand video lessons and tutorials, Khalid covers a very broad range of subject in line with Facebook startup strategies and campaigns
TrustPilot has rated this course with an Excellent score which is 4.6 out of 5.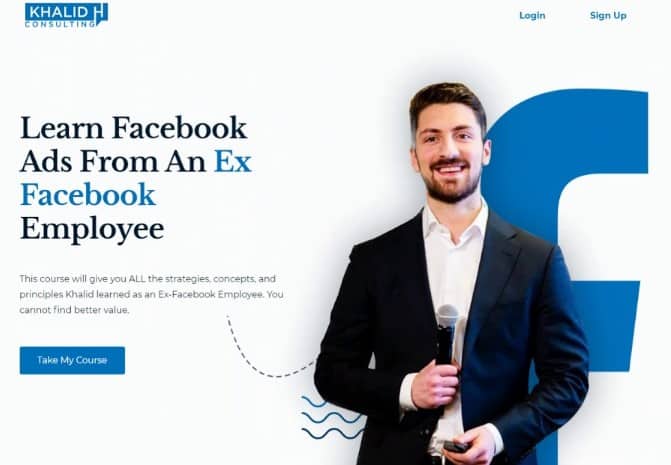 Course Content
So what is it that you will get out of this course if you purchase it? Well, it would be the following:
Strategies: Khalid will teach you his personal strategies for eCommerce, Lead Generation, Lookalike targeting, Retargeting, Dynamic Ads and many more.
Tutorials: And because you will be taught the strategies, Khalid will make sure that you will learn and implement them using his step-by-step guide.
Concepts: You will learn the different concepts surrounding Facebook ads. This will enable you to build a solid foundation on the knowledge you have learned and that will help you execute the strategies taught by Khalid more effectively.
Who is the course for?
This course was created by Khalid to help digital markets and entrepreneurs learn how to better utilize Facebook and Instagram ads as a source of sales.
Specifically, this course was designed for the people involved in the following industries:
Digital Marketing
Ecommerce & dropshipping
Agency owners and managers
B2B Sales
Consulting
Online Education
Real estate… and more
Check out this 4-minute video that talks more about his course…
Also note that there are loads of other similar programs and courses out there, such as:
And how much shall you shell out?…
Khalid Hamadeh cost to join
If you are thinking of purchasing this course, you can start taking into account how much it will cost you.
And it's only $196.
You can also do a one-time payment or 3 monthly payments of $95.
It may not be a cheap price though for some people but considering the fact that you will get more than what you will be paying for, I think it is definitely a good deal.
Khalid Hamadeh monthly cost
As for the monthly cost, good news because there is none.

Once you pay the $196, you will be given lifetime access to the course and that includes all of the future updates Khalid will be making
Also note that there is a good chance you'll spend money on additional tools such as:
Website hosting – $100+/year i.e. Bluehost
Email autoresponder – $30+/month i.e. Convertkit
Funnel builder – $97/month i.e. ClickFunnels
Tracking software – $30/month i.e. ClickMagick
Ads themselves – $200+/month
Definitely worth it, right?
Khalid Hamadeh reviews online
Khalid Hamadeh is a Facebook ads expert who formerly worked for Facebook, and currently has an online course that teaches anyone how to make money from Facebook ads.
But what you are really after is if it really works and if it can help you make good money online.
To answer that question, I've gathered some of the comments its previous and current students have…
Common positive Khalid Hamadeh reviews
Worth the price
Easily understandable
Helpful
Educational
When it comes to the positive reviews Khalid and his course has received, you would no doubt feel assured that this man is promoting zero fluff and will really be able to teach you what you  need to know.
The reviews below are from trustpilot.com, a well-known review platform:
"I've spent $5000+ on 3 Facebook ads courses and none of them compare to this heavily underpriced course. I feel cheated lol. Khalid is a GENIUS!"
"My native language isn't english but Khalid's speaking is very easy to understanding for me. Beside that, Khalid's course taught me alot of new knowledge that I would never be taught if I din't bought this course. For me, it's worth to buy this course with no doubt."
"Khalid is an amazing teacher. I have just finished the online course and now browsing through the Members Only FB Group.  There are so many golden nuggets that can help basically any business, regardless if it's eCommerce or service based!"
Common negative Khalid Hamadeh reviews
As for the negative reviews, you can only find one in trustpilot.com. And looking at it closely, it somehow escalated to a personal level but as for my review, I will only include what would be of value to you.
"So to be fair I have not bought the course, but I did send multiple FB messages to Khalid who has failed to reply after the initial message. I had a simple question which he read and then a follow up which he also read and failed to reply to. In my experience this typically means stay away. Or someone who is trying to make a quick buck and not provide a customer experience. I could never as a small busin"ess owner read and ignore someone's messages, it would never happen."
Is Khalid Hamadeh a scam?
As my verdict of Khalid Hamadeh, I would like to say that he is not a scam.
He's been doing an amazing job on teaching Facebook ads strategies.
He is a legit Facebook ad expert and instructor who lives up to his claims of teaching you the strategies and concepts behind Facebook ads.
Most advertisers glue together a bunch of isolated tactics (perfect ad templates, high-converting copy scripts, sneaky scaling tricks, etc.) without truly understanding HOW advertising on the Facebook platform works. The result is a messy ad account and a vicious circle.
Suppose you are interested in finding a solid and replicable strategy. In that case, you might be thinking about Khalid Hamadeh, the former Facebook employee who promises to teach you how to leverage the power of Facebook for the profitable growth of your business or client.
If you look at the reviews written about him, there was mostly positive feedback centered on how comprehensive and beneficial his course is and how effective his teaching styles are.
There are also social media sites where you can verify his identity. That would surely help you confirm his legitimacy as an instructor and as someone involved in the Facebook industry.
Tired of expensive crappy Affiliate Marketing courses? Check out how I make money online here!
Khalid Hamadeh pros
#1 Unique perspective on Facebook ads
What sets apart Khalid from the instructors who also teach Facebook ads courses is that he has a unique perspective when it comes to Facebooks ads.
This unique perspective made him approach Facebook ads in a way that you would immediately know how his experiences gave him a good understanding of how it works.
It also proves that what he'll teach you is not just a copy of someone else's strategies and methods.
As I've said, he knows what he is doing.
#2 Positive online reviews
Khalid has mostly received positive reviews from people who took his course.
Many have vouched how they have benefited a lot from what Khalid taught them.
So this goes to say that he is definitely not a scam and is a zero fluff Facebook ad expert…
#3 Legit expert and instructor
Khalid has an incredible amount of experience with Facebook ads.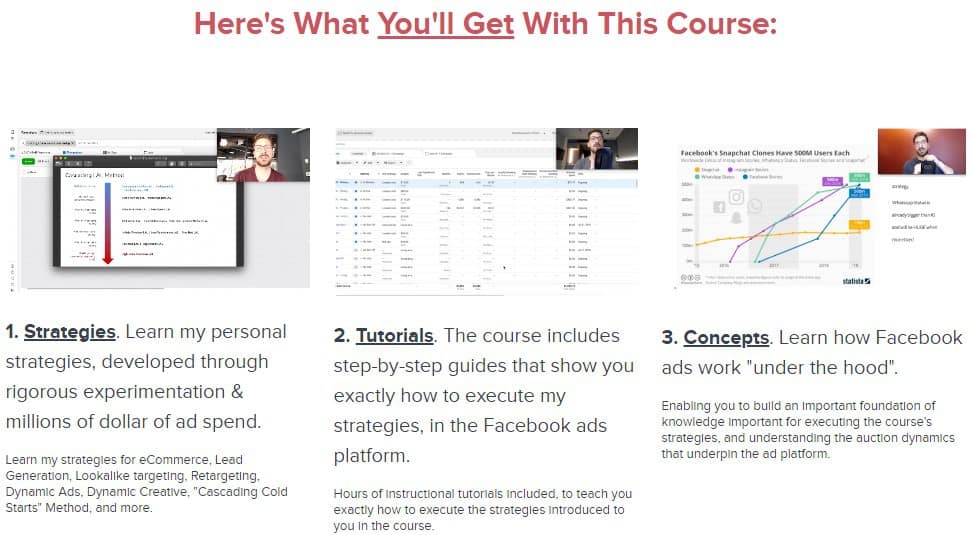 He has the knack for it and so rest assured that his lessons are all carefully put together by him.
As an instructor, there is a lot of positive feedback you'll see online. So I'm saying it again, he is legit.
Khalid Hamadeh cons
As for his negative side of the coin, we can safely assume that there is none. And for what reason?
The negative review I have included above is the only review of him that claims how unresponsive he is. But looking at the rest of the reviews, most of the students were thankful that he responds to emails and queries.
Also, in this case, we are talking about Khalid himself. But as for his course, that would be a different story.
No worries though because his course is one of the best you can get online. There are just some shortcomings that Khalid is yet to address.
Ready to make passive income online?
I've created a growing passive income online with no marketing skills or online experience…
I've made a special video for you to explain exactly how I did this.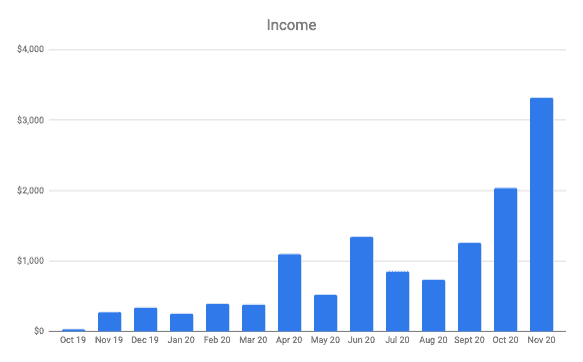 Yes, show me how
My opinion – Khalid Hamadeh
To wrap up this review, I highly commend Khalid Hamadeh as an instructor who possesses the essential knowledge and skills on Facebook ads.
And so, here is what I can say about this course…
His experiences are something he can pass on to you so that you can learn from them.
After all, that has been his goal all along–to utilize his years of experiences on Facebook ads to help entrepreneurs and marketers build an online business that primarily utilizes ads as a source of sales…
Khalid is the real deal here and this review has proven that. And so, I'll leave the rest to you with the hopes that my review of Khalid Hamadeh has provided you with the information you need.
How I make passive income online
In 2018 I had no idea what affiliate marketing was.
Once I learnt about it, it just seemed like a great business model that can grow over time using the power of the internet.
So I tried to figure it out by myself… that got me nowhere fast.
Then I fell for some terrible online scams.
But eventually, I found Wealthy Affiliate. It teaches long-term proven strategies to build an online business with all the tools & support needed.
And this happened…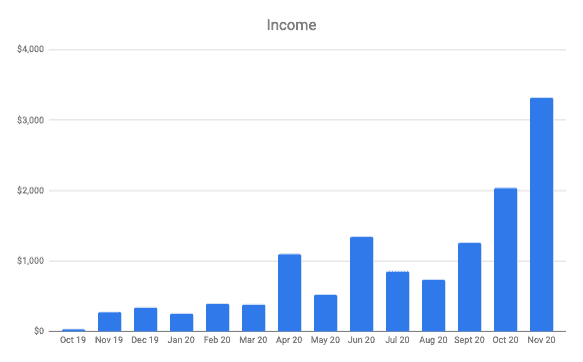 Once you learn the process of getting thousands of people to find your website every month (for free) there really is not limit to what you can achieve online.
I've reviewed hundreds of courses or programs that claim to help people make money online. And I've spoken to dozens of 6-7 figure online entrepreneurs on my podcast.
This is by far the best place I've seen to help beginners get set up on the right foot. You can read my full Wealthy Affiliate review here (including the pros and cons!)
Or you can watch an insiders video I made that explains exactly how it works here.