In the spirit of full transparency, know that this Daily Cash Siphon review contains affiliate links. This means if you make a purchase through these links, I may receive a small commission at no extra cost to you. Click here to read my full disclosure policy.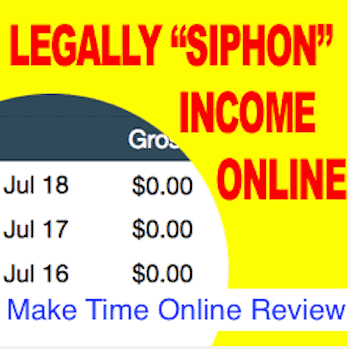 You may agree that creating a passive income online is a dream for most people.
However, most people have no idea of where to start to do this. It all seems very confusing. So when a program suggests it's possible to create $1,580 a day in under 7 minutes and 19 clicks, people tend to take notice!
This Daily Cash Siphon review, with video, will explain exactly what the system does and what you need to be aware of before joining.
Daily Cash Siphon Review- The Overview and Rankings
---
Name: Daily Cash Siphon
Owners: Chris Parker 0 out of 100
Website URL: dailycashsiphon.com
Type: Affiliate marketing training
Training: 55 out of 100
Success Stories: 0 out of 100
Price: $37 + $518 upsells
Maketimeonline.com Rating: 17 out of 100
Pros and Cons
---
Pros
You can learn the basics of affiliate marketing
There's a 60-day money-back guarantee
Cons
Black hat sales tactics
Totally unrealistic promises
Fake customer support
Resembles old scams
Can't deliver on their promises
What does Daily Cash Siphon do?
---
It promises to help you make $1,580 every day for the rest of your life.
All you have to do is join the program and follow the system.
But don't worry you can start in under 7 minutes and 19 clicks.
Are you starting to feel excited? Chances are you're still pretty confused as to what you will need to do.
Simply put, Daily Cash Siphon promises to help you set up an affiliate marketing online business so that you can make money on tap.
Now you may be thinking…
What Do You Actually Receive With Daily Cash Siphon?
You're about to see exactly what you'll get from Daily Cash Siphon…
Check out the video I found on YouTube from 3 mins 25 seconds to 8 minutes to see behind the scenes of the product.
So it seems pretty legit, right?
You get loads of training to help you set up your affiliate marketing business.
HOLD UP!
I thought they said you would start making crazy money after a week in under 7 minutes of work and 19 clicks?
What's all this training about?
Here's the truth…
You will actually need to put in a LOT of work to make the money they promise. And you will need to buy a lot more software and tools to help you do this.
There are, however, many other similar programs out there such as:
Now, I can almost hear your mind saying…
Ready to make passive income online?
Hey, I'm Mike.
I created a passive income online within a year. I had no marketing skills or online experience when I started.
Is Daily Cash Siphon a Scam?
---
The short answer is yes.
The long answer is below…
There are two main ways an online course can be a scam:
Take your money and run off into the sunset, never to be heard from again
Provide some information but it doesn't live up to their promises
Daily Cash Siphon will provide you with some training.
But it 100% will not deliver on its promise to make you $1,580 within a week after just 7 minutes and 19 clicks.
FACT!
Just to be fully transparent with you, I have not purchased this program myself.
I have researched the website, testimonials and information on the Internet to get to the bottom of what this program genuinely does. This is because I have been burnt from programs just like this in the past and I want to prevent others from making the same mistakes. If you'd like to learn more "Ways to Spot an Online Marketing Scam" then click the highlighted text.
Daily Cash Siphon: The Good
---
So there are some good parts about Daily Cash Siphon…
Key Terms:
Black Hat Methods – Using lies and unethical methods to make someone buy something
White Hat Methods – Being honest and genuine to help people make informed decisions about purchases
Affiliate Marketing- Connecting a customer to a product they are looking for and receiving a commission for doing so
Red Flag – A warning sign
#1 Tasks to Complete
---
In the training, you will have "homework" or some tasks to complete after each training video.
This is so important when you set up an online business.
If you don't take action, then nothing will ever happen. Period.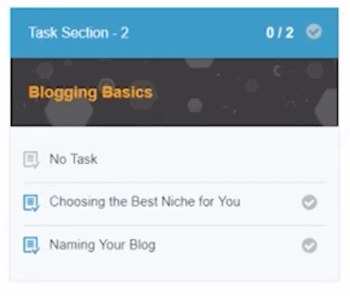 Completing these tasks will certainly help you to get an online business set up.
#2 Walk You Through the Basics Of Affiliate Marketing
---
It's important to understand that there is quite a lot to learn if you want to start making money from affiliate marketing.
There really is no plugin and play system that will help you make money.
Anything that tells you there is will be a scam.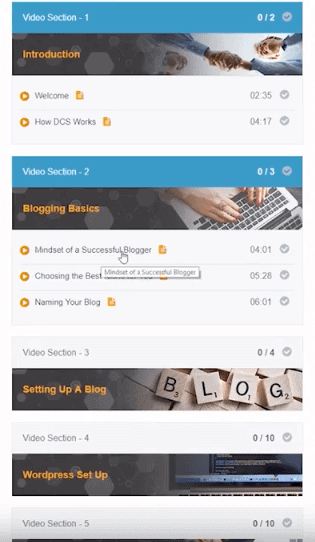 The good thing about the training at Daily Cash Siphon is that the training does help to learn each part of an affiliate marketing business.
It just doesn't tell you the whole story as you will learn soon in this Daily Cash Siphon review.
#3 60 Day Money Back
---
This is always a good sign.
If there is no refund policy or a way to try it for free then you should always be wary about trying an online training program.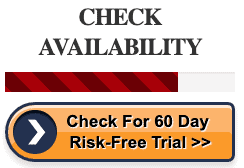 A great tip here is to contact ClickBank to get your refund when you realise the program is not as it seems.
Daily Cash Siphon Red Flags
---
Here is the truth about the program and what the sales video should make clear to everyone before they chuck their $37 at it to be severely disappointed.
#1 Upsells
---
$518 worth of upsells.
This is what the upsells are:
$197- Built for you website
$187- Build another website
$97- More traffic strategies (believe me… this is where the basic "training" will let you down… and without visitors to your website you have nothing)
If you want this money-making machine in under 7 minutes and 19 clicks you will have to buy all of these upsells. And even then you WILL NOT receive the money they claim you will.
I've been there got the T-shirt and tried very similar programs to this in the past.
#2 Black Hat Marketing
---
This is where the scam alert signals are roaring!
Here are some of the typical scam alerts you see:
Available in your location (it just uses your website IP address to know what country you are in… you could be anywhere in the world)
Time limit to buy (it will still be available this time next month let alone in 15 minutes time!)
"Qualifying"- this is nonsense absolutely anyone that clicks on this link is "qualified" to buy it. All they want is your money.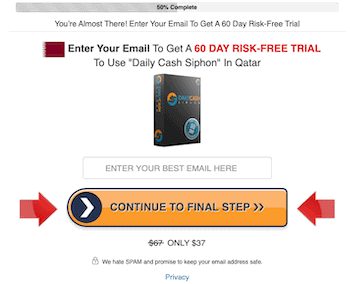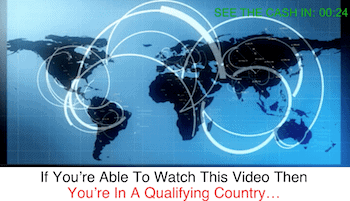 These black hat tactics are seen time and again from scams.
#3 New Name… Old Scam
---
It is so similar to 5 Minute Profit Sites.

The sales video is almost identical.
5 Minute Profit Sites is one of the scams I personally fell for before I found the legit affiliate marketing training that I still use today.
It's actually quite embarrassing how bad that program was!
#4 Fake Customer Service Rep
---
Here is Lisa…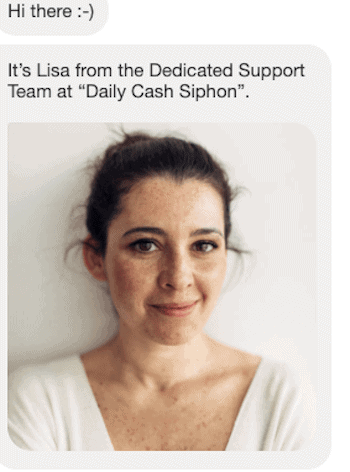 Here is "Lisa" all over the internet…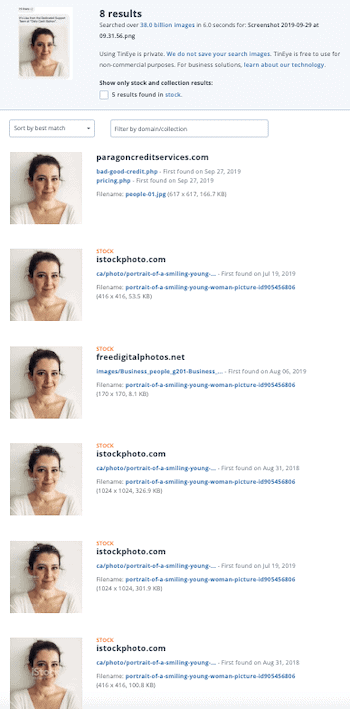 This is because this is just a stock photo that anyone can use for free!
#5 Doesn't Explain How the System Works
---
For me, this is always a major red flag.
The program talks a lot about how good your life will be is you just pay $37 right now.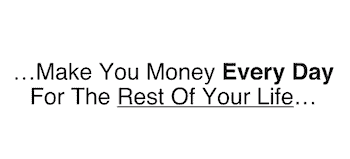 But at no point does the sales video explain that you will need to build a website, write content, use email marketing or promote more scammy dodgy products to other people.
In fact, it doesn't ever tell you anything you will do other than use ClickBank to sell affiliate marketing products.
#6 Poor Support- Where are All The Positive Experiences?
---
If you check out out the behind the scenes video above you will notice there is no support from other members in Daily Cash Siphon.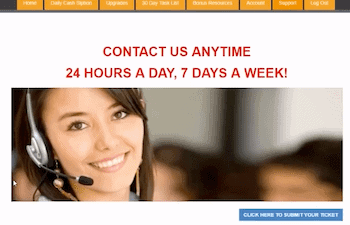 The only way you can get support is from the "team" at daily cash siphon.
This is not enough!
One of the hardest things in creating a successful online business is that it can be quite lonely. Without support from other real people going through the same thing, it's very unlikely you will ever make money from it.
#7 It Really Is Controversial
---
They say it themselves in the video…

The reason they say this is to make it not sound like it is…
#8 Too Good to be True
---
"You can start today in under 7 Minutes and 19 clicks!"
This sentence is repeated more than 15 times in the short sales video!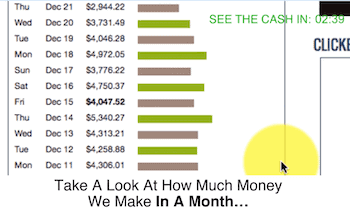 They know how to pull on your emotions and say it can work for "busy" people or even "lazy" people!
The thing is what the sales video says it can do is TOTALLY unrealistic and way too good to be true.
To make the money they promise it will take a LOT of hard work and a lot of failure figuring it out.
Ready to make passive income online?
I've created a growing passive income online with no marketing skills or online experience…
I've made a special video for you to explain exactly how I did this.
My Opinion – Daily Cash Siphon
---
There is some basic training provided to understand more about an affiliate marketing online business.
However, you will not be able to start making $1,580 per day after a week, 7 minutes work and 19 clicks.
FACT.
The program is preying on people who are desperate to quit their job or make money quickly.
Unfortunately, this is not how affiliate marketing works.
But there is a legit way to create a passive income affiliate marketing online business.
An Evergreen Strategy That Brings You The Money
---
It wasn't that long ago that I was still trying to figure out how it's possible for people to make money online.
The biggest issue for me is I was looking for 3 important things…
I could work on when I wanted (I was still in a full-time job)
Didn't cost a fortune to start and maintain
Didn't need me to sell stuff to my friends and family
It was in September 2018 that I found the system that I still use today to build my online business.
In September 2019 I quit my full-time job.
The best thing about Wealthy Affiliate is:
It's free to start
Customers are brought to you that are already interested (just think about how you found this review… there was no money or time spent from me promoting this!)
You get access to a community of 400,000+ active like-minded entrepreneurs (and me as a personal coach to help you on your journey)
When you try out this program you will see why so many people recommend it.
Daily Cash Siphon Review: The "MakeTimeOnline" Final Word
---
As you can see from this Daily Cash Siphon review, it simply isn't worth it.
The sales video is only there to take a quick $37 from unsuspecting victims and then throw them a load of average training videos.
In 2018 I had no idea what affiliate marketing was.
Once I learnt about it, it just seemed like a great business model that can grow over time using the power of the internet.
So I tried to figure it out by myself… that got me nowhere fast.
Then I fell for some terrible online scams.
But eventually, I found Wealthy Affiliate. It teaches long-term proven strategies to build an online business with all the tools & support needed.
And this happened…
Once you learn the process of getting thousands of people to find your website every month (for free) there really is not limit to what you can achieve online.
I've reviewed hundreds of courses or programs that claim to help people make money online. And I've spoken to dozens of 6-7 figure online entrepreneurs on my podcast.
This is by far the best place I've seen to help beginners get set up on the right foot. You can read my full Wealthy Affiliate review here (including the pros and cons!)
Or you can watch an insiders video I made that explains exactly how it works here.