2018 Five Minute Profit Sites Review – Massive Scam… but
So here is the 2018 Five Minute Profit Sites Review.
Can it really make you $519 a day with just 17 clicks and under 5 minutes work? It shouldn't take too long to decide what you think about it… but there may be a surprise compared to most reviews on this one (I actually learnt some things!)
Five Minute Profit Sales (FMPS)- The Overview and Rankings
---
Name: Five Minute Profit Sites
Owners: Sam Smith (who is (s)he???… I know the singer but…)
Website URL: https://fmpsmembers.co
Training: 35 out of 100
Support: 0 out of 100
Success Stories: 0 out of 100 Non existent online (apart from what they show you!)
Price: Free for a week ($7 per month after)/ $37 plus 3 upsells (the price has baffled me!)
Maketimeonline.com Rating: 12 out of 100
So what made me try this?
---
I actually tried this out just before I joined Wealthy Affiliates. There was a very good reason why I thought I'd give it a go. It was FREE!!!! (for a week)
The really weird thing is… I doesn't seem to be free for a week anymore!! I've checked out other people's reviews and everyone says it's $37 as does the website now.
It looked like a simple way to get an effective opt-in page up and running. Read on to find out what it actually does.
Lets Start With the Positives
---
You Actually Get an Opt-In Page Up and Running
You just follow ready made videos to do this (well you should be able to…)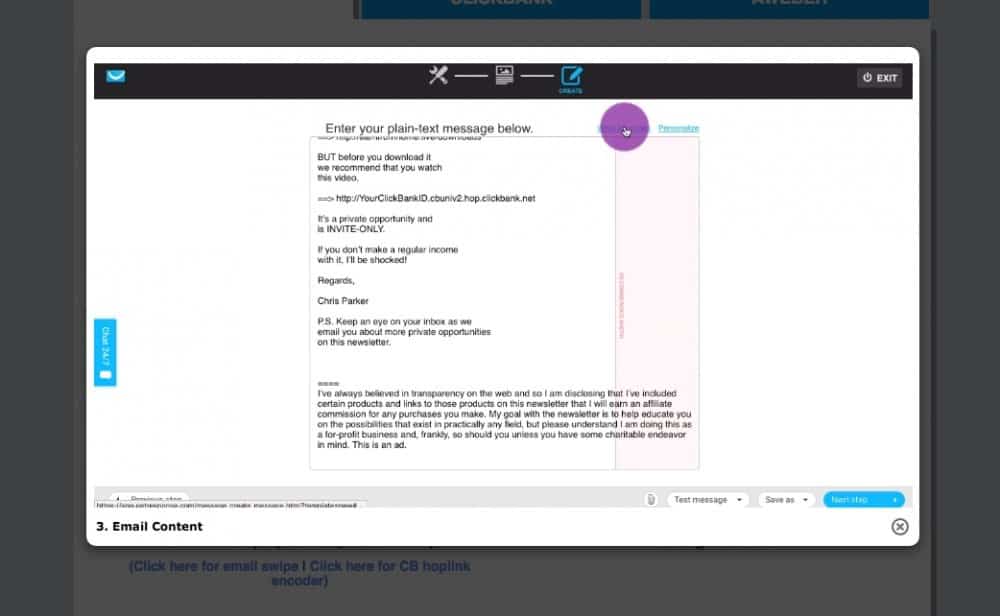 It teaches you the basics of what Email Lists are
All the content is pre made for you
It shows you the step by step ways to sign up and get started with ClickBank
It shows you the step by step ways to sign up and get started with GetResponse (an autoresponder- this is basically an email collecting and sending out website, which is crucial for any online business)
You can get some bonus Amazon Affiliate documents from your own opt-in page ($1,995 value- I have no idea how they get these values but there is 1.8GB of information about Amazon Affiliates here)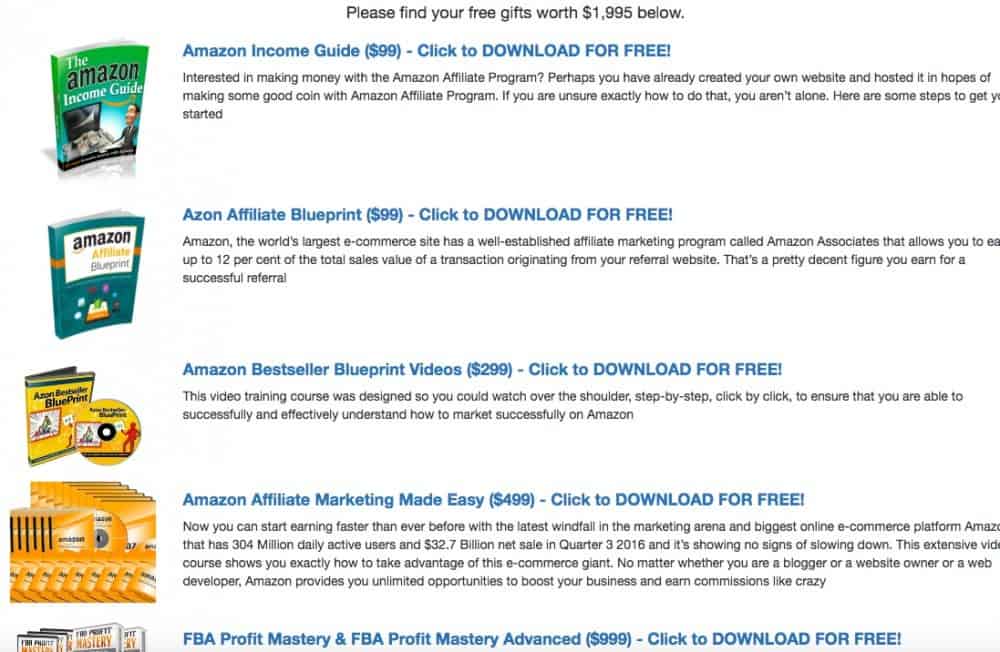 It shows you some basic traffic methods that are quite useful to be aware about. I learnt about Udimi, which is all about paying for solo ads (I will explain this more later)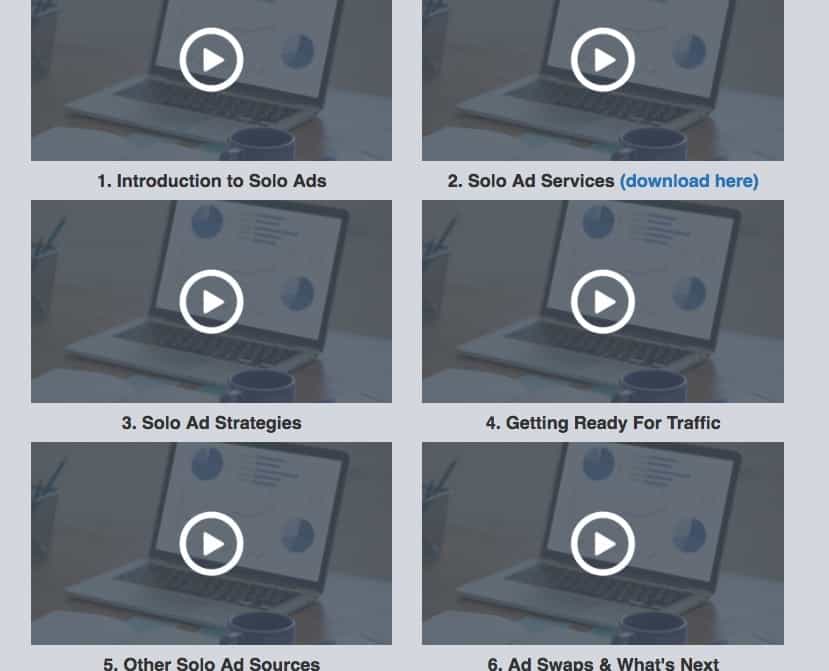 How does FMPS really work?
---
If you've looked at it already, it says that with 17 clicks and 5 minutes you can have a profitable "website" up and running. It recommends 23 minutes of work a day and you could be earning $519 a day (why so specific?!?!)
What it actually does is set up an "opt-in" page for you, which you have no control over.
I'm not doubting that the opt-in page wouldn't work to get other people to sign up to your email list. However, it is not set up in a way that will help you to start building a good relationship with your audience. It is VERY salesy and perfomed by an obvious actor reading a script.
So you are left with a page that looks like this…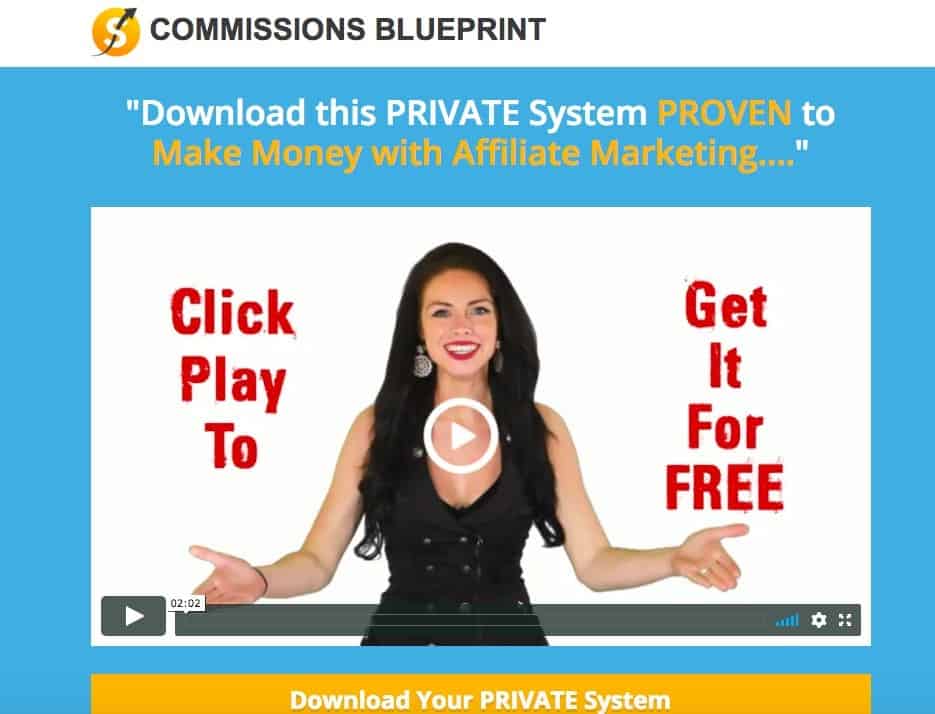 The subscriber recieves the free amazon gifts and then goes through to a Clickbank University Affiliate link

All that is left is for you to start getting thousands of people to your page, throw some epic house party and roll around in the $519 dollars that you make each day.
… Or maybe not
So Let's Get Into It… What's Wrong With FMPS:
1. Traffic, Traffic, Traffic (Visitors)
---
The biggest issue about this is that it doesn't effectively solve the issue of receiving traffic. Just by reading some articles online, or an hour of youtube videos, anyone can figure out how to make an Opt-in page and put some affiliate links in there.
I've read other peoples reviews on this product and some say it doesn't offer any advice on genrating traffic. I think this is unfair as I actually learnt a fair amount (with my limited knowledge at the time) about creating traffic.
The best part was using Udimi like I mentioned earlier. Udimi is a great way to get "clicks" on your link by paying people that already have large email lists within your niche (chosen area) to send an email out for you. You basically pay for each click that you receive from them.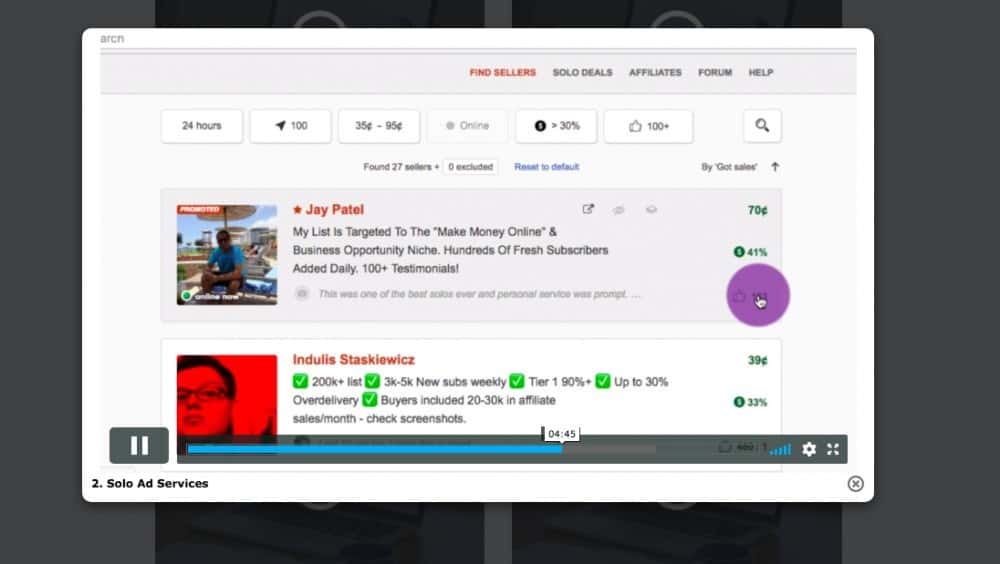 The screenshot above pretty much gives you all you need from the training. Search for sellers that will start advertising within 24 hours, have at least 100 visitors the seller can give you within 100 hours and the cost per click between 35-95 cents. The important ones are to click for over 30% sales and over 100+ positive ratings.
From there you purchase your solo ads. To get an idea of how much it costs… it would cost you $65 to get 100 visitors to your page at 65 cents per click. Most normall give 10-30% extra clicks for free, so you will get slightly more than this.
The other good thing about solo ads is that the visitors will come from an email list within a similar niche. They will also be signed up on someone elses list so they are already used to clicking and providing their email address (something you can't guarantee from facebook or other paid ads).
FMPS even provides you with an email template to send out so you don't need to think about it:
Work From the Comfort of Your Own Home
Hi there,
Are you looking to supplement your current income?
Maybe you're stuck in the rat race and it doesn't pay enough?
Maybe you're retired and you need more income?
Maybe you're a stay-at-home mom looking for a part-time or even full-time venture?
Or maybe you just want to make more money?
Well this opportunity could be perfect for you.
You can do it from the comfort of your own home or anywhere with an internet connection.
==> http://commissionsblueprint.review
It's up to you how much time
you want to invest in it.
This could make you a
CONSISTENT daily income.
I strongly recommend going to
this private page right now:
==> http://commissionsblueprint.review

Regards,
[YOUR NAME] (this is the sellers name)

—————————
This is an ad and I will earn an affiliate commission for any purchases you make.
Now, I'm still pretty new to the whole affiliate marketing game but from what I can tell, this is definately aiming at hitting some emotions. I'm not sure how much you will know about selling, but from the knowledge I have of it… it's all about emotions. People buy on emotions, not logic (if you are new to affiliate marketing this may be useful… if you are experienced, please leave a comment below on how you rate this script)
Obviously the big issue with this is that it will end up costing you more and more money to receive any traffic. Now there is an argument for this in the internet marketing world as it can become a "snowball" effect. Your first members start purchasing affiliate links and you're still adding members to the list, which your first members are paying for etc. etc.
However, it will 100% be better to use this method at the same time as free traffic methods.
Free Traffic Sources
The other methods of trafficking mentioned (yes mentioned, not trained on) in FMPS are forum commenting and ad swaps. Warrior Forum is a good website for forum commenting. It's a great website to interact with other internet marketers in general. I would recommend purchasing the signature ($5) so you can add your link to the bottom of each comment you leave because…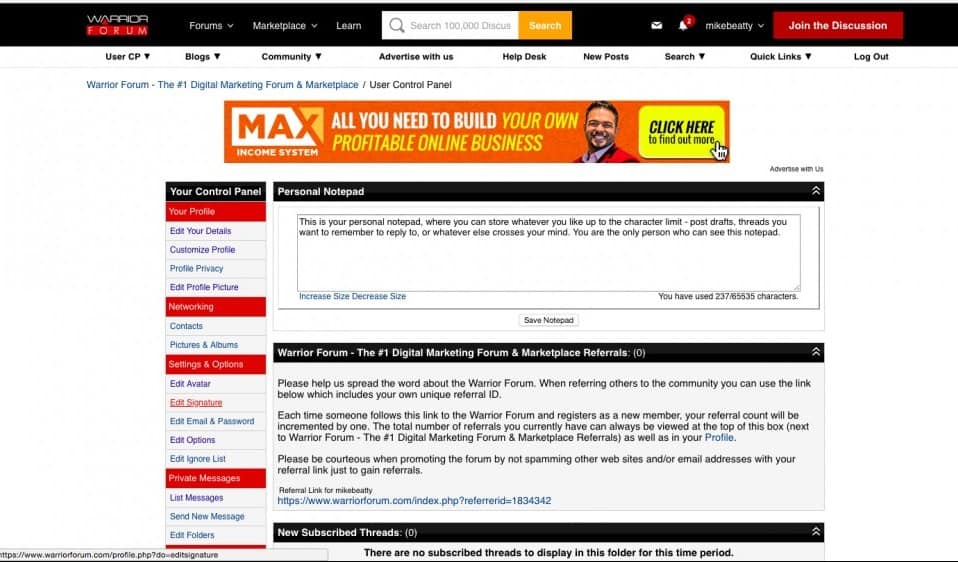 If you can post one of the first few comments in threads that become huge (some receive thousands of comments), you will have people that can see your link for free… forever (note- I did not learn this from FMPS, but Anik Singal's book "Circle of Profit", which I would highly recommend reading this if you are interested in affiliate marketing!)
There's no way of knowing for sure which threads will receive loads of traffic but just being active and making it a habit gives you a better chance of being in one of those threads (you may start to notice I love talking about habits!!)
Another little nugget of information I hadn't heard before was using ad swaps. The issue here is we need to have an email list to be able to use this method effictively so if you're just starting this one's not for you. It does sound like with around 1,000 email addresses you can make some good swaps and really get the snow ball rolling. This is one to save for later safe-swaps.com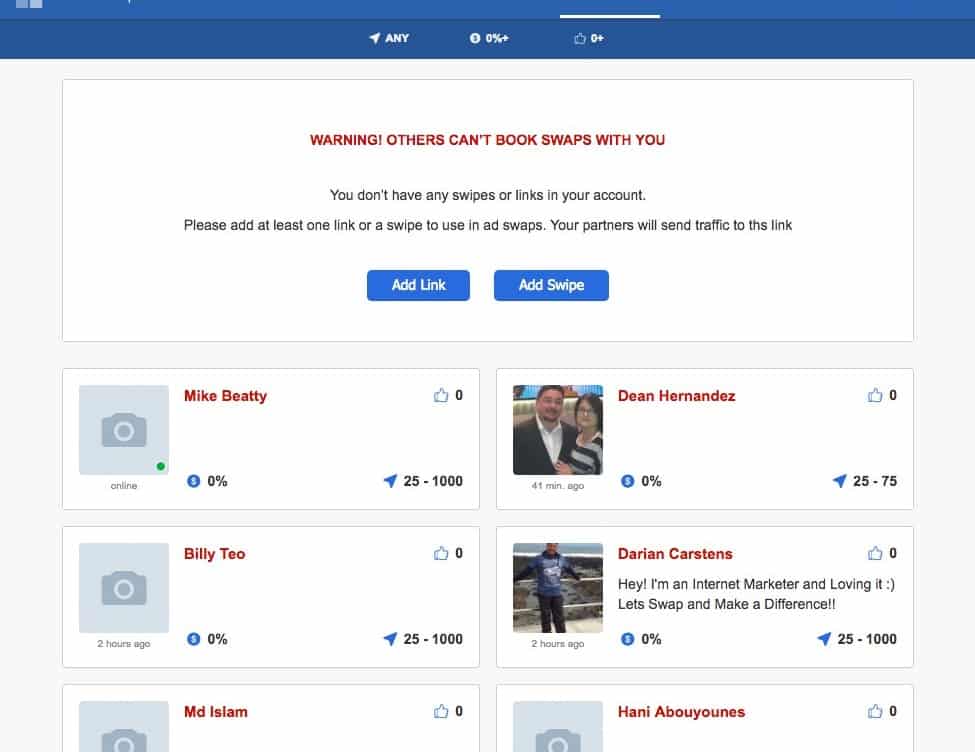 The Big Negative
There is no mention of SEO! From my understanding so far I really do think improving the SEO of your website is a crucial strategy in internet marketing today. It's completely free and think about it yourself… when you want to find out about something what do you do? That's right you "Google it!"
It doesn't cover this at all or even talk about creating a website. So their methods may work to get some traffic (if you pump enough money into solo ads). But if you want a lasting online business… the traffic training will not be enough.
2. It Didn't Even Work!! Outdated Videos Do Not Match the Website
---
So around 6 hours into setting up my "5 minute website" I was still having some technical issues. My Thank You Page (TYP) didn't redirect to the correct place and I didn't receive an automatic email when I "tested" the opt-in page.
I found the issue with the TYP not being redirected to the correct place. In the "walkthrough videos" they did not show a tab that needed to be clicked! So I emailed them and told them about the problem (which they hadn't solved) was an easy fix… I heard nothing back from them unsurprisingly.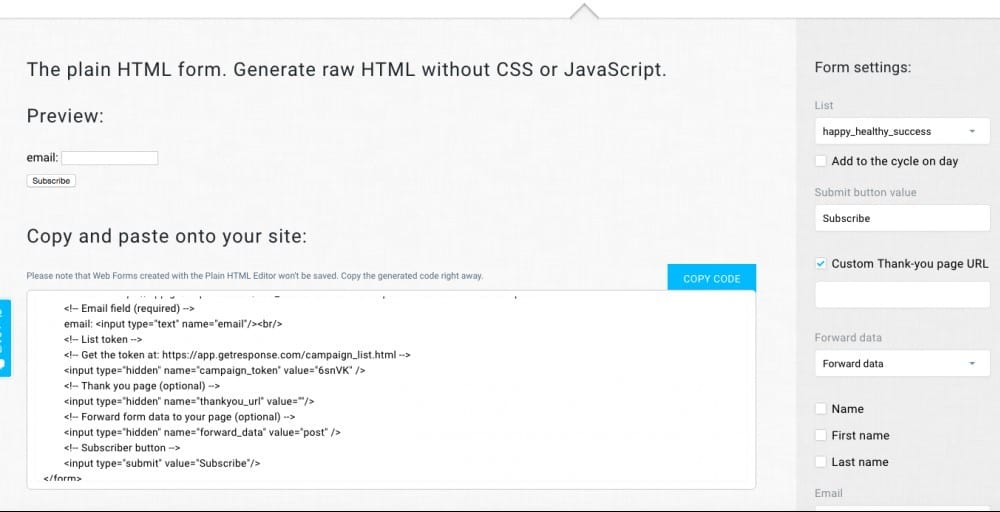 There was a simple checkbox not clicked in the form created (missed off in the step by step video) and without this your TYP is just a generic thank you, without forwarding the subscriber to the Amazon documents and the affiliate link. Therefore meaning the whole opt-in page loses a chance to sell straight away.
3. Terrible Support, It Was Actually Laughable!
The most laughable moment and the reason for the big fat 0 in support was to do with the automatic email.
I had been using Get Response for the past month before this and managed to create my own opt-in page (which did not sell using emotions at all!!) I had set up a whole 10 automatic emails to be sent out to the subscribers and had no issues with my tests.
I asked the question to both GetResponse and FMPS. GetResponse couldn't solve the issue and it seems to be some anomoly (or maybe something to do with the dogey ready-made website). I explained this to FMPS support and this was the response: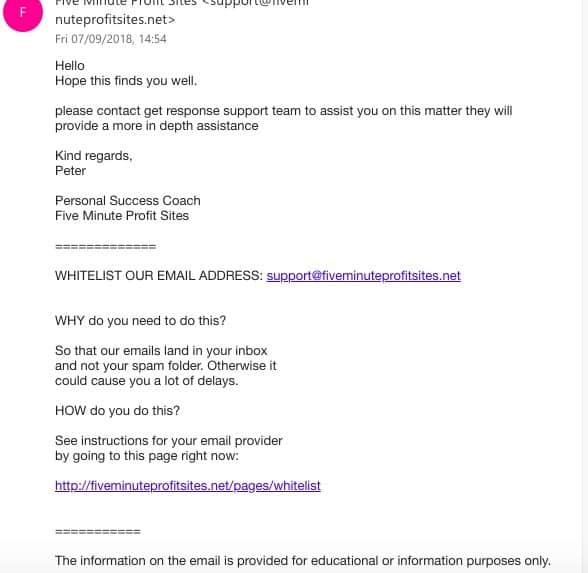 It's like they didn't even read what I sent them. Maybe it was some automated email because they detected the word GetResponse??
4. No control Over the "Website"
---
The opt-in page and TYP don't look too bad but they are pretty generic. I did not have access to control anything to do with the website and it is set up exactly how they make it.
This really de-personalises the page and is not the best start to have with your members.
5. Upsells, Just What We All Want
---
I know people get so annoyed by upsells. Most people want to pay for something and know exactly what they are getting. Not buy something and then have to buy something else and then something else.
However, this is a pretty common strategy used by a lot of big companies (Just think, when was the last time you bought a big mac burger by itself?)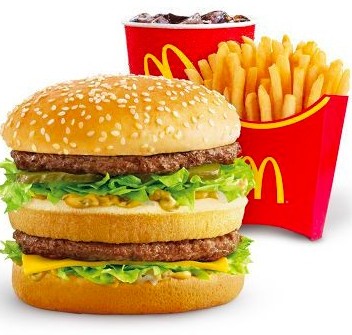 The issue that I see from upsells online is that we don't know about them in advance (unlike a big mac meal). Consumers don't mind paying more for good service as long as they know about these costs!
FMPS try to upsell 3 different courses. The funny thing was that if you click "I don't want this course" they offer it at a cheaper price, so you end up not really trusting them anyway, as the price may go down again if you say you don't want it!
FMPS: The "MakeTimeOnline" Review Final Word
---
Did I learn something? YES! I definately learnt some stuff from starting FMPS. Would I have paid $37 for this information… I'm not so sure. I certainly wouldn't pay $37 for the "money making machine" that they offer but if you're new to the game and you can get the course for free like I did then I felt like it was time well spent.
If you have any questions and I mean ANY questions about FMPS, please leave them below.
If you are interested in finding out about my number one recommendation for starting an online business click here.