In the spirit of full transparency, know that this Starting From Zero review contains affiliate links. This means if you make a purchase through these links, I may receive a small commission at no extra cost to you. In fact, you will often receive a discount or bonus signing up fee! Click here to read my full disclosure policy.
You probably know that many people make money online today.
Fred Lam promises to show you how it's possible for you to do exactly this with his $1.99 ebook on Drop Shipping.
This Starting from Zero review will reveal the truth behind the book and what you should expect before you jump in.
Starting From Zero Review- The Overview and Rankings
---
Name: Starting From Zero
Owners: Fred Lam (60 out of 100)
Website URL: startingfromzero.com
Type: eCommerce Dropshipping ebook
Training in the book: 15 out of 100
Success Stories: 40 out of 100
Price: $1.99 + $400+ upsells
Maketimeonline.com Rating: 38 out of 100
Pros and Cons
---
Pros
Real testimonials
Show you how Fred Lam made money from eCommerce
A genuine way to start an eCommerce business
Cons
Upsells and monthly payments make the training quite pricey
eCommerce businesses can be quite expensive to set up effectively
Screenshots in the book become outdated very quickly
What is Starting From Zero About?
---
It is a book that explains the basics behind making money with an eCommerce business… specifically a drop shipping company.
eCommerce (or electronic commerce) is basically when someone sells a physical product online.
The biggest benefit of dropshipping is that you don't need to own any stock until you make a sale.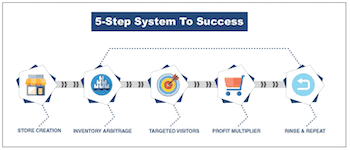 The book will take you through the 5 step system to success that Fred Lam has personally used.
What's the 5 Step System to Success?
Fred makes the system sound easier than ABC…
Store creation
Inventory Arbitrage
Targeted Visitors
Profit Multiplier
Rinse & Repeat
The book goes into more detail about what each step involves.
1. Store Creation
Fred will show you how it's possible to set up your website store in minutes. There are a lot of screenshots in this section to show you what to do.
If you'd like to see how it's possible to get a website up and running check out "How to Build a Website the Easy Way… in Under 30 Seconds"
2. Inventory Arbitrage
This is where dropshipping beats previous forms of eCommerce stores. It's possible to set up without owning any stock or physically shipping anything yourself.
3. Targeted Visitors
This section particularly mentions one strategy and one place you need to go.
Spoiler alert- it's Facebook advertising!!
The book goes into more detail about how to do this effectively but you'll really need the upsells to learn the most about this section.
4. Profit Multiplier
This part of the book will show you how to scale and ask your customers for more money whilst providing real value. In marketing terms, this is called a sales funnel, and funnily enough, this book is actually a sales funnel for Fred Lam.
It also shows you some alternatives to multiply your profit:
How you can create micro-niche websites
How it's possible to sell your website
Mentions it's possible to outsource things too
Again it kind of skims over this topic though.
5. Rinse & Repeat
Either create a new one or scale it up.
Simples!
Once you can use the 5-steps effectively there's nothing stopping you from
What's the Real Price and What does it Include?
As you can probably tell from the price of the book it's not where it ends!
Yes, it's possible to get your dropshipping business up and running purely from reading the book. However, you will need to spend a lot of time and money on trial and error with things like Facebook advertising (to drive traffic to your store) and how to systemise things properly.
This is why the book leads onto some other courses you can purchase from Fred Lam (aka upsells).
Here are the upsells that Fred Lam has in place:
Front End: $1.99 Audiobook
Order Bump: $27 – B.S. Framework 6 Step Guide
Upsell 1: $147 – eCompreneur for 90 days then $49/mo
Downsell 1: $1 trial 7 days then $49/mo
Upsell 2: $197 – Masterclass Training
Downsell 2: $79 x 3 months.
As you can see the total investment after 3 months is well over $440.

Is Starting From Zero a Scam?
---
There are two main ways an online course can be a scam:
Take your money and run off into the sunset, never to be heard from again
Provide some information but it doesn't live up to the promises
It's certainly not like scam number one. However, it's not completely honest upfront with the investment you will need to make.
Plus, there are some people that have done extremely well from Fred Lam's training.
Just to be fully transparent with you, I have read the book but I have not purchased the upsells myself. Therefore I will stop short of calling it a scam.
I have researched the website, testimonials and information on the Internet to get to the bottom of what this program genuinely does. This is because I have been burnt from programs just like this in the past and I want to prevent others from making the same mistakes. If you'd like to learn more "Ways to Spot an Online Marketing Scam" then click the highlighted text.
Related content:
Starting From Zero- The Good
---
The more you read this Startinfrom Zero review the more you will see there are some of the good parts to the book…
#1 Real Testimonials
---
It's clear to see that there are real testimonials.
There are also some big names (including Rich Dad Poor Dad's author Robert Kiyosaki and Grant Cardone) the recommend Fred Lam's training. Certainly, take these with a pinch of salt though.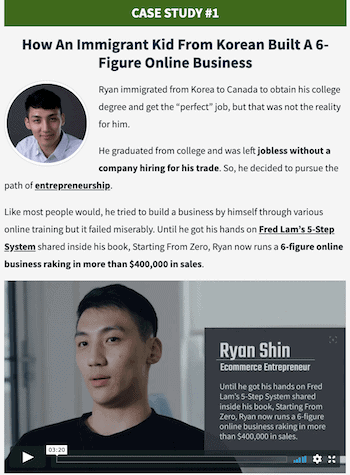 The video and written testimonials make it clear that there are real people that have benefitted from Fred's training. There is no sign of these being paid actors as are often seen on scam courses.
#2 Fred Lam has Actually Done This
---
I know it's easy to fake a screenshot about how much you earn online.
However, when you combine the below screenshot to what other people say, it's hard to argue that Fred knows his stuff!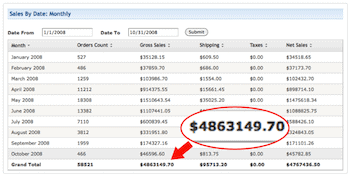 Just see what Anik Singal (another credible online marketer) has to say about him.
#3 Low Business Startup Costs
---
One of the big attractions about many online businesses is the low start-up costs.
You could purchase the training, waste loads of money on Facebook ads, purchase your online store and companies to handle the shipping and still have only spent a few thousand dollars.
Most physical businesses will need 10's of thousands of dollars just to start.
Starting From Zero Red Flags
---
The support offered with the product. Is there a community, forum, personal support, do the owners support it.
Key Terms:
Black Hat Methods – Using lies and unethical methods to make someone buy something
White Hat Methods – Being honest and genuine to help people make informed decisions about purchases
Dropshipping – when a store sells a product it purchases the item from a third party and ships directly to the customer
Affiliate Marketing- Connecting a customer to a product they are looking for and receiving a commission for doing so
Red Flag – A warning sign
#1 Upsells
---
Chances are you got drawn in by the $1.99 price tag on the book.
However, if you want to be successful with a dropshipping company without wasting loads of time and money figuring it out yourself it would be wise to get the proper training.
Fred doesn't make this clear in the sales page of the book.
To get set up properly you will likely need to spend at least $400 and $49 monthly. Not to mention the cost of hosting your online website and Facebook ads.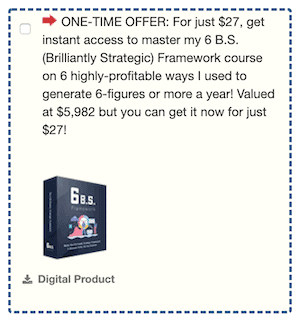 It can quickly add up to a lot of money, so it's wise to be aware of this from the start.
#2 Outdated Screenshots
---
The book has many screenshots to show you step by step how to set up your online store etc.
However 3rd party online websites change their layout so regularly that it's very likely the screenshots will not match what Fred shows you in the book.
Obviously, the audiobook will be no good for these either!
#3 Clickbank Product
---
Often this is seen as a bonus as Clickbank provides a 60-day money-back guarantee.

However, ClickBank is quite well known for promoting scams, particularly in the make money online space. Check out this "5 Minute Profit Sites review" or my "Blast4Traffic review".
#4 eCommerce Business
---
eCommerce is definitely a great way to make money online. Many people have become super successful with it.
But here are some things to be aware of before diving into an eCommerce business:
Financial risk- need to pay for adverts (for traffic), hosting etc.
Often need to bulk buy the product (not in dropshipping's case!)
Manage/ rely on it being stored and shipped somewhere else
Provide customer service
Refunds & returns can become a problem
Due to the reliance on 3rd party companies if they were to not exist anymore you wouldn't have a business left at all.
Hence, this is why Fred's worst nightmare happened and his business collapsed overnight!

Check out my chat with "Jeremy Ong from Hustlr" on why he has moved away from his $70k/ month eCommerce business and has started an affiliate marketing business instead.
Related content:
My Opinion – Starting From Zero
---
Fred Lam clearly knows his stuff.
It's certainly possible to be successful with a dropshipping business but you must be aware of the true costs before staring.
Just see how many people Fred Lam has already helped…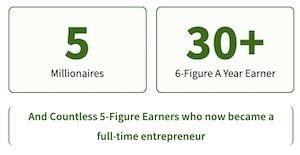 Personally though, I found that affiliate marketing outweighed the benefits of dropshipping:
The start-up costs are minimal (less than $350 for a year for everything you need)
It's possible to scale the business to as big as you want (check out my chat with Jeff and Ben on "How to create a $240k/Month Business using Affiliate Marketing"
You can build a personal brand around something you are passionate about rather than selling random products
But saying that, dropshipping may be a great fit for you. Click here to find out more about Starting From Zero. It is a great way to learn whether dropshipping is something you are interested in.
An Evergreen Strategy That Brings You The Money
---
It wasn't that long ago that I was still trying to figure out how it's possible for people to make money online.
The biggest issue I found was that most systems either required a load of time, money or for you to sell to all your friends and family. I wanted to find a passive system that had a few things:
I could work on when I wanted (I was still in a full-time job)
Didn't cost a fortune to start and maintain
Didn't need me to sell stuff to my friends and family
It was in September 2018 that I found the system that I still use today to make passive income and have since quit my full-time job.
The best thing about it is:
It's free to start
Customers are brought to you that are already interested (just think about how you found this review… there was no money or time spent from me promoting this!)
You get me as a personal coach to help you on your journey
When you try out this program you will see why so many people recommend it.
No credit card details required
Starting From Zero: The "MakeTimeOnline" Final Word
---
As you come towards the end of this Starting from Zero review you will realise the book is definitely not a scam.
But it's important to be realistic about your expectations. It won't be possible for you to create a thriving dropshipping business just from investing in a $1.99 book.
If you have any questions and I mean any questions about Starting From Zero, please leave them below. If you have used or currently are a member please also add your opinions below.
Keep changing for the better,
Mike
P.S. Since you're still here, I'm going to assume that you are interested in making money online to free up your time. So check out this 1-minute video to see more information about my #1 recommended program…