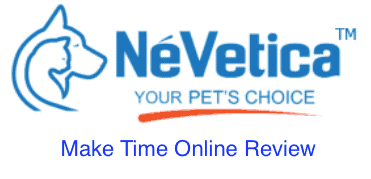 Chances are you are wondering if the NeVetica MLM program is a scam or a pyramid scheme.
Well, let's not beat around the bush…
It's a completely legit MLM company where real people can make money from home.
However, it doesn't mean it's the best opportunity for you.
I am not associated with NeVetica at all. So rest assured this honest NeVetica MLM review will reveal all of the truths about the program weighing up the pros and the cons.
NeVetica MLM Review- The Overview and Rankings
---
Name: NeVetica
Founders: Dr Lance London in 2016 (80 out of 100)
Website URL: nevetica.com
Type: Pet Care MLM
Products (Including Pricing): 20 out of 100
Success Stories: 10 out of 100
Price To Join MLM: ~$690 ($199 for the starter pack + $475 for the product pack + $24.99 per month) (30 out of 100)
Maketimeonline.com Rating: 35 out of 100
What To Look For In An MLM:
Low start-up fee – ❌
High-quality products – ✅
You don't have to carry inventory – ✅
Generous compensation plan – ✅
An affiliate-like system – ✅
Company is in the early momentum phase – ❌
NeVetica Pros and Cons
---
Pros
People love their pets and are willing to spend a lot of money on them
There is hardly any competition for pet nutrition MLM products, so you have the potential to keep customers as repeat clients
Cons
There's a lack of transparency about the business on their website
It's quite expensive to start
99% of MLM recruits typically lose money
You won't own the business
Despite being relatively new, NeVetica is not growing
What Is NeVetica?
---
NeVetica is a Multi-Level-Marketing company that sells pet supplements and products.
There are other similar MLM companies but it's certainly not an overcrowded market (like health and wellness MLM's!)
One thing you must know about NeVetica is that it is a one-stop shop for your dog's healthcare needs; it includes oral care, hygienic, and various nutritional supplements. 
NeVetica's pet evaluation is a tool that walks pet owners through their furry friend's lifestyle and nutritional health and recommends the necessary goods for their continued fitness.
The characteristic of an MLM company is to be more focused on promoting on social media and pushing the products into their target market.
After determining your interest in their product, they will allow you to become a distributor. This is acceptable, except that Nevetic lacks transparency. 
It is because they need to be more vocal regarding the cost of joining their business as a distributor and how much would be the compensation structure. It can only be determined once you make contact with a distributor. 
Moreover, NeVetica provides an extensive selection of dog vitamins and health care products. In addition to promoting its pet products, NeVetica provides its customers with the tools they need to start their profitable internet enterprises.
The 6-minute video below explains more about the NeVetica opportunity.
Now you may be starting to think that this could be a great "work from home" opportunity for you. The video above makes valid points about getting in at the right time for a company etc.
But here's the truth…
NeVetica is not growing.
It's not the next "Apple" as they imply in the video.
Here are the hard facts by looking at how many people are searching for it on Google….
When you compare NeVetica to other MLM opportunities, it is not a great time to get in at all.
There are other companies that are in the "early momentum" phase but, unfortunately, NeVetica isn't one. So don't let some clever marketing sway your decision.
If you'd like to know more about Farmasi, you can check out my full Farmasi review here.
With that said… let's find out a bit more about NeVetica. You can always tell a lot about a company from the founders and people that run the show…
Who Owns NeVetica?
---
Dr Lance London founded NeVetica in 2016 after his dog suffered from some severe health issues.
He is also the guy who started Carolina Kitchen, a popular burger joint.
He obviously has some business acumen as his burger joint has expanded to different destinations around the US.
However, he doesn't really have any MLM experience.
And a slightly bigger question is…
Does anyone really want pet supplements?
How Does NeVetica Work?
---
So the NeVetica MLM has a range of pet products that people can buy.
If you were to become a NeVetica MLM distributor you could get paid in one of 2 ways (similarly to most MLM opportunities):
Get commission from selling their products
Bonuses from recruiting more people to join the MLM program
Distributors interested in learning more about the NeVetica compensation plan can access the video there. They also need to share detailed information about how to join or what the compensation structure looks like.
As a potential new NeVetica distributor, you have yet to learn what you're getting yourself into. Get in touch with a distributor or fill out the form on the website to learn more.
You can make money with NeVetica in two ways: by becoming a distributor and selling the products or by recruiting others to become distributors.
The retail sales incentive is one way that promoting the product might help you make money. So, you buy their pet supplies at a discount and then resell them at full price.
As a promoter, you'll not only see financial gains, but you'll also be eligible for monetary bonuses for meeting targets.
Before you consider joining the MLM program it's important that you understand what they actually provide…
NeVetica Products
---
One of the main features of Nevetica is the app that the company uses to help you track your pet's health and understand more about your four-legged friends.
Learn more about this in the 4-minute video below…
There is a range of products that NeVetica provide but the main ones are:
Shampoo and Conditioner – $29.99
Wet Away Carpet Cleaner – $24.99
Dental Chews – $27.99 to keep your dogs teeth clean
Mouthwash – $24.99-$29.99- keep your dogs breath minty fresh (almost)
Hip and Joint – $35.99-$45.99 Biscuits for dogs that will help their joins to be strong
NeVetica Nutrition – $34.99- A range of products to help the pet's dietary nutritional deficiencies
You can see more about the Hip and Joint tablets below in the 1-minute video…
If you've ever had a dog you probably know how common joint problems are in older dogs.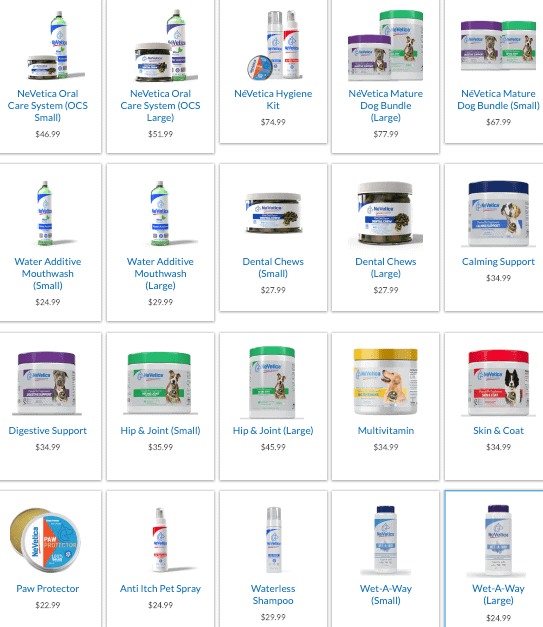 You can see the full range of NeVetica products here.
Also note that there are many more MLMs that sell similar products, such as:
Now, I can almost hear your mind thinking…
How To Make Money With NeVetica
---
As mentioned earlier in this NeVetica review, there are 2 ways to make money as a NeVetica MLM distributor.
But before we dig into these ways a bit more, let's find out…
How Much Does It Cost To Join NeVetica?
---
The website makes this very unclear and is pretty shady about the upfront costs.
But after some digging on certain forums, you can find out it costs about $690 one time fee…
From putting the pieces together from my research it looks like you need to spend:
NeVetica Business Builder Pack ($199): training manual, magazine and sales materials
NeVetica Product Pack ($475): you get a load of products at a discount to sell
Tech Pack ($24.99 per month): you get a website to help sell the products
You'll find out my opinion about this later in this NeVetica review. But for now, let's get our heads around the…
NeVetica Compensation Plan
---
Usually, MLM compensation plans are about 20 pages long, with loads of crazy diagrams and super complicated to understand.
NeVetica just doesn't provide this information.
Instead, they just have this 7-minute video…
So there are 9 ways you can make money from NeVetica:
Commissions on personal sales (up to 35%)
1st order bonuses (up to 15% bonus on sales made by your downline)
Unilevel bonuses (6 levels deep)
Turbo infinity bonuses (presidents only)
Income match bonus (up to 25% income for your downline)
Leadership advancement bonus (one time bonus each time you "rank" up)
Global pool bonus (distributed from the top leaders)
NeVetica sponsored vacations (no idea how to qualify for this!)
Executive leadership council
Now you're probably starting to wonder…
Is NeVetica a Scam?
---
No NeVetica is not a scam
There are two main ways a "make money from home" opportunity can be a scam:
Take your money and run off into the sunset, never to be heard from again
Provide some information but it doesn't live up to their promises
NeVetica does have legit products that it sells.
It will also pay you commission for every product you can sell.
However, it doesn't mean it's the right opportunity for you.
The rest of this NeVetica MLM review will help you decide this for yourself.
Just to be fully transparent with you, I have not purchased this program myself and I do not endorse it in any way.
I have researched the website, testimonials and information on the Internet to get to the bottom of what this program genuinely does. This is because I have been burnt from programs just like this in the past and I want to prevent others from making the same mistakes. If you'd like to learn more "Ways to Spot an Online Marketing Scam" then click the highlighted text.
Related content:
Is NeVetica A Pyramid Scheme?
---
This is actually a slightly different question compared to "is NeVetica a scam?"
Technically you can make money from selling the products at NeVetica. Therefore, you don't need to recruit people into the MLM program to make money.
This means NeVetica is not a pyramid scheme.
But in reality, you will have to recruit more MLM members to make any decent money.
This makes the company very similar to a pyramid scheme in disguise!
What Is A Pyramid Scheme?
---
A pyramid scheme is when a company recruits members by promising them payment for recruiting more members.
Technically there are no products sold or any other ways for recruits to make money other than recruiting more people to join the company.
The issue with this is… eventually the world will run out of people that can join!
It's actually surprisingly sooner than you may think too!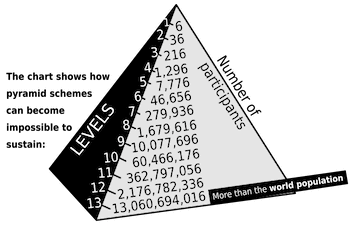 As you can see just by recruiting 6 members each the world's population is not enough to cope with a 13-level company!
…and most pyramid schemes require you to recruit more than 6 people each to make any decent money!
Check out the 5-minute video below to learn how to spot and avoid a pyramid scheme…
---
Common positive reviews
Here are some of the common positive reviews about its job opportunity that we have found…
"Retail sales bonus for distributors is quite high at 35%. So, you can surely be rewarded on your sales. I must say that the App that comes with the purchase is brilliant, useful and on the trend."

Common negative reviews
And here are the common negative reviews people are saying about its job opportunity, which we also found…
"Just like in most MLM companies, to succeed in Nevetica, you have to recruit more people in your organization and develop your sales skills to sell relatively pricey products that are not really independently tested by authorities in this type of products. If you are not a veterinarian, how would you expect the people to believe your words about pet supplement then."

---
NeVetica MLM: The Good
---
Here are some of the things I like about NeVetica…
Key Terms:
Black Hat Methods – Using lies and unethical methods to make someone buy something
White Hat Methods – Being honest and genuine to help people make informed decisions about purchases
Pyramid Scheme – recruits members via a promise for payment from referring others to the service rather than providing a product
Affiliate Marketing- Connecting a customer to a product they are looking for and receiving a commission for doing so
Red Flag – A warning sign
#1 Some People Really Love Their Pets!
---
If you've ever had a pet you probably know they become an extended member of the family.
This means people are willing to spend a lot of money on them to make sure they stay fit and healthy and get the right nutrition.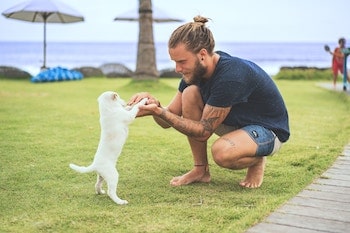 However, most pet owners typically spend more money on fancy dog beds than their pet's nutrition.
In fact, most people would rather purchase a nice big TV than spend a few hundred dollars on nutrition products for themselves!
The idea is great on paper, but the education needs to happen before people will flood to buy nutrition biscuits for their dogs.
#2 Unique Products
---
You certainly won't have any problem in being in an overcrowded market here!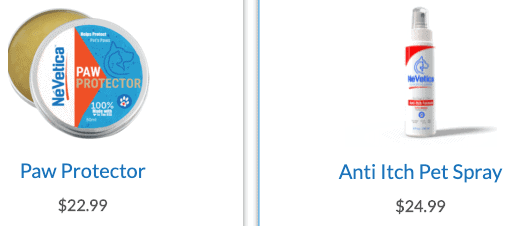 It's not like every Tom, Dick and Harry is trying to sell you some paw protectors or anti-itch pet spray.
This means if you can find some customers that are looking for this, you could get repeat customers very easily.
NeVetica MLM: The Not So Good
---
Here are some of the bad parts of NeVetica that you should be aware of before diving in…
#1 Quite Expensive To Start
---
Spending $700 to just join an MLM company is not "the going rate".
There are some that will cost a lot more. But when you're taking a punt on a relatively new and unique MLM opportunity, it's quite a chunk of money to risk.
I can think of some other things you could do with that cash…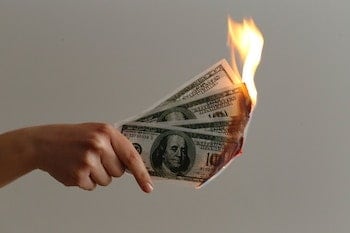 Obviously it's only a fraction of the cost of starting a more traditional "bricks and mortar" business like a restaurant.
But there are other opportunities that don't require you to spend this much to "give it a go".
#2 Lack Of Transparency
---
Their website simply doesn't provide you with all the information a normal MLM company does.
Here are pretty standard things you can find out on an MLM website:
How much it costs to become a "distributor" (same as a recruiter or consultant or whatever the company calls it)
Income disclosure statement from previous years for MLM recruits
Compensation plan
NeVetica doesn't display any of this, which leaves me feeling like…
Just to get this information I had to trawl through forums and personal reviews.
This means the company is either hiding something, or they don't understand how MLM companies normally work.
#3 MLM'S Success Rate (1%)
---
The FTC released a study a few years ago after researching over 300 MLM companies.
They found that 99% of MLM recruits lose money!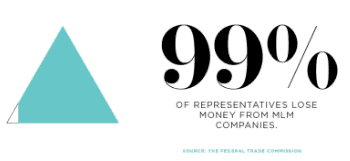 Not every company will be the same and this obviously includes all the people that try the company for a day and give up.
But still, the results are pretty eye-opening!
#4 You Won't Own A Business
---
Many people think that starting an MLM opportunity is a very cheap and great way to start their own business.
However, they are missing the point.
You simply do not own it.
If NeVetica was to shut down tomorrow, you and all of the distributors would lose your "business" overnight.
One of the main benefits of starting your own business is that you have control over it.
With an MLM opportunity, you do not.
#5 Still New… But It's Just Not Catching On
---
One of the great things about NeVetica is that it only started in 2016.
This means you should be able to get in early before everyone signs up!
However, Google reveals an ugly truth…
When you compare how many people search for other similar pet MLM companies like:
You can see that it's nowhere near as popular or even growing.
So much for tapping into the "booming pet industry" as they claim…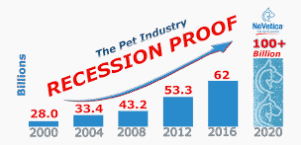 Related content:
My Opinion – NeVetica MLM
---
It's not worth even giving it a go.
It's a legit opportunity but judging by the poor growth and lack of transparency, I wouldn't think even 1% of MLM recruits would make money from it.
There is an interesting thing about the 1 % of MLM recruits who do make money (some make great money too by the way!)
They all use online marketing to help grow and scale their income.
Just think about it…
The internet doesn't sleep and carries on working for you 24/7/365.
But if you're like me, you probably are wondering how to learn about online marketing or starting your own online business.
Is There An Alternative?
---
It wasn't that long ago that I was still trying to figure out how it's possible for people to make money online.
It was in Septemeber 2018 when I found a program that helped me do this…

Just so you know… I am a PE teacher.
I don't know any techie skills or how to code.
But I have learnt how to get FREE traffic to my website every month. And in case you didn't know…
Traffic (or leads) to your website means ways to make money… passively.
The best thing about this program is:
It's free to start (no credit card details are required)
You are taught how to get qualified traffic brought to you for free (just think about how you found this review… there was no money or time spent from me promoting this!)
There is support from hundreds of thousands of other online marketers (there are people that earn 7-8 figures a year in there)
The step-by-step training teaches you everything you need to know to go from nothing to a full online business (about anything you want)
When you try out this program you will see why so many people recommend it.
NeVetica MLM Review: The "MakeTimeOnline" Final Word
---
So there you have it, everything you need to know is in this NeVetica MLM review.
NeVetica is not a pyramid scheme or a scam.
But it does have issues such as the lack of transparency and the poor growth in 3 years.
Maybe dog supplements are just too niche for an MLM to work.
Keep changing for the better,
Mike
P.S. Since you're still here, I'm going to assume that you are interested in making money online to free up your time. So check out my review of my #1 recommended program and join the form below to get $950 worth of marketing freebies…