In the spirit of full transparency, know that this My Ecom Club review contains affiliate links. This means if you make a purchase through these links, I may receive a small commission at no extra cost to you. Click here to read my full disclosure policy.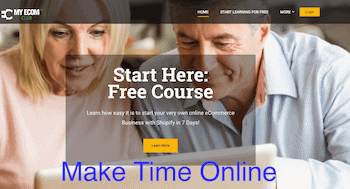 Chances are you have found this My Ecom Club review because you have seen the website advertised and are interested in creating an online business.
Most people don't know where to start with an online business. But My Ecom Club promises to be the answer to your problems if this is something you're interested in.
This honest and unbiased My Ecom Club review, with video, will show you exactly what to expect from the program and whether it is right for you.
My Ecom Club Review – The Overview and Rankings
---
Name: My Ecom Club
Owners: Ricky Lin Teo Vee (1 out of 100)
Website URL: myecomclub.com
Type: Dropshipping Training
Training: 55 out of 100
Success Stories: 20 out of 100
Price: $37 + $97/ month + $1997 upsell
Maketimeonline.com Rating: 25 out of 100
My Ecom Club: Pros and Cons
---
Pros
Training useful for beginners to dropshipping
Dropshipping is a legit business model
30 Money-Back promise
Cons
Fake testimonials and success stories
Owner linked to other scams
Upsells
Black hat sales tactics
BBB ratings
What does My Ecom Club do?
---
My Ecom Club promises to show you exactly how to set up your own dropshipping online business.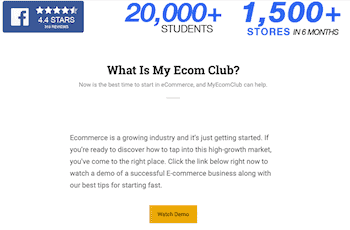 The owner (supposedly Rocky Lin) claims to have put together a step-by-step training program so that even a complete beginner can start a profitable e-commerce business.
It also offers support and "ready to go" websites.
If you're like me then you probably want to know what e-commerce and dropshipping actually entails before diving in.
What is Dropshipping?
I found this short video on YouTube, which explains what dropshipping is.
Simply put, an e-commerce store is an online business where you sell physical items from one supplier to a customer.
Dropshipping has become particularly appealing as you will never need to order a load of stock.
You simply wait until a customer buys a product through your website.
Then you place an order with a supplier and send it directly to the customer.
Typically, the customer will purchase it from you for a "retail price" and you buy it for "wholesale price". Then you pocket the difference.
Sounds simple right?
So let's dig into this program a bit more…
What's Inside My Ecom Club?
You can join for free to see the inside of My Ecom Club.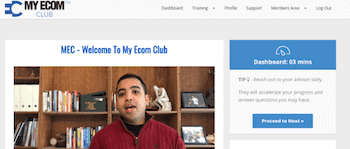 My Ecom Club comes with 6 training modules:
Overview of the concept of Dropshipping
How to select your niche & products
The right mindset you need to have
How to find the best supplier using AliExpress
Setting up your Shopify store with Oberlo
Optimizing your store and getting traffic
As you can see, it will help you go from someone with no knowledge of dropshipping to understand the basics of how to organise your store.
So it really does seem pretty legit right?
Now, I can almost hear your mind saying…
Is My Ecom Club a Scam?
---
Technically no…
But as you continue to read this My Ecom Club review you will realise it's maybe not all it's cracked up to be.
There are two main ways an online course can be a scam:
Take your money and run off into the sunset, never to be heard from again
Provide some information but it doesn't live up to their promises
Obviously My Ecom Club does provide you with some training. But it may not be exactly what you thought at first…
Just to be fully transparent with you, I have not purchased this program myself and I do not endorse it in any way.
I have researched the website, testimonials and information on the Internet to get to the bottom of what this program genuinely does. This is because I have been burnt from programs just like this in the past and I want to prevent others from making the same mistakes. If you'd like to learn more "Ways to Spot an Online Marketing Scam" then click the highlighted text.
Related content:
My Ecom Club: The Good
---
Here are some of the things I like about My Ecom Club…
Key Terms:
Black Hat Methods – Using lies and unethical methods to make someone buy something
White Hat Methods – Being honest and genuine to help people make informed decisions about purchases
Affiliate Marketing- Connecting a customer to a product they are looking for and receiving a commission for doing so
Red Flag – A warning sign
#1 Training Useful for Beginners
---
If you have no idea about how to start a dropshipping business then you probably will find some useful things inside.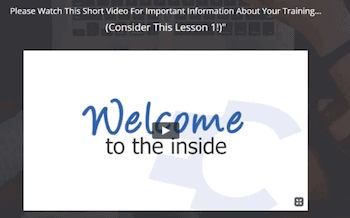 My Ecom Club will show you the basics of how to set up your own store.
But you're going to have to fork out a bit more money to get the coach and "ready to go" Ecom store, as you are about to find out.
#2 Legit Strategy to Make Money
---
Dropshipping and e-commerce is a completely legit business model.
They are not selling you a pipe dream or made-up way of making money.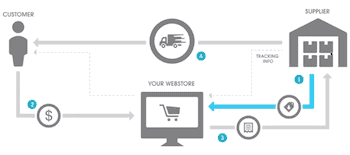 In fact, you can listen to my chat with Jeremy Ong on how he set up a 5 figure a month Ecom store.
This also includes why he is now moving to an affiliate marketing business model.
#3 30-Day Refund Policy
---
There is a refund policy in place.
However, as you can see from the review below from the BBB, they may not always honour this…

The policy is great as it proves they are confident in their training.
But the complaints are not as you're about to learn more about in this My Ecom Club review! Just something to be aware of…
My Ecom Club: The Bad & Red Flags
---
Here are some of the bad parts of My Ecom Club that you should be aware of before joining.
#1 BBB Negative Reviews & Current Alert
---
The Better Business Bureau is a great way to check out if a company is legit.
The biggest red flag here is that there is a current alert for this business…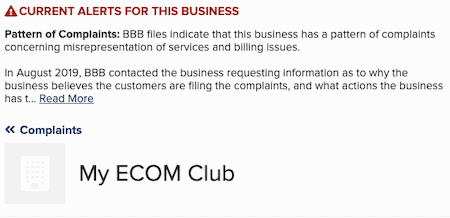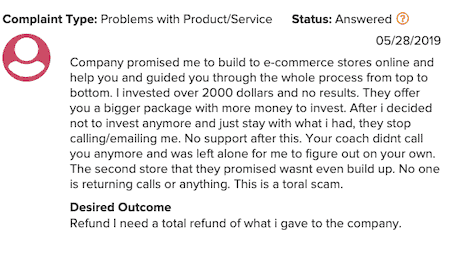 It's also clear to see that customers are not happy due to not receiving the support they were promised.
There are many claims of people being harassed by their sales teams and not getting the ready to go stores that they claimed.
#2 Fake Testimonials & Success Stories
---
This is another big red flag. If a company cannot get any real people leaving positive reviews or proof of success it's a big concern.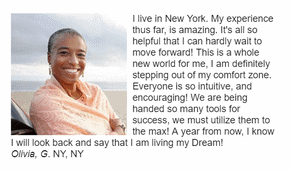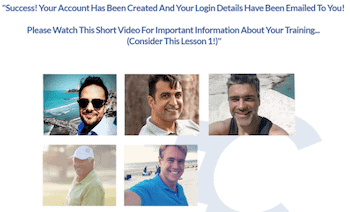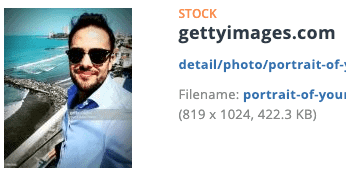 It becomes even more concerning when they use free stock images off of the internet to fake the "success stories".
This is strike two, but it's about to get worse…
#3 Upsells & The Real Cost
---
Here is the real goal of My Ecom Club…
To get you to buy the high ticket upsells:
Upsell 1. Add a Coach ($37)
As soon as you have created your free account you will be bombarded with sales videos about why a coach is so important.
Support and 1-1 coaching is definitely super valuable in any business, but as you've already seen from real reviews, they do not deliver.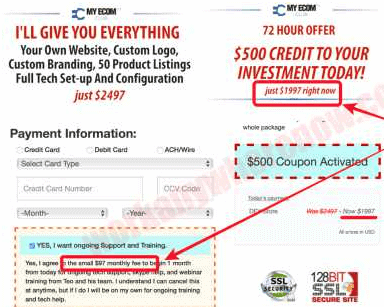 Upsell 2. Ready to go Ecom Store ($1,997 + $97 month)
This upsell is where they really want people to come to.
They promise:
2 Shopify stores set up for you
100 top-selling products in the niche of your choice
Written descriptions for these 100 items
Theme and Logo ready
Traffic generation training
If this actually worked and they provided what they say then this may actually be pretty decent.
However, from checking online forums, BBB and other reviews it's clear to see they simply don't deliver this.
You may get 2 stores done for you but you won't have the support or traffic going to the website to make you any money.
The Facebook Ads training will mean you need to factor in another few hundred dollars each month, and this is becoming so competitive that only the best Facebook ads are effective anymore.
So it's really not free.. you will need to pay $1,997 to get your ready to go stores plus $97 a month for support and $200+ a month for Facebook ads.
#4 Blackhat Sales Tactics
---
They claim you will get access to a FREE training program.
But straight away it shows you the real cost is $37!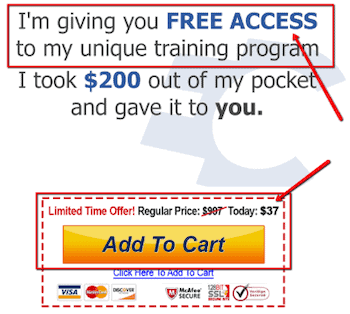 I'm not sure if they are just lazy or being really stupid but this is another red flag for any online course.
#5 The Real Owner is Linked to Scams
---
Supposedly the owner is Ricky Lim. However, no information exists about him on the internet.
The real owner is quite clearly Teo Vee as you can see on Twitter (and YouTube channels).
It's no surprise they try to hide this fact due to other scams Teo Vee has been linked to such as Social Stinger & Ecom Cash Code.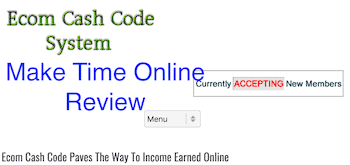 If this is not a red flag about this program not being legit and honest them I'm not sure what is.
Related content:
My Opinion – My Ecom Club
---
Here's the truth…
You can find out all of this information for free on YouTube…
This is just a quick 20-minute video which will give the knowledge you need to start a dropshipping company.
The huge upsells don't deliver and to be honest this program really does appear to be a scam, even though it has some basic training.
In my own opinion, dropshipping is more of an active income. Yes, it's possible to make some great money, but if you are looking for passive income online this is not the best strategy.
Don't take my word for it, listen to a guy who has a 5 figure a month dropshipping business and is now moving into affiliate marketing exactly for this reason.
An Evergreen Strategy That Brings You The Money
---
It wasn't that long ago that I was still trying to figure out how people actually make money online.
It was in September 2018 that I found Wealthy Affiliate. And in September 2019 I quit my full-time job.
The best thing about it is:
It's free to start
You can grow it part-time, working when it suits you
You are taught how to get FREE traffic to your website (just think about how you found this review… there was no money or time spent from me promoting this!)
Get access to a huge community of online marketers (over 400,000 active members plus me as a personal coach to help you on your journey!
When you try out this program you will see why so many people recommend it.
No credit card details required– check out the bonus at the bottom of this page
My Ecom Club Review: The "MakeTimeOnline" Final Word
---
To sum up this My Econ Club review…
It's not worth your time or money.
If you are new to dropshipping and have your heart set on creating an e-commerce store then check out some free YouTube videos like the one above (you will learn a lot from there and can find someone that you genuinely would like to learn from… chances are they have a course you can buy if you want all the information in one place).
If you have any questions about My Ecom Club or about affiliate marketing then drop a comment below.
Keep changing for the better,
Mike
P.S. Since you're still here, I'm going to assume that you are interested in making money online to free up your time. So check out my review of my #1 recommended program and join the form below to get some great freebies, including a 1-1 chat with me…