You've probably seen an ad or received an email about Ecom Cash Code. Now you're wondering, is Ecom Cash Code a scam?
How do I know?
I was thinking exactly the same thing so I thought I'd research what all the fuss is about.

Most people still have absolutely no idea where to start with a legit online business. Ecom Cash Code promises to be the solution to starting a profitable online business.
This Ecom Cash Code review will show you the truth about the program and whether it is for you or not.
Ecom Cash Code Review
The overview and rankings
Name: Ecom Cash Code
Founder: Teo Vee (1 out of 100)
Type: eCommerce "plug and play" system
Price: $47 (not $597 or $97) + Funnel for My Ecom Club ($1,997+)
Best for: nobody
Make Time Online Rating: 1 out of 100
Recommended: No. If you are looking for a legit way to make money from home then...
What does Ecom Cash Code do?
Not much!
It claims to help you set up an e-commerce business and it can help you even if you have no technical skills whatsoever.

The sales video is full of people claiming to be making tons of money from Ecom Cash Code.
So let's dig in a bit deeper...
Ready to make passive income online?
Hey, I'm Mike.
I created a passive income online within a year. I had no marketing skills or online experience when I started.
What's Inside Ecom Cash Code?
There really isn't much you will learn from it at all.
The whole point of it is to try to get people to pay a little bit of money (i.e. the $47) to get them hooked into wanting the system.
They use all kinds of black hat sales tactics to get you to purchase the course.
Once you are inside all you will find is a constant bombardment of trying to get you to upgrade to My Ecom Club.
You can click the link above to check out the program. Even though My Ecom Club will give you some basic training on dropshipping, the more I have reviewed it the more it seems like it is a total scam.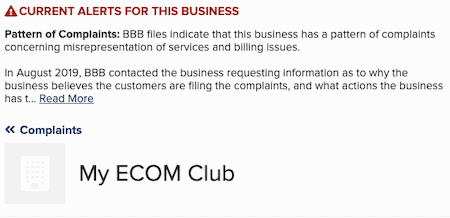 There are so many complaints on BBB and just recently the website is being investigated by the Better Business Bureau.
It would also be nice to note that there are hundreds of other MLMs that are offering similar products and earning process as ecom Cash Code. Some of the most notable ones are:
Is Ecom Cash Code a Scam?
The short answer is yes...
The long answer is below...
There are two main ways an online course can be a scam:
Take your money and run off into the sunset, never to be heard from again
Provide some information but it doesn't live up to their promises
It won't disappear but it certainly will not live up the promises of huge money for doing almost nothing that the sales video suggests.
Just to be fully transparent with you, I have not purchased Ecom Cash Code myself and I do not endorse it in any way.
I have researched the website, testimonials and information on the Internet to get to the bottom of what this program genuinely does. This is because I have been burnt from programs just like this in the past and I want to prevent others from making the same mistakes. If you'd like to learn more "Ways to Spot an Online Marketing Scam" then click the highlighted text.
Ecom Cash Code: The Hidden Truths
Here are some of the hidden truths that everyone should know about Ecom Cash Code...
Key Terms:
Black Hat Methods - Using lies and unethical methods to make someone buy something
White Hat Methods - Being honest and genuine to help people make informed decisions about purchases
Affiliate Marketing- Connecting a customer to a product they are looking for and receiving a commission for doing so

Red Flag - A warning sign
#1 Fake Testimonials
This is such a common red flag for big fat scams.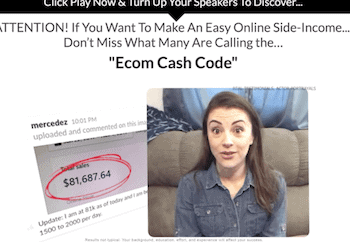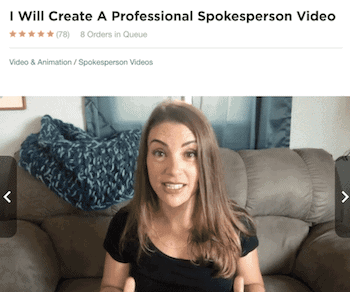 If the program really did what it said it would be very easy to find legit success stories on the internet.
Legit online courses have so many people that do well from them and are more than happy to share their experience that anyone paying for actors is a huge warning sign that something is up.
#2 It Doesn't Even Make Sense
There are just so many people telling you how much money they make from Ecom Cash Code that it's almost like they forget something...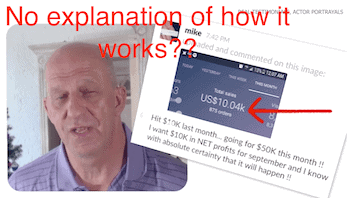 At no point do they actually explain what you are expected to do from the program. They just say things like "if you're fed up of working the 9-5 grind, then this is for you".
If you're like me, all you want to know is what you are actually about to pay for!
#3 It's Just a Sales Funnel to My Ecom Club
This is when the penny clicked for me when I did the research.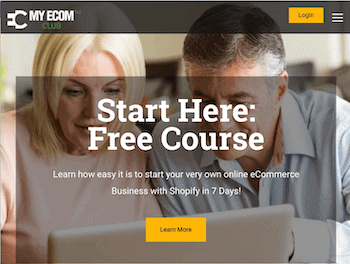 The whole point of Ecom Cash Club is to try and entice you into the upsell and purchase My Ecom Club.
This includes a $1997 payment to get 2 ready-made Ecom stores set up for you.
It's again another marketing tactic of trying to get the victim to put their hand in their pocket first with a smaller signup fee so that they feel more committed to the next upsell.
The most legit course offer something for free to try it or a money-back guarantee.
#4 Black Hat Sales Techniques
This is a HUGE red flag!
When a sales page is focussed on showing you the amazing life you could have rather than educating you on what you need to do, something is wrong.
#5 Different Website URLs
This is a clear sign that someone has been complaining or trying to remove the website.


You can find the same sales page at different URL's.
If this is not fishy then I don't know what is?!
#6 Sent to a Completely Random Link
This was the worst thing of all!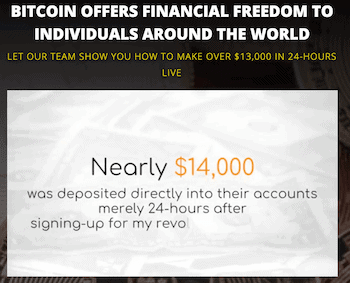 Most of these sales pages take you to the checkout page to pay your $47 for the course.
But one URL sent me to some bitcoin thing!
Spammy, scammy or what?!
Ready to make passive income online?
I've created a growing passive income online with no previous marketing skills or online experience...
I've made a special video for you to explain exactly how I did this.
My Opinion - Ecom Cash Code
Do not bother even thinking about it!
If you have already bought it then certainly file a complaint to the BBB as it seems like hopefully this scam will be shut down very soon.
Are There any Alternatives to Make Money Ethically Online?
It wasn't that long ago that I was still trying to figure out how people have an online business.
It was in September 2018 that I found Wealthy Affiliate.
The best thing about it is:
It's free to start
You can grow it with part-time hours at times when it suits you.
Traffic is brought to you for free (just think about how you found this review... there was no money or time spent from me promoting this!)
You get me as a personal coach to help you on your journey & access to 400,000 online marketers
It took me a while to see any results (money) from the training.

But I went from a full time PE teacher to making a passive income online within one year...
If you want to discover how I did it then check out this special video I created which explains exactly how. You can also get your free 7-day bootcamp to get started.