So someone has probably shown you that it's possible to work from home using Melaleuca.
You know that "some" people can do it, but is it something you will actually be able to do?
And is Melaleuca a scam or a pyramid scheme in disguise?
This honest Melaleuca review, with videos, will show you the pros and cons of joining so that you can make an informed decision if it's right for you or not.
Melaleuca Review
The overview and rankings
Name: Melaleuca
Founder: Frank L. Vandersloot in 1985
Website URL: melaleuca.com
Type: Health & Wellness MLM
Products (Including Pricing): 30 out of 100
Success Stories: 10 out of 100
Price To Join MLM: $19 per year + tax
+ Allow $60+ a month to hit the 35 PP requirement (70 out of 100)
What To Look For In An MLM:
Summary: Melaleuca offers some safe and toxic free health and wellness products in a whole range of categories. Many people appear to enjoy their 400+ products. However, to make any serious money as a member you will need to recruit a lot of people into the company.
Make Time Online Rating: 37 out of 100
Recommended: No
What is Melaleuca?
Melaleuca is a Multi-Level-Marketing (MLM) company that offers a wide range of health and wellness products. They claim they are not an MLM company but are a "direct sales" company, but in reality they are pretty much the same thing...
Melaleuca is one of the veterans in the MLM industry. Besides the opportunity to build an income stream selling its products, the company has also gained a reputation as a manufacturer of safe and green items.
There's not even anything wrong with being an MLM company so I'm not sure why they have such a bee in their bonnet about the term!
Interestingly, Melaleuca gets its name from the Melaleuca plant. They naturally claim this plant is what makes their products so terrific. I've never personally tried it, yet it may be everything they claim it is.
In any event, the company is primarily marketing vitamins, supplements, charm care, detergents, and cleaning products.
Various other products are in stock, but this is the primary push. They claim that their products have no chlorine, formaldehyde, coated pills, or every type of ingredient that's not "green."
Melaleuca is appealing and lucrative because the whole environmentally friendly thing is currently a tested psychological draw. So Melaleuca was ahead of their time in that respect.
Their liquid products are sold as a concentrate, so once you buy them, it lasts a long time. This would be cleaning products, laundry, dishwashing detergents, shampoo, etc. Vitamins and supplements are generally in 3-month supplies, and make-up and beauty items are in regular sizes.
The big push is that if you buy what you normally buy, you won't spend any more money, but you will get natural, green, healthier living.
Frank L. Vandersloot founded the company in 1985 so it has been around for quite some time. It operates in almost 20 countries around the world and generates billions of dollars in revenue each year.
Plus, they offer everyday people the opportunity to work from home by promoting these products and recruiting more people into the MLM business.
The 3-minute promotional video below explains the idea behind Melaleuca...
So it's starting to sound like an interesting company, right?
But you're clever enough to not just fall for these marketing videos. And you're probably still wondering...
Is Melaleuca a pyramid scheme?
Let's get this straight...
No, Melaleuca is not a pyramid scheme.
They offer legit products and their "executives" (also called members, directors, distributors or ambassadors etc.) can get paid by selling these products.
However, is Melaleuca MLM operating as a pyramid scheme in disguise?
What is a pyramid scheme?
A pyramid scheme is when the only way members can earn money is by recruiting more people into the company.
Technically, there are no products or services on offer.
These are illegal in most countries as they are totally unsustainable, as you can see in the diagram below...
Most MLM companies will offer products, like Melaleuca does.
But some MLM companies only offer products to "look legit" on the outside. When in reality the only way their ambassadors can earn good money ($1,000+ a month) is by recruiting.
This Melaleuca MLM review will investigate the company in more detail later. But for now you can learn what to look out for in "pyramid schemes in disguise" in the video below...
Success is rare with Melaleuca
So it's not just Melaleuca that it's hard to find people that make a full time income.
Did you know there are studies that shows that between 72.5% and 99.9% of all MLM representatives lose money?
Melaleuca also releases income distribution statements so you can see the numbers for yourself. This review will look into that a bit later on. Just know for now that only 1.1% of members earn more then $2,000 a year.
But before we dig into that, let's get our head around...
Ready to make passive income online?
Hey, I'm Mike.
I created a passive income online within a year. I had no marketing skills or online experience when I started.
How does Melaleuca Work?
Here's the truth laid out:
Melaleuca makes health and wellness products
"Executives" for the company market these products (and get commission for what they sell or their "downline" sells)
Melaleuca makes money
It's designed to be a "win-win".
Melaleuca saves money on advertising. And everyday people have the opportunity to work from home without having to dedicate their life to creating products or starting a business from the ground up.
Once you join the company as a business partner, you will save 30-40% off retail on your household products. You can also make money by building a business and getting others involved.
The participants, who are non-employees, sign up with the firm to purchase its items online and have them shipped to their homes/businesses.
To finish signup, you must deal with an existing participant and sign up under him/her.
Therefore, that existing member, now referred to as an Item Supporter, earns a payment every time his/her new team member purchases an item.
The common payment is 7%, which adds up promptly if you recruit a few or even more participants under you. However, before recruiting, you'll have to purchase some products yourself.
Melaleuca products
If you are considering joining any MLM company then it's vital that you understand their product line.
This is what you will have to market and sell to make any money. Even if you plan on just recruiting people into the company you only make commission from the sales you or they make.
Melaleuca has a lot of products (over 400) in the following categories:
Vitamins and supplements
Food and weight loss
Hot beverages
Medicine cabinet
Beauty
Cleaning and laundry
Home fragrances
Pet care
Bath and body
Dental care
Essential oils
There are far too many to go into detail about all of them, but you can check out the total list from 2017 with the prices & points you'd earn here.
So we will just look into their flagship products in a bit more detail...
Melaleuca cleaning products
Here's the thing...
After researching this company for hours I still have no idea what their flagship product is. It seems like the company is trying to serve everyone.
And there's a saying in marketing... "when you try to serve everyone, you actually serve no one".

Saying that, there is a common thread amongst most of their products...
The unique selling point for Melaleuca is that their cleaning products are not toxic, but are natural and kind for the environment.
They don't release the ingredients in their products as they use a "proprietary formula", which is a bit suspicious but anhoo...
Also note that there are a lot of other MLMs that offer similar products and have similar earning styles with Melaleuca. Some of the most notable ones are:
Here's a 5 minute video about the cleaning products...
Wow, that's some good marketing... I want to start cleaning some floors after that!
How to make money with Melaleuca
OK, so this is probably the bit you have been waiting for!
So let's not hang around, let's get straight into it...
There are 2 ways you can make money from Melaleuca as an executive:
Sell products
Recruit more "executives" and make commission from the products they sell
Note- you do not get paid for recruiting people, but you make commission on any sales these recruits make. Melaleuca seems to think this doesn't make them a MLM company... but this is pretty standard practice of any half decent MLM company! (Remember not all MLM's a scams or bad!)
The short video below shows why some people became an executive for Melaleuca...
So you're probably wondering...
How much does it cost to join Melaleuca?
It costs just $19 + tax to start.
This is an annual fee but you can start making money once you pay that and join the company.
So you're probably starting to think... ah this is amazing it's so cheap to start!
Well it doesn't end there amigo...
Melaleuca monthly points
To remain "active" as a Melaleuca member you need to accumulate 35 "product points" each month.
Some people seem to claim that can cost as little as $50 per month...
But from my research and the product pricing pdf the best price I can see you paying is $60+ per month.
Now, if you sell these products, you can offset what you need to personally spend.
But the truth is, a lot of new members will have to stump up this cost themself for most of the first year (if not all of the costs).
So the total cost for 1 year is at least: $19 + $60 x 12 = $739
This is super low cost compared to a bricks and mortar business, but it is certainly more than $19!
Melaleuca compensation plan
For some reason MLM companies make compensation plans harder to work out than understanding astrophysics in latin!
Melaleuca is no different!
They claim there are 9 ways for you to get paid:
Commissions (20% for your referrals and 7% for 7 "tiers below")
Advancement bonus- rank up one of the 49 "status" (see diagram below as a small sample)
Pacesetter bonus- Rank up in a certain time frame
Mentoring bonus- When your enrollees move up the ranks
Core mentoring bonus- When your enrollees move up the ranks
Double core mentoring bonus- When your enrollees move up the ranks
Leadership growth bonus- more bonuses when you get really high ranks!
Monthly car bonus- monthly bonus for a car at certain ranks
20/20 bonus- 20 enrollees in your first 5 months
So this may look super exciting to you.
And that's great, there are multiple ways you can receive bonuses and rewards.
But here's the brutal truth:
When you make sales you only get paid commission in 1 way
You need to recruit people to make money from the other 8 ways
So I hope you are ready to recruit people into the company!
Here's an outdated video, that kind of explains the principle behind the compensation plan (do note it's a bit outdated, but it may help to understand what's going on)...
Is Melaleuca a scam?
Hopefully, you have realised that Melaleuca is not a scam.
They sell legit products and members of the Melaleuca program get paid like they claim they will.
However, it's maybe not as transparent as you first thought. And just because an opportunity to make money from home is legit it doesn't always mean it's suited to you.
The rest of this Melaleuca MLM review will help you make and informed decision about if you want to join it or not.
Just to be fully transparent with you, I am not a distributor myself and I do not endorse Melaleuca in any way.
I have researched the website, testimonials and information on the Internet to get to the bottom of what this program genuinely does. This is because I have been burnt from programs just like this in the past and I want to prevent others from making the same mistakes. If you'd like to learn how to "Spot an Online Marketing Scam" then click the highlighted text.
Common positive reviews
"This company has changed my life - 23 years ago my daughter had asthma and it forced me to learn about going GREEN and Healthy Solutions...I have never looked back. Best decision for my family's health."
"They make it so easy to switch where you are buying your everyday products over to Safer, More Effective, and even More Affordable! Real Wellness delivered right to my door! I love how non-toxic doesn't have to cost an arm & a leg with them! I am totally addicted because the products work so well."
Common negative reviews
"I enjoy most of their products but don't go to them if you ever have a problem, they have terrible customer service."
"They trap you into buying a set amount each month (used to be £75 monthly but likely much higher now). If you don't order, they send you a bundle of products to the value of the set amount regardless. They also try to get you to get your friends and family to join on the pretext of creating your own business."
What I like about Melaleuca
There are a few things that I genuinely like about Melaleuca...
Key Terms:
Pyramid Scheme – recruits members via a promise for payment from referring others to the service rather than providing a product
Affiliate Marketing- Connecting a customer to a product they are looking for and receiving a commission for doing so
Red Flag - A warning sign
#1 Long history
The company has been going since 1985...
This is a great sign for any company but especially an MLM company. Around 50% disappear in less than 5 years of starting and only 1 out of 3 last longer than 10 years!
As you can see Melaleuca is not a scam.
#2 Positive Melaleuca product reviews
People clearly do really like the products.
Not every review is positive but you can see on sites like Trustpilot or BBB that people seem to rate the products highly.
At the end of the day if people like the products and are die hard fans they will be willing to keep spending money with the company no matter what.
Just think about Apple if you don't believe me!
This is another sign that Melaleuca is not a scam.
#3 Large selection of products
Some MLM companies only offer one thing such as books, candles, weight loss supplements, skin care, cleaning products etc.
Melaleuca offers loads!
They cover so many categories that you could probably stop anyone in the street and find something on the list that they have bought an equivalent of in the past month.
What I don't like about Melaleuca
So there are some hidden truths that I think everyone needs to be aware of before diving in.
These are not always made clear especially by the person who introduced the company to you (and is really trying to sell it to you).
#1 Expensive products
OK, so this is always the first thing I check out in any MLM company.
If they have expensive products and a monthly "sales quota" that signals to me that the company is probably working like a pyramid scheme in disguise.
Here's why...
Let me ask you this...
Why would anyone pay 100%+ more for a very similar product?
The answer is simple in MLMs...
Because MLM members have to (remember the sales quota that you need to hit every month at Melaleuca? Yeah, if you don't sell it, you need to buy it pal!)
Multivitamins:
Melaleuca - $0.41 per tablet (over 300% more expensive)
High rated Amazon products - $0.07- $0.13 per tablet
Wax melt:
Melaleuca - $2.5 per ounce (over 250% more expensive)
High rated Amazon products - $0.83-$0.99 per ounce
When you can buy the same type of products for a third of the price then alarm bells should be ringing for any company that you want to get involved with!
#2 Low income potential
89% of Melaleuca members do not make any money.
And then from the ones that have at least 8 customers, 90% of them make an average annual income of $2,101!
That leaves 1.1% of Melaleuca members making more than $2,101 a year! And that's not even taking expenses into account!
#3 Canellation issues
If you have an eye for detail you may have noticed this in one of the earlier sales videos...
That's amazing right?
96% of customers re-order!
That probably means that customers are really happy with the products...
Or it could be that it's almost impossible to cancel your standing orders or leave the company!
It's not even funny how many times this same complaint appears all over the internet!
#4 Melaleuca is not transparent... is it just a pyramid scheme in disguise?
So here are some dishonest things that Melaleuca does:
Gets in a hissy fit about NOT being an MLM company... when it clearly is... and there's nothing wrong with that!
Doesn't show the products prices on their website
Doesn't make it clear how much it costs to get started
Hides the ingredients in certain products
When a company is not totally honest and transparent it becomes very hard for people to truly trust them.
#5 Executives are forced to keep purchasing
The compensation plan is so hard to understand that you can't really tell if there is a "sales quota" to hit each month to stay active.
But a bit more digging on the internet finds the truth out here...
There are more complaints about being forced to buy products every month and numerous people suggest it is 35 "product points" needed each month to stay active.
Melaleuca makes it very clear that it costs ONLY $19 to start...
But they certainly don't make it clear that if you don't sell $60 worth of products each month then you need to fork out for them yourself.
#6 Not in early momentum phase
The second most important factor for me when I research an MLM company is whether they are still in the "early momentum" phase.
You probably know that the most successful people in the business are the ones who got in early and helped the business grow.
Well Melaleuca is not one of these!
As you can see from Google trends... other MLM's such as Farmasi are still in that early momentum phase but Melaleuca has past that stage a long time ago and is on the decline.
Ready to make passive income online?
I've created a growing passive income online with no previous marketing skills or online experience...
I've made a special video for you to explain exactly how I did this.
My opinion - Melaleuca
Melaleuca does sell some high quality products that people seem to enjoy.
However, the business opportunity for most people is not going to help them quit their full time job and work from home any time soon.
It's going to be an uphill battle to make any decent money...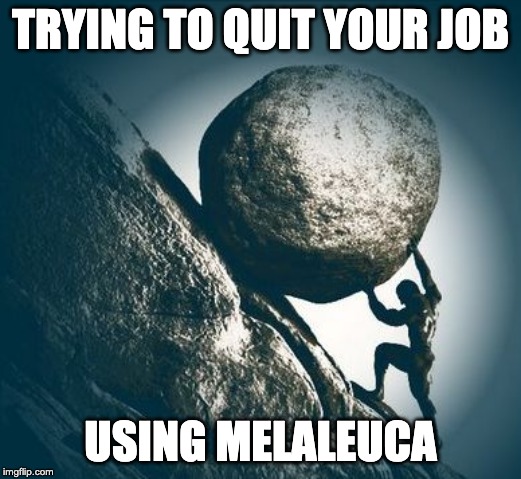 The only way you can make any good money from Melaleuca is by recruiting a lot of people into the company and then hoping they have the grit to also build a success out of it.
It will take a lot of rejections and thick skin to continue.
How I make passive income online
Some MLM's are a great way for people to try out their own "business".
I was never a huge fan of them because you are restricted to what you
But I went from a full time PE teacher to making a passive income online within one year...
If you want to discover how I did it then check out this special video I created which explains exactly how. You can also get your free 7-day bootcamp to get started.