In the spirit of full transparency, know that this Vasayo review contains affiliate links. This means if you make a purchase through these links, I may receive a small commission at no extra cost to you. Click here to read my full disclosure policy.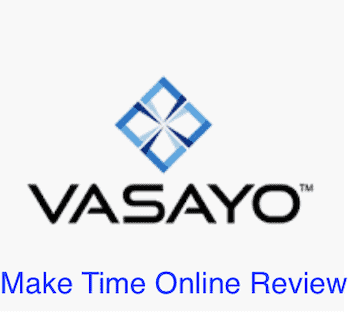 You've probably heard of the Vasayo MLM program and are wondering if it's worth joining it.
Most people think that making money from home is super confusing and really hard to know where to start. Vasayo not only offers some great sounding health products but promises to be that opportunity you've been looking for.
This Vasayo review, with videos, will show you the honest truth about the program and help you make an informed decision about whether it is right for you.
Vasayo Review – The Overview and Rankings
---
Name: Vasayo
Owners: Founded by Dallin and Karree Larsen in 2016 (80 out of 100)
Website URL: https://vasayo.com
Type: Health and Wellness Multi Level Marketing Program (MLM)
Success Stories: 30 out of 100
Price: $49.95 Enrollment (plus product order- recommended $1,299.95 & Loyalty Convenience Program ~$110 per month for 80PV to stay active)
Maketimeonline.com Rating: 55 out of 100
Pros and Cons
---
Pros
Supporting charity work with Heart and Hands Foundation
Founders have a good reputation
It's not a pyramid scheme, there is a clear focus on selling the product
Real people are having success from it
Cons
Expensive products that you can find for cheaper
Still some question marks over liposomes legitimacy
Negative reviews online
Mixed feedback about the products
The truth about MLM success rates
The founder's previous MLM companies have been linked to pyramid schemes and loan foreclosures
What does Vasayo do?
---
Vasayo offers a range of health products to customers for improving sleep, energy and a whole range of different health problems.
It is also an MLM company offering people a chance to make money by selling the products and creating a team or "downline" to also sell the products.
The short video below explains what you can expect from Vasayo.
Vasayo distinguishes itself from other health products by utilising the science of liposomes, which theoretically help our bodies to absorb and digest good nutrients.
Vasayo Products Review- What Does Vasayo Offer?
---
If you're interested in buying Vasayo products or getting started with the MLM program it's pretty important you understand the liposome advantage as this is a huge selling point of the products.
This short video explains how liposomes help…
There are currently 8 products on the market from Vasayo, each offering a slightly different health benefit.
The first price you see below is for the "brand partner" aka part of the MLM program and the second price is the customer price:
V-Tox – ($52.95 Brand Partner Price, $64.95 Customer Price) optimise your body's daily cleansing power
Eternal – ($109.95, $125.95) Anti-ageing skin cream
Neuro – ($59.95, $67.95) Support healthy brain function like memory, clarity, and focus.
V-Slim – ($107.95, $123.95) Help you lose weight by boosting your metabolism and reduce food cravings.
MicroLife Sleep – ($54.95, $62.95) Help with sleeping disorders and better sleep overall.
V3 – ($57.95, $65.95) This is an energy booster like other energy shots but "healthy for you".
Core Complete – ($64.95, $72.95) This is a superfood vitamin and nutrients mix for overall better health.
Renew – ($54.95, $62.95) Provides nutrients and vitamins for overall health but targets joint and cartilage, your immune system, and claims to rejuvenate your body overall.
It's starting to sound pretty good right? A good range of products and some legit-looking science to make it stand out from the crowded market.
So let's dig in a bit more to what to expect from the MLM program.
How Does The Vasayo MLM Program Work?
---
Ok, so any MLM program always takes a little bit of work to figure out exactly what to expect.
Luckily for you, this Vasayo review has done all the legwork for you so it's all in one place and you'll understand what to expect in just a few minutes.
The video below is a slightly longer one (just over 12 minutes) but does a good job of giving you an overview.
So as the video explains it's as easy to join as 1, 2, 3:
Enrol for $49.95
Place a product order
Enrol in the Loyalty Convenience Program (optional step)
That sounds easy, right?
But what does this mean in real life monetary terms rather than this PV, CV LCP jargon?
How Much Does it Cost to Join Vasayo?
So the above video is great to understand the concept of the Vasayo MLM program.
But the video below gives you an insiders view on the back-end and is helpful to actually work out how much this costs to join…
This Vasayo review won't go into detail about what PV, CV and all the other acronyms mean, as we feel they are unnecessary and confusing to start. You can learn all the terms in the Vasayo compensation PDF.
All you need to know is what you need to stay an active member:
80 PV (personal volume) per month to stay active
160 PV allows you to be eligible for all commissions and bonus pools
Instead, this Vasayo review will just use good old fashioned USD so you can be more informed about your decision.
Now remember to join you will need:
Enrol for $49.95
Place a product order (packs range from $239 for CV160- $1,299.95 for CV960)
Enrol in the Loyalty Convenience Program (you will need to do this to ensure you stay active, which costs $110 per month for 80PV or $220 for 160PV)
Total costs= $288.95- $1,349.90 (recommended) & $110 per month ongoing.
I bet you're wondering what kind of money you can make now, aren't you?
Vasayo Compensation Plan
There are numerous ways you can earn money from the Vasayo MLM program (8 to be exact). This includes monetary rewards, weekly income and paid for holidays.
The 5-minute video below is more than enough to get you excited about the potential!
It's important to realise you get 20% commission on every order that a customer makes through you.
That's a pretty good incentive for you to promote the products, especially if you use and believe in them yourself!
As you can see in the videos so far it's possible to earn $28,000 a week ($1.4 million a year) just from the weekly "cycles".
A cycle is achieved when you receive CV240 on "one leg" and CV480 on the "other leg" (this just means from 2 direct referrals that have joined the program through you).
Again let's look at how much you need to sell in real money terms to achieve one cycle:
CV240 = ~$320
CV480 = ~$640
So when your "2 legs" generate around $1,000 of product sales you will earn $28.
That's a lot of health products, legs, CV's and PV's you need, isn't it!
Vasayo Compensation Plan PDF
View the full Vasayo compensation PDF by clicking the blue link if you want more details.
Vasayo Training on Offer
---
One of the great things about MLM companies is the training and personal development they offer.
Any successful business owner needs to keep learning and improving.
As you can see in the insider video above, you will get lessons on how to stay in contact with your team and how to find new members through social media.
Now, I can almost hear your mind saying…
Is Vasayo a Scam?
---
No, Vasayo is not a scam.
There are two main ways an online course can be a scam:
Take your money and run off into the sunset, never to be heard from again
Provide some information but it doesn't live up to their promises
Vasayo makes a real effort in promoting and selling health products and doesn't over promote the "dream lifestyle" you can live by working at home.
Just because it's legit, it doesn't mean it's right for you though. The rest of this Vasayo review will help you make an informed decision about whether you should join or not.
Just to be fully transparent with you, I have not purchased this program myself and I do not endorse it in any way.
I have researched the website, testimonials and information on the Internet to get to the bottom of what this program genuinely does. This is because I have been burnt from programs just like this in the past and I want to prevent others from making the same mistakes. If you'd like to learn more "Ways to Spot an Online Marketing Scam" then click the highlighted text.
Related content:
Vasayo: The Good
---
Here are some of the things I like about Vasayo…
Key Terms:
Black Hat Methods – Using lies and unethical methods to make someone buy something
White Hat Methods – Being honest and genuine to help people make informed decisions about purchases
Pyramid Scheme – recruits members via a promise for payment from referring others to the service rather than providing a product
Affiliate Marketing- Connecting a customer to a product they are looking for and receiving a commission for doing so
Red Flag – A warning sign
#1 Charity Work- Hearts and Hands for Humanity
---
Possibly the best outcome of the whole Vasayo company.
They provide meaningful support to the hearts and hands for humanity to provide fresh drinking water in Africa.
Whilst this is an extremely valuable cause it's important to be aware that Vasayo has many YouTube videos and a whole section on their website designated to this.
But even if it is just a marketing tactic, there's no denying the lives they are impacting.
#2 Founders Have a Good Reputation
---
Dallin and Karree Larsen have been part of previous MLM programs such as Usana and MonaVie.
Dallin lead MonaVie to a billion-dollar business in the early 2000s and they have a track record of running MLM companies.
There have however been some rumours about MonaVie being part of a pyramid scheme as you will find out later in this Vasayo review.
#3 Clear Focus on Selling the Products- Vasayo is Not a Pyramid Scheme!
---
The main focus of the website and Vasayo is their products.
This is possibly a lesson that Dallin has learnt the hard way but you can be sure everyone (including the FTC) is sure what the purpose of the business is!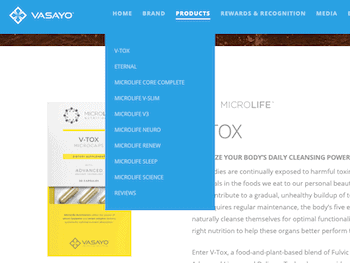 Yes, it has been proven they used a PLR to acquire the products in the first place. But this is quite common for MLM companies.
#4 The Compensation Plan is Achievable- Some Online Success Stories
---
There is proof that some people have had success from Vasayo.
It's not that easy to find but you can see some legit comments about Vasayo that are not purely promoting the company online…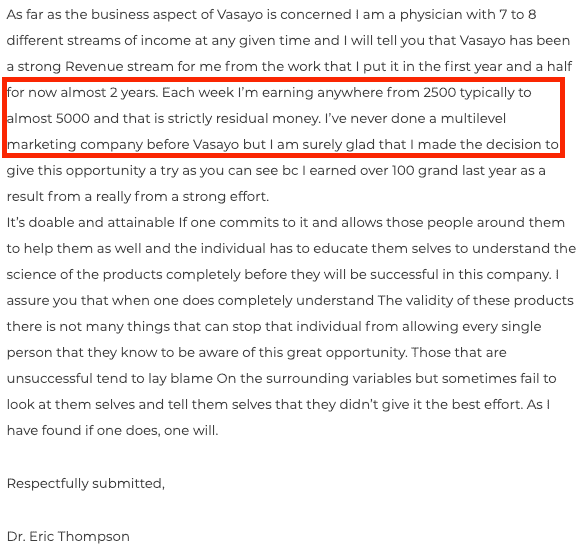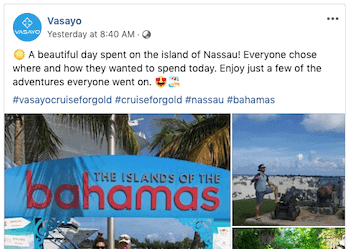 The Gold-rank includes some vacations and you can see the number of members that have achieved this rank at some stage here.
Vasayo: The Not So Good
---
Here are some of the bad parts of Vasayo that you should be aware of before jumping in…
#1 Expensive Products
---
I know, I know… the liposomes technology is the reason!
But here's the truth…
If you offer someone the chance to stop their skin from ageing and you put these options in front of them, what do you think they will go for?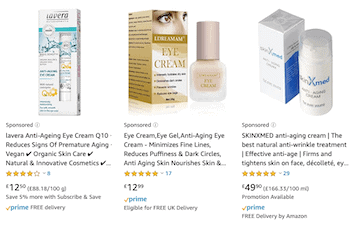 This is the case for every single one of their product.
If people buy into the liposome thing then great. But many will just want to benefit for the cheapest price available.
#2 Liposomes Claims Not Supported
---
I'm going to make this clear straight away…
I am no liposome expert!
I have just researched this for this Vasayo review.
But it was clear that some people strongly believe in it and some people claim it's useless/ overhyped.
Here is a comment from a doctor…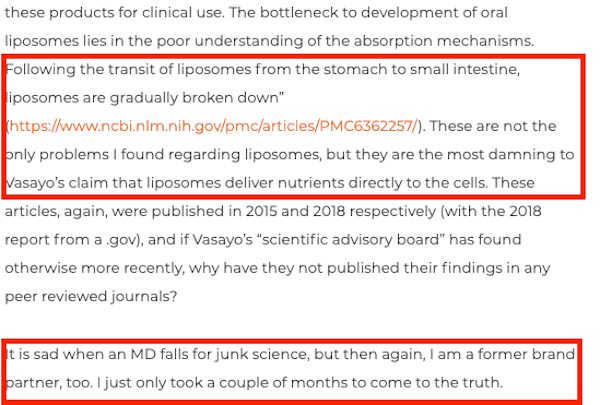 Sources from the review above… Vasayo Science, Future Science, National Library of Medicine
Personally I think the technology sounds pretty good but equally, I know that taking a simple BCAA supplement also helps your body to absorb the nutrients you put in it better.
#3 Vasayo Negative Reviews
---
The Better Business Bureau (BBB) gives Vasayo a rating of B+ and only has 6 complaints in almost 3 years (that's a pretty good sign).
But there are some common themes that have appeared and it doesn't seem like Vasayo have sorted this out.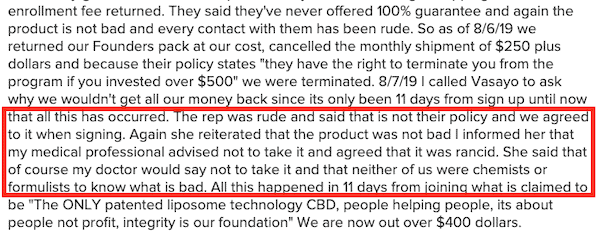 Misleading Return Policy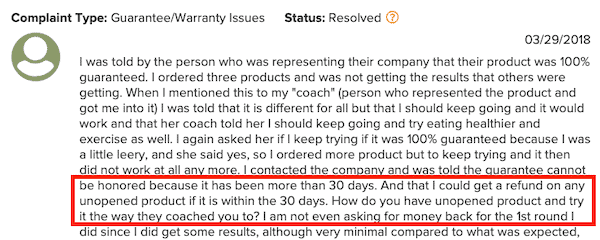 Many complaints around Vasayo include:
Bad batch of products
Poor customer service
Misleading return policy & not getting their money back
#4 Mixed Feedback About the Products
---
If you were thinking, ah every company gets the odd complaint from the random person, this one may catch your eye.


These were only a few reviews selected from similar ones.
Some people seem to love the products but there are some complaints about them irritating, not working, tasting funny or something else.
#5 The Truth About MLM Success Rates
---
The balance small business has found some pretty eye-opening stats about MLM companies:
At least 50% drop out in year 1
Over 90% leave within five years
Only 3% ever make over $25,000 from MLM companies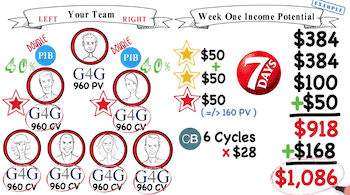 One of the most concerning things was in one of the compensation plan videos above.
In the "ideal" first week for a new MLM member, it claims you could earn $1,086. That means you will be $264 out of pocket (soon to pay another $110).
That's if you can get 6 people to also join and spend over $$1,300 each!
The fact is, making money from MLM is hard work. If you are prepared to dedicate some serious time and effort to it then it can certainly work.
If you can only put in a few hours a week, it almost certainly will leave a hole in your pocket and a whole heap of health supplements in your house.
#6 The Founders Past Companies Troubles
---
Whilst it's pretty clear that Dallin and Karree Larsen have good intentions with their MLM companies there are some things you should be aware of.
MonaVie was a billion-dollar business at one stage but it ended up tangled in some lawsuits and accused of being a pyramid scheme.
The company also defaulted on a $182 million note securing assets of the company.
In their defence business foreclosures often sound worse than they are (did you know Donald Trump has 6 corporate bankruptcies?)
Also, the mistakes made in previous ventures seem to be have helped them set up Vasayo, particularly the focus on selling products.
Related content:
My Opinion – Vasayo
---
I believe Vasayo is a legit opportunity for some people.
If you are willing to put in hard work and effort and commit to the business it is possible to make a home business from them.
However, this is not the right opportunity for you if you:
Cannot afford to spend a few thousand dollars to get set up
Don't have the time to put into it
Don't want to sell things to your friends and family (or at least be very active on social media aka Facebook)
How to Be Successful With Vasayo
There are some things you will need to do if you want to be successful with Vasayo (or any MLM company):
Work on your mindset
Join the right team
Have a constant flow of new prospects
Don't just jump in with anybody. Finding the right team is the most important decision you will make for your Vasayo business.
FACT.
Speak to different members and ask questions about how they get new clients or find customers.
Top tip- if you can find them on YouTube or in a Google search they are more likely to be using online marketing well. Therefore they have a constant flow of new prospects, therefore they likely know what they are doing (however, they are not all equal! Some are just in it for themselves and once you're in the team they ignore you, so make sure you have a face to face chat i.e. Skype call)
Is There An Alternative?
---
It wasn't that long ago that I was still trying to figure out how it's possible for people to make money online.
I wanted to find a passive income system that ticked a few boxes:
I could work on part-time when I wanted (I was still in a full-time job)
Therefore I needed it to not cost a fortune to start and maintain
Didn't need me to sell stuff to my friends and family
It was in September 2018 that I found Wealthy Affiliate.
In September 2019 I quit my full-time job.
The best thing about it is:
It's free to start
Qualified traffic is brought to you for free (just think about how you found this review… there was no money or time spent from me promoting this!)
You get me as a personal coach to help you on your journey (and I really enjoy helping people that are starting out, maybe that's the teacher in me!)
You don't need ANY technical skills to start
When you try out this program you will see why so many people recommend it.
No credit card details required– check out the bonus at the bottom of this page
Vasayo Review: The "MakeTimeOnline" Final Word
---
So there you have it, everything you need to know is in this Vasayo review.
That ended up being much more epic than I thought, but I really enjoyed learning about this company!
To sum it up…
It's legit, you will get some training but your team that you join will really matter for your success.
The odds are always stacked against you in MLM companies, but if you're willing to work hard it can certainly work for you.
Keep changing for the better,
Mike
P.S. Since you're still here, I'm going to assume that you are interested in making money online to free up your time. So check out my review of my #1 recommended program and join the form below to get some great freebies, including a 1-1 chat with me…