In the spirit of full transparency, know that this Opinion City Survey review contains affiliate links. This means if you make a purchase through these links, I may receive a small commission at no extra cost to you. In fact, you will often receive a discount or bonus signing up fee! Click here to read my full disclosure policy.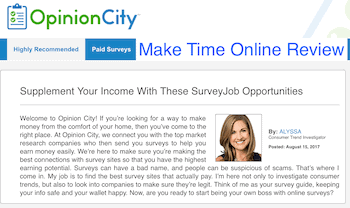 You may agree that most people would be delighted to earn $500 just by sharing their opinions.
Most people think that this can't be done. But Opinion City Survey suggests there are surveys out there where you can make $75+.
This Opinion City Survey review will reveal the truth behind the website.
Opinion City Survey Review – The Overview and Rankings
---
Name: Opinion City
Owners: Unknown (0 out of 100)
Type: Surveys
Website URL: www.opinioncity.com
Success Stories: 10 out of 100
Price: Free
Maketimeonline.com Rating: 5 out of 100
Pros and Cons
---
Pros
A range of survey sites in one place
Cons
Your details will be shared with other people
No owner identified
No clear idea of what survey sites are good
Deceiptful about earnings potential
What does Opinion City Survey do?
---
Opinion City Surveys claims to be a place that connects you to online research marketing platforms to make you money.

You don't need any specific skills or experience you just trade your opinions to make money!
Starting to sound good right?
The Truth About What Opinion Surveys Does
---
It is basically a survey hub.
Simply put they put up a load of survey sites and each time you join another site they get paid a commission. This is pretty much affiliate marketing.
Affiliate marketing is a legitimate online business if you provide people with real value and help them get what they want. Read more about "Affiliate Marketing Online: The Secrets Revealed".
Opinion City now only has the one page that you can see and all the tabs just ask you for your email address to view their highly recommended offers (which you can just see on that same page!)
However, as you are about to find out, Opinion City doesn't really provide much value or help you "find the best online survey sites" at all.
Is Opinion City Legit or a Scam?
---
There are two main ways an online course can be a scam:
Take your money and run off into the sunset, never to be heard from again
Provide some information but it doesn't live up to their promises
Technically Opinion City is not a scam. However, they do not really provide you with much, as they offer no surveys or market research themselves.
Some of the claims they make about how much survey sites will pay you will not live up to their promises though.
Just to be fully transparent with you, I do not endorse this website in any way. If you'd like to learn more "Ways to Spot an Online Marketing Scam" then click the highlighted text.
Related content:
Opinion City Survey The Good Parts
---
It's not all bad and there are some things that Opinion City does do quite well.
#1 Easy to Compare Survey Sites
---
They have put in some relatively useful information such as:
Best feature
Rewards
Time to complete
Types of paid research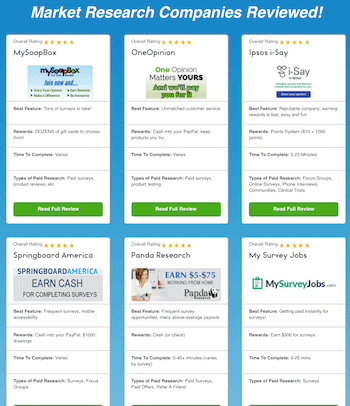 However, it doesn't take long to realise that their research clearly hasn't been very thorough but it does help to get an overview of what the survey site will offer.
#2 Got Rid of Old Scams
---
So this is a bit of a weird positive.
It's basically like praising a dog that used to bite you for not biting you… but if you're like me you would rather your dog just never bit you!
In 2017, Opinion City had some "work from home opportunities" that turned out to be big fat scams.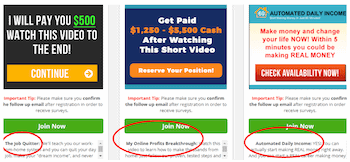 It has recently taken these down so now it only promotes other survey sites.
#3 One Stop Survey Site
---
If you are looking for a number of different survey sites to try out it's quite useful.
Because survey sites change so often some people like to sign up to loads and compare what works for them i.e. create a new email address and get all your surveys sent there.
Then you can tell for yourself what does and doesn't work.
However, this kind of defeats the whole point of Opinion City, which says it's found the best survey sites for you… I can tell you for a fact they haven't done that!
Opinion City Survey Red Flags
---
So there are some things that everyone should be aware of before joining Opinion City… because they don't make this obvious or clear when you are about to join.
Key Terms:
Black Hat Methods – Using lies and unethical methods to make someone buy something
White Hat Methods – Being honest and genuine to help people make informed decisions about purchases
Red Flag – A warning sign
#1 Privacy Policy- Your Email Address Will be "Shared"
---
You may think it doesn't matter too much if your email address gets shared with other people.
The thing is that this can be an uphill battle to stop the other sites from sharing it with more sites.

Let me ask you this… have you ever started receiving tons of emails from random companies for no obvious reason?
If you have this is exactly what happened and it can be a massive time waster to remove it (remember you can always get more money but you can never get more time!)
#2 Who is the Owner?
---
There is no real owner to the website.
Yes, there is a picture of Alyssa.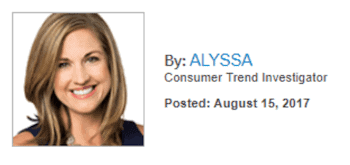 But here she is dotted all around the Internet in other random places.
Therefore, it's likely this was just a stock photo and there's no way to directly contact them.
#3 Fake Scarcity Tactic
---
Did you notice the big number claiming there are only a few spots left to join a certain survey site?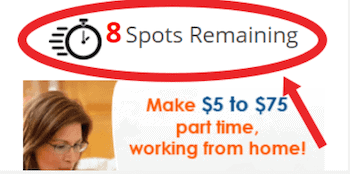 This is not true, as many people can join the survey site as they like. It's not like buying a plane ticket with a limited amount of seats on it!
#4 The Website Doesn't Have ANY Surveys
---
This has already been made clear in this Opinion City Survey review.
However, the website doesn't make this clear at all. It's called Opinion City after all!

Only by digging through their T&C's do you find this.
#5 ALL Sites are Given 5 Star Reviews!
---
They claim to connect you with the best survey sites.

However, it would be a lot more genuine if they rated the sites accordingly (or even put another not quite 5-star sites in there).
We all know that not every service is going to be as good as each other!
#6 Lies- Earnings Potential
---
Some of the rewards are just way too good to be true.
By claiming you can make $75 from one survey it makes people really think it's possible.
Note- there are market research groups that can pay money more like this but this would usually involve meeting people face to face or on Skype.
#7 Facebook Group Suspicions
---
There are over 27,000 Facebook likes on their page!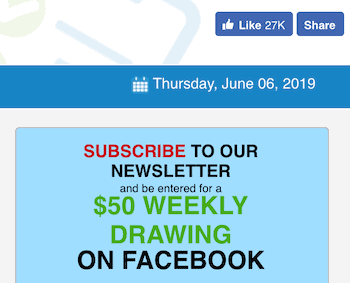 However, the last post was in September 2017.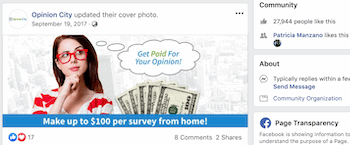 Are these 27k likes even real people or have they just paid for them?
Alternatives to Smart Dollars Club
---
So there are some real survey sites out there where real people (including myself) have made money from.
NOTE… These will not make you rich!
Honestly, survey companies do not pay you $100 per survey or anywhere near that.
However, you can earn $5-$10 per survey quite easily to make some pocket money each month.

There are legit survey sites out there and here are Make Time Online's top 5 survey site recommendations:
It's the easiest and quickest way to make a bit of cash online and you can save loads of time by doing these 3 things:
Set up a separate email address for surveys
Join as many good sites as possible
Cash-out as soon as possible
Find out more in the best 15 survey sites to get paid real money here.
There are other ways to make more money by working from home. If you are interested to know more about these then check out:
My Final Opinion – Opinion City Survey
---
It's really not worth the time!
Yes, it's free to start but you will be sent on a wild goose chase around different survey sites that are not guaranteed to bring you any results.
If you have any questions and I mean any questions about Opinion City Survey's, please leave them below. If you have used or currently are a member please also add your opinions below.
As you get closer to the end of this review you will start to feel excited because there are real people that have replaced their full-time income (and much more) by making money online.
Opinion City Survey Review: The "MakeTimeOnline" Final Word
---
It is possible to make money online to free up your time. But unfortunately, Opinion City Survey's will just waste your time.
If you like the idea of working at any time from anywhere in the world then there are real opportunities to make money online.
As you are still here I'm going to assume that you would like to know more about these opportunities. There is one way that I highly recommend above all the rest as it will show you how to set up your own affiliate marketing online business that can be scaled to any size that you want.
If you're looking for a get rich scheme, without putting in any work then this is not for you.
But if you want to live life on your own terms and learn skills that are recession proof and have changed thousands of people's lives then this may just be what you are looking for.
Keep changing for the better,
Mike
P.S. If you are interested in making money online to free up your time, check out my #1 recommended program…