In the spirit of full transparency, know that this Legendary Marketer review contains affiliate links. This means if you make a purchase through these links, I may receive a small commission at no extra cost to you. Click here to read my full disclosure policy.

You've probably seen Legendary Marketer advertised somewhere and are considering giving it a go.
Most people think that making money online is super confusing and many people have tried without any success. Legendary Marketer claims to be the no BS place where you can learn exactly what you need to do to get an online business started.
This Legendary Marketer review, with videos, will show you exactly what to expect from the training and help you make an informed decision about whether it's right for you.
Legendary Marketer Review- The Overview and Rankings
---
Name: Legendary Marketer
Owners: David Sharpe (90 out of 100)
Website URL: https://legendarymarketer.com
Type: Affiliate Marketing Program (High Ticket Items)
Training: 80 out of 100
Success Stories: 60 out of 100
Price: $7 for the 15 day challenge then $30/ month & upsells up to $30,000
Maketimeonline.com Rating: 77 out of 100
Legendary Marketer Pros and Cons
---
Pros
Good quality training & step by step training provided
Weekly webinars and regularly updated products
Legit business model using affiliate marketing
30-day money-back guarantee
High affiliate commissions
Cons
Expensive courses and upsells on offer
The real costs are much higher (the focus is on paid traffic)
Not taught about free traffic methods such as SEO
There is a real focus on training you to promote Legendary Marketer (update- they do not!)
Only audio and transcripts for some lessons
What does Legendary Marketer do?
---
Legendary Marketer will help you set up your own affiliate marketing business.
The big difference here is the focus on finding and selling high ticket items so that you can make some serious money rather than just a few dollars here and there.
Check out part of the short video below.
Dave Sharpe, the founder, shares part of his story and why he has started Legendary Marketer.
You're probably thinking… "good for him! But what can he do for me?"
Let's dig into that a bit more shall we…
What's Inside Legendary Marketer?
The below video will take about 13 minutes to watch, but it shows you the complete inside of Legendary Marketer.
The guy who made the video is totally honest and transparent about what's inside so if you're considering starting Legendary Marketer make sure you watch this (feel free to watch it on x2 speed if you're in a hurry)…
The main things that you'll learn inside Legendary Marketer are:
How to set up an "online business"
The 4 main high ticket business models online
Facebook Ads
YouTube Marketing
Instagram Marketing
Facebook Marketing Strategies
Lead Generation
This is mainly taught through videos, but some have audio or transcripts for you to read. The content you receive is very similar to other programs like:
You won't get all of this for the $7 you initially pay though. So I bet you're wondering…
How Much Does Legendary Marketer Cost?
If you're like me you'll probably prefer to see this visually in the table below…
| Product | Price |
| --- | --- |
| 15 Day Online Business Builder Challenge | $7 one-time |
| Legendary Marketer Book | $9.95 one-time |
| Legendary Marketer's Club | $30 per month |
| Traffic Rolodex | $247 one-time |
| Affiliate Business Blueprint | $2500 one-time |
| Digital Products Business Blueprint | $2500 one-time |
| Events & Masterminds Business Blueprint | $2500 one-time |
| Coaching & Consulting Business Blueprint | $2500 one-time |
| Marketer Mastermind | $8,000 one-time |
| Entrepreneur Mastermind | $12,000 one-time |
| DFY Brand Builder | $10,000 one-time |
| DFY Brand Builder & Mastermind Bundle | $15,000 one-time |
| Legendary Leadership Group | $30,000 one-time |
| Legendary Pro Affiliate Account | $29.95 per month |
Breaking Down the Upsells…
The first upsell is for the Marketer's club, which is normally $30 a month. But you can save 49% by paying yearly and get it for $179.
This gives you access to hours of videos and the weekly webinars.
You will then be offered a chance to grab the Business Blueprint Bundle for a one time fee of $2500.
This gives you all 4 of the Business Blueprint Bundles, which are normally $2500 each. It also gives you access to the Traffic Rolodex and one year free of the Legendary Pro affiliate account.
The big advantage of paying for the Legendary Pro affiliate account is that you get paid 20-60% of sales you make instead of 5-30% commission as a normal member.
Now, all of these upsells and confusing options of what to pay to get started may have you thinking…
Is Legendary Marketer a Scam?
---
The short answer is no.
The long one is below…
There are two main ways an online course can be a scam:
Take your money and run off into the sunset, never to be heard from again
Provide some information but it doesn't live up to their promises
Legendary Marketer doesn't make wild claims about how much you can earn with the push of a button. Dave is clear early on that you will need to put in time and effort and he provides the training you need to make money online.
Just because a program is legit it doesn't mean it's right for you though. Keep reading this Legendary Marketer review to see make an informed decision about it.
Just to be fully transparent with you, I have not purchased this program myself and I do not endorse it in any way.
I have researched the website, testimonials and information on the Internet to get to the bottom of what this program genuinely does. This is because I have been burnt from programs just like this in the past and I want to prevent others from making the same mistakes. If you'd like to learn more "Ways to Spot an Online Marketing Scam" then click the highlighted text.
Related content:
Legendary Marketer: The Good
---
Here are some of the things I like about Legendary Marketer…
Key Terms:
Black Hat Methods – Using lies and unethical methods to make someone buy something
White Hat Methods – Being honest and genuine to help people make informed decisions about purchases
Pyramid Scheme – recruits members via a promise for payment from referring others to the service rather than providing a product
Affiliate Marketing- Connecting a customer to a product they are looking for and receiving a commission for doing so
Red Flag – A warning sign
#1 Good Quality Step-By-Step Training
---
The training is pretty thorough with hours of videos just for Facebook ads alone.
The step-by-step approach is great for newer online marketers so you don't get overwhelmed by everything going on.
The best online training will take you by the hand and show you exactly what to do and in what order.
#2 Done For You Sales Funnels
---
You can get some done for you sales funnels with landing pages and opt-in forms so that you can start earning commission quickly.
The best part of done-for-you funnels is that you can see what does and doesn't work quickly. This means when you want to create your own you have an idea of what works.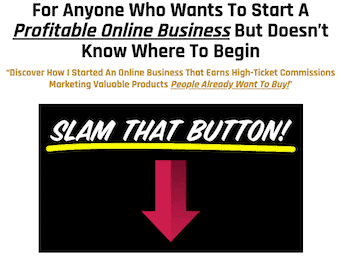 Some people claim these ready-made funnels are a bad thing as you don't really learn to do them yourself.
However, Legendary Marketer also teaches you how to create your own, so these are just a bonus if you want to promote Legendary Marketer.
#3 Legit Business Model
---
Affiliate marketing is a proven legit business model as you have probably worked out from this Legendary Marketer review.
There are real people all over the world providing real value to people and getting paid commission for linking to other products.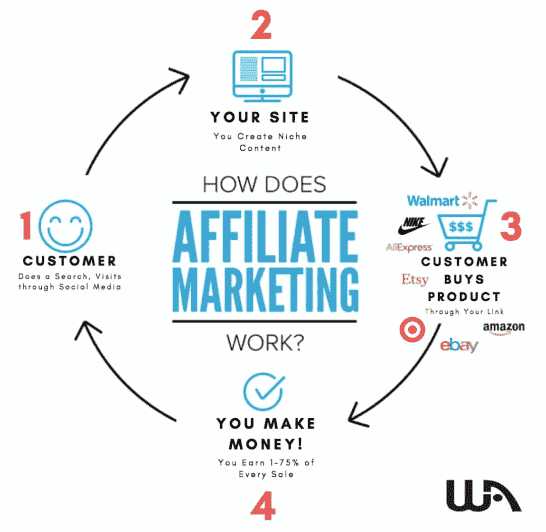 Check out my chat with Jeff and Ben from Dollarsprout who now make $240k a month from affiliate marketing. This time 4 years ago they hadn't even heard of it!
#4 30-Day Money-Back Guarantee
---
It's risk-free.
You can try out the first 15-day training for $7 and if you really don't like it you can get your money back within 30 days of purchasing it.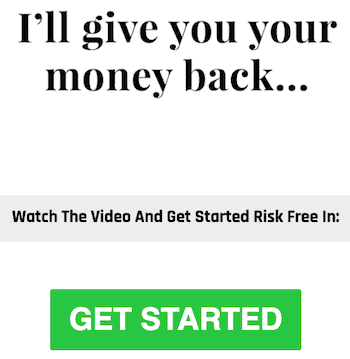 This is always a great sign as you can tell the owners believe in their product and training.
#5 High Commissions & Different Options
---
This is the main thing that makes Legendary Marketer stand out compared to other courses. The focus is on high ticket items and how to find them.
As you can see in the costs above, there are all types of training that Legendary Marketer offers. So if you are a complete beginner, intermediate or experienced online marketer there is a course that may suit you.
Legendary Marketer: The Not So Good
---
Here are some of the bad parts of Legendary Marketer that you should be aware of…
#1 Expensive Courses & Upsells
---
To be totally honest, you will probably have to at least pay $247 for the Traffic Rolodex course and the $30 a month.
The 15-day starter challenge isn't enough to really start making significant money as the training doesn't really include details about how to get traffic.
It's really just the concept behind high ticket affiliate commissions.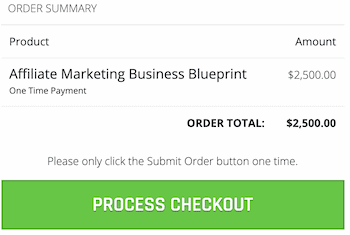 To see real success you are likely going to need to purchase one of the $2,500 business blueprint course.
This is where you will get the nitty-gritty details and help from the done for you sales funnels.
Up until this point (apart from the Traffic Rolodex course), you will just have access to loads of videos and webinars that provide you with the concept rather than the specific training.
#2 The Real Costs Are High (Paid Traffic)
---
So not only do you need to pay these higher prices for the course, there are some other costs that will add up too.
For a start, all of the traffic you will get taught about is paid traffic.
The great thing about paid traffic is that you can get results quickly. The bad thing about it is that you can chase lost money.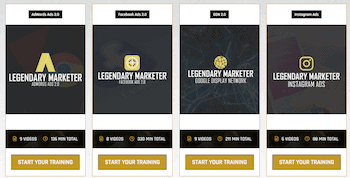 This means you can spend more money on ads to try to make the money back that you already lost. If you cannot start converting these leads into sales then you are literally throwing money away and it can become addictive.
You will also be recommended to use other software such as an email autoresponder (at least $15 a month) plus a marketing funnel like ClickFunnels ($97 a month).
This means you need to allow an extra $150+ every month for the other expenses that you won't be told about before you join.
It's a bit like a double-edged sword that will work for you or against you.
#3 No Lessons on SEO (Free Traffic Methods)
---
You will live and die by your traffic as an online marketer.
FACT!
The thing is, the training doesn't really go over free traffic methods such as search engine optimisation (i.e. ranking on Google's first page… just think about how you found this Legendary Marketer review!)
It does cover social media marketing which can be done for free, but most social media platforms are becoming more reliant on ads than free traffic methods.
#4 Only Audio and Transcripts for Some Lessons
---
Most people learn the most from videos and there are videos for most training lessons.
But some are only audio or written lessons.
For such a high price course you would expect different types of lesson formats to suit everyone.
Related content:
Legendary Marketer Improvements
---
Doing the research for this Legendary Marketer Review, I found that a lot has changed since the course was first made.
I think it's important to be aware of these changes as you can see it's being updated and improving all the time.
#1 Focus on Education… Not Just Promoting Legendary Marketer
Many old reviews mention the fact that Legendary Marketer was similar to a pyramid scheme.
Basically you are taught how to sell the same product and nothing else. This is often illegal and really ineffective as there are only so many people in the world that will buy the program before there's no-one left to sell it to.
However, it's clear to see that Legendary Marketer has changed the course to make sure it's clear you can use these methods to promote anything you want.
There's even training on how to find other affiliate programs on places like Clickbank.
Simply put… you are taught how to be an affiliate marketer, not just how to sell Legendary Marketer.
#2 You Do Not Need to Pay For Courses to Promote Them
When Legendary Marketer started you had to purchase one of their courses if you wanted to be an affiliate for it.
This meant that some people were buying the course just so they could promote it and didn't care about learning anything from it.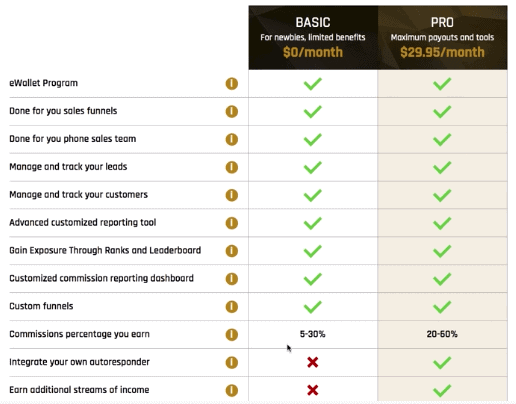 Now they have changed their commission structure so you don't need to buy it but you do need to apply.
You do need to show proof of how you will market it. They won't let a complete newbie market their $30,000 course with no track record, as it will waste your time and likely put a bad name out there for Legendary Marketer.
Tuition Reimbursement Program
This is quite a cool idea.
If you sell 10 courses (of whatever course you buy) you will be reimbursed your initial joining fee.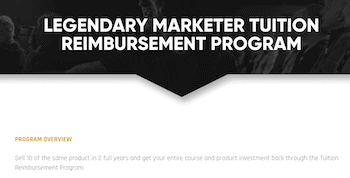 This could be seen as encouraging that whole pyramid scheme thing again, but it does mean there's an extra bonus for those that do promote Legendary Marketer.
Read the tuition reimbursement program here.
Coaches Won't Try to Sell Things to You
I read some reviews about some people that claimed the initial coaching call just tries to sell you the higher ticket courses.
It appears that most people now say the coach was nothing but helpful in understanding any questions they have or helping them with the course.
My Opinion – Legendary Marketer
---
It's a legit course that you will learn something from.
If you are a complete beginner I don't think this course is for you, no matter what they say. Dealing with paid traffic, the whole email autoresponder, funnel system can become overwhelming when you try to do it all at once.
If you have already made some affiliate commissions online, have an email autoresponder, know about some of the other software like Clickfunnels, then this may be great for you.
The one thing you need to consider is the cost.
Can you afford to spend around $3,000 on it right now plus allow for the extra monthly costs of around $200-300 including paid traffic?
It's a great way to scale and make more money quickly.
But it's equally a great way to lose a lot of money quickly and give up with online marketing forever if you are brand new to it.
Is There An Alternative?
---
It wasn't that long ago that I was still trying to figure out how it's possible for people to make money online.
I wanted to find a passive income system that ticked a few boxes:
I could work on part-time when I wanted (I was still in a full-time job)
Therefore I needed it to not cost a fortune to start and maintain
Didn't need me to sell stuff to my friends and family
It was in September 2018 that I found Wealthy Affiliate.
In September 2019 I quit my full-time job.
The best thing about it is:
It's free to start
Qualified traffic is brought to you for free (just think about how you found this review… there was no money or time spent from me promoting this!)
You get me as a personal coach to help you on your journey
You don't need ANY technical skills to start
When you try out this program you will see why so many people recommend it.
No credit card details required– check out the bonus at the bottom of this page
Legendary Marketer Review: The "MakeTimeOnline" Final Word
---
As you can tell from this Legendary Marketer review, it is a legit way to start making money from affiliate marketing.
The concept of finding a high ticket item to promote is an interesting one and kind of makes sense… it takes about the same amount of effort to get someone to buy a $100 course as it does a $1,000 course.
You can learn some great things about paid traffic methods, but you won't learn about more long term and sustainable business model techniques like SEO.
Keep changing for the better,
Mike
P.S. Since you're still here, I'm going to assume that you are interested in making money online to free up your time. So check out my review of my #1 recommended program and join the form below to get some great freebies, including a 1-1 chat with me…