In the spirit of full transparency, know that this review revealing "is Survey Voices legit?" contains affiliate links. This means if you make a purchase through these links, I may receive a small commission at no extra cost to you. Click here to read my full disclosure policy.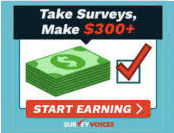 You probably agree that it would be great to earn $300 a day with no boss and on your own schedule.
Survey Voices claims that it can help anyone do just that. They can send you surveys that you can earn money from for just giving your own opinions.
So is Survey Voices legit? This question will be answered in this review, plus you can find out how it's possible to earn way more than $300 a day from a proven system.
Survey Voices Review – The Overview and Rankings
---
Name: Survey Voices
Owners: Reward Zone LLC (5 out of 100)
Website URL: SurveyVoices.com
Success Stories: 30 out of 100
Price: Free
Maketimeonline.com Rating: 17 out of 100
Pros and Cons
---
Pros
Free to Join
No need to search for survey sites as they will send them directly to you
Cons
There are some scammy sites they send to you. So you will need to sort out the wheat from the chaff
Only available to US residents
Takes a long time to earn any substantial money (way off $300 a day as they claim!)
You can find all legit survey sites through Google yourself
Your phone may be overridden with pop-ups and spam
What does Survey Voices do?
---
It connects you to survey sites that can pay you for your opinion.
Survey Voices does not have any surveys themselves, but they send you links to other market research companies that do pay people for their opinions.
You can learn more about how online surveys work in the short video below…
It is completely free to join them, but you do need to be a US resident.
How Do You Join Survey Voices?
---
This is pretty simple.
You need to provide your:
email address
location
and phone number.
Do you remember that you need to be US citizen though?
Now we know this, it begs the question…
How does Survey Voices Make Money?
---
Great question pumpkin!
Remember, Survey Voices has no surveys of its own and it's free to join.
But they get paid through affiliate marketing.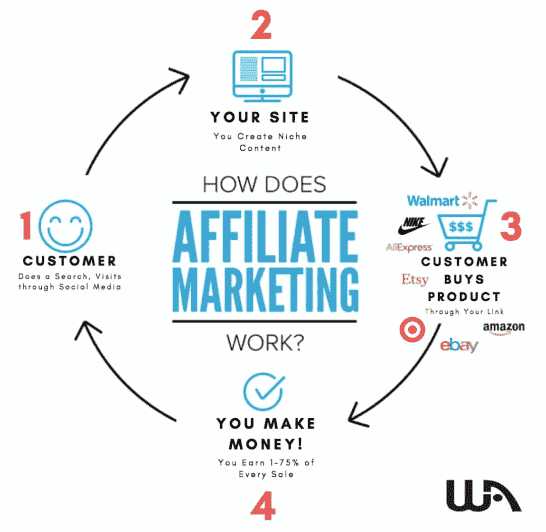 Basically, if they connect you to a service that you are looking then they get a small commission for doing so. Affiliate marketing is a legitimate business if delivered with honesty and genuinely helps people. You can learn more about this in "Affiliate Marketing Online: The Secrets Revealed".
Now, I can almost hear your mind saying…
Related content:
Is Survey Voices Legit?… Or is it a Scam?
---
There are two main ways an online program can be a scam:
Take your money and run off into the sunset, never to be heard from again
Provide some information but it doesn't live up to their promises
Survey voices don't really do either of these things so it is technically legitimate. It does connect you to some legit survey sites such as:
Survey Junkie– Earn up to $45 per survey
Inbox Dollars– $5 sign up bonus just to start
Rakuten (used to be eBates)- $10 sign up bonus- this provides cashback for making online purchases (you don't need to do anything to earn it!)
However, as you are about to find out they do also connect you with some scam websites that are looking to take your money and run off into the sunset.
Related content:
Survey Voices Red Flags
---
There are some things that do make survey voices more suspicious than Donald Trumps refusing to release his tax returns.
Key Terms:
Black Hat Methods – Using lies and unethical methods to make someone buy something
White Hat Methods – Being honest and genuine to help people make informed decisions about purchases
Red Flag – A warning sign
#1 Spam Emails, Phone Calls Scams
---
This is the number one red flag!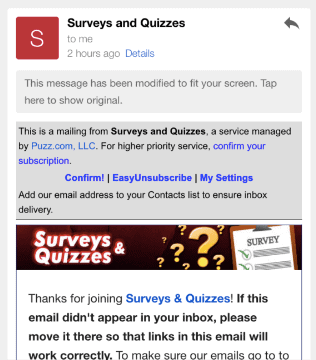 Did you wonder why it was free to sign up? Once you give your email address and phone number they can sell this information onto other companies and then there's no stopping who can contact you.
#2 Sending You Scams
---
You will receive offers such as this from them…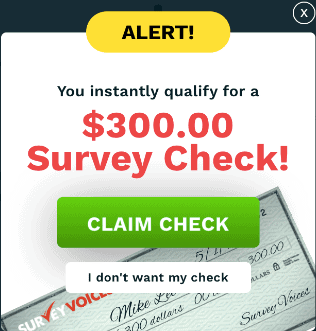 You probably know that if it's too good to be true then it probably is!
#3 Some Terrible Customer Reviews
---
So I went through a lot of forums to find out what real people were saying about this website.
The vast majority were along the lines of these two.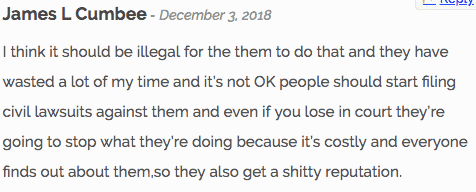 But to be fully transparent please do note there are some people who do use the site and seem to enjoy it.
#4 260+ Complaints on BBB for Reward Zone
---
Some people love to check the Better Business Bureau.
It provides a very good indicator of how good a company really is…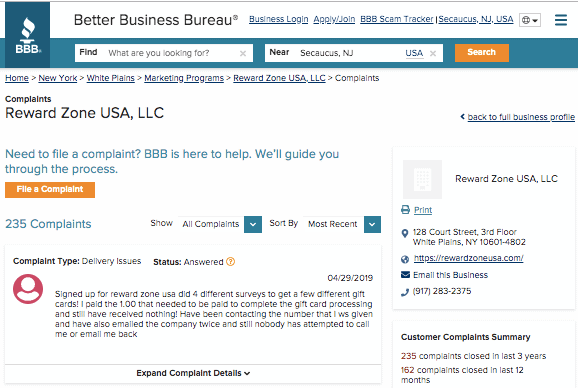 As you can see on the BBB there have been over 160 complaints in the last 12 months! This is a huge red flag that the company is not all it's cracked out to be.
My Opinion – Is Survey Voices Legit?
---
OK, are you ready for this?…
You may as well just join legit survey sites and avoid all the toot that goes with it.
Here are some proven legit survey sites that you can give a go for free right now:
Survey Junkie– Earn up to $45 per survey
Inbox Dollars– $5 sign up bonus just to start
Rakuten (used to be eBates)- $10 sign up bonus- this provides cashback for making online purchases (you don't need to do anything to earn it!)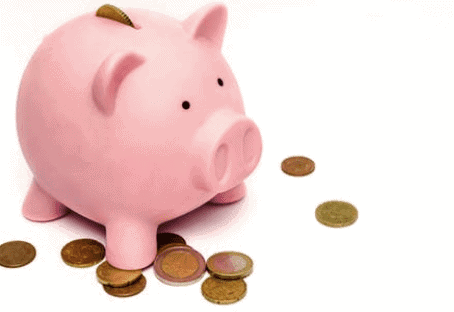 Surveys may help you to have a bit of pocket money or pay a few small bills each month if you want an easy way to do that. 
However, if you are looking to make some good money online then you will never be able to do this from survey sites.
As you continue to read the end of this Survey Voices review, you will begin to see that it is possible to live life on your own terms and make good money online.
Survey Voices Review: The "MakeTimeOnline" Final Word
---
So Survey Voices will end up sending you quite a bit of junk.
Are you beginning to realise that survey sites can be an easy way to earn a bit of pocket money every month, but it will be unlikely you will earn much more than $50-$100 each month from them?
However, if you are looking to make good money online there are thousands of people that have replaced their full-time income from doing so. Just listen to my chat with Jeff and Ben from the Dollar Sprout to see how they now earn $240,000 per month!
As you will hear from them, affiliate marketing is an amazing, passive way to start earning some great money online. But knowing where to start can be daunting.
If you aren't sure where to start or you are not seeing the results you wanted online then check out my number one recommendation for free. The 4-step formula breaks it down so simply.
Once you give it a go for free you will see why so many people recommend it to their friends.
Keep changing for the better,
Mike
P.S. If you are interested in making money online to free up your time, check out this 1-minute video to see more information about my #1 recommended program…