Welcome to my Enagic review.
You probably have heard of some of the benefits of starting a direct selling business.
Some people argue this is different from MLM and network marketing, but it's a very similar process. Enagic seems to offer an amazing opportunity without the hefty membership fees of most MLM companies. Plus it's promising to help people live a healthier lifestyle.
So the question still remains… Is Enagic a scam? You'll find out the truth in this honest review to help you make an informed decision.
Enagic Review- The Overview and Rankings
---
Name: Enagic
Owners: Hironari Oshiro (90 out of 100)
Website URL: www.enagic.com
Type: Direct selling water filtration/ ionization machines (there are claims it's not an MLM program… but it basically is)
Success Stories: 20 out of 100
Price: Free membership… but the prices of machines are high, at least $1,980 (20 out of 100)
Maketimeonline.com Rating: 43 out of 100
Pros and Cons
---
Pros
No Signup fee (but you do need to purchase a product before you can join the program)
Long history
A+ BBB rating
Received accreditation
Cons
Price of products
Health claims are not proven
You need to recruit (often family and friends)
Customers won't repeat orders (unless the product breaks!)
Only 1 in 10 people make more than $5,000 a year in MLM companies
What does Enagic do?
---
Enagic is a Japan-based MLM water filtration company allowing people to drink "healthier water".
The video above gives some more background into it if you are interested in learning more, but as you can see it was founded in 1974, and it has a good history.
Enagic Kangen Water Changes The Body's pH Levels…
---
There is some research out there that suggests that drinking more alkaline (higher pH levels) water is good for us.
Some of the benefits include:
Losing weight
Reduce the chances of getting cancer
Reduce the chance of arthritis
There are claims that Kagen water can change our body's pH levels and it's better for our body to be more alkaline than acidic.
So what does Enagic offer?
Enagic Kangen Water Products
---
Here are the machines that Enagic has to offer: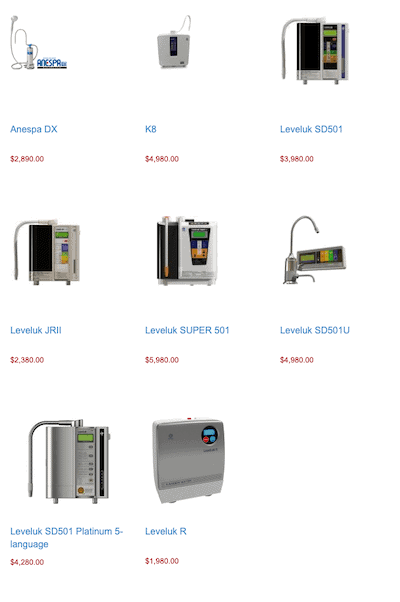 Leveluk R – $1,980
Leveluk JRII – $2,380
ANESPA DX– $2,890 – (newest machine)
Leveluk SD501 – $3,980 (Main machine = 90% of their global sales)
Leveluk SD501 Platinum – $4,280
Leveluk K8 – $4,980
Leveluk SD501U – $4,980 (connects to sink)
Leveluk SUPER 501 – $5,980
As you can see there is a big range in products.
Some are more compact, some attach to the sink and the more expensive ones tend to be more robust.
But this is not the only products Enagic offers…
The Ukon Products Also Have Many Benefits…
---
There are a lot of benefits to consuming the spice Turmeric including:
Reducing the risk of cancer
Anti-inflammatory- fights disease
Boosts brain power
Lowers the risk of heart disease
Helps to provide clear skin
And many more!
There is a whole range of Ukon products that can help the body with the above advantages ranging from:
$25 Ukon soap to the $1,980 Ukon Sigma combo (Tea, supplements & soap)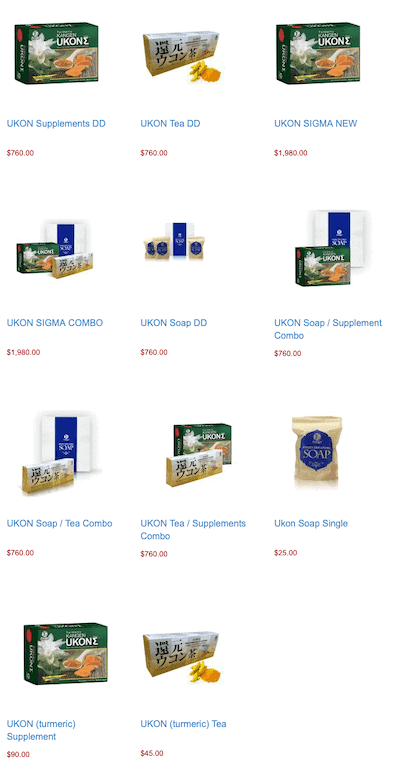 You can find the whole Enagic product list here.
Since you're still here I'm guessing you'd like to know the answer to…
How to Make Money With Enagic
---
There are 2 main ways to earn money with any MLM company:
Sell the products to other people
Recruit people into your downline to sell products, and you receive a commission from their sales
Enagic has a third way:
3. Bonuses
How to Get Started With Enagic
---
There are some great benefits to starting with Enagic compared to a lot of other MLM programs.
This includes NO:
Monthly qualifications – You don't have to spend money to stay active
Stocking of inventory – Similar to other MLM programs
Annual renewal – The BIG difference to most MLM programs
Time limits – Don't worry about making "X" sales in a time frame
The big difference here compared to other MLM programs is that there are no fees to stay as a partner with Enagic.
Enagic Compensation Plan
---
These are some of the types of commissions you can earn with Enagic:
Direct Sales Commission
Override Commission
Educational Allowance
Monthly Incentive
Quarterly Incentive
Title Incentive
Global Leadership Incentive
You can check out the full compensation plan here.
Or watch this short video…
Simply put:
Like any MLM company the more "direct sales" you make the more money you can make.
It helps you to "climb the ranks" and this is where people make mega bucks! But to achieve the highest rank you will need to sell 100 machines (yep, you read that right!… but you don't have to sell all of these yourself)
Remember people in your downline that sell the machines also helps you so you are encouraged to help other people make sales too.
Simple?
Don't worry if you're still confused. As you read on it'll start to make more sense and you will find out the answer to… is Enagic a scam?
Now, I can almost hear your mind saying…
Is Enagic a Scam and a Pyramid Scheme?
---
First of all, let's define what Direct selling is according to Wikipedia:
It consists of two main business models: single-level marketing, in which a direct seller makes money by buying products from a parent organization and selling them directly to customers, and multi-level marketing.
Wikipedia's definition of Multi-Level-Marketing (MLM) is…
A non-salaried workforce where your earnings come from a pyramid-shaped commission system.
Simply put: 
You earn money from commissions of sales you make and a percentage of the sales the people you recruit make. The people you recruit are in your so-called "downline" so if you help them to sell better it will help you make more money!
A pyramid scheme is defined as:
A business model that pays its members when they recruit others rather than supplying products or services. 
MLM programs can be legitimate, but pyramid schemes are unsustainable and often illegal. 
So is Enagic a scam?
As you can see from this Enagic review, there are plenty of products that are being sold. 
Therefore, Enagic is NOT a pyramid scheme or a scam. 
Just to be fully transparent with you, I have not purchased this program myself and I do not endorse it in any way.
I have researched the website, testimonials and information on the Internet to get to the bottom of what this program genuinely does. This is because I have been burnt from programs just like this in the past and I want to prevent others from making the same mistakes. If you'd like to learn more "Ways to Spot an Online Marketing Scam" then click the highlighted text.
Related content:
Common positive reviews
"The water ionisers are amazing! I've been using their products for nearly two years and will continue to do so until the end of my days."
"My mother's brain health has imporved amazingly, tears in our family, thank you Enagic."
Common negative reviews
"Don't bother to buy the unit. So costly and customer service is so bad. I got my unit power broken."
"I just buy the grate machine that cost almost $4000. I cant hook up because parts are missing. She is saying that I have to order another part."
Enagic Kangen Water: The Good
---
There are plenty of good things about starting with Enagic.
Here are some of the things I like about it:
#1 No Membership Fees
---
You DO NOT have to spend a certain amount each month to keep selling Enagic products.
All you need to do find is a sponsor and make a purchase of one of the machines (note that is at least $1,980 to start).
Top tip: use YouTube to help you find a good sponsor if you want to join! You can tell a lot about a person from a video.
#2 Accreditation & Achievements
---
There are a whole range of achievements and accolades Enagic has received over the years:

This includes:
Quality control and environmental management
Water Quality Association Gold Seal for product certification
Member in the prestigious Direct Selling Association (DSA)
This is another clear sign the company is legit.
#3 A+ on BBB
---
BBB gives Enagic an A+ rating.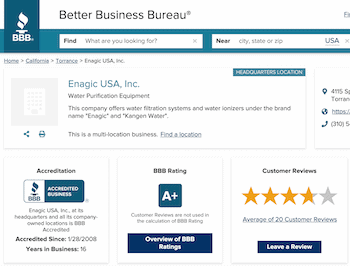 The business was incorporated in the USA in 2003 and has been on BBB for 16 years. 20 complaints in 16 years is not bad!
Most of these are about the product missing parts or someone wanting a refund.
#4 Long History
---
Being established since 1974 it has a strong history.
This is another great sign that a company is legitimate because poor companies tend to not be able to last this long.
All of this may be making you think it's too good to be true.
Well, here's the other point of view…
Enagic Red Flags
---
There are some things that may not be obvious when you first look at joining the program.
It's important that you are aware of these before diving in.
#1 Price of Products
---
This is the biggie!!
Do you remember that the Enagic water filtration/ ionisation machines range from $1,980- $5,980?
Well here is what I found with a quick search on Amazon…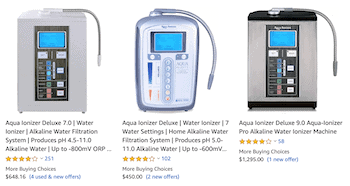 It's honestly hard to find a water ionisation machine for more than $2,000 (Enagic's cheapest option) on Amazon.
Plus you can find Turmeric equivalents for a fraction of the price…
It looks like it may be worth shopping around!
#2 Are the Health Claims Even Proven?
---
Healthline suggests the "outrageous health claims" haven't got enough evidence to support some of these claims.
Especially the ones about cancer!
It's also worth bearing in mind that drinking alkaline water may have other side effects such as:
Deficient of certain minerals
Vomiting
Hand Tremors
Tingling in extremities
#3 The Truth About MLM Programs
---
PR Newswire shows that 73% of all people involved in MLM companies lose money or make no money.
And of the few that make money, over half made less than $5,000 a year! Therefore less than 1 in 10 members of MLM programs make more than $5,000 a year!
I would like to point out that some people do extremely well from MLM programs. But as you can see in the article above the majority do not! Also, remember Enagic is a "direct selling" opportunity…
#4 Will People Order More Than Once?
---
Nope!
Think about it. If you were to spend over $4,000 on a machine, do you think you will put in another order for this next year?
Plus there is a 3-5 year warranty for the machines.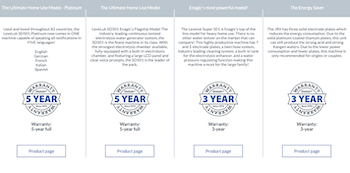 Now I know there is the whole Udon side of things with the turmeric benefits and clients will need to buy filters etc.
But the bonuses and "levelling up" in the business model only happens when you sell machines!
Let me ask you this… do you know 100 families that would be willing to spend $4,000 on a water filter?
Related content:
My Opinion – Enagic
---
The products are too expensive.
Period.
You can find the same quality products for a fraction of the price on Amazon as is the case with a lot of MLM programs (I know!!! It's direct selling, but even the definition of this says it has MLM in it!)
Now, let me ask you this. How would you feel selling these machines to your friends and family when you know they get the same thing delivered to their house for half the price?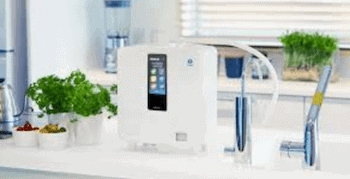 It's a good company and I do think there is something to be said about alkaline water and turmeric.
The research has even made me look into getting some turmeric supplements and I am researching the pH levels of our big water bottles that we drink at home.
But the fact is:
You will have to sell these to your friends and family. Do you really want to be that person?
Yes, there are ways to market it online and it has close links with the Digital Genius Lab, but you can read my opinions on this company.
All is not lost. There may be another way to make money online that is completely ethical and you can help a lot of other people…
An Evergreen Strategy That Brings You The Money
---
It wasn't that long ago that I was still trying to figure out how it's possible for people to make money online.
The biggest issue I found was that most systems either required a load of time, money or for you to sell to all your friends and family. I wanted to find a passive system that had a few things:
I could work on when I wanted (I was still in a full-time job)
Didn't cost a fortune to start and maintain
Didn't need me to sell stuff to my friends and family
UPDATE- In September 2018 that I found Wealthy Affiliate. In September 2019 I quit my full-time job to dedicate more time to it.
I had no idea where to start with an online business a year before, but this has shown me step-by-step what to do.
The best thing about it is:
It's free to start
Customers are brought to you that are already interested (just think about how you found this review… no money or time was spent by me promoting this!)
You don't need to sell anything to your friends and family
Once you try the program out for free you will see why so many people recommend it.
No credit card details required
Is Enagic a Scam? The "MakeTimeOnline" Final Word
---
No Enagic is not a scam.
But it certainly doesn't mean it's the right program for you to start using.
As you come to the conclusion of this honest Enagic review you start to realise there are other ways that people make money online. And it doesn't require $1,980 to get started or any selling to your friends and family.
If you have any questions and I mean any questions about Enagic, please leave them below. If you have used or currently are a member please also add your opinions below.
Keep changing for the better,
Mike
P.S. If you are interested in making money online to free up your time, check out my #1 recommended program…