There may be affiliate links in this Cash for Patriots Program review, read the full disclaimer here.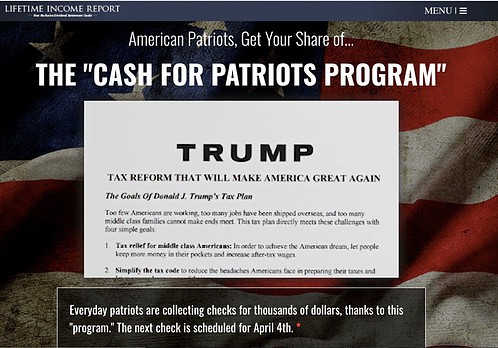 You probably know that most people would jump on the chance to gain some extra money that they are entitled to.
You also probably know that there are a lot of online scams claiming to help you do exactly this sort of thing. Well, the "Cash for Patriots Program" promises to be one of those programs that helps you claim back a lot of money that is rightfully yours.
This Cash for Patriots Program review will help you decide whether it is a legitimate program and whether it is right for you.
Cash for Patriots Program Review- The Overview and Rankings
---
Name: Cash for Patriots Program
Owner: Zach Scheidt (5 out of 100) Agora Financial (1 out of 100)
Website URL: pro.cash4patriots.com
Support: 5 out of 100
Training: 35 out of 100
Success Stories: 10 out of100
Price: $49-$89 annual fee (Not including the extra money you will need to invest…)
Maketimeonline.com Rating: 11 out of 100
Pros and Cons
---
Pros
Provides a money-making strategy that people have used successfully
Can be accessed by people of different ages and income levels
Cons
Misleading information
You will need additional money to invest in stock companies that pay dividends
Expensive for what you get
They pile information at you, which makes it very hard to know what to do
Pressured to act fast
Poor support
Who is the Cash for Patriots Program for? 
---
Any American patriot who would like to receive a check for up to $7,980. It's possible to receive 24 checks like this every year!
You can be any age (over 17) 
You don't need to be employed or have a certain income level
Hang on a minute, seriously?
As you read every word of this Cash for Patriots Program review you will realise whether this is true or not.
What is the Cash for Patriots Program? 
---
The program suggests that you can receive checks every month just for being an American patriot. 
It appears that all you need to do is put your name on some government list and sit tight in your home watching Games of Thrones re-runs, drinking beer and wait for these magic checks to appear in your letterbox. 
"But how is that even possible?" I hear you scream.
Well here is the theory…
Donald Trump's Tax Reform Will Release $2.6 Trillion to American Patriots
---
Hidden amidst all the crazy stuff that is going on in the media is this little gem that Donald is using his "Trump" card (see what I did there?!)
This awesome tax reform means that it will release trillions (with a "T"!) to US citizens…
Or will it?
As you keep reading you will learn who actually benefits from this tax reform and what the program really does,
But you also need to note that there are many other programs that offer the same opportunities. Here are some of the most notable ones:
Is the Cash for Patriots Program Real?… 
---
Erm no… 
Well, at least not how Zach makes it sound. 
It will provide you with a strategy to invest in companies that will pay you dividends (scroll down to "my final opinion" to find out what this means…)
The checks that magically appear in your letterbox every month are from the companies profits that Zach Scheidt will recommend that you invest in. 
Basically, you will be investing in the stock market and looking for companies that pay good dividends.
9 Red Flags That Suggest the Cash for Profits Program is a Scam… (Plus a Bonus One!)
---
So here are the 9 red flags that can help you to unravel what this mysterious program actually does:
#1 – Dodgey Video
At the top of the page, there is the video that really makes you want to click it. 
Zach Rambles on and on… for an hour! 
But somehow manages to avoid ever really telling us what we'll have to do. He repeats the same things about the tax reform that Trump has done to release $2.6 trillion. 
Plus, there are loads of examples of how people collect "up to 24 checks a year" and these checks can be up to $7,980 every month. 
Now that bit has you interested doesn't it eh?
#2 – Cash for Patriots Program Enrollment: Access for All 
---
Hey guys… anyone can access it!
You don't need to worry about how old you are or how much you earn. 
Is this starting to sound too good to be true? 
If it does then remember amigo… it probably is! 
Read "8 Ways to Spot an Online Marketing Scam" to see the other telltale signs.
#3 – The 2.6 trillion from the private sector for Americans
So you may have heard some of these false rumours about Donald Trump claiming that "deserving Americans will receive $612 stimulus".
Well, this program has nothing to do with anything about "deserving American's" receiving a "stimulus package".
As you'll discover it is to do with owning shares of companies.
But this doesn't stop Agora Financial using quotes out of context from the New York Times…
"This is a windfall of cash"

"Enormous hoard of stashed cash"
And Bloomberg…
"It's a pot of Gold"
These quotes have nothing to do with the "cash for Patriots program". In fact…
#3 – "Cash for Patriots Program" isn't Even a Real Thing
---
FYI Donald Trump (or anyone in the US government) never named an initiative called "Cash for Patriots Program". 
It's just a funky name that Agora Financial set up to make you want to buy Zach's "Lifetime Income Report". 
Speaking of which… what is in this lifetime income report?
Ah, I'm so glad you asked…
#4 – Lifetime Income Report
---
So Zach goes on about all the great things you will get from the "lifetime income report". 
His own book
3 e-books with information in it (one about the Cash for Patriots system)
A yearlong subscription to his monthly newsletter
Email alerts
Direct line to Agora Financial's support team
When you actually break that down your getting his book and the e-books. Everything else is just "stuff" that makes it sound like your getting more things for free. 
For a start there's a massive number in the top corner when you go to pay… so everyone has a direct line to Agora Financials support team!
If you're wondering if Zach's book really did reach number one on Amazon and is worth the steep $49-$99 a year payment you need to access it…
7 reviews suggest it's not the great book it's made out to be (just remember everyone has a handful of friends and a Mum who can leave a 5-star review… just read that "top positive Cash for Patriots Program review"… it's not even about the book and certainly doesn't scream #1 on Amazon!)
The main thing is what the Lifetime Income Report will teach you…
Zach's report will show you how to cash in on the theory that companies will now pay you a higher dividend due to Donald Trumps tax reforms.
Simply put… the tax reforms that are mentioned will help companies bring money back into the USA. Currently, a lot of big businesses hold their money offshore due to the tax advantages of not bringing the money back into the country.  
The theory is…
Money back in the US = higher profits = higher dividends
So you actually need to hold stocks and shares of certain companies (ones that Zach is speculating on i.e. guessing will do well!) 
Basically, you will need extra money to invest in the stock market to receive dividend payments. 
These may be sent to you in a check but it's not how the video makes it sound at all.
(Find out more about dividend payments in "my final opinion" below…)
#5 – The Pressure to Buy Now! 
---
When you watched the video did you notice the different quality of the sound whenever Zach said "April 4th"? You can tell it was an after recording that was added in at a later date. 
This is because the date will change depending on when you visit the website to be only a few days or weeks ahead of where you are!
Have you noticed the big juicy timer at the top when you're about to pay? (spoiler alert if you let the time run down you just click on the link again and it will start again!)…
There's also the big red text saying you have until April 4th to act.
If you're thinking, "well I better act quickly!" then this very clever marketing technique is working… Unfortunately, for Agora, it's also a sign for make time online that the program is a scam if you don't have a free trial or option to test it out!
#6 – Perceived Added Value
---
This is again another sound sales tactic that works on human nature. 
When you go to check out there are 3 options available…
The platinum offer is smack bang in the middle and is in front of the other packages & is the "best value". It not only offers you 1 more "special platinum report" (which it doesn't EVER tell you what it's about… it could be about dogs for all we know!) but is actually cheaper than the Gold Option. 
It's a no brainer Billy Bob! Buy that option right now before it's too late and the timer runs out…
Or should you?
This doesn't make the program a scam but it is not being open and honest upfront about what you are paying for.
#7 – Non-existent press release
Remember that really long video? 
Well, hidden in the mix of the hour-long rambling was a claim that the 'Cash for Patriots Program' was also formally announced in a press release published on September 29, 2016, by Congress's Joint Committee on Taxation.
So about that… yeah, it doesn't exist!
I'm fairly sure they didn't expect someone to do this but when you search the archives on jct.gov there was no press release date for September 29, 2016. There's also no mention of this program on the website either.
Strange eh?
#9 – Agora Financial
Agora is an independent financial advisory company which also owns Banyan Hill Publishing.  They provide many financial newsletter publications on a subscription basis.
Honestly so many! I signed up to another program about the stock market a few years ago and they literally bombard my inbox with emails. They continually contradict themselves and it's impossible to tell what you should actually be doing even if you manage to read every one. 
The screenshot below is the emails I received over a 2 day period!…
They average between 7-10 emails (that are long) per day!… information overload or what!?
Taking a look at their page on Better Business Bureau you are hit with the big red warning sign.  Then we see 2 things…
They aren't accredited by the BBB which is a big red flag.
Over 300 complaints with a rating of 1.5 stars… ouch
BONUS #10 – "Testimonials"
So it can't be a sales video without some testimonials. Zach rattles through quite a few in the video… on nothing useful!
"Patriots" receiving monthly paychecks ranging from as low as $1,710 up to $11,365. Including some outrageous claims:
You can collect 24 of these checks in a year totalling over…
$68,184 a year!
The video is full of "testimonials" exactly like those above so I'm not going to put any more than these two. 
But here are some "testimonials" the video manages to miss out…
Source: Better Business Bureau
Source: ReportScam.com
Honestly, this isn't even me cherry picking these terrible reviews. Click the source links above to see for yourself. 
It's actually quite concerning when you read some 75-year-old retiree saying that they didn't even click the pay now button and money has been taken from their account. 
My Final Opinion- Is Cash for Patriots Program a Scam?
---
So is the "Cash for Patriots Program" a scam?
Technically no.
It will provide you with information on how to get checks in the mail throughout the year. 
But the whole sales video and pitch makes it look like you will have to fill out some tax relief form and then jobs a goodun!
This couldn't be further from the truth… 
In actual fact when you join the program this is only the tip of the iceberg.
You will then need to invest in stocks of certain companies that Zach is speculating on paying out good dividends over the year. Hence these companies will send you checks through the mail.
It's nothing to do with tax reforms and governments paying you your money back, which is how the video makes it look like.  
Hold up What is a Dividend?
---
Well I'm glad you asked because at no point does the wasted hour-long video try to educate people on what they will be doing. 
A dividend is a sum of money that a company will pay its shareholders out of its profits. This can be quarterly or annually (usually paid as a per cent of your investment i.e. 5% return).
So to really do this program you need to be aware of the risks and rewards of investing in the stock market. 
So What Should I do?
---
If you are interested in investing in the stock market, you can get all the information you need for free.
I would highly recommend you check out "The Best Way to Earn Passive Income". This will help to understand more about the stock market and what the smartest investors recommend you do. 
There is a strategy in here on how real people actually retire early and consistently beat the average investor. My chat with Grant Sabatier opened my eyes to how real people can do this. Check out "How to Earn $50,000 in 4 Days and Reach Financial Freedom w/ Grant Sabatier". 
But always remember…
Knowledge is power
This is why creating your own online business can be a great way to earn passive income. You will learn more, which means you will be in complete control of your finances.
And no you don't need to be able to code! In fact, find out "How to Build a Website the Easy Way… in Under 30 Seconds".
Cash for Patriots Program Review: The "MakeTimeOnline" Final Word
---
In this "Cash for Patriots Program" review I hope you can see it's not a scam.
It will provide you with a strategy to get checks into your letterbox. But you will need to have a few thousand dollars to invest in the stock market, do your own research and understand the risks associated with the stock market.
This is what the program definitely won't do:
Show you how to receive some checks by filling in some tax reclaim forms.
Send you checks without you having to put time and effort into learning the system and strategy.
Send you money without you investing your own money.
And as you are thinking about whether this program is right for you, you become really interested in knowing if there is a way to make money online without having to invest thousands of dollars.
In 2018 I had no idea what affiliate marketing was.
Once I learnt about it, it just seemed like a great business model that can grow over time using the power of the internet.
So I tried to figure it out by myself… that got me nowhere fast.
Then I fell for some terrible online scams.
But eventually, I found Wealthy Affiliate. It teaches long-term proven strategies to build an online business with all the tools & support needed.
And this happened…
Once you learn the process of getting thousands of people to find your website every month (for free) there really is not limit to what you can achieve online.
I've reviewed hundreds of courses or programs that claim to help people make money online. And I've spoken to dozens of 6-7 figure online entrepreneurs on my podcast.
This is by far the best place I've seen to help beginners get set up on the right foot. You can read my full Wealthy Affiliate review here (including the pros and cons!)
Or you can watch an insiders video I made that explains exactly how it works here.