In the spirit of full transparency, know that this Stack That Money review contains affiliate links. This means if you make a purchase through these links, I may receive a small commission at no extra cost to you. Click here to read my full disclosure policy.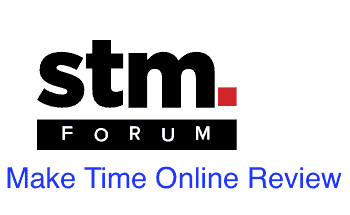 You probably know that there is always something to learn as an online marketer.
Many people just think it's too hard so put off ever trying because they don't like the idea of having to figure it out on their own. Stack That Money promises to be a place where online marketers can connect and network to reach success much faster.
This Stack That Money review, with an insider video, will show you exactly what to expect from the forum with the pros and cons of becoming a member.
Stack That Money Review- The Overview and Rankings
---
Name: Stack That Money (STM) Forum
Founder: Stackman, Lorenzo Green & Besmir in 2011 (90 out of 100)
Website URL: https://stmforum.com
Type: Premium Affiliate Marketing Forum
Training: 60 out of 100
Success Stories: 80 out of 100
Price: $99 a month
Maketimeonline.com Rating: 77 out of 100
Stack That Money Pros and Cons
---
Pros
Great community
Chance to network and form mastermind groups
Legit online marketers in one place
Learn from others mistakes
Unlimited amount of information available
Cons
Not great for beginners
Forums are not the best way to learn for everyone (there's only text)
Information overload (no step by step path to follow)
"Follow along's" failing… and often stop posting
What does Stack That Money do?
---
It's a forum and a huge community for online marketers.
It has so many different threads and categories that there is something for anyone that is interested in online marketing inside.
The short video below will show you how Stack That Money could help you…
There are opportunities for you to learn from proven successful affiliate marketers about the techniques and tactics that have worked for them.
Is it starting to sound pretty interesting?
Let's dig in a bit more…
What's Inside Stack That Money?
The quick video below shows you some of the content that is available inside Stack That Money.
As you can see there are all kinds of discussions inside that can really help shorten the learning curve for affiliate marketers.
These are the main discussion threads:
Traffic discussion area
Buy & sell section
Beginners section
Life section
Success stories
But STM has much more to offer.
Here are some of the not so obvious things you can also learn from Stack That Money or use it for:
Now, I can almost hear your mind saying…
Is Stack That Money a Scam?
---
There are two main ways an online course can be a scam:
Take your money and run off into the sunset, never to be heard from again
Provide some information but it doesn't live up to their promises
Therefore, Stack That Money is not a scam.
As you continue to read this Stack That Money review, you will see it clearly explains what it will provide you with (an online marketing forum) and it delivers it.
They don't make crazy claims about making thousands of dollars a month with a click of a button and there are some great discussions inside it.
Just to be fully transparent with you, I have not purchased this program myself and I do not endorse it in any way.
I have researched the website, testimonials and information on the Internet to get to the bottom of what this program genuinely does. This is because I have been burnt from programs like this in the past and I want to prevent others from making the same mistakes. If you'd like to learn more "Ways to Spot an Online Marketing Scam" then click the highlighted text.
Related content:
Stack That Money: The Good
---
Here are some of the things I like about Stack That Money…
Key Terms:
Black Hat Methods – Using lies and unethical methods to make someone buy something
White Hat Methods – Being honest and genuine to help people make informed decisions about purchases
Affiliate Marketing- Connecting a customer to a product they are looking for and receiving a commission for doing so
Red Flag – A warning sign
#1 High Quality Due to The Barrier to Entry (aka Cost)
---
You simply won't find people inside the forum who have no idea what they are talking about.
People will not continue to pay $99 a month unless they are serious about affiliate marketing and are making money from it.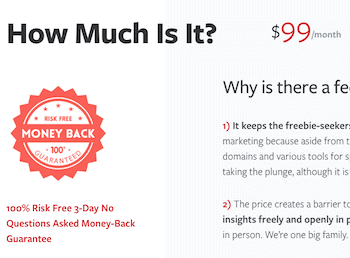 This means that the discussions and support you receive inside will be high quality and of value to you, rather than someone guessing and wasting your time down a rabbit hole.
#2 Active & Supportive Community
---
The community is super active with many discussion threads being updated on a daily basis.


A lot changes with online marketing so getting up to date and current information is crucial to succeed.
#3 Great for Networking/ Masterminds
---
Mastermind groups and networking is crucial for any successful business.
It's even more the case when you work online.

Getting help and ideas from other people who are at different stages of their affiliate marketing journey is a great way to shorten your learning curve.
These online marketers will also have big email lists or connections to help you put your name on the map quicker.
#4 Get Help From Legit Successful Marketers
---
There are many "super affiliates" inside the platform.
They will often contribute to discussions or even have some strategies and techniques they have personally used laid out.
For example, here are a couple of legit super affiliates that earn millions of dollars a year from affiliate marketing:
They are both members of Stack That Money.
#5 Possible to Get Quality Traffic From the Forum
---
Forum marketing is still a legit way that people get traffic to their website.
Just by being active in a community and sharing some helpful and useful thoughts or advice people will check out your website.
Depending on what it is that you market it's possible to get some great quality and highly targeted traffic from action takers to your website.
Having 10 people that check out your website and take action is far better than having 1,000 people that spend 10 minutes reading it only to leave without taking any action to help themself.
Stack That Money: The Not So Good
---
Here are some of the parts of Stack That Money that I, personally, didn't like and think you should be aware of…
#1 Not Great For Beginners
---
It has a beginner section and is marketed like it will be useful for beginner affiliate marketers.
It 100% could be really helpful for you as a beginner…
But only if you engage regularly, connect with other marketers and take serious action every day.
Paying $99 a month when you are brand new to affiliate marketing for a forum is plain crazy in my eyes. Especially if you have a full-time job and other commitments (like a family, or a life offline).
It will take a while for you to learn what to actually use as there is no step by step training to follow and you'll almost certainly try a few things that don't work for you before you see any results.
#2 Forums Are Not What They Once Were
---
The Admin Zone makes it perfectly clear that forums are not quite as effective as they used to be.
Stack That Money started in 2011 when forum marketing was in its prime.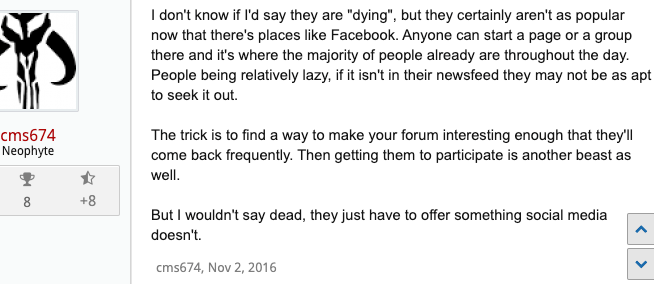 Even though forums are not as great for driving traffic as they once were, Stack That Money is still super active compared to many other online forums.
#3 A Lot of Dating/ Adult/ Mobile Installs etc.
---
You will be taught a lot of specific techniques that are only relevant to certain niches.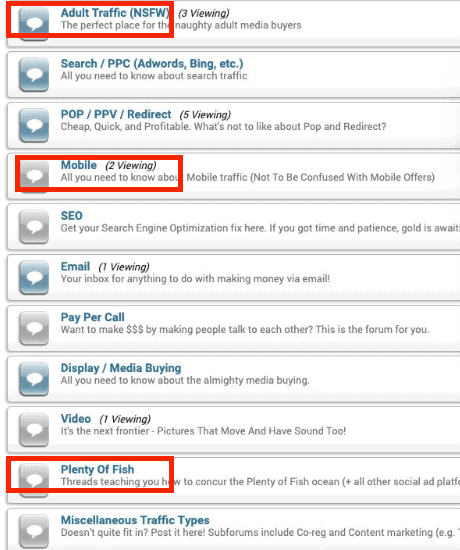 If these are not the niches that you are targetting (or planning on getting into) then it won't be that helpful for you.
#4 "Follow Alongs" Failing
---
There are "follow along" threads that you are encouraged to start when you join STM.
The idea is that you can follow a newbie's journey to making money.

However, as you can see in the screenshot above many people end up failing and simply stop posting to the thread.
It means a lot of these techniques have either become outdated or they just aren't useful to follow.
#5 Information Overload (Increase Shiny Object Syndrome)
---
There is so much information inside it's hard to know where to start.
There is no step by step training available if you're not sure what route to go down and they even have additional course bundles such as the ones you see below.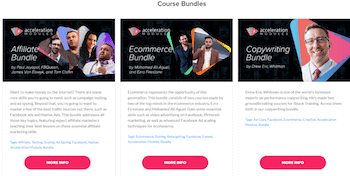 This means many people will jump from one idea to another and not stick with one thing until it succeeds.
There are so many ways to make money online that getting everything available at one time is not great for new to intermediate affiliate marketers.
Related content:
My Opinion- Stack That Money Review
---
It's a great forum where you'll be able to network and find out anything that you specifically want to know about affiliate marketing.
If you are looking to scale your income and learn something, in particular, this could well be the platform you were looking for.
However, if you are not making $500+ per month from affiliate marketing then this is probably not the place for you.
Most techniques involve paying for traffic, which can add up the costs very quickly to thousands of dollars a month. If you don't figure out how to make a profit this can compound in the wrong direction for you as you chase lost money.
New online marketers will be left feeling overwhelmed by the information.
So are there any alternatives?
Alternatives to Stack That Money
---
If you are looking for a community and a place to learn from other affiliate marketers then you don't have to pay $99 a month to find one.
In fact, there are options such as  Warrior Forum, WickedFire Forum, AffiliateFix Forum and Digital Point Forum. Some of these are completely free as well!
However, Wealthy Affiliate offers more than any of these including:
Step by step training for complete beginners
Website hosting & keyword research tools
Training on how to get free traffic every month
A community of over 1.5 million members with a live chat and forums & possible to direct message any member
Simply put… it has everything you need to go from someone that knows nothing about affiliate marketing, to a successful affiliate marketer.
The best part is you can start for free. If you decide to upgrade to access all of the training then the cost is $49 a month or $359 a year (less than $30 a month).
When you try out this program you will see why so many people recommend it.
No credit card details required– check out the bonus at the bottom of this page
Stack That Money Review: The "MakeTimeOnline" Final Word
---
To sum up this Stack That Money review…
If you are an experienced online marketer looking to scale your business then Stack That Money is a great forum to learn the skills you need.
However, if you are brand new or haven't made any money from affiliate marketing then it would be wise not to jump into this forum any time soon. Unless you are prepared to lose a few thousand dollars and dedicate a lot of time to it.
Keep changing for the better,
Mike
P.S. Since you're still here, I'm going to assume that you are interested in making money online to free up your time. So check out my review of my #1 recommended program and join the form below to get some great freebies, including a 1-1 chat with me…