In the spirit of full transparency, know that this Six Figure Mentors review contains affiliate links. This means if you make a purchase through these links, I may receive a small commission at no extra cost to you. Click here to read my full disclosure policy.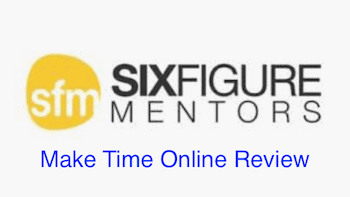 You probably know that many people make a living online.
Chances are you have seen the Six Figure Mentors through an advertisement and you're curious to know whether it could actually work for you.
Six Figure Mentors promise to help you build an online business and learn from people that have already done it.
This honest Six Figure Mentors review, with video, will reveal the truth about the program and whether it is right for you.
Six Figure Mentors Review- The Overview and Rankings
---
Name: Six Figure Mentors (SFM)
Owners: Jay Kubassek & Stuart Ross in 2011 (80 out of 100)
Website URL: https://thesixfigurementors.com
Type: Affiliate Marketing Training
Training: 70 out of 100
Success Stories: 30 out of 100
Price: $297 + $97/ month membership plus upsells of $2,500 per year & high ticket courses of $2,000- $20,000 (10 out of 100)
Maketimeonline.com Rating: 48 out of 100
Six Figure Mentors Pros and Cons
---
Pros
Step by step training great for beginners
Done for you landing pages
Support and a great community
Positive reviews exist from real users with success stories
Cons
The real costs to join are VERY high
You are pressured into upgrading
You are encouraged to promote SFM
There are high ticket items… but low commissions
There are far more honest negative reviews from real users than positives
What does Six Figure Mentors do?
---
Six Figure Mentors offer step-by-step training on Internet marketing with marketing tools, support and resources to help you make money online.
It promises to help you live that "Internet Laptop Lifestyle" by following the training.
The below video explains Stuart Ross's (the co-founder) thinking behind Six Figure Mentors.
As you can see Stuart Ross genuinely wants to help people.
He's not promoting a get rich quick scheme and understands that support is a big factor for most people's success online.
So let's find out a bit more about the actual program…
How Much Does Six Figure Mentors Cost?
Let's get down to business.
It's really hard to find this information out on their website and the pricing is all a bit shady and hidden between trying to "get accepted" to watch a webinar.
Here are the basic options:

Free Access: FREE (a few videos)
Student Access: $29.95 + an optional $25 per month- This option no longer exists
Essential Membership: $297 ($197 if you upgrade in 3 days of joining) + $97/month
Elite Membership: $2,500/year + $97/month
Now that's out of the way let's find out what you actually get…
What's Inside Six Figure Mentors?
After you go through the sales process and "get accepted" to join the Six Figure Mentors program you will get access to the following…
Free Access
You get access to 1 of the 5 Getting Started Training Modules including 9 videos for free:
Introduction
Online Selling System
Advertising Online
Websites
List Building
Providing Value
Products/Promotions
Why High Ticket
Your Next Step
If you are brand new to Internet Marketing then you may find some of this useful.
The information here is very generic and not very actionable, kind of what people expect for free!
But it also comes with a phone consultation with one of the consultants…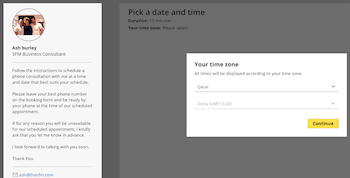 It's a great way to ask more questions and find out if this is an opportunity that suits you.
Essential Membership- $297 + $97/ Month
At this level, you can start receiving a decent income from affiliate sales of SFM program. You will learn more about this later in this Six Figure Mentors review.
Commission when Referring an Essential Member:
Initial Income: $100
Residual Monthly Income: $20
Commission when Referring an Elite Member:
Initial Income: $250
Residual Annual Income: $250
Plus you will receive full access to the training:
Program Preparation: An introduction to online business
Picking Your Path: Creating a vision for your future & Creating a 90-day plan of action. 
Planning Your Promotions:  Set up your new online business
Preparing Your Platforms: Learn some marketing principles and concepts. 
Promoting Your Products: A variety of effective strategies to promote products online.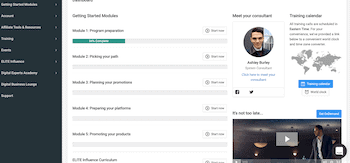 Here are some additional resources and tools you will receive at this level:
Daily motivation & inspiration boosters
Access to the private Facebook group
Weekly & monthly live webinars 
Access to previous live webinars (pre-recorded)
Tools – capture page builder, website builders & hosting, link tracking software and graphics creator
2 more eBooks (Attraction marketing & Black box)
But it doesn't finish there…
Elite Membership– $2,500/ Year + $97/ Month
This is where you get the Private Mastermind group.
It is really this level that I believe the title "Six Figure Mentors" only truly lives up to its name. Unless you join this level you are really getting an online course.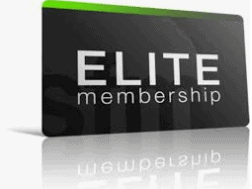 The other difference is the commission for referring Elite Members…
Commission when Referring an Elite Member:
Initial Income: $1,000
Residual Annual Income: $1,000
Now, I can almost hear your mind thinking… "wow this must be really good for this price! But I'm still wondering…"
Is Six Figure Mentors a Scam?
---
The short answer is no.
The longer one follows in this Six Figure Mentors review…
There are two main ways an online course can be a scam:
Take your money and run off into the sunset, never to be heard from again
Provide some information but it doesn't live up to their promises
Six Figure Mentors clearly provide you with training that can help you start earning money online. Therefore it is legit.
However, is it worth the money?
That is the question you are probably asking by now. And as you continue to read this Six Figure Mentors review, you will be able to decide for yourself.
Just to be fully transparent with you, I have not purchased this program myself and I do not endorse it in any way.
I have researched the website, testimonials and information on the Internet to get to the bottom of what this program genuinely does. This is because I have been burnt from programs just like this in the past and I want to prevent others from making the same mistakes. If you'd like to learn more "Ways to Spot an Online Marketing Scam" then click the highlighted text.
Related content:
Six Figure Mentors: The Good
---
Here are some of the things I like about Six Figure Mentors…
Key Terms:
Black Hat Methods – Using lies and unethical methods to make someone buy something
White Hat Methods – Being honest and genuine to help people make informed decisions about purchases
Pyramid Scheme – recruits members via a promise for payment from referring others to the service rather than providing a product
Affiliate Marketing- Connecting a customer to a product they are looking for and receiving a commission for doing so
Red Flag – A warning sign
#1 Step By Step Training
---
If you are new to the online marketing world then a step by step training is an absolute necessity to getting set up.
There are so many moving parts and it almost seems impossible to start without knowing exactly what you need to do.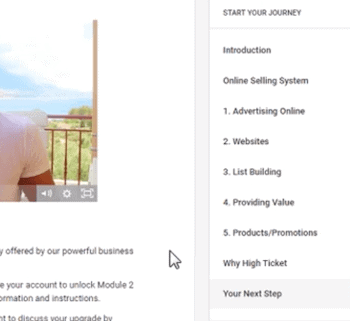 Six Figure Mentors offers this type of training so even beginners can take full advantage of their services.
Big tick!
#2 Good Support
---
There are different support levels depending on what service you decide to choose.
Here are a few great support services for everyone:
Weekly webinars
Online and phone support
Facebook group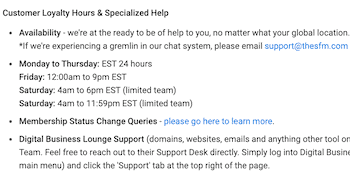 If you choose to go with the Elite membership then you get access to a mastermind group with much more contact and support from others.
#3 Positive Experiences From Users
---
It's always a great sign when you look online and find real members commenting about a program.
The comment below was from someone with no personal motivation to make a sale, just offering his own opinion about Six Figure Mentors…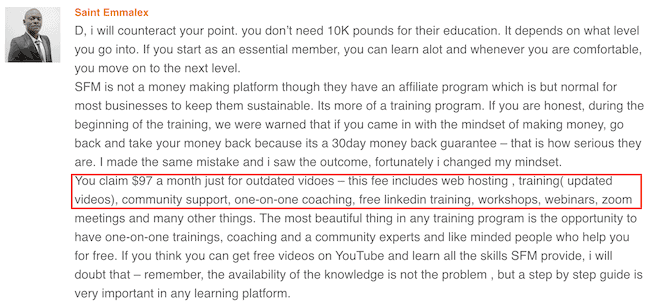 This shows that people do value the course.
#4 Done For You Landing Pages & Tools
---
This is another great benefit for newbie online marketers.
Whilst some people may argue you don't get to learn how to create them yourself, you can actually test out different ready-made opt-in forms to see what converts well.
Once you get a feel for what works and what doesn't you can create your own ones using similar successful tactics.
Six Figure Mentors: The Not So Good
---
Here are some of the bad parts of Six Figure Mentors that you should be aware of before diving in…
#1 The Overall REAL Cost
---
So you've already seen the cost of the program above.
However, this is not really including the total cost with all the tools you will need.
Just see what this former member had to say…

It is important to note that the $97 a month doesn't include everything you will need…
The Price of The Tools You Need
These are some of the extra additional costs that Six Figure Mentors also recommends you use for your online business:
Digital Business Lounge: $37 or $67/month
Simple Lead Capture: $29.95/month
Graphix Creator: $99
SimpleTrakk: $9.95/month
This is another $75+ per month! So you're looking more at $160+ every month for outgoing costs plus your initial sign up costs.
But it doesn't end there…
Don't Forget the DEA Membership!
Say what?
Yep, this is not even mentioned before you actually join, but SFM is actually a mini sales funnel for Digital Experts Academy (DEA). This is another product of the founders, which comes at a hefty fee…
Silver: $2,500 $1,700 ($170 commission)
Gold: $8,000 $6,600 ($2,640 commission)
Platinum: $11,000 $8,800 ($3,520 commission)
Black: $20,000 $14,500 (make $5,800 commission)
*The first number is the "retail price", but there is a discount for each membership*
These include a range of live events, how to start eCommerce stores, mastermind groups, 1-1 mentoring and much more.
Whilst you don't necessarily need them to succeed with Six Figure Mentors many of the success stories have purchased at least one of these.
Just check out this DEA Black member's success…
Just be aware you will get these courses shoved down your throat… a lot!
If you don't have a cool $20,000 to chuck on a course right now, then be aware of the sales tactics luring you in…
#2 Pressure to Upgrade
---
This is one of the common complaints about Six Figure Mentors…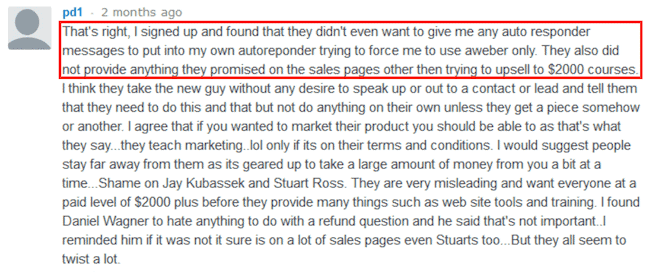 I get it, people need convincing to help make a better life for themselves.
But the truth is, these courses are not for everyone.
Some people have a family, mortgages and commitments that they simply cannot ignore and go and start living this "Internet lifestyle" 24/7.
I've always been one of these people so finding a cheaper, more long term and sustainable approach was crucial.
#3 Encouraged to Promote SFM
---
Whilst SFM is not a pyramid scheme, it does have some signs of one.
You will be encouraged to promote Six Figure Mentors, with "done for you" sales and landing pages like the one below…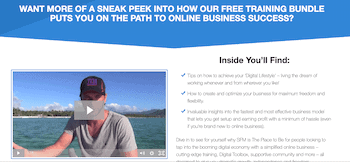 You can use Six Figure Mentors to promote your own business or products, but the vast majority of success stories are from people that have promoted SFM.
This niche is super competitive so unless you are willing to put a lot of time, effort and money into it you will not likely be one of the success stories any time soon.
#4 High Ticket Items… But Low Commissions
---
Now, you may have just watched the success story video above.
Yes the DEA high ticket items do pay very well.
However, until you actually try the DEA courses, you won't be able to promote them.
When you are starting out, your target will be for the Six Figure Mentors course, which costs $297 + $97 a month.

You will get paid $100 upfront & $20 per month for Six Figure Mentors.
One of the affiliate programs I highly recommend is free to start and costs $359 a year (under $30 a month) with no extra tools needed or upsells.
I get 49% commission from this aka $15 a month recurring!
Do you think you're more likely to sell a $297 + $97 a month course or a $30 a month course?
The difference in commission is $5 per month that you receive too and once you try the program for free you will see why it's so good.
#5 More Negative Reviews Than Positive Ones
---
Just checking out different users reviews and comments online you can quickly get a feel for how many people are successful from an online course.

There are far more negative reviews than positive ones, which is a big red flag.
#6 Time Consuming Gimmicky Sales Tactics
---
Some people may call this clever, I personally find it irritating.
Just to get started with a free account you need to fill out a survey and it makes it seem like you are applying to be accepted.
This is totally fake as they will accept any Tom, Dick or Harry (believe me!)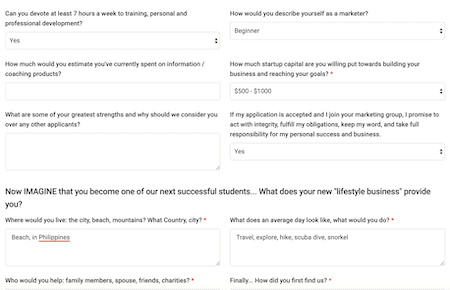 It's just a sales tactic to make you feel special for "being accepted" onto the course.
Related content:
My Opinion- Six Figure Mentors
---
It's simply not worth the money.
I don't deny that the training and live courses are motivational and potentially life-changing. I've been to similar events before and they certainly do give you a much-needed kick up the bum.
But you can find them for a fraction of the price and the online training can be found in so many other places for a much lower price, with arguably more well rounded training & tools.
I really think this is only beneficial for the top 1-2% of affiliates who will already have dominated the market at being a Six Figure Mentors affiliate.
It's much better to choose a passion and a niche that is not as saturated as the "make money online" niche and build an online business on that.
An Evergreen Alternative That Brings You The Money
---
It wasn't that long ago that I was still trying to figure out how it's possible for people to make money online.
It was in September 2018 that I found Wealthy Affiliate after trying out numerous online programs with no success.
In September 2019 I quit my full-time job.
The best thing about it is:
It's free to start
People interested in your website are brought to you that are already interested (just think about how you found this review… there was no money or time spent from me promoting this!)
You get me as a personal coach to help you on your journey & access to over a million other online marketers (the support is so important when you start)
When you try out this program you will see why so many people recommend it.
No credit card details required– check out the bonus at the bottom of this page
Six Figure Mentors Review: The "MakeTimeOnline" Final Word
---
To sum up this Six Figure Mentors review…
It's not worth the money.
There is some legit online marketing training, but the pushy upsells and focus on getting you to promote Six Figure Mentors is a big red flag that the program is not very ethical or sustainable.
Keep changing for the better,
Mike
P.S. Since you're still here, I'm going to assume that you are interested in making money online to free up your time. So check out my review of my #1 recommended program and join the form below to get some great freebies, including a 1-1 chat with me…