In the spirit of full transparency, know that this Lottery Winner University review contains affiliate links. This means if you make a purchase through these links, I may receive a small commission at no extra cost to you. Click here to read my full disclosure policy.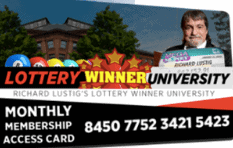 Of course you've heard of someone that's won the lottery.
How incredible would that be to wake up an instant millionaire? Well, Richard Lustig claims to have found a secret formula that can help everyone experience this feeling of winning the lottery.
This Lottery Winner University review (with video) will expose the truth behind the program and what you can do to make money online to free up your time.
Lottery Winner University Review – The Overview and Rankings
---
Name: Lottery Winner University
Owners: Richard Lustig (25 out of 100)
Website URL: lotterywinneruniversity.com
Success Stories: 15 out of 100
Price: $49/ month (+ upsells $255 & $7.99/ month)
Maketimeonline.com Rating: 20 out of 100
Pros and Cons
---
Pros
Provides a strategy for improving your odds on winning lottery games
Proof the guy who made it has won some prizes
Cons
The Lottery is technically completely random every time it's drawn
Mr Lustig hasn't won anything since 2010
The same program… different name!
Black hat sales tactics to rush you into buying it
The information you get in this course can be found for free from watching Mr Lustig on YouTube or within his books (or in this review)
What does Lottery Winner University do?
---
Richard Lustig, "the 7 time lottery game winner" (notice the emphasis on game here folks!) will teach you the secrets behind winning lottery games.
His formula claims to show you how to increase the odds of winning the lottery… to become an overnight millionaire.
If you're like me, then this has got your attention now!
Richard Lustig Lottery Game Wins
So the sales video starts off with all the amazing news stories that Richard Lustig has been on.
You can see he's a real person straight away.
And he claims he's won 7 lottery games. Check out this video to get a balanced argument for Richards "strategy".
So let's clear this up and reveal his 7 wins and more importantly when they were?
$10,000 – Jan 1993 (scratch-it ticket)
$13,696.03 – Aug 1997 (Florida Fantasy 5)
"Wheel of Fortune" Holiday to Los Angeles – June 2000 (valued at $3,594.66) (scratch-it ticket "2nd chance drawing")
Elvis Holiday trip to Memphis – Oct 2001 (valued at $4,966) (scratch-it ticket "2nd chance drawing")
$842,152.91 – Jan 2002 (Florida Mega Money)
$73,658.06 – Nov 25th 2008 (Florida Fantasy 5)
$98,992.92 – Aug 9th 2010 (Florida Fantasy 5)
Do you begin to notice that 3 of these "lottery wins" were scratch it cards?
And Richard openly shares his scratch-it ticket technique…
This is simply buying at least 10 of the same tickets at one time. So if you have $100 to spend, buy 10 "$10 tickets". He claims you are almost guaranteed to win at least one, and you could win 2, 3 or 4 tickets.
Have you noticed yet that his last big win was almost 9 years ago. Maybe the system isn't as effective as he first thought?
Also note that there are many other programs that have been offering very similar opportunies. The most notable ones are:
Ready to make passive income online?
Hey, I'm Mike.
I created a passive income online within a year. I had no marketing skills or online experience when I started.
So What Are You Actually Paying for?
The sales video makes it seem like you will learn Richard's methods to increase your odds of winning.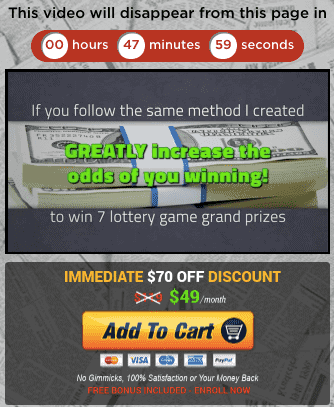 He claims it's not a BS scam or blind luck and that it is "unlike other scam sites" (is that a guilty conscience speaking here?)
After all, it's what has worked for Richard… 7 times.
This is what Richard claims you will get from inside the Lottery Winner University
Breaking this down here is what you really get:
Online video training to understand Richard's formula
And as you're about to find out… this is what he'll teach you:
Pick your own numbers
Keep using them until you win
Buy at least 10 scratch it tickets of the same kind
So is it really worth $49 a month? In fact check out the Business Insider article that completely throws out this system.
I can almost hear your mind screaming…
Is Lottery Winner University a Scam?
---
Technically no.
Richard tells you what to expect from the program before you get it and he does deliver. He even has a disclaimer suggesting that nobody is guaranteed any results.
However, here are some things you have more chance of doing in your life than winning the lottery:
Die from an asteroid strike
Become a movie star
Getting struck by lightning
Or flip 55 heads in a row… seriously now try this and see how close you get!!
Just to be fully transparent with you, I have not purchased this program myself and I DO NOT recommend it.
I have researched the website, testimonials and information on the Internet to get to the bottom of what this program genuinely does. This is because I have been burnt from programs just like this in the past and I want to prevent others from making the same mistakes! If you'd like to learn more "Ways to Spot an Online Marketing Scam" then click the highlighted text.
Lottery Winner University Red Flags
---
As you're about to find out, this is not Richards only online program he's selling. And they all have red flags…
Key Terms:
Black Hat Methods – Using lies and unethical methods to make someone buy something
White Hat Methods – Being honest and genuine to help people make informed decisions about purchases
Red Flag – A warning sign
Previous Reviews 8 Red Flags
Richard Lustig has a total of 3 Lottery programs:
The 8 red flags from the previous 2 reviews include:
Scarcity tactic
Scientific studies claiming it won't work
Re-naming the program (remember there are 3!)
Is the money back guaranteed?
The black hat sales pitch
Unverified claims
Product sold through clickbank
Even the disclaimer tells you the truth about your chance of winning
All 8 of these red flags still apply to this program. But here are an additional 3 red flags from this course to be aware before diving in…
#1 Pressure to Buy the Course Now
---
He claims that for the price of a steak dinner you will receive the formula to win potentially millions of dollars.
…And even a small win will get your $49 back! (I would argue, what about your time?)
Just as it looks like the video is finishing Richard says that he doesn't want you to be in the same position in a few years time when you could buy the program today to change your life.
There are no guarantees about any of this as at the end of the day you will still be relying on luck.
#2 Upsells
---
Upsells are a huge red flag for any online course.
Any honest and legitimate online course will tell you about all the payments and what you will receive before you make a purchase.
There are numerous upsells the program tries to sell you and even when you try to exit the page it will take you to another page to try to sell it in a different way.
Here is what Richard will try to sell to you additionally:
1 on 1 "coaching" phone calls- $197
If you go for this you'd get unlimited phone calls with Richard Lustig himself for a whole month.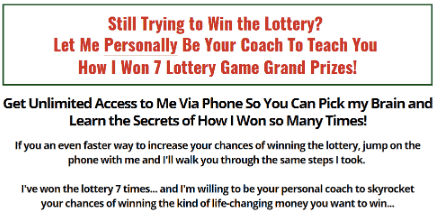 Richards top 10 Lottery Secrets eBook- $19
Use this book to "skyrocket your odds" to improve your chances of winning.
Richards top Lottery Secrets Book- $39
No, I did not just type this twice. It is apparently different. You can buy Richards new book to find out something "new" I guess…

Lottery Pool- $7.99/month
You can also enter the "largest lottery pool in the world" LottoLishus.com. Basically, join together with other members and split the winnings by how many people play it.
#3 You Need at Least 6 Months to Access All the Videos
---

When you purchase the course you will get access to month one.
You actually have to wait 30 days to get access to the next set of videos.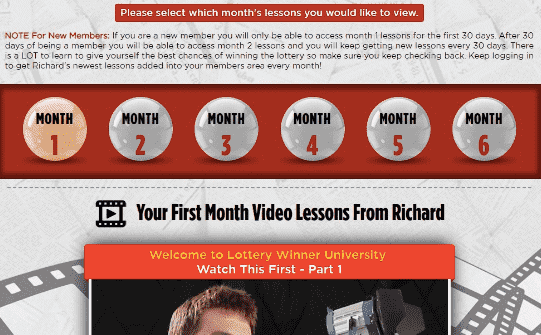 But there are a total of 6 months worth of short videos. Therefore, to actually access all the content you will need to pay for 6 months ($294).
Ready to make passive income online?
I've created a growing passive income online with no marketing skills or online experience…
I've made a special video for you to explain exactly how I did this.
My Opinion – Lottery Winner University
---
OK, so after reviewing 3 programs by Richard Lustig, do you want my honest opinion?
Alright, now I'm going to be brutally honest.
This is the worst one!
At least the other 2 give you some kind've "algorithm" that you can plug numbers into (note I am not saying this will work!)
Seriously, if you are considering purchasing the Lottery Winner University I would recommend just buying his book and you'll probably get all the knowledge you need from Richard Lustig.
It will save you $49 a month.
In fact, I'm going to let this review for his book save you all your money…


If you have any questions and I mean any questions about this Lottery Winner University review, please leave them below. If you have used or currently are a member please also add your opinions below.
As you get closer to the end of this page you will realise it is possible for people to earn money online to free up their time. Real people have used this proven 4-step process to earn more money than they've made before, whilst living life on their own terms.
Lottery Winner University Review: The "MakeTimeOnline" Final Word
---
If you are happy to leave your financial future to complete luck, then Richard Lustig's program may give you an insight into how to be more lucky. By all means click here to give it a shot.
But I strongly recommend that you don't do this.
If you are interested in living life on your own terms but have found it hard to find a reliable and proven way to make money online then check out my #1 recommendation.
Real people all over the world are using affiliate marketing to help other people, whilst travelling full time or spending their time doing what they love with the people they love.
In 2018 I had no idea what affiliate marketing was.
Once I learnt about it, it just seemed like a great business model that can grow over time using the power of the internet.
So I tried to figure it out by myself… that got me nowhere fast.
Then I fell for some terrible online scams.
But eventually, I found Wealthy Affiliate. It teaches long-term proven strategies to build an online business with all the tools & support needed.
And this happened…
Once you learn the process of getting thousands of people to find your website every month (for free) there really is not limit to what you can achieve online.
I've reviewed hundreds of courses or programs that claim to help people make money online. And I've spoken to dozens of 6-7 figure online entrepreneurs on my podcast.
This is by far the best place I've seen to help beginners get set up on the right foot. You can read my full Wealthy Affiliate review here (including the pros and cons!)
Or you can watch an insiders video I made that explains exactly how it works here.