Someone might have introduced you to a work-from-home opportunity to earn good money. And it's called Vestige.
But you don't want to immediately dive into it and invest loads of money, which is why you asked… is Vestige a scam?
To stop your doubts and lingering skepticism… Nope, Vestige is not a scam.
So is this a legit opportunity to make money from home? And is this enough reason to leave your full-time job?
This accurate, detailed, and unbiased Vestige review will answer all these questions. I also included numerous videos, images, as well as its pros and cons so you can come up with the right decision.
Vestige review: The overview and rankings
Name: Vestige
Founder: Gautam Bali
Type: Health and wellness MLM
Products (Including Pricing): $40 to $500
Success Stories: 20/100
Price To Join: $3 business kit + $15 worth of products + $300 monthly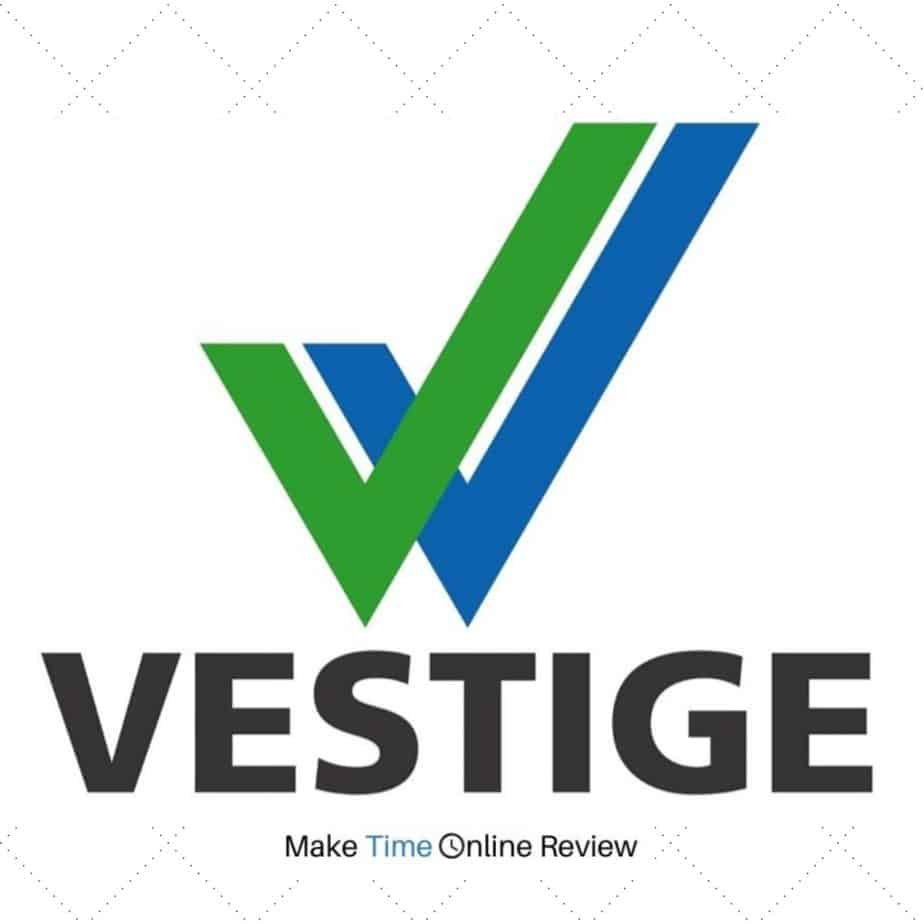 Vestige Pros
Positive product reviews
Long presence in the industry
Affordable subscription
Vestige Cons
Saturated market
Hidden monthly costs
Is Vestige a pyramid scheme in disguise?
Downward trend
Summary:
Vestige is an MLM company selling different kinds of health and wellness products. They have their own business opportunity which anyone can join as a member. These members then earn money from the commissions of their sold Vestige products.
Make Time Online Rating: 30 out of 100
Recommended: No
What is Vestige?
Vestige is Multi-Level-Marketing that sells different kinds of health and wellness products. It is based in India and was founded by Gautam Bali in 2004.


Bali is an entrepreneur who believes he can help contribute to the improvement of global health with the help of his healthy products. He also promotes multi-level marketing as one of the best ways to earn money for the average joe, which is why he started Vestige.
Over the two decades, Vestige has grown into one of the biggest direct selling companies in India. It is also consider expanding its products to accommodate a bigger market share, most likely, spreading across the globe.
Check out this 3-minute video to know more about the company…
But why are there a lot of people asking…
Is Vestige a pyramid scheme?
No, Vestige is not a pyramid scheme.
The members earn money by selling different kinds of health and wellness products in the form of capsules, creams, and grooming essentials without being forced to recruit members.
But even if that is the case, a better question to this is… Is Vestige a pyramid scheme in disguise?
What is a pyramid scheme?
A pyramid scheme is a company or organization that is paying members for recruiting other people. This is the main focal point instead of selling services or products.
Many countries have already banned these because it is impossible for members to make money just by recruitment.
Check out this Wikipedia diagram to know what these pyramid schemes are…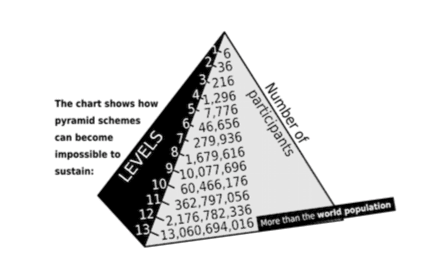 Members who make the most money are those who are working full-time recruiting people into this MLM business opportunity.
But if you look closely at the diagram, you can see that you'll will just run out of people to recruit in the long run.
You can learn more about how you can spot a pyramid scheme by checking out this 5-minute video…
And why…
Success is rare with Vestige
Success is difficult to achieve if you are in an MLM company like Vestige.
Did you know that 91.87% of Vestige members lose money?
And to make things worse, statistical reports state that between 72.5% and 99.9% of MLM members lose money as well.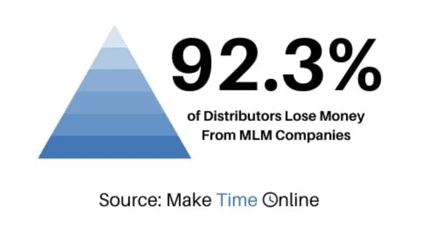 This happens because MLMs always have a "sales quota." This forces members to sell a certain number of products to stay active and earn commissions.
If you can't reach the quota, then you must buy them yourself if you want to earn any company incentives.
This is why MLM members are losing thousands of dollars before they can recruit.
That's just a big turnoff…
Ready to make passive income online?
Hey, I'm Mike.
I created a passive income online within a year. I had no marketing skills or online experience when I started.
How does Vestige Work?
Vestige sells health and wellness products that come in the form of capsules, tablets, creams, shampoos, and other essentials. They have also expanded their products to cater to the needs of the people during this pandemic, such as air purifiers, masks, and face shields.
They also offer the average person an earning opportunity to work from the comforts of their own home. These guys then just buy their products at cheaper prices and then selling them at higher retail prices.
It sure seems like a win-win at first glance.
But if you were to analyze the situation deeply, you'll see that Vestige is just smart in saving a lot of money on marketing campaigns. What they do instead is just let their members do all the hard work in advertising and promoting their products.
Let's then dive deeper into…
Vestige products
It is important to know the product offerings of Vestige before you dive into them.
This gives you a better insight on what you're actually selling, especially that your chances of success on MLMs are a bit slim.
Here are their best-selling products:
Vestige Prime Metamind ($17) – A health supplement in the form of a capsule that improves mental memory. A bottle contains 30 tablets.
Assure Hair Conditioner ($5) – Hair conditioner that nourishes and improves hair health with the help of its coconut, jojoba, and olive ingredients.
Home Hygiene Essentials ($20) – Includes a swap, shield, cleansing gel, and ultra guard disinfectants and sanitizers. This kills viruses around the house and keeps it free from germs and bacteria.


Sounds cool, unique, and special?
Well, hold your horses. Because there's nothing special about any of these!
In fact, there are very many MLMs out there that are selling very similar products to Vestige. Here are some of the most distinguished ones:
So, what makes Vestige special?
Vestige Flagship products
Skin Formula Brightening ($35) – A skincare cream that rejuvenates dead skin cells and makes your skin more glowing and youthful.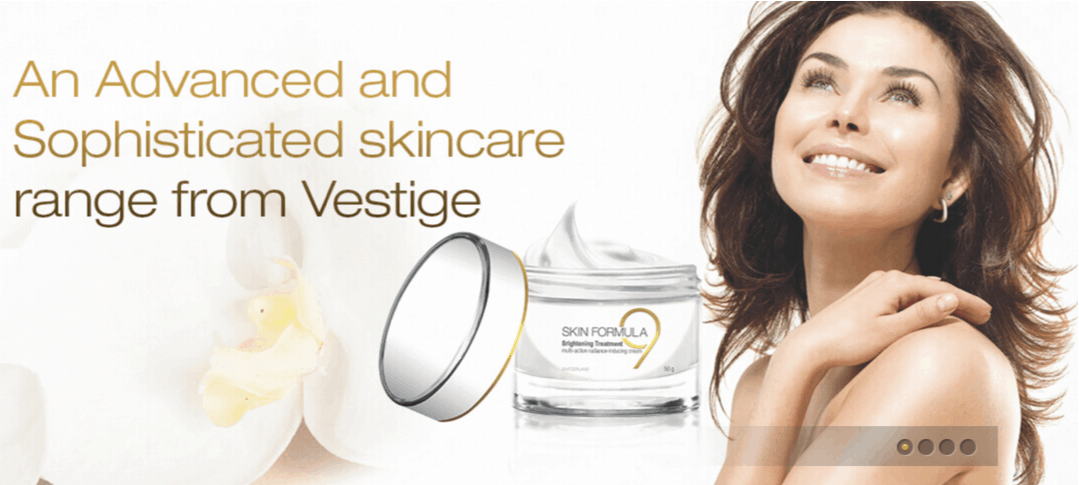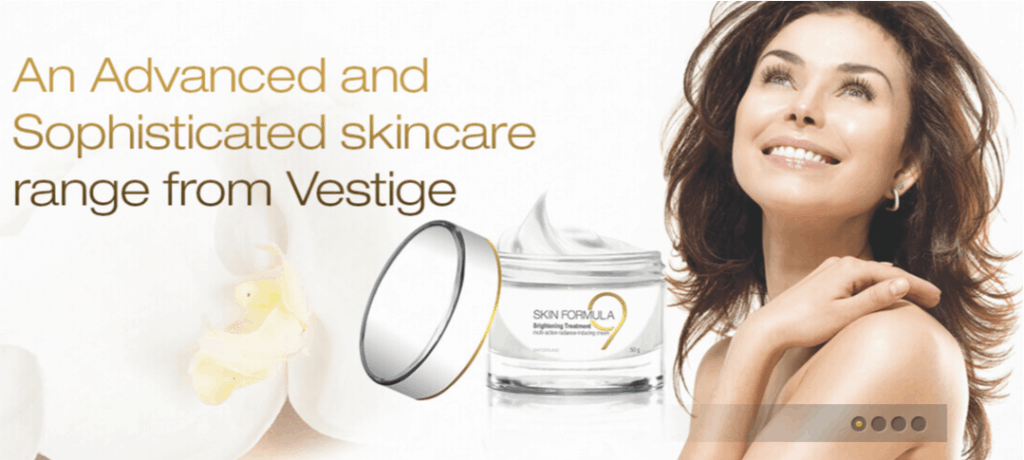 Check out this 13-minute video about their products…
Let's then talk about practicality. So…
Can you make money with Vestige?
Yes, of course, you can make money from this MLM.
But it's just dificult to make good and bountiful earnings from Vestige.
There might be some who earned a few bucks. But that income is just so small and unrealizable, you can even compare it to something that is just slightly higher than minimum wage.
And they do this even if they are working like full-time sales managers! They just exhaust themselves too much just to earn a few bucks.
Pampered Chef doesn't even have an income disclosure to prove that their members actually earn!
How to make money with Vestige
There are 2 things to do to earn some money from Vestige:
Sell their products
Recruit members into their program and earn commissions from the sales of your downlines
But remember that you can only earn from the sales made by your recruits. That's how these guys avoid being labeled as a pyramid scheme by the authorities.
And so… let's talk about their costs.
How much does it cost to join Vestige?
Vestige says that it's free to join their company. However, quit interestingly, they also say that you should first buy at least $15 worth of their products. You also should buy a business kit worth $3.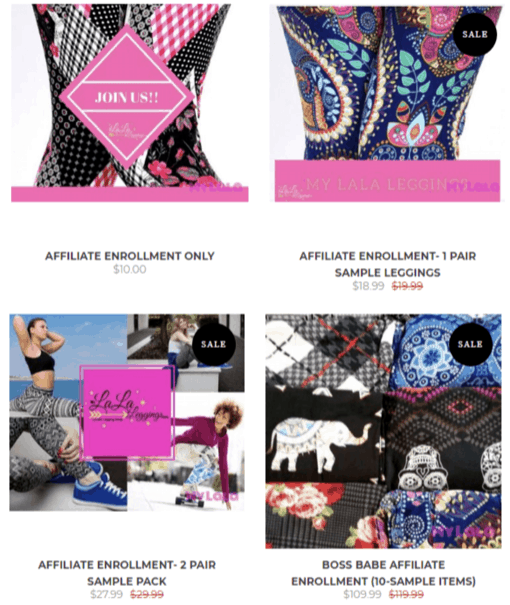 That is very cheap for an MLM, right? Well, that's what makes Vestige different and interesting.
But also take note that MLMs are all about enticing people and making them want to join and become members as soon as possible.
And here's their compensation plan…
Vestige compensation plan
MLM companies always have complicated compensation plans that confused the heck out of you.
They do this so that people will think that there are many ways to earn money, even if the fact is there are just a few! But don't worry because I'll simplify things for you.
Here are the ways you can earn from Vestige:
Performance Bonus – Earn 5% to 20% discount on sold products depending on your rank.
Fast Start Bonus – Earn 8% to 20% discount on sold products depending on the number of products sold in a month.
Recruitment Bonus – Earn 5% to 10% bonus for every recruited downline member.
And that's just another way of saying that…
There are just 2 things you should and can do. These are:
Selling Vestige products
Recruiting members into Vestige's business opportunity
Check out this 3-minute video discussing their compensation plan…
You can also check out the full compensation plan here.
But why are there many people saying this…
Is Vestige a scam?
No, Vestige is not a scam.
The company has been operating for more than 17 years. And throughout that timeframe, they managed to grow as one of the most valuable and biggest direct selling companies in India, with over a hundreds product offerings.
Unfortunately, many are still disappointed to know that they lose more money instead of earning. Hence, many say that Vestige is a scam.
The next section of this accurate and in-depth review of Vestige will help you decide for yourself if this MLM is for you or not…
What I like about Vestige
Key Terms:
Pyramid Scheme – recruits members via a promise for payment from recruiting others into the company rather than providing a product
Affiliate Marketing- Connecting a customer to a product they are looking for and receiving a commission for doing so
Red Flag – A warning sign
#1 Saturated market
There are a lot of people who are satisfied with the products sold by Vestige. This shows that they offer quality and effective health and wellness products for different purposes and functions.
Here is one of the many proofs of why people like Vestige…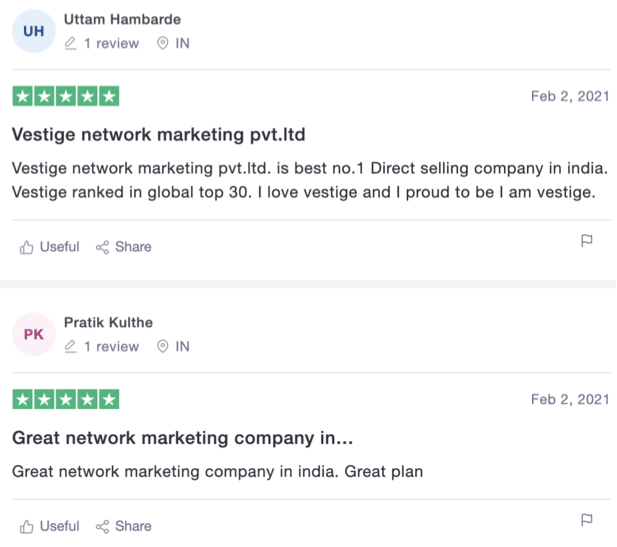 This also shows that their members (at least some) are very happy with their business opportunity…
#2 Long presence in the industry
Vestige was founded back in 2004. That's a whole 17 years of continuous operations! And throughout that time, the company managed to become one of the most valuable and distinguishable direct selling companies in India.
That's a huge accomplishment for an MLM because most MLMs don't survive that long. In fact many just last for 2 to 3 years before they shut down and get bankrupt.
But not Vestige, of course…
What I don't like about Vestige
They might have a number of pros, but their disadvantages still outweigh all of them.
#1 Saturated market
Health and wellness products are very common among MLMs. In fact, most MLMs sell these kinds of products. Health capsules, nutritional supplements, body regimens, and related products are just very common and can be directly bought from any grocery or department store.
You don't really need to make a lot of effort to contact a Vestige agent just to buy their products…
What's more is that you have a lot of competition out there!
#2 Hidden monthly costs
Unknown to most members, Vestige has a sales quota of 300 PV. PV means personal volume. It's also another way of saying that members must sell $300 worth of products monthly to stay as an active member and earn.
If you can't achieve this, then you can't earn anything.
But you can avoid this by buying the products yourself! However, that just defeats the purpose of why you want to make money…
#3 Is Vestige a pyramid scheme in disguise?
Nope, Vestige is not a pyramid scheme. But it can surely be counted as a pyramid scheme in disguise…
This is because you must recruit people to earn. But you can still just sell their products and don't recruit. But doing that means you can't get enough good money from the business.
Here is a diagram that clearly shows what is happening to their system.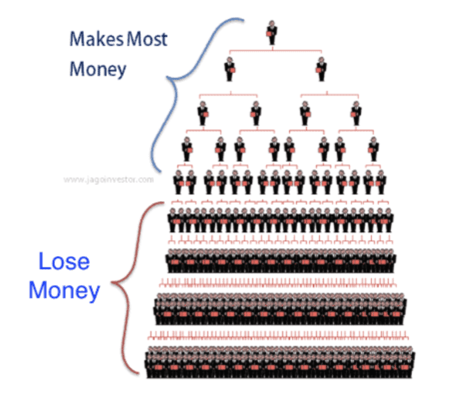 You can see that the people on top, who are most likely the founder and the first members, are the only ones who earn lots of money. And it's very likely that you're already at the bottom part.
#4 Downward trend
Here is a final deal breaker for me that I found in Google trends…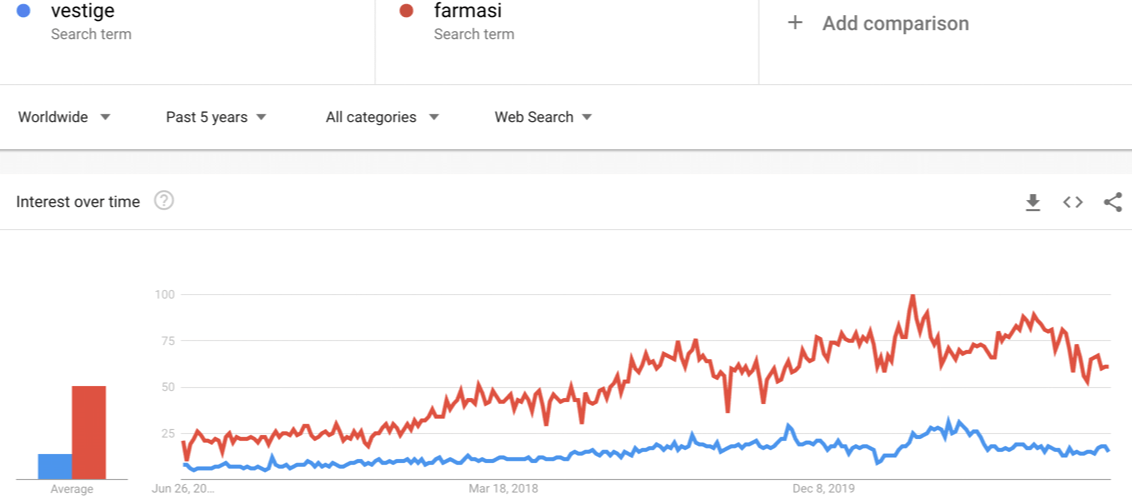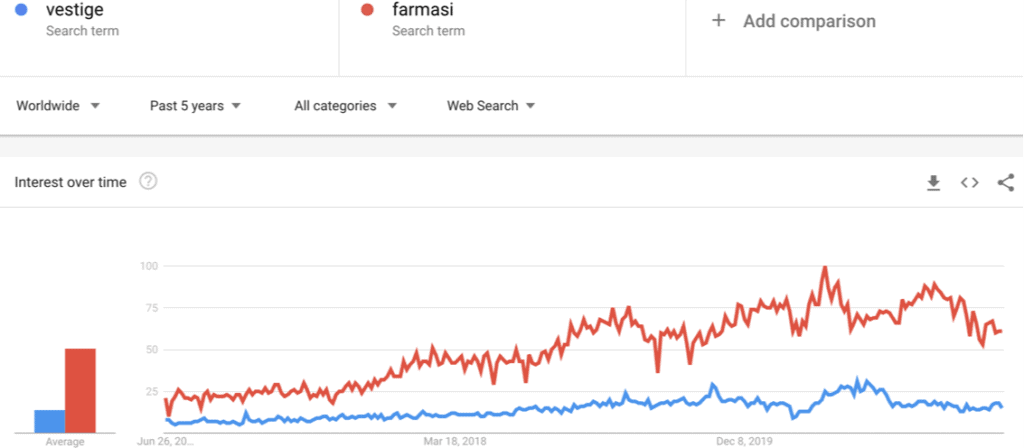 Google Trends shows that very few people are searching for Vestige. This means it will be hard to sell their products because not many people are interested in it.
You can also compare it to Farmasi, another MLM which is more reputable well-known, and you'll see the huge gap.
Ready to make passive income online?
I've created a growing passive income online with no previous marketing skills or online experience…
I've made a special video for you to explain exactly how I did this.
My opinion – Vestige
Vestige is undoubtedly a legit MLM company in India. It's been in the business for more than 17 years, has expanded their product lines to numerous areas, and is considered as one of the biggest direct selling companies in India. They also offer a business opportunity.
However, this business opportunity is nothing short of difficult and shady. You have to focus on recruiting people and enticing them to join this MLM while giving them the hope of making riches. And you do this even if you already know that this isn't going to happen…
There are many more better business opportunities out which are better, easier, and and more profitable, which you can try as early as now…
How I make passive income online
MLMs are not scams or illegal. However, I'm not a fan of them because of the restrictions to the expensive products you have to promote.
Once I learnt about affiliate marketing, I realised it's a far superior business model because:
You can promote anything you want and truly own the business
You never need to sell to friends and family
It's completely free to start
In 2018 I had no idea what affiliate marketing was.
But I went from a full time PE teacher to making a passive income online within one year…
If you want to discover how I did it then check out this special video I created which explains exactly how. You can also get your free 7-day bootcamp to get started.