You are most likely here because someone talked to you about this opportunity to earn from home and you thought to yourself… Is Pure a scam?
Before you make conclusions and bug yourself about it, I'll say to you that no, Pure is not a scam.
But the question you should be asking yourself is if this is a legit opportunity to make money from home and leave your full-time career?
This Pure review will answer that question with the help of images, videos, and pros and cons.
This way, you'll have an easier time coming up with an informed decision.
Pure Review
The overview and rankings
Name: Pure
Founder: Dae Geun Jung
Type: Health and Wellness MLM
Products (Including Pricing): 30/100
Success Stories: 4/100
Price To Join MLM: $499 to $1,899 + $100/monthly + $25/annually
What to look for in a MLM:
Summary:
Pure is an MLM health and wellness company that sells supplements, coffee, tonics, and other related products that boost one's health.
Make Time Online Rating: 30 out of 100
Recommended: No
What is Pure?
Pure is a Multi-Level-Marketing company that sells health and wellness products as well as beauty regimen.
Some of their most popular products are dietary, nutrition, and athletic performance products.
Aside from offering those, they also have a program where people can join and become members. This way, they can sell the company's products, and in the process, earn money from home.
Feel free to view this 1-minute video below:
Pure was founded by Dae Geun Jung in 2009. Not much is known about Jung, other than that he's an entrepreneur.
I also haven't found any issues about his career or businesses.
Is Pure a pyramid scheme?
No, Pure isn't a pyramid scheme.
This is because members can still make money by selling their health and wellness products without having to recruit people into the company.
But a more fitting question to this is… Is Pure a pyramid scheme in disguise?
What is a pyramid scheme?
A pyramid scheme is a business model where companies promise their members payment whenever they recruit someone into the company.
This becomes the priority instead of selling actual products and services.
There are already many countries that have banned pyramid schemes because not everyone can make money from this system that is only paying for recruitment.
See this Wikipedia diagram below to learn why...
The members who earn some money inside a pyramid scheme company are those that deceptively sell the idea of this "business opportunity" to unsuspecting people.
But if you were to look closely at the diagram above, you'll see that not everyone can make good money inside an organization such as this as you are going to run out of members you can recruit.
Here is a 5-minute video you can refer to to see how you can spot these "pyramid schemes in disguise."
Success is rare with Pure
It is hard to be successful in MLMs such as Pure. Did you know that 96.17% of Pure members are losing money?
And if you were to look at the bigger scale, you'll notice that around 72.5% and 99.9% of MLM agents are also losing money...
The reason why this happens is that MLMs have a "sales quota" where members must sell a specific number of products monthly for them to stay active and earn commissions.
If you can't reach the quota, then you have no choice but to buy it yourself, thus losing money in the process.
This is why thousands of MLM members lose loads of cash before they can recruit one person...
Ready to make passive income online?
Hey, I'm Mike.
I created a passive income online within a year. I had no marketing skills or online experience when I started.
How does Pure Work?
Pure works by selling health and wellness products. Aside from that, the MLM also has their own affiliate program which offers members to earn from home by simply selling their products to receive commissions.
If you think about it, you can easily say that it's a win-win situation. But is it? Well, Pure saves hundreds of thousands of dollars in marketing money because they don't embark on any advertising campaign.
What they do instead is that they just let their members do all the hard work which includes the promotion and marketing of the products.
It sounds unfair to me.
So, let's proceed with...
Pure products
But if ever you still find it interesting to join Pure, then it would be wise that you know more about the products.
This way, you can increase the chances of success because you know what you're putting yourself into. So, here it goes...
Here are a few of the best-selling products from Pure:
Daily Build Liquid ($57.95) - A health supplement that contains antioxidants, Vitamin B, Vitamin E, and phyto vegetable and fruit blends. It improves the immune and cardiovascular systems.
Fusion ($37.95) - A health supplement composed of a combination of fruits such as berries and mangosteen. It also contains a few properties from Traditional Chinese Medicine, which they say, helps promote harmony and balance in your mental and physical health.
SleepTrim ($34.95) - Helps you have a good night sleep while also keeping you fit and slim.
Know that there are thousands of other MLM companies out there that are offering the same health and wellness products that Pure sells.
Here are some of the most reputable alternatives:
All of them claim that they're special and have exclusive features that makes them the best choice. When the reality… all of them are just offering the same stuff!
But if that's the case, then what makes Pure different?
Pure flagship product
Immune+ ($29.95) - A health supplement that boosts the immune system. This comes in tablets and has a mix of various vitamins and minerals. It can also be taken daily without fearing for any side effects.
You might also want to check out this 2-minute video about the products:
Now that you have a better understanding of Pure...
Can you make money with Pure?
Yes, of course you can. But I tell you… it is very hard to make good money from this company.
There's a few who make a few cash, but they work very hard just to recruit people. They even treat this as their full-time job! For sure, that's not what you're in for, right?
Aside from that, their
income disclosure
shows that hardly anyone makes money from this MLM...
How to make money with Pure
There are 2 ways you can make money from this health and wellness MLM. And that is by:
Selling their products
Recruiting members into the company
You surely have thought it sounds fishy when you read the word, "recruit," right?
Well, I agree with you… But Pure, just like any MLM, is smart enough to change their business model a bit by saying that members can't earn by merely recruiting, but from the sales of their downlines.
That's how they avoid being called a pyramid scheme in disguise.
Before diving into the compensation plan, let's dig deeper into...
How much does it cost to join Pure?
You have 3 options when you want to join Pure.
You either choose the base package worth $449, the intermediate package worth $699, or the premium package worth $1,899.
Discounts get bigger as you move along the higher price point options.
Aside from that, you also need to pay $25 per year for the annual subscription.
Pure monthly cost
Pure has a sales quota of 100 PV. This means you must reach 100 PV or sell products worth $100 monthly to stay an active member and receive bonuses.
The costs for 1 year are...
$25
$449 - $1,899
$100 x $12 = $1,200
Minimum costs for year 1 = $1,674 - $3,124
But that's before you add up the remaining costs like training, food, travel, and marketing expenses...
Pure compensation plan
What MLM companies usually do is they make their compensation plans hard to understand. The same goes for Pure. But no need to worry because I'll be explaining it in the simplest way possible…
There are 5 main ways you can earn money as a Pure member:
Retail Commissions - Earn 10% to 20% commission from every product sale, depending on your rank.
First Order - Earn a 10% bonus after selling $100 worth of products for the first time. Earn a 20% bonus after selling $200 worth of products for the first time.
Revenue Sharing - Earn 2% of the total company sales volume weekly.
Team Commissions - Earn 10% commissions of the total sales your team makes in a week.
Leadership Pool - Earn a 3% commission from the total commissionable volume of the company every week.
Confused? That's normal…
MLMs just love to use complicated terms and weird and fancy names so that members will think that there are a lot of ways you can make money.
When the reality is… there are just 2 things to do!
Sell Pure products
Recruit members to Pure
If you like to know more about their compensation plan, here's a 2-minute video I found that might help you...
Is Pure a scam?
Pure is not a scam because the company sells legit and real products. They are also paying their members exactly as what they say in their compensation plan.
But the thing is… members are disappointed to know that they are losing more money instead of earning.
This is why you might have read about some news or articles saying that Pure is a scam...
The next section of this in-depth MLM review is going to reveal the hidden facts about this company so you can clearly decide on which action to take...
Just to be fully transparent with you, I am not a distributor myself and I do not endorse it in any way.
I have researched the website, testimonials and information on the Internet to get to the bottom of what this program genuinely does. This is because I have been burnt from programs just like this in the past and I want to prevent others from making the same mistakes. If you'd like to learn how to "Spot an Online Marketing Scam" then click the highlighted text.
Common positive reviews
Here are some of the common positive reviews that I found about its job opportunity based on what the clients say in Indeed...
"Great company to work for. Great people and environment. This is a medical marijuana company and they are currently growing in oklahoma, taking steps everyday to better ok meds."
"The clients are always kind and forward with their needs. Everyone works well as a team and does their best to support each other. The work is highly flexible."
Common negative reviews
And then here are the common negative reviews I've also found in Indeed...
"Upper management was a revolving door of people. Forced to memorize a ton of discounts and codes that change with no notice. Went from working 4/10hr days to expanding hours and working 5/8hr days but business didn't increase and we end up getting sent home early most days and not getting the hours we need."
"Retail bonuses were tied to discounts which were removed angering customers who would tip less, and getting less bonuses. Toxic/inept people are allowed to stay in the company and are even promoted."
What I like about Pure
Key Terms:
Pyramid Scheme – recruits members via a promise for payment from recruiting others into the company rather than providing a product
Affiliate Marketing- Connecting a customer to a product they are looking for and receiving a commission for doing so
Red Flag - A warning sign
Here are some of the best things that I like most about Pure...
#1 Proven history
The first thing I like about Pure is that it's a reputable company and has been in the industry for more than 10 years.
Pure was founded in 2008, so that's more than 11 years of continuous operations.
This is a very good sign because not all MLMs survive this long. In fact, only 30% of companies survive their first 10 years. This also means that Pure isn't a scam as it doesn't have any beef with the FTC.
#2 Positive product reviews
I did some intensive research and I discovered that Pure's products actually do have a lot of positive reviews. Here are some of them...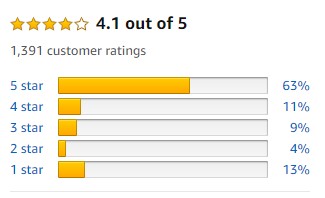 Let's then proceed to the cons...
What I don't like about Pure
And here are some of the things that I don't like that much about Pure...
#1 Expensive products
The first turnoff for me is that Pure sells expensive products. Actually, if an MLM sells overpriced products, that's a huge red flag that the company might be a pyramid scheme in disguise.
Instead of selling useful and affordable products, they instead focus on recruitment...
Based on the ones I showed above, you'll see that the other brands are cheaper even if they sell the same stuff...
#2 Hidden monthly expenses
In order for you to be an active member, you must sell at least $100 worth of Pure products every month. This doesn't make sense to me because you're just going to spend from your own pocket later.
Maintaining 100 PV means selling at least $100 worth of health and wellness Pure products every single month. If you can't, then it's over for you!
The truth is… Pure's largest and most stable customer base is their members as they just keep buying their products in the hope of becoming their own boss in the soonest possible time.
#3 Is Pure a pyramid scheme in disguise?
Spending $100 monthly just to be active means that there's only one way to avoid spending that much money.
How? Well, by recruiting and forcing your recruited member to sell $100 worth of products monthly!
That is in no way, ethical...
#4 Only 1 in 209 members earn over $32k a year
You can see in the Pure income disclosure that 95.2% of all members have an income of 0 Check out the Pure income disclosure and you'll see that 96.6% of their members just earn a meager $2,199 yearly, while having an average expense of $2,199 annually.
Simply speaking, only 1 in 209 members earn over $32,000 annually.
#5 Downward trend
The final turnoff to me is what I found in Google Trends…
As you can see, there's less and less people who are searching for Pure.
This means that there's not a lot of people out there who are really interested…
So, why bother selling their products and becoming a member if you're just going to have a hard time?
Ready to make passive income online?
I've created a growing passive income online with no previous marketing skills or online experience...
I've made a special video for you to explain exactly how I did this.
My opinion - Pure
Does Pure sell legit and useful products?
Yes, no doubt about that…
But what about the business opportunity here?...
The fact that the only way you can make good money is by recruiting means that there's something fishy going on here.
What's more is that 96.17% of members are losing money from this clearly pyramid scheme in disguise kind of company...
No way does that sound ethical to me knowing that you must sell the idea of becoming your own boss and just waiting for the time that they discover they're just losing money...
How I make passive income online
MLMs are not scams or illegal. However, I'm not a fan of them because of the restrictions to the expensive products you have to promote.
Once I learnt about affiliate marketing, I realised it's a far superior business model because:
You can promote anything you want and truly own the business
You never need to sell to friends and family
It's completely free to start
In 2018 I had no idea what affiliate marketing was.
But I went from a full time PE teacher to making a passive income online within one year...
If you want to discover how I did it then check out this special video I created which explains exactly how. You can also get your free 7-day bootcamp to get started.