Is Norwex a Scam? An Unbiased Review on This MLM Opportunity
In the spirit of full transparency, know that this review revealing if Norwex is a scam contains affiliate links. This means if you make a purchase through these links, I may receive a small commission at no extra cost to you. Click here to read my full disclosure policy.

Chances are someone has either tried to sell you some Norwex products or recommended joining the team as a consultant.
Whilst it is certainly possible to make money through multi-level-marketing (MLM) schemes, many people have their reservations about joining them. Norwex promises to be different.
This unbiased review, with videos, will show you if Norwex is a scam and exactly what it takes to be a successful consultant.
Norwex Review- The Overview and Rankings
---
Name: Norwex
Owners: Founded by Bjørn Nicolaisen in 1994 in Norway
Website URL: norwex.biz
Type: MLM home cleaning and personal care company
Price: $200 to get started (free if you sell $2,000 in 90 days)
Maketimeonline.com Rating: 45 out of 100
Norwex: Pros and Cons
---
Pros
Legit products that are eco-friendly & well received
Focus on selling products rather than promoting the company
Product guarantee for 60 days
Cons
Not completely honest with you about becoming a consultant
Microfibre cloths can be misinterpreted & not used correctly
Expensive products
A vicious cycle for consultants having to sell $250 every 3 months to stay as a consultant
Outdated sales techniques with "home parties" aka "sell stuff to your friends and family in a weird way"
What does Norwex do?
---
Norwex is a network marketing (aka MLM) company that focuses on selling eco-friendly cleaning products.
Most famous for the microfibre cloths that supposedly don't require anything other than water to clean 99% of bacteria.
The aim is to create a completely chemical-free household with their cleaning products as you can see in the short video below…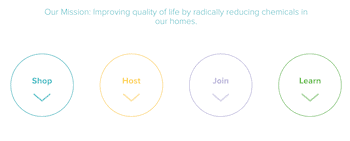 You can see from the screenshot above that Norwex has a bit more to it than just selling fancy cloths.
It's also possible to create a home business for yourself by becoming a consultant.
So let's dig into Norwex a bit more…
Norwex Product Line
There are loads of products sold by Norwex including:
Bathroom cleaning products
Towels
Laundry detergent
Toothbrush & deodorant
Microfibre cleaning cloths
And more…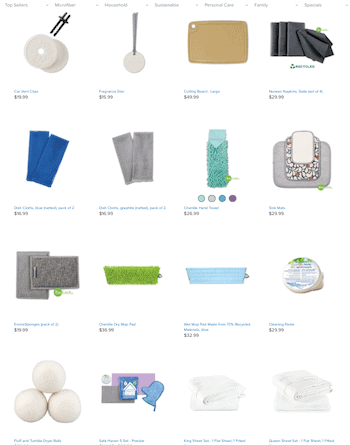 You can find all the products available in the Norwex shop here.
But the big stand out feature is certainly the microfibre cloths that promise to remove 99% of bacteria when following the proper care and instructions, without any chemicals.
Now it's great to know about the products but I'm guessing you are probably here to learn a bit more about the MLM opportunity.
So let's find out a bit more about how that works…
Norwex Compensation Plan
Here are some of the most important facts and numbers I'm sure you're dying to find out:
It costs $200 to purchase the starter kit. They claim it's free but you need to sell $2000 worth of product within 90 days (this is very hard FYI!)
You earn 35% discount off your personal sales (great if you love cleaning!)
You need to submit $250 of sales in one calendar month to count as an engaged consultant
If you get 3 "engaged" consultants that join from your recommendation (aka your downline) then you start earning a commission from them too (the percentages increase with more team members engaged)
I won't go into too much detail here as it gets pretty confusing when listed like this. This cool YouTube video sums it up pretty well though and you can view the whole package on this PDF…
Here's the truth.
The microfibre cloth costs around $20 if you sell it as a consultant. That means you need to sell around 13 of these every month.
The thing is… the cloths are long-lasting so you will unlikely have recurring purchases for these. Of course, some other products like deodorant and toothbrushes need replacing, but how easy do you think it is to sell 13 cloths every month from holding a "home party"?
You're pretty much being recommended to invite friends and family over to clean in front of them and try to sell it to them.
There are only so many friends you'll be able to invite over until people become fed up with it.
Now, I can almost hear your mind saying…
Is Norwex a Scam?
---
No Norwex is not a scam. But it certainly isn't the best opportunity to set up a home business.
There are two main ways an online course can be a scam:
Take your money and run off into the sunset, never to be heard from again
Provide some information but it doesn't live up to their promises
Norwex has a strong focus on selling the products and the products are pretty good. They don't boldly claim to make you financially free or able to earn $1000's a month from home.
So as you can see Norwex is not a scam.
As you continue to read this Norwex review you will find out whether it is a good program for you to join to make money from home.
Just to be fully transparent with you, I have not purchased this program myself and I do not endorse it in any way.
I have researched the website, testimonials and information on the Internet to get to the bottom of what this program genuinely does. This is because I have been burnt from programs just like this in the past and I want to prevent others from making the same mistakes. If you'd like to learn more "Ways to Spot an Online Marketing Scam" then click the highlighted text.
Related content:
Norwex: The Good
---
Here are some of the things I like about Norwex…
Key Terms:
Black Hat Methods – Using lies and unethical methods to make someone buy something
White Hat Methods – Being honest and genuine to help people make informed decisions about purchases
Pyramid Scheme – recruits members via a promise for payment from referring others to the service rather than providing a product
Affiliate Marketing- Connecting a customer to a product they are looking for and receiving a commission for doing so
Red Flag – A warning sign
#1 Product Guarantee
---
There is a 60-day satisfaction guarantee for Norwex products.
It's possible to get a replacement, refund or exchange if you do not like the product that you buy.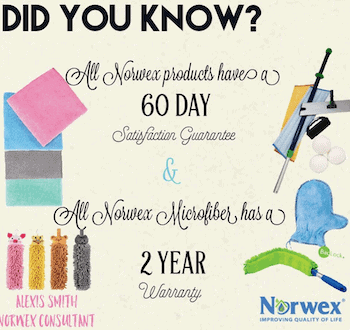 There is a 2-year warranty for the microfibre cloths too.
This just shows how confident the company is with its products.
However, as it was mentioned earlier, this puts a bit of a cap on how many you'll be able to sell if you become a consultant.
#2 Focused on Products
---
Norwex is not a pyramid scheme.
This also helps to prove that Norwex isn't a scam.
A pyramid scheme is where the company only pays the customers if they refer other people to join the company as a consultant.
The focus of Norwex is completely on selling the products.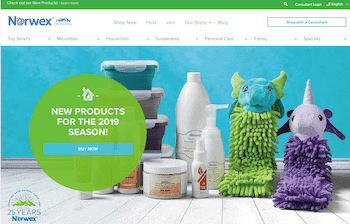 Even the website is totally designed to show off their products.
This is always a great sign for an MLM company.
#3 Generally Good Feedback From the Cloths
---
You can check Amazon or any reviews online.
It's very hard to find bad reviews for the products. The majority of 1-star reviews on Amazon are because people feel like they didn't receive Norwex cloths.

This is another great sign considering you would have to sell these products if you become a consultant.
Norwex: The Not So Good
---
If you're like me. then you've probably just skipped to this part or are excited to see some of the not so obvious points about joining Norwex as a consultant.
So here are some of the bad parts of Norwex that you should be aware of and helps to answer is Norwex a scam…
#1 Does The Cloth Really Remove 99% of Bacteria?
---
This is debatable but there is some evidence online that these genius cloths may not be as good as people claim.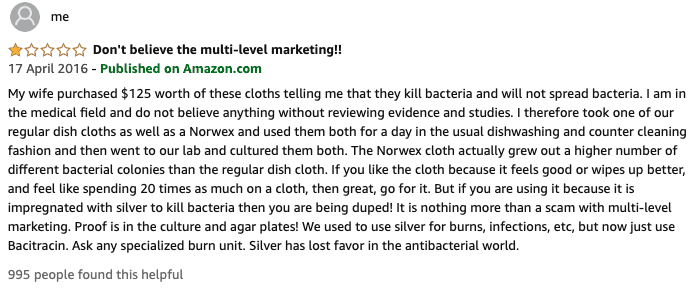 This review on Amazon is from someone that carried out his own research after his wife started using the cloths.
He found there were more bacterial colonies found in the Norwex cloth than a regular cloth.
Maid Pro gives a more detailed answer about what microfiber cloths can and can't do. For example, if there is a heavily soiled surface there's not much the microfibre cloths can do.
Personally I have looked into the science and I'm fairly sure the microfibre cloths would be great for day to day cleaning of surfaces etc.
BUT… only if you care for the cloth properly i.e. wash them and leave them to dry every day.
You have to use a bit of common sense though… hard water stains and soap scum that are stuck onto a surface will probably need something a bit stronger to remove them!
#2 Expensive Products
---
There is an important disclaimer to make first…
You can buy the products cheaper from a consultant than you can on Amazon or other places.
I guess this an incentive for people to become consultants as they can offer better prices.
However, even with the discount, you can find equivalent products for much cheaper.
Obviously, every cloth is different. But the majority of people would likely take the cheaper option if they had the choice.
#3 MLM With a Hard Compensation Plan= Vicious Cycle
---
Here are some interesting facts:
In order to stay active, you need to sell $250 worth of products every 3 months.
If you become inactive, you'll be charged a $20 fee to reactivate your account.
And after 12 months without sales, you're no longer considered a consultant.
What this means is you are encouraged to buy products (from yourself) to reach this quota every month.
This can lead to stockpiling the products and leave you looking like this…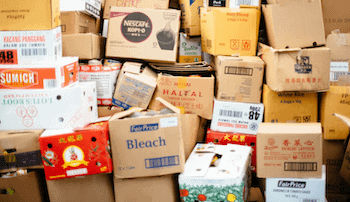 …Or drowning in debt.
#4 Outdated Sales Techniques
---
Let me ask you a serious question…
Have you ever been to one of these "home parties"?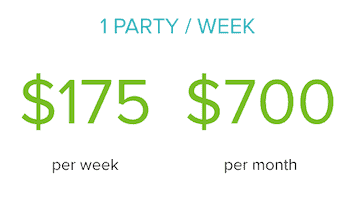 It's really just a posh way of saying… selling stuff to friends, family and random people you meet out and about.
This is the quickest route to turning every relationship you have into "dollar signs in your eyes" and just completely fake.
This is not the way that people sell, or buy things in the 21st century.
Home selling parties are becoming obsolete.
#5 Not Open and Honest
---
The starter kit is totally deceiving.
It sounds like you can get a free starter kit to get up and running. But the small print says this…

Basically, you need to sell $2,000 worth of products in the first 90 days or you will be charged $200.
Why can't they say… it costs $200 unless you have a lot of friends and family that you'll be able to sell this stuff too?
There is also nowhere on the website that links you to the compensation plan. You have to dig around for it.
Plus, it's so confusing that no one really understands what they are getting into until they've spent a few thousand dollars keeping their membership alive.
Related content:
My Opinion – Norwex
---
I believe Norwex is a legit company that has created some great products to help reduce the chemicals in your house and help the environment.
However, I do not think it's a good strategy to make a business from home.
The monthly sales quota you need to hit is pretty high just to stay as a consultant and the sales methods you are taught are becoming obsolete. MLM programs tend to have a pretty terrible track record with over 90% of people losing money from them.
There is so much more competition for these kinds of products in the market that people can do a quick Google search and find alternatives for a cheaper price and the same quality.
If you are interested in joining still then have a look on YouTube for some reviews as you will need to be referred from a consultant.
Joining with an experienced consultant with a track record is always a good idea with any MLM business so they can show you the ropes.
Is There an Alternative to MLM Companies?
---
It wasn't that long ago that I was still trying to figure out how people make money online.
The biggest issue I had was finding a legit opportunity that suited me…
I needed work on it part-time (I was still in a full-time job)
Didn't cost a fortune to start and maintain (my wife would have killed me if I spent our travel money on a junk course!)
Didn't need me to sell stuff to my friends and family (I like them too much)
It was in September 2018 that I found Wealthy Affiliate through someones honest online review…
And in September 2019 I quit my full-time job.
The best thing about it is:
It's free to start
Customers are brought to you that are already interested (just think about how you found this review… there was no money or time spent from me promoting this!)
I will be your personal coach and show you around the awesome community
When you try out this program you will see why so many people recommend it.
No credit card details required & check out the bonus at the bottom of this page
Is Norwex a Scam? The "MakeTimeOnline" Final Word
---
So, to sum up, is Norwex a scam?
No.
It's a legit company that focuses on selling legit environmentally friendly and safe cleaning products.
Would I recommend you join the MLM program? Absolutely not.
Keep changing for the better,
Mike
P.S. Since you're still here, I'm going to assume that you are interested in making money online to free up your time. So check out my review of my #1 recommended program and join the form below to get some great freebies, including a 1-1 chat with me…