Chances are that someone has introduced you to the Le-Vel Thrive opportunity to work from home and you're now wondering if it's legit.
First of all, I want to congratulate you for taking the time to do your research first.
A big reason why up to 99% of multi-level-marketing members lose money is because so many people jump in blindly.
So is Le-Vel Thrive a pyramid scheme or a scam?
Technically, no.
But it doesn't necessarily make it the best work from home opportunity for you.
This unbiased Le-Vel Thrive review, with videos, will show you the pros and cons of joining and help you make an informed decision about whether you should join or not.
Le-Vel Thrive Review
The overview and rankings
Name: Le-Vel Thrive
Founders: Jason Camper and Paul Gravette in 2012
Website URL: le-vel.com
Type: Health and Wellness MLM
Products (Including Pricing): 20 out of 100
Success Stories: 5 out of 100
Price To Join MLM: Free + $100-$300/month (50 out of 100)
What To Look For In An MLM:
Summary: Le-Vel Thrive is a MLM program that specialises in helping people lose weight with thier 1-2-3 system.
Their products are very expensive with very similar (and arguably better) products found for 300% less. The company focuses on recruitment rather than selling the products, which makes it like a pyramid scheme in disguise.
Make Time Online Rating: 25 out of 100
Recommended: No
What is Le-Vel Thrive?
Le-Vel Thrive is a health and wellness Multi-Level-Marketing company that focuses on helping people lose weight.
It was founded in 2012 by a couple of very experienced blokes in the health and wellness industry.
In fact, you can tell they know how to "push people's buttons" from this 3 minute Le-Vel Thrive promotional video...
But you're clever enough not to just fall for a sales video like this.
So you're probably still wondering...
Is Le-Vel Thrive a pyramid scheme?
No Le-Vel Thrive is not a pyramid scheme... technically!
Le-Vel Thrive "promoters" can earn money from selling their products.
But, the real question you should be asking is...
Is Le-Vel Thrive a pyramid scheme in disguise?
That is a much better question and one that this review will dig into...
What is a pyramid scheme?
First of all let's define a pyramid scheme...
It's a company that promises their members payment from recruiting more people into the company.
Technically there are no products or services sold in an outright pyramid scheme, which is why Le-Vel Thrive is not one.
Pyramid schemes are illegal in most countries today because it's impossible for everyone to make money in them, as you can see in the diagram below...
Whilst most MLM companies do offer products or services, some can be a "pyramid scheme in disguise".
This is where they "hide behind" the products as the company only rewards their promoters with a decent income ($1,000+ a month) if they recruit lots of people into the company.
This review will expose the truth a bit later.
For now, you can learn how to spot these sneaky companies in the 5-minute video below...
Success is rare with Le-Vel Thrive MLM
OK, it's not just rare at Le-Vel Thrive.
Studies have revealed that between 73% and 99% of all MLM representatives lose money!
Like I mentioned earlier that is largely because so many people jump into them without doing any real research.
They are typically very low cost to start so many members think they "own a business" by paying a couple of hundred dollars.
In reality, this is just the start and a lot of hard work is required just to make a few hundred dollars a month.
Ready to make passive income online?
Hey, I'm Mike.
I created a passive income online within a year. I had no marketing skills or online experience when I started.
How does Le-Vel Thrive MLM Work?
The MLM opportunity at Le-Vel Thrive is a way for anyone to make money from home.
How?
By selling their products and recruiting more people into the business to do the same. You can then earn bonuses and commission on the products your "downline" recruits.
It's great for Le-Vel Thrive as they save on marketing costs.
And in theory it's great for the promoters (they can earn money from home).
Before we dig into this in more detail let's check out the...
Le-Vel Thrive products
If you are considering any MLM company it is so important to understand the companies products.
Thrive offers products in the following categories:
Thrive Experience (an 8-week weight loss program)
Thrive Plus (you can buy any of the individual products separately)
Thrive Fit (shakes to help build muscle, have more energy and recover)
Thrive skin (soaps, charcoal masks and face kits etc.)
The website doesn't show the prices, which is not really a good sign for any company. It's not totally transparent and makes it much harder to make informed decisions (luckily for you, I'll reveal this later in the Le-Vel Thrive review!)
But the flagship products of the 1-2-3 system and 8 week program is what you really need to understand...
Le-Vel Thrive patch, shakes & capsules: 1-2-3
First of all, check out the 7 minute video to understand what the 8 week experience does...
So there are 3 products that Thrive recommends you take to get the best nutrition, lose weight and get more energy:
Thrive capsules
Thrive shakes
Thrive patches
These are all products that can help people get the nutrition they really need. But they are certainly not the be all and end all of a healthy lifestyle.
The 8 week experience will set you back around $300.
I'll show you later how you can find capsules arguably much better for a fraction of the cost.
The same can be said about he shakes as you can see below...
If anything, this generic shake has more vitamins and nutrients in and is a fraction of the price.
"Lose weight with our miracle diet patch or cream! You've seen the ads for diet patches or creams that claim to melt away the pounds. Don't believe them. There's nothing you can wear or apply to your skin that will cause you to lose weight."
So it has to be argued if these products are as good as the hyped up promotional videos claim.
Also note that there are many other companies that sell the same stuff such as:
How to make money with Le-Vel Thrive MLM
Ah, the moment you've been waiting for!
Just like most MLM companies there are 2 ways you can make money as a Le-Vel Thrive MLM promoter:
Earn a commission from selling products
Recruit people and earn a commission from their sales
It's important to note that you do not get paid directly for recruiting people. But rather you get bonuses for the products that they buy or sell on.
So if you want to make good money, you will need to recruit people.
How much does it cost to join Le-Vel Thrive?
Here's the thing that people see...
It's FREE!
So what have you got to lose?
I'll show you what...
Le-Vel Thrive monthly cost
To be fair to Le-Vel Thrive they do make this clear on the website...
So you need to purchase or sell at least 100PV worth of products per month.
But to most people, that makes no sense!
Typically 1PV equals around $1 of products (discounts can mean it could be slightly more or less).
So you actually need to purchase $100+ a month of products.
Even if you can sell that much, you still need to buy it until...
So once you have recruited 2 more people into the business you then don't need to keep spending $100+ per month on products yourself.
It's all there on the website... but it's certainly not easy to understand is it?!
Le-Vel Thrive compensation plan
It doesn't become any easier when you look at the compensation plan.
To be fair to them, nearly every MLM company has a compensation plan that's harder to understand than someone explaining quantum physics in arabic.
So I'll try to keep this simple.
There are 11 ways you can get paid:
Retail sales (20% commission of sales you make)
Vanishing autoship (free products when you recruit 2 people)
Infinity fast start (bonus for the packages your recruit purchase)
Infinity fast start match (10% of the fast start your recruits make)
Infinity fast start match accelerator (20% of the above when you have 8 recruits)
Go VIP bonus (earn a bonus for upgrading to Go VIP)
iPad mini bonus (4,000 QV in your first 30 days... that's hard!)
Uni-Level team commissions (earn 4-8% commissions on your downlines sales- see below)
Team commissions matching bonus (20-40% of your teams commissions)
VIP auto bonus (bonus for a car when you are a super high rank)
Lifestyle getaways (trips you can earn)
So this may seem very confusing.
Let's keep it simple shall we?
All you need to do to earn this money is either:
Sell the products
Recruit people into the company
Much easier right?
Once you start earning money then you can try and work each step out if you like, but you really don't need to understand this to get started.
If you want to know more then check out the video below...
Is Le-Vel Thrive a scam?
No Le-Vel Thrive is not a scam.
They offer legit products and pay their promoters like they claim they will.
However, is it the right opportunity for you?
Is it the best way to earn money from home?
The rest of this Le-Vel review will help you to make an informed decision...
Just to be fully transparent with you, I am not a distributor myself and I do not endorse Le-Vel Thrive in any way.
I have researched the website, testimonials and information on the Internet to get to the bottom of what this program genuinely does. This is because I have been burnt from programs just like this in the past and I want to prevent others from making the same mistakes. If you'd like to learn how to "Spot an Online Marketing Scam" then click the highlighted text.
Common positive reviews
Here are some of the positive reviews we had from Site Jabber about the job opportunity...
"Trips, incentives, and a phenomenal compensation plan are some of the great perks of this company."
"My energy is amazing and I have never felt healthier. I've had 2 kids and feel better now than I did before them."
Common negative reviews
And here are the common negative reviews...
"The products are good but the prices make them unaffordable for most."
"There are plenty of artificial ingredients in their " ultra premium" product line. Last time I checked silica and gelatin don't grow on trees."
What I like about Le-Vel Thrive
So there are some good parts about Thrive that make it better than some other MLM programs...
Key Terms:
Pyramid Scheme – recruits members via a promise for payment from referring others to the service rather than providing a product
Affiliate Marketing- Connecting a customer to a product they are looking for and receiving a commission for doing so
Red Flag - A warning sign
#1 Long history
The company was founded in 2012. That may not seem long to you, but did you know that 50% of MLM's disappear in the first 5 years?
And only 1 in 3 make it past 10 years.
The founders have a lot of experience in the health & wellness industry and you can tell they understand the importance of branding and marketing from the sales videos!
#2 Positive product review
There are many people that claim the products have really helped them...
So many people want to lose weight or live a healthier lifestyle but just don't know where to start.
If someone can offer them a 1-2-3 system like Thrive does then it can help them stick to their plan and achieve better results.
What I don't like about Le-Vel Thrive
So even though it's not a scam and Le-Vel Thrive is not a pyramid scheme, there are some hidden truths that I think everyone should be aware of before diving in...
#1 Expensive products
This is my biggest concern!
When an MLM has really expensive products compared to the market and has a monthly sales quota (like the 100PV), that is a huge red flag for me.
It suggests that Le-Vel Thrive is a pyramid scheme in disguise...
Why?
Because the way promoters are really rewarded is by recruiting, not selling the products.
Seriously ask yourself why would anyone choose pay 300% plus for a product that is arguably not as good?
After some digging I found that Thrives multi-vitamin capsules cost around $62.50 for a 30 day supply.
Thrive = $2.08 per day
Amazon products with more vitamins in = $0.04 a day
With only 11 vitamins and minerals with an RDA daily value, you can do better with many other products. They don't even put vitamin C or vitamin E in it.
The choice is either $750 a year with Thrive or $15 a year for a more complete multivitamin!
The Shakes aren't much better...
Thrive = $2.81 per serving
Amazon = $1 per serving
Again the Amazon product has more vitamins and nutrients in as you can see in the product section above. Plus, it would save you around $650 a year.
#2 Pyramid scheme in disguise?
For me, the above point is always a HUGE red flag about a pyramid scheme in disguise.
The way the promoters are encouraged to make money is not by selling these expensive products but by asking people to join the company.
That way their selling point is...
"You can lose weight and make money!"
Instead of...
"Spend up to $300 a month on an unproven method to lose weight!"
It's not only me that suspects this though...
Here are some other nails in the coffin:
10 out of 11 ways to get paid requires you to recruit people
The fast-track requires you to recruit people
You'd need to sell around 50 8-week programs each month to make $1,000 a month
The more you understand about the company the more your realise Le-Vel Thrive is a pyramid scheme in disguise.
#3 Hidden monthly costs
So many people get caught out by the monthly costs and "auto-ship" payments they set up when you start...
Like I mentioned earlier, it's all there on the website.
But it's so confusing and not in simple English...
To remain an "active promoter" you need to spend $100+ each month until you recruit at least 2 people.
And believe me, the first 2 you recruit will be the hardest as most of your friends and family will be very wary about this!
#4 Negative reviews- does it even work?
There are too many negative reviews to share them all but this is one that I saw quite a few times in different places like SiteJabber.
Even the people that tried to leave a positive review often had something they weren't happy about...
Healthline even suggests that more research is needed and there is no conclusive evidence that the patches work.
Without evidence from independent studies, it's impossible to tell!
#5 Declining trend
If I was tempted to join an MLM, this would be the deciding factor for me.
Most MLM companies will have an "early momentum phase" where the company is new and more and more people are hearing about it each month.
Le-Vel Thrive has been through this phase already.
If anything it's on a decline as you can see from Google trends...
Most money is made by the promoters that join the company early and help the company grow.
As you can see that other MLM's such as Farmasi are still in this phase.
Ready to make passive income online?
I've created a growing passive income online with no previous marketing skills or online experience...
I've made a special video for you to explain exactly how I did this.
My opinion - Le-Vel Thrive MLM
OK, so you want my honest opinion?
Here it is (I'm the cat btw)...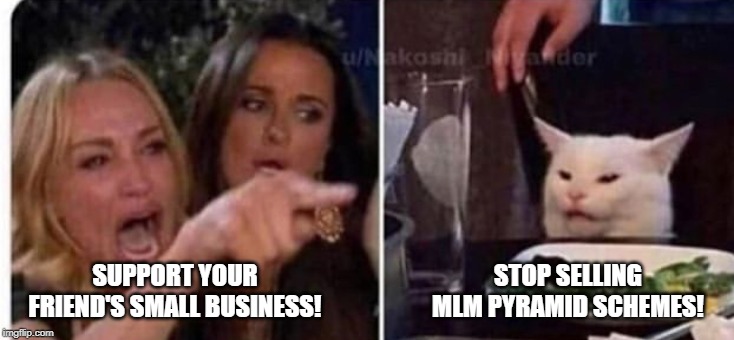 If you want to join Le-Vel Thrive be prepared to sell to your friends and family...
And be prepared to have them not support you.
Some people do well from MLM's but they often have to become selling machines that constantly talk about the companies amazing "products" to every random person they meet.
Personally, I would find it hard to sell something so overpriced just to make a quick buck.
How I make passive income online
As I say, not all MLM programs are bad or pyramid schemes in disguise. Some people can do well from them.
But once I learnt about affiliate marketing I realised it was a far superior business model for a number of reasons:
You are in control of the business & can promote anything you like
You can scale the business to any level using the internet to help you make money 24/7/365
It's free to start and very low cost to maintain
My websites continue to get more and more visitors to them every month and it helps me make a passive income whether I'm asleep or travelling...
I had no idea who to do this in 2018.
But if you'd like to learn how I do this now, then click here. I've made a special video that explains everything to you.
But I went from a full time PE teacher to making a passive income online within one year...
If you want to discover how I did it then check out this special video I created which explains exactly how. You can also get your free 7-day bootcamp to get started.