Many are already looking for alternative ways to make money online and make a sustainable career out of it.
This is the reason why there are already online courses popping out.
One of which is Udemy's Super Affiliate Playbook.
But you aren't easily sold out into it, which is why you ask…
Is Super Affiliate Playbook a scam?
Well, it is not.
Super Affiliate Playbook is a legit online course that teaches all there is to learn about CPA marketing.
This review aims to dive deep into its content and see if it's a legit way to make money online by seeing its pros, cons, and what its students think about it.
Disclaimer:
This Super Affiliate Playbook review has been thoroughly researched with information and testimonials that are available online to anyone in the public. Any conclusions drawn by myself are opinions.
Super Affiliate Playbook review: The overview and rankings
Name: Super Affiliate Playbook
Founder: Paulo Perdu
Type: CPA marketing course
Success Stories: 30/100
Price To Join: $10.99
Super Affiliate Playbook Pros
High student rating
Educational
Positive reviews
Super Affiliate Playbook Cons
A bit vague
Negative reviews
No guarantee of success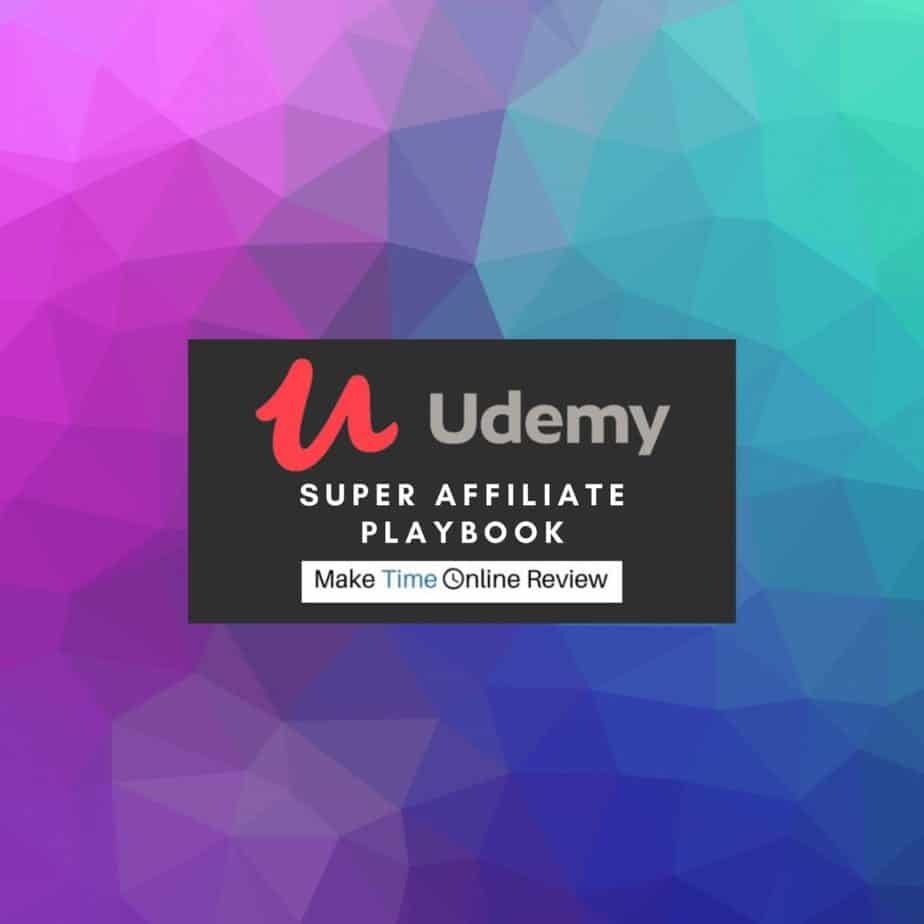 Summary:
Super Affiliate Playbook is an online educational course in Udemy that helps you earn money through CPA affiliate marketing.
Make Time Online Rating: 50 out of 100
Recommended: No
What is Super Affiliate Playbook about?
Super Affiliate Playbook is an online course from Udemy which teaches all about CPA marketing.
Udemy is a globally-renowned online educational platform which hosts thousands of courses in different subjects and niches. Super Affiliate Playbook is one of these courses.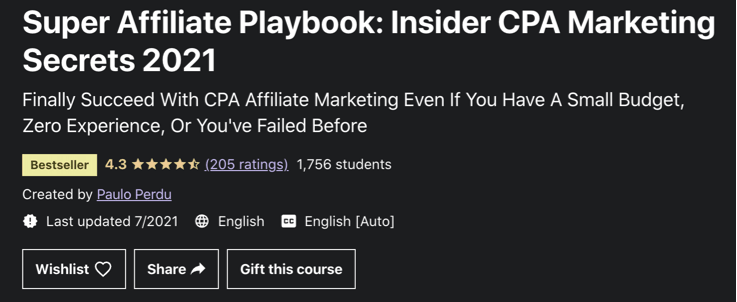 Specifically speaking, this course is all about CPA affiliate marketing, which is also known as cost-per-action marketing.
CPA marketing or cost-per-action marketing is an affiliate strategy involving a partnership between an affiliate and an advertiser. An affiliate is responsible for providing marketing services for the advertiser, and the affiliate earns a commission when a user or customer takes a specific action due to the marketing.
This involves partnering with an influencer, blogger or publisher who promotes your products in exchange for a commission fee. The affiliate receives a commission when a customer purchases a product through the affiliate's marketing efforts.
Acquisitions can range from clicks to requests for service, to filling out forms, to installs and downloads, depending on the details of the contract.
CPA affiliate marketing has become a multi-billion dollar industry, and many affiliate marketers do so without even realizing it. CPA is simply a certain form of affiliate marketing.
Unlike other digital marketing tactics like cost per click (CPC) where you pay to advertise your brand with no guarantee of a sale, CPA marketing only requires you to pay after the sale occurs.
Under this arrangement, the publisher assumes more risk than the advertiser because their earning potential depends on their ability to attract and convert website traffic into paying customers.
This is growing in popularity nowadays because of its effectiveness in attracting more customers. It's also great for starters because you don't need to have a high budget or gain lots of experience to try it out.
Check out this 1-minute video to know more about Super Affiliate Playbook…
So, who created this Super Affiliate Playbook in the first place?
Who is Paulo Perdu?
Paulo Perdu is the creator of Super Affiliate Playbook, and is a renowned course creator.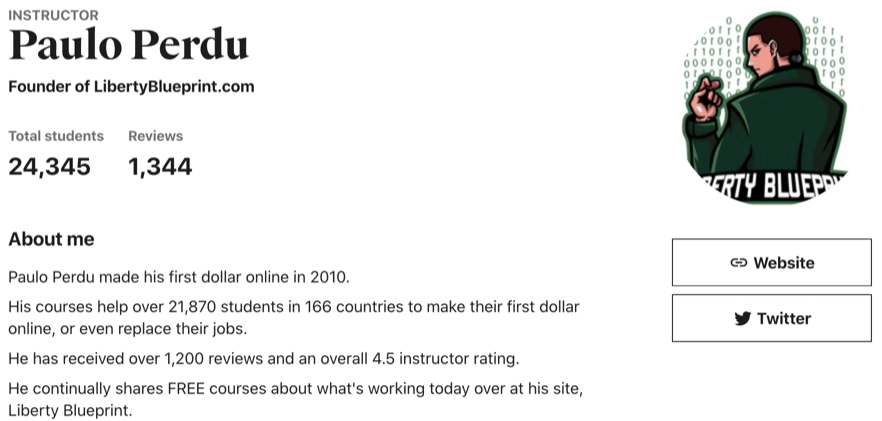 What's nice about him is that he is a professional online course creator that has already published more than a hundred courses that are in the realms of business and digital marketing.
I did additional research and found out that he already has more than 21,000 students scattered across 166 countries.
He also has garnered more than 1,200 reviews and an overall instructor rating of 4.5, which is already pretty nice.
What's even better is that he also shares free courses on his site called Liberty Blueprint. I see these as very helpful in case you want to supplement your learning in Super Affiliate Playbook.
So, how does the course work?…
Ready to make passive income online?
Hey, I'm Mike.
I created a passive income online within a year. I had no marketing skills or online experience when I started.
How does Super Affiliate Playbook Work?
Super Affiliate Playbook is an online course that can be purchased and downloaded in Udemy. It contains many lessons on affiliate marketing, specifically in CPA marketing.
Some of the things you'll learn here are how you can launch and track marketing campaigns without spending too much. You will also learn how to find quality traffic sources that will rake in up to millions of visitors every click.
Aside from those, you'll also know how to get accepted by affiliate networks as well as gain access to tools you can use on hosting and tracking competitors.
However, there are many other courses out there that share similar content.
Some of the most common ones are:
Inside Super Affiliate Playbook
Super Affiliate Playbook includes various lessons about affiliate CPA marketing in the form of videos and articles. Specifically speaking, there are 4 hours of video, 11 articles, 12 downloadable resources, and mobile and TV access. You also get a certificate of completion once you finish the course.
This course's strategies and tactics are well-explained in a simplified way that is easy to understand, even for those who are new to those who are experienced.
Many different components, which are time-consuming and found by trial and error and testing with money, and have to work together are included. Some are free and others at minimal cost as they are necessary to prevent problems ensuring success.
Paulo covers everything from a mindset (realistic expectations), understanding your competition's effort (so you can learn from observations giving yourself the greatest chance at success), affiliate networks selection and approval, tracking setup and what he uses, hosting, domain selection, campaign testing, best practices to scale and improve results.
He also offers bonus courses and a Facebook group and can help with specific questions. This is a solid foundation to learn the basics efficiently while saving time and money to succeed with CPA-paid traffic.
Those who go through this course will emerge confident in their abilities to follow the course's easy-to-understand material and succeed.
This course also contains 10 sections. Here are they:
Getting Traffic
The first section of this course helps you gain more traffic to your website. This is very important because this is where you get potential clients. It teaches you the right way on how to entice people to click into the website and spend some time on it.
Target Marketing via PPC
PPC is an acronym for pay-per-click. This is a digital marketing business model where you can earn money whenever a person clicks a link. This section dives deep into PPC and helps you improve your target marketing strategy by creating a specialized approach targeted to the right niche audience.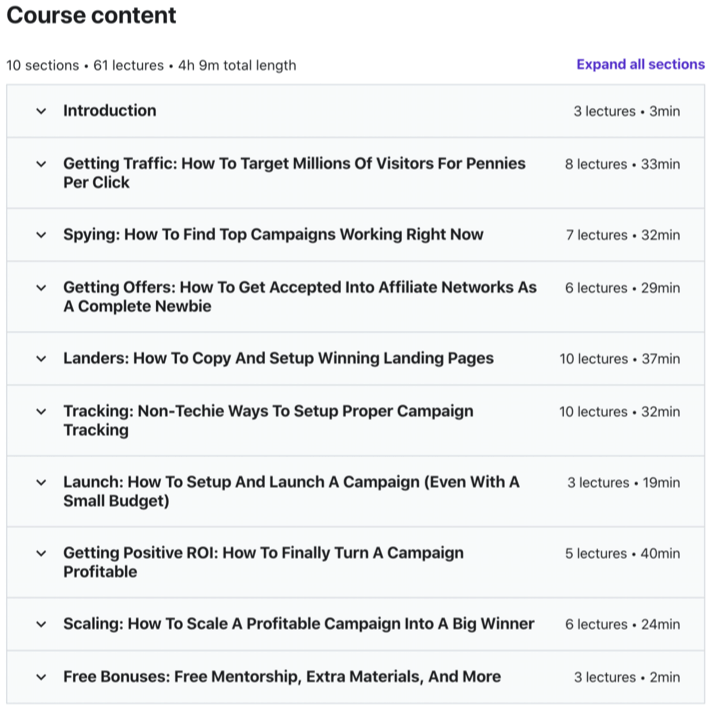 How to Get Accepted Into Affiliate Networks
Affiliate networks are important because they serve as the platform where you can solidify your online brand, and in the process, make money through sales and commissions. This section helps you access affiliate networks so you can boost your brand potential.
How to Copy and Set Up Winning Landing Pages
This section helps you set up landing pages and ensure that they are attractive enough to lead to conversions. It's all about learning how to create content and mix it with responsive buttons and features to entice site visitors to purchase your offerings.
How to Setup Proper Campaign Tracking
Learn how to set up your own campaign tracking strategy to know your progress and strategize effective techniques to propel your online business to greater heights.
How to Setup and Launch a Campaign
Know the right way on how to create and launch a campaign depending on your offerings. The steps necessary to preparing the needed resources and what to expect after launch are all laid out here.
Getting Positive ROI
ROI is the main reason why we have online businesses, and this section helps you speed up your road to ROI so you can start profiting and earning.
How to Scale a Profitable Campaign
Scale up your campaign to include more offerings while expanding your market and target audience.
Free Bonuses: Mentorship, Extra Materials
This section includes additional bonus resources you can use to further enhance your knowledge in affiliate marketing and CPA.
Check out this 9-minute video to give you a better understanding of Super Affiliate Playbook…
And what are the prices?…
Super Affiliate Playbook cost to join
This course costs only $10.99.
However, it's original price was $89.99. That's a huge 88% discount. What I also find strange is that it says that there's only 1 day left for this discounted price. I guess we'll just have to see if that's the case in the days to come…
Super Affiliate Playbook monthly cost
There are no monthly costs.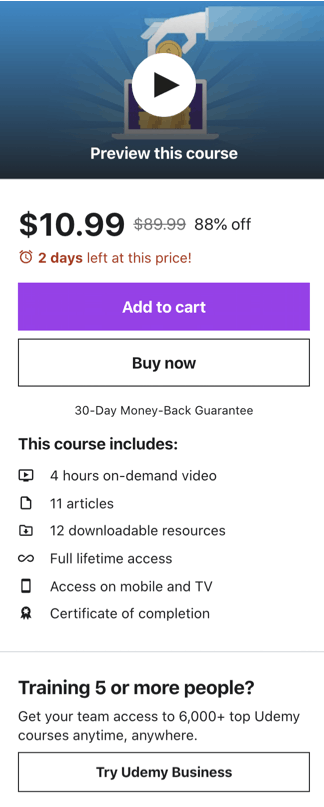 Instead, you just have to pay the small $10.99 price to gain access to the full course. Hurry, though, because they say that there is only one day left for this price…
Super Affiliate Playbook reviews online
Super Affiliate Playbook is an online course that teaches you affiliate marketing and how you can make money from various areas online.
But what you really want to know is if this can really help you earn money online.
To answer this, I've checked a number of client testimonials and reviews about his course…
Common positive Super Affiliate Playbook reviews
Educational
Helpful content
Legit creator and platform
Here are some of the best positive reviews I have found…
"Simple and to the point, I am going through this at midnight, I attempted another course which had me feel like going to sleep but just jumped to get a tester of this and I am wide awake ready to move. Most valuable experience I have ever had from any course I have attempted to do online."
"Awesome course you should have to join if you are newbie."
"So far its precise and to the point. The videos are not lengthy hence the focus remains intact. So far good enough."
Common negative Super Affiliate Playbook reviews
Lacks detail

Not great for beginners
Needs more coverage
And here are the negative reviews worth checking out…
"The only thing that the instructor could do to even more improve the whole course is to show one real live campaign from start to finish throughout the lessons so we can see live changes and improvements over time."
"Lacks detailed information on the topics, like real screenshots examples of actually doing the campaigns etc not just mentioning the options with no real live examples."
"Some of the topics are very basic like buying a domain name, that is not a very useful information in the topic and that anyone can easily find on youtube for free."
Is Super Affiliate Playbook a scam?
Nope. Super Affiliate Playbook is definitely not a scam.
It is a legit online course that teaches CPA affiliate marketing. It's also a course available in Udemy that teaches educational things about how you can earn online through affiliate marketing, specifically in CPA marketing.
However, many people are disappointed that they have to pay $10.99 just to learn something. That's already dirt cheap, to say the least. But there are still many people who find this too much knowing that there is no guarantee that they'll immediately earn something once they finish the course.
Super Affiliate Playbook pros
High student rating
One of the nicest things I like about Super Affiliate Playbook is its high student rating.

This shows that the people who bought it, in this case, its students are satisfied with the course and that they have learned many things about CPA marketing.
Educational
The content of this course is educational and timely, especially that many are already looking into the internet to earn and make money. It also makes sense for people to use CPA marketing to rake in profits and expand their audience while boosting sales.
Positive reviews
There are also many positive reviews coming directly from its students.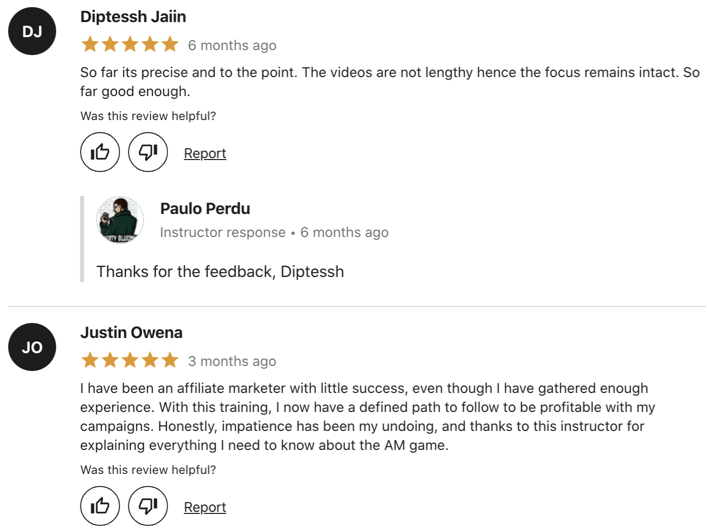 You can clearly see that they are satisfied with the course. They also see this as a very helpful tool to further improve their business' presence online.
Super Affiliate Playbook cons
A bit vague
This course is undoubtedly helpful. But some of the other sections talk about things in a slightly vague and confusing manner.
Although this is acceptable, it still means that there's some fluff and unnecessary things discussed that lengthens the amount of time needed to spend to finish the course…
Deceptive marketing
You cannot please everyone. Well, the same goes to Super Affiliate Playbook.

This comment shows that some of the things mentioned in the course are just too basic and can be found for free on YouTube and across the internet. Well, there may be some truth to this once we go through the course piece by piece.
No guarantee of success
You won't immediately make money when you finish this course.
There is no guarantee of success because you just learn something from this course. It is still up to you on how you will implement all the things you have learned.
Ready to make passive income online?
I've created a growing passive income online with no previous marketing skills or online experience…
I've made a special video for you to explain exactly how I did this.
My opinion – Super Affiliate Playbook
Super Affiliate Playbook is not a scam.
It is a legit digital marketing course that discusses important lessons on how you can monetize the internet via CPA affiliate marketing. It is also in the Udemy platform, a renowned online educational system hosting multiple courses about different subjects and niches.
This course includes basic and advanced tips on attracting site visitors, boosting conversion rates, and solidifying your brand presence on the internet.
But you get all these in by spending around $10. That is surely dirt cheap, but that's still good money. What's more is that there is also no guarantee of success once you finish their course.
There are many better online business opportunities out there that you can try now…
How I make passive income online
In 2018 I had no idea what affiliate marketing was.
Once I learnt about it, it just seemed like a great business model that can grow over time using the power of the internet.
So I tried to figure it out by myself… that got me nowhere fast.
Then I fell for some terrible online scams.
But eventually, I found Wealthy Affiliate. It teaches long-term proven strategies to build an online business with all the tools & support needed.
And this happened…
Once you learn the process of getting thousands of people to find your website every month (for free) there really is not limit to what you can achieve online.
I've reviewed hundreds of courses or programs that claim to help people make money online. And I've spoken to dozens of 6-7 figure online entrepreneurs on my podcast.
This is by far the best place I've seen to help beginners get set up on the right foot. You can read my full Wealthy Affiliate review here (including the pros and cons!)
Or you can watch an insiders video I made that explains exactly how it works here.