Most probably, someone introduced you to Scout and Cellar.
They might also have convinced that you can earn money in the process.
Sounds interesting, eh?
However, you might have wondered…
Is Scout and Cellar a scam? Or is Scout and Cellar a pyramid scheme?
Before anything else, I'd like to congratulate you for taking the time to do some research on these so-called MLM companies.
I should say that you're on the right track because 99% of all MLM members lose money just because they immediately dive in without knowing the real facts.
This accurate, honest, and clear review, however, would open your mind and make you see the reality of what Scout and Cellar is really all about.
I'll also help you make an informed decision if you should proceed or not.
Because all we want is to earn money the easy way, right?
Scout and Cellar Review
The overview and rankings
Name: Scout and Cellar
Founder: Sarah Stuber Shadonix in 2017
Type: Retail Commissions MLM
Products (Including Pricing): 50 out of 100
Success Stories: 10 out of 100
Price To Join MLM: 20 out of 100, $349 ($249 kit + $99 annual fee)
What to look for in a MLM:
Summary: Scout and Cellar is an MLM that focuses on wine distribution. It's a fairly new company and was started in 2017. The headquarters is in Celina, Texas.
Make Time Online Rating: 23 out of 100
Recommended: No
What is Scout and Cellar?
Scout and Cellar is a wine company founded by Sarah Shadonix in 2017. Sarah is a former lawyer who gave up her profession to pursue entrepreneurship.
Sarah Shadonix, a former Dallas attorney who developed a passion for wine, established Scout & Cellar in 2017. Shadonix joined the Dallas Sommelier Society nine years into her legal career.
Soon after, she abandoned the law practice for the e-commerce business Wine Country Connect, which connects wine producers with consumers.
Shadonix stated in an interview with the Dallas-based journal D Magazine earlier this year that she noticed that even a few sips of wine made her feel uncomfortable when she began working at Wine Country Connect. She decided that the likely culprits were pesticides and toxins in the wine.
With Scout & Cellar, Shadonix decided to sell exclusively "clean-crafted" wines, which the website characterizes as "free of unpleasant stuff like synthetic pesticides and chemical additives and contains less than 100ppm of total sulfites."
According to the website, its wines undergo "two rounds of independent lab testing" to verify they satisfy these standards.
"The audit of farming and production practices, followed by independent lab testing, guarantees that every Scout & Cellar beverage backed by the Clean-Crafted Commitment® is made from fruit grown without synthetic fertilizers, pesticides, herbicides, fungicides, or persistent chemicals and is produced without synthetic processing aids or sweeteners and is low in sulfites," a Scout & Cellar representative wrote in a prepared statement.
She also became a wine expert as she now focuses on wine distribution.
Aside from selling wines that are said to be healthy because they don't contain any artificial ingredients, which according to them are "toxic," they also are a full-on MLM company as you can become one of their distributors.
They're still new to the business, which is a good thing for me because the market isn't yet very saturated unlike other MLMs that sell cosmetics and health and nutrition products.
Based on my research there are over 10,000 distributors in the U.S.
You can check out this 2-minute video…
Based on the looks of it, it's very possible that this MLM will go beyond the country and become a global brand in the next year or two, just like Avon and Herbalife.
Who Is Sarah Shadonix?
Sarah Shadonix is a lawyer who has a degree from Richmond University and a Doctorate of Law degree from the Arizona State University's College of Law.
But what about her wine business? Is she really any good with wine?
Well, technically she is as she has her credentials after getting an advanced winery certificate from the Wine and Spirit Education Trust.
She's also worked as a distribution channel manager at the Wine Country Connect. However, she noticed something wrong from her work experience.
And so, she started Scout and Cellar!
I've researched that Sarah did indeed scour (I mean, literally) the world as she looked for farmers and vineyards that didn't use chemicals and pesticides.
Yes, you've got that right again — Organic Farms!
Is Scout and Cellar a pyramid scheme?
Technically speaking, Scout and Cellars isn't a pyramid scheme because distributors can still make money if they sell the company's products, which in this case, are wines.
Another thing I'd like to point out is that Scout and Cellar complies with all government laws and regulations.
That isn't surprising because most MLMs do!
That's if, even if they're pretty much operating like a pyramid scheme...
Another hard fact is that most, Scout and Cellar members will lose money.
But that still isn't enough to label it as a "full-on" pyramid scheme. Why? Because they sell a real product that can be sold directly to customers without having to recruit them!
But even if they aren't technically and blatantly labeled as one, Scout and Cellars do have a lot in common with pyramid schemes.
I'm even comfortable labeling it as a "pyramid scheme in disguise."
Would you agree? Allow me to explain what a pyramid scheme is so that you'll have a clearer picture.
What is a pyramid scheme?
A company that only pays members for recruiting instead of selling actual products or services can be labelled as a pyramid scheme.
These operate and survive mainly by recruiting more people into the company so that its individuals will earn.
Only those in the top position earn good money, leaving their downlines and the downlines under their downlines (hope you followed through with that) are left without any earnings.
It's just impossible for every member to make money with this company structure.
You can understand more what I mean by checking out this infographic from Wikipedia...
As you can see, the ones who are really earning good money are on the top of the scheme and they're just very few. Meanwhile, the ones below are those that are doing all the hard work, yet they earn little to none.
Success is rare with Scout and Cellar
Know that it's hard to find members who are making good money in an MLM. Based on facts, research shows that 73% and 99% of all MLM representatives lose money.
Scout and Cellars also hasn't released any income disclosure statement, which I believe is a sign that their members aren't really earning that well.
Take note, though, that this isn't common for MLMs because most provide income disclosure to entice people to join.
But that isn't the case with Scout and Cellar.
I personally think that the company is hesitant to share their income disclosure because it will just turn off people who want to join!
Ready to make passive income online?
Hey, I'm Mike.
I created a passive income online within a year. I had no marketing skills or online experience when I started.
How does Scout and Cellar Work?
Scout and Cellar is a multi-level marketing (MLM) company that sells wine.
Basically, this MLM works by having its members/distributors sell the products to consumers, while also maintaining their own downlines.
These downlines are the people that the distributors have recruited. The company's selling force is made up of a series of downlines, with each having more.
The result? Exponential growth for the company.
It isn't anymore surprising why Scout and Cellar generated $20 million in sales for its first year...because it functions like a pyramid, with the pyramid getting wider down the line.
The company also saves money on operational, advertising, marketing, and compensation costs by getting the "average joe" to promote and sell the products.
These "average joes" then have the chance to make money from home.
Yeah, it's like a win-win situation…
But in the long run? I doubt so.
Scout and Cellar products
If you've decided to take the risk and are serious about joining an MLM such as Scout and Cellar, then you need to deeply understand their products.
Aside from being an MLM, Scout and Cellar is also a winery that sells wine, which they call as "Clean Crafted Wine."
These can be found on their site and is categorized into four wine types:
Each wine has its own detailed information that talks about its history, a description of what it tastes like, where it's made from, the year it's made, and what makes the wine special.
A good marketing approach, I should say?
In simpler words, the regular Dry and Semi-dry variations are just elaborated to make them more pleasing. That's totally normal for marketing's sake!
Prices of their wines vary drastically depending on type as these range from $19 to $48 per bottle being the most expensive.
But what makes their wine different is that they say it's healthy because it's "Clean Crafted."
Again, this is very common for MLMs because they market their products as healthy.
So, the best way to tell if it really is, or if the wine is really good, is to see what real users think.
Check out this review rating from their Facebook page coming from its 112 clients:
There's also a package deal option where you can get 4 wine bottles for $88, 6 bottles for $186, and 12 bottles for $429.
That makes sense because you can save money on that. But then again, they didn't clearly say what wines are these so there's no way of saying if it's really a money-saver.
What is Scout and Cellar's Clean Crafted Wine?
Most mass-produced items include up to 350 ppm of sulfites and dangerous chemicals, such as added sugar, pesticides, and genetically modified components.
Scout and Cellar strive to deliver wine labels that are certified and produced in a sanitary manner. These wines are made from grapes with a sulfite concentration of fewer than 55 parts per million.
They claim they offer superior wine since they solely advertise organic wines.
Scout and Cellar will teach you all you need to know to become a professional wine consultant, even if you don't know anything about wine.
You can acquire vintage wines via their website or by speaking with a representative.
You may give your clients a far more personalized experience as a representative by discovering their unique taste preferences and selecting the best wines.
These representatives need to maintain their wine inventory; the corporation delivers it directly to the buyer.
Scout & Cellar acquires a limited inventory for their assortments. Therefore if they run out of stock, it is doubtful that purchasers will discover the same bottle they purchased in their varieties. Every month, the proprietor, Sarah, seeks a few new types.
Regular wine is produced using a number of chemicals including:
Copper Sulphate
16 g. to 30 g. of sugar or concentrated sweetener
Chemical pesticides
Ammonium Phosphate
Mega Purple, which is an artificial coloring substance
GMO additives
Ferrocyanide
However, Scout and Cellar's "Clean Crafted Wine" is said to be like this:
But note that there are many more MLMs that offer the same products as Scout and Cellar. These are:
Check out this 4-minute video to see the actual products:
Can you make money with Scout and Cellar?
It surely is hard for an average person to make good money from Scout and Cellar.
Yes, you can earn 12% to 25% in commissions and up to $500 for every bonus milestone, but you need to deeply strategize on how many wine bottles you can sell to your family, friends, and other people in a month.
There are only a very few people in MLMs that make "good" money, which unfortunately, is just around $20,000 a year, need to work really hard and recruit lots of people.
They just serve like actual sales managers, the only thing is that they don't have a regular job and are unofficial. They simply encourage and help their downlines to work harder and sell more.
The people who succeed are mostly extroverts who have a background in sales and treat their being a "wine consultant" as a full-time job.
Here's the truth that most people won't tell you… If you're just wanting to make some money as a sideline and work just a few hours weekly, it's very likely you won't make any money.
You might even lose money!
How to make money with Scout and Cellar
There are 3 main ways you can make from Scout and Cellars, just like any other MLM company:
1. Sell Scout and Cellar Wine products
2. Recruit a downline to get bonuses from anything they buy or sell on
3. Achieve personal sales and downline milestones to earn bonus payments.
You might have noticed that you don't directly get paid for recruiting people into Scout and Cellar.
Instead you become eligible for bonuses from the sales that your downline makes...
This way, Scout and Cellar avoids being labelled as a pyramid scheme and being forced to shut down by authorities.
How much does it cost to join Scout and Cellar?
It costs a total of $399 to join Scout and Cellars. $249 of it is for the Business Kit, while the $99 is for your personal website.
Take note that the $99 fee isn't a one-time payment as it's paid annually to keep your site running.
The Business Kit includes:
4 Bottles of Wine
Wine Makers
Pulltaps Corkscrew
Insulated wine carriers for 6 bottles
1.5 oz. pouring spout
Starter Pack
Wine Saver
Scout and Cellar compensation plan
Personal Sales Commissions
Earn a 12% commission for selling $499 worth of products. You earn more commission if you sell more products.
The commission increases to 15%, then 20%, and then a maximum of 25% of you sell products worth $2,999.
Level Bonuses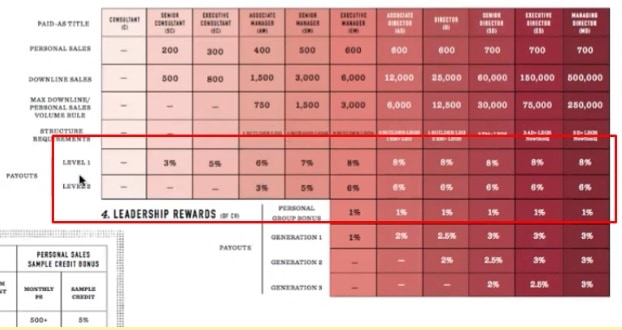 Senior Consultant to Managing Director ranks get 3% to 8% commission (depending on your rank) from the sales of their Level 1 downline.
Associate Manager to Managing Director ranks get 3% to 6% of their Level 2 downline.
Leadership Rewards
Executive Managers to Managing Directors get a 1% personal group bonus. This means a 1% commission from the total sales of your group.
Additional Bonuses
Get a $500 bonus when you become an Executive Manager.
Executive Manager's upline Executive Manager gets a $500 Matching EM Advancement bonus.
Reach a minimum of $500 in personal sales in 1 month and you get a 5% sample credit bonus. Sample credit because the money can be used as sample/free taste wine.
You need to reach a monthly sales quota to (1) retain your rank, (2) stay active, or (3) be promoted. However, this requirement excludes Consultants.
Senior Consultants need a minimum of $200 of personal sales and $500 of downline sales to stay active.
Increase that to $300 and $800 respectively and you get promoted to Executive Consultant...
Maintain those figures and you stay an Executive Consultant. And so on...
You can find the full compensation plan in the 15-minute video below.
Is Scout and Cellar a scam?
Technically speaking, Scout and Cellars is not a scam. They sell real and feasible products in the form of clean crafted wine.
They also don't run away from payments because they pay their members exactly as what they say on their compensation plan. I also haven't found any comment about them not being able to pay.
Unfortunately, there are a number of people saying that they aren't making any good money because they need to continue recruiting people.
Because of this, many people, including me, think that Scout and Cellar is just another pyramid scheme in disguise.
I'd also like to take this opportunity to clarify that I am not a distributor and I am not affiliated with any other MLM.
I did thorough research on this company, looked for reputable testimonials and information on the internet to know the real deal of Scout and Cellar.
I'm just sick of many of these so-called money-making opportunities like this, that I just want to save others from getting themselves in trouble, only to find out that they're not getting any money, and worse — losing money!
Just to be fully transparent with you, I am not a distributor myself and I do not endorse it in any way.
I have researched the website, testimonials and information on the Internet to get to the bottom of what this program genuinely does. This is because I have been burnt from programs just like this in the past and I want to prevent others from making the same mistakes. If you'd like to learn how to "Spot an Online Marketing Scam" then click the highlighted text.
Common positive reviews
Here are some of the positive reviews we had from Trust Pilot about the job opportunity...
"Having a membership saves me the trip to the store and I always have a bottle to share with guest or when I attend an event."
"They have a 100% Satisfaction Guarantee and Customer Service is always helpful and accommodating."
Common negative reviews
And here are the common negative reviews...
"Scout and Cellar is not a scam but I do not recommend it to you for some reasons that I talked about earlier. The bad part is that it's totally up to you to sell and recruit people under you."
"This is not a long term,scalable and sustainable business model."
What I like about Scout and Cellar
Key Terms:
Pyramid Scheme – recruits members via a promise for payment from referring others to the service rather than providing a product
Affiliate Marketing- Connecting a customer to a product they are looking for and receiving a commission for doing so
Red Flag - A warning sign
Here are some of the strengths Scout and Cellar has...
#1 Well-laid out compensation plan
Scout and Cellar is transparent with its compensation plan, compared to other MLMs where people will have a hard time figuring out the exact amounts they're going to earn.
#2 Healthy wine product
Sells natural and healthy wine product as it is "free from artificial and toxic ingredients," as what they claim.
Regular and mass-produced wines normally have GMO ingredients, copper sulfate, synthetic pesticides, and an array of other artificial ingredients that makes them unhealthy for regular consumption.
You don't have to worry about that with Scout and Cellar wines because they don't have any of those.
What I don't like about Scout and Cellar
And here are its cons... It sure is wise to know the other side of the coins to have a better understanding about its profitability and background.
#1 Expensive products
If a MLM has overpriced products, it's a huge red flag and strong sign that the company is like a pyramid scheme in disguise.
The focus is on recruiting instead of selling products...
Scout and Cellar has a similar case with that as it has expensive products with a $20 to $30 price gap with similar wine brand.
#2 Pyramid scheme similarities
The only way distributors won't have to pay for their monthly subscription is by recruiting other people into the company and becoming a representative, and in the process paying for the subscription.
Scout and Cellar is very similar to pyramid scheme due to its focus in recruiting.
The image below shows exactly how members of Scout and Cellar make money, and how most of them loses money.
#3 Unavailable in some states and other countries
The products are only available in the U.S. and on selected states only because the company is still currently on its infancy stage, having been just operating for no more than three years.
#4 Useless personal website
The customers of individual representatives need to buy from the main website and not from their personal website, which makes their personal website that they pay $99 annually is useless.
Ready to make passive income online with your own website?
I've created a passive income online with no marketing skills or online experience.
And I've made a special video for you to explain exactly how I did this.
My opinion - Scout and Cellar
Scout and Cellars do make good wine, even if it's more expensive than others.
And though that can be justified because it says it's clean and free from artificial stuff, I still wouldn't go full-on with it.
Honestly, I think that your chances of making any good money with this MLM is very low.
Not only do you have to recruit people to make money, but you need to maintain a specific amount of sold products to be active and to earn.
Well, you can make some (or little) money by recruiting people, but these people will also, and are very likely to lose money!
That is in no way ethical.
How I make passive income online
MLMs are not scams or illegal. However, I'm not a fan of them because of the restrictions to the expensive products you have to promote.
Once I learnt about affiliate marketing, I realised it's a far superior business model because:
You can promote anything you want and truly own the business
You never need to sell to friends and family
It's completely free to start
In 2018 I had no idea what affiliate marketing was.
But I went from a full time PE teacher to making a passive income online within one year...
If you want to discover how I did it then check out this special video I created which explains exactly how. You can also get your free 7-day bootcamp to get started.