In the spirit of full transparency, know that this Make Time Online podcast show notes contain affiliate links. This means if you make a purchase through these links, I may receive a small commission at no extra cost to you. Click here to read the full disclosure policy.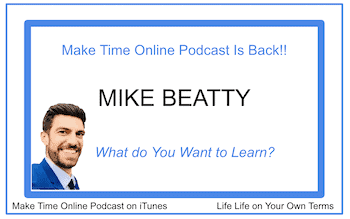 Make Time Online's podcast is officially back!
Many people still think the only way to make money is with a traditional 9-5 job. This podcast will show you real people who are living life on their own terms and making money in unconventional ways.
In this episode, I'll cover a few things for you to know about the podcast in the future:
The 2 main ways that people make money on their own terms
The best ways to create passive income
What to expect from the show over the next few months
What the new case study is about and how it can help you
Make Time Online Podcast
---
It is possible to live life on your own terms
Time is more important than money. You can always get more money but you can never get more time.

Jim Rohn
There are really 2 main ways that I have seen people live life on their own terms.
Usually, this is by creating passive income streams.
Apart from investing in the stock market (or index funds ideally), these are through:
Property investment
Online business
So, the focus for the next few months will be all about online businesses.
Real online entrepreneurs will come on the show to share their experience and tips for starting an online business.
The Make Time Online Podcast Until 2020
---
There will be 3 main topics on the Make Time Online podcast leading up until the end of 2019
October- Start a Blog to Make Money
There will be 2 guests in October over 4 episodes.
They have made money blogging with numerous websites each and will share their journey, experience and tips with you.
November- Different Make Money Online Ideas
During November there will be some guests that make money online in slightly different ways such as:
Freelance writing
Virtual assistant jobs i.e. email/ social media management
Creating blogs in different niches
Different strategies i.e. SEO, viral content, contributor sites etc.
These are all ways that can supplement your income and potentially open your eyes to new ways to make money online (it certainly opened my eyes!)
December- Getting Traffic Quickly With Pinterest
Pinterest is still the fastest way to get a lot of traffic to your blog.
This month we'll cover:
How to use Pinterest to get blog traffic
Pinterest SEO
What the changes will mean in 2020 and beyond
Are group boards still worth using?
The best way to automate your pins
How Pinterest works
The best niches on Pinterest
New Blog Case Study!
---
Using some of these strategies discovered from these chats I am starting a brand new blog.
The sole focus is to get traffic from Pinterest to monetise the blog with ads initially.
If you'd like to know exactly how much time and effort it really takes to make money blogging, this study will show you:
How many posts are written each month
How many pins are created each month
The number of sessions to the website
The number of pageviews each month to the website
How many Pinterest followers the account has each month (not the best metric, but an easy one to track and it can be useful to know)
The income the blog makes each month
This is not going to be full-time work, it will be around 10 hours a week with some help from my lovely wife (let's call it 15-20 hours a week max!)
If you'd like to follow the journey you can get the results sent to you with the opt-in at the bottom of this page.
Note- The case study results will not be shared on this website
Related content:
Full Podcast Transcript
---
Any Thoughts? Is There Anything You Want To be Included? Let me Know!
---
Do you have any questions? Or maybe there's something you really want to know more about. I can make sure I get the right guests on the show for the future.
Drop a comment below!
I genuinely want to hear from you…