There is a growing number of people who want to make money online and at the same time, create a sustainable career in the online world. Because of this, there is also an increasing number of online business opportunities that has popped up.
One of them is called Freedom Breakthrough.
But you likely have asked yourself…
Is Freedom Breakthrough a scam? Well, it isn't.
It is a legit educational course that teaches affiliate marketing and is geared towards helping you make money online with as little effort as you can.
This review will let you see if it is really a legit way to make money online? We are also going to dive into the prices to see if it's really worth it.
Read on to know more about Freedom Breakthrough…
Disclaimer:
This Freedom Breakthrough review has been thoroughly researched with information and testimonials that are available online to anyone in the public. Any conclusions drawn by myself are opinions.
Freedom Breakthrough review: The overview and rankings
Name: Freedom Breakthrough
Founder: Jonathan Montoya
Type: Affiliate marketing course
Success Stories: 40/100
Price To Join: $997 subscription
Freedom Breakthrough Pros
Comprehensive training
Useful content
Legit creator and course
Freedom Breakthrough Cons
No guarantee of success

Expensive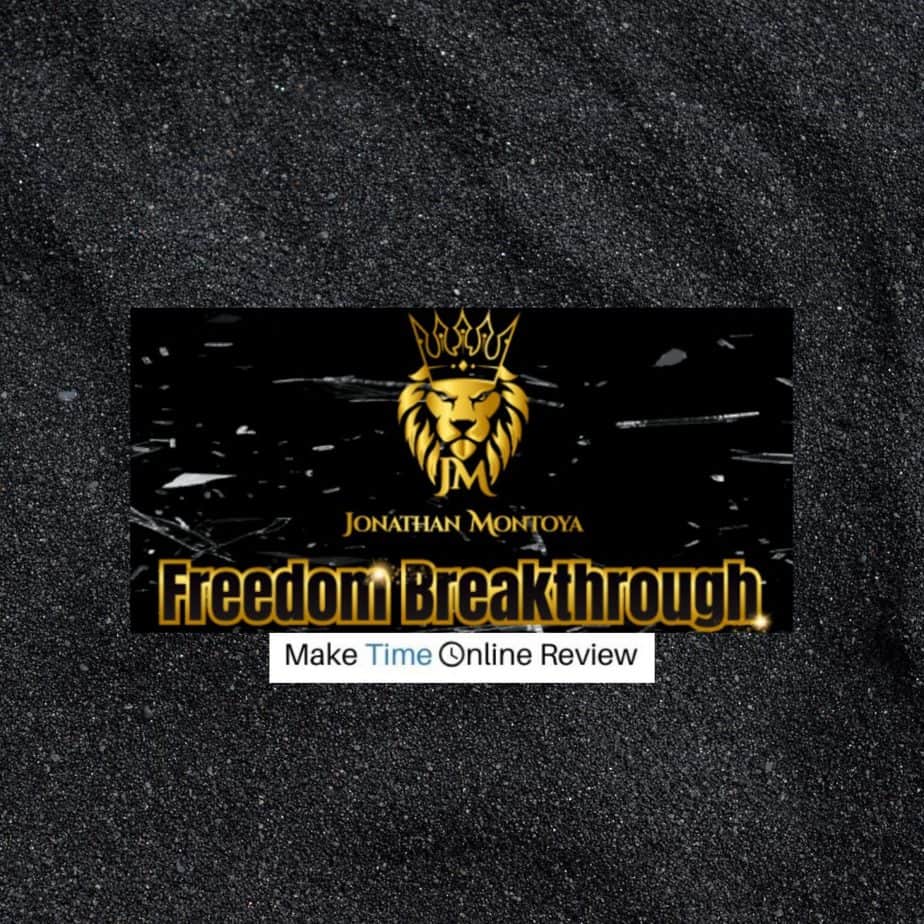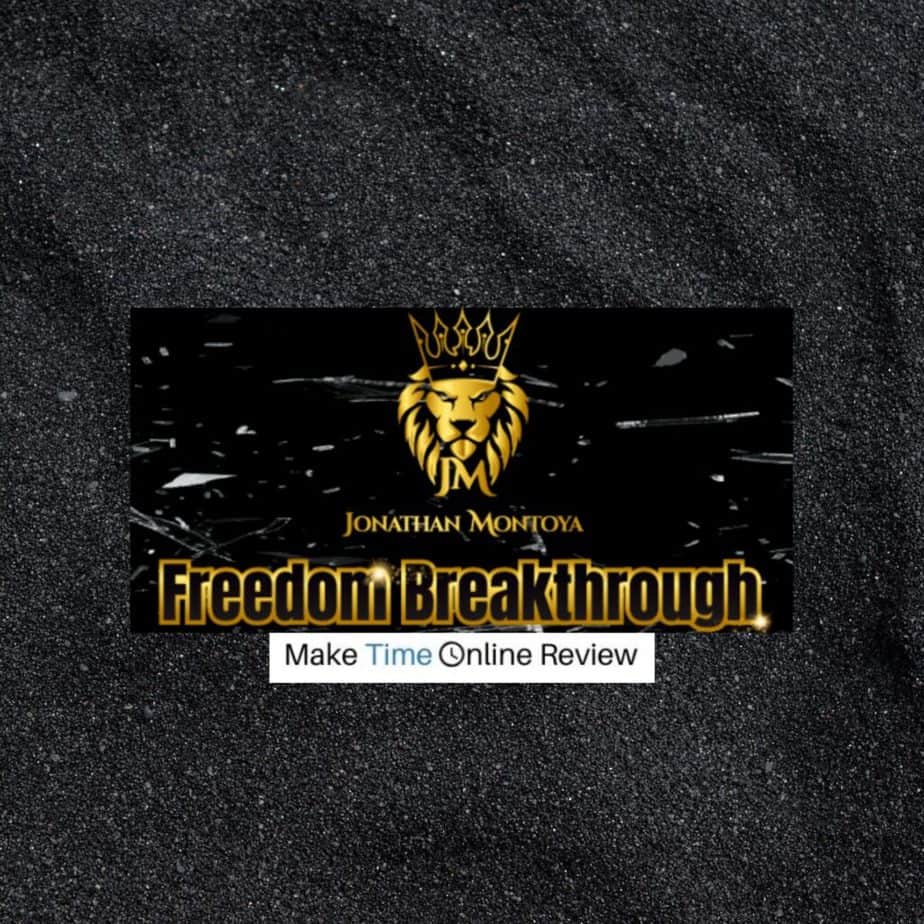 Summary:
Freedom Breakthrough is an online educational course that teaches affiliate marketing and how you can use this to make good money online.
Make Time Online Rating: 40 out of 100
Recommended: No
What is Freedom Breakthrough about?
Freedom Breakthrough is an affiliate marketing course which serves as an educational platform that contains courses for anyone who wants to earn money through affiliate marketing.
Freedom Breakthrough is an affiliate marketing course created by Jonathan Montoya. His aim is to show you how to replace your current day job income by becoming an affiliate marketer. Surprisingly, his works show proof that he can earn more than the average working class joe.
It talks about various areas in affiliate marketing, specifically how you can make passive income from site views, traffic, social media, and many more.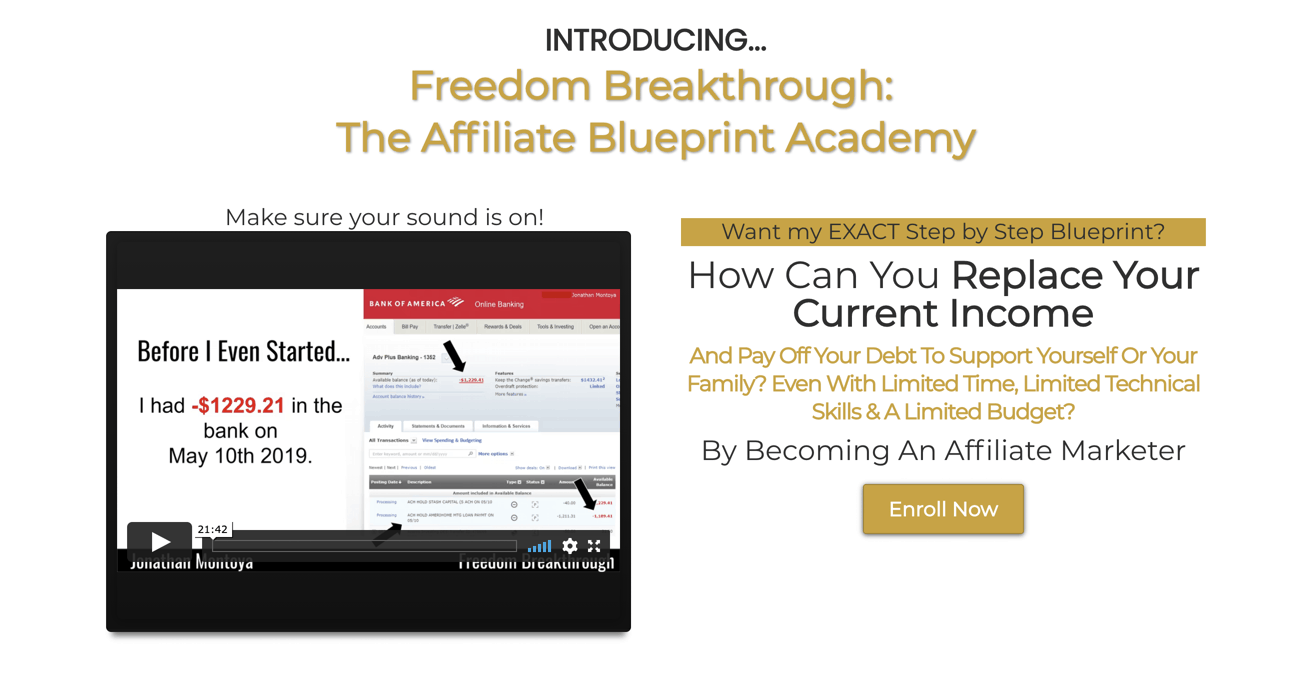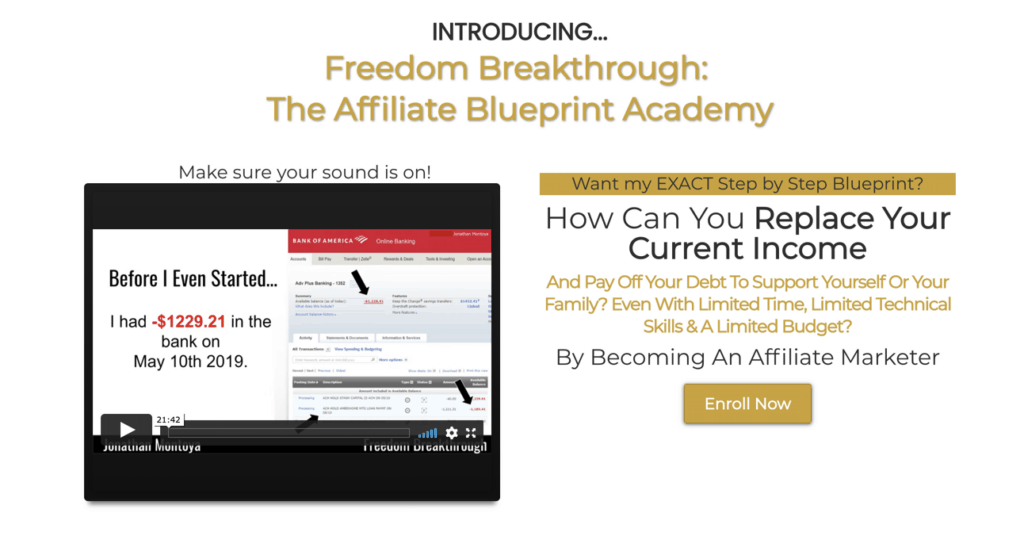 Check out this 14-minute video to know more about Freedom Breakthrough…
So, who created this Freedom Breakthrough in the first place?
Who is Jonathan Montoya?
Jonathan Montoya previously worked as an electrical engineer who was satisfied with his job at first. However, he soon realized that he was losing too much from his family because he worked all throughout the day in the office and did not anymore have time for his family.
And so, he decided to quit his job and ventured into affiliate marketing, where he was surprised to see how much more money he can make from this compared to his day job as an engineer.
He then shared the knowledge he learned over his successful experience as an affiliate marketer, and in the process, created his own affiliate marketing course he called as Freedom Breakthrough…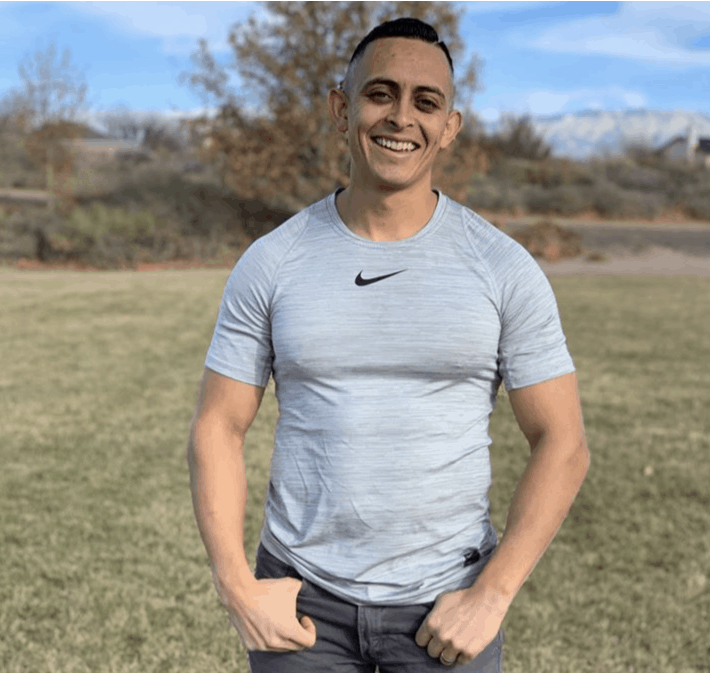 So, how does his work?…
Ready to make passive income online?
Hey, I'm Mike.
I created a passive income online within a year. I had no marketing skills or online experience when I started.
How does Freedom Breakthrough Work?
Freedom Breakthrough is an affiliate marketing training program that is offering online classes that teaches how to make money from affiliate marketing. It also teaches you how to optimize your website, branding, and content to generate leads and higher conversion rates.
This course also teaches how you can use sales funnels in marketing your brand and how you can expand your reach while generating more leads at a fraction of the cost.
But what makes this course stand out is that the content are practical and straightforward. It doesn't blabber just like many affiliate marketing courses. He also has no nonsense topics that dwell too much on vague motivation and mindset areas.
However, there are still a lot of other courses that offer the same or at least similar affiliate marketing topics. Here are some of the most popular ones:
Inside Freedom Breakthrough
The Freedom Breakthrough course consists of 11 modules, each having its own specific topic and area.
Here is an in-depth look on each one:
First Module—Picking the Perfect Affiliate Niche
It teaches you ow to choose the right niche that will perfectly suit your preferences.
Jonathan gives a strong emphasis in creating a stable flow of income that creates a steady pool of audiences. This modile also teaches all about engaging in the right niche so you can promote the brand to your target market.
Second Module—Creating your Affiliate Website
This teaches you how to create an optimized webpage that is geared towards maximum lead generation. It also does this in a way that is easy to understand for beginners, so you won't have any problem learning about the technicalities.
Third Module—Getting on the First Page of Google
It teaches you all about SEO, which is an acronym for Search Engine Optimization. It is all about optimizing your web page to make it SEO-friendly. This means that your website can easily be seen by people when they search it in Google. It's all about learning how to gain a higher ranking for your site and make it appear on the first page of Google.
Fourth Module—The Perfect Affiliate Funnel
This module teaches you how to generate leads through sales funnels. Sales funnels are a bit complex, however, Jonathan makes it easy to understand by simplifying technical terms.
Fifth Module—Email Marketing Mastery
Jonathan discuss how email marketing works and why is it important to your online brand's success. He also gives insights and effective tips in improving response rate from sent out emails.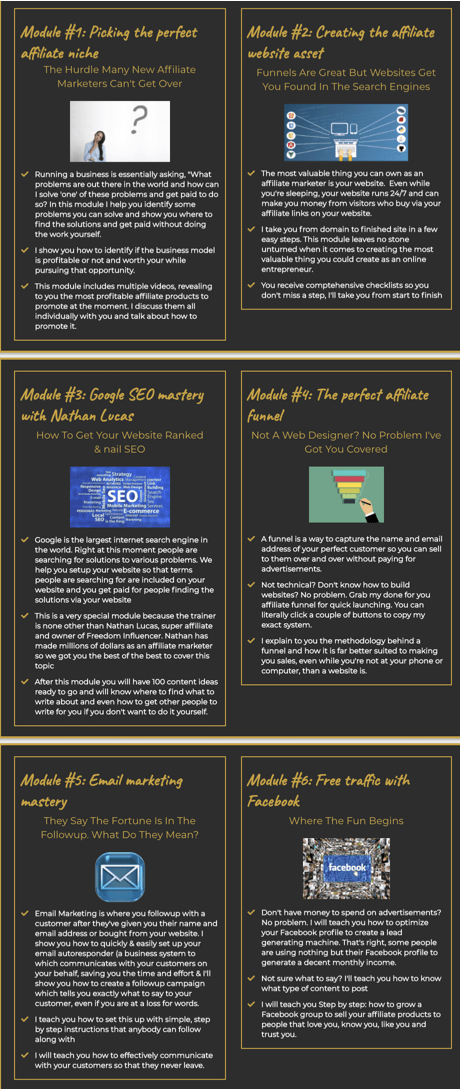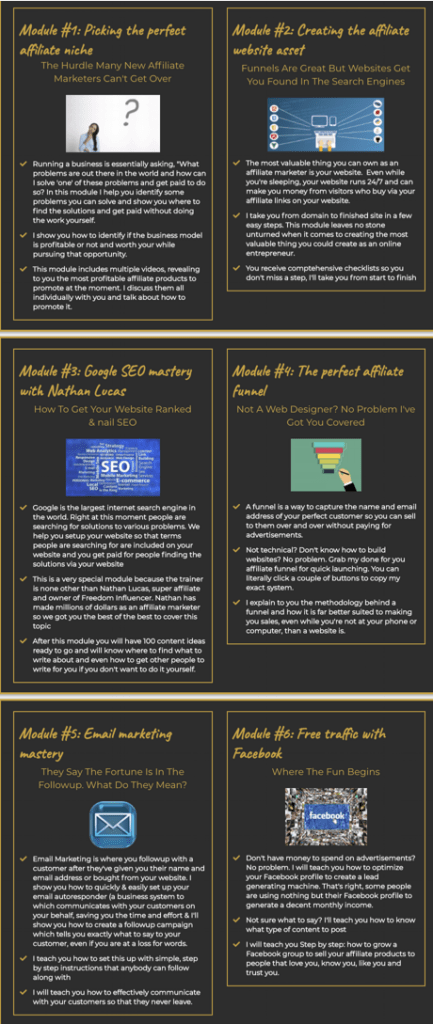 Sixth Module—Free Traffic with Facebook
This module talked about how you can use Facebook to drive traffic into your content. It also gives insights on some tips and strategies to acquire the attention of people in social media.
Seventh Module—The King of Evergreen Traffic – YouTube SEO Mastery
This module teaches you how to use YouTube to gain followers and increase traffic and leads to your website. It also teaches you how to optimize YouTube content.
Eighth Module—Free Traffic with TikTok
The module discusses how you can use TikTok to promote your online brand and target it to the younger generation, knowing that the social media platform is mainly dominated by millennials and Gen Z users.
Ninth Module—Paid Traffic with Google and YouTube Ads
Jonathan teaches how to gain traffic through YouTube Ads and Google Ads. He also shares some strategies on how to use them to generate more leads.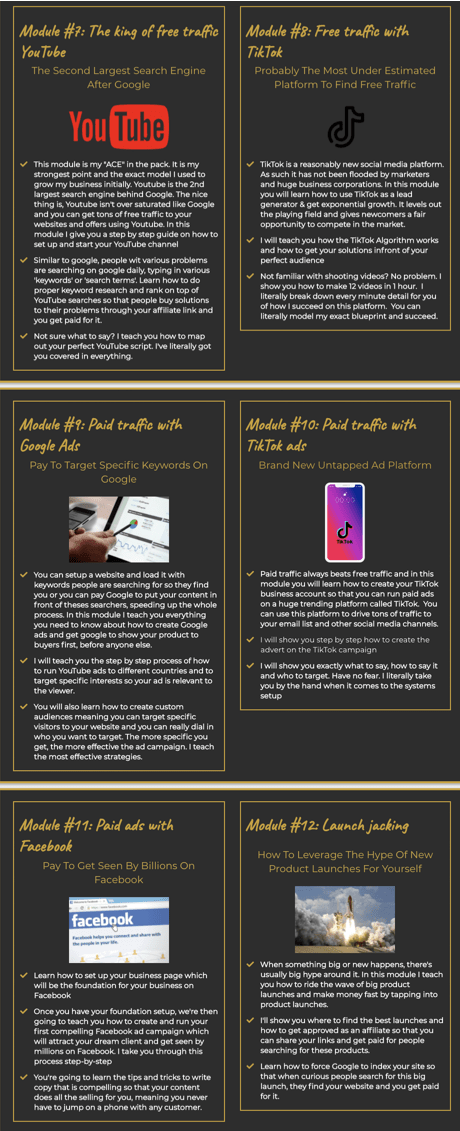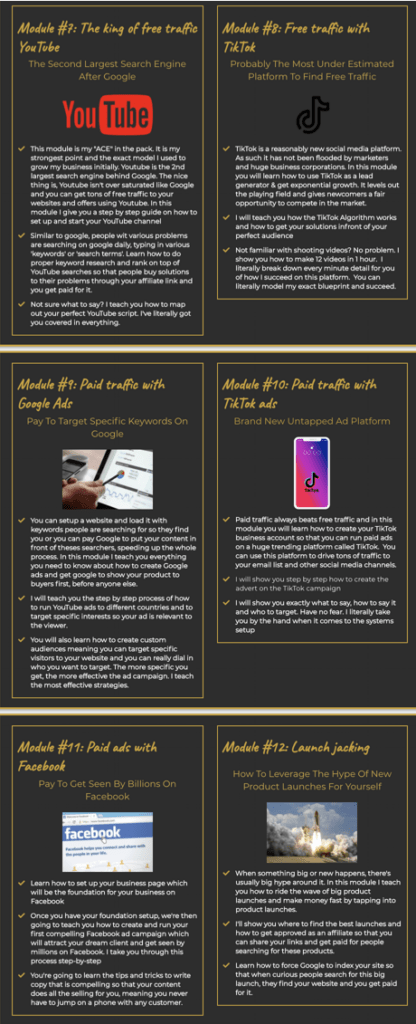 Tenth Module—Paid Traffic with TikTok Ads
This module teaches you how to traffic using TikTok Ads.
Eleventh Module—Paid Ads with Facebook Ads
Learn the techniques to increase traffic and improve sales by using Facebook Ads.
Check out this 18-minute video to have a better look into Freedom Breakthrough…
And what are the prices?…
Freedom Breakthrough cost to join
Freedom Breakthrough costs $997 one-time course. Yes it's a lot, but based on the looks of it, I can say that it's worth trying.
Freedom Breakthrough monthly cost
There are no monthy costs because you just have to pay a $997 one-time fee.
However, there are two payment options:

You can pay $597 for two payments, or just pay a one-time payment of $997. It's better if you choose the second option so you can save $197.
Freedom Breakthrough reviews online
Freedom Breakthrough is an online course that teaches you affiliate marketing and how you can make money from various areas online.
But what you really want to know is if this can really help you earn money online.
To answer this, I've checked a number of client testimonials and reviews about his course…
Common positive Freedom Breakthrough reviews
Comprehensive
Real person
Legit course details
Here are some of the best positive reviews I have found…
"Freedom Breakthrough is definitely a complete affiliate marketing course and is one of the more complete courses I've come across in a while."
"It is reassuring to see that Jonathan Montoya is actually a real person, so that means it is legit. Great tip to watch the video to take you through the entire course curriculum."
Common negative Freedom Breakthrough reviews
Expensive

Not worth the price
Many cheaper alternatives
And here are the negative reviews worth checking out…
"Not sure if I'll be signing up for this though. A $997 course may be too risky for me. I doubt the 14-days refund will be helpful because it takes time to build a profitable affiliate business."
"$997 for an online training course is indeed quite pricey when we can get all the same information on your blog here or on YouTube these days. Maybe people should watch his YouTube videos first to know more about him then decide to join his course. I believe this is a better route."
"However, my only concern with the program is its high price. The $997 cost of Freedom Breakthrough may not suit all lifestyles, especially those under a tight budget."
Is Freedom Breakthrough a scam?
Nope. Freedom Breakthrough is not a scam.
It is a legit and informative course with a lot of good content…
Its founder, Jonathan Montoya, is a well-known affiliate marketer and his identity is well. He also earned a lot thanks to the strategies they teach.
There might be some who are skeptical because of the expensive price tag. But that's alright because you know the complete ins and outs of affiliate marketing. Just make sure you breakeven from the costs later on when you become a successful affiliate marketer.
Freedom Breakthrough pros
Comprehensive training
One of the best things I like about Freedom Breakthrough is its comprehensive training. It does a great job in covering various affiliate marketing areas.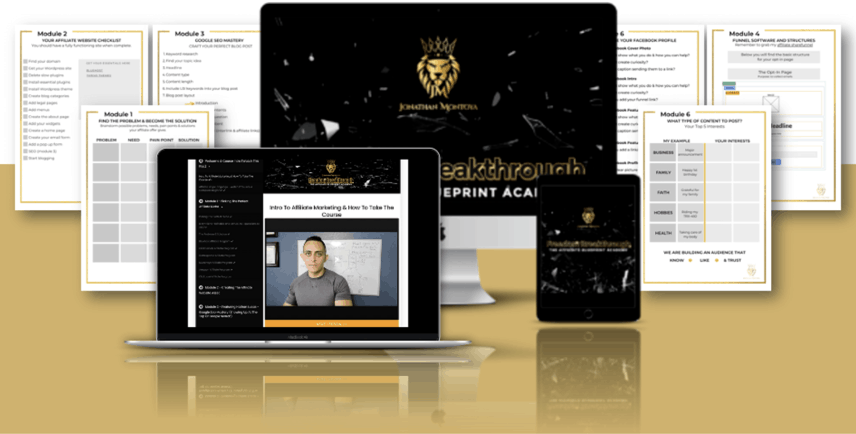 It covers SEO, social media marketing, paid traffic for Google, Facebook, and TikTok, and other areas crucial to your online success.
This isn't common for affiliate marketing courses because most don't cover topics such as these in deep detail.
Useful content
The content present in the course is straightforward and is very practical. It's also easy to understand. They're not blabbering about vague mindset or goal-oriented stuff. Instead, they talk about practical solutions to real and immediate affiliate marketing issues. You can immediately use the things you learned here in real life.
Legit creator and course
Another thing that I like about Freedom Breakthrough is that its creator, Jonathan Montoya, is well documented.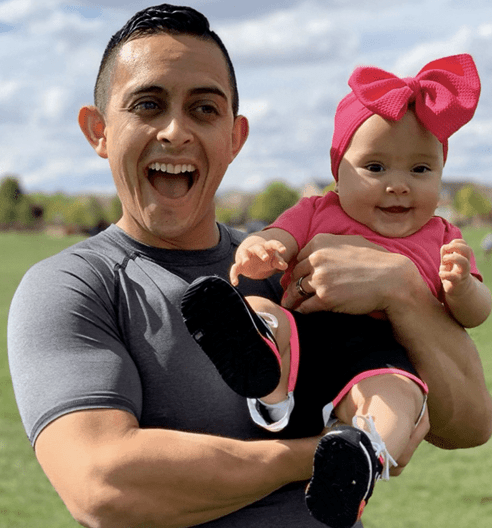 This means that there's a very low chance he will be gone with your money. We also know his life story and how he ventured into affiliate marketing.
Freedom Breakthrough cons
No guarantee of success
There is no guarantee of success even if you subscribed to his affiliate marketing course. There is just no assurance you can earn money from it.
You just pay money for enrollment on course that will teach you how to do affiliate marketing properly. You then have to follow it right and apply them to yourself and in real life for you to make money.
Expensive
Jonathan Montoya's Freedom Breakthrough course is downright expensive. Note that it is worth $997! You pay that amount of money to gain access to an affiliate marketing course.
The course also includes 11 modules. Yes, they're proven effective and educational. But that's just too much knowing that you are just buying access to wisdom.
Ready to make passive income online?
I've created a growing passive income online with no previous marketing skills or online experience…
I've made a special video for you to explain exactly how I did this.
My opinion – Freedom Breakthrough
Freedom Breakthrough is clearly not a scam. It is a legit affiliate marketing course created by a legit and successful affiliate marketer.
It includes informative courses about affiliate marketing and how to make money online. It also has basic and advanced tips on how to earn passive income from various areas in the internet.
But you get all these in exchange for spending loads of cash just to the course. There is also no guarantee of success once you finish their courses.
There are many other better online business opportunities out there that you can try now…
How I make passive income online
In 2018 I had no idea what affiliate marketing was.
Once I learnt about it, it just seemed like a great business model that can grow over time using the power of the internet.
So I tried to figure it out by myself… that got me nowhere fast.
Then I fell for some terrible online scams.
But eventually, I found Wealthy Affiliate. It teaches long-term proven strategies to build an online business with all the tools & support needed.
And this happened…
Once you learn the process of getting thousands of people to find your website every month (for free) there really is not limit to what you can achieve online.
I've reviewed hundreds of courses or programs that claim to help people make money online. And I've spoken to dozens of 6-7 figure online entrepreneurs on my podcast.
This is by far the best place I've seen to help beginners get set up on the right foot. You can read my full Wealthy Affiliate review here (including the pros and cons!)
Or you can watch an insiders video I made that explains exactly how it works here.