A lot of people are already looking for other streams of income. One of which is through the internet. This is also the reason why there is a growing number of online courses out there popping up every minute.
One of these is called Google Sniper.
But you might ask yourself…
Is Google Sniper a scam? Nope, it is not.
It is a legit online course that helps you create niche websites which you can monetize. But is it worth the try? And is it a legit way to make money online? That's what we'll talk about in this review. I'll also show you its content, pros, cons, and what people say about it to give you a headstart on what to expect.
Disclaimer:
This Google Sniper review has been thoroughly researched with information and testimonials that are available online to anyone in the public. Any conclusions drawn by myself are opinions.
Google Sniper review: The overview and rankings
Name: Google Sniper
Founder: George Brown
Type: Digital marketing course
Success Stories: 20/100
Price To Join: $1,495 annual subscription
Google Sniper Pros
Informative content
Legit creator
Google Sniper Cons
Expensive
Unresponsive website
No guarantee of success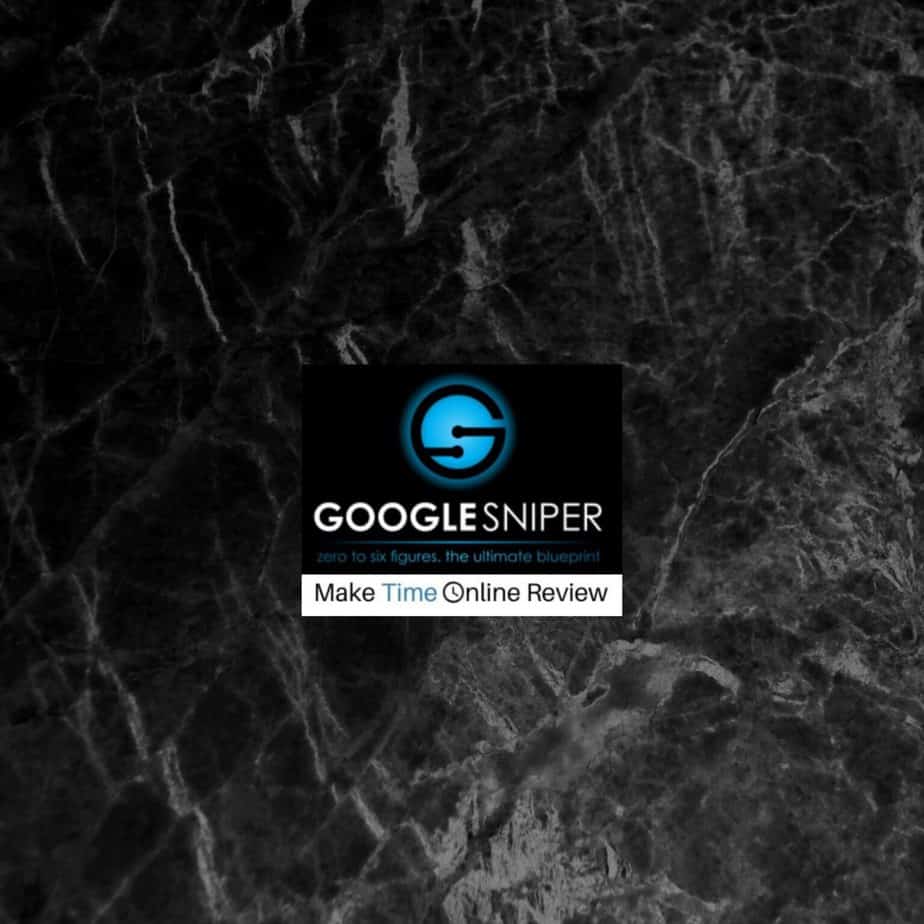 Summary:
Google Sniper is an online educational course that helps you earn money through digital marketing.
Make Time Online Rating: 20 out of 100
Recommended: No
What is Google Sniper about?
Google Sniper is an online training course that helps you create "sniper sites." These sniper sites are websites that are targeted towards a specific niche, which ensures you get a steady stream of traffic, and in the process, cash.

The training includes various content that comes in the form of text and videos. Unfortunately, there are many things I find off about this tool because most of its content is already outdated, considering that Google is always revamping its algorithm.
Nonetheless, there are some things you can learn from this course, such as how you can strategize your web monetization campaign as well as how you can outsource your work to produce quality content.
There are also tips on how you can improve your business development strategies.
Check out this 28-minute video to know more about Google Sniper…
So, who created this Google Sniper in the first place?
Who is George Brown?
George Brown is the founder and creator of Google Sniper.
He is a successful online entrepreneur and tech advocate that believes everyone can make money if they just have access to the right resources on the internet.
He also created previous versions of Google Sniper, which are Google Sniper 1.0 and Google Sniper 2.0.
The former was created back in 2011, while the second version came out in 2013. George Brown is currently promoting the third version which he calls the Google Sniper 3.0, which he says is already in line with the current algorithm of Google.
So, how does the course work?…
Ready to make passive income online?
Hey, I'm Mike.
I created a passive income online within a year. I had no marketing skills or online experience when I started.
How does Google Sniper Work?
Google Sniper is an online course that includes a step-by-step training approach on how you can earn money through web monetization. It includes various content creation techniques that come with SEO and SEM strategies to help your website rank in Google.
These are based on marketing principles that adhere to Google's search engine algorithm.
However, Google is known to constantly update its search engine system so that these so-called snipers which aim to go around the block and tap onto loopholes can't bypass the rules.
This means that there is no assurance Google Sniper's tips are going to work now.
However, there are many other courses out there that share similar content.
Some of the most popular ones are…
Inside Google Sniper
Google Sniper provides online training to increase profits from website monetization. It does this through different forms of media such as:
Video training
Webinars
eBooks
Downloadable PDFs
Links to external resources
Here is a deeper look into the whole Google Sniper course platform:
Getting Started
This is the first part of the online course and serves as the introduction to the campaign. George personally guides you through the basics of web monetization and how you can earn profits from traffic, SEO, and affiliate marketing.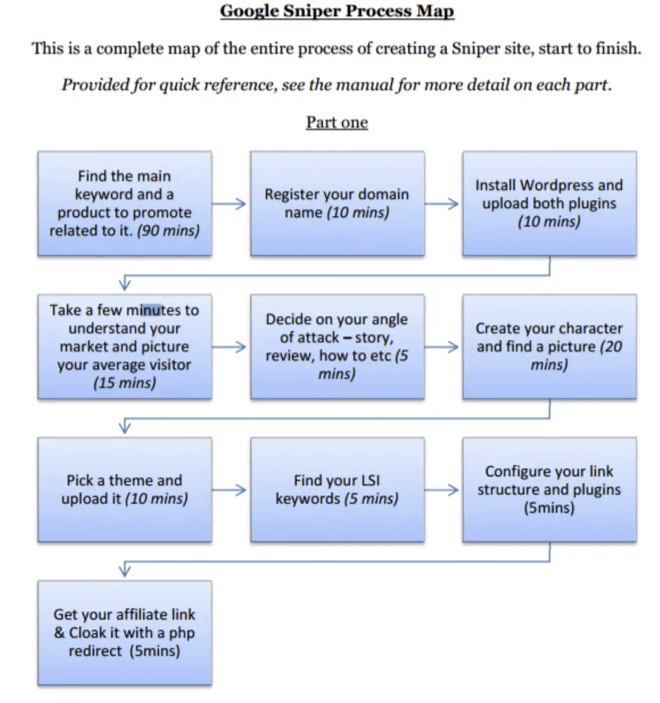 Sniper
This is the core of the system which includes the training videos and ebooks filled with information on basic and advanced tips to create a profitable website targeted towards a specific niche. This segment helps you build a niche website and how you can outsource the tasks to other people virtually.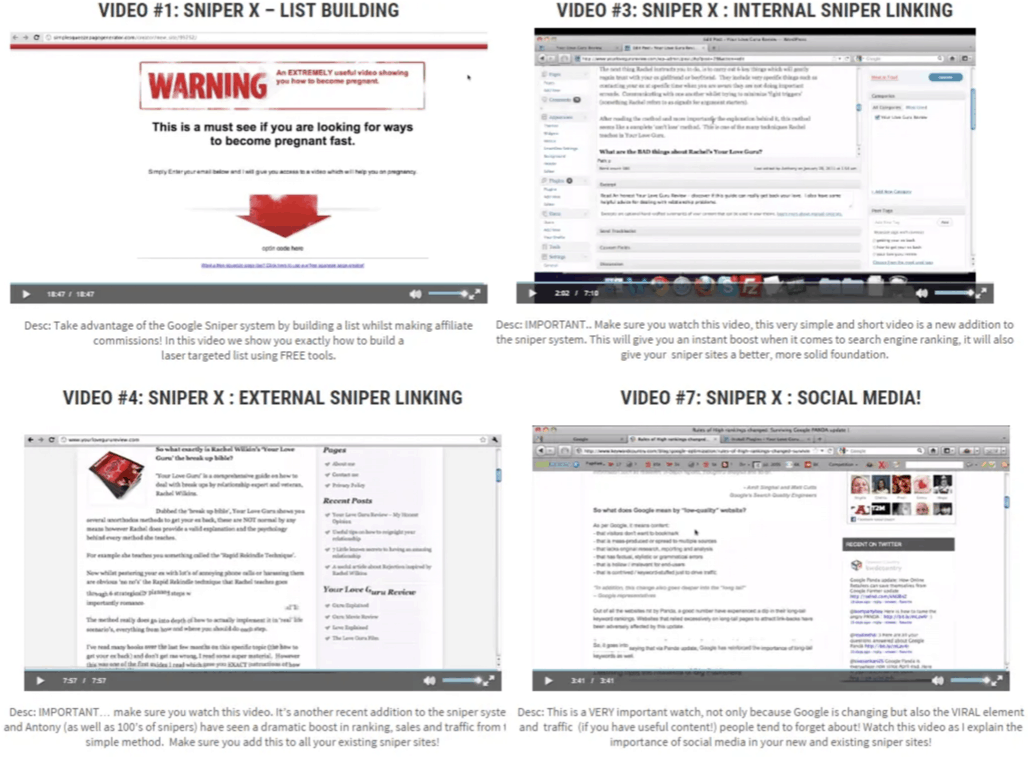 Sniper X
This section includes live question and answer sessions that facilitate every week. It also has webinars on multiple topics and strategies that help eBooks subscribers achieve more success.
Sniper Cash Machine
Additional training on how to market your website to the right audience is provided here. This helps members to produce their affiliate products. Specifically speaking, this dives deep into video marketing, Facebook marketing, Twitter domination, and how to hire ghostwriters.
Check out this 14-minute video to give you a better understanding of Google Sniper…
And what are the prices?…
Google Sniper cost to join
I have seen many reviews out there saying that Google Sniper is free to join.
But it's not…
It'll cost you $47 every month for the subscription alone. Not to mention that there are still many optional upsells waiting for you.
How much are these? Well, it amounts to $187.
Google Sniper monthly cost
The monthly cost is $47 for the subscription fee.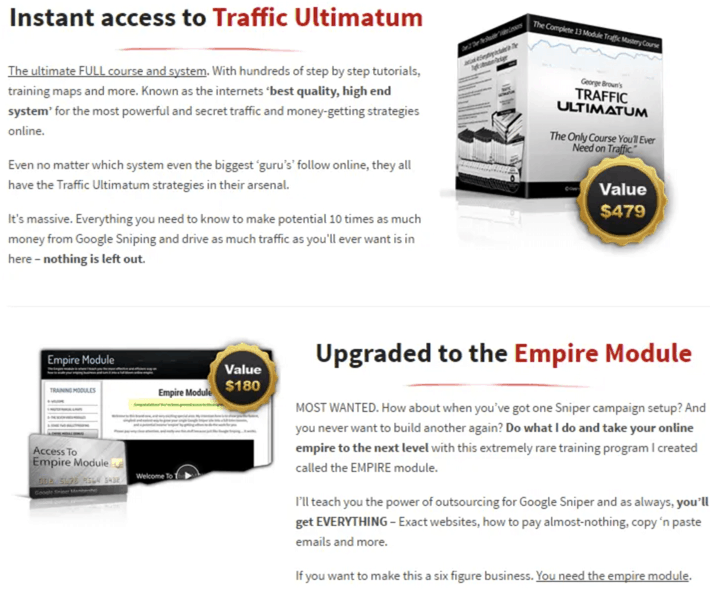 But there is a good chance you'll spend more than that and shell out up to $187 or even more because of the hidden optional upsells this course will sell you.
Google Sniper reviews online
Google Sniper is an online course that teaches you affiliate marketing and how you can make money from various areas online.
But what you really want to know is if this can really help you earn money online.
To answer this, I've checked a number of client testimonials and reviews about his course…
Common positive Google Sniper reviews
Here are some of the best positive reviews I have found…
"If you can watch the sales pitch and ignore all the over-hyped screenshots and fast cars then you'll see this product is a high quality business course and start making money in the next few months when your first site is up and running."
Common negative Google Sniper reviews
Unreliable

Outdated

Not worth the time and money
And here are the negative reviews worth checking out…
"The sales video shows George Brown telling you Google Sniper lays out the process of earning affiliate 6-figure commissions in an easy to follow and he assures us you don't need to spend any money, at any point, to make it happen. Except, skip to the pricing section and you'll see this is an outright lie."
"Having spent the last 4 hours going through the Google Sniper training, I can't in good conscience recommend anyone sign up and follow these outdated methods."
"There have been hundreds of Google updates since George last bothered to refresh the training and this is a real problem in the world of SEO where getting sites ranked is evolving at such a rapid pace."
Is Google Sniper a scam?
Google Sniper is not a scam.
It is a legit online educational platform that teaches you how to build a niche website and monetize it via affiliate marketing, SEO, content creation, and outsourcing.
But many find it disappointing to pay $47 monthly and then receive upsell offers of up to $187 and more. Hence, many consider this as a scam…
Google Sniper pros
Informative content
The only thing I find nice about Google Sniper is that it is informative.
It provides practical lessons on affiliate marketing and SEO, as well as proven tips on how you can outsource your website's content creation to ghostwriters.
Google Sniper cons
It's all about hype
This online platform is just all about hype. George Brown talks in a very enticing way to attract potential subscribers and clients.
He also talks about gaining massive amounts of wealth through web monetization. When the reality is, it doesn't happen that way in a very short amount of time. It takes months and years to earn a decent profit from web monetization.
Unreliable creator
Aside from Google Sniper, George Brown doesn't anymore have any solid credibility or portfolio which proves his expertise in the field.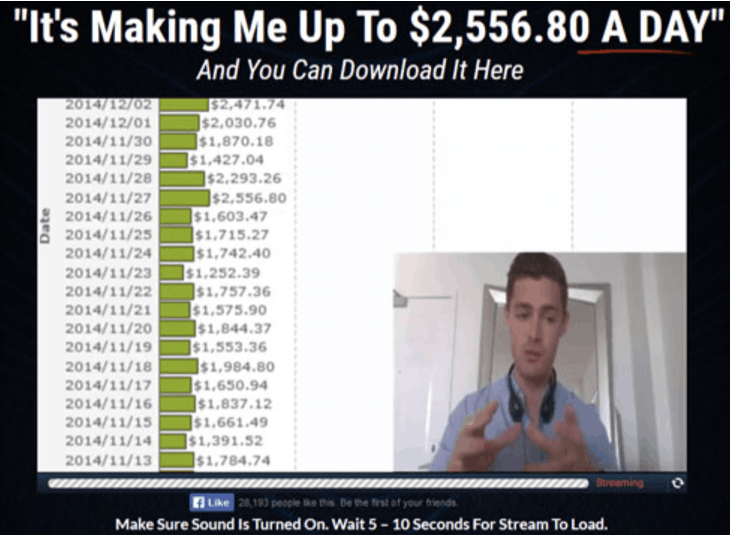 Yes, Google Sniper is a success.
But that's just not enough to show that he knows what he's doing.
Not to mention that this course is…
Obsolete
The things that this course teaches and talks about are already mostly obsolete.
Yes, there are two previous versions of Google Sniper and George Brown says that he already updated these with the Google Sniper 3.0, which we have now.
Just take a look at this…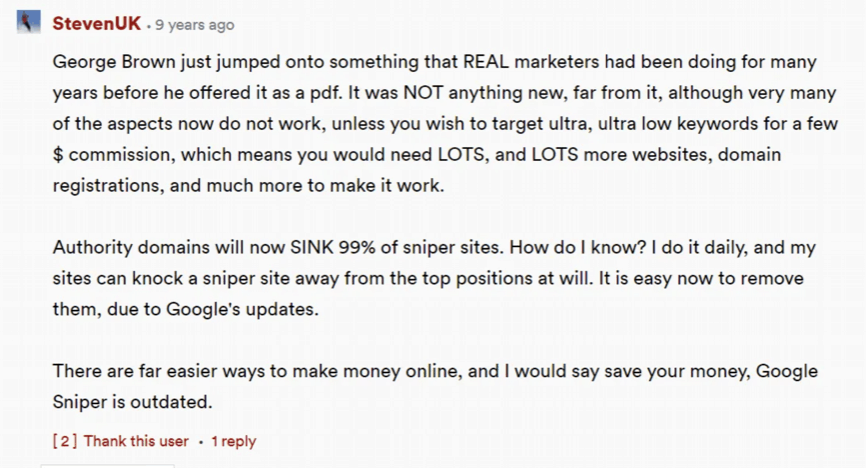 But still, he can't outrun the pace that Google is doing in updating its algorithm, and most of the things he teaches just don't apply anymore. This means that there is no assurance that this course is effective…
No guarantee of success
There is no guarantee of success because what you're getting is just knowledge from a supposed affiliate marketing and SEO expert.
It still depends on how you are going to implement these changes and learnings to your affiliate marketing career…
Ready to make passive income online?
I've created a growing passive income online with no previous marketing skills or online experience…
I've made a special video for you to explain exactly how I did this.
My opinion – Google Sniper
Google Sniper is not a scam. It is a legit web monetization course that talks about SEO, affiliate marketing, and content outsourcing, so you can build an authority website.
It teaches you how to earn passive income from your website with the help of its basic and advanced tips in attracting higher traffic.
But you get all these in exchange for spending monthly expenses. There is also even no guarantee of success just like what George Brown advertises.
There are many better online business opportunities out there that you can try now…
How I make passive income online
In 2018 I had no idea what affiliate marketing was.
Once I learnt about it, it just seemed like a great business model that can grow over time using the power of the internet.
So I tried to figure it out by myself… that got me nowhere fast.
Then I fell for some terrible online scams.
But eventually, I found Wealthy Affiliate. It teaches long-term proven strategies to build an online business with all the tools & support needed.
And this happened…
Once you learn the process of getting thousands of people to find your website every month (for free) there really is not limit to what you can achieve online.
I've reviewed hundreds of courses or programs that claim to help people make money online. And I've spoken to dozens of 6-7 figure online entrepreneurs on my podcast.
This is by far the best place I've seen to help beginners get set up on the right foot. You can read my full Wealthy Affiliate review here (including the pros and cons!)
Or you can watch an insiders video I made that explains exactly how it works here.