In the spirit of full transparency, know that this Four Percent Challenge review contains affiliate links. This means if you make a purchase through these links, I may receive a small commission at no extra cost to you. Click here to read my full disclosure policy.
You have probably seen the Four Percent Challenge advertised and you may have sat through the 2-hour webinar already.
Most people think it's super hard to start making money online and have no idea where to start. The Four Percent Challenge promises to be the solution helping you get to $10,000 then $100,000 and even $1 million.
This honest Four Percent Challenge review, with inside videos, will show you the truth about the program from an unbiased point of view.
Four Percent Challenge Review- The Overview and Rankings
---
Name: Four Percent
Owners: Vitaliy (Vick) Strizheus (50 out of 100)
Website URL: fourpercent.com
Type: Affiliate Marketing Training and Sale Funnel
Training: 60 out of 100
Success Stories: 35 out of 100
Price: $197/ month (+ hidden costs of over $200/ month)
Maketimeonline.com Rating: 48 out of 100
Four Percent Challenge Pros and Cons
---
Pros
Step by step training useful for beginners
Legit business model and method of making money online
No additional upsells
Positive reviews from trustpilot.com
30-day money-back guarantee
Cons
Additional costs add up to be a lot more than $49/ month
Focus on paid traffic
Steep learning curve
Lessons get unlocked as you go
Vick has a background of running scams
What does Four Percent Challenge do?
---
The Four Percent Challenge promises to help you to make money online with affiliate marketing.
It says it will show you how to create a sales funnel and how to get qualified traffic into your funnel.
The short video below shows some of the founder, Vick's, values with real people's opinion about the Four Percent Challenge.
When you sign up for the Four Percent Challenge you will find the homepage that looks like this…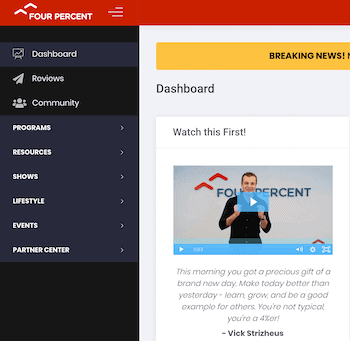 So let's dig in a bit deeper and find out…
What's Inside The Four Percent Challenge?
Before you buy any online course it's always a good idea to check YouTube and see if anyone has an "inside the program" video.
Check out this short 2 minute inside look to the Four Percent Challenge…
So what do you actually get inside?
There is a 7 step action plan for you to follow to start making money from affiliate marketing:
New Member Orientation (Details, Strategy, Plan)
Quick Setup & Activating Multiple Streams of Income
Funnel Setup
Power Base Activation
Plant Your Flag
The Miracles of Live Events
Operation $100K
Steps 2 & 3 are where you will need to purchase the 8 tools recommended by Vick:
Tecademics (Internet Marketing College)
ClickFunnels (Sales Funnel Builder)
LeadPages (Page Builder)
Click Magick (Tracking Tool)
GetResponse (Autoresponder)
AWeber (Autoresponder)
Udimi (Solo Ads)
NameCheap (Website Domain Name)
Once you get these tools the real work will begin. However, it's not really made clear that you will also need to purchase these tools before you start.
Now, I can almost hear your mind saying…
Is The Four Percent Challenge a Scam?
---
There are two main ways an online course can be a scam:
Take your money and run off into the sunset, never to be heard from again
Provide some information but it doesn't live up to their promises
Therefore, the Four Percent Challenge is not a scam. It clearly provides you with the training and tools to make money from affiliate marketing.
But as you continue to read this Four Percent Challenge review, you will start to wonder whether this is the best way to learn about affiliate marketing if you are new to it.
Just to be fully transparent with you, I have not purchased this program myself and I do not endorse it in any way.
I have researched the website, testimonials and information on the Internet to get to the bottom of what this program genuinely does. This is because I have been burnt from programs just like this in the past and I want to prevent others from making the same mistakes. If you'd like to learn more "Ways to Spot an Online Marketing Scam" then click the highlighted text.
Related content:
Four Percent Challenge: The Good
---
Here are some of the things I like about Four Percent Challenge…
Key Terms:
Black Hat Methods – Using lies and unethical methods to make someone buy something
White Hat Methods – Being honest and genuine to help people make informed decisions about purchases
Pyramid Scheme – recruits members via a promise for payment from referring others to the service rather than providing a product
Affiliate Marketing- Connecting a customer to a product they are looking for and receiving a commission for doing so
Red Flag – A warning sign
#1 Step By Step Training
---
This is an absolute must for beginners learning anything.
It obviously doesn't mean everyone will follow it to the T but when you are learning about something new, it's great to have an exact process to follow with small action points to take each time.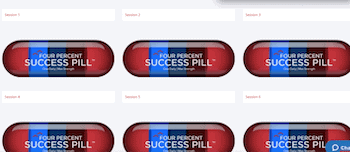 There are over 30 "success pills" for you to take.
And it's recommended to only take one a day so you don't get overwhelmed.
#2 Legit Business Model
---
Affiliate marketing is a legit business model.
Many people have had great success from it as you are about to find out in this Four Percent Challenge review.
Here is the overly simplified model…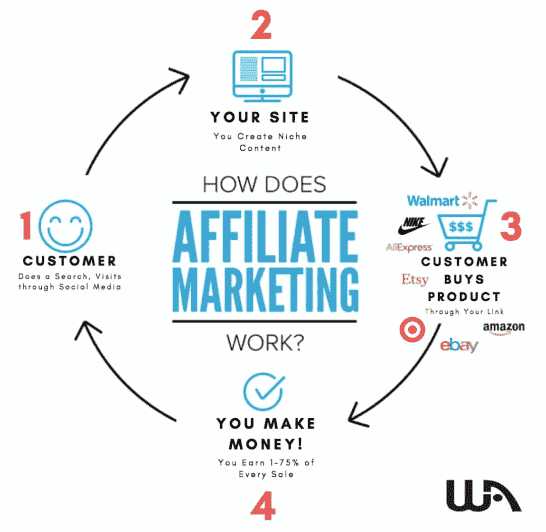 If you're like me then you're probably sceptical about anything that you don't know works for yourself.
So check out my chat with Jeff and Ben who make over $240k/ month from affiliate marketing (they achieved this in 3 years knowing nothing about it when they started).
#3 No Upsells
---
This is always a great sign.
The price you see is the price you pay for the Four Percent Challenge forever.
They won't suddenly chuck in another product that you need to buy to succeed.
However, as you're about to find out in this Four Percent Challenge review, this is not the only tool you need to purchase.
#4 Positive Reviews
---
Trust Pilot has 98% positive reviews for Four Percent (this has many other programs other than the challenge) with an average of 4.8 out of 5 stars from over 600 reviews.

It's important to take this with a pinch of salt as so many of the reviews are from people that have only just signed up.
They have no track record and are complete newbies.
My guess is it's one of the training requirements as new members go through the course to leave a review on Trust Pilot.
#5 30 Day Money Back Guarantee
---
For peace of mind!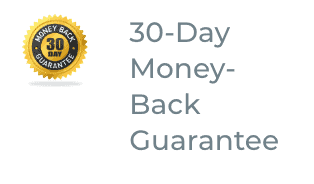 At least you get the chance to try the program for 30 days then decide if it is for you or not.
This is a great signal from any online course as they are clearly confident in their product.
Four Percent Challenge: The Not So Good
---
Here are some of the bad parts of the Four Percent Challenge that you should be aware of before diving in…
#1 Additional Costs- Over $185 a month
---
So in addition to the $197 you need to pay for the course you are recommended to join 8 more tools…
Tecademics: It used to cost up to $12,000 but currently this product is not available
ClickFunnels: $97/month
LeadPages: $37/month
Click Magick: $17/month
GetResponse: $15/month
AWeber: $19/month
Udimi: Varies depending on your solo ad costs but can easily be $200+/ month
NameCheap: $10+/year
You're looking at another $185/ month minimum for the additional costs!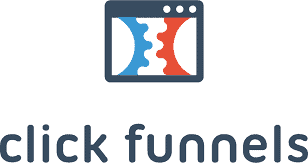 When you dig into the Trust Pilot reviews you can find some more honest ones from people that have tried the program for a while.
The review below shows that this is clearly a pain point for real members, with this guy already spending $660 with nothing to show for it.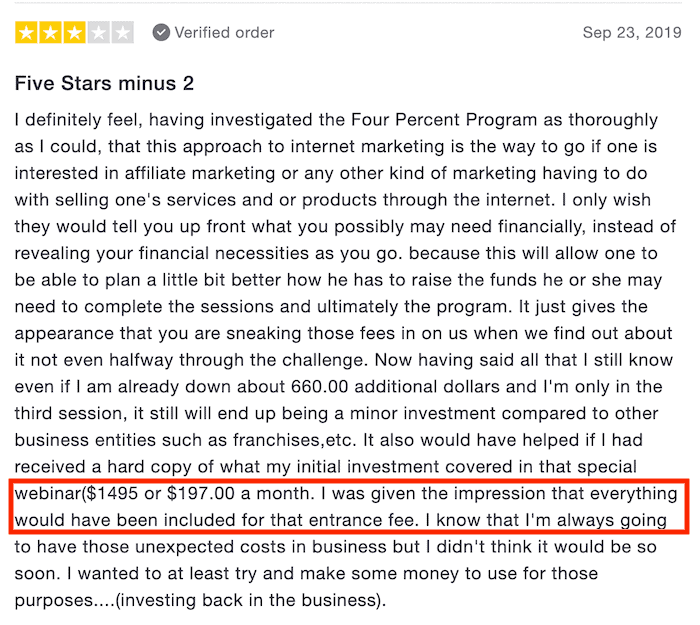 With this information up front you can make a more informed decision.
#2 Focus on Paid Traffic
---
Here's the truth…
Paid traffic works and can scale your profits quickly…
However, you NEED a sales funnel that converts before you use it.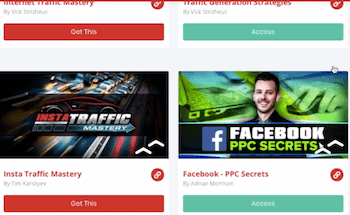 As you can see from the screenshot and review above, members are taught how to use paid traffic early on.
This is a terrible idea with new members as they are only going to throw money away to get a handful of leads and get nothing back.
It's not uncommon for people to end up using credit cards to chase lost money, racking up piles of debt.
Any newbie should be taught how to get free traffic to test their sales funnel before scaling with paid traffic.
#3 Steep Learning Curve
---
Each platform has a learning curve…
And there are a lot of platforms and tools you are recommended to use!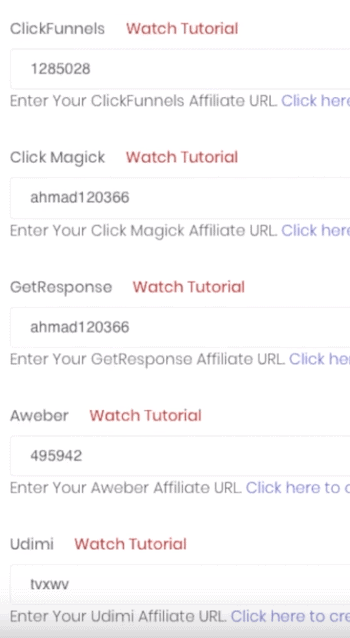 It's not as simple as just paying $97 a month for clickfunnels and then sitting back to watch the money roll in.
You need to use it regularly, fail, try some more and tweak your funnels to get them working.
And you are recommended to do this on 8 platforms all at the same time.
If you are not a super quick learner (and even if you are) you may end up overwhelmed and confused.
#4 Lessons Are Locked
---
For beginners, this could be seen as a good thing to prevent overwhelm.

However, people learn at different speeds. Everyone will be at a different stage of their affiliate marketing journey.
So it makes no sense for online programs to do this.
As you can see in the review above, people can be left frustrated by having to wait a few days to receive training they have paid for.
#5 Vick's History… He Was Almost Sent to Jail!
---
This is quite a long story and personally I believe Vick tries to help people these days.
However, he was caught up in a scandal in previous online programs (aka scams) that stole other people's affiliate commission and fraudulently took people's "insurance policy" as a loan.
I'd like to believe he is a changed man. But it's a major red flag for it to have got as far in the court process as it did!
#6 Pyramid Scheme Signals
---
First of all, the Four Percent Challenge highly recommends numerous tools as you've already read in this Four Percent Challenge review.
It's no surprise that each of these earns Vick affiliate commission.
Nothing too wrong with this so far but…
You are given a "done for you sales funnel" to promote The Four Percent Challenge.
Again not a huge amount wrong with that.
Now, you can use the lessons to promote anything you want, but you're really pushed to promote The Four Percent Challenge more than anything else. As in you won't be given a done for you sales funnel to promote any other program!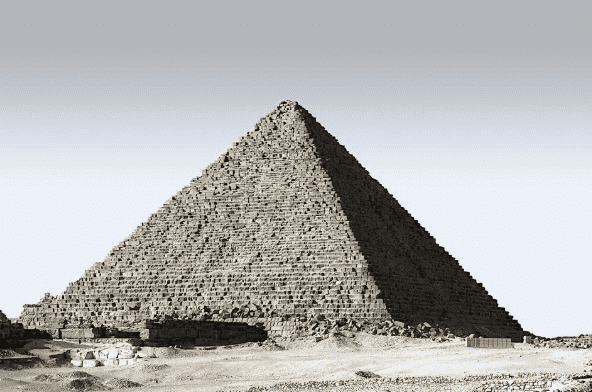 There is no product they are selling or offering other than the training (which really promotes The Four Percent Challenge!)
Pyramid Scheme – recruits members via a promise for payment from referring others to the service rather than providing a product
It's not an outright pyramid scheme as you can use these skills to promote anything you like so the training could be viewed as the product.
But it's certainly important to be aware of this!
Related content:
My Opinion – Four Percent Challenge
---
There is a lot of legit training and knowledge you can learn from the Four Percent Challenge.
It's really aimed at new affiliate marketers but in my opinion, newbies should avoid this like the plague.
There is too much to learn and will definitely leave a large hole in your pocket before you start making any money.
Simply put… it's not worth the money!
If you're like me you're probably interested in seeing other alternatives to the Four Percent Challenge.
An Evergreen Strategy That Brings You The Money
---
It wasn't that long ago that I was still trying to figure out how it's possible for people to make money online.
At the time I was willing to put in hard work and set up a legit online business. But I was looking for something that ticked 3 boxes:
I could work on when I wanted (I was still in a full-time job)
Didn't cost a fortune to start and maintain
Didn't need me to sell stuff to my friends and family
It was in September 2018 that I found Wealthy Affiliate. And In September 2019 I quit my full-time job.
The best thing about it is:
It's free to start
Customers are brought to you that are already interested (just think about how you found this review… there was no money or time spent from me promoting this!)
You get me as a personal coach to help you on your journey & access to the community of hundreds of thousands of affiliate marketers
When you try out this program you will see why so many people recommend it.
No credit card details required– check out the bonus at the bottom of this page
Four Percent Challenge Review: The "MakeTimeOnline" Final Word
---
To sum up this Four Percent Challenge review…
It's not worth the money. You can learn this information for a fraction of the price without being forced into buying specific tools that will cause you to become overwhelmed if you get them too soon.
If you are already making money as an affiliate marketer and ready to scale quickly then this may a decent opportunity for you.
Keep changing for the better,
Mike
P.S. Since you're still here, I'm going to assume that you are interested in making money online to free up your time. So check out my review of my #1 recommended program and join the form below to get some great freebies, including a 1-1 chat with me…