In the spirit of full transparency, know that this Blast4Traffic review contains affiliate links. This means if you make a purchase through these links, I may receive a small commission at no extra cost to you. In fact, you will often receive a discount or bonus signing up fee! Click here to read my full disclosure policy.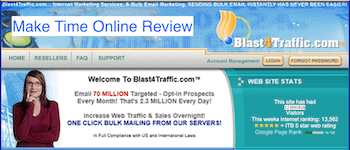 You are probably here because you have a product or service to sell and you are not seeing the results you wanted.
Most people think that the reason their product isn't selling is that they are not getting enough "eyes on it". Blast4Traffic promises to be the answer to your problems by sending out 2.3 million emails a day promoting your website link.
This Blast4Traffic review will reveal the truth about the program and provide genuine solutions to these problems.
Blast4Traffic Review- The Overview and Rankings
---
Name: Blast4Traffic
Owners: Unknown (0 out of 100)
Website URL: Blast4Traffic.com
Type: Email Traffic Generation
Success Stories: 10 out of 100
Price: $34.50 one time fee (plus upsells)
Maketimeonline.com Rating: 5 out of 100
Pros and Cons
---
Pros
It doesn't cost a fortune and you should be able to get your money back within 60 days
Cons
Outdated
Unrealistic promises
Many complaints about it
The emails are likely to be blocked
What does Blast4Traffic do?
---
Simply put…
It sends emails to people with a link to your website.
Ideally this would be a landing page that you already have created to either:
Sell a product or service
Collect emails
Both of the above
As you absorb this information you'll see that the purpose of Blast4Traffic is to help you to boost your sales by driving traffic to your website.
However, as you continue to read this Blast4Traffic review you will discover that if you are struggling to sell a product already then increasing your traffic is unlikely going to help. Plus you'll find out what the best online marketers do.

So Blast4Traffic claims to send 70 million emails a month… that's 2.3 million a day!
As you can already see, Blast4Traffic is good for email marketing. While online promotions nowadays are typically done on social media and the like, email is still a viable asset.
That's because, based on the attention span of some people, an email sent to them is more likely to become viewed than a post on social media. And a well-crafted email pitch will likely catch a potential lead's interest.
While it's intended for email marketing, Blast4Traffic can be used by malicious users, who may use the product to spread malware.
A potential attacker might write a malicious website containing different kinds of malware and use a bulk emailer like Blast4Traffic to send them to millions of potential victims across the web.
Furthermore, some untrained users will still click on any link they're sent without checking them thoroughly, which increases the risk.
Sending millions of the same kind of emails to multiple addresses is already considered spamming. Most major email providers (Gmail, Outlook, etc.) have strong spam-detection capabilities.
You'll even be lucky if your email reaches the recipient's Junk Mail folder (i.e., some emails of this kind can get blocked before it reaches the recipient's folders).
If you're like me, then you probably think it's starting to sound pretty good, even if only a small per cent sees this link. So let's dig in…
What Does Blast4Traffic Include?
A lot of junk to be honest…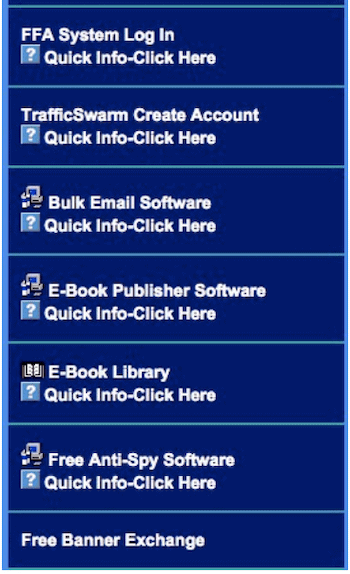 The links above are some of what's included in the members area. They are either:
Other traffic-generating tools you'll need to purchase
Link exchange programs (i.e. you share mine if I share yours)
Random lists of search engines
Ebook software
The website makes it seem like you are receiving a lot of bonuses but in fact, a lot of these are "upsells". This means you will have to pay more for another program to access it.
If you are thinking, why is this website linking you to other programs?… check out "Affiliate Marketing Online: The Secrets Revealed". This is the first piece of the puzzle that the best online marketers use before creating their own product.
So more importantly…
How do You Send Emails on Blast4Traffic?
This is the main feature that you are spending your $34.50 on.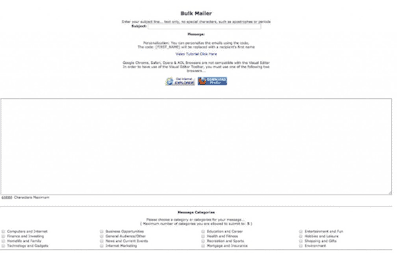 It's pretty simple to use:
Put your headline in the top bar
Write your email (and put in a link to your landing page or whatever you want)
Select up to 5 categories of people that you want to receive your email
Also learn that there are loads of other similar programs out there, just like:
Now I can almost hear your mind saying… surely it's worth $34.50 to send 2.3 million emails a day forever?
But it's likely that you are reading this Blast4Traffic review because you've already thought…
Ready to make passive income online?
Hey, I'm Mike.
I created a passive income online within a year. I had no marketing skills or online experience when I started.
Is Blast4Traffic a Scam?
---
There are two main ways an online program can be a scam:
Take your money and run off into the sunset, never to be heard from again
Provide some information but it doesn't live up to their promises
Now Blast4Traffic isn't a type 1 scam.
However, as you read on to the red flags section you will see why it certainly is like scam number 2.
A huge sign that Blast4Traffic was a scam is that Gmail didn't like their web address when we tried sending emails.
If Google stops you from sending a website link to someone, this is a massive sign to steer clear of it. If the company that owns the internet tells me, "you can't send your friend this link because we've received lots of spam complaints,"… I'm going to listen!
The product was made way back in 2008 and needed to be updated.
While the product does have a 60-day money-back guarantee, there are still complaints from users who never even get their money back whenever they try to avail of it.
Overall, Blast4Traffic is just another scam. But it's not the type of scam where they" just take the money from you and run away, leaving you with nothing. It's the type of scam wherein they'll give you this product for a price, but it will completely fail your expectations.
Just to be fully transparent with you, I have researched the website, testimonials and information on the Internet to get to the bottom of what this program genuinely does. This is because I have been burnt from programs just like this in the past and I want to prevent others from making the same mistakes. If you'd like to learn more "Ways to Spot an Online Marketing Scam" then click the highlighted text.
Blast4Traffic Red Flags
---
So there are a lot of things that make us know Blast4Traffic is not as good as what they claim. So here are the hidden truths that everyone should know before wasting their time and money on the program.
Key Terms:
Black Hat Methods – Using lies and unethical methods to make someone buy something
White Hat Methods – Being honest and genuine to help people make informed decisions about purchases
Affiliate Marketing- Connecting a customer to a product they are looking for and receiving a commission for doing so
Red Flag – A warning sign
#1 Emails Blocked on Gmail
---
If you are to send an email with a link to Blast4Traffic in the email then Gmail will block the message from sending.
Check out the notification I received when trying to send an email with their website to my business email.

If Google is blocking the website from being shared do you think it has a good reputation?
#2 Unrealistic Claims
---
So here are some of the claims the landing page makes at the end…

It's safe to say that they have no idea whether this is "the best system on the Internet". In fact, I can confidently say that is not true!
Don't you think it's a bit of a warning sign when something feels the need to tell you it's "not a scam"?
And the next red flag proves that there is not 100% satisfaction guaranteed…
#3 Real Users Complaints
---
Here is what people are saying on the Warrior Forum (a well respected Internet marketing forum) about the product…


Yes the website has a load of "testimonials" down the side of the page, but it is easy enough for anyone to either make these up, or have a few friends write them for them.
Not to mention the bigger issue here…
#4 It's so Out of Date
---
Check out the date stamp in the members area below…
The product was created in 2008!
You can just tell from looking at the website that it has hardly been updated (if at all) since then…
Maybe you're still thinking, well there is a 60 day guarantee…
#5 Click Bank Product
---
Most people see it being a Clickbank Product as a good thing because they do offer 60-day money-back guarantee (this is how I tested out the program knowing that I would be able to get my money back).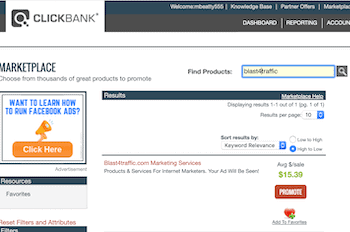 However, from personal experience, I know there are a lot of scams on Clickbank, especially in the e-business niche.
Plus life often gets in the way and makes it easy to forget about once you have got the product, meaning you miss out on the 60-day money-back guarantee!
#6 The Quality of the Email List
---
Yes, you get to select up to 5 categories to send the emails to. So you should be able to get a more targetted audience.
However, the majority of the email list will be online marketers just like you that are looking to promote their own products. If you want to learn more about email marketing check out Bryan Guerra's Email and Affiliate Marketing review. . If you want to learn more about email marketing check out Bryan Guerra's Email and Affiliate Marketing review. .
This often means they will receive a lot of emails already and are very unlikely to open or click on the email. How likely do you think it'll be that they are looking to purchase the product that you are selling?
Plus remember, it's likely your email will go straight to spam or not even reach them especially if they use a Gmail account.
Ready to make passive income online?
I've created a growing passive income online with no marketing skills or online experience…
I've made a special video for you to explain exactly how I did this.
My Opinion – Blast4Traffic
---
It's not worth the time or money.
FACT.
I know you want to believe that even if a tiny per cent of 70 million emails open and click on your amazing landing page that you've spent ages perfecting then it will probably be worth $34.50.
The best online marketers will spend time perfecting their landing pages and conversion rates of their email sequences. They will usually use affiliate marketing so that they don't waste their time creating products that nobody wants so they can see what people are actually willing to buy.
Then when they find something that converts they create a similar (but better) product and replace this with the affiliate links.
If you are already in a stage where you have a "funnel" that converts well then maybe Blast4Traffic is for you. By all means, click here and try it out.
If you are not at that stage then read on…
An Evergreen Strategy That Brings You The Money
---
It wasn't that long ago that I was still trying to figure out how it's possible for people to make money online.
The biggest issue I found was that most systems either required a load of time, money or for you to sell to all your friends and family. I wanted to find a passive system that had a few things:
I could work on when I wanted (I was still in a full-time job)
It didn't cost a fortune to start and maintain
Didn't need me to sell stuff to my friends and family
It was in September 2018 that I found the system that I still use today to make passive income and quit my full-time job.
The best thing about it is:
It's free to start
Customers are brought to you that are already interested (just think about how you found this review… there was no money or time spent from me promoting this!)
You get me as a personal coach to help you on your journey
When you try out this program you will see why so many people recommend it.
Blast4Traffic Review: The "MakeTimeOnline" Final Word
---
As you get towards the end of this Blast4Traffic review you will have learnt who the program may be for and who should avoid it.
Due to it being so outdated and the leads unlikely to be very high quality it is unlikely you will see good results from using Blast4Traffic.
And if you have not already got a good sales funnel in place then Blast4Traffic certainly won't help you to see the results you want.
If you have any questions and I mean any questions about Blast4Traffic, please leave them below. If you have used or currently are a member please also add your opinions below.
In 2018 I had no idea what affiliate marketing was.
Once I learnt about it, it just seemed like a great business model that can grow over time using the power of the internet.
So I tried to figure it out by myself… that got me nowhere fast.
Then I fell for some terrible online scams.
But eventually, I found Wealthy Affiliate. It teaches long-term proven strategies to build an online business with all the tools & support needed.
And this happened…
Once you learn the process of getting thousands of people to find your website every month (for free) there really is not limit to what you can achieve online.
I've reviewed hundreds of courses or programs that claim to help people make money online. And I've spoken to dozens of 6-7 figure online entrepreneurs on my podcast.
This is by far the best place I've seen to help beginners get set up on the right foot. You can read my full Wealthy Affiliate review here (including the pros and cons!)
Or you can watch an insiders video I made that explains exactly how it works here.