With the increasing number of people who want to earn online and want to create a sustainable career in the world of internet business, the number of online business opportunities has also significantly increased.
One of which is called AWOL Academy.
But you might have asked…
Is AWOL Academy a scam? To tell you ahead of time… no, it isn't.
It is a legit educational course that teaches everything about affiliate marketing. Its main goal is to help you earn online without breaking a sweat.
Here is an in-depth review about this course for you to see if it's really a legit way to make money online? We'll also dive into the prices to see if it's really worth it.
Read on to know all about AWOL Academy…
Disclaimer:
This Udemy YouTube Affiliate Empire review has been thoroughly researched with information and testimonials that are available online to anyone in the public. Any conclusions drawn by myself are opinions.
AWOL Academy review: The overview and rankings
Name: AWOL Academy
Founder: Keala Kanae and Kameron George
Type: Affiliate marketing course
Products (Including Pricing):
Success Stories: 50/100
Price To Join: $99 to $5,497
AWOL Academy Pros
Comprehensive training
Useful content
Money-back guarantee
AWOL Academy Cons
No guarantee of success

Deceptive marketing
Lots of upsells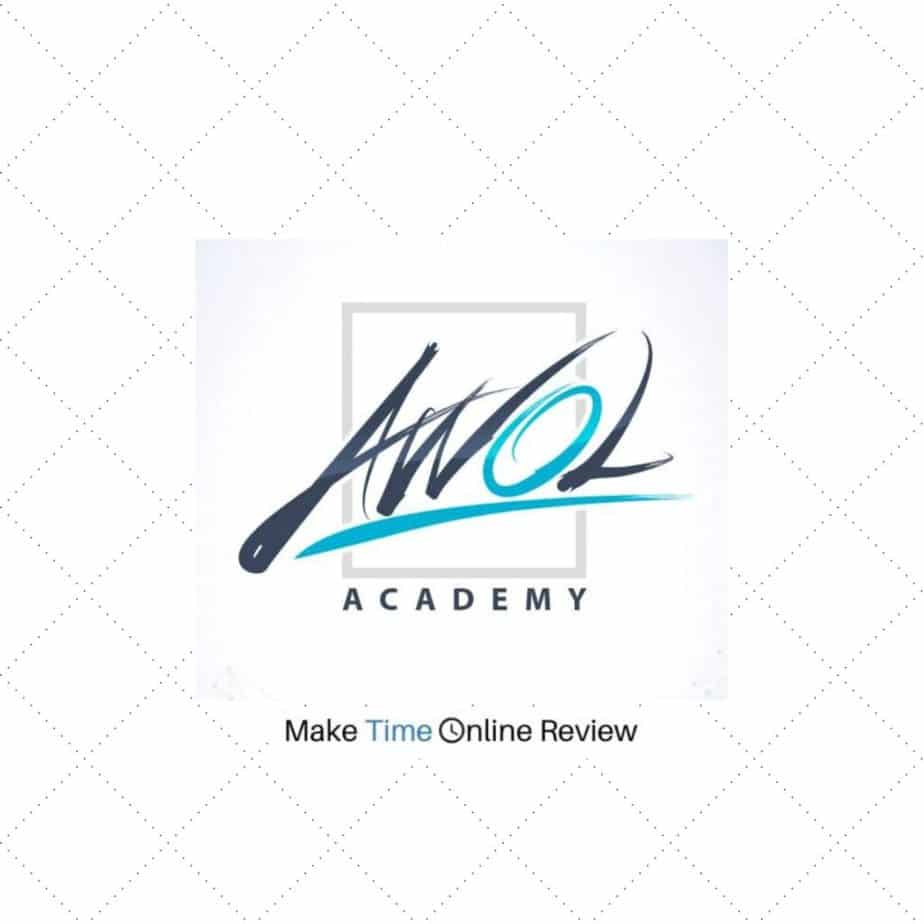 Summary:
AWOL Academy is an online educational course which teaches the basics and advanced learnings anyone can know about affiliate marketing. It also teaches you how to earn money online.
Make Time Online Rating: 50 out of 100
Recommended: No
What is AWOL Academy about?
AWOL Academy is an affiliate marketing course which serves as an educational platform that contains courses for anyone who wants to earn money through affiliate marketing.
AWOL is an acronym for Another Way Of Life, which the founders have been campaigning since the company's inception.
AWOL Academy uses the paid advertisement model to teach you affiliate marketing.
Affiliate marketing is an online business model that helps you earn money by promoting other people's products on the internet. Once they make a sale as a result of your promotion efforts, you get a commission.
Commissions from sales can range anywhere from 10-40%, and sometimes the conversion rates are very low. In simple terms, you'll have to drive an insane amount of traffic to your site to start making a decent amount of money.
AWOL claims to have the perfect solution to low-traffic – paid advertisement, and it teaches you how to utilize paid and Facebook ads to drive traffic to your landing pages. But the actual problem that the course doesn't tell you is that you must pay the advertisement amount up front.
So to go with the paid advertisement model, you should have some money in your pocket. I am talking about having at least enough money to pay $100 – $300 daily on ads.
Once you join Awol Academy, you can access the following courses: Inbox Academy, Conversion Academy, Traffic Academy, Pro Academy, Masters Academy, Awol Elite, and AWOL Elite Lite.
They say that there's anothe way to live your life. Either you go to the regular path and work a day job with a fixed salary, or you go to the other end and earn as much as you'd want without exerting too much effort.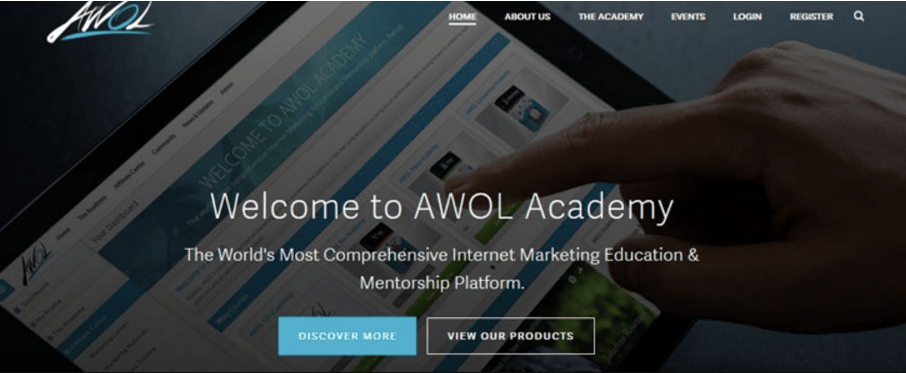 Check out this 15-minute video to have a better grasp on what AWOL Academy really is…
So, who are these guys who built AWOL Academy in the first place?
Who is Keala Kanae and Kameron George?
Before AWOL Academy, there was Empower Network. This is an MLM that provided referrals and training for anyone who joined the company as agents. There is also Project AWOL which was headed by Kameron George.
Empower Network and Project AWOL then had a misundertanding in 2013, which then led to the demise of the former. Then two years after, Kameron decided to bring back the project along with Keala Kanae who was one of his acquaintances in the world of entrepreneurship.
This was when AWOL Academy was born, and since then became a stand alone program that provided internet mentoring and online marketing training.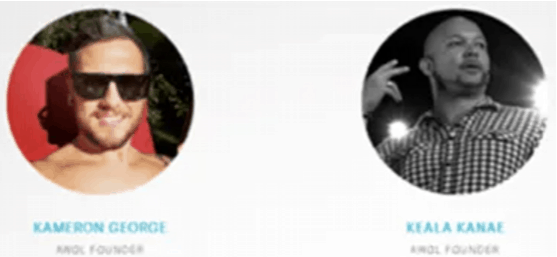 So, how do you get into this platform and how does their system work?…
Ready to make passive income online?
Hey, I'm Mike.
I created a passive income online within a year. I had no marketing skills or online experience when I started.
How does AWOL Academy Work?
AWOL Academy works by providing you detailed information on how you can earn money as an affiliate member using solo ads. They also show you can can setup your sales funnel and integrate other sourced correctly. It's all about learning how to test, manage, and adjust your campaigns for maximum profits.
You also gain detailed insights into various sales funnel strategies and email marketing techniques, all of which are aimed at increasing revenue.
However, you need to have a campaign that's up and running. You'll be taught on how to promote various niches such as health, making money online, fitness, and other popular areas. You will also find solo ad traffic features that can help you a lot to attract more site visitors.
Their courses are also mainly about generating traffic, learning email marketing, and increasing conversions.
But take note that you need to spend a lot of time learning and spending more money on your education. Why? Because there are upsells which you can choose if you want to learn more advanced topics and areas.
That's where the addittional upsells come into play. There's even a good chance that you'll spend around $2,291 worth of training at least.
It would also be wise to note that there are many other similar courses out there that exist such as:
Inside AWOL Academy
There are 5 course options you can choose from if you'd want to subscribe to AWOL Academy. With each option having different modules that focus on various aspects of affiliate marketing and making money online.
Here are they:
Inbox Academy
Price: $297
This is the cheapest course option which talks about email marketing. It teaches how you can set up funnels and sending traffic to it. You will also learn how to construct emails aimed at increasing sales generation.
Here are its modules:
Module 1: The Basics
Module 2: Email Deliverability
Module 3: Open Rates
Module 4: Click-Thru Rates
Conversion Academy
Price: $997
This teaches you how to increase sales funnel conversions to generate higher profits.
Here are its modules:
Module 1: Epic Story Telling
Module 2: Mind Control Hacks
Module 3: Live Sales Formula
Module 4: Evergreen Sales Formula
Module 5: High Ticket Sales
Module 6: Affiliate Tracking
This course is all about diving deeper into the strategies and techniques behind effective affiliate marketing. Psychology, economics, and social reputation plays a huge role on this.
Traffic Academy
Price: $997
This course teaches proper leveraging on Facebook and other social media platform to increase traffic and fanbase, while generating higher profits.
Here are its modules:
Module 1: FB Traffic Academy
Module 2: YouTube Traffic Formula
Module 3: Instagram Traffic Formula
Module 4: Bing/ Yahoo Traffic
Module 5: CPA Traffic Formula
Masters Academy
Price: $3,497
A course that is in the upper echelons of the course platform. It's best that you choose this course if you already made money from their previous courses. It's all about mindset training, financial accounting, and aggressive wealth building. Internet marketing isn't anymore the main focus here.
Here are its sections:
Section 1: Mindset Hacks
Section 2: Wealth Strategies
Section 3: Solopreneur to CEO
AWOL Elite
Price: $9,997
AWOL Elite is a webinar that takes place weekly for two hours. It's connected to their private FB group and forum.
This is definitely a big investment. But once you are making money, being able to ask Keala and Kameron questions and get reviews of your funnel is potentially priceless.
It sure is a big investment, but they say that it's worth it especially that you can ask specific questions to the founders themselves.
You can also learn more about them from this 2-minute video…
And what are the prices?…
AWOL Academy cost to join
AWOL Academy has a free webinar which leads you to a $99 course. However, there are 5 additional upsells you can choose. These are:
Inbox ($297)
Conversion ($997)
Traffic ($997)
Masters ($3,497)
AWOL Elite ($9,997)
Each has their own coverage, but the cheaper options have more basic and limited information compared to the premium course choices.
AWOL Academy monthly cost
There's really no monthly cost because you just have to pay the initial subscription rate of the course options you'd like. So, yeah, that's a good start to it!
AWOL Academy reviews online
AWOL Academy is an online course that teaches you all about affiliate marketing and how you can make money from various areas in the internet.
But what you really want to know is if this can really help you earn money online.
For me to answer this, I've checked numerous YouTube videos and searched for client testimonials about their system…
Common positive AWOL Academy reviews
Great training and support
Money-back guarantee
Legit course details
Here are some of the best positive reviews I have found…
"Their training has helped me to finally quit my job! Took me about 4 months after buying their course as there's a lot to learn and test, but finally I did it. Couldn't be happier with the training and support I received from them."
"They have a money-back guarantee, which is available for the first two weeks with no questions asked if you're not happy with the course. Just ask for a prompt and courteous refund."
Common negative AWOL Academy reviews
Waste of money and time
Expensive
Not worth the price
And here are the negative reviews worth checking out…
"I signed up for this twice and remembered why I didn't purchase anything. The webinar was supposedly supposed to be a training. I noticed that he keeps going on about trivial stuff that has nothing to do with actual training. It was more like a motovational pitch for most of the webinar, then they ask for a LOT of money for the actual training… waste of my time."
"To those contemplating whether or not to get involved with Keala: DON'T. Instead, use the $99 that you would've spent on him to do something nice for yourself or somebody you actually like, the money will go a lot further."
"Awol Academy is an online bandit! DO NOT join ANY of their programme! I do not belong to any other platform but their consumer and they have cheated me MORE THAN $10K! They should be sued! Return all the money back to your members, BANDITS! Rating: -5 star!"
Is AWOL Academy a scam?
AWOL Academy is not a scam.
This is a legit and informative course with loads of good content…
Its founders, Kameron George and Keala Kanae are well-known entrepreneurs and affiliate marketers who have earned huge money thans to the strategies that they are now teaching.
There might be some who are skeptical knowing that it costs a lot of money and those who arn't convinced if it's worth it. But despite all those, this course gives you in-depth training on how succeed in affiliate marketing.
AWOL Academy pros
Comprehensive training
One of the best things that I like about AWOL Academy is because of its comprehensive training. It does a good job in ensuring that all affiliate marketing areas are tackled, as well as other related topics.
Examples of these are its focus on improving financing, marketing, and social media management, as well as additional investments. Not all affiliate marketing courses cover topics such as these in deep detail.
Useful content
The content is very practical and easy to understand. They're not more about theories, but they talk about the practical solutions to affiliate marketing issues. You can immediately use the things you learned here in real life.
Money-back guarantee
Another thing that I like about AWOL Academy is its 2-weeks money-back guarantee.

This means that you can ask for a refund if you are not satisfied with the course you received over the past two weeks. This shows that the founders are confident thaat their clients and subscribers are going to love their course…
AWOL Academy cons
No guarantee of success
There is no guarantee of success because even if you subscribed to their courses, even for the premium ones, there is still no assurance you can earn money from it.
You simply just are paying money for enrollment and for a course that will teach you how to do it. You then have to apply them to yourself and in real life for you to make money.
Deceptive marketing
This is very common among affiliate marketing courses, because most advertise aggressively. What happens with AWOL Academy is that they say that they have a free webiner.
You join it thinking that you don't have to pay anything. And then when the webinar is there, they'll say that you need to pay for the higher course options to unlock the next information and set of details crucial to making money…
Lots of upsells
Yes, there's loads of upsells for this. At first there's the webiner, and then comes the next 5 upsells:
Inbox ($297)
Conversion ($997)
Traffic ($997)
Masters ($3,497)
AWOL Elite ($9,997)
It's just too much knowing that they initially said that it's free and all…
Ready to make passive income online?
I've created a growing passive income online with no previous marketing skills or online experience…
I've made a special video for you to explain exactly how I did this.
My opinion – AWOL Academy
With all this being said, you can clearly see that AWOL Academy is as legit as it can be.
It offers informative courses about affiliate marketing and how you can make money, as well as basic and advanced tips on how to earn passive income.
But the catch is that you have to spend a lot of money to gain access to the more informative courses. There is also no guarantee of success or if you'll immediately earn money as soon as you've finished their courses.
There are a lot of better online business opportunities out there that you can try now…
How I make passive income online
In 2018 I had no idea what affiliate marketing was.
Once I learnt about it, it just seemed like a great business model that can grow over time using the power of the internet.
So I tried to figure it out by myself… that got me nowhere fast.
Then I fell for some terrible online scams.
But eventually, I found Wealthy Affiliate. It teaches long-term proven strategies to build an online business with all the tools & support needed.
And this happened…
Once you learn the process of getting thousands of people to find your website every month (for free) there really is not limit to what you can achieve online.
I've reviewed hundreds of courses or programs that claim to help people make money online. And I've spoken to dozens of 6-7 figure online entrepreneurs on my podcast.
This is by far the best place I've seen to help beginners get set up on the right foot. You can read my full Wealthy Affiliate review here (including the pros and cons!)
Or you can watch an insiders video I made that explains exactly how it works here.