Many people are now searching for ways to make money online and build a sustainable career in the digital world. This is why there is also an increasing number of online business opportunities that has popped up.
One of these is called Authority Site System.
But you must have asked yourself…
Is Authority Site System a scam? I'll tell you as early as now that it is not.
It is a legit course that teaches affiliate marketing and how you can create a profitable authority site. It helps you make money online by sharing their tips and proven strategies.
This review will let you see if it is really a legit way to make money online and if it is worth considering. We will also dive into the prices to see if it's really worth it.
Read on to know more about Authority Site System…
Disclaimer:
This Authority Site System review has been thoroughly researched with information and testimonials that are available online to anyone in the public. Any conclusions drawn by myself are opinions.
Authority Site System review: The overview and rankings
Name: Authority Site System
Founder: Mark Webster Gael Breton
Type: Affiliate marketing course
Price To Join: $997 subscription
Authority Site System Pros
Comprehensive training
Useful content
Legit creator and course
Authority Site System Cons
No guarantee of success

Expensive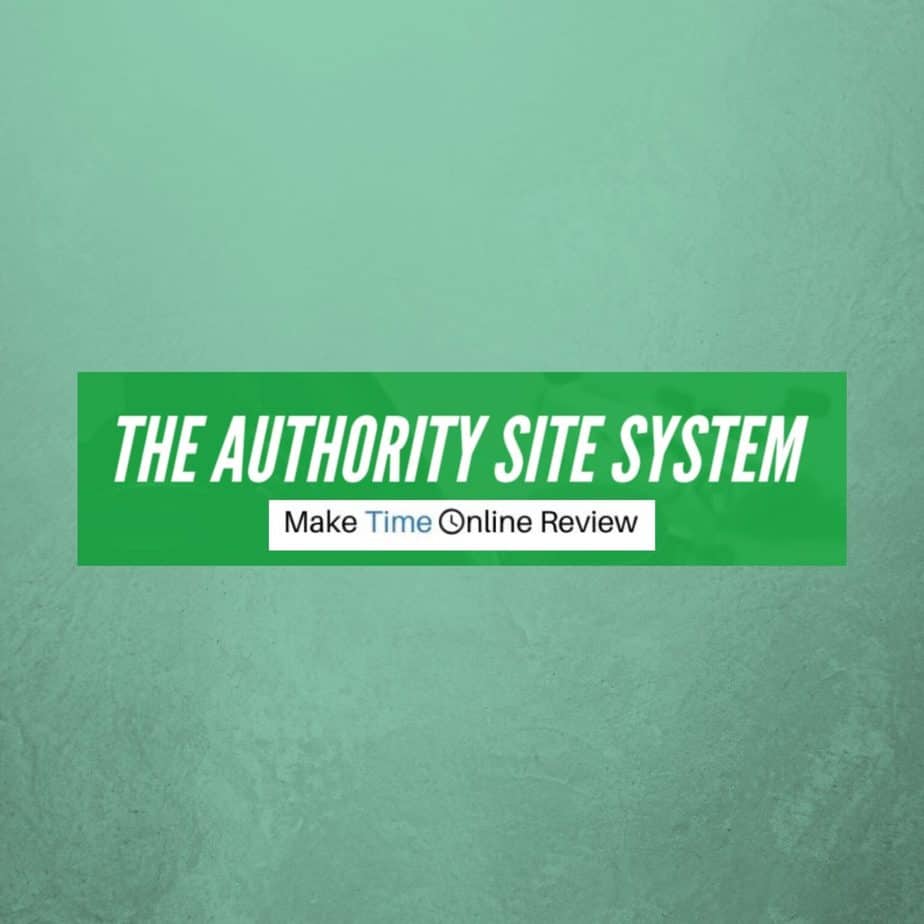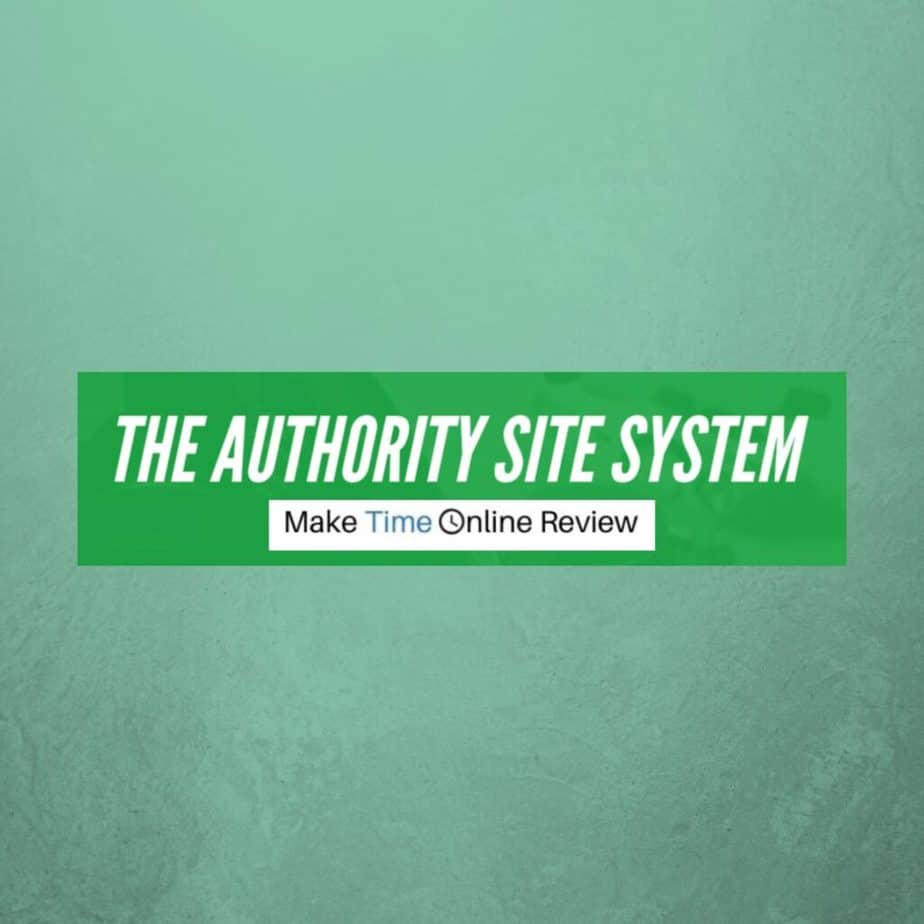 Summary:
Authority Site System is an online educational course that helps you create a profitable authority site so that you can make good money online.
Make Time Online Rating: 91 out of 100
Recommended: Yes
What is Authority Site System about?
Authority Site System is an affiliate marketing course that teaches you how to create an authority site and making good money from it.
It is also the flagship product of Authority Hacker, a site that dwells on promoting quality websites with the use of affiliate marketing and effective site monetization. Their goal is to create a beginner-friendly and actionably online marketing platform that will lay the foundation of anyone wanting to make money online using affiliate marketing. I also found out that their main goal was to create a website that will produce enough money for its owner so that they can quit their day job and earn passive income instead.
The areas it dwells into are increasing traffic and site views, as well as promoting social media campaigns.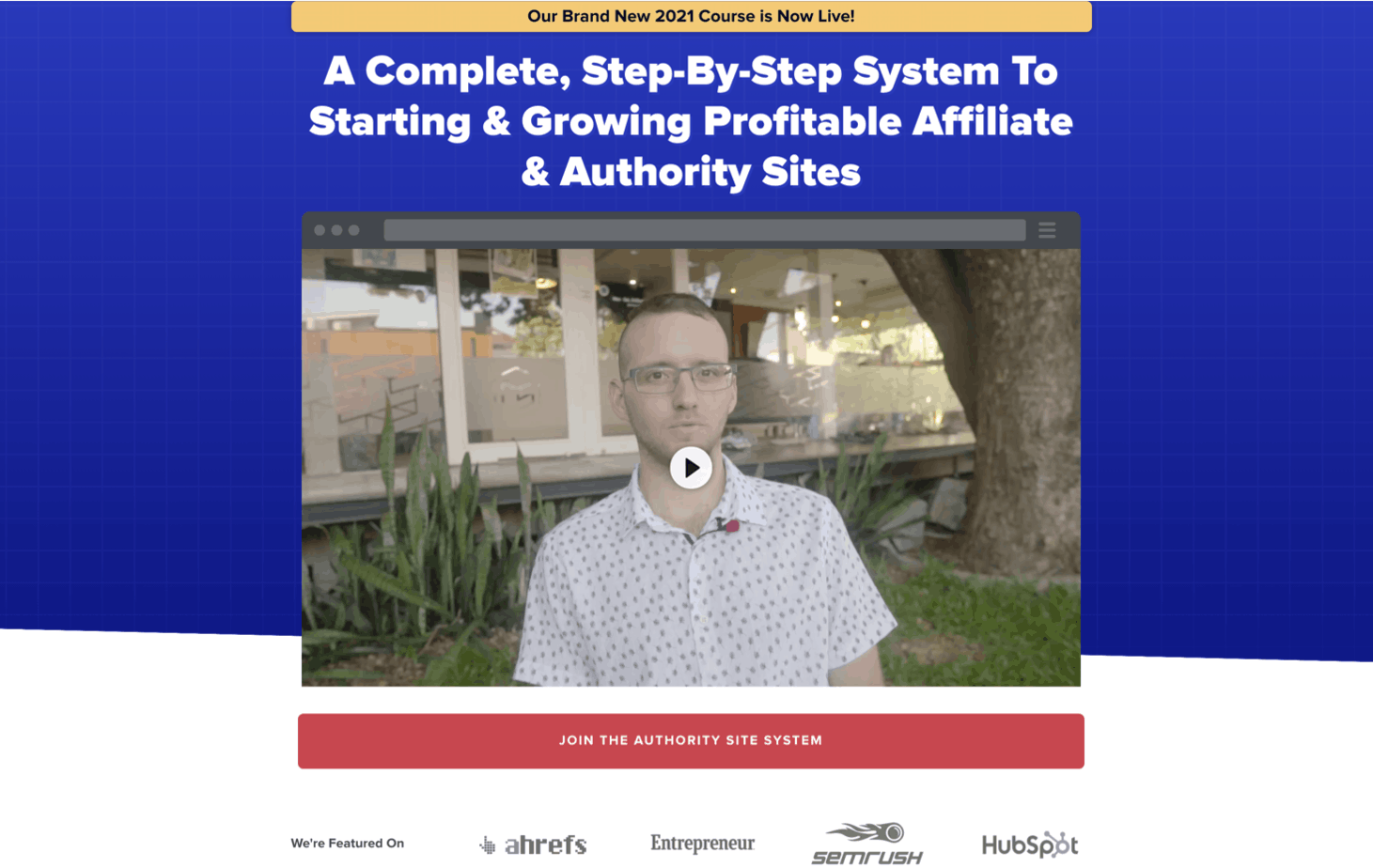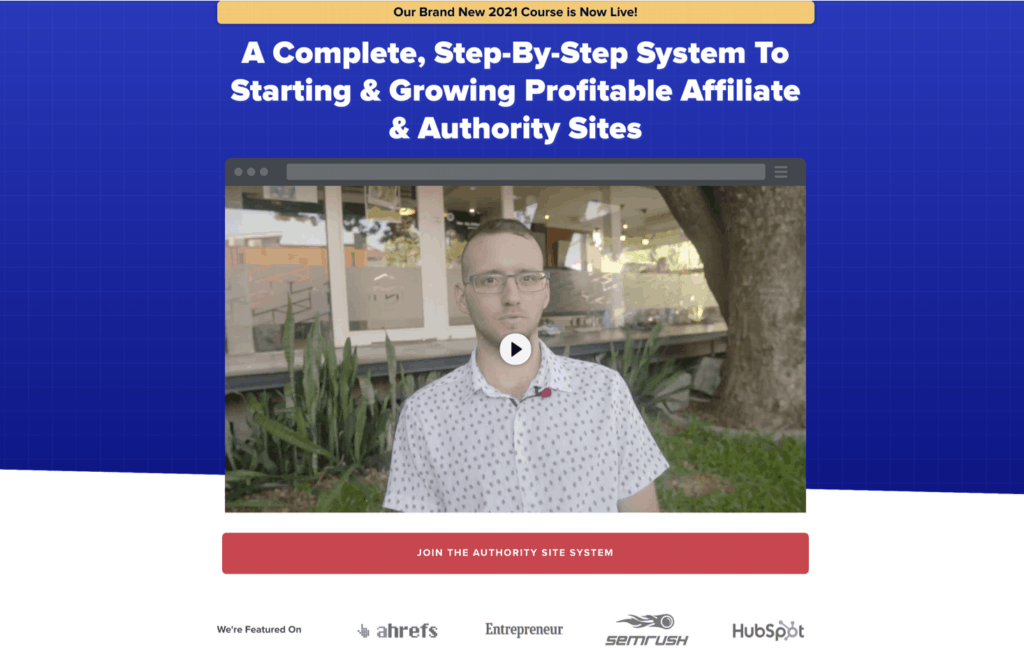 The goal of the Authority Hacker website (and accompanying podcast) is to provide "actionable online marketing education" and instruct visitors on how to "build highly profitable authority sites."
Since its inception in 2013, Authority Hacker has garnered an outstanding reputation in the internet marketing industry. Through blog posts, podcasts, and online courses, the team behind Authority Hacker disseminates their expertise as successful internet marketers.
Authority Hacker is a go-to resource for anyone wishing to launch or expand their internet business thanks to its author's breadth of knowledge and experience. While Authority Hacker's blog and podcasts are informative, the real value lies in its online course: the Authority Site System.
Authority Hacker is an indispensable tool for any entrepreneur who wants to start or grow a successful online venture due to its dedication to delivering helpful knowledge and tools.
Check out this 10-minute video to know more about Authority Site System…
So, who created this Authority Site System in the first place?
Who are Gael Breton and Mark Webster?
Gael Breton and Mark Webster are the creators of Authority Hacker, as well as Authority Site System. Breton is the editor-in-cief and is responsible for organizing the content for all their courses. He also manages the marketing and strategic planning of the site.
Meanwhile, Webster is their systems expert and is in charge of developing tactics using various affiliate marketing strategies to expand them to commercial levels.
Breton started as a college marketing intern and then eventually worked for the same company after graduating. He then managed to become the overall supervisor and head of the company just after a month due to his expertise in the field. Meanwhile, Mark Webster started his marketing career with AdSense campaigns and created ClickBank products back in 2008.
Since then, they partnered together and built a platform that helps people learn all there is to know about affiliate marketing and creating an authority site.
Here they are…

So, how does the course work?…
Ready to make passive income online?
Hey, I'm Mike.
I created a passive income online within a year. I had no marketing skills or online experience when I started.
How does Authority Site System Work?
Authority Site System is an affiliate marketing training program that helps you create your own website you can monetize and earn good money from.
In simpler words, it gives you tips on how to build a profitable authority site, while throwing out information you are mos tlikely to encounter in the business, such as how niche research works, opportunities for monetization and link building, as well as social media and SEO.
However, there are still a lot of other courses that offer the same or at least similar affiliate marketing topics. Here are some of the most popular ones:
This "Authority Hacker" course is designed to show students how to create authoritative websites. Authority sites focus on a single subject area and achieve high search engine rankings for terms relevant to their specialization.
To learn how to create Level 1 Authority websites, check out Authority Hacker. First-stage authority sites prioritize search engine rankings in addition to affiliate marketing.
Search engine traffic is "organic traffic," whereas "affiliate income" is money made by recommending services or products from businesses like Amazon.
In Authority Hacker, you'll learn how to locate good goods to market and share them with your audience. Affiliate marketers gain a cut of the action if customers purchase after clicking one of their links. The final stages of developing an Authority site are a natural progression from the material covered in Authority Hacker.
The Authority Site System aims to help you make enough money from your website to replace your current income, which is often between $2,000 and $10,000 per month. No matter where you are in your business's development, the Authority Site System can help you get there.
Inside Authority Site System
The Authority Site System course includes 6 modules that each have their own specific topic and area.
Here is an in-depth look on each one:
Module #1: The Authority Site Model
Know what authority sites are, how you get traffic, save money, as well as basic SEO discussions.
Module #2: Niche Research & Site Planning
It discusses how you can find niches by brainstorming and researching. It also dwells on planning your site structure and expanding your keyword list.
Module #3: Site Setup
Know how to choose a domain name, setup a WordPress site, and brand your site. This also talks about how you can setup the other areas of your site like G Suite, privacy policy, contact page, and many more.
Module #4: Content Creation
Know how to create content using templates. This modules also teaches how you can write roundup and single reviews as well as outsourcing your content to freelancers. You will also learn how to upload and publish content.

Module #5: Link Building
Know how to prepare an outreach and target selection campaign as well as link tracking and link placement.
Module #6: Once You're Done
It teaches you what to do next and how you can expand your online business.
And what are the prices?…
Authority Site System cost to join
Authority Site System costs $997, and that is for their one-time payment. Yes it's a lot, but it looks like it's worth trying.
Authority Site System monthly cost
There are no monthy costs because you just have to pay a $997 one-time fee.
However, there are two payment options:
You can pay $597 for two payments, or just pay a one-time payment of $997. It's better if you choose the second option so you can save $197.
Authority Site System reviews online
Authority Site System is an online course that teaches you affiliate marketing and how you can make money from various areas online.
But what you really want to know is if this can really help you earn money online.
To answer this, I've checked a number of client testimonials and reviews about his course…
Common positive Authority Site System reviews
Comprehensive
Helpful content
Legit course details
Here are some of the best positive reviews I have found…
And as I stated earlier, anytime I hire a new marketing teammate… I plug them into the Authority Hacker training so they can get caught up to speed on the marketing best practices for content marketing online, fast.
To this day, I personally find myself logging into this program for new blueprints, webinars, and their templates when I want to expand my content marketing efforts.
If you have the patience to wait and add content on a weekly basis until it starts growing and reaching your intended audience, then it's definitely an option to consider.
Common negative Authority Site System reviews
Expensive

Poor customer support

Many cheaper alternatives
And here are the negative reviews worth checking out…
As I mentioned earlier, TASS can get really expensive real quick. From Website hosting that will need $24.99 per month on regular pricing, and Ahrefs which will set you back $99 per month. Ouch!
From doing research into this, it seems only about 20% of the course is about how to write valuable content to help your readers and get that content ranked in Google.
I have sent at least 5 emails to the Authority Hacker support and I have never received a single answer. It seems that the support is dead and they are not answering people's requests.
Is Authority Site System a scam?
No. Authority Site System is not a scam.
It is a legit affiliate marketing course that will help you earn money passively through affiliate marketing.
The course includes helpful details about tips and strategies that have been proven effective by successful affiliate marketers, in the likers of its creators, Gael Breton and Mark Webster.
There might be a number of people who are skeptical because it is expensive. But that's common and all good because you gain a lot of insights about affiliate marketing and making an authority website. You just need to make sure you breakeven from the costs soon so you don't end up with losses.
Authority Site System pros
Documented gains
One of the best things I like about Authority Site System is that it has proof that their subscribers really make gains from their course.
Here is an example of it…
It gives a full detailed report of how much one of their subscribers have earned with the help of the things they taught in Authority Site System.
Useful content
The content present in the course is direct straightforward, and practical. It's also beginner-friendly. They don't give fancy blabbers or speeches about motivation, inspiration, and whatever cheesy stuff you think of. Instead, their content are all actionable and tell you directly what to do…
Money-back guarantee
Another thing that I like about Authority Site System is that they offer a money-back guarantee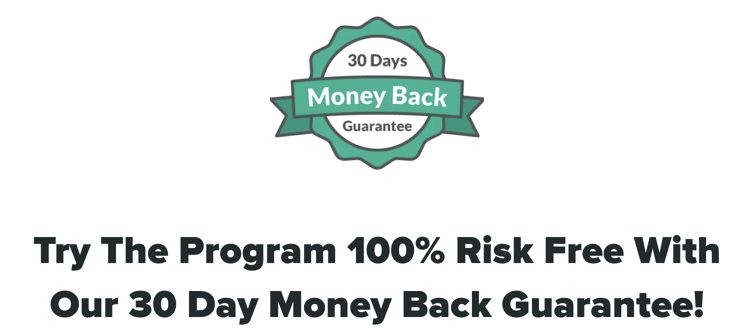 This means that they are very confident that they can satisfy their customers because they know they have informative and quality information.
Authority Site System cons
No guarantee of success
There is no guarantee of success even if you subscribed to this affiliate marketing course. There is just no assurance you can earn money from your website, or even manage to create an authority website.
You just pay money for enrollment for the course that will teach you how to do affiliate marketing and creating an authority website properly. You must then follow it precisely and do your best to implement the things you've learned.
Expensive
The Authority Site System course is expensive as it is worth $997! And you pay that huge amount of money just to gain access to an affiliate marketing course that teaches you how to turn your website into an authority one.
Although it shows these discounts every now and then…
There is still no assurance that you'll really get that big of a discount because there are upsells…
Too much marketing hype
And just like any other affiliate marketing course, this one is also overhyped…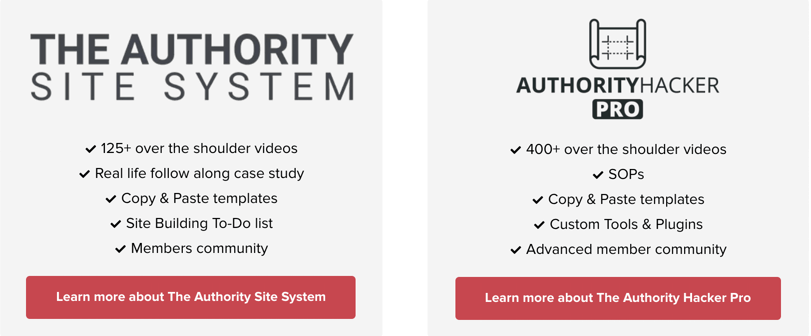 You can clearly see that they make their advertisements as enticing as possible just to attract people to buy their course. It's just bluffing too much without any proof that it is really the key to riches…
Ready to make passive income online?
I've created a growing passive income online with no previous marketing skills or online experience…
I've made a special video for you to explain exactly how I did this.
My opinion – Authority Site System
Authority Site System is not a scam. It is a legit affiliate marketing course that teaches how to build an authority website. It is also created by successful affiliate marketers in the likes of Gael Breton and Mark Webster.
It includes informative courses about affiliate marketing and to earn passive income from your website. It also has basic and advanced tips on how you can improve your website and attract higher traffic.
But you get all these in exchange for spending a truckload of cash just to the course. There is also even no guarantee of success and massive riches, just like what they advertise, once you finish their course.
There are a lot of better online business opportunities out there that you can try now…
How I make passive income online
In 2018 I had no idea what affiliate marketing was.
Once I learnt about it, it just seemed like a great business model that can grow over time using the power of the internet.
So I tried to figure it out by myself… that got me nowhere fast.
Then I fell for some terrible online scams.
But eventually, I found Wealthy Affiliate. It teaches long-term proven strategies to build an online business with all the tools & support needed.
And this happened…
Once you learn the process of getting thousands of people to find your website every month (for free) there really is not limit to what you can achieve online.
I've reviewed hundreds of courses or programs that claim to help people make money online. And I've spoken to dozens of 6-7 figure online entrepreneurs on my podcast.
This is by far the best place I've seen to help beginners get set up on the right foot. You can read my full Wealthy Affiliate review here (including the pros and cons!)
Or you can watch an insiders video I made that explains exactly how it works here.